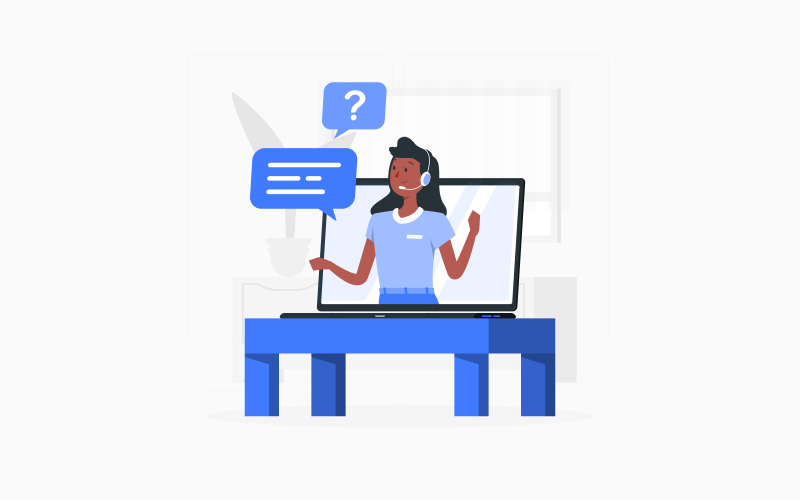 Does your business have a help desk to resolve customer queries? Have you tried discovering the challenges your support agents face while handling client requests?
Well, you are not alone.
Most businesses often spend money to create and manage a help desk but forget to invest in a robust ticketing system that can effectively streamline most of the issues agents and customers face.
In this article, I will explore the top five reasons your help desk needs ticketing software. From reducing response time and improving communication, I will explain the benefits of a support ticketing tool to your organization.
Besides, I will also provide some tips on selecting the finest help desk system for your business, ensuring that you make an informed decision that aligns with your specific needs and goals.
Let's begin!
What is a Ticket Management System?
A ticket management system or TMS is a tool to effectively manage customer interactions from different platforms like phone, chat, or email in one place. It stores all the customer interaction data so that you understand the most pressing reasons customers call for support and take actions to fix those issues promptly.
Most ticketing systems offer a personalized dashboard where you can see past customer requests so that your support team can respond quickly and effectively without having the customer repeat the issues for every new support agent.
Therefore, with the help of ticketing software, you can effectively organize, automate, and streamline your support process.
Why Help Desk Software Should Include a Ticketing System
Now that you have understood what a ticketing platform is, let us know the reasons why your help desk should use a ticket management tool.
With effective scheduling and automation of routine tasks, help desk software helps manage customer support requests in a timely manner.
Here are the top advantages of using help desk ticketing software to optimize your client service experience:
1- Automatically categorize, tag, assign, and prioritize customer service queries
Having a ticket management tool helps to prioritize customer needs. You can automatically categorize the tickets that need immediate attention and assign them to the respective support agents. An automated system provides a faster and more effective response, improving overall customer satisfaction.
2- Prevent customer queries from getting lost or going unanswered
With limited support agents in place, it can be challenging for a business to ensure all the client queries are answered promptly. With a ticket management tool, support teams can ensure that every customer request is answered on time.
3- Improve team collaboration
A centralized ticketing platform allows support teams to collaborate on customer requests, sharing real-time information and updates. By examining previous tickets, you can determine the departments your support staff should work with to optimize the client experience. A support ticket system has a central database to ensure every agent has access to the information they require, like internal contact information, which ultimately results in better team collaboration. 
4- Consolidate customer interaction from different channels into one thread
By consolidating customer interactions into one thread, support teams can easily access a complete history of a customer's interactions and provide a personalized response. No matter whichever channel the customer uses to interact with your business, your support staff will always have the past interactive data of the customer, which they can use to solve the service request promptly.
5- Provides detailed analytics on agent performance and customer statistics
A powerful ticket management software offers valuable insights into the performance of support teams and customers' needs. You can filter the report based on different ticket properties to better understand your team's performance. Besides, you can find out the average time to close a ticket and how often customers request to fix a specific problem. You can use this data to make data-driven decisions to improve customer service.
How to Choose the Best Help Desk Ticketing Software
I hope I have helped you understand the significance of a ticketing tool for your business.
Let's discuss some crucial factors that will help you select the right help desk ticketing system that best serves your organization's needs.
Here are some key factors to consider when choosing a support ticket platform:
Scalability: The software you select should be able to meet the growing needs of your business. You should consider the number of agents, the volume of tickets, the number of modules, and the number of integrations or add-ons it can accommodate as your business expands.
User-friendly interface: The ease of use determines the acceptability of the software. The software should be easy to install, use, and troubleshoot. A user-friendly interface will ensure that support agents can quickly manage customer requests which will ultimately help to keep the customers happy. 
Robust reporting and in-depth analytics: You should be able to know how your support team is performing and how quickly they are resolving customer issues. Hence, a proper system should be in place to determine the performance of your live agents. Select software with powerful business intelligence capabilities and a customizable dashboard to help you adjust the metrics according to your business needs.
Reliable customer support: No tool is 100% perfect. For this reason, you should choose an application that offers reliable 24×7 support. This will help you ensure that your support team remains active and on track whenever your customers need them.
Pricing: You should carefully consider the cost of the tool before subscribing. Find out how much you can spend and determine any hidden or upfront costs. Most help desk software companies have per-agent pricing plans. If you have a small team, go with a plan with most of the required features at a low price per agent. Besides, you can always ask for custom pricing plans.
Security: Having a secure support desk is crucial for any organization. You should ensure ​​your help desk management application follows all the necessary protocols depending on your industry.
Therefore, by considering the above key factors, you can choose the best help desk ticketing platform for your business and ensure that you provide efficient and effective customer support that drives business success.
Conclusion 
Adopting professional ticketing software is vital because it helps to maintain a catalog of all incoming support queries. You can prioritize the tickets needing immediate attention and ensure all support requests are answered.
Besides keeping a tab on the agent's performance, a robust ticket management system improves team collaboration and optimizes the support team's workflow.
Before selecting a ticketing software for your company, follow the tips suggested in this article. Remember, better service experience results in improved customer satisfaction scores.
Cover Image by Storyset