Building a job listing site requires professionally designed website template that resonates well with the job seekers as well as recruiters. To help build a top performing job board site, we have selected the best job portal templates that will allow you to build your own job directory site with ease.
These templates have been picked for their professional design as well as availability of ready-made pages which are crucial for a job listing site. A good job portal template should include a great landing page with search including location and category filter. Moreover, it should also have job listing, new job submission and job search pages. Profile pages for employers and the candidates is also a plus.
Our aim while selecting the job board listing HTML templates below was to pick latest and modern design templates that offer good and premium support. You will find the links below to be affiliate, however it won't be costing you any extra while still helping us to keep this website running. Do note that the templates listed below are HTML, CSS templates and not WordPress themes. However, you can get many of the job portal templates listed below converted to a WordPress theme from the publishers while purchasing. Or you can take a look at these ready-made Job board WordPress themes.
1. Hireo – Job Board & Freelance Marketplace Template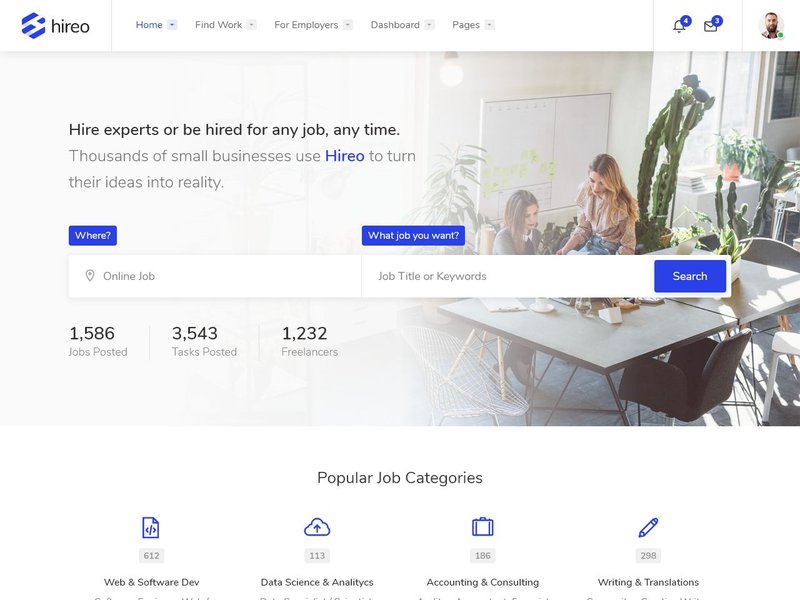 Hireo is an advance job and freelance marketplace template featuring Open Street Maps search with autocomplete. You can use this template to easily list jobs, tasks or projects or create a freelance bidding platform like Upwork, Fiverr or freelancer.com
The template also includes a dashboard design and print-ready invoice templates. This is a complete job portal template featuring advance search forms, graphs and charts, video backgrounds, tooltips, 1000+ icons and more.
2. Jobreaker – Modern Job Board Listing HTML5 Template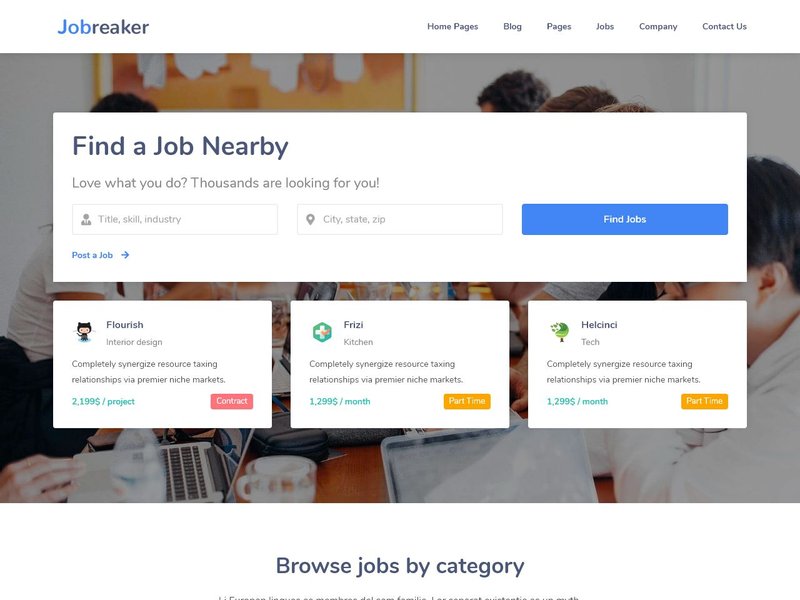 Jobreaker is a Bootstrap 4 based Job Board HTML Template with a clean and modern design. It can be used for creating sites such as a job board, user tutorial portals, listing websites and more. The template has professional and responsive design that adapts to any screen size.
You also get 2 unique home page layouts with 20+ inner pages design including user profile, company profile, add new job page, blog styles and much more. It has integration with Google Fonts and has support for sliders and popups integrated into the code.
3. Job Stock – Job Board Template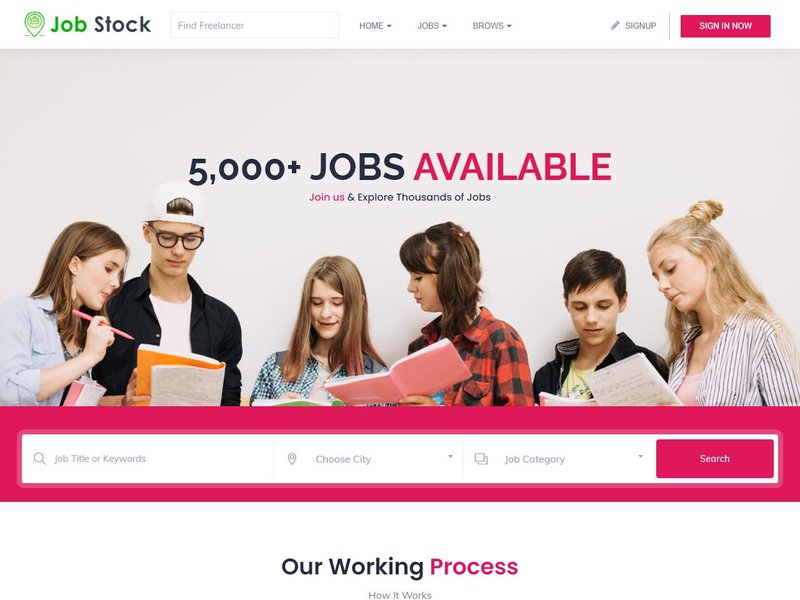 Job Stock is a job portal template with beautiful and creative design. It features 40+ pre-designed pages with multi-color options and includes dashboard design as well. The template also has 6 home page design layouts and 2 blog page design, along with 26 other inner pages such as company page, candidate listings and pages, advance search with multiple filters etc.
4. Jobsila – Job Portal Template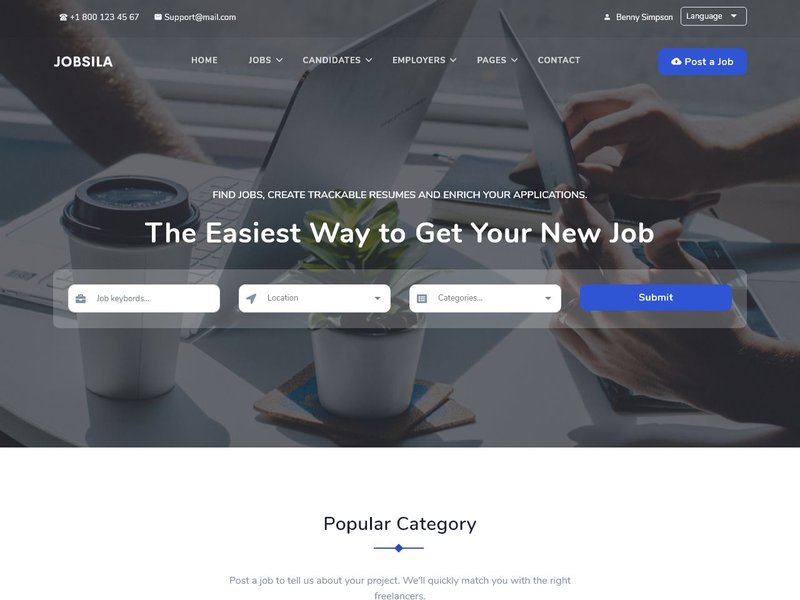 Jobsila is a responsive job board HTML5 template built with Bootstrap 4. This high quality template offers 23+ pre-design pages including map search. It also offers fully responsive mega menu and support for contact forms.
Along with the usual job portal pages such as job list view, candidate listing and profiles, company listing and profiles, you also get pricing pages, services, teams and about page design.
5. Jobox Job Board HTML5 Website Template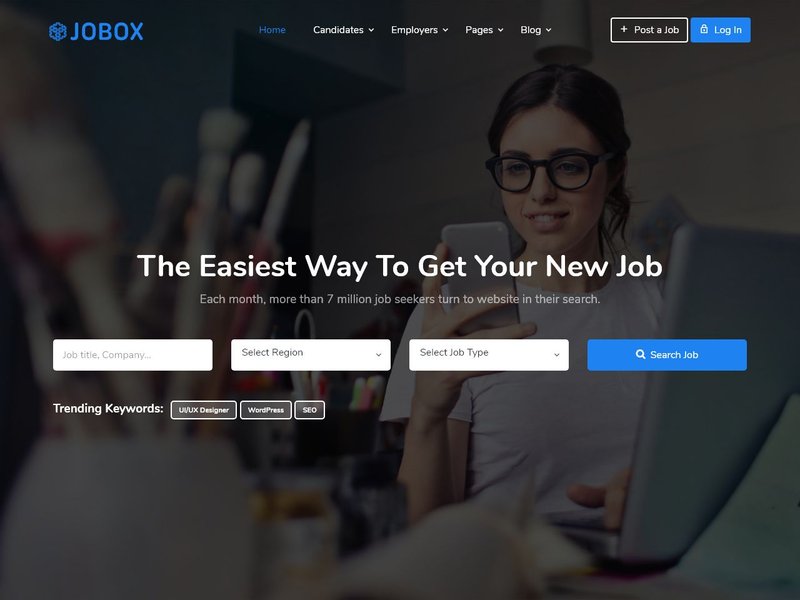 Jobox Job Board template is built to connect employers with potential candidates. It offers advanced job search, job listing, job or resume submission as well as built-in contact form. You get easy to customize Bootstrap template that is cross-browser compatible and SEO optimized. Along with a simple and elegant design, the template also includes support for Font Awesome Icons, Owl carousel and Google Web Fonts.
6. JobsLab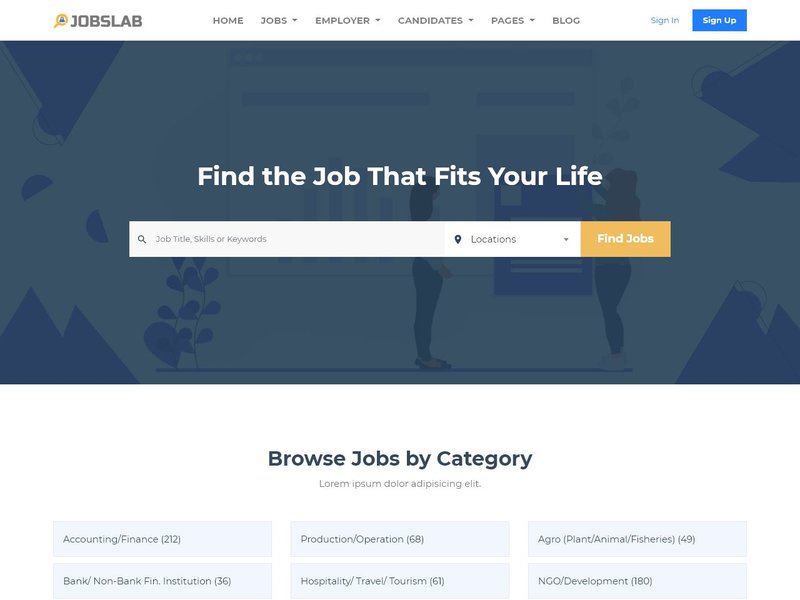 JobsLab is a clean and responsive job board website template that comes with clean code and unique design. It has 19+ different pages for job details, career guide, employer list and profile as well as employer FAQ etc. You also get support for wide layout, contact form, login and registration page etc. It includes premium and dedicated support that can help you with any queries while building your own job portal.
7. OneLine – Job Portal Bootstrap Template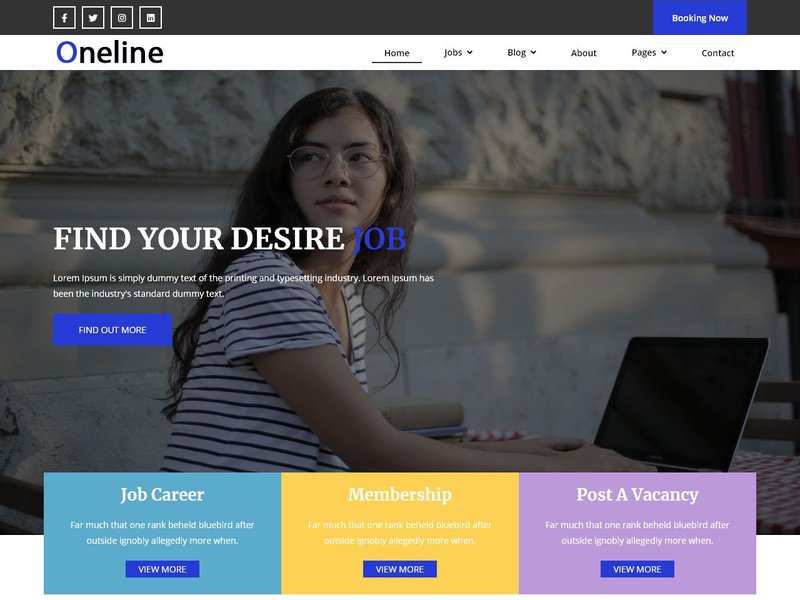 OneLine is a job portal website template built with Bootstrap that can be used to create a job search engine online for freelancers, UI designers or creatives. The template features job grid, jot details, jobs in left or right sidebar, job search form and filters. You can convert this template into WordPress, Joomla or any other CMS easily.
8. HireYou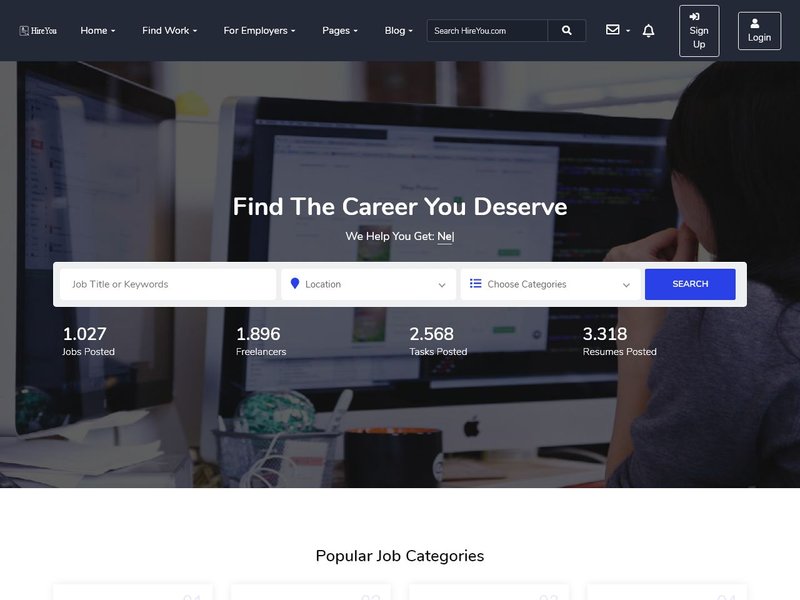 HireYou is one of the well suited job portal templates for creating website for job board, freelance or job agencies. This clean and modern design template can help you create an online presence for your corporate business or job firm. The template offers integration with Google maps API to create Jobs map. It also has dashboard page which allows you to submit new job or view job details. Multiple customization options and different page layouts are also available in the site template.
9. JobMela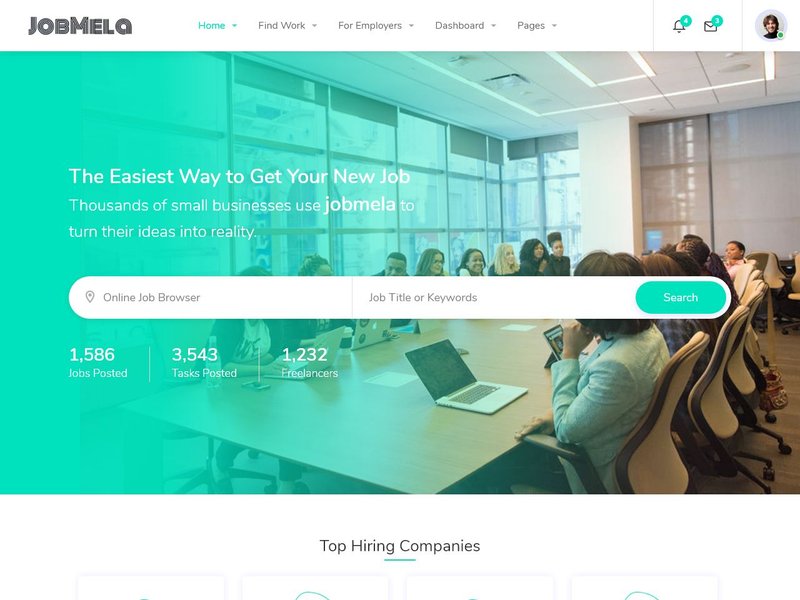 JobMela HTML template comes packed with advanced search forms for jobs as well as 52+ pages designed specially for job listing sites. It also has support for graphs/charts, advanced popups, full page layouts, Google autocomplete and map integration along with many modern and advance features. You also get extensive documentation as well as professional and dedicated support when you buy this template.
10. WorkPlace – Job Portal Multipage Template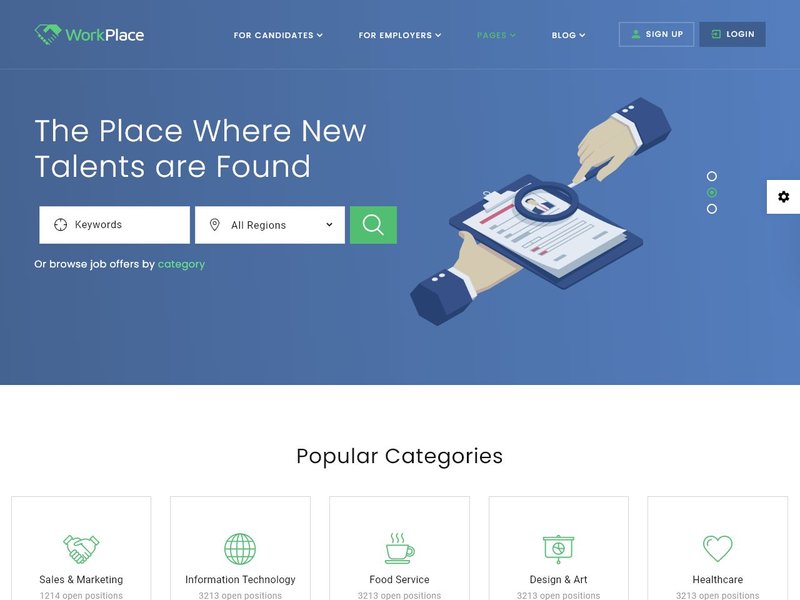 WorkPlace is a fully responsive and multipage HTML5 template for job portals. It comes with a stylish look and user-friendly interface. With 3 home page layouts: classic, corporate and modern, you can easily adapt this template to suit your needs. The template also offers huge set of UI elements and blocks to build your pages the way you like or use the 30+ ready made pages to create your site.
11. Jobpark Website Template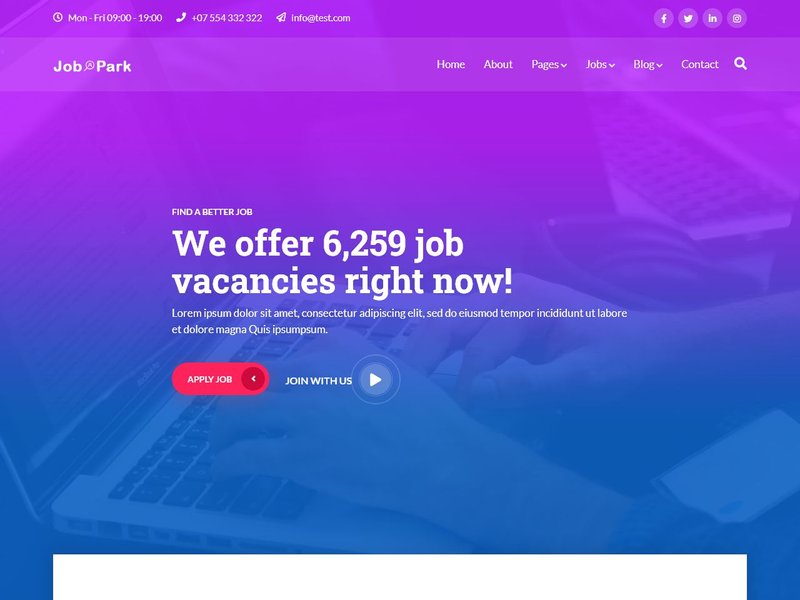 Jobpark is another modern job board HTML Template that helps business connect employers and candidates. Built with Bootstrap 4, this template has pre-design pages for job details, job list, search results, testimonials, pricing, 404 and more. You get SEO friendly code that is easy to customize and is cross-browser compatible.
12. Jobsila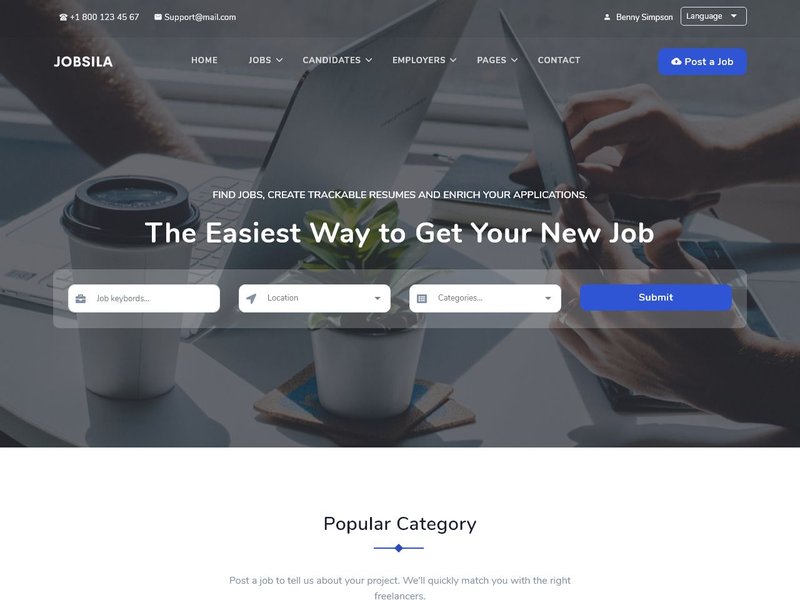 Jobsila is a job listing HTML5 template made with the Bootstrap framework. It offers 23+ pages including map search index page. The homepage features job search based on keywords, location as well as categories and allows you to find recent, features, part time as well as full-time jobs.
13. Careermela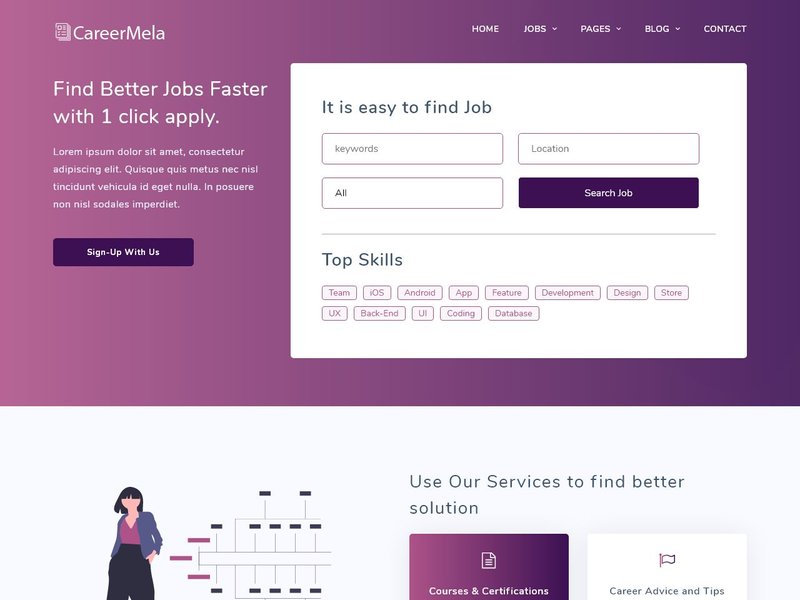 Careermela has been designed to easily create job or career portals with support for uploading and listing resumes and jobs. Made with Bootstrap, this template includes 10 different pages with easy to understand code and illustrations from Undraw that can be used freely on your own site.
14. Beehive HTML5 Template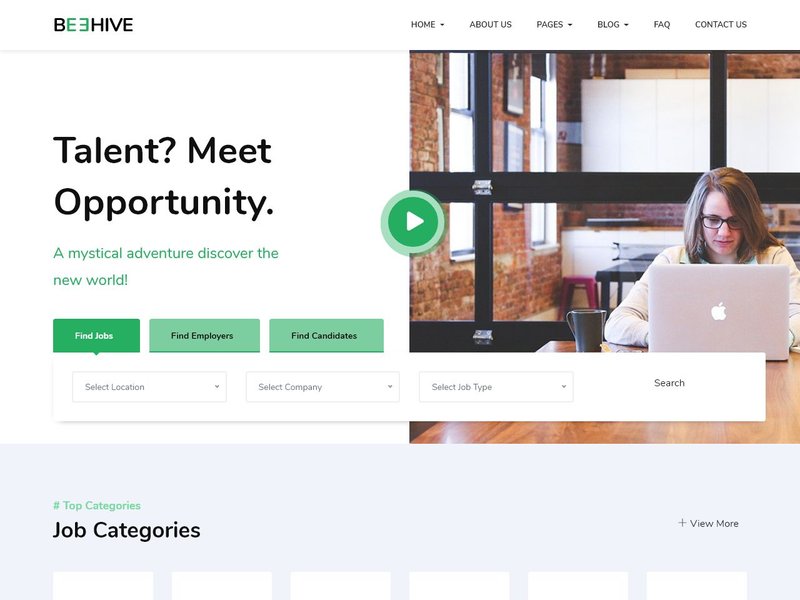 Beehive is a HTML5 Template for making job listing portals that are responsive and modern. It offers search form for finding jobs, finding employers as well as for finding candidates. Job categories with relevant and modern icons are also present. Moreover, section to show featured jobs and featured candidates has also been added in the template. It can be used for building remote job board sites as well.
15. Frilans – Freelancers HTML template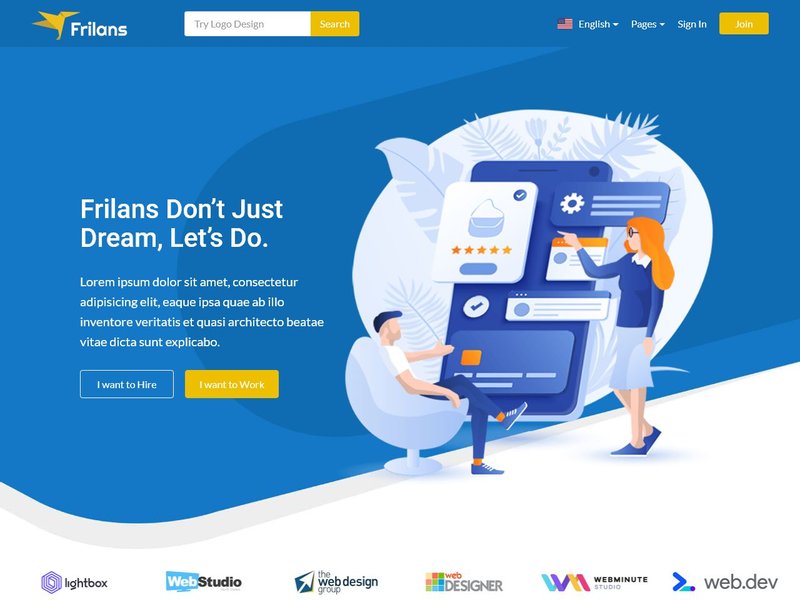 Frilans is a workplace template which allows you to easily build websites for connecting freelancers and employers. The template also features private message inbox pages that allows communication between employer and the candidates. It also has built in review pages for providing employers feedback and rating the works that have been carried out by the freelancers. This template is well-suited for creating freelance marketplace as well as for sites offering to list remote work gigs.
16. Jobster – Job Board HTML5 Template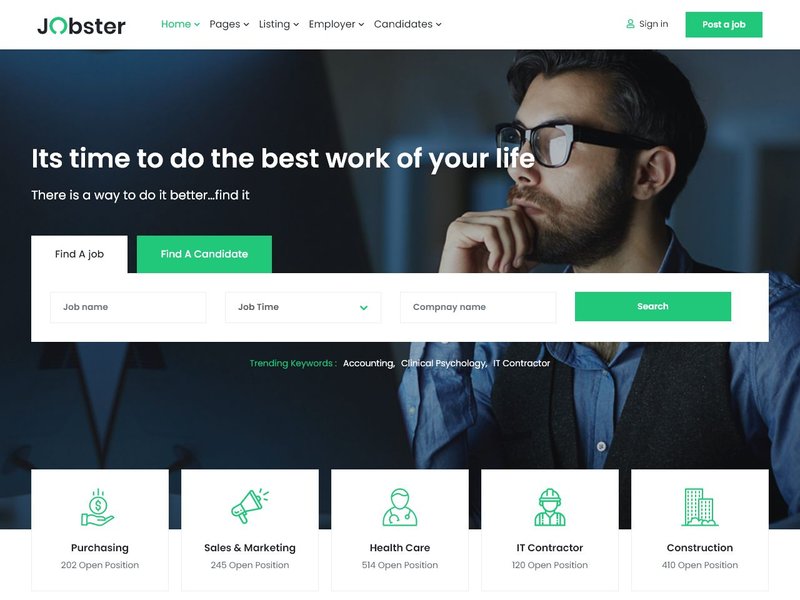 Jobster is built with the popular Bootstrap 4 Framework and is designed for any job board business website. It include all the features needed to attract candidates as well as employers. It offers 6 unique home page design along with 17 other pages including job listing, job details, employers details and job listing with map.
17. Olink – Job Portal & Social Network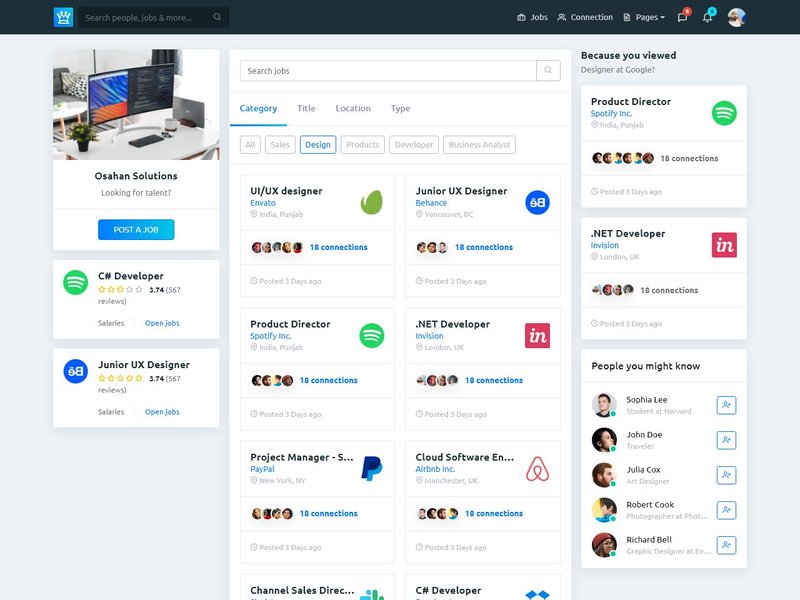 Olink provides a modern and unique design for creating a social network like LinkedIn. This HTML template has a corporate style social media network featuring employer profile, candidate profiles, popular jobs and location, recommendation, ratings and more.
18. Seeker – Job Board HTML Template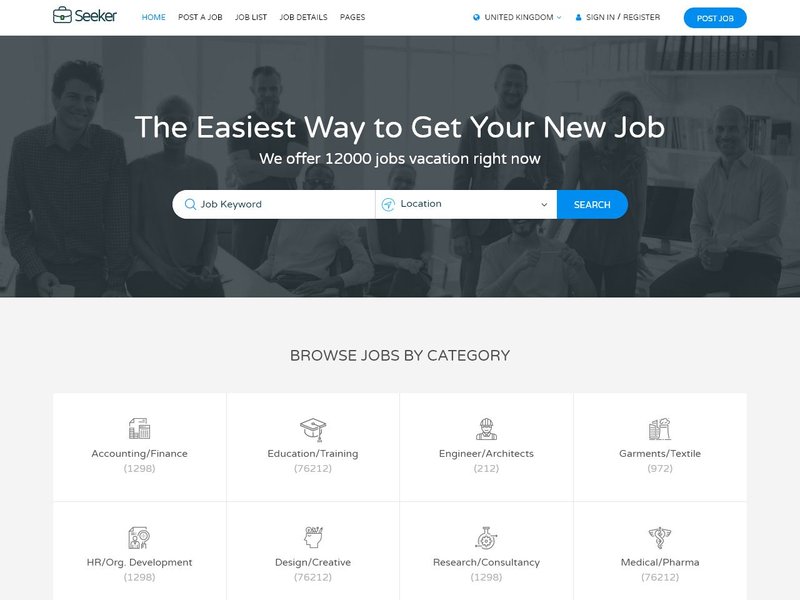 Seeker is a clean and modern job portal HTML template with multiple homepage variations and full width layout. It includes CSS3 animations and transitions along with easy to customize code and all the features needed in good quality job portal templates.
19. Joobsy – Job Listing HTML5 Template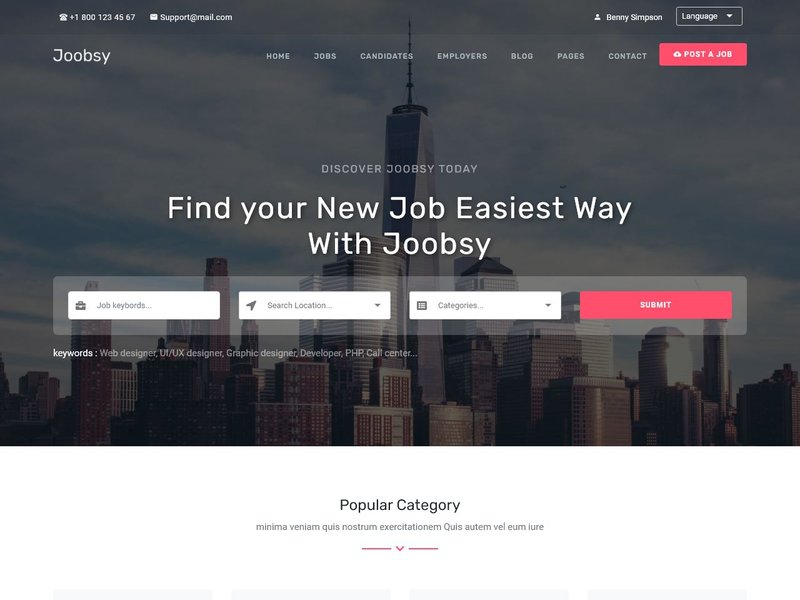 Joobsy is built using Bootstrap framework and modern web technology that makes a compelling job listing template. The template comes with clean and sophisticated design that gets well documented code as well as 30-day money back guarantee. You can use this template to build freelancer portals, job boards, job directory or websites with job listing and submissions.
20. Job Board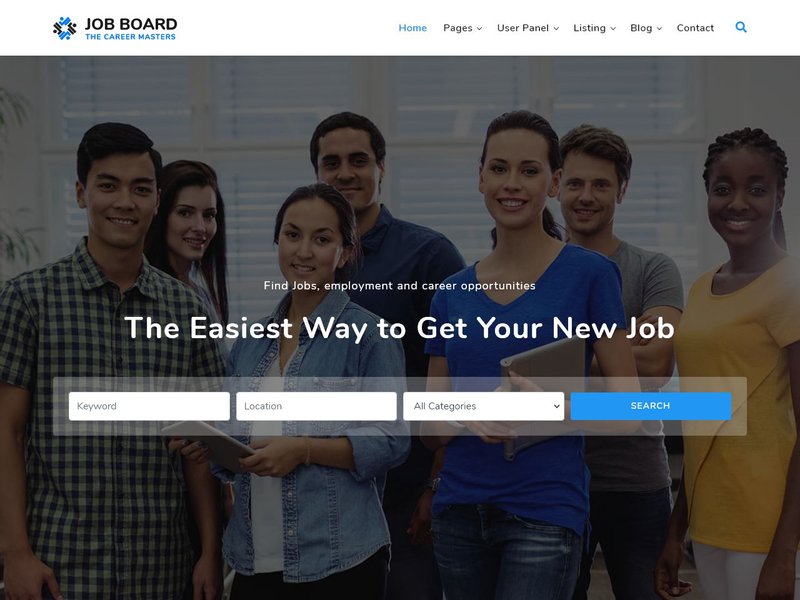 The Job Board HTML Template is fully responsive and suitable for job listing, directory, recruiting, job portal, job postings etc. All template designs are easy to customize and implement on your own site. Along with support for all modern browsers, you also get full access to HTML, CSS and JS files along with documentation.
21. Bootstrap Jobs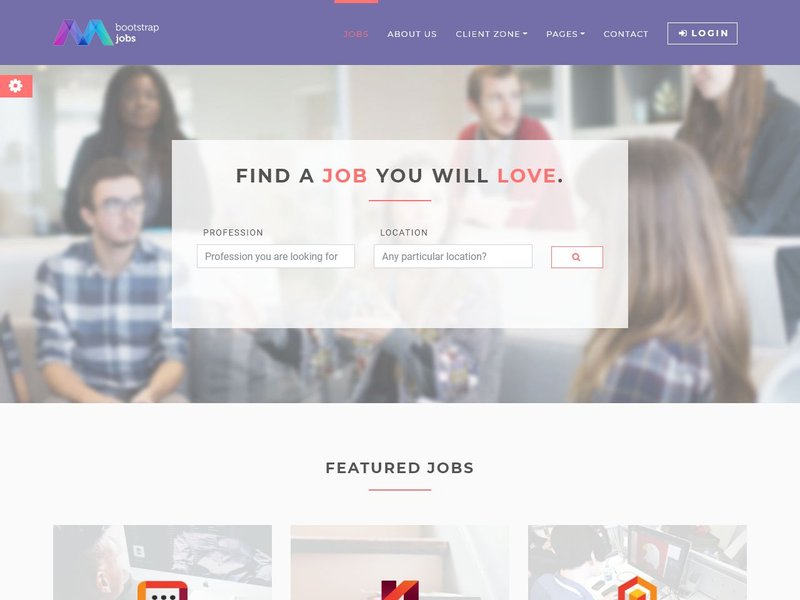 As the name suggests, this is a Bootstrap based job portal template that includes both Bootstrap 3 and Bootstrap 4 versions of the design. The theme comes with 15 page templates in 6 color variations: red, pink, violet, blue, sea blue and green. You also get SASS source files along with the CSS, HTML and JS files.
22. Job Pro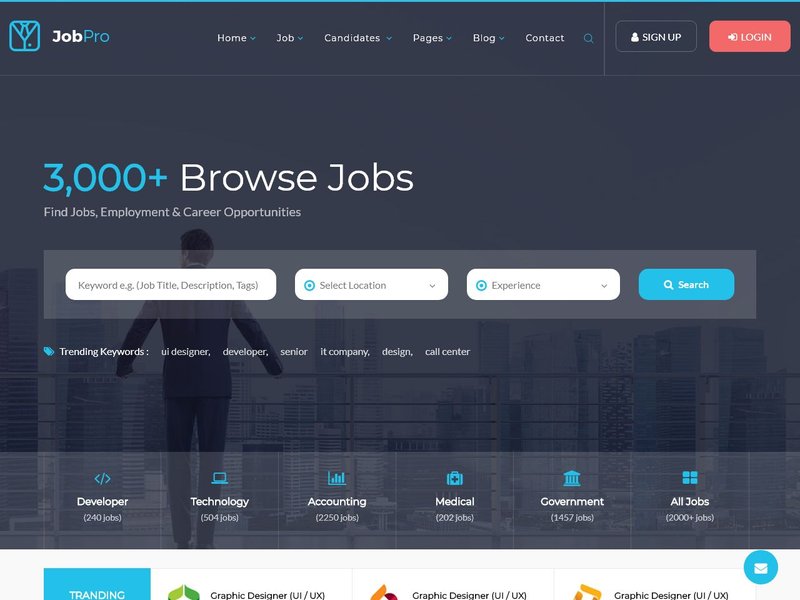 Job Pro is a modern job board HTML template designed to connect people looking for a job with recruiters hunting for candidates. The simple and clean design of this template is appealing for building modern job website and for advertising vacancies, finding suitable staff, receiving and sending resumes etc. The design is available in both light and dark theme and you can find 48+ pre-designed template pages.
23. Rejoin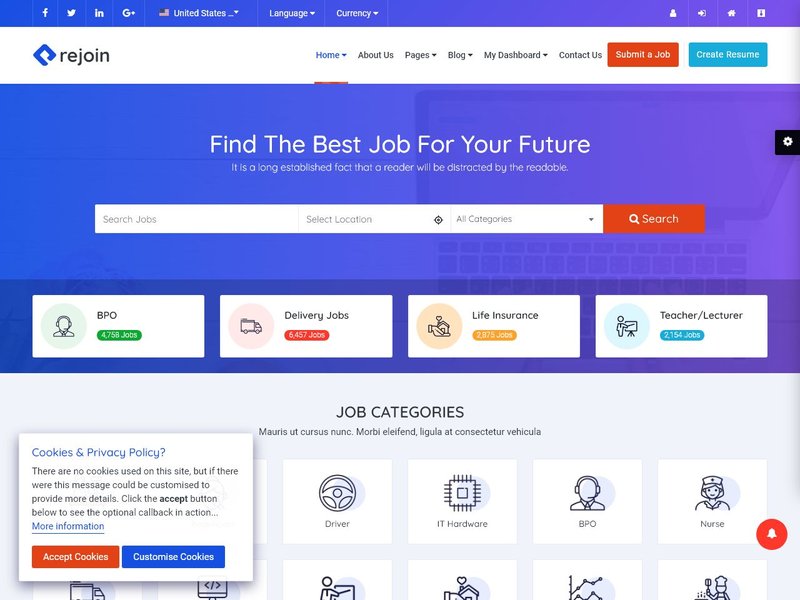 Rejoin offers a beautiful landing home pages design for job portal sites and has all the important sections of a job directory listing website. It comes with additional widgets and advanced form elements along with multiple header options. Built with Bootstrap 4, this template gets you all the required HTML, CSS and JS files along with jQuery plugins.
24. Keller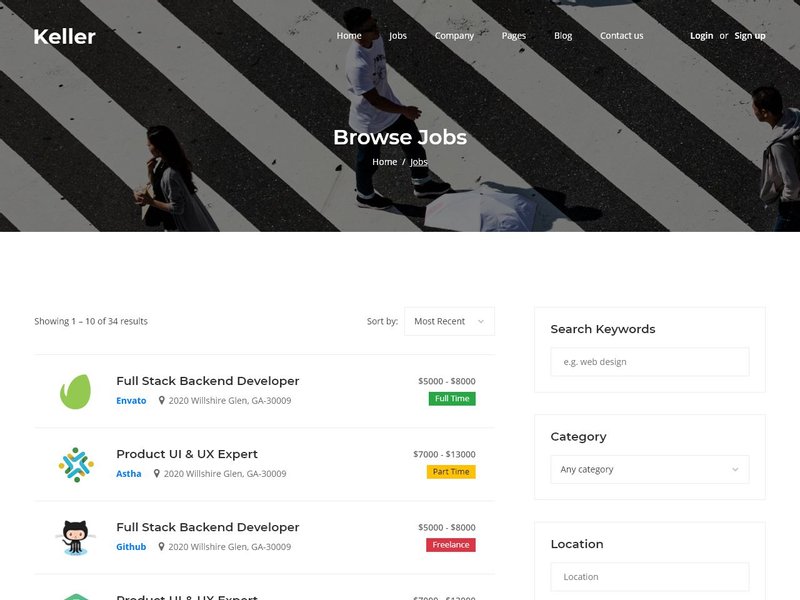 Keller has been crafted to connect employers and candidates on a job listing portal. This template is suitable for building any type of Job listings, Job Board or Job Search website. It is easy to customize and offers 2 home page layouts and 14+ pages in total including login and registration popups. The template also offers integration with MailChimp and has speed optimized for fast loading.
25. Jobya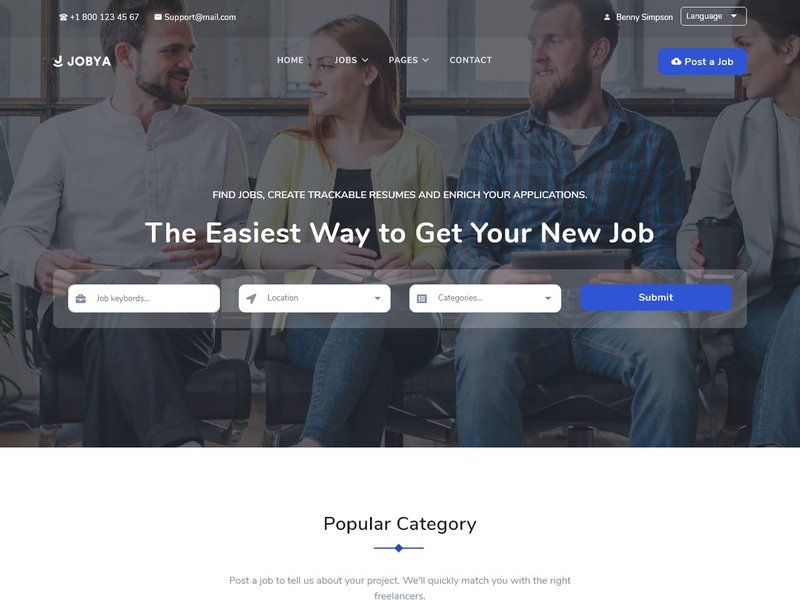 Jobya is a fully responsive job board HTML template that includes 24 pages in well organized structure. It is built with Bootstrap and aims to offer complete solution for job portals and career or resume sites. You also get access to blog pages, user pages, portfolio pages and more in the template. The design is user friendly and the code has been optimized to be developer friendly to make it easy to build and use sites made with this template.
Features of Best Job Portal Templates
A good job portal template will come with features that will allow you to craft websites with ease providing great usability and functionality. Lets take a look at some of the features of best job portal templates which will allow to make an informed choice while picking them:
Modern Design with all the important features such as Job listing, Job search, Job map, Job submission and profiles for recruiters and employers.
Job search page design with multiple filters such as category, title, pay scale, experience, location etc.
Well documented code with access to all important HTML, CSS and JS Files. Access to source files such as SCSS is a plus as it allows developers to easily customize the look and feel for the template.
Quality and dedicated supported that can be reached when you face difficulty in using the job portal template while building your own site with them.
Lastly, integration with third-party services such as MailChimp and plugins such as carousal, popups and tooltips.
We hope that we were able to list down some of the most feature rich job portal templates. Which template out of these do you like the most? Do you find any feature missing while building your own Job portals? Let us know.
You can also take a look at our template offerings as well as graphics that will allow you to build and customize your website. If you are an applicant looking for jobs then you may be interested in our template Creative CV or these professional HTML & CSS Resume templates.