When it comes to creating PowerPoint presentations, using a simple and minimal PowerPoint template can be a good approach. You may want to insert all sorts of charts, data and graphics in your slides, but to win over your audience, you need to keep their attention. Too many elements can not only be distracting, they can also impact the readability of your slides.
That is why, we have put together this collection of some of the best minimal PowerPoint templates that you can download and customize to put together a professional presentation quickly. All these templates feature a clean, clutter-free design with plenty of white space to effectively keep your content in the highlight. Which is a good way to maintain focus on your product or idea in the presentation. These minimalistic templates are both visually pleasing and functional. Have a look!
Best Free Minimal PowerPoint Templates
To start with, we round up some of the best free minimal PowerPoint templates with clean and simple design. Some of these templates are editable in Google Slides as well. All these templates are free to download, come with a complete set of slides and can be easily customized to make your own presentations.
1. Power – Free Minimal & Modern PowerPoint Template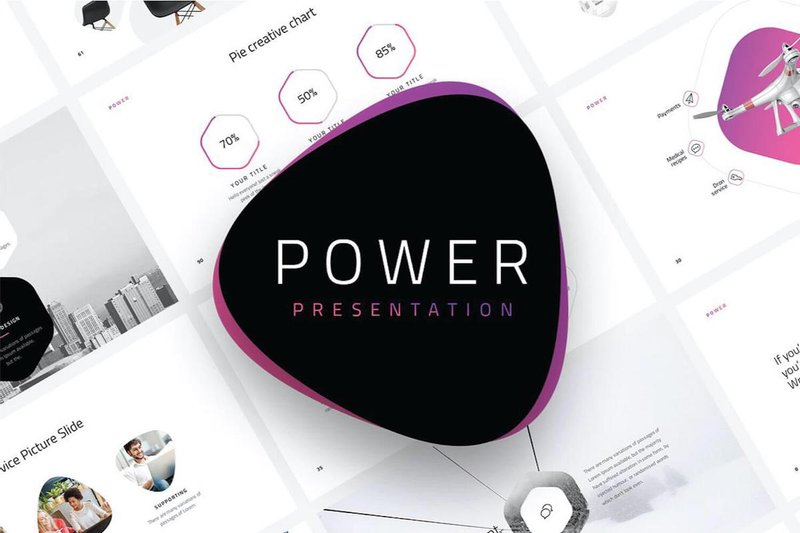 Power is a modern and professional PowerPoint template with minimal design aesthetics. This free template has a massive library of over 120 slides in 16:9 widescreen format. It offers a variety of features including creative photo layouts with drag and drop placeholders, diagrams, maps, device mockups, animations, icons and much more to help you present your idea in a professional way.
2. Free Minimalist Style PowerPoint Template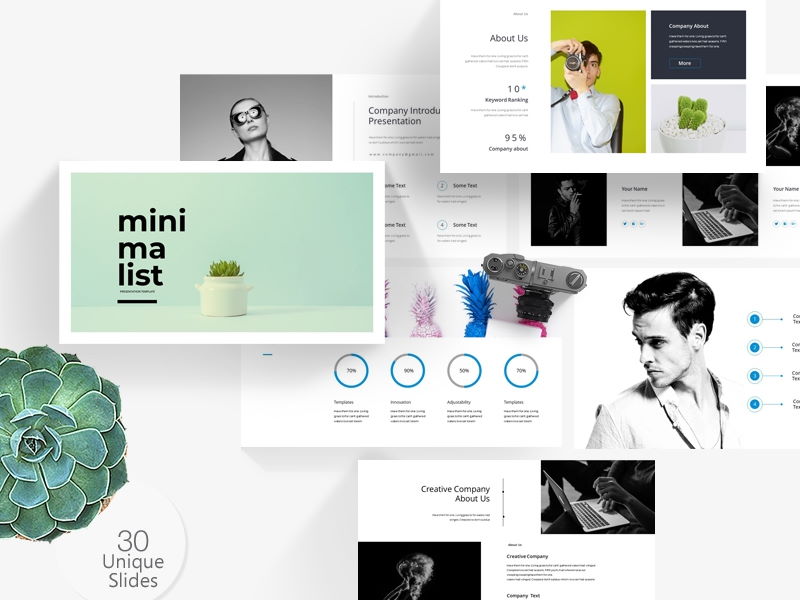 This minimalist style PowerPoint template features a clean and modern design. It has more than 30 unique slides in 16:9 full HD resolution that are fully customizable and will fit any kind of business use particularly in presenting company profile and portfolio. Free download includes .pptx file and a .txt file that contains links to the free fonts used in the template.
3. Minimalist Grayscale Pitch Deck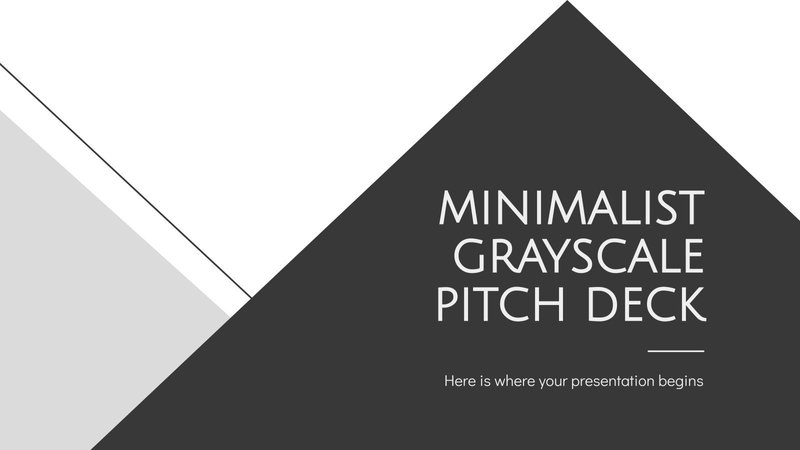 This free Pitch Deck template with a minimal, simple layout will help you go straight to the point and focus on the offered services and products. It includes 29 different slides with easy-to-edit graphics such as timelines, graphs and tables. Designed for use in both Microsoft PowerPoint and Google Slides.
4. Clean Multipurpose PowerPoint Template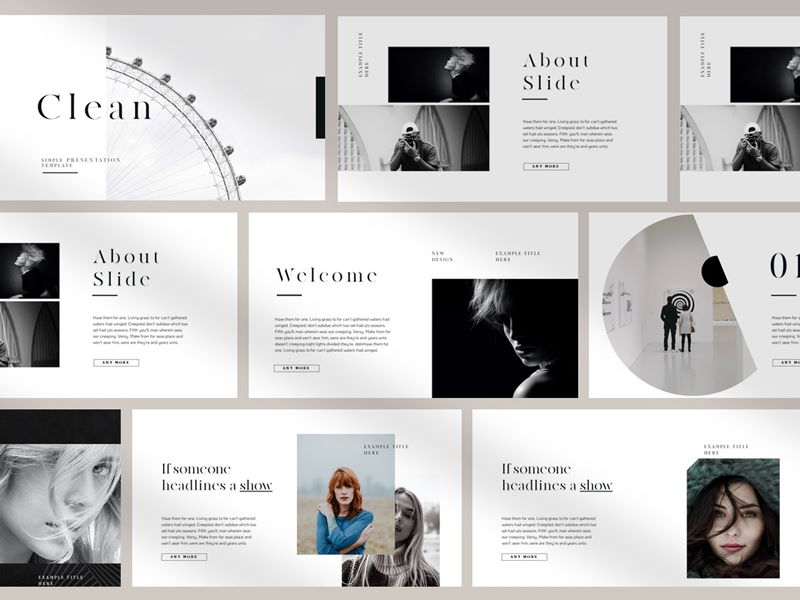 This template has 27 unique slides based on a master slide system that are fully editable. All elements & icons used in the slides are included with the free download. This is a multipurpose template and can be used for any type of business presentation.
5. Minimalist Aesthetic Slideshow Google Slides & PPT Template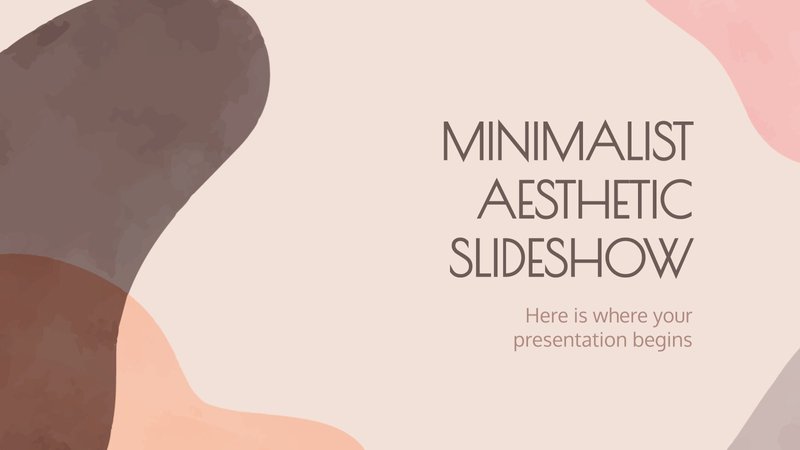 This template features a unique minimalist design with abstract shapes, a pastel color palette, elegant sans serif typography, line icons and minimal mockups to help your presentation shine. It comes with 32 different slides that can be edited in both PowerPoint and Google Slides to work for any topic.
6. Minimalish – Free PowerPoint Presentation Template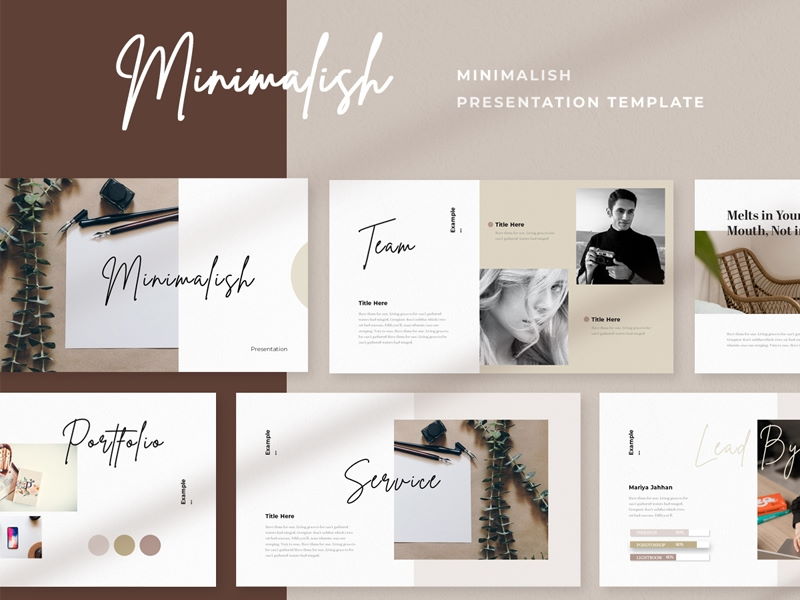 Minimalish has 30 unique slides with a clean and modern design. It features a beautiful earthy color palette, plenty of whitespace and an attractive typography. This template is perfect for designing presentations for creative businesses and agencies. Available for free download in .PPTX format.
7. Minimalist Book Slideshow for Business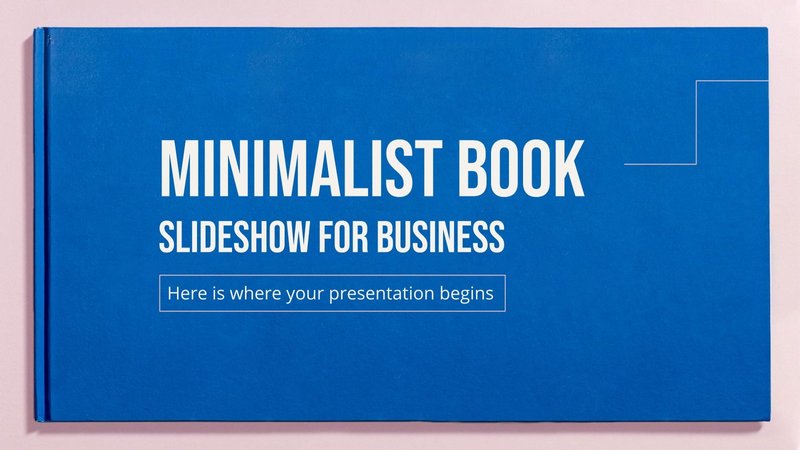 The slides of this presentation look like a real book that evokes a feeling of curiosity to open and go through its contents. Perfect for business presentations, this free Google Slides and Microsoft PowerPoint template comes with 36 fully customizable and easy to modify slides.
8. Minimal Grayscale Project Proposal PowerPoint Template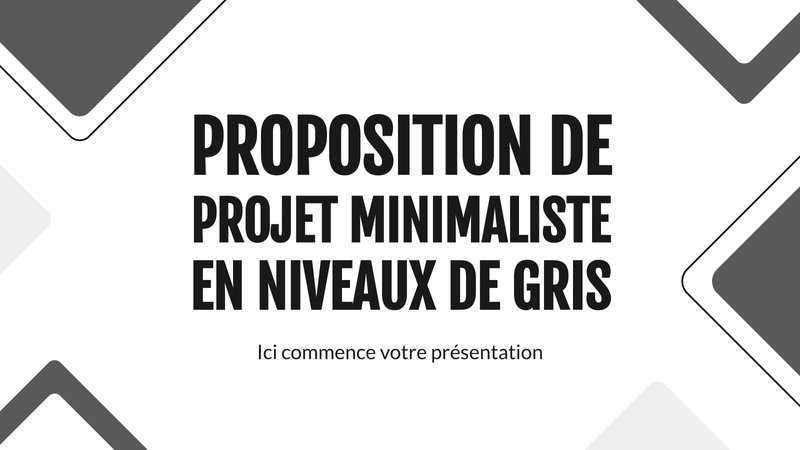 A minimalist style PowerPoint template to present your project proposal or a business idea. This template has a formal and serious style with a grayscale theme and geometric shapes for a modern touch. Its minimal layout will put your content in the forefront. It has 25 slides and is also available for Google Slides.
9. Esther – Minimal Beautiful Free Presentation Template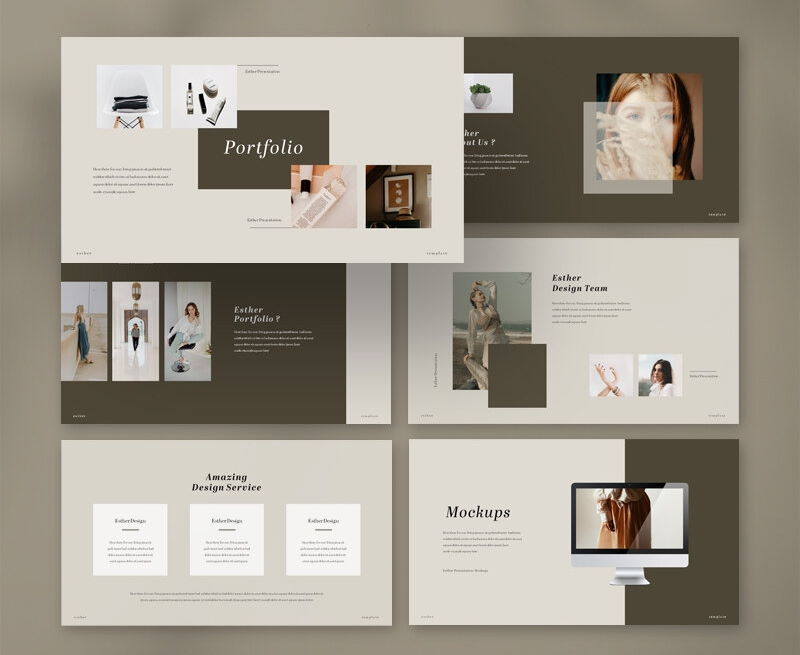 Esther is a beautiful PowerPoint template designed with a modern layout while still maintaining an air of minimalism and elegance. It features 21 customizable slides. This template is perfect for presenting portfolio and services of a creative agency or a design firm.
10. Stylish Minimal Free PowerPoint Template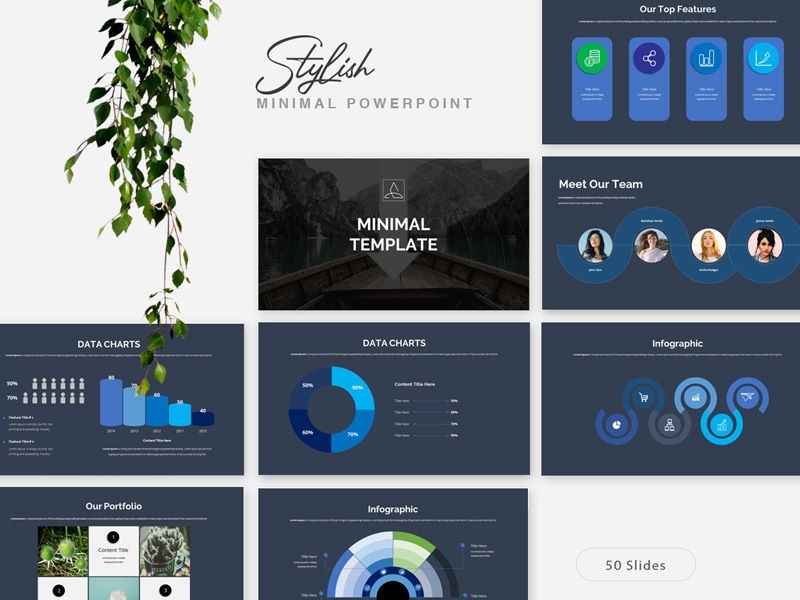 This free and modern PowerPoint template features a stylish yet minimal design that allows you to create attractive presentation slides that fit any kind of corporate use. It includes a total of 50 slides with customizable designs, data charts, infographics, icons, mockups, and much more.
Premium Minimal PowerPoint Templates
Below you will find a selection of professionally designed minimal PowerPoint templates that are available at an affordable pricing. These templates can be purchased individually or with subscription. With your purchase, you also get free support and updates for these templates. Please note that links to these templates are affiliate.
1. Business Plan Minimal PowerPoint & Keynote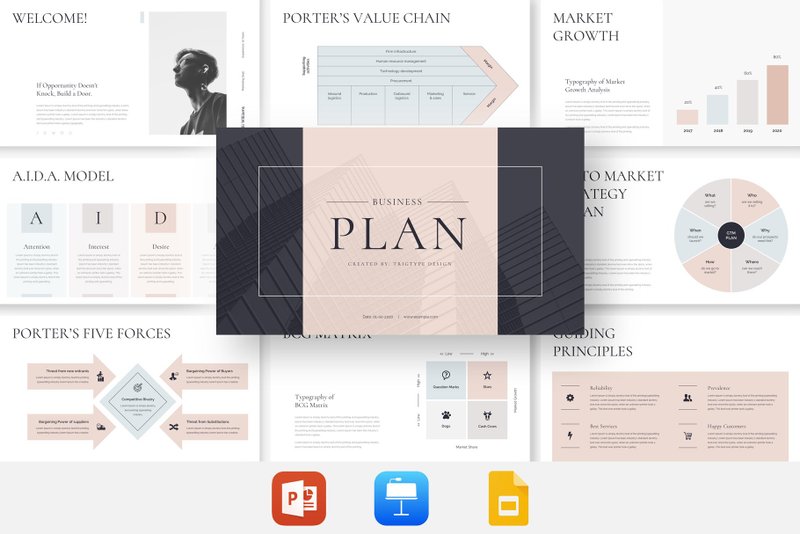 Coming up with a business plan requires focused effort. You can at least save your time by using this pre-made PowerPoint template with a minimal but powerful design for presenting your plan and strategies to your clients and investors.
It comes with 63+ slides with creative photo layouts, infographics, tables, vector icons, maps and diagrams to present your vision, guiding principles, problem/solutions, market definition, S.W.O.T and P.E.S.T analysis and much more. Download also includes Apple Keynote and Google Slides files.
2. Magnolia – Minimal & Elegant PowerPoint Presentation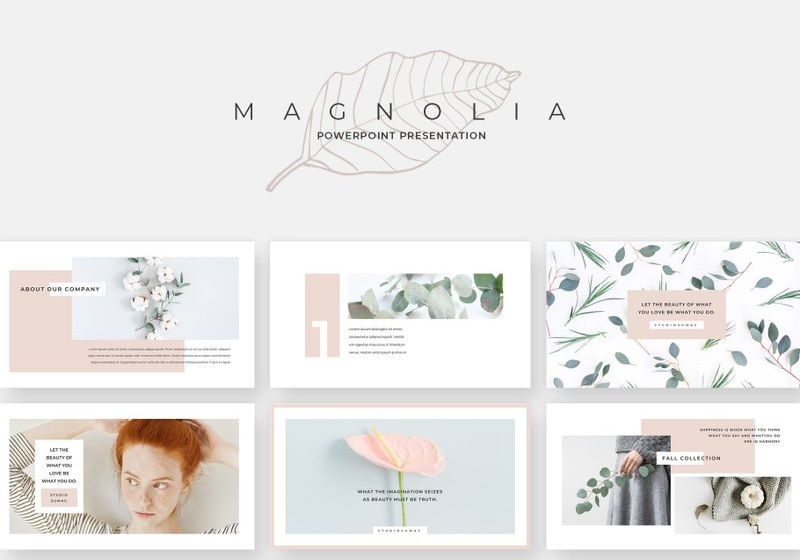 Magnolia is an elegant and fashionable PowerPoint template with soft, minimalist aesthetic that's both eye catching and professional. It features over 120 unique slides in 16:9 full HD resolution, drag & drop photo functionality, editable charts & elements, vector icons, photo galleries, and minimal fade transitions.
3. Soft – Minimal & Clean Template (PPTX)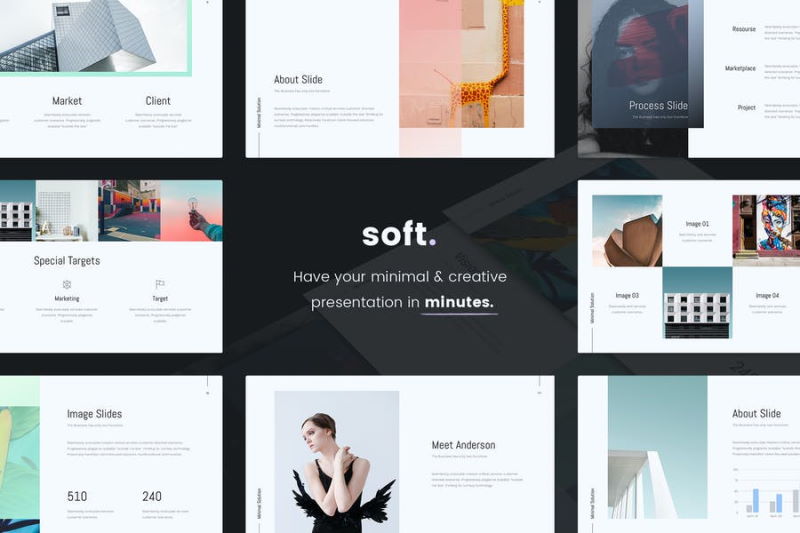 Soft has 70+ multipurpose slides that are clean, simple, and creative. This template was designed with focus on the real use, good readability and modern trendy look. Animations bring dynamism and will help make your presentation interesting and unique. Suitable for managers, lecturers and students alike.
4. Minimal Corporate PowerPoint Presentation Template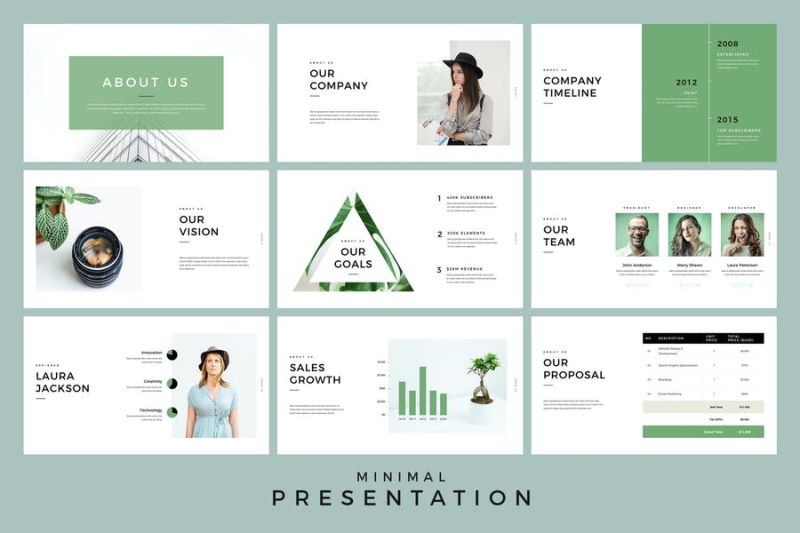 From presenting your business strategy to introducing your company and business portfolio to your potential clients, this PowerPoint template will help you craft professional slides to visualize your key points. The powerful template features more than 300 slides with clean and minimal design, comes with 10 premade color themes, and has drag and drop image placeholders for easy editing.
5. Ciri – Minimalist Creative PowerPoint Template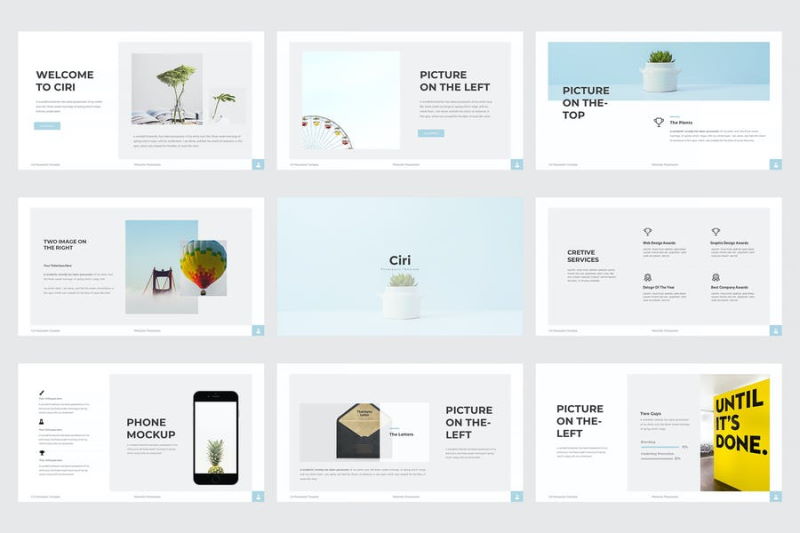 Ciri, a creative and minimalist PowerPoint template, is a good choice for introducing or promoting your company or any personal project in client meetings. It comes with 59 slides based on master slide layout, editable charts, animations and transitions, timeline views, mockups and vector icons.
6. Minimal Pitch Deck PowerPoint Template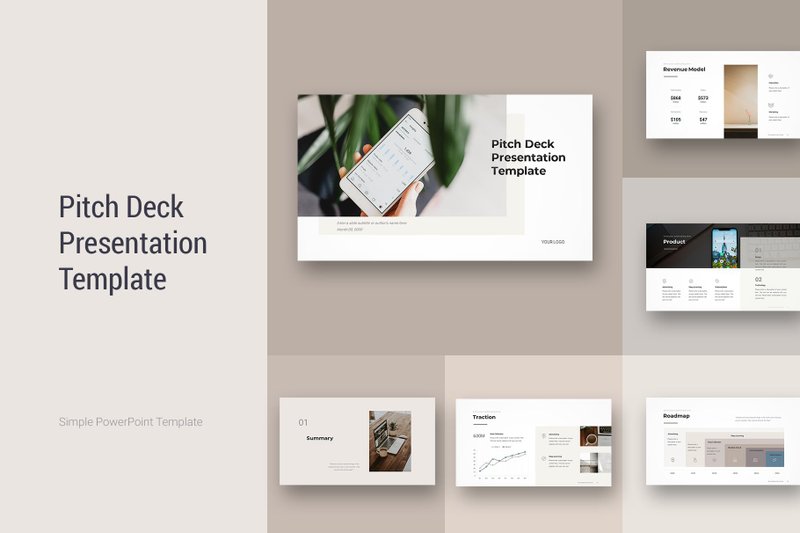 This clean and minimal pitch deck template will help you create a persuasive startup pitch presentation in PowerPoint. It contains 113 professionally designed slides for problems, solutions, products, markets, competitions, business models, marketing strategies, roadmaps, teams, and financial information, and many more. These slides are designed in both standard 4:3 and widescreen 16:9 layouts.
7. Ravi – Clean Business PowerPoint Template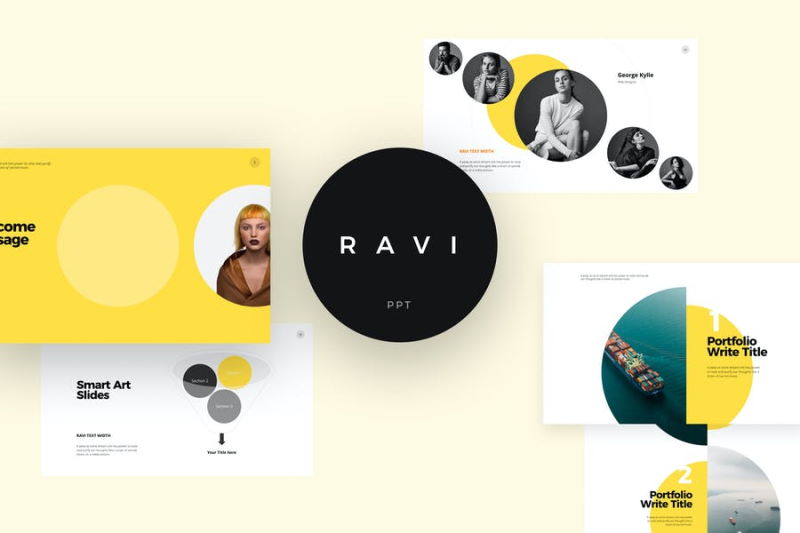 Ravi PowerPoint template features a clean and sleek design for making professional presentations for businesses and corporates. It provides 100 unique slides with 40 different color variations. Includes dark as well as light themed slides. On purchasing, you get access to over 2000 icons, 50 device mockups and maps. It also has a free version that has 10 slides.
8. Heina Minimal PowerPoint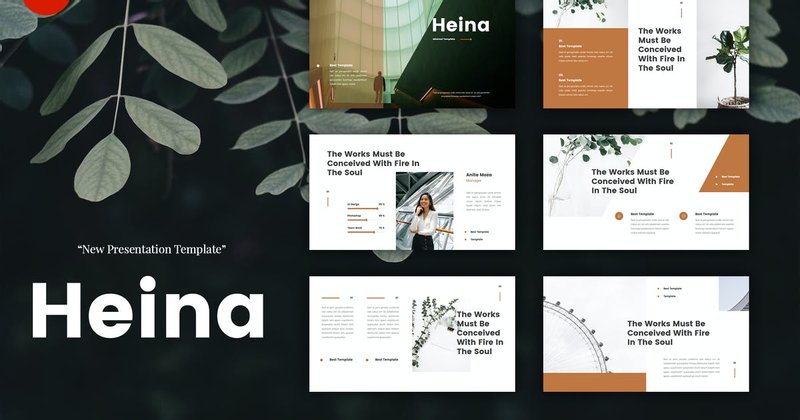 Heina PowerPoint template offers creative and minimalist design that can fit any business presentation for startup, design agency, creative company, or branding agency. It comes with 30+unique slides based on master slides layout, has editable vector shapes, charts and much more.
9. Resik Modern Minimal PowerPoint (PPTX)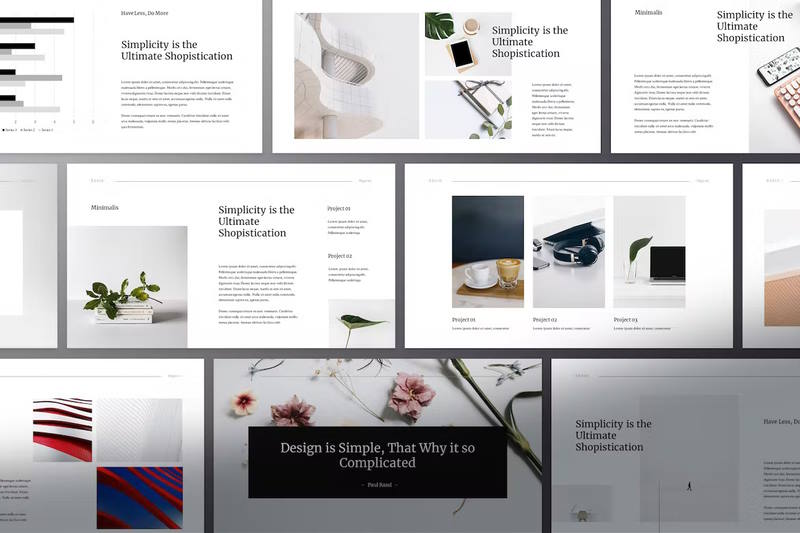 A multipurpose PowerPoint template, Resik can be used for creating internal pitch deck, investor pitch deck, weekly meeting, annual reports, business reports or any business presentation. It features a modern design with a minimalist yet professional theme. It includes 30+ slides including quote and product slides, team management slides, product description slides, company profile slides, and creative portfolio slides.
10. Minimal Portfolio Agency PowerPoint Template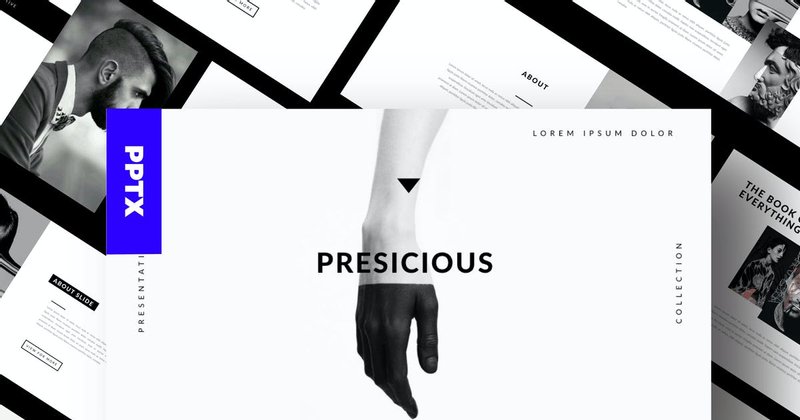 Portfolio Agency is a clean business PowerPoint (.PPTX & .PPT) template designed for portfolio presentation by startups and creative studios. This template offers a set of 50+ slides with editable elements such as text, color, photos, vector 3D infographics, icons and much more.
We've enlisted some of the best minimal PowerPoint templates in this article that are available for free download as well as premium purchase. If you liked this collection, do not forget to share it on social media, it greatly motivates us to share more such resources! You may also want to check out our collections of professional PowerPoint templates and business PowerPoint templates that cover PPT templates in a range of different styles and niches.