Professionally designed HTML Resume Templates which are available for free download are hard to find as most of the templates are either outdated or lack the class. But in this post we present to you some of the mostly elegantly designed, clean and modern resume/CV HTML & CSS templates which are completely free and will help you establish a professional resume/portfolio site.
Previously we rounded up free minimal & creative resume Templates in PSD, Word & AI formats as well as free resume templates in Word. In this post we will be looking at HTML & CSS based resume templates. Whether you are fresh out of college or an experienced professional, these resume templates would surely make your portfolio impressive. At the end of this post, we have included some tutorials for you to build your own professional resume or CV website in HTML5 and CSS3.
You will also find premium HTML resume templates in this post, which we included to give you a glance of some of the paid options available. After all this is your career we are talking about and you should have all the choices available to make a perfect impression with your portfolio. Let us begin!
Free HTML & CSS Resume Templates
Find below some of the best resume website template built with HTML & CSS. Do note that these website templates are for building static HTML websites. If you are looking for WordPress theme instead then take a look at these resume WordPress themes.
Creative CV – Resume Template built with Bootstrap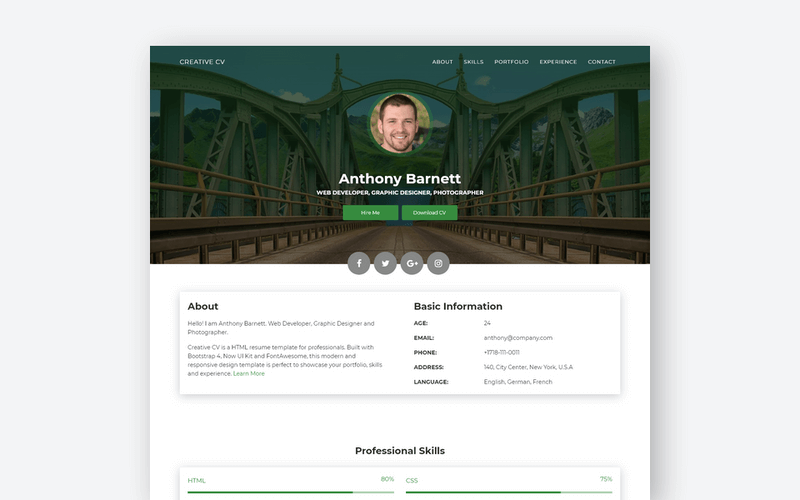 Creative CV is a professionally designed responsive and free resume HTML template. It has been built by TemplateFlip with Bootstrap and Now UI Kit. This modern design template is perfect to showcase your Bio, skills, portfolio, work experience, education and references. You can easily to edit, customize and extend the template as per your needs and create your very own website featuring your resume/portfolio.
Material Resume – Material Design Resume Template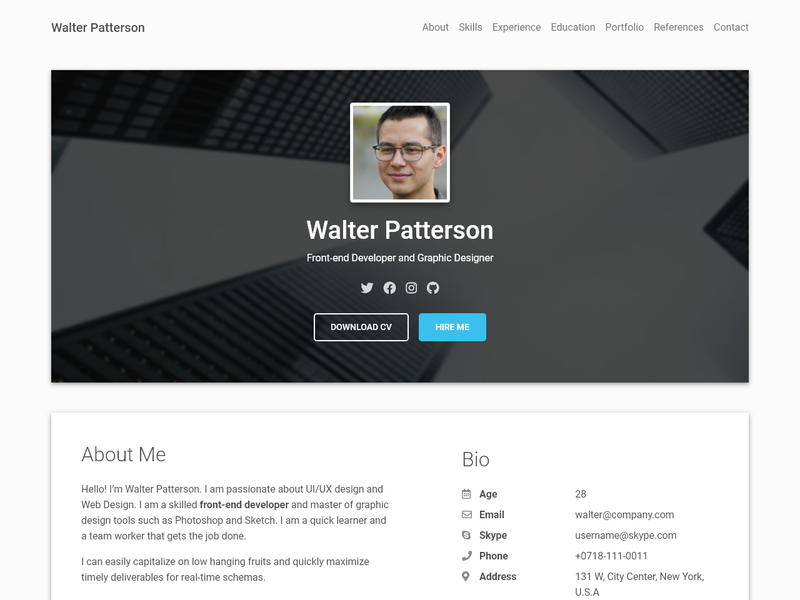 This is our pick from professional material design resume templates that has all the section you need when creating your online portfolio or CV. It is a responsive design resume website template that has been built with MDB UI Kit (read review). This template has clean material look with subtle animations and shadows. It has sections for your skills, experience, projects, reference and contact. You can also export this HTML template as PDF or take physical copy print simply using your web browser.
Super Folio – Bootstrap Portfolio Template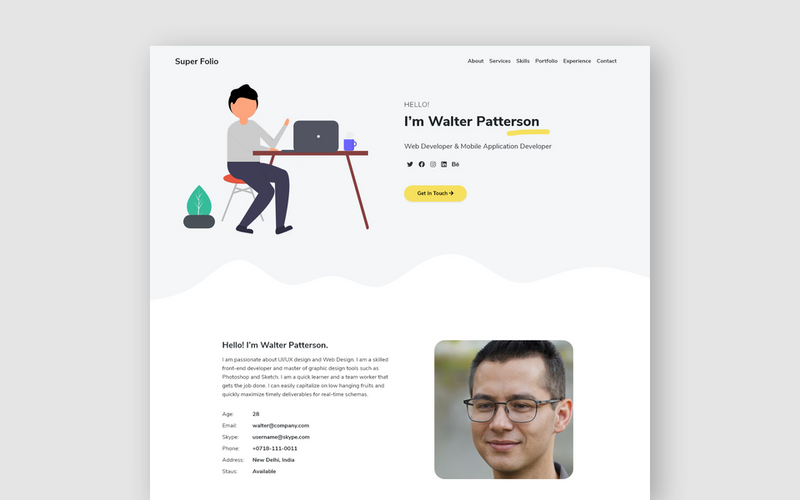 Super Folio is a free portfolio template built with Bootstrap 5. It offers bright and modern color scheme as well as typography. You get multiple sections to showcase your Bio, services, portfolio projects and client testimonial. Contact form and social icons are also provided with this website template. It is fully responsive and has in-built on-scroll animations.
Right Resume – Bootstrap 5 Resume Template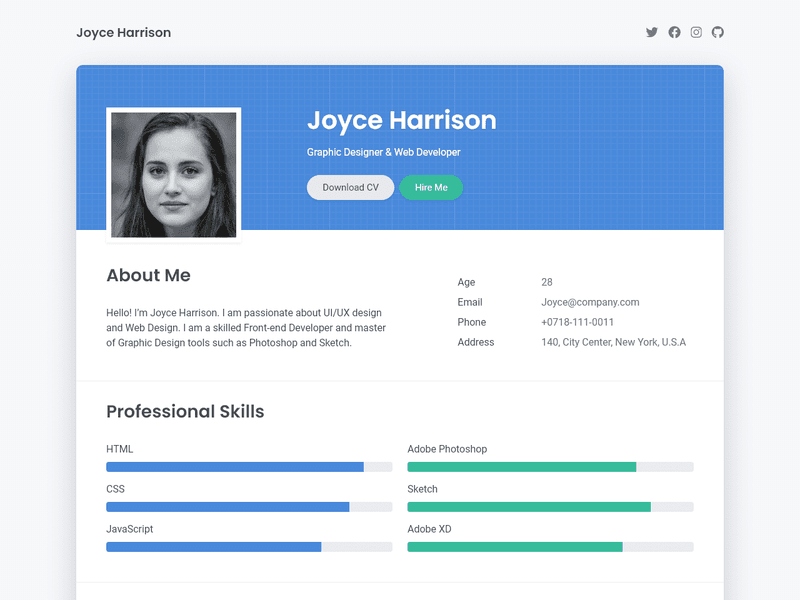 Right Resume is sleek and elegantly designed responsive and free resume website template. It has been built by TemplateFlip with Bootstrap 5. This template allows you showcase your skills, work experience as well as education. It has subtle animations as well as timeline view to display your profile. You can easily edit the template as per your needs. What's more, you also get a print stylesheet included in the template that allows you to take PDF or physical prints using your web browser.
Defolio – Bootstrap HTML Resume Template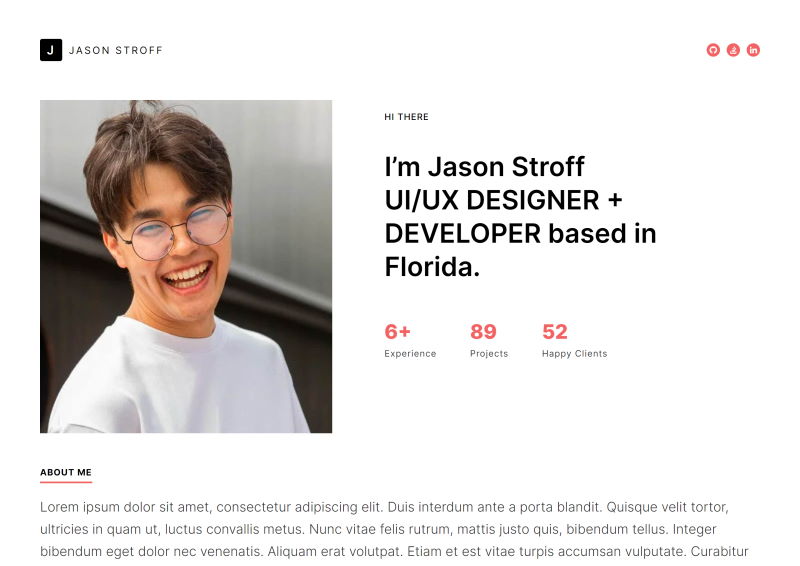 Defolio is a simple and minimal free resume HTML template built with Bootstrap 5 and is offered by designstub.com. This one-page personal CV/resume template is suited for showcasing your experience, skills, and latest projects.
DIY HTML Resume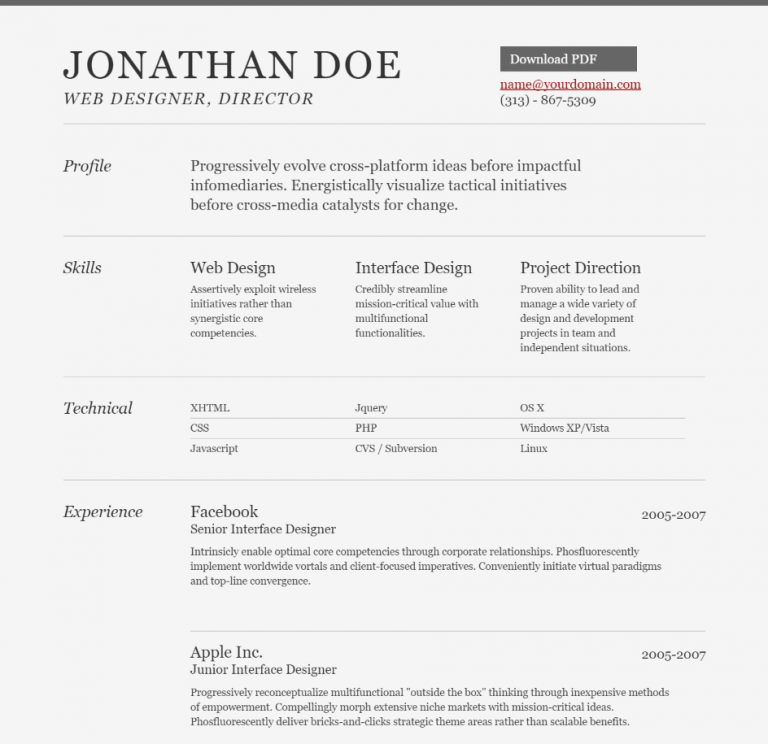 This Sample Resume Template is a simple and quick way to build a HTML resume. To get started, download the files and edit them in your favorite text editor fter which you can upload it to your web server or export to PDF. It is totally free to download.
Ceevee Responsive Website Template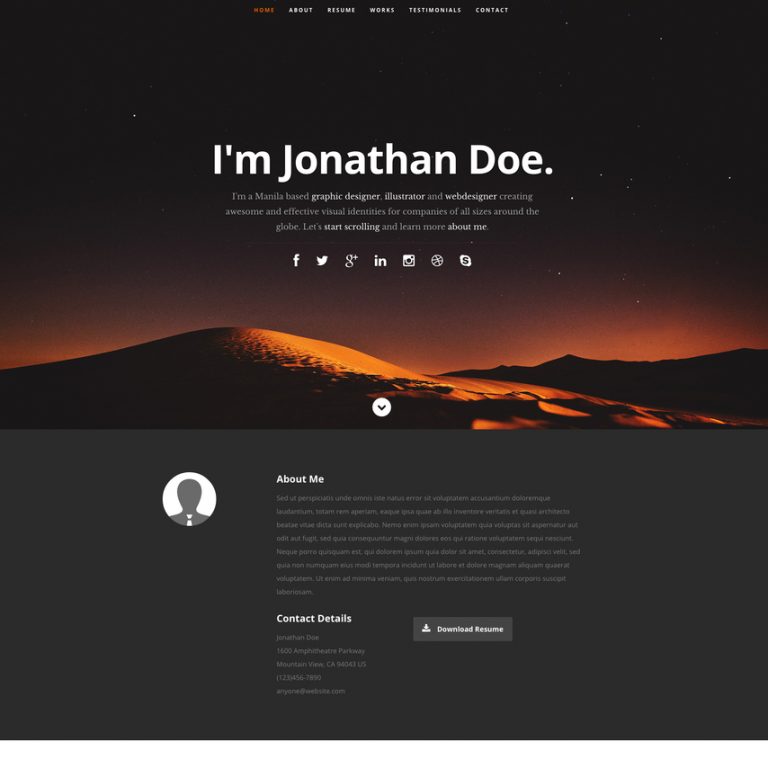 The Ceevee Resume Free Responsive Website Template is the perfect template for showcasing your online resume. Built in the minimal design style, this website is trendy and will allow the viewer to focus on what's important–your skills, experience and assets. This template is fully responsive so it will look great on every type of design.
Brandy Portfolio Responsive Bootstrap Template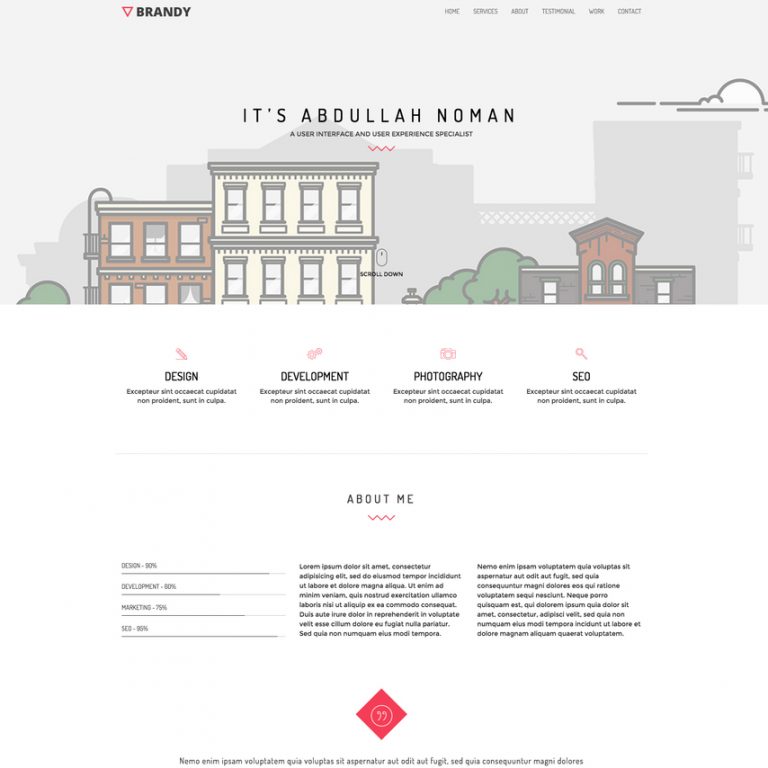 The Brandy Portfolio free responsive Bootstrap 3 template is a clean, simple yet creative template for featuring your development and design skills online. The light colors used in this template will allow viewers to focus on what's important–your work and design experience!
Neu Profile – Responsive Bootstrap Site Template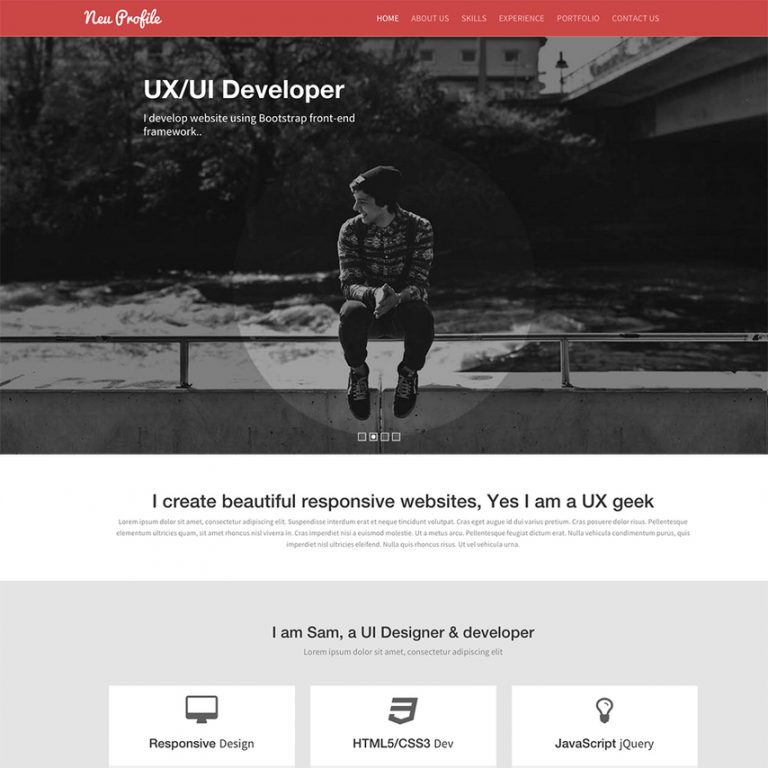 Neu Web Designer Free Responsive Bootstrap Website Template is a perfect template for a web designer, programmer portfolio, or another similar job. This is a clean and modern template that will showcase your work similar to a resume or CV. The template was built using HTML5, CSS3 and Bootstrap.
One: A Free One Page Web Resume Template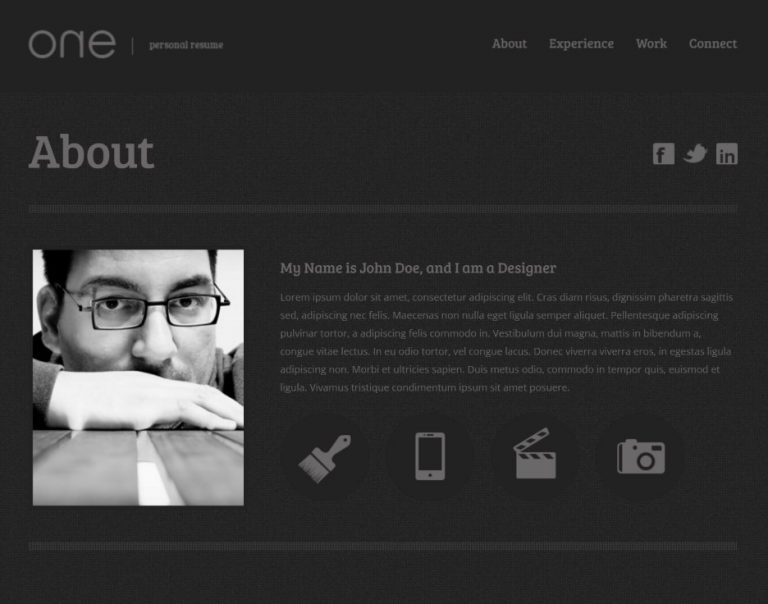 One Resume is a free one page web template that features a smooth jQuery slide between sections of the page. This template is perfect for a solo designer to general personal page. The template is clearly coded and commented for easy editing and expandability.
Free Creative and Professional CSS3 CV Resume Template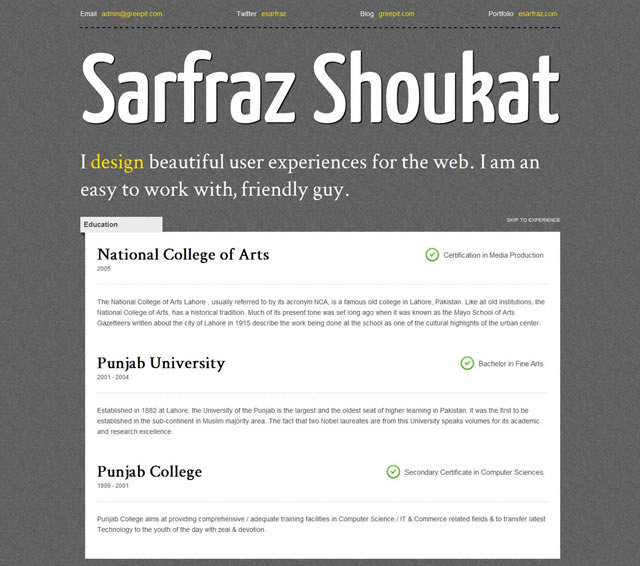 This template has been designed by Sarfraz Shoukat with web designers and developers in mind, as a means to not only exhibit your profile and experience, but also as a means to show off and highlight your skills. This lightweight template makes use of open-source fonts, tastefully chosen CSS3 properties, its CSS and HTML validates and finally it renders beautifully well with Firefox, Safari, Chrome and even looks good with IE.
One Page Resume Site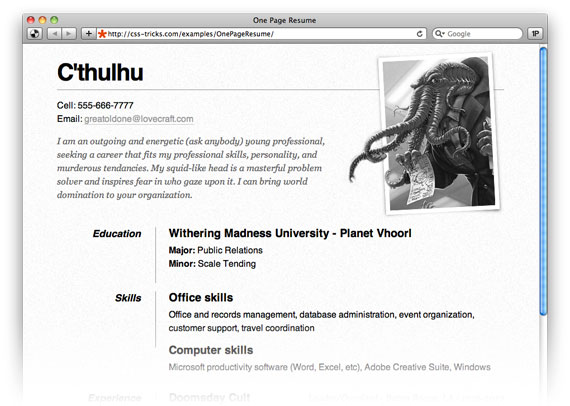 A one page resume website template with clean layout offered by CSS Tricks. The contact information is using microformats and the template is print-ready.
Premium HTML & CSS Resume Templates
When the need is to make the perfect first impression with a visually striking resume which stands out from the crowd then some of the free resume templates above may not be enough. We present to you carefully selected premium professional templates from ThemeForest and CreativeMarket which are sure to wow anyone. These templates also offer multiple customization options and different layouts for you to choose from.
Oscar – Portfolio Template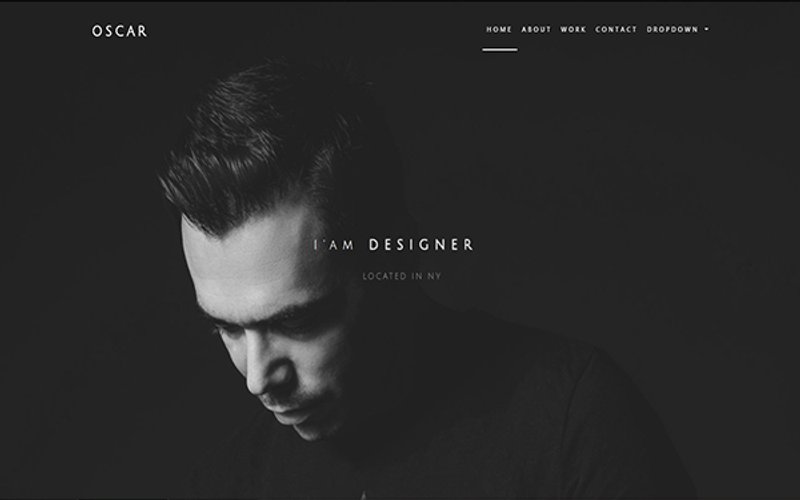 Oscar is a creative template with simple and clean design. It has been built with Bootstrap 5 and is a perfect choice for designers, developers, photographers, artists or freelancers. It includes a working contact form and has multiple variations featuring animated text as well as particles animation effects.
Bonus: Check out these Best Free Bootstrap Templates
BERG – Creative Resume Template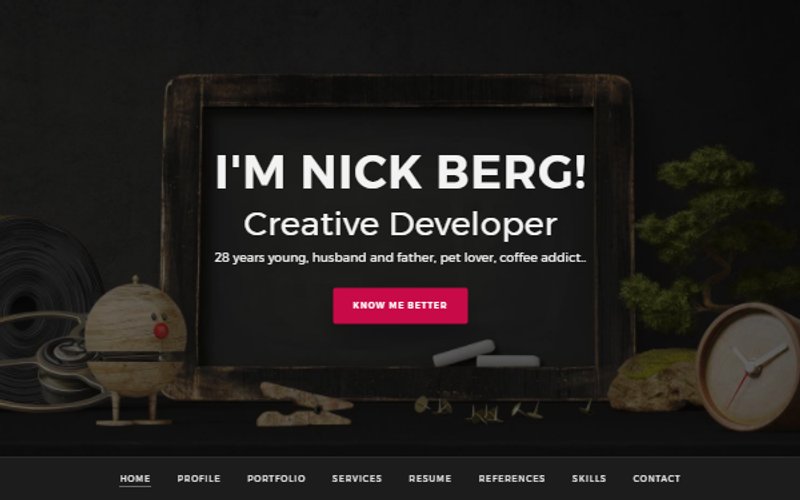 BERG is a creative resume template with design in 8 preset skin colors. You can easily place your personal information and use this template for presenting yourself. The template also include 2000+ premium icons from IcoMoon as well as support for Font Awesome icons. Having support for background slider as well as parallax background, this theme also comes with animated typing effects.
Kory – Portfolio/CV/Resume HTML Template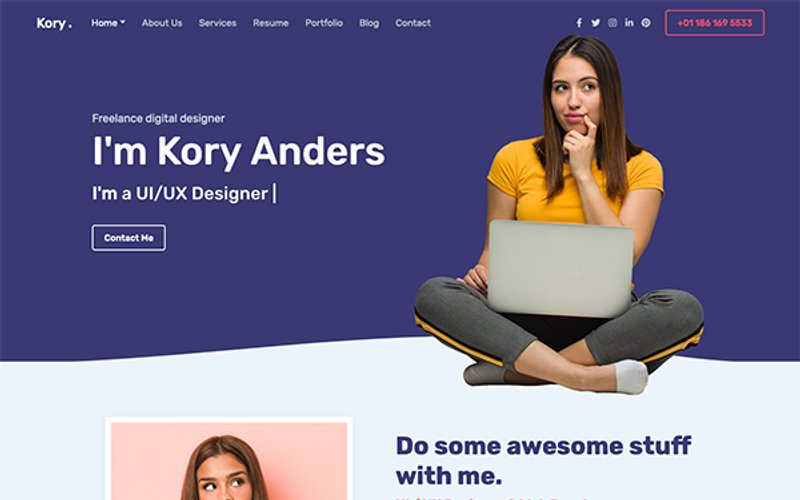 Kory is a creative, modern and visually stunning Bootstrap 5 HTML template that aims to offer quick and dedicated support. It has pre-built sections for showcasing your portfolio along with blog section and about page. Integrated with Font Awesome and Themify icons, the template also include SASS file in the download for easy customizations.
Minfolio – Personal Resume / Portfolio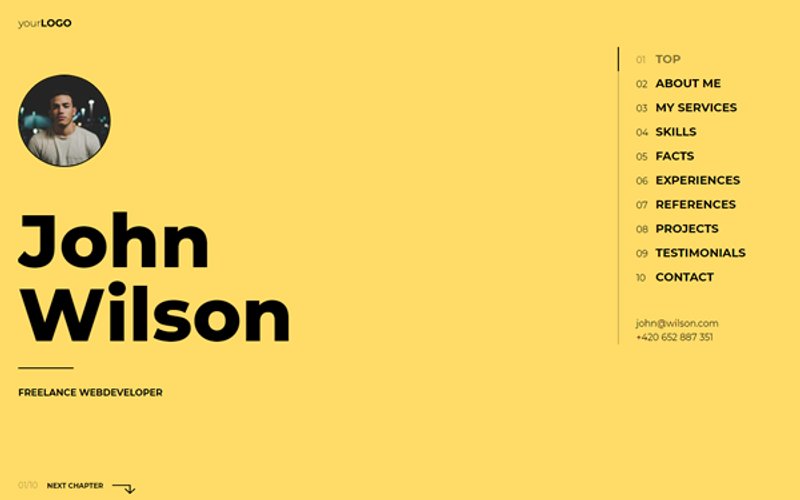 Minfolio is a modern and fully responsive template for personal resumes and portfolios based websites. Suitable for professionals as well freelancers, the template offers custom styles for all Bootstrap components, CSS animations and integration with Google Fonts.
Geek – Resume & Portfolio Template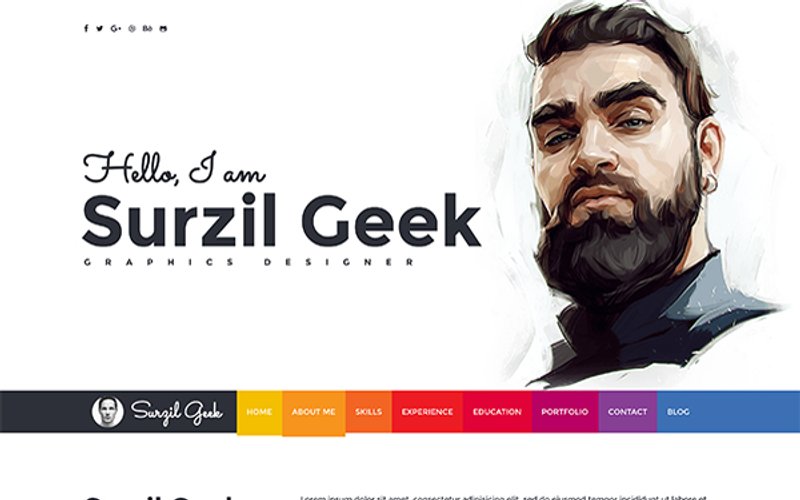 Geek is a clean and modern design personal resume HTML template based on Bootstrap. It offers vibrant and creative color theme with CSS3 animations and transitions. This easy to customize template has dedicated sections to showcase your skills, experience, about, education history as well as portfolio. It also has premium support included with it.
vCard – Resume / CV / Portfolio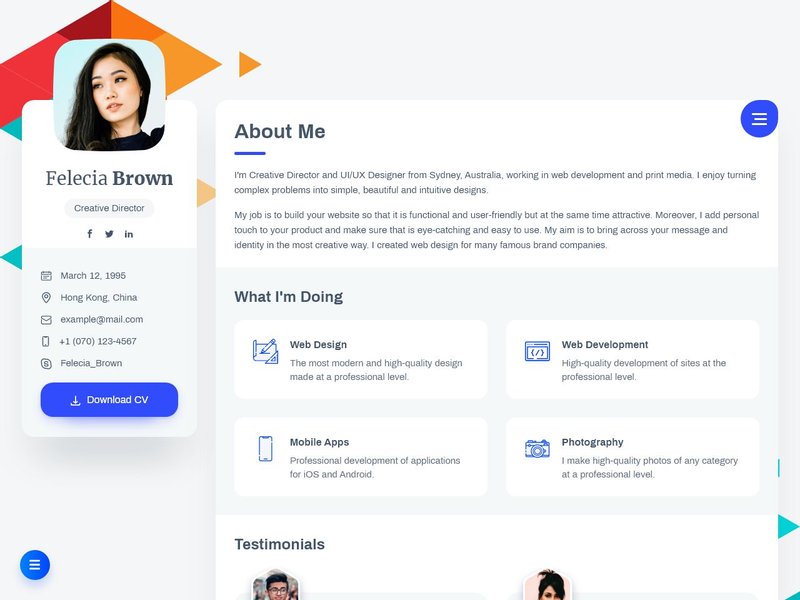 vCard is suited for any type of professionals and creative studios for placing their experience, skills, education, works and expertise online. Featuring a modern and elegant design, this template has both light as well as dark version.
Leven – CV / Resume HTML Template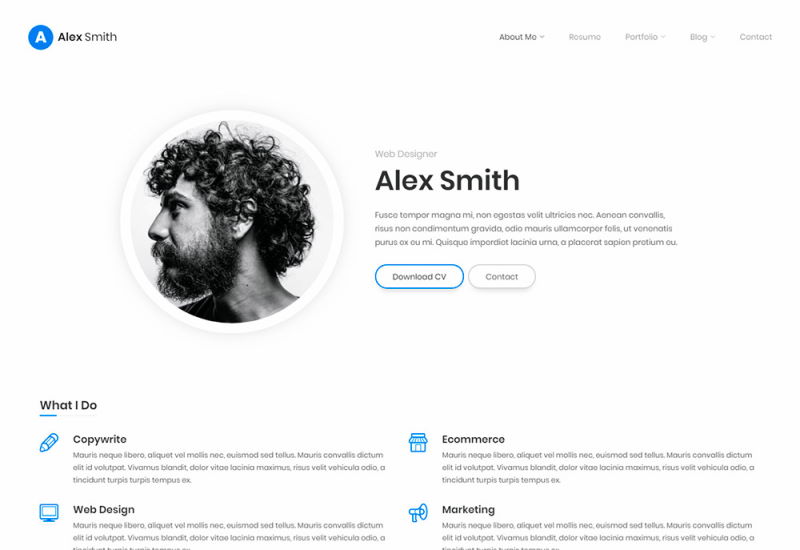 Leven is a personal CV and resume HTML template based on Bootstrap. It comes in both light and dark versions with full-width or contained layout. Other features include 2 home page designs, 12 color schemes, animated layout, portfolio with filters with support for image, video and audio, blog pages and much more. Leven resume HTML template is fully responsive, mobile-friendly and retina-ready.
Material CV / Resume & vCard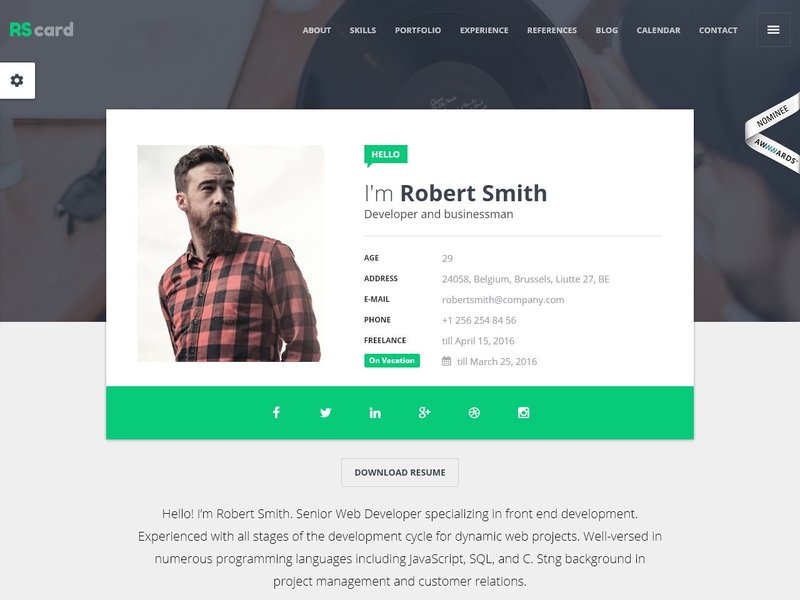 This is a material design CV/resume template with a fully responsive layout. This is an ideal template for any type of profession as well as creative studios and companies. It perfectly suits for placing information about your experience, skills, education, works, awards and expertise. You will be able to add a blog as well to your website.
Bonus: Check out these Free Material Design HTML5 Templates
I'mRex – Material CV / Resume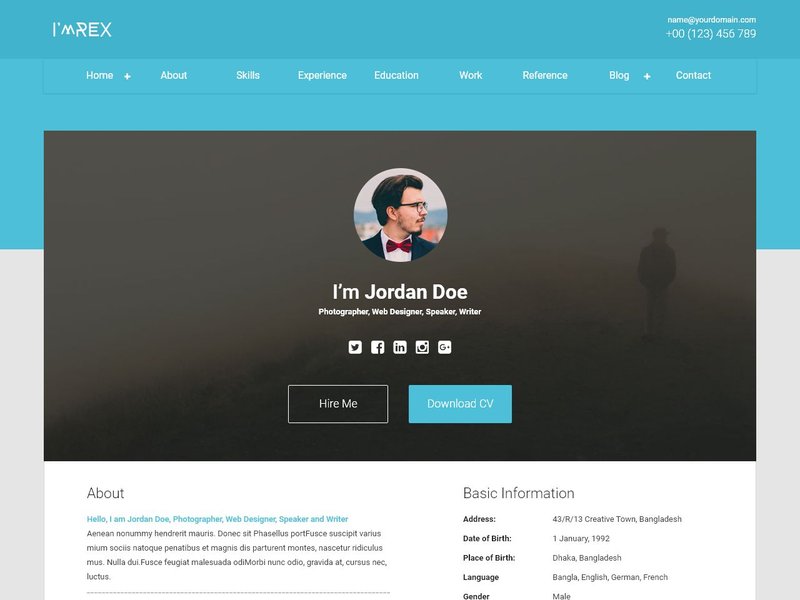 I'mRex is another material design responsive one page HTML5 template. It has all the features to make responsive website for Developers, Designers, IT Professionals and so on. It comes with 100% responsive features so that it will look perfect on all modern devices including iPad, iPhone and Android phones.
Vertica – Retina Ready Resume / CV & Portfolio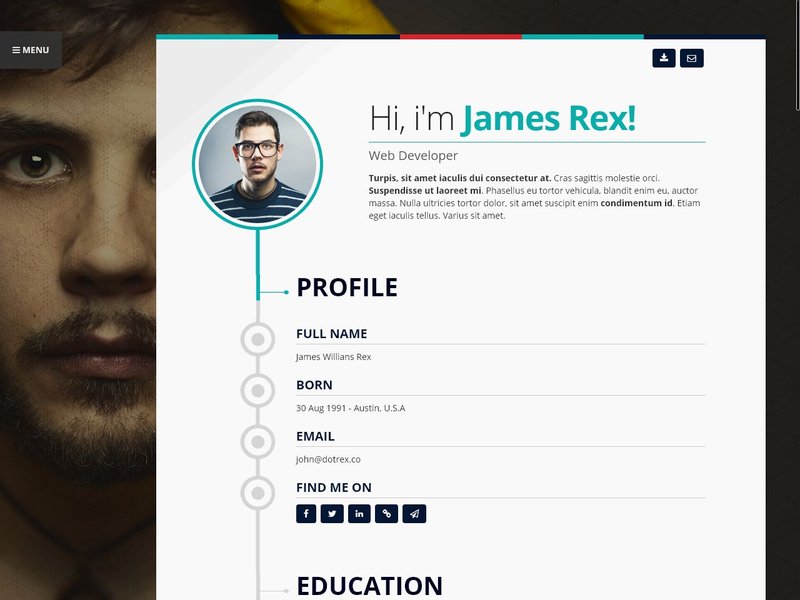 Vertica is a clean, multipurpose and well crafted HTML resume template. It is focused on digital professionals, programmers and photographers. It features an unique and interactive timeline, is 100% responsive, retina ready and is built on Bootstrap Framework, with easy customization. It also have smooth scroll, improving the user experience on all devices.
MEE – Responsive Resume / Personal Portfolio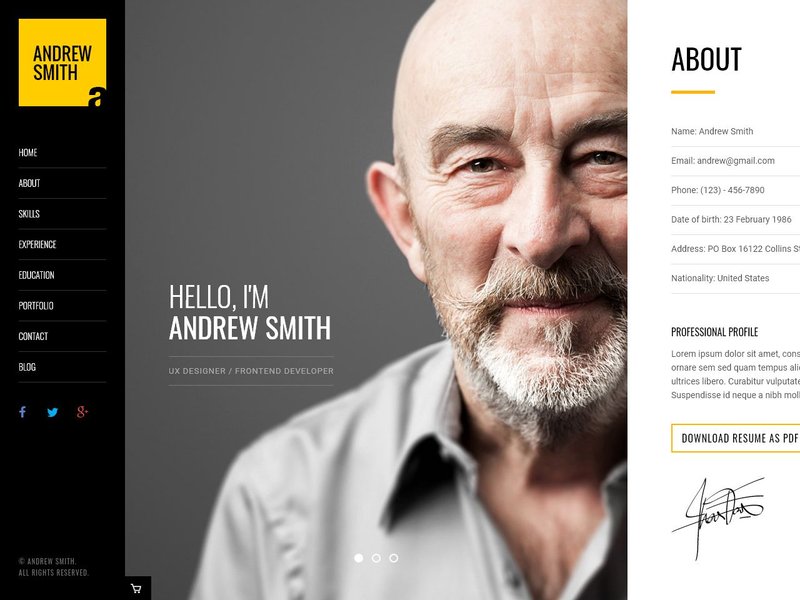 Mee is clean, minimal and professional looking resume template. This template is suitable for anyone who wants to have a personalized resume website with unique style, layout and colors. This template includes 4 color schemes, blog pages and 404 pages also.
Flatrica – Material CV/Resume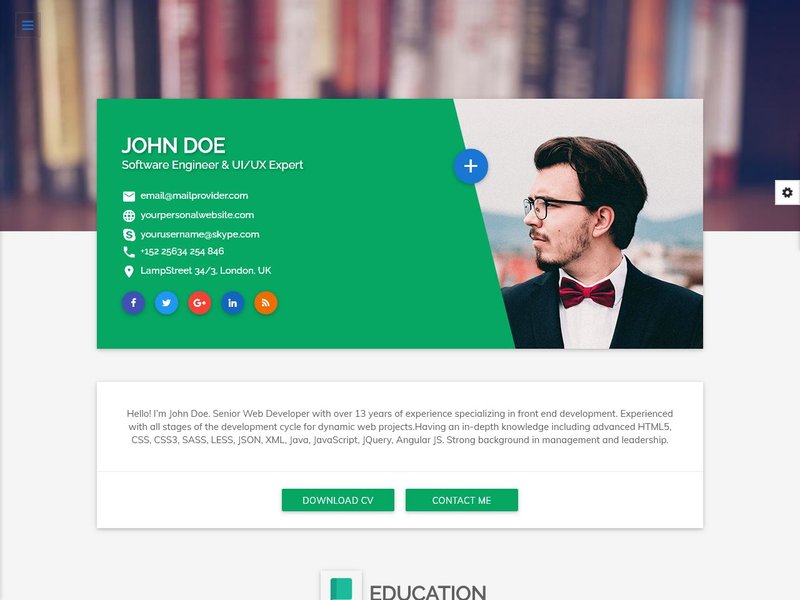 Flatrica is a material design based responsive one-page resume template. It offers video intro with detailed timeline and portfolio sections to showcase your skills and expertise. Comes with 12 color design, the template also offers blog section.
Mulan – Resume Template + RTL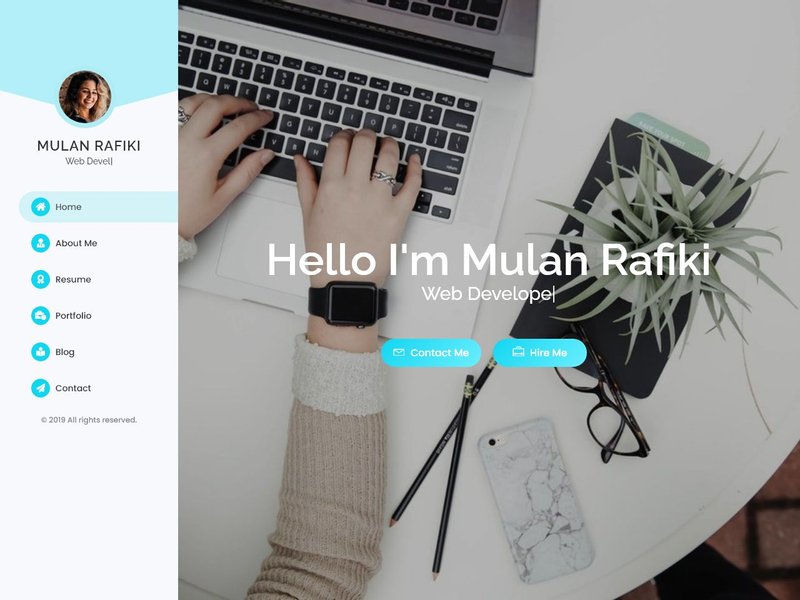 Mulan is a RTL supported resume template with stylish and modern look. Offering design for portofolio, resume, blog as well as contact section, this template has 3 different start screen design too. A dark mode for the template is also present in the design.
How to choose the perfect HTML Resume Template?
You may want to consider a few of the points below in order to choose the perfect and professional looking HTML resume template:
1. Easy To Edit
The template should be easy to edit so that you can tune it to perfection with your own details. If you are familiar with frameworks like Bootstrap or Foundation then look for resume templates built with those frameworks.
2. Multiple Customization Options
Resume templates which offer customization options such as multiple fonts, colors and layouts are better to have in order to make them fit for the need.
3. Print Stylesheets
If the template provides print styles then you would be able to easily print your resume from your website. The additional print stylesheet should be able to hide elements that are not needed in the printed resume PDF or physical copy.
4. Licensing Information
This one is very important and you should always read the licensing information associated with a free resume template.
How to build resume in HTML5 & CSS?
If you would like to craft your own perfect resume in HTML5 and CSS then we present to you the following tutorials which will guide you through the process:
You can also refer to the above tutorials in order to customize the free and premium HTML resume templates we covered earlier.
While customizing these resume templates, you might want to add icons for showcasing your design and development skills. In such case the MIT licensed free icons from skillicons.dev will come in handy, here is a preview of the icons currently included in this set: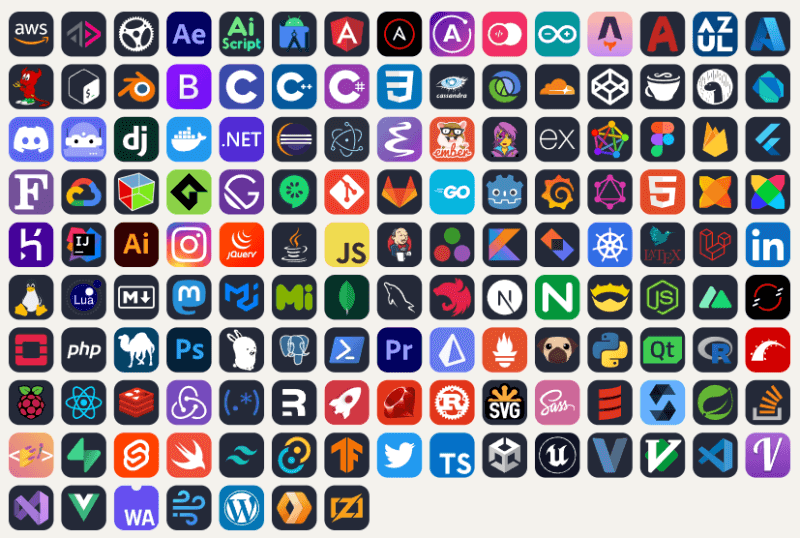 While you can always go for the traditional approach of building a resume in a PDF or Word file (did we mention we have some great free word resume templates), having a web based resume will not only help you share your resume in seconds with just a link, but will also get you noticed to potential employers and clients via search engines like Google. Let us know how you find our collection and resources of these professional Resume/CV HTML & CSS templates in the comments below.