Admin Templates are usually accomplished at the back end of an application and particularly used to track, manage, and notify. Any web application has its own admin dashboard to control the entire system such as WordPress. To run a successful business, both the back-end and the front-end of your website must be fully responsive, and capable of supporting hand-held devices. While choosing the perfect admin dashboard template, it is important to note the point that it has the capabilities to cope with.
The administration panel is the major user interface of a web application. Searching for the best back-end templates is time-consuming because you might only go after those which offer the most complete solution. Thankfully, to simplify this process for you, we have a collection of the best Bootstrap admin templates which contains some free bootstrap templates also. The collection of these stunning templates will also save a lot of your time.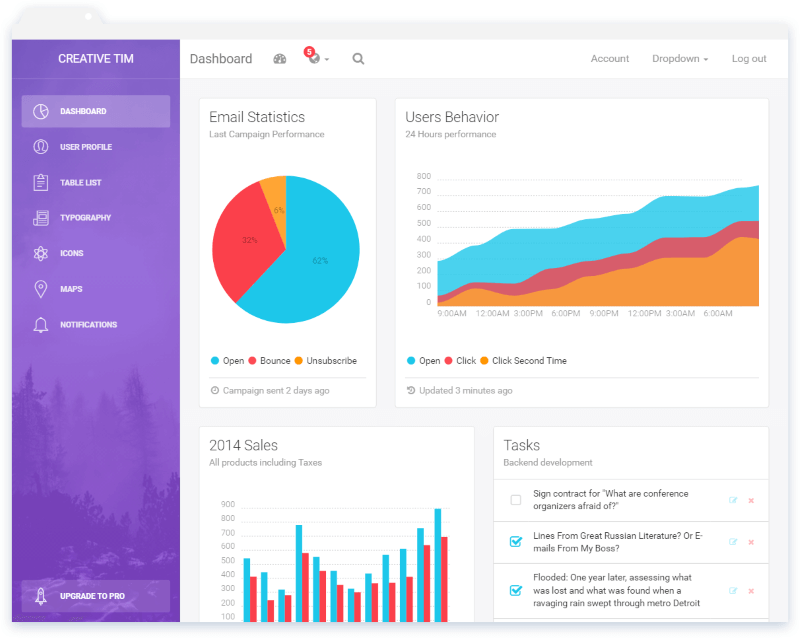 This is a Bootstrap admin template with clean, simple and minimal design. It is a lightweight Bootstrap admin template with completely responsive design. Light Bootstrap Dashboard offers a collection of pre-built components, plugins and example template pages to get you started with building admin panels, back-end for web-applications as well as CMS or CRM. It has 6 different color schemes and also has an option to add a background image. This MIT licensed free Bootstrap admin template is completely free to use in your projects. If you want more components, plugins and example pages with this template then you have an option to upgrade to the PRO version.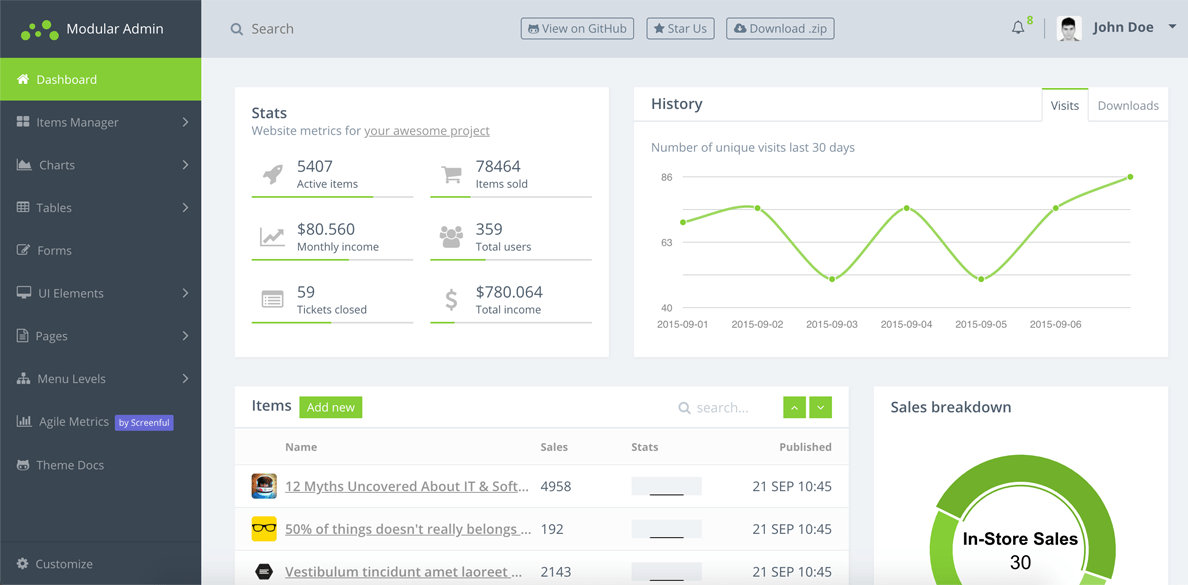 Modular is a free, niche-oriented admin template built with Bootstrap 4. It has real-time charts, a built-in graph system, transitions, gradients, shadows, a grid system and more that are designed for your need. The simplicity of elegant design makes Modular admin easy to scale, modify and maintain. The modern color combination and card system give a modern flavor of design that all developer loves.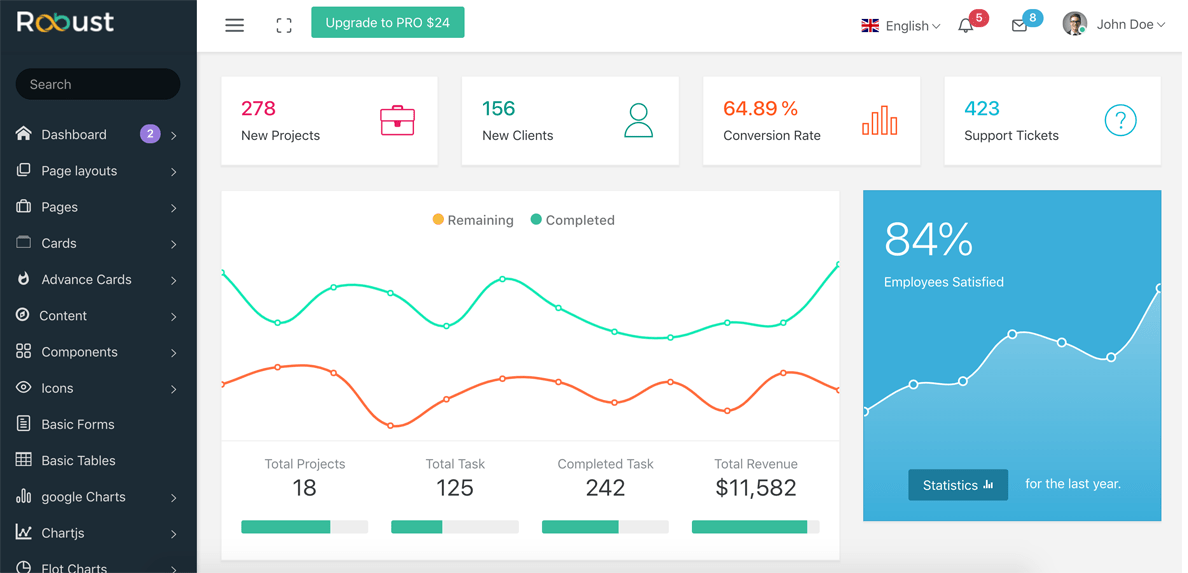 Robust is a neat and sophisticated bootstrap admin template that can appeal to anyone with the clean and modern design, especially to whom who wants to create a pixel perfect and fully pliable dashboard for their project. You will find Robust an easy template to work with with a good set of UI elements, alerts, and panel styles. Adjusting the colors, modifying the general appearance, and changing the fonts of your admin dashboard is all straightforward enough with Robust.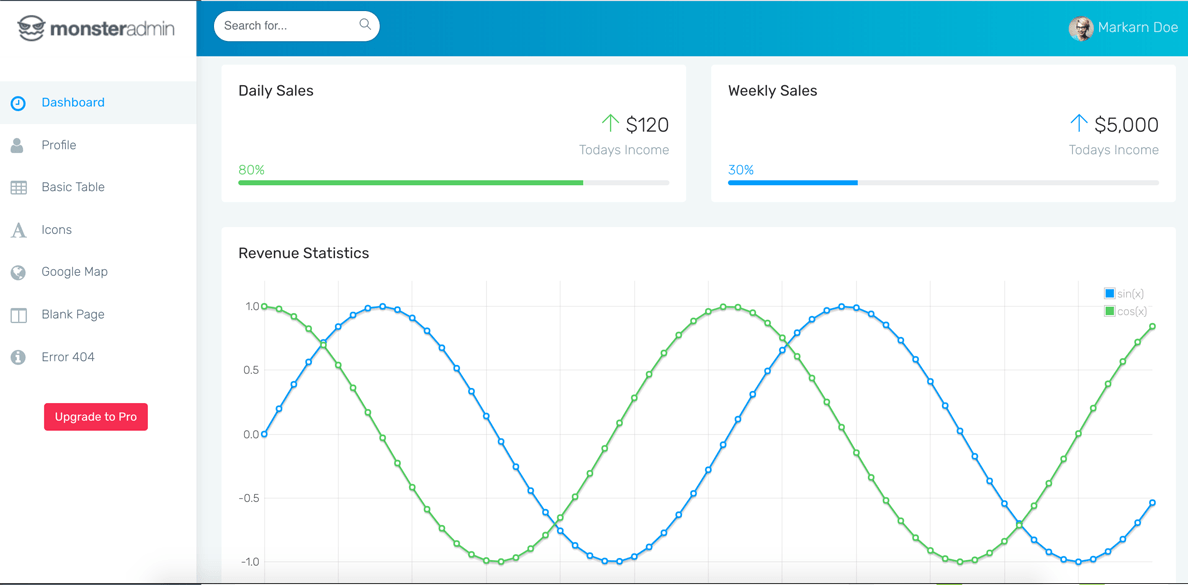 Monster admin is a Bootstrap admin template with a pixel perfect and fully pliable design. It will give you a chance to build a dynamic web project. With the lightweight, mighty and extensible design, and level of professionalism the Monster Admin template provides somewhat for establishing the greatest dashboards. Whether you are working for a CMS, CRM or SAAS based project, Monster Admin has all the necessary elaboration of the latest tools that will realize your idea and help you scale it provide the right experience for you.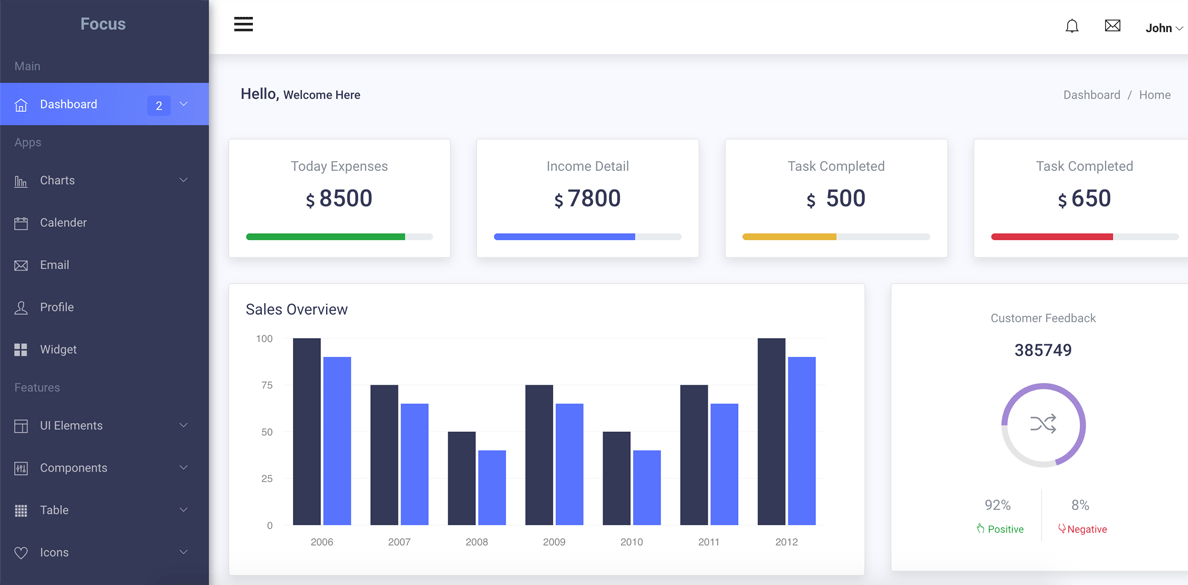 If you are looking for a lightweight and polished admin dashboard, you do not have to be an expert at building web application dashboards. The Focus will from the first moment feel like the perfect solution, this tool has a ton of pre-built materials which makes Focus much more than just a dashboard. The Focus admin is one package with many features, so you will not even need to create anything yourself and use only what is available.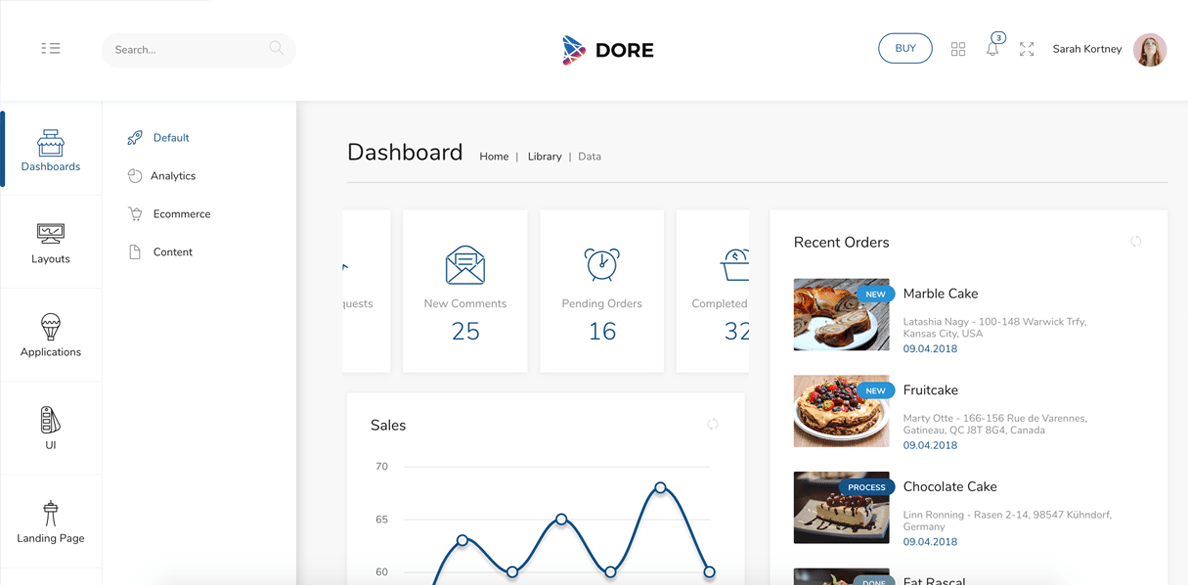 Dore is a refined, great in performance and cutting-edge Bootstrap and SASS admin dashboard template. Dore offers you to mix and match all sorts of elements and components to suits you precisely. A lot of UI elements, animations, forms, tables, and widgets are also a part of this stunning admin template.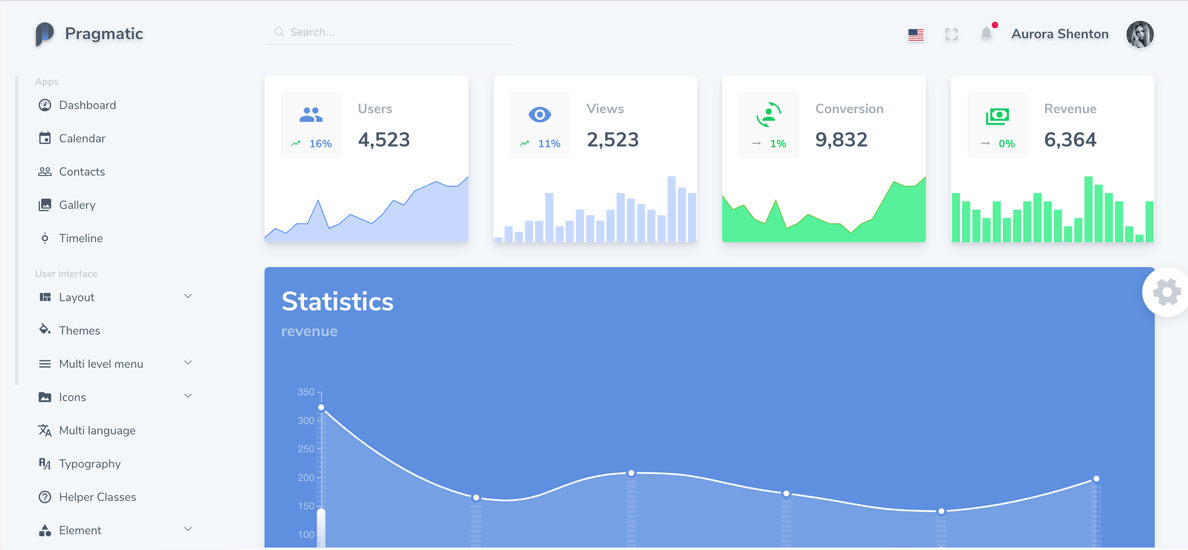 Pragmatic is nothing else than a contemporary Bootstrap dashboard template which makes it look pretty on all devices. There have 5 color schemes, 70+ layout combinations. On top of that, Pragmatic also supports RTL languages. The free updates and cutting-edge support make you feel safe and comfortable on your journey.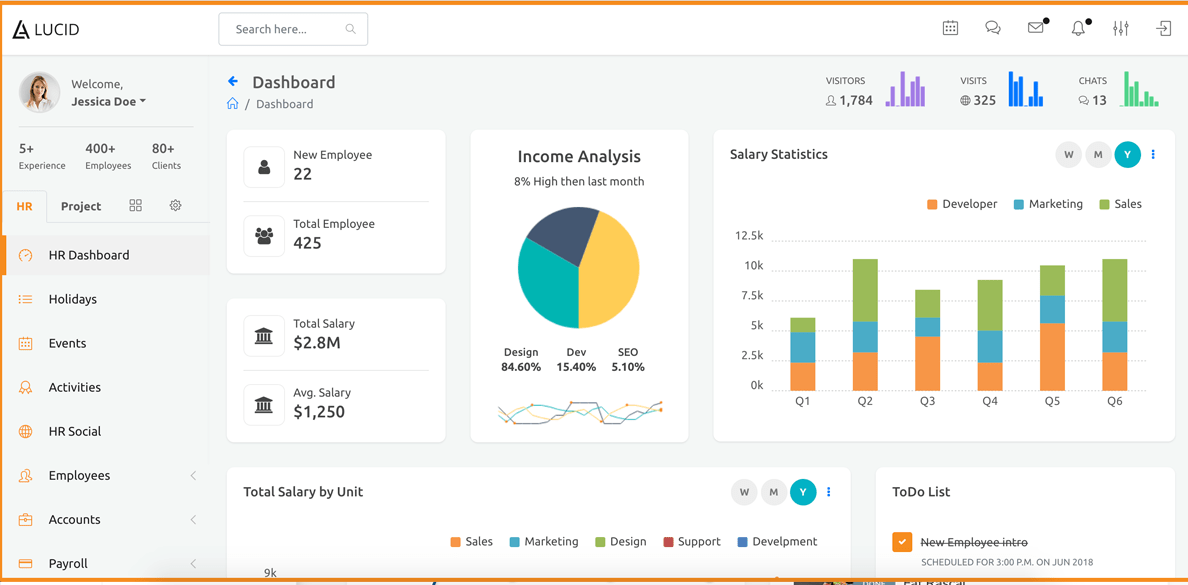 Lucid is a neat and sophisticated bootstrap admin template for HR and Project Management with 6 unique color schemes where there is something for every taste. There have 500+ full pages, 50+ ready widget, scrum/kanban type taskboard, 3000+ icons, and numerous charts so you get the most out of it.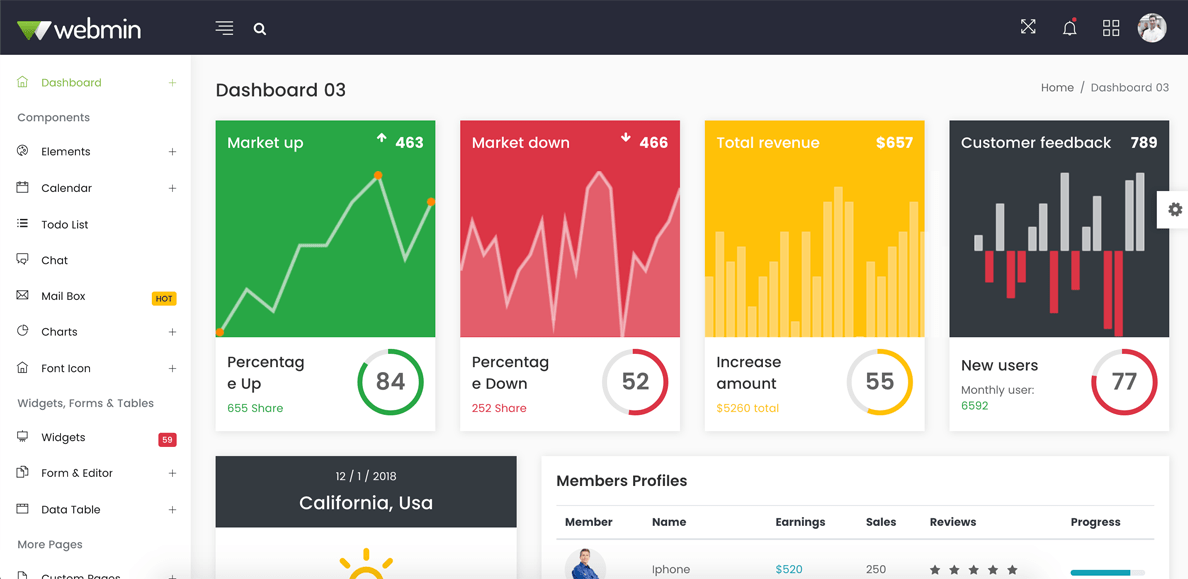 Webmin is a Bootstrap 4 & Angular 5 admin dashboard template which uses all the latest technologies and the design, of course, is of the highest standards and up-to-date. It is RTL supported and also comes with a ton of pre-built material for you to save you time and effort. Moreover, you will not even need to create anything yourself and use only what is available.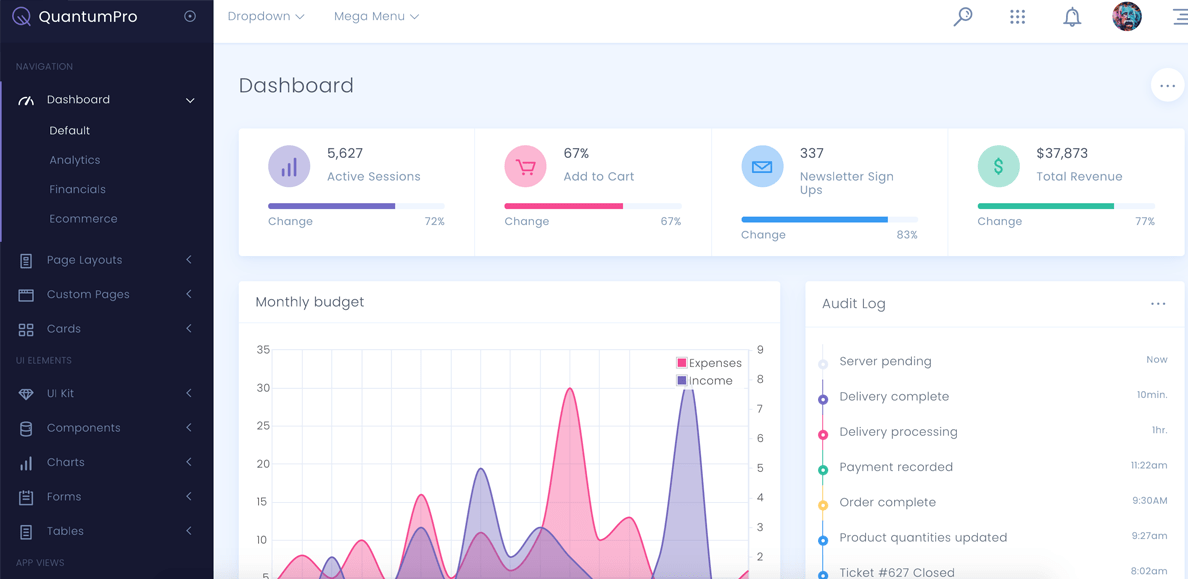 QuantumPro is a Bootstrap 4 admin template with a pixel perfect and fully pliable design, so the admin dashboard will fluently readjust to smartphones, tablets, and desktops. It has countless ready-to-use material, 4 unique dashboard variations, more than five hundred UI elements, charming calendar, gallery, regular updates, documentation, and support. QuantumPro is a template that is easy to adjust and tailor to your exact needs.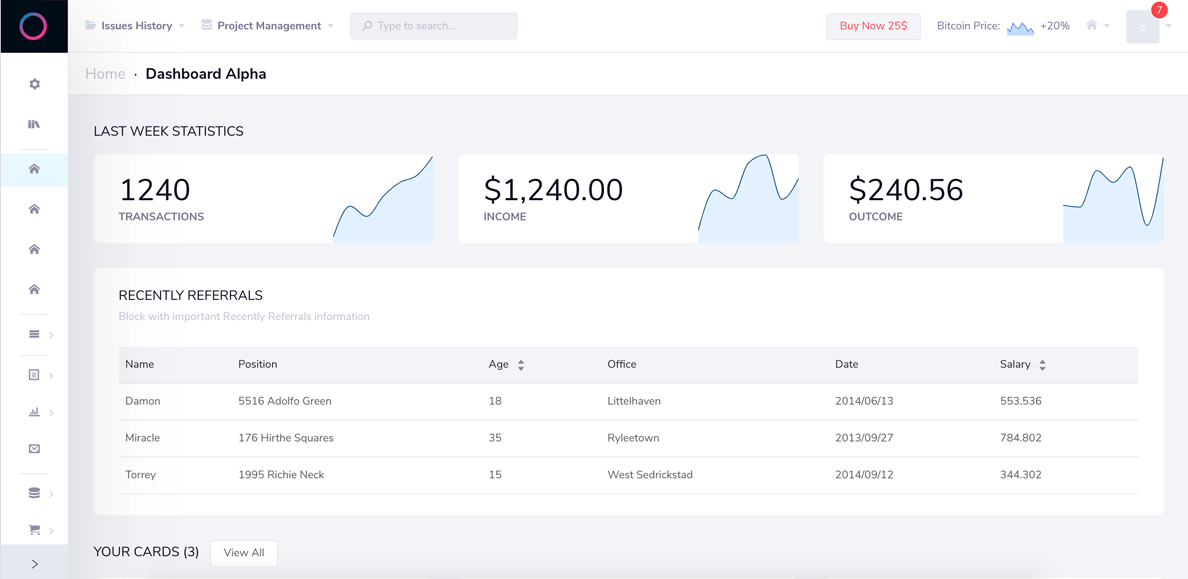 Clean UI React is a handy product with numerous components and a mobile-friendly layout built with Bootstrap 4 and ReactJS. The features are there, carefully arranged. You only need to unbox them and start using them straight away. Clean UI React has the right amount of everything to manage your admin. It is developer friendly and gives all levels of coders a chance to build extraordinary things.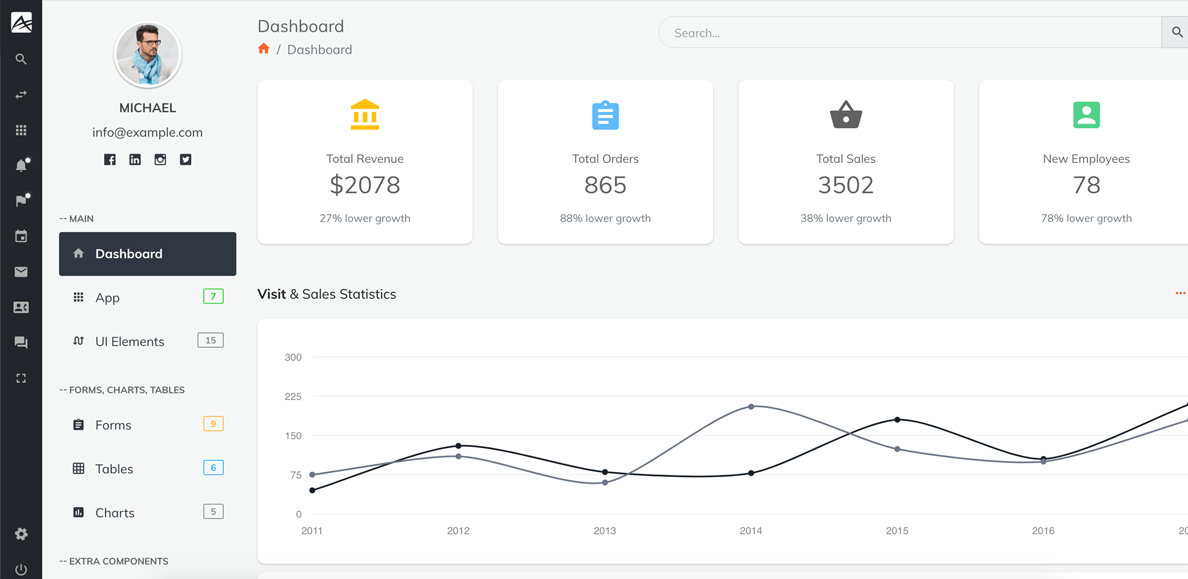 Based on Bootstrap Framework, Alpino admin is harmonious with all devices and web browsers. With Alpino, you can build any type of project you are in need of. It has a big collection of reusable UI elements and a great deal of other fantastic features such as light and dark menu, 15+ dashboard, 400+ pages, 100+ integrated plugins, image cropping tool and more.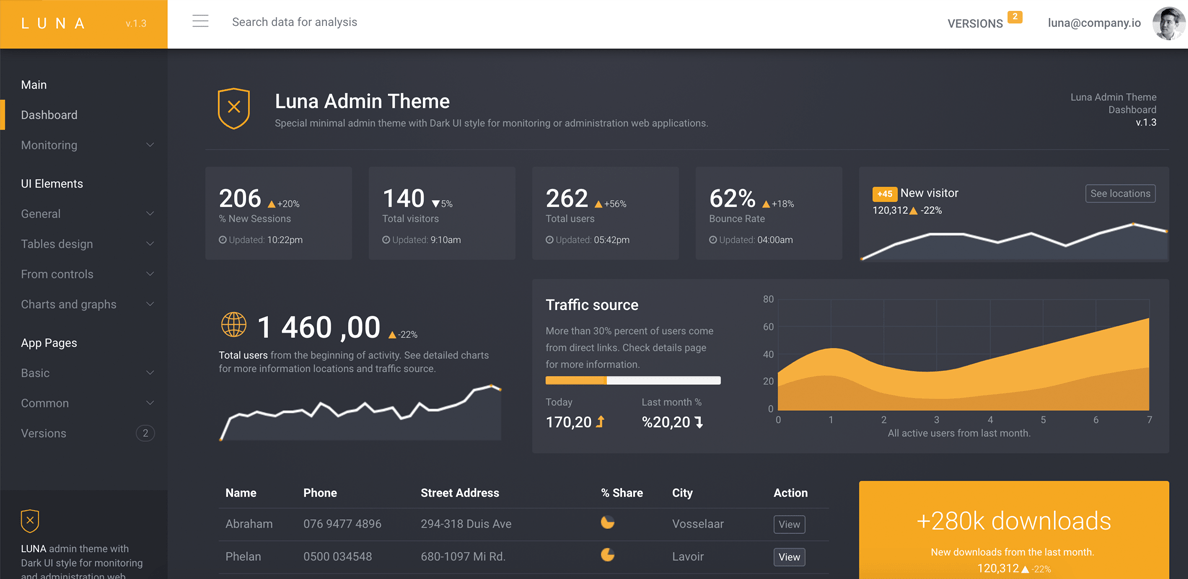 Luna Admin is a specialized web app template comes with a package of contents that includes the Meteor version, AngularJS version, and Static version. It has a Flat UI with clean aesthetic style, you will also get lots of widgets and tables, charts, as well as well structured code. Luna Admin is very adaptable and integrates well with other elements.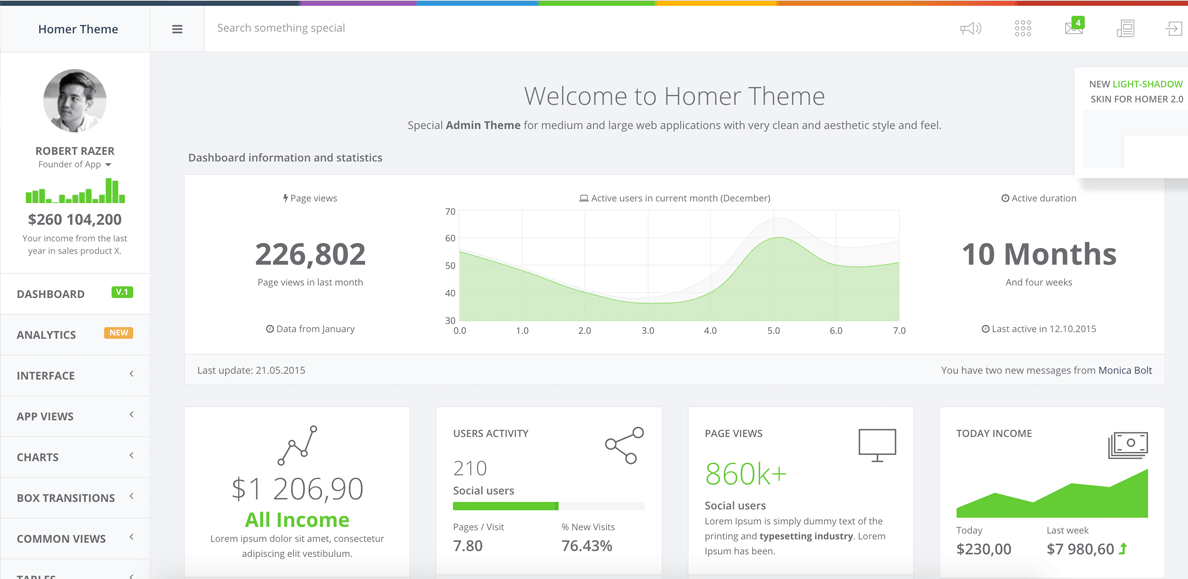 Homer is a fast-loading and mobile-friendly, sleek and efficient, technologically ambitious and accomplished, modern and compellingly developer-friendly, and readily responsive premium web app admin dashboard template. The template has been professionally developed and powerfully built specifically for developers and webmasters that need a reliable, supple and versatile template. With Homer, you can quickly adjust to a wide range of necessities and broad set of different web applications.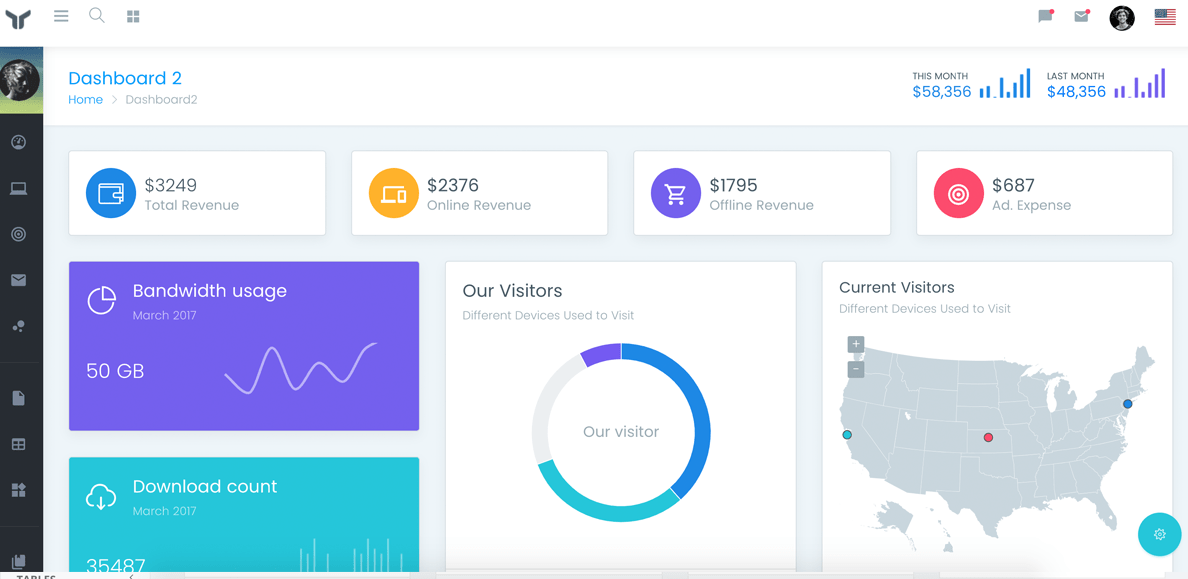 Material Pro Admin is one mighty and extensible website admin template for establishing the greatest dashboards. It comes with 6+ dashboards, 5 unique demos, 500+ UI components, 6 predefined color skins and ready to use widgets. Material Pro Admin offers a variety of applications ranging from employee listing and details to chat application. The Google Material Design allows it to be easily customized and built upon.
We've enlisted some of the fastest and best Bootstrap admin templates on the market. Let us know your feedback if you find your suitable dashboard from this list. You are also welcome to suggest us the next one which should be on this list as you think.