Using illustrations has emerged as a popular trend in modern web and app design. Well-crafted illustrations help build stories that people connect with. Not only are they an incredible way to engage visitors of your website, they also add a human touch to their experience.
In this post, we bring to you a list of websites where you can find high quality free illustrations to use in your commercial design projects. You can select from these beautiful illustrations that fit your product or service and create better looking web and mobile interfaces. Most of the sites listed below offer images in SVG vector format that you can edit in free vector editors like Inkscape and Figma.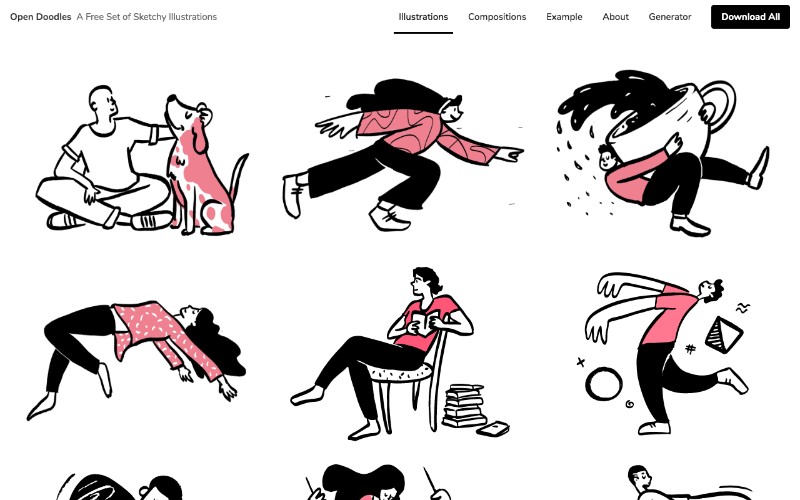 Open Doodles by Pablo Stanley offers free sketchy illustrations ideal for those looking to add hand-drawn elements on their web pages. Free for commercial use under CC0 license, these doodles are available in SVG, PNG and animated GIF formats.
You have an option to change the color theme of the illustrations before downloading. You can even download pre-made compositions or take inspiration from the landing page example on their site.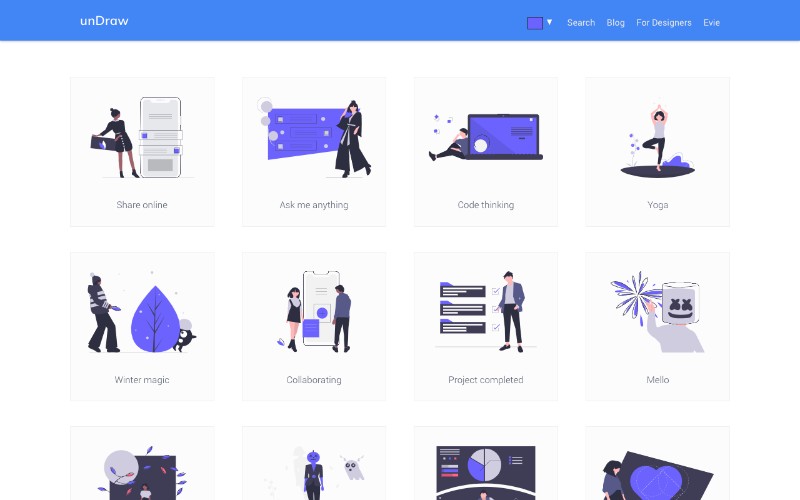 Created by Katerina Limpitsouni, unDraw has a collection of stylish vector illustrations that you can use on your websites, apps or any other design completely free without attribution. Focused on people and technology, the illustrations are perfect for modern web design. You can use the color picker at the top of the page (seen in above image) to customize the main color to match your brand.
Download includes both SVG and PNG files. If you're an Adobe XD user, you can also get the unDraw plugin that brings all these SVGs into XD so you can customize them and animate them.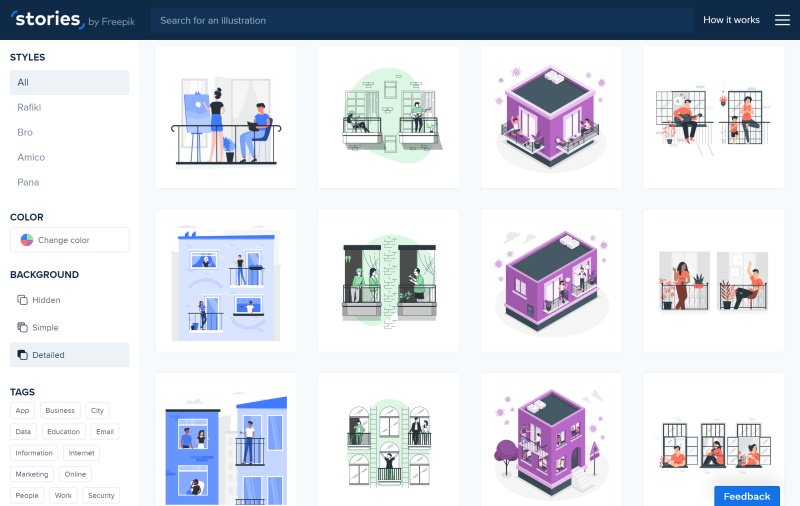 Stories by Freepik is a collection of free illustrated concepts that you can customize, and even animate directly in the browser. The illustrations can be downloaded for free in SVG and PNG formats. And you can export the animated illustration you've put together as code, GIF image, or video. Perfect to give a fresh touch to your landing pages, social media posts, presentations or any other graphic element.
These images picture all sorts of useful concepts and situations related to business, data, education, internet, and people. Available in four illustration styles including isometric, flat, flat with hand-drawn details, and linear with retro touch, these illustrations are free to use in commercial projects with attribution.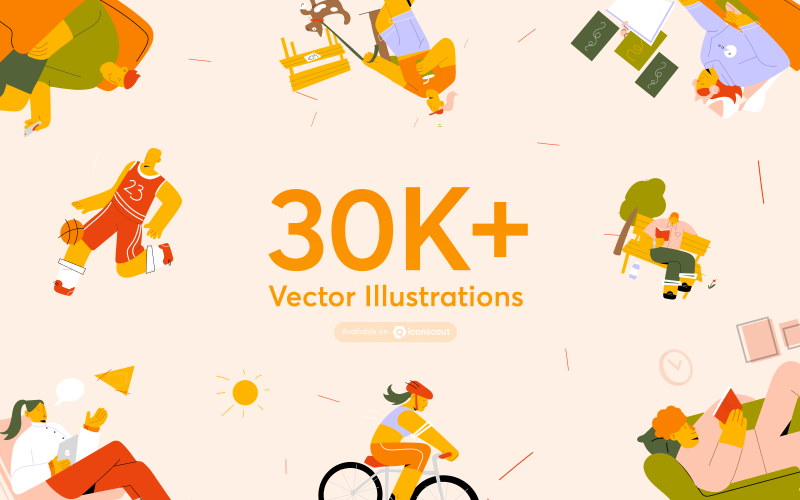 Iconscout Illustrations is an excellent source of 30k illustrations that you can use to create professional websites, landing pages, mobile apps, graphic design projects. It covers a big number of categories such as coronavirus, business, startup, 3d, and many more. If you are looking for something specific, you can also edit the existing illustrations.
On their website you can find many categories of SVGs, Vector Icons, Illustrations, 3D graphics, and Lottie Animations you need from their 3 million Assets. Both premium and free subscriptions are available with their integrated tools and plugins.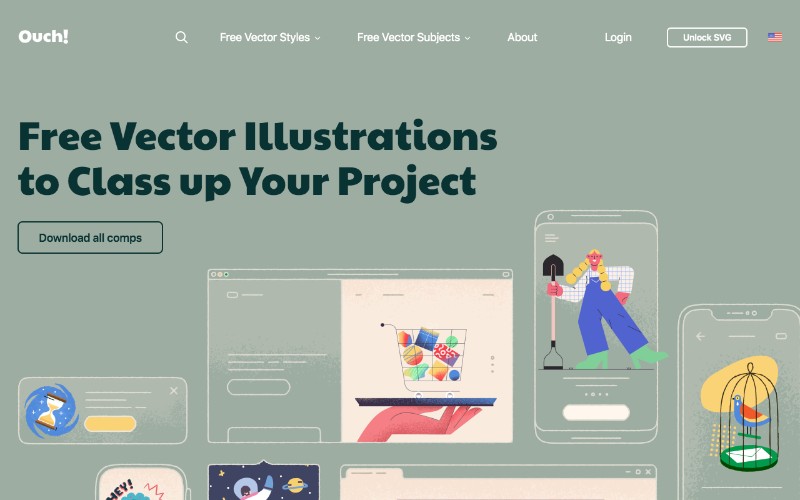 Ouch by Icons8 provides catchy illustrations in 20 different art styles – from flat and geometric illustrations to textured graphics and cartoonish vectors. Illustrations are sorted by different categories including Technologies, E-commerce, Finance, and Medicine as well as popular UX states such as Success, Message Sent, Sign up, Subscribed etc.
Free download includes PNG images for use in your mobile and web interfaces with attribution. Purchasing their subscription gives you access to vector SVG files, and you won't need to link back.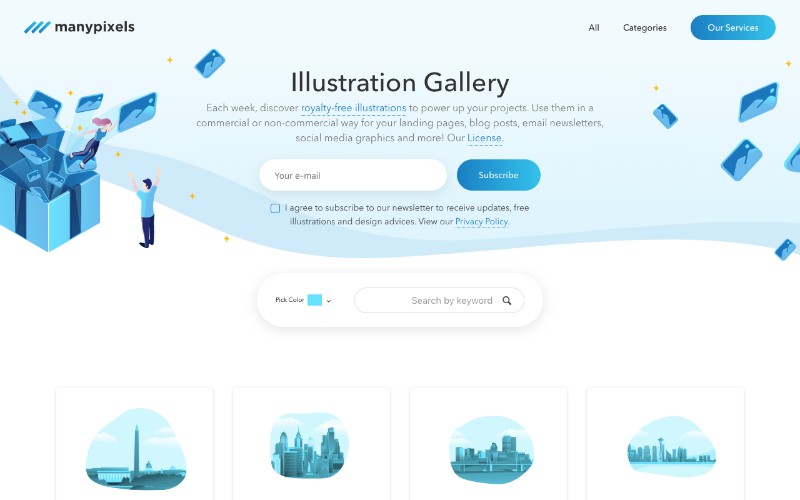 ManyPixels has over hundreds of flat style royalty-free illustrations for your landing pages, blog posts, email newsletters, and social media. You can keyword search these illustrations spanning across different categories including Startup, Weather, Sports, People, and World. You can also customize the color before downloading SVG and PNG files.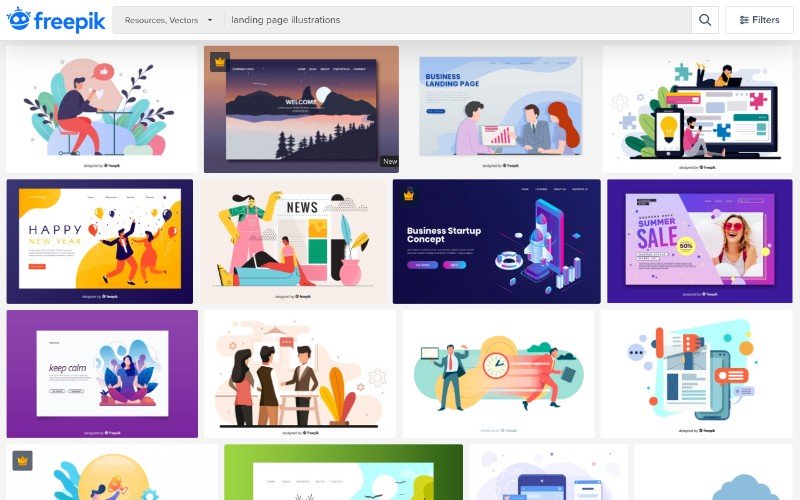 Many of you would already be familiar with Freepik. You can do keyword search, for example for landing page illustrations as seen in above image and download the vector graphic that suits your requirement from their site.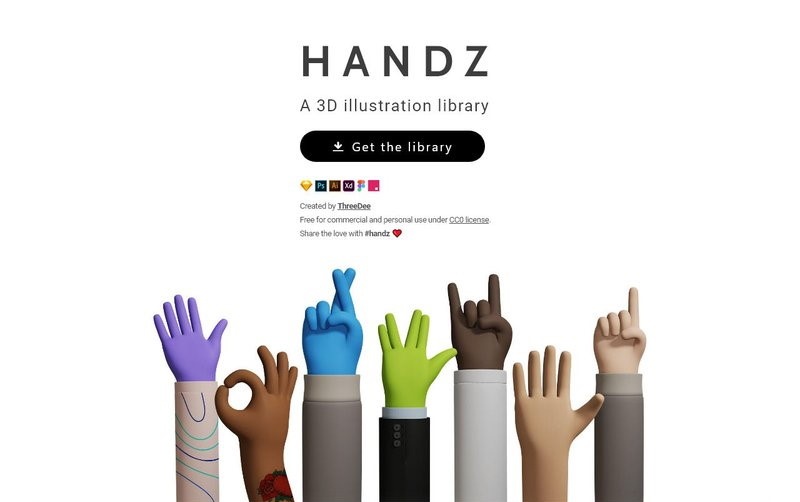 Handz is a CC0 licensed library of 3D illustrations of diverse hands gestures. You get more than 320 combinations of hands in 8 skin colors, 3 different sleeves, and 12 different gestures. Included are PNG renders you can use in any designer software, such as: Photoshop, Sketch, Figma, Studio or Illustrator along with Sketch files and original Blender files (.blend). Free to use in your commercial projects such as apps, websites, posts on social networks, newsletters, and more.
Also see: Free 3D Illustrations for Web Design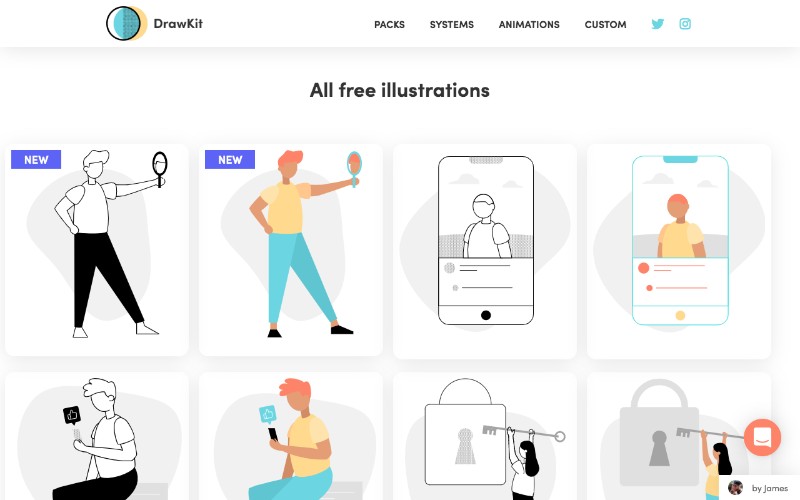 DrawKit has a collection of free SVG illustrations drawn in a clean style perfect for modern UI design. There are illustrations covering various categories – abstract, education, business & finance, health and medical, design, art and many more. Each of the vectors is available in two versions – Bright Color and Monochrome. Free download includes SVG and PNG files in different sizes.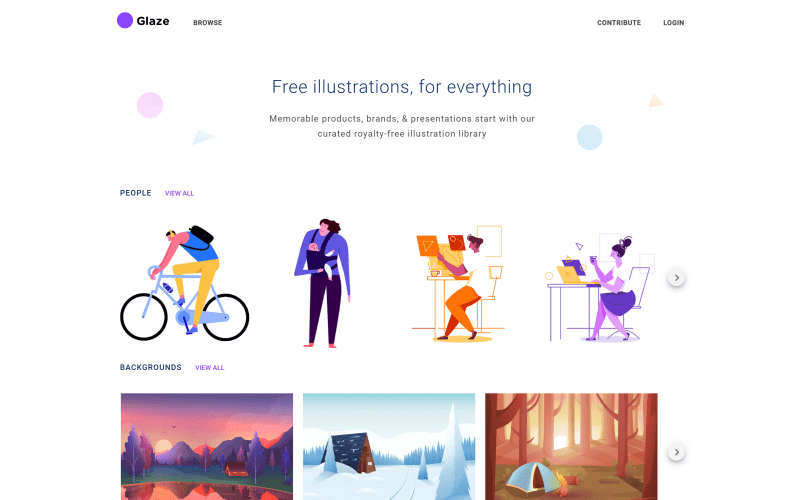 Glaze offers a library of free illustrations under different categories such as people, backgrounds, places and technology. Download includes free PNG files that you can use with credit with an option to purchase the source AI file.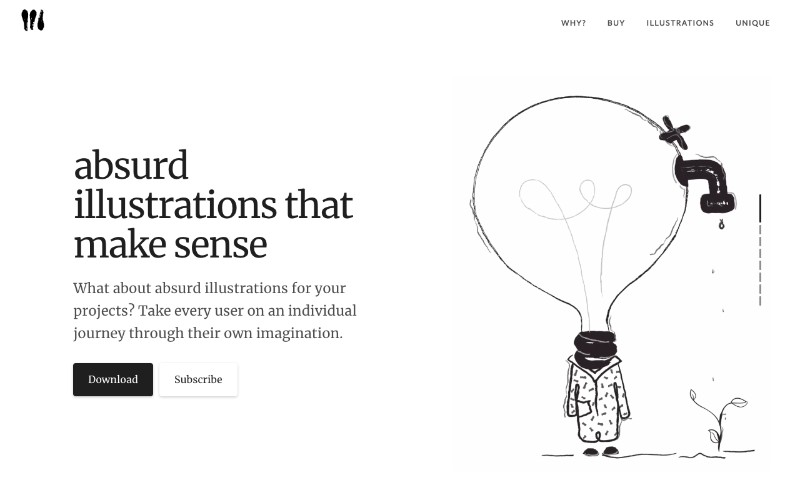 This surreal illustration style reminds us of MailChimp's new design. Free download includes 11 black and white illustrations in PNG formats that you can use with credit, you can also pay to get the colored version and full set of vectors.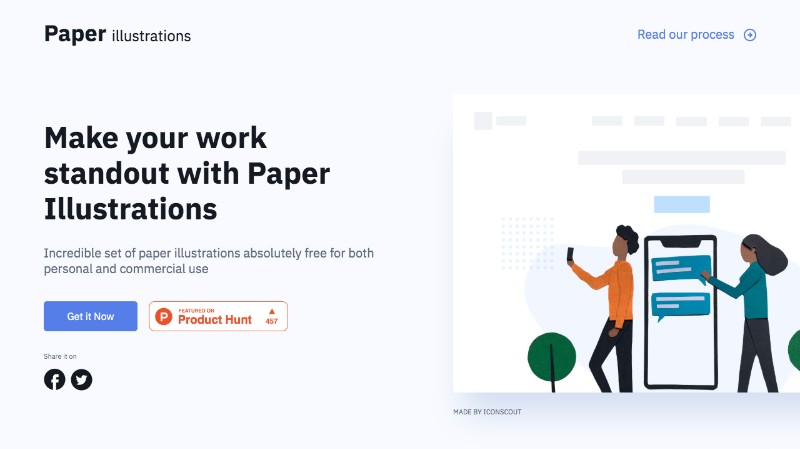 Handcrafted using paper cut-outs, Paper Illustrations by IconScout are free for both personal and commercial use. It includes 20 illustrations that you can use in landing pages, for user on-boarding or in mobile apps. You'll also find demo images with these illustrations to show how you can blend them with your designs. Download includes PNG and EPS files.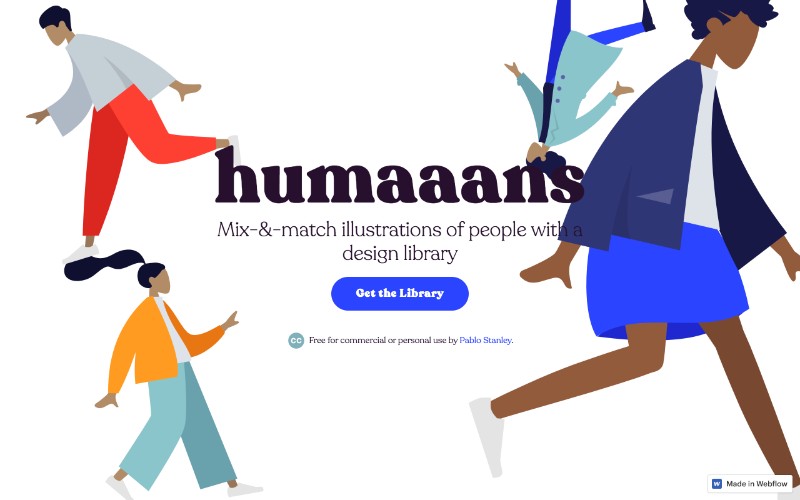 For Sketch and Invision Studio users, Humaaans is an awesome free library to mix and match illustrations of people and background scenes to create your own graphic. Free for use in personal as well as commercial designs. There is also an unofficial Figma plugin available.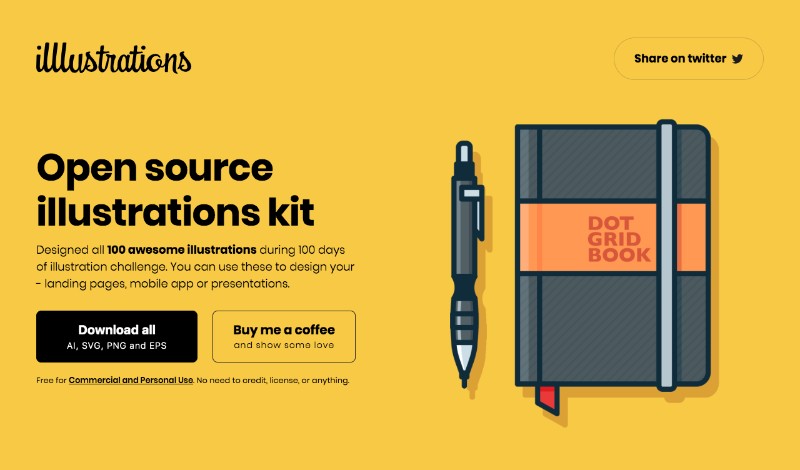 Illlustrations.co by Vijay Verma is an open source library of 100 free illustrations that you can use in designing your landing pages, mobile app interfaces, blog images or presentations. Download includes illustrations in AI, SVG, EPS and PNG formats that you can edit and remix for your design projects.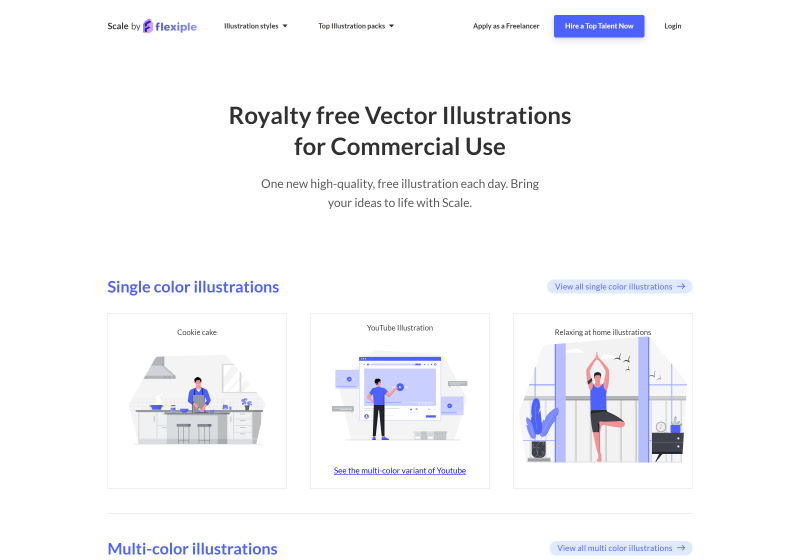 Scale by Flexiple is a collection of 200+ royalty free vector illustrations for commercial use in websites, infographics, blogs, videos without attribution. Free to download as both vector SVG and PNG images, these illustrations come in two styles – Single color and Multi-color. You can also browse and download these illustrations by different categories such as remote work, startup and many more.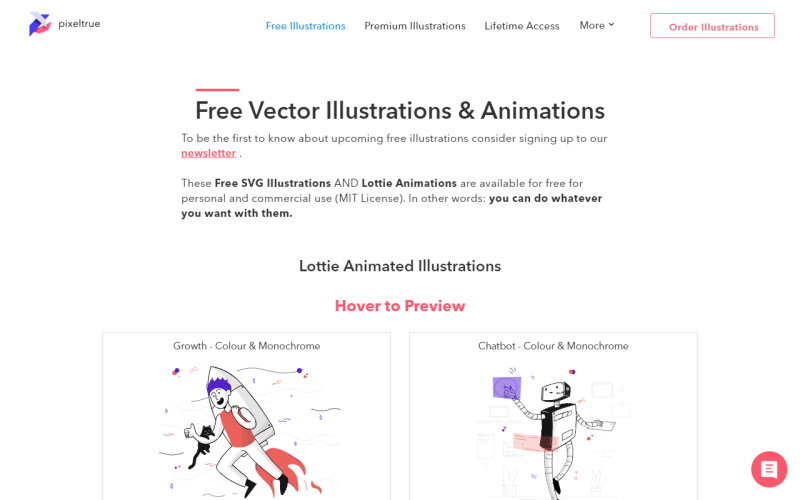 Pixel True by Andy Dao offers 70 beautiful free SVG vector illustrations, some of which are also available to download as Lottie animations. All these illustrations are designed in two styles – Color and Monochrome and come with free commercial use MIT license.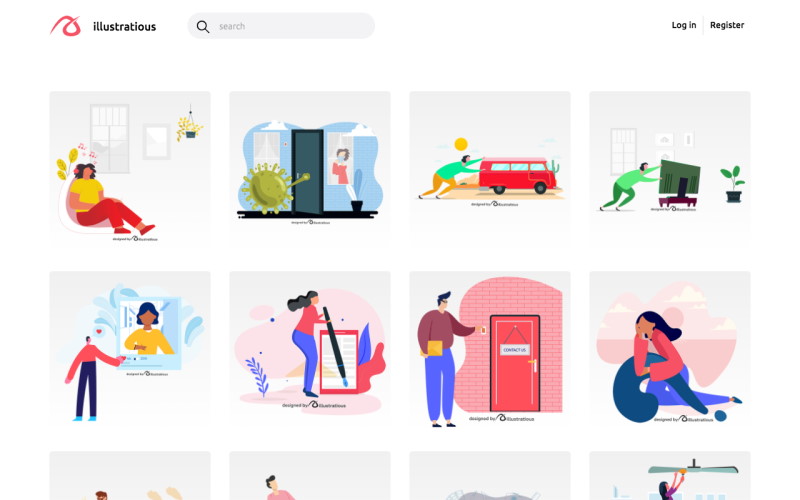 Illustratious is a library of modern flat style colorful illustrations that you can use in your personal projects for free. Available to download in SVG format, included are illustrated concepts for online learning, delivery services, stay at home, contact us and many more.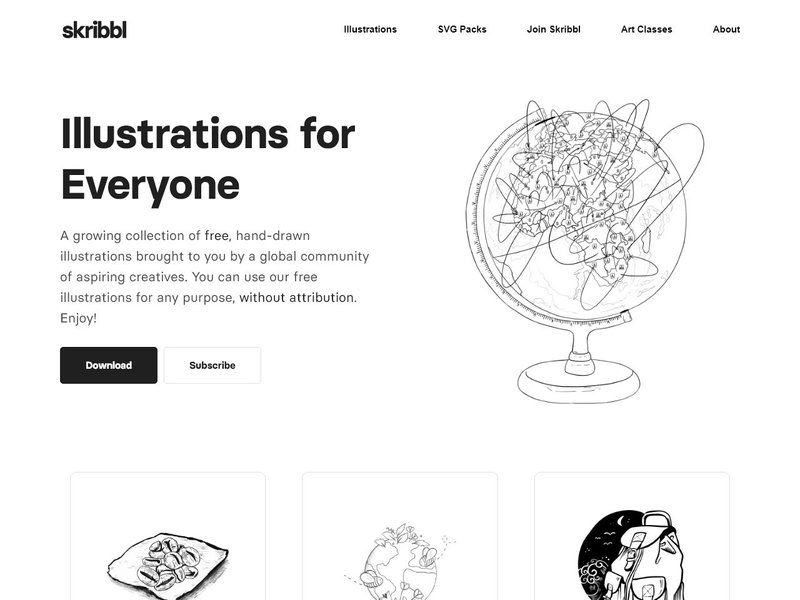 Skribbl has a collection of hand-drawn illustrations that are available for free download in PNG format. SVG illustrations can also be purchased from their site. Contributed by a global community of creatives, these illustrations come with both personal and commercial use license.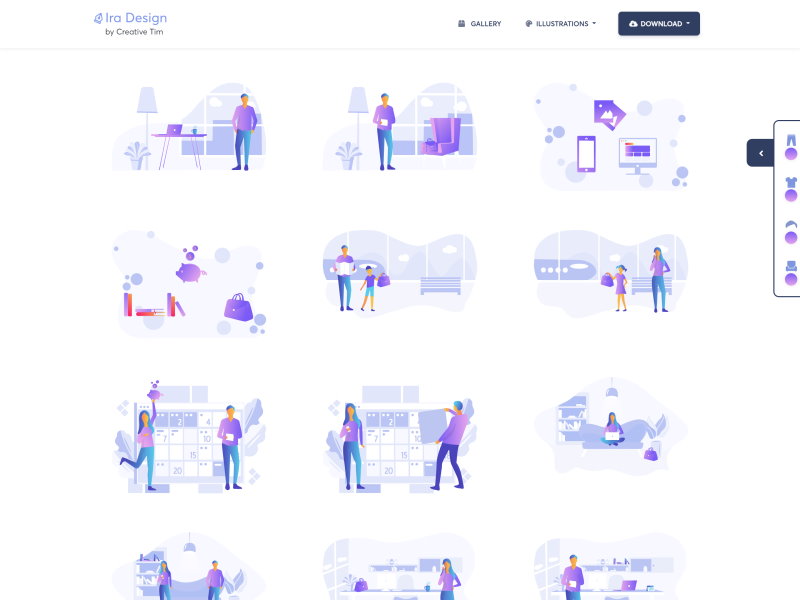 Ira Design by Creative Tim is a library of open-source MIT licensed illustrations to use in your mobile apps and websites. Included are 36 characters, 52 objects and 15 different backgrounds. It offers a selection of 5 gradients for all the characters and objects along with their outline version. Available for free download in SVG and PNG formats.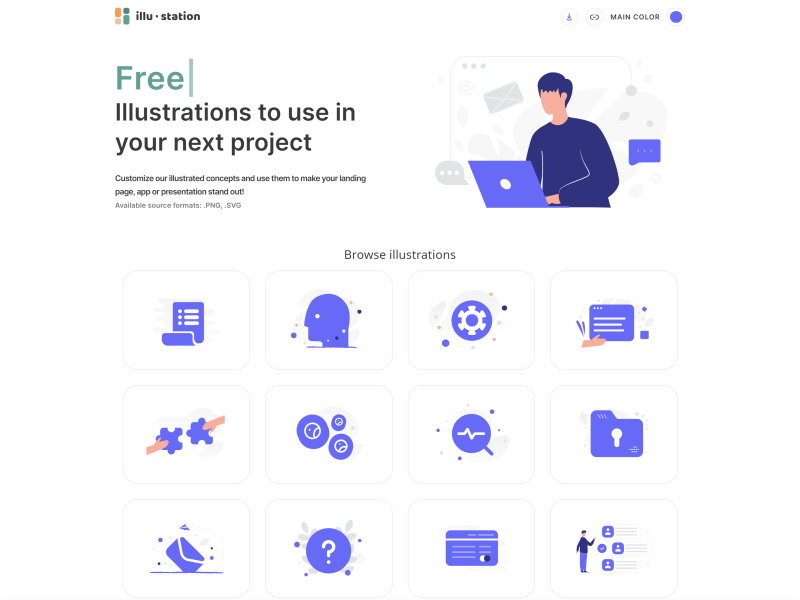 illu.station offers around 500 free PNG and SVG illustrations for free download. Designed by ThemeIsle, these high quality illustrations come with free commercial use license and will be a great fit for your landing pages, apps and presentations. You can also change the main color before downloading an illustration, there is also an option to download them all at once.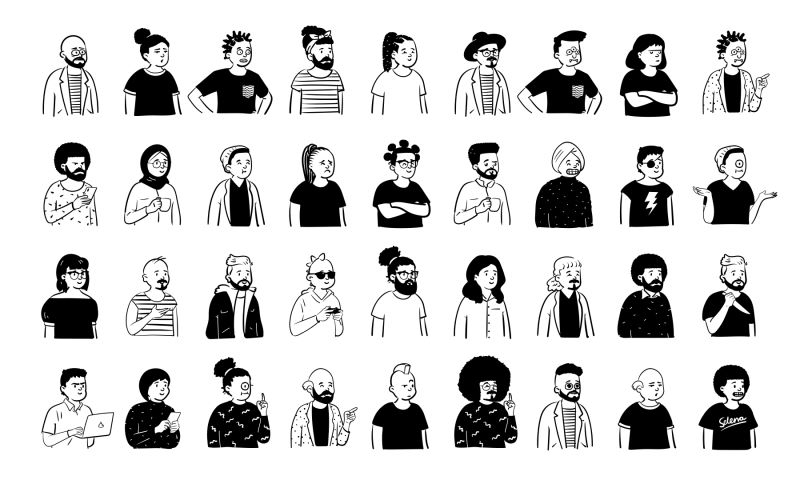 Open Peeps by Pablo Stanley is a CC0 licensed library of hand-drawn illustrations for creating scenes depicting diverse people. Available in multicolor and monochromatic versions, this free library comes for Sketch, Figma, Adobe XD and InVision Studio. Flat PNG and SVG assets are also provided. You can use these in your product illustrations, marketing visuals, user flows, personas, storyboarding and much more.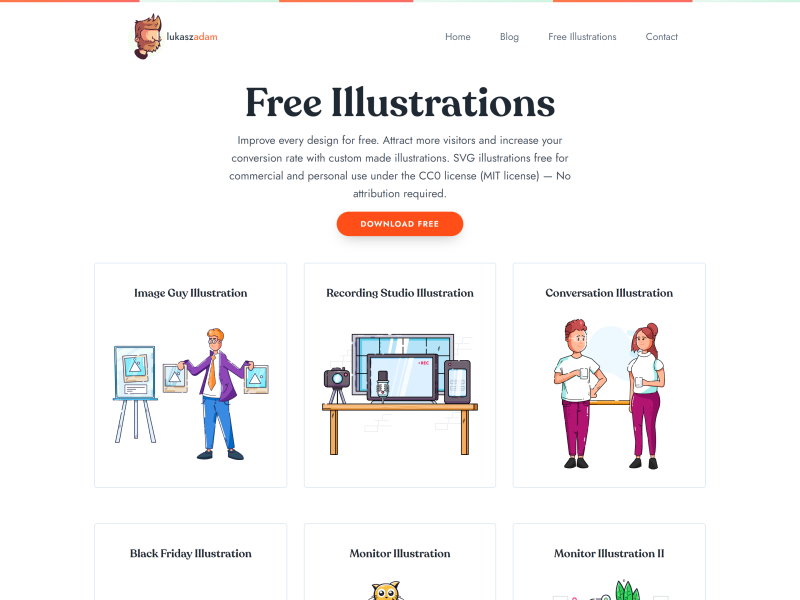 A set of free colorful Illustrations and icons available for commercial and personal use under the CC0 license (MIT license). It comes with illustrations and icons for SEO, mobile, characters, landscape and many more. Created by Lukasz Adam, these illustrations are provided for free download in SVG and PNG formats.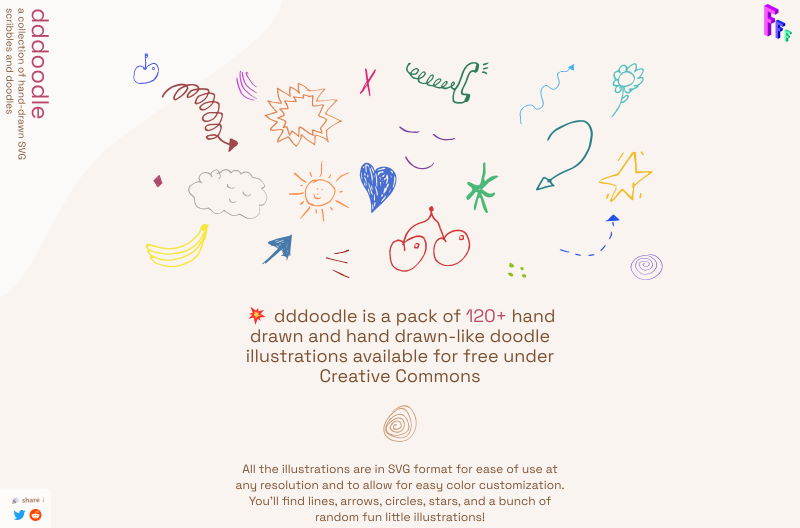 dddoodle is a pack of 120+ hand drawn and hand drawn-like doodle illustrations available for free under Creative Commons Attribution license. Created by Sébastien Noël, all these fun illustrations come in SVG format.
Bonus: Free Vector Illustrations
Below you'll find free vector illustrations for landing pages and 404 error page designs that are available to download from our site and allowed for use in commercial design projects.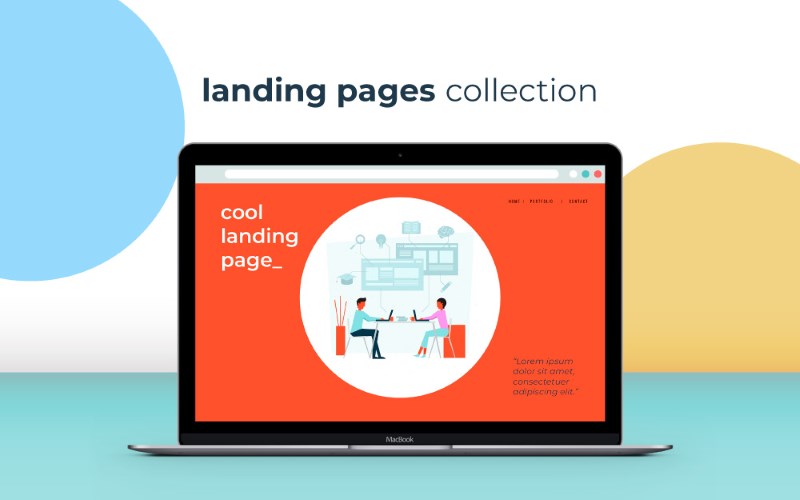 This is a set of 10 flat style landing page illustrations perfect for use on your websites, both on desktop and mobile. The illustrations are 100% editable vectors and available for download in AI, EPS and JPG formats.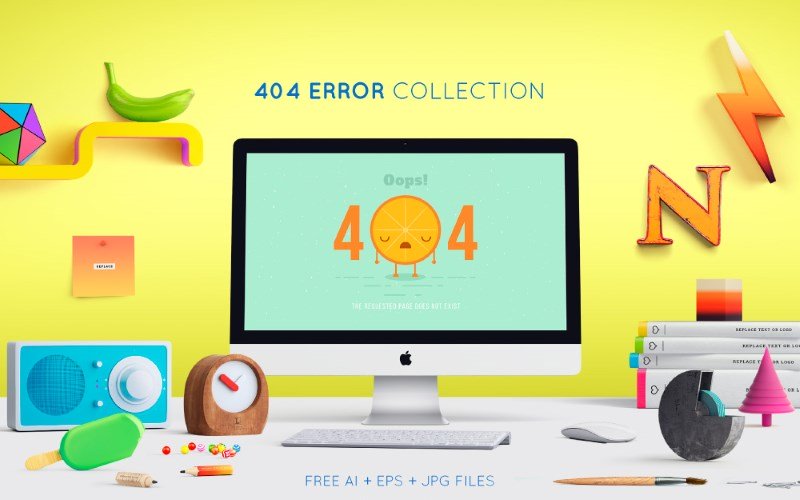 These modern 404-page templates will give your error pages a fun and amusing touch. Download includes AI, EPS and JPG files.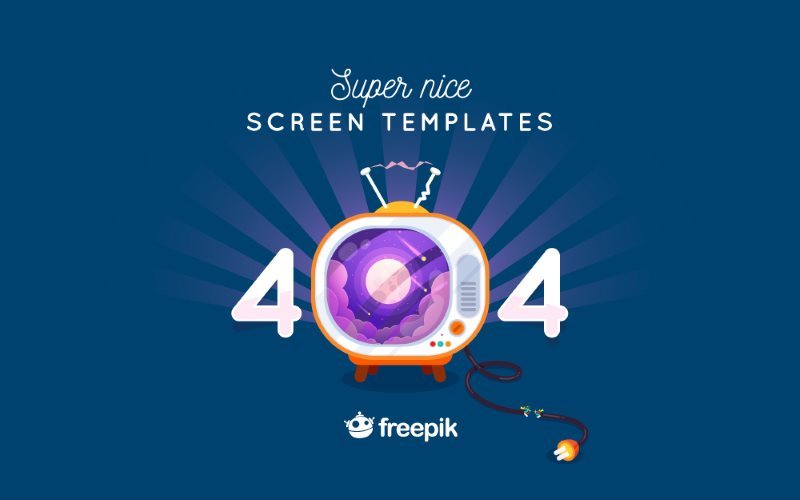 A free set of 10 vector templates for 404 screens, each with a whimsical and comical character and an attractive color palette.
Conclusion
With these resource sites and freebies, you can find illustrations in a variety of styles for free and use them to add modern and trendy touch to your web design projects. If you know of websites that offer free illustrations for commercial use, kindly share it with us and our readers in the comments below.
You might as well want to take a look at our article on sites that offer free stock footage to use in your websites. Do also check out our section of free resources for designers and developers that has free icons, fonts, and backgrounds that can come in handy in your web design projects.