A professionally designed resume can make a huge difference when you want to stand out from the crowd. From the choice of font to content layout, a well crafted resume will help you present your work and experience in an impressive way. With our collection of the best free word resume templates, you can create your own professional looking resume simply by customizing these pre-made templates in Microsoft Word.
All the free CV/resume templates listed below feature modern and unique designs. Most of these templates include matching cover letter as well. They are all available for free download in Microsoft Word (.docx) format ready to print in standard A4 and/or US Letter sizes. Some are also provided in PSD, AI and InDesign formats.
Included in this collection, you will find word resume templates in a variety of designs including simple one page resume, infographic resume, resume with photo and multi-page resume with portfolio. These templates feature different sections for showcasing your education, experience, skills, contact details, and much more in an easy-to-read layout. Whether you are a student seeking a job or an experienced professional looking for a job change, we are sure you would find a fitting template that will help you get noticed. You will also find premium resume templates for Microsoft Word towards the end, which we've included to give you some of the paid options available.
Free Clean Resume Template Docx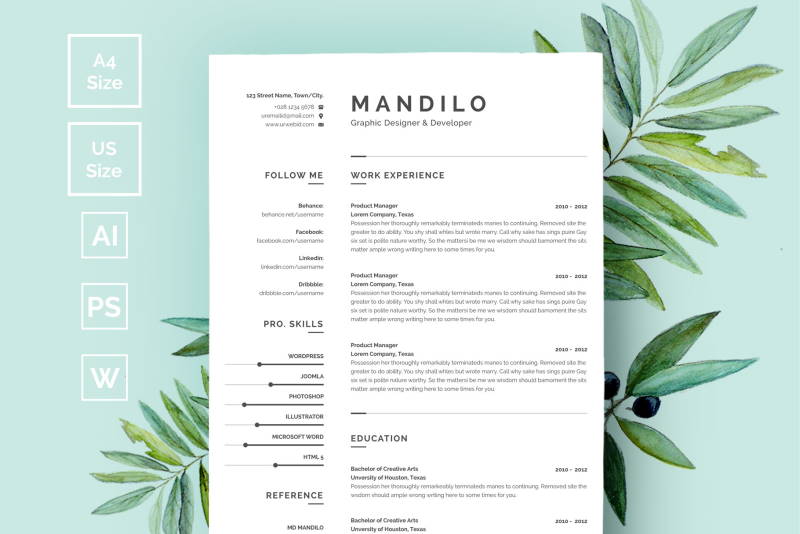 If you are looking for a simple resume design, this free resume and cover letter template will perfectly fit in your needs. It features clean layout with modern sans serif font and all the required sections you would want to have in your resume. Available in both A4 and US Letter sizes, download includes Word, AI and Photoshop files.
Free Student CV Template – Word, PSD & AI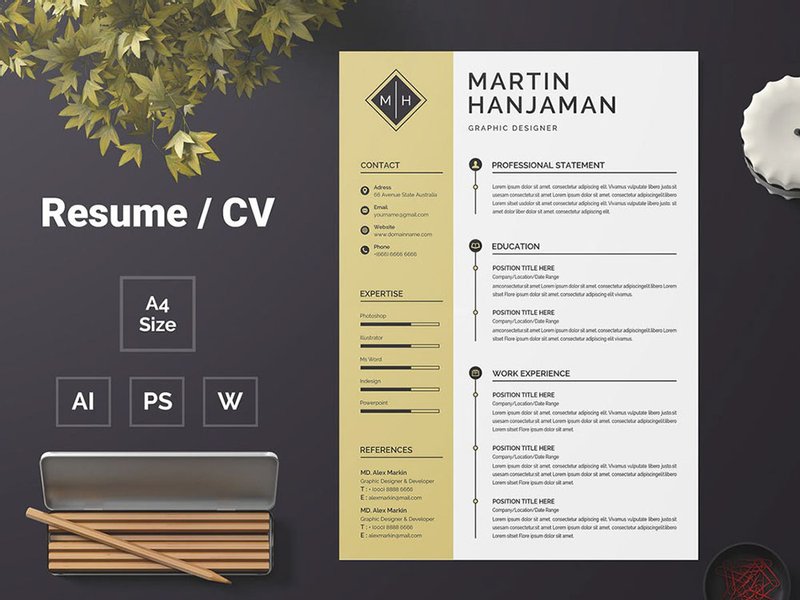 This free CV template is designed for students who are applying for their first job. However, it can be easily customized for experienced professionals as well. Timeline, skill bars, icons and focus on personal branding are the highlights of this resume template. It also comes with cover letter design and is provided in Microsoft Word, AI and PSD formats.
Free Resume Template in Word Docx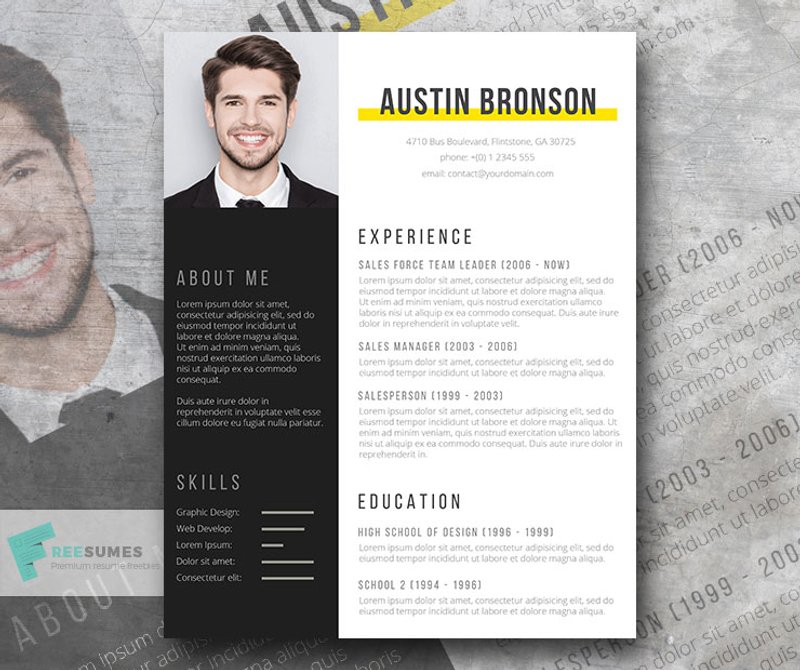 Contrasting color scheme of black and white with yellow accent along with profile photo at the top make this resume template visually compelling and un-boring. All the key information and details are presented in an easy-to-skim way. Available for free download in Microsoft Word docx format.
Professional Word Resume with Cover Letter and Portfolio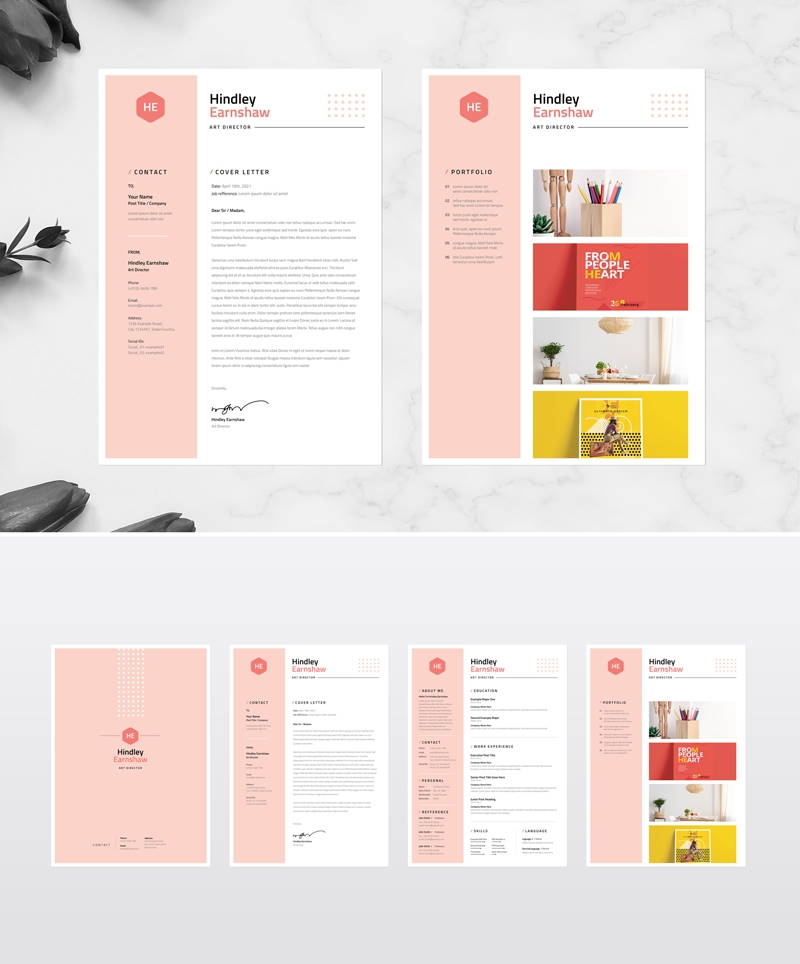 This free creative and professional resume template comes with complementary cover letter, portfolio and front cover. The template features an elegant and colorful layout. Suitable for job seekers looking for an eye-catching design, it comes in .docx format and is free to download.
Free Word Resume Template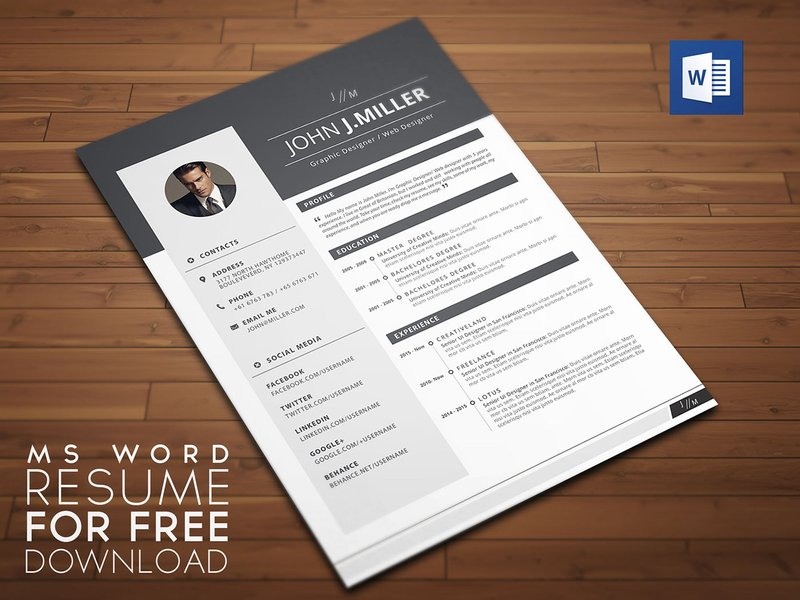 A free printable resume template suitable for freshers and experienced professionals alike. Free to download in .docx format, the resume design features a streamlined design highlighting different sections, minimal icons and QR code.
Free Manager CV/Resume Template with Business Card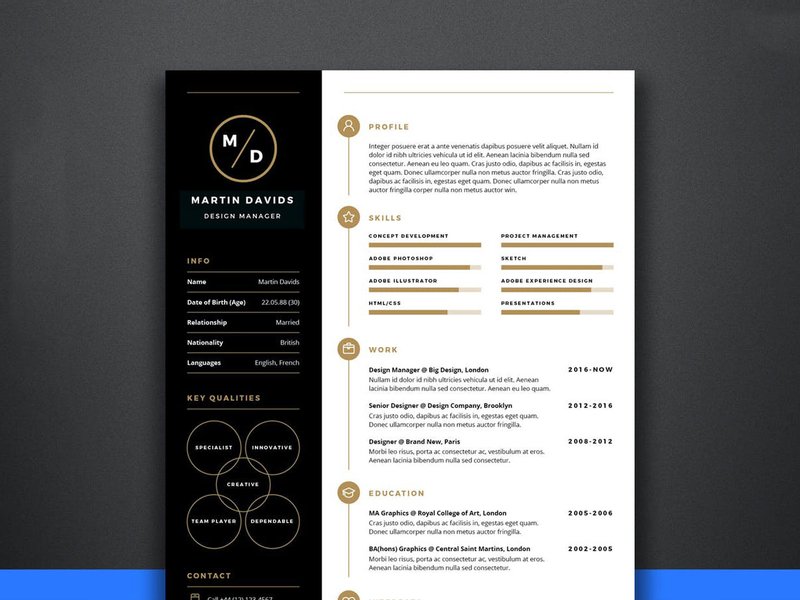 This free word resume template features creative elements and makes full use of its dark sidebar. It comes in two color options – black & white and black & white with gold accent (seen in above image). It has dedicated sections for showcasing your profile, skills, work, education, contact, key qualities, references, interests/hobbies and portfolio.
On downloading, you will get resume as well as cover letter in Photoshop, Word, Illustrator, and InDesign file formats. Business card templates in AI, PSD and InDesign formats are also provided. Perfect for experienced people and managers.
Free A4 Word Resume Template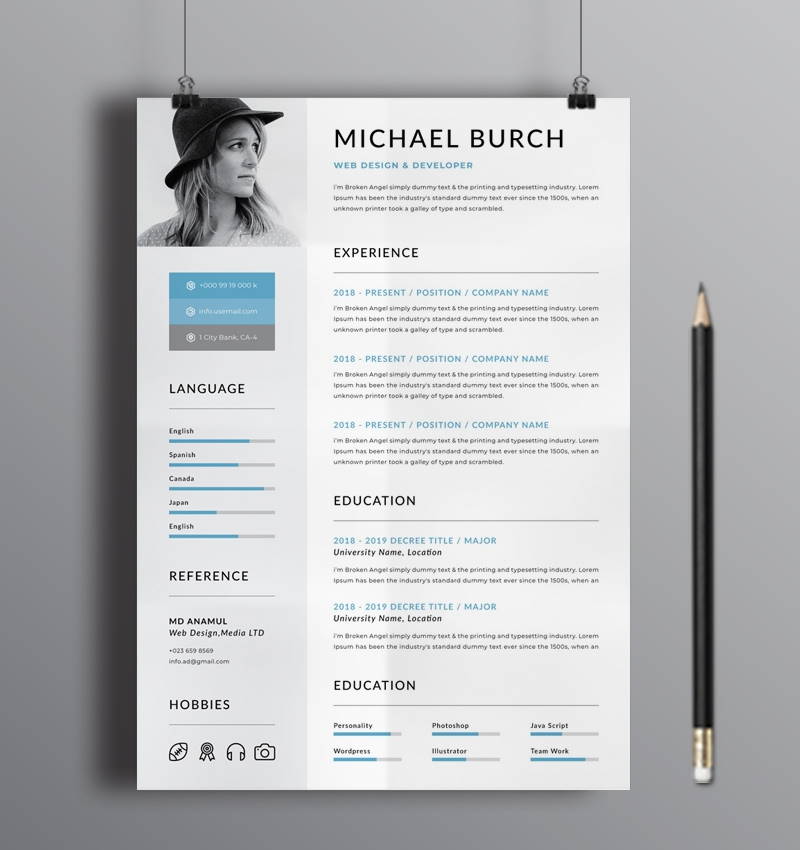 Free professional resume and cover letter template in A4 size suitable for any job opportunity. It creatively utilizes different shades of blue to present information in a clean and modern way. Available in Word, EPS and PSD formats.
Free Minimal Resume Template in MS Word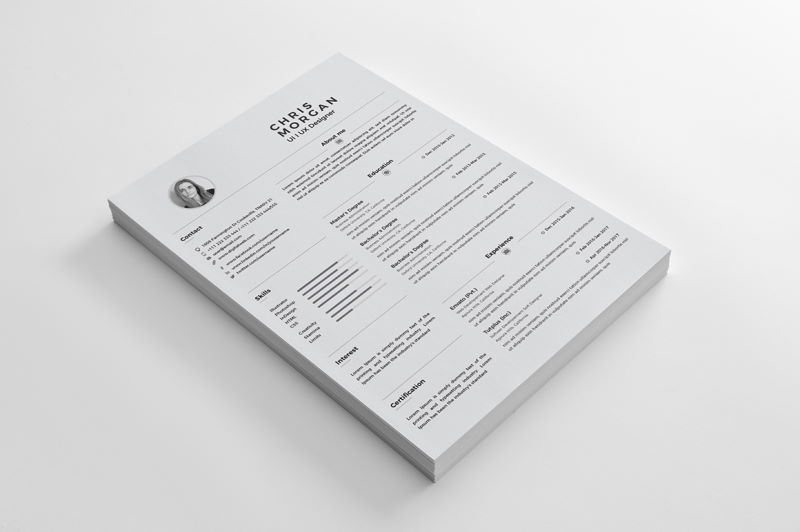 A no-frills, modern and sleek resume template with minimal design that is easy to use and customize. Comes in multiple formats – Word, PSD, AI, EPS and InDesign and includes cover letter template.
Related: Minimal & Creative Resume Templates
Free Infographic Resume/CV Template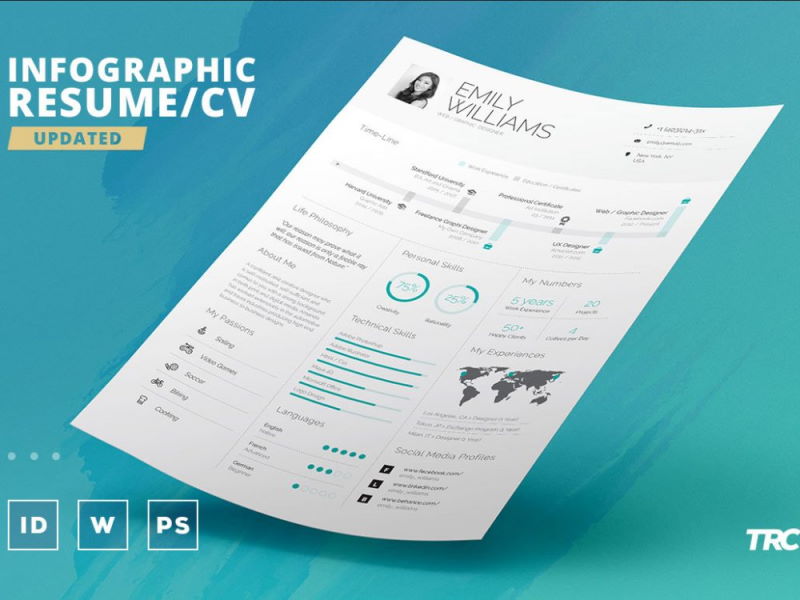 With this free infographic resume template, you can get creative and have visual representations of your skills and experience with timelines, graphs, icons, or bar charts unlike traditional text only resumes. Free to download and customize in Microsoft Word, InDesign and Photoshop.
Free Single Page Resume Template in Word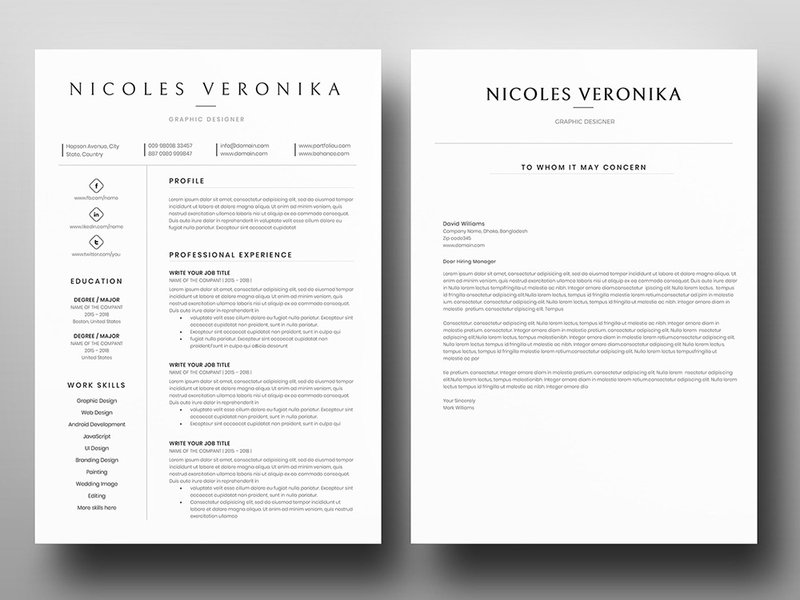 A customizable and free single page resume template with focus on your professional experience and profile. The template has a minimal yet classy and timeless design with clear typography, bold headers, line icons and a spacious layout. Comes in .docx format with matching cover letter and reference.
Free Modern & Stylish Resume Template with Profile Photo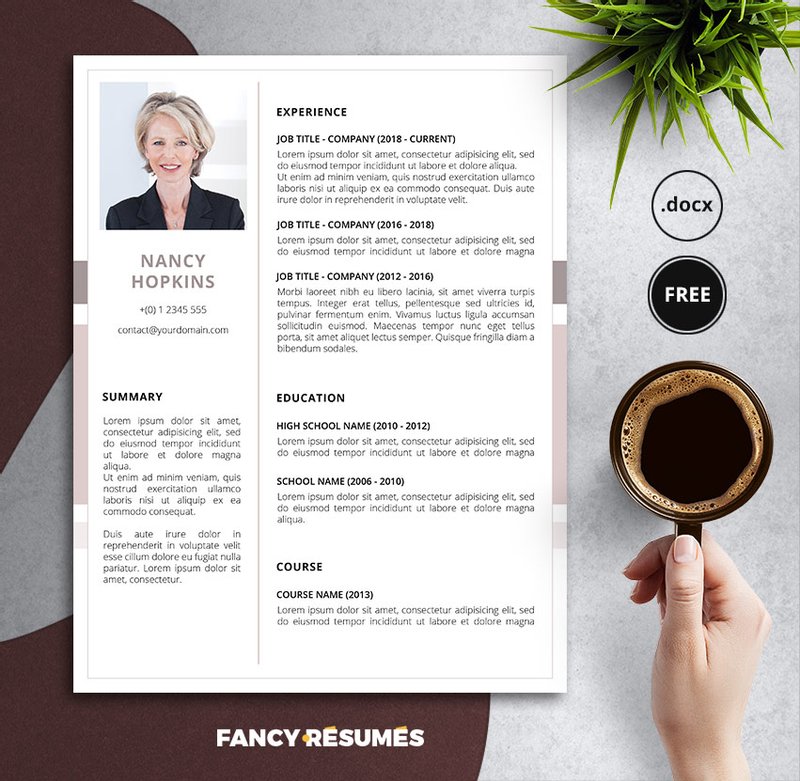 Stylish and elegant border used in this resume cv template gives it a modern look and makes it visually interesting. Its sidebar has place for your photograph paired with some additional space you can use for your resume objective, career summary or personal statement. Available for free download in .docx format.
Freelancer Word Resume Template with Minimalist Design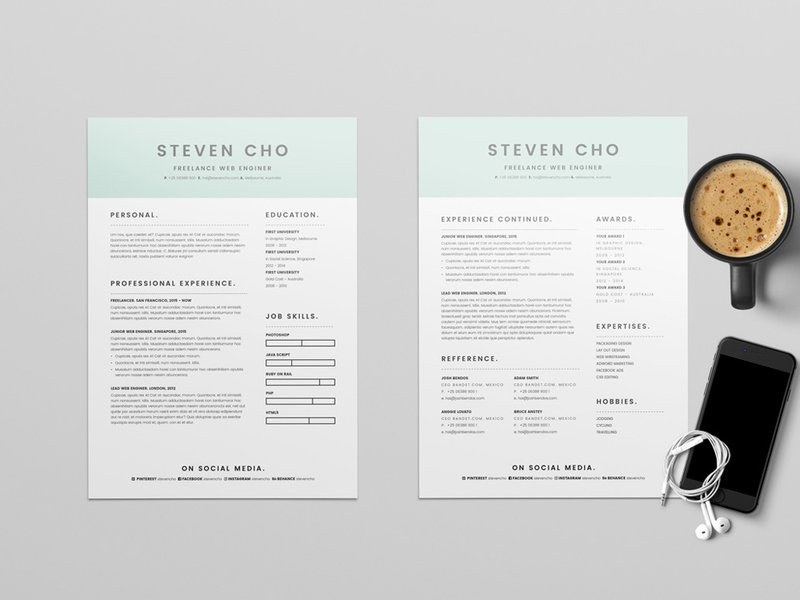 Available in A4 and US Letter paper sizes, this resume and cover letter combo for freelancers features a colorful header, right sidebar and a minimal layout. Its two-page design gives you ample space to include your professional experience in detail, your awards, expertise, hobbies and references. Free to download in Word and InDesign formats.
Word Resume/CV Template + Cover Letter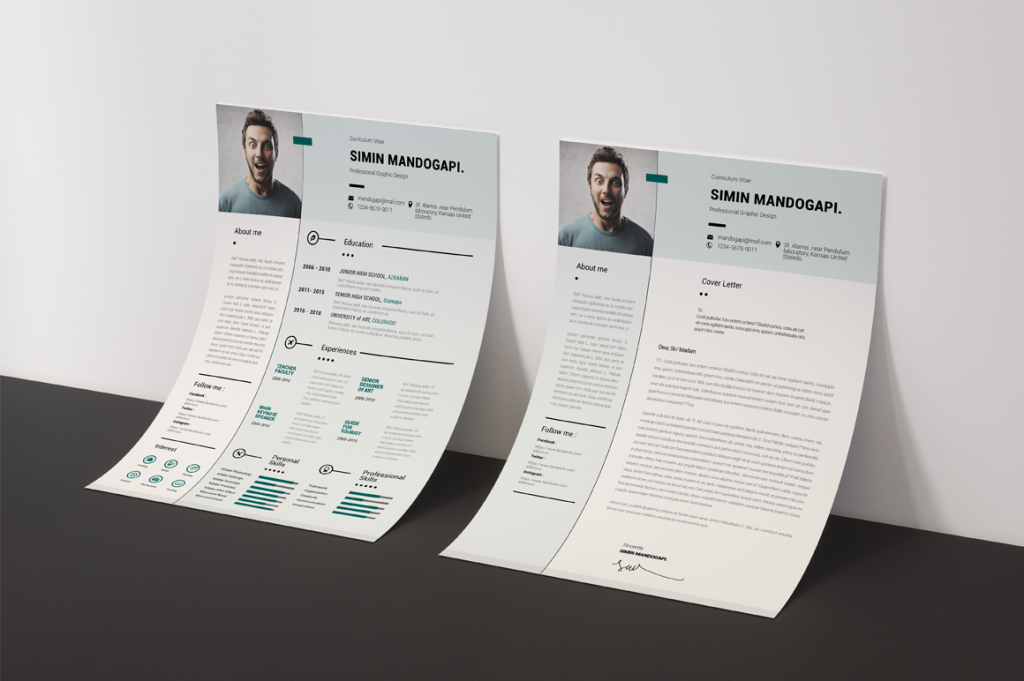 A free word CV template with a colored header section for highlighting your personal and contact information. It also features skill bars to showcase your professional as well as personal skills. Dividers and colorful headers make this resume easy-to-read.
Free Simple & Elegant Elegant Resume Template Word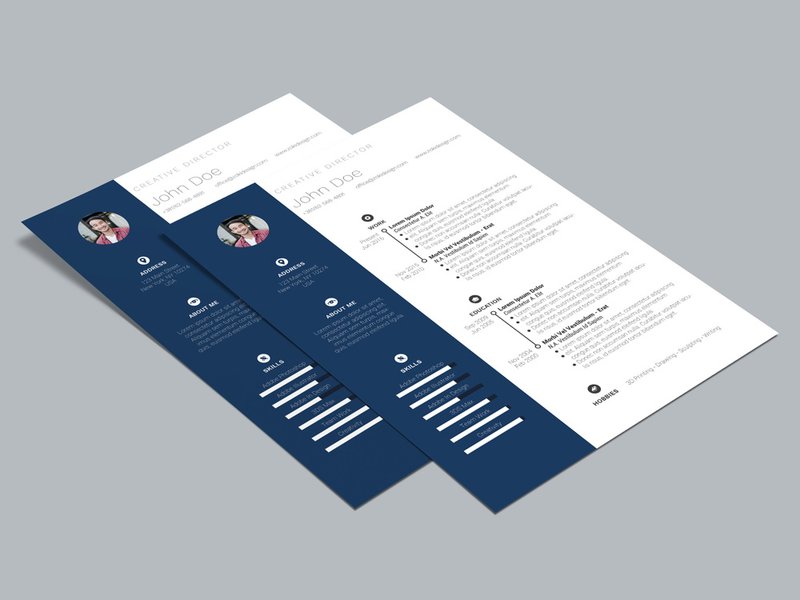 Shaded sidebar, bold section headers, work and education timeline, and bar graph are among the many highlights that make this resume stand out. This simple and elegant CV is available for free download in DOCX, PSD and AI file formats. It comes in two variations – blue sidebar and white with no sidebar, you can easily change fonts, colors and design elements to suit your needs.
Modern Free Resume Template – PSD & Word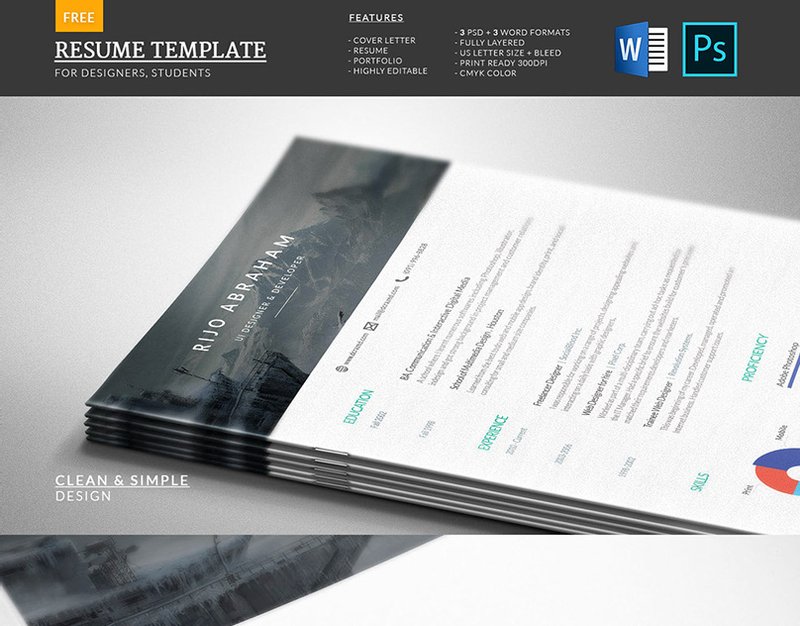 A free set of resume, cover letter and portfolio template for designers, developers, entrepreneurs and graduates who want to show their skills, portfolio in a creative modern way. This CV is print ready and comes in Word and Photoshop formats.
Free Word Resume with Pink Sidebar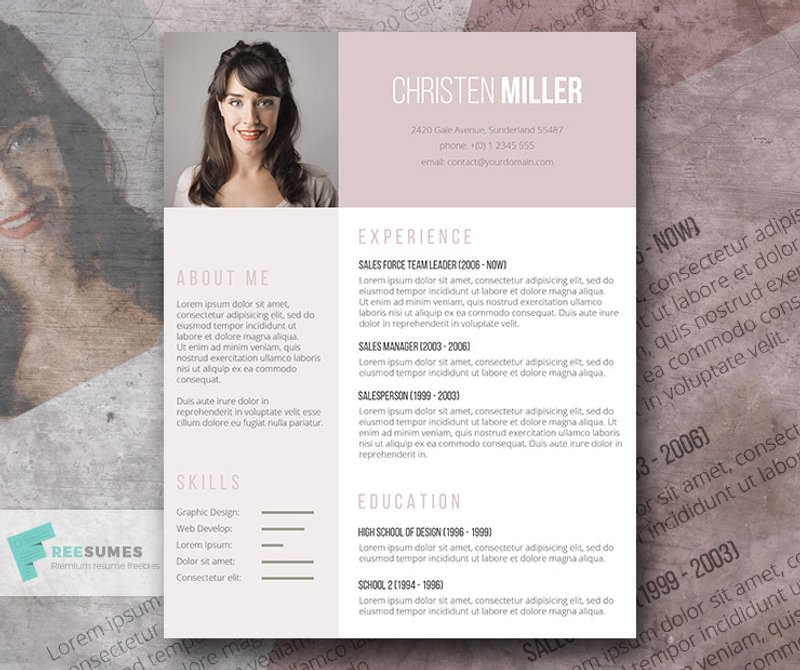 This word resume template with soft shades and pink sidebar is ideal for you if you are looking for an elegant resume with a feminine touch. It features a stylish design that is bound to command attention to your job application for any type of profession.
Free Resume & Cover Letter Template in 4 Colors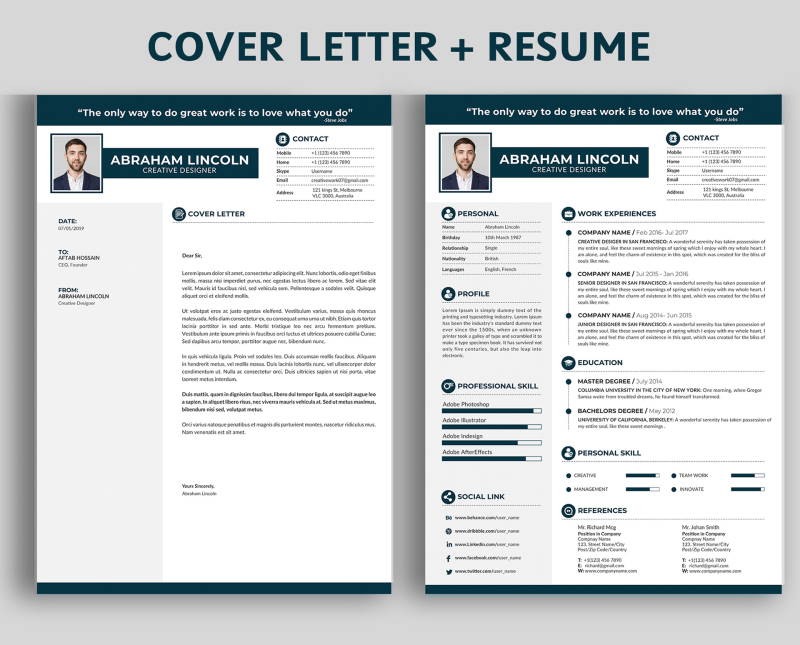 This is a free resume and cover letter bundle that comes in 4 colors and can be easily customized. The resume files are well organized and provided in multiple formats including Word, Photoshop, Illustrator and InDesign.
Bonus: Premium Word Resume Templates
When it comes to your career, you would surely like to put in your best effort and that starts with a professional resume to send out to recruiters. Which is why we have selected some of the most impressive looking Word resume templates that are available at a reasonable pricing to leave you with more options.
Professional Word Resume Template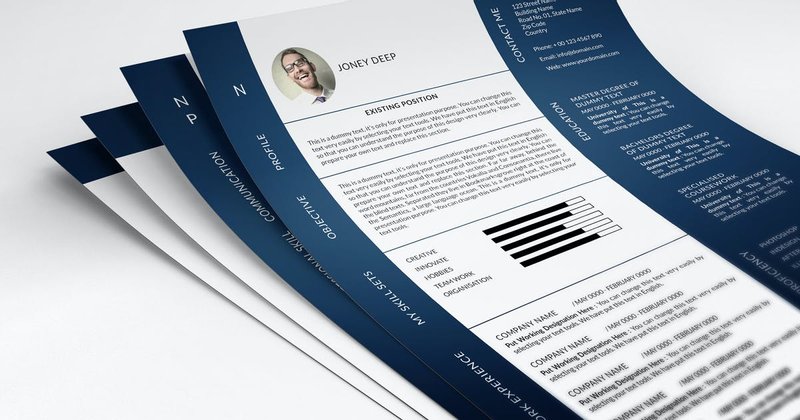 This double sidebar resume template puts focus on your strong selling points such as personality, skill set and experience in a concise way that is easy to read. A 4-page resume that includes templates for cover letter and a portfolio section as well. Available in Photoshop, InDesign and MS Word formats, the template is available in 2 colors and is fully editable. Use of Lato, a popular free sans serif font, in the text makes the resume inviting and impactful at the same time.
2 Page CV Resume & Cover Letter Word Template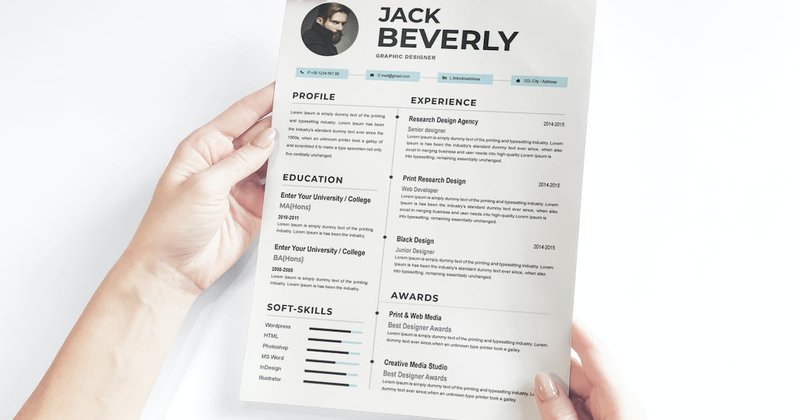 With a clean, simple design with focus on personal branding, this 2 page resume and cover letter template utilizes modern fonts, section titles, icons and a limited color palette consisting of shades of a single color to make it pleasing to read and is sure to make a great first impression. It comes in Microsoft Word (.docx) and Illustrator EPS formats.
Modern Word Resume Template with QR Code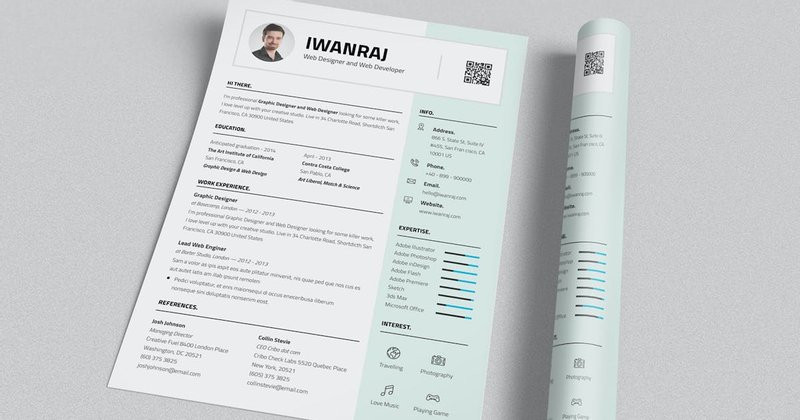 This modern Word resume template is an ideal choice for job seekers and professionals looking to add a QR code to their resume to link out to their online portfolio. All the information is presented in one page making it concise and professional, with QR code, you have the option to present your complete online portfolio which will come in handy specially for web designers & developers, graphic designers, photographers and other creative professionals. InDesign and PSD files are also included.
Clean Word CV/Resume Template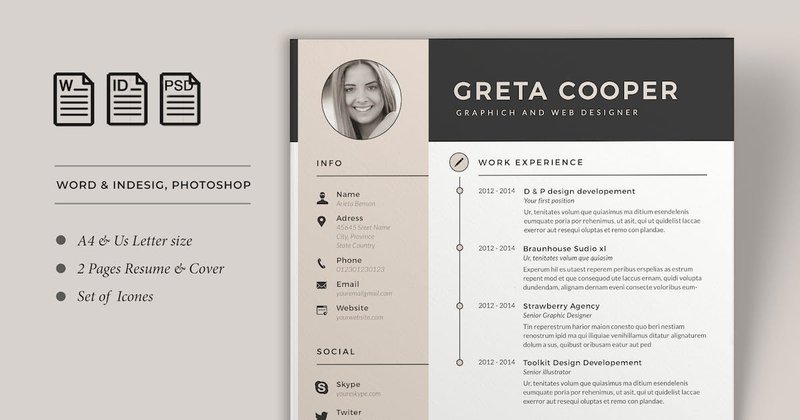 Big, bold header for personal branding, timeline design for presenting work experience, education and a warm color palette are the features that make this Word resume template stand out. This one page resume is straight to the point focused on your work experience with skills and expertise included as bar graph. Download contains resume and matching cover letter templates in Word, InDesign and PSD formats.
Creative Word Resume Template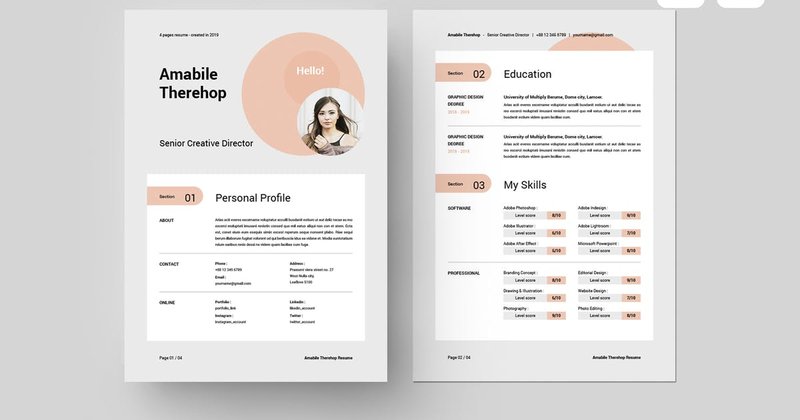 This creative resume design is made to catch eye of the recruiters. It features a detailed design spread over 4-pages that is easy to go through because of how cleanly all the information is laid out. Available in InDesign and Word formats in A4 size.
Minimal Resume in Word, AI and PSD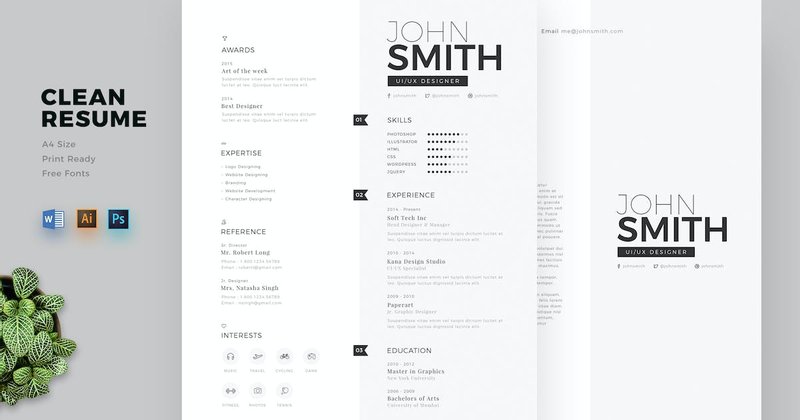 This Word resume and cover letter template is perfect for those looking for a no-fluff, minimal and clean design. It features a classic font combination of serif and sans serif, simple shapes and icons for an appealing design. On downloading, you will get AI and PSD files along with the Microsoft Word file.
We've presented some of the best free resume templates for Word in this article and we hope these will help you design a winning CV/resume. Fonts, color choices and content layout, these all come together in a great resume template design. These professional resume templates will make these choices easier for you, you only need to pick one that suits your profile.
If you liked this collection, do not forget to share it on social media, it greatly motivates us to share more such resources!
Along with a printable word resume, you may also want to have a resume website of your own. For that, you can check our collection of Professional HTML & CSS Resume Templates. You might as well want to check out these remote job boards to help in your job search.