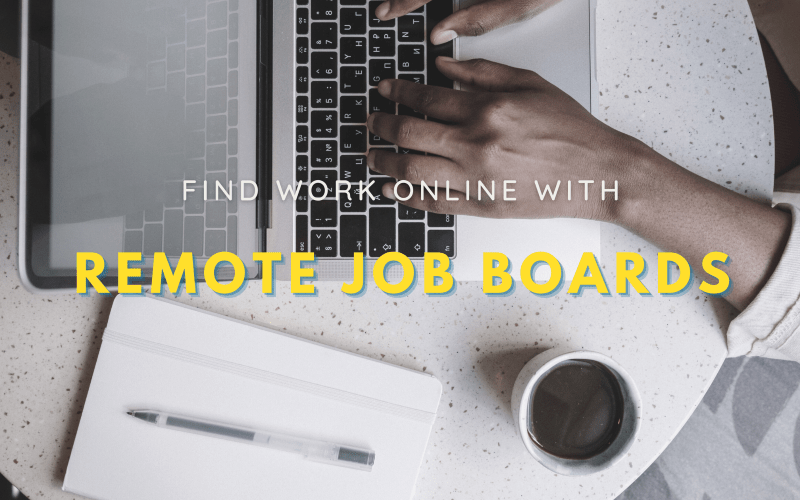 Internet has made it possible for people to work remotely from any location while still being able to collaborate with team. Advent of crisis like Covid-19 has forced many businesses to offer jobs that allow employees to work from home. With this rising trend of remote jobs, we believe this handy list of best remote job boards can help you find work online.
Whether you are looking for a full-time remote job, a part time work from home job, or a small side-gig as a freelancer, these remote job listing sites will help you find one as per your need. We recommend that you bookmark this page to refer to these sites during a job hunt or freelance search.
Please note that the list below is in no particular order. We have listed popular sites like UpWork, Freelancer and Fiverr at the end as we assume that many are already aware of these remote job sites. If you are a candidate then we recommend taking a look at these resume HTML templates and resume Word templates to build up your own profile.
In case find any of your favorite remote job boards missing from the list below then don't hesitate to add it in comments below and help fellow job seekers.
Let's begin: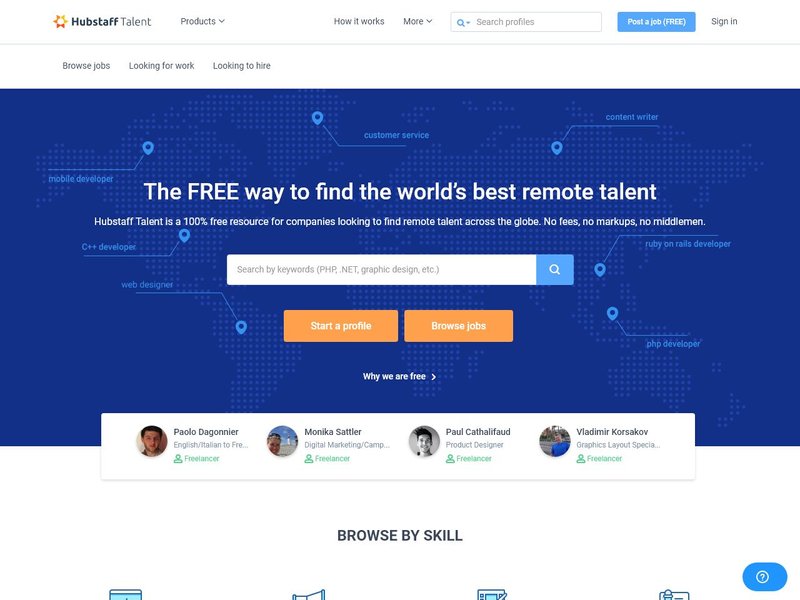 Hubstaff Talent is one of the most popular and free place to find remote jobs from around the world. Posting a job on the website is also free as a recruiter. You can easily search for jobs by job title, skill or keywords. It also allows you to filter job based on job type such as full-time, hourly contract or fixed contractual price. You can limit your search to countries if needed.
Browsing jobs by skill can also be done and allows you to find jobs in development, marketing & sales, design or multimedia, writing and content, database & IT and many more fields. You can also browse job by countries.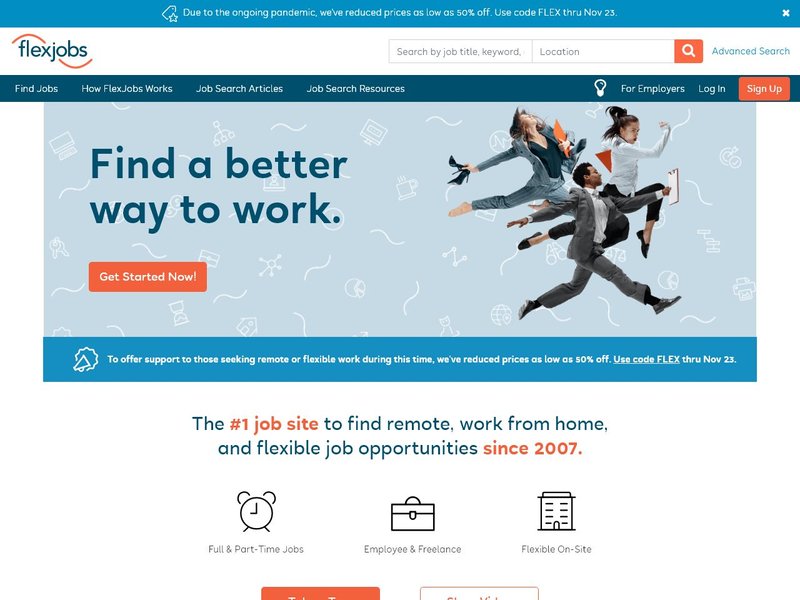 FlexJobs is another popular job site that helps you find remote work from home & flexible jobs. It has job listing in 50+ career categories and all the jobs are hand-picked (reviewed) before getting listed on the site. They also have in-house career coaches that specialize in remote and flexible job search guidance.
Do keep in mind that it requires a subscription plan for the services it offers in finding you a remote job. A subscription gives you unlimited access to the job list, free skills testing, as well as email alerts for new job postings.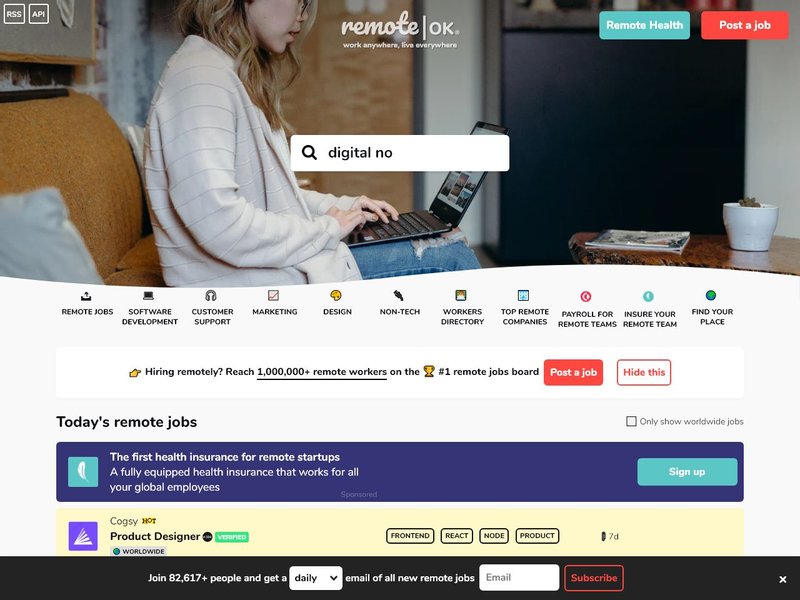 Remote OK is a great place for finding a remote job. There are numerous options of remote work postings available on the site for developers, designers, copywriters, customer support representatives, sales professional, project managers and more. You can also find list of top companies hiring for remote jobs on this site.
What's great is that the site is completely free to use and candidates can apply to jobs without any fee. It only requires recruiters posting a job to pay a fee. You can also subscribe to get daily updates about all new remote jobs. The website has been built by the maker of Nomad List which is a popular community helping digital nomads travel and work from anywhere in the world.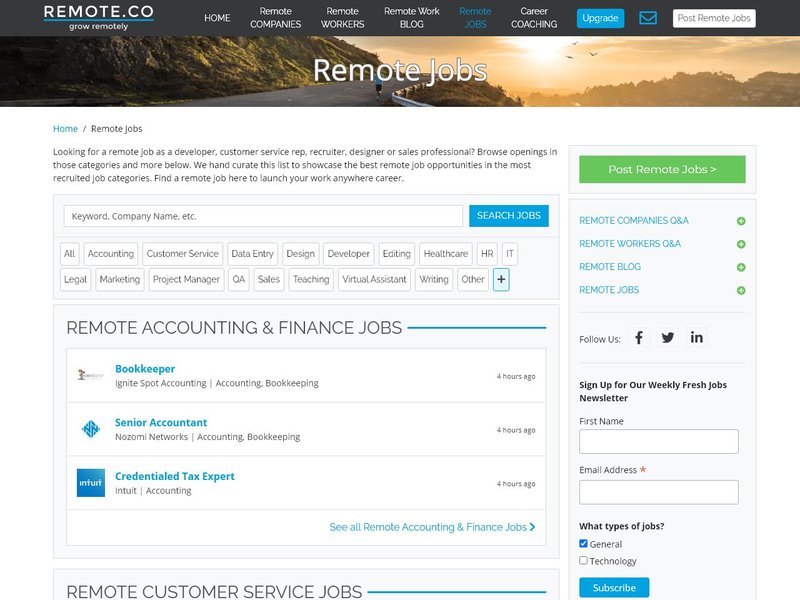 Remote.co features hand curated list of best remote job opportunities to help you find a career from anywhere in the world. You can browse jobs in most popular categories such as accounting, project manager, sales, data entry, editing, HR and IT. Browsing and applying for a job is completely free for candidates. For posting job, the website requires a fee.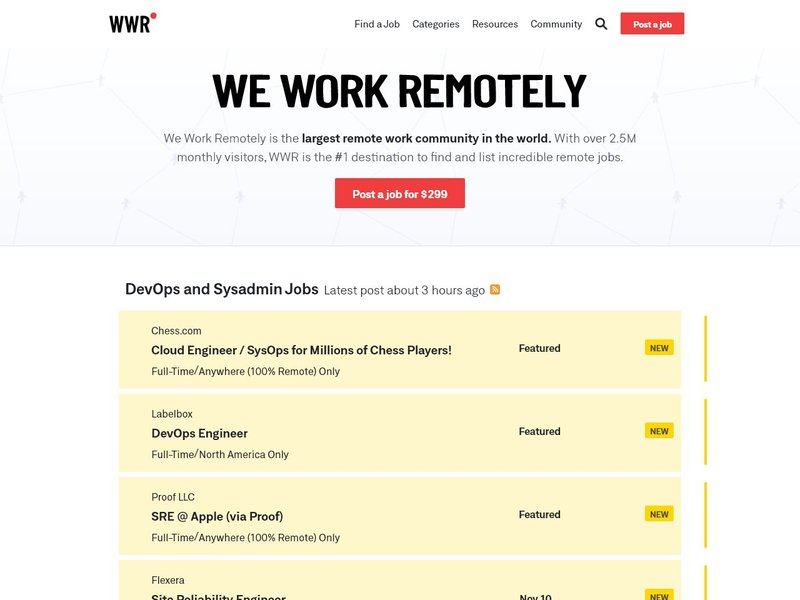 We Work Remotely is a place to find and list remote jobs that aren't restricted by commutes or a particular geographic area. You can browse thousands of remote work jobs free of cost and apply to the open positions easily. The website list jobs based on date posted but also allows you to search for open positions based on keywords and job titles. Recruiters need to pay a one-time fee to post a job on the website.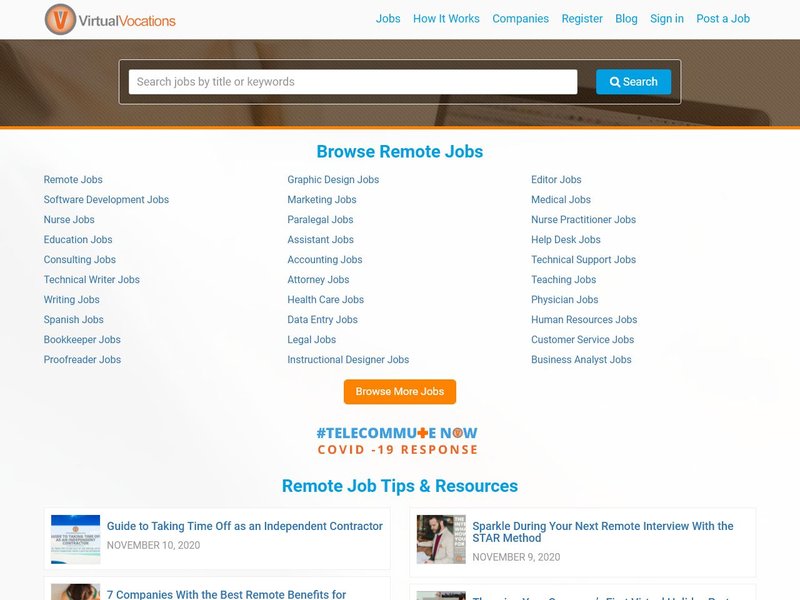 Virtual Vocations lists best work from home jobs and remote jobs in over 50 categories. It allows you to search for job as a professional, digital nomad, telecommuting worker or an entry level jobseeker. You will find jobs listed in many categories such as education, healthcare, medical, customer support and tech. Applying to the jobs requires a free registration for candidates. Recruiters can post jobs on the site after registering and vetting themselves for a one-time fee.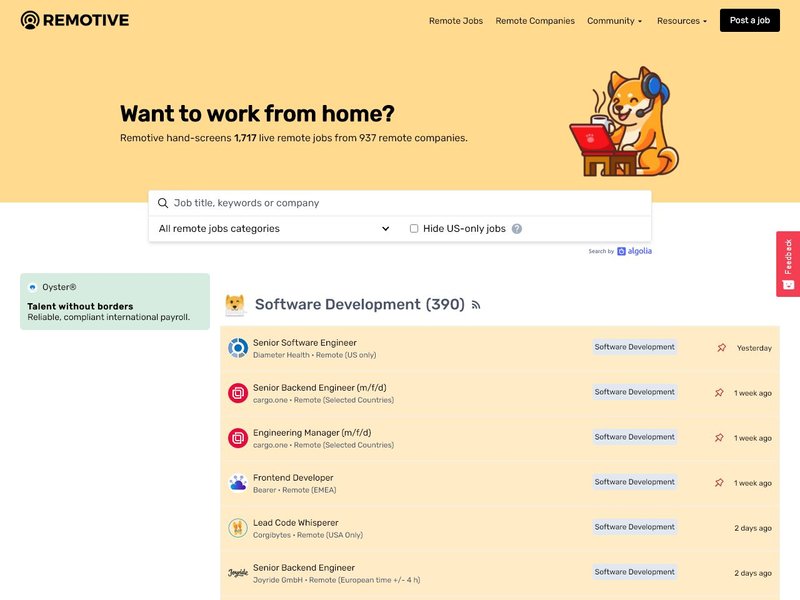 Remotive hand screens the best remote jobs from all around the world. You can easily browse and apply to the jobs listed on the site. Filtering the jobs by job title, company and keywords is also supported. While posting a new job on the site requires a fee, it is completely free to use by the candidates looking for a job.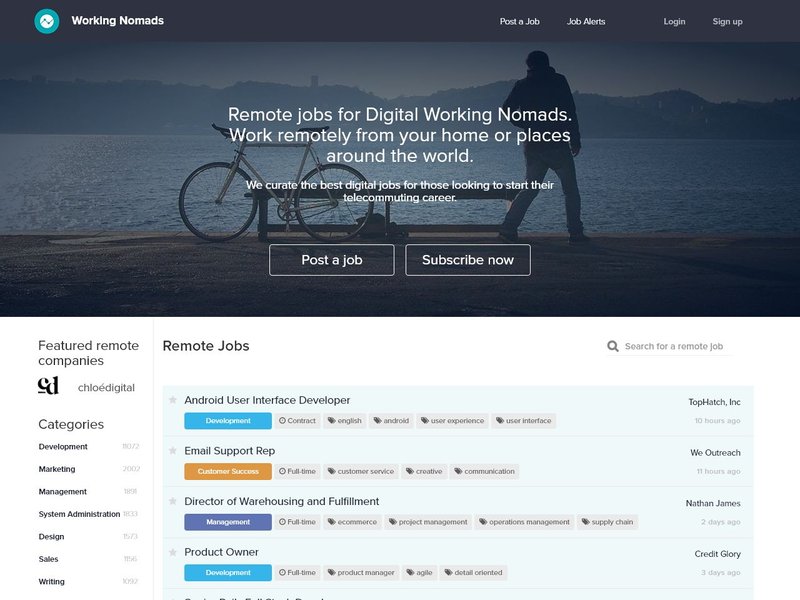 Working Nomads lists jobs that are suitable for digital nomads looking for a remote job. If you are looking to start your telecommuting career and work remotely then you will be able to find many full-time as well as contractual jobs listed on the site.
You can also subscribe to job alerts in any of the job categories such as system administration, consulting, design or administration. The website requires recruiters to post a job for a fee, while keeping the job list free for candidates looking for jobs.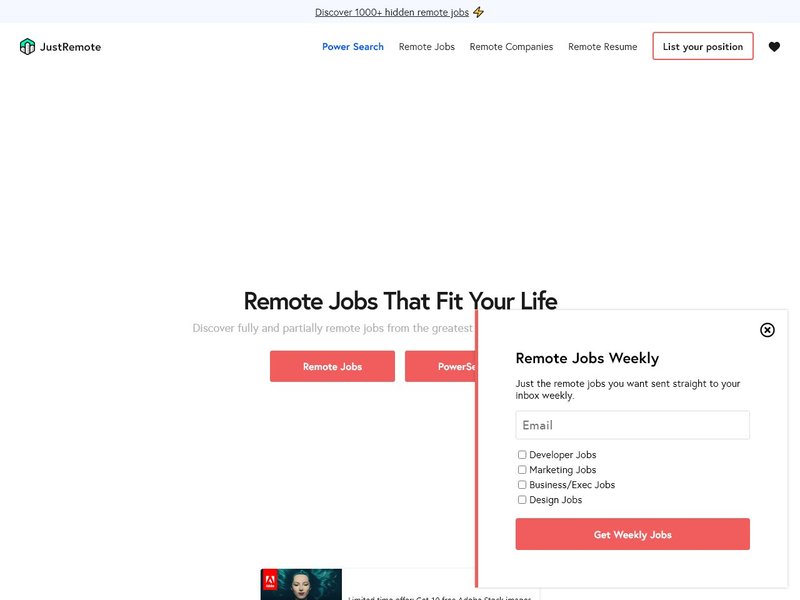 JustRemote allows you to discover remote jobs from all around the world. You can filter jobs based on job type, job origin or categories such as customer service, developer, designer, project manager etc. A weekly newsletter based on job role is also provided for candidates looking for jobs. As a recruiter, you would need to post a job for a fee.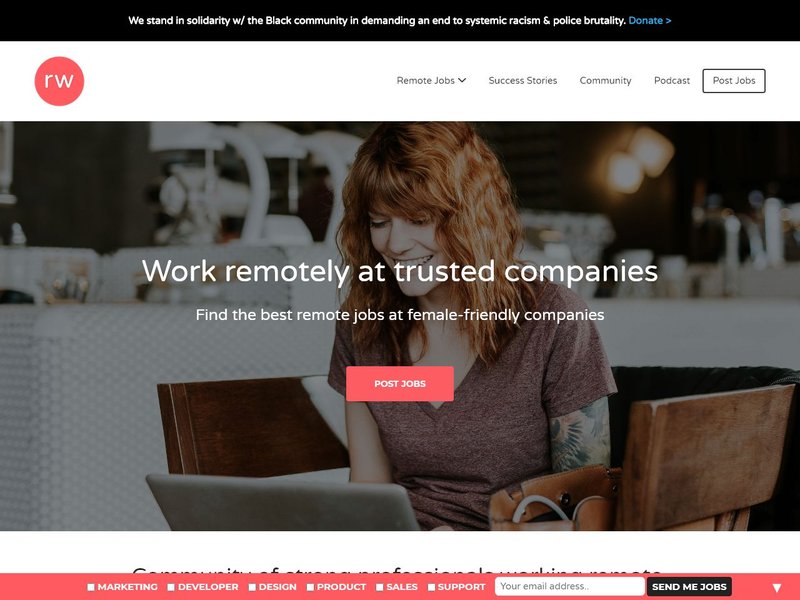 RemoteWoman is dedicated to finding remote jobs for professional women at best female-friendly companies. You can find jobs in many categories such as marketing, developer, design, product, sales or support. It lists curated remote jobs from world's best companies like GitHub, Netflix, Stack Overflow, WordPress etc.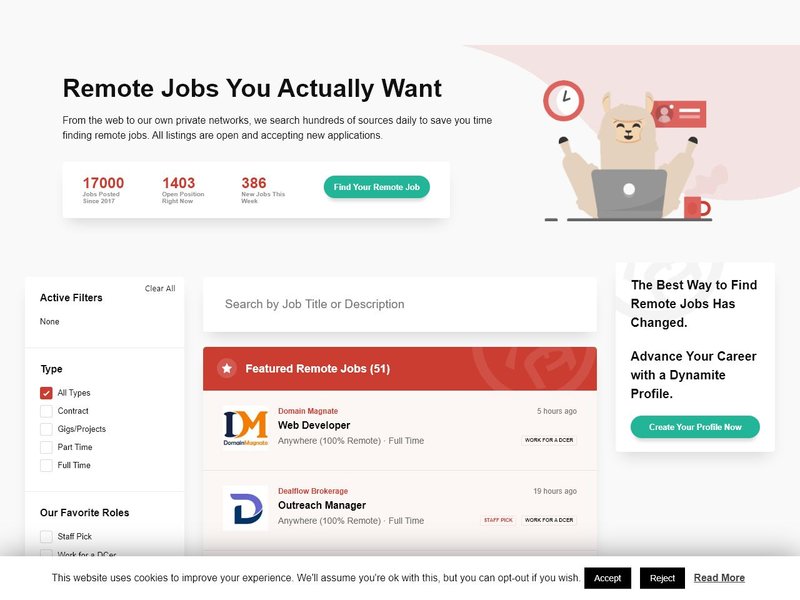 Dynamite Jobs lists hundreds of remote jobs daily from multiple sources and makes it easy for you to find a remote working job. You will find all listings with open positions and accepting applications. Finding remote jobs is completely free on the site. You can also create a profile on the site to help companies find you based on your skill-set. Recruiters need a monthly subscription to post a job on the site.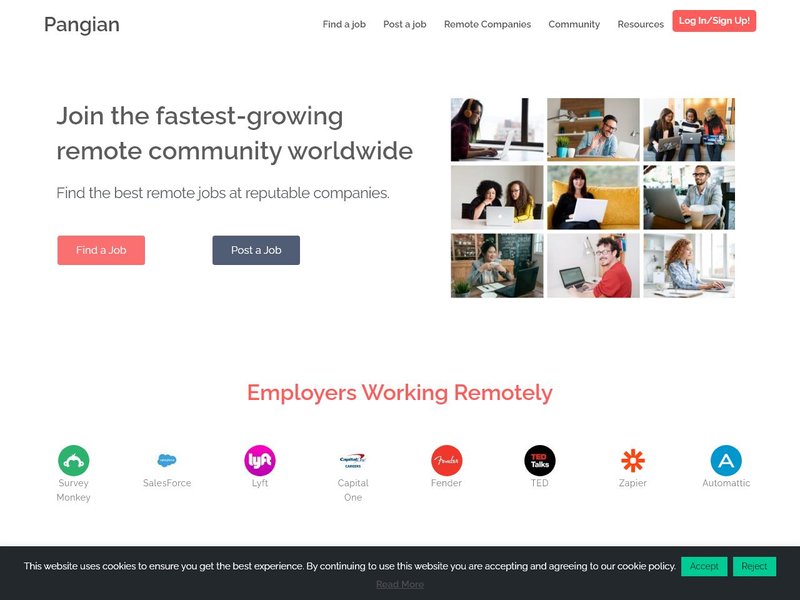 Pangian is relatively new yet fast-growing remote work community for professionals and companies. Browsing the jobs and applying to them requires you to create a free account. Job poster would need to shell out money while posting a job. The site also posts motivation stories about remote works and how they found their dream remote job.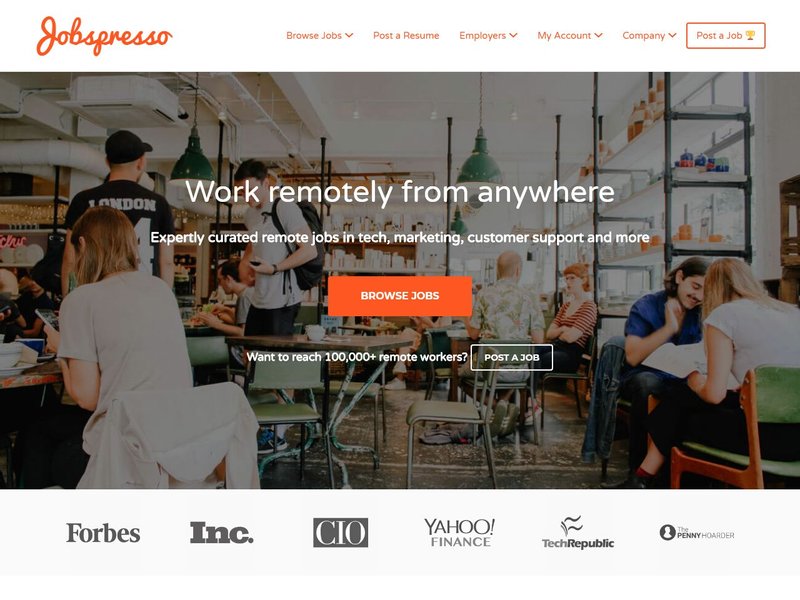 Jobspresso is another place to find remote jobs and careers at interesting and innovative companies. The website hosts expertly curated remote jobs in tech, marketing, customer support and more. All remote jobs are freely available to be viewed and apply for the job. Recruiter can sign-up for fixed fee for a limited duration and start posting jobs that allow remote positions.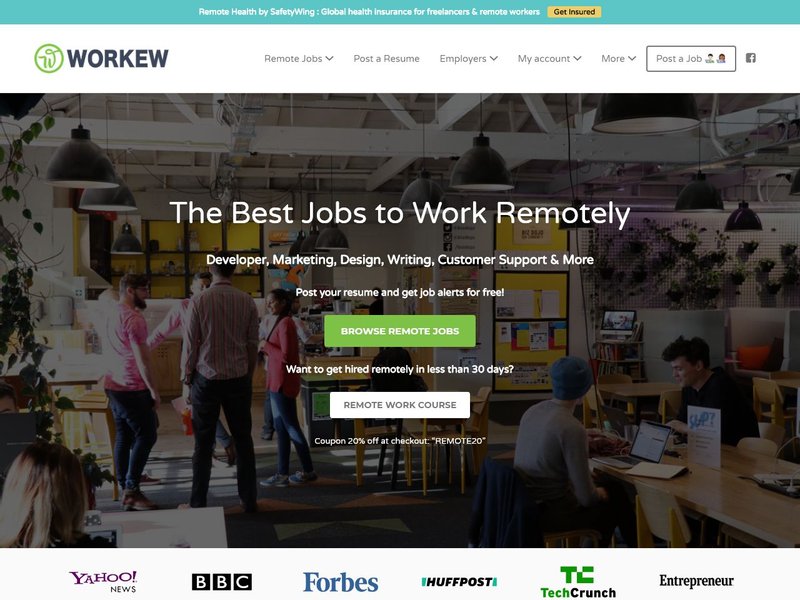 Workew can help you find remote work opportunities to become digital nomad and work from anywhere in the world. Latest remote jobs from companies are prominently displayed on the homepage and can be applied without creating an account. Candidates can also post their resume on the website for exposure. Workew offers paid plans for employers and also gives them access to the candidate pool in order to identify potential hires.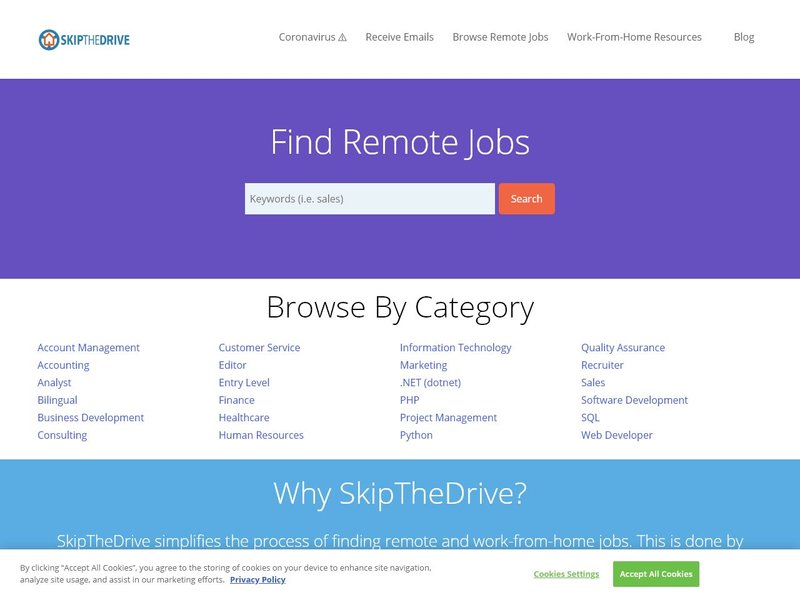 SkiptheDrive is a dedicated website for searching for work from home & online jobs. You can find jobs ranging from part-time to full-time. No registration is required required for job-seekers and one can filter jobs based on sectors as well as technologies such as .NET, PHP, Python, SQL etc.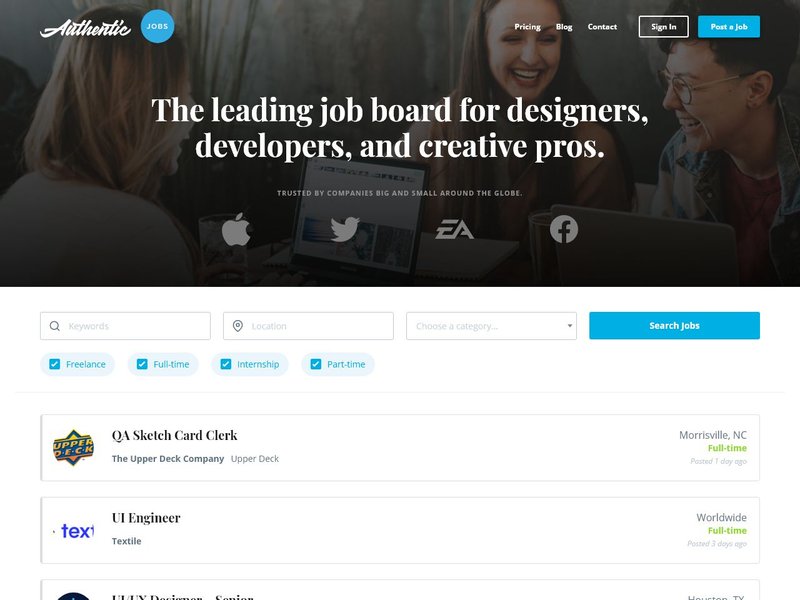 Authentic Jobs lists remote jobs for designers, developers and creative professionals. It features freelance jobs, full-time, part-time as well as internship. Listing jobs on the website requires a fee and recruiters can feature a job for a minor premium. Recruiters also get a job monitoring dashboard to keep tab on their job listings.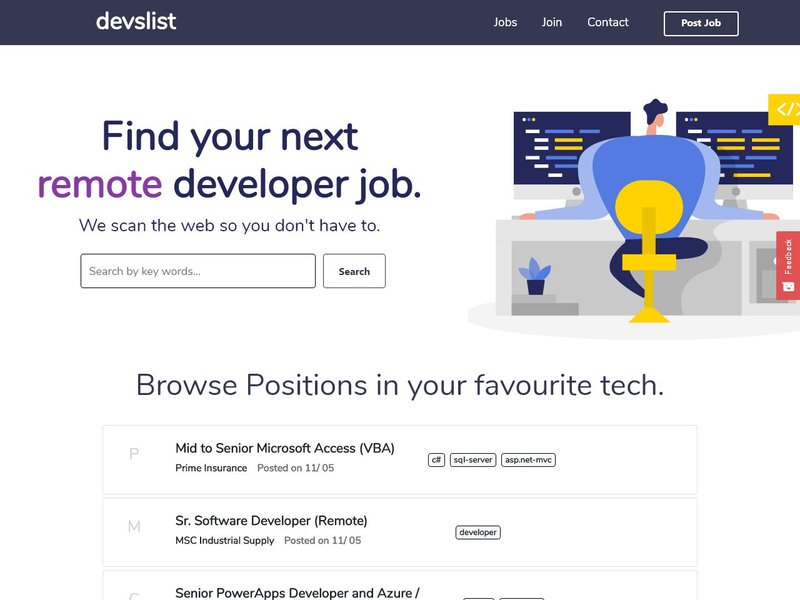 Devslist lists hundreds of remote developer jobs in technologies such as Javascript, Python, PHP, ruby and more. You can easily apply to the job without creating an account. Posting a job isn't yet available as the website mainly acts as an aggregator of remote jobs from multiple sources.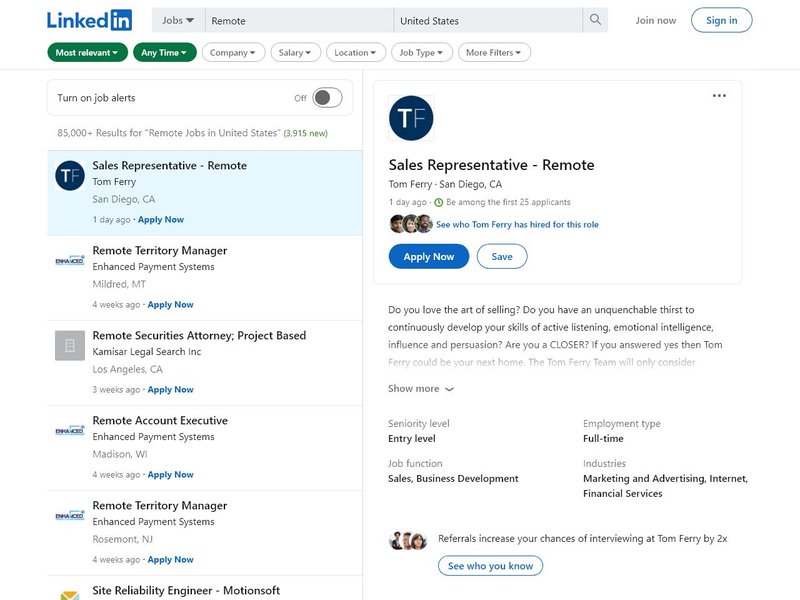 Speaking of career and jobs, one cannot skip mentioning LinkedIn. This website (now owned by Microsoft) is one of the leading career portal and professional social network. On LinkedIn, you can search for remote jobs located in any country. Moreover, you can create your own profile and connect with your professional network to get recommendations and get hired.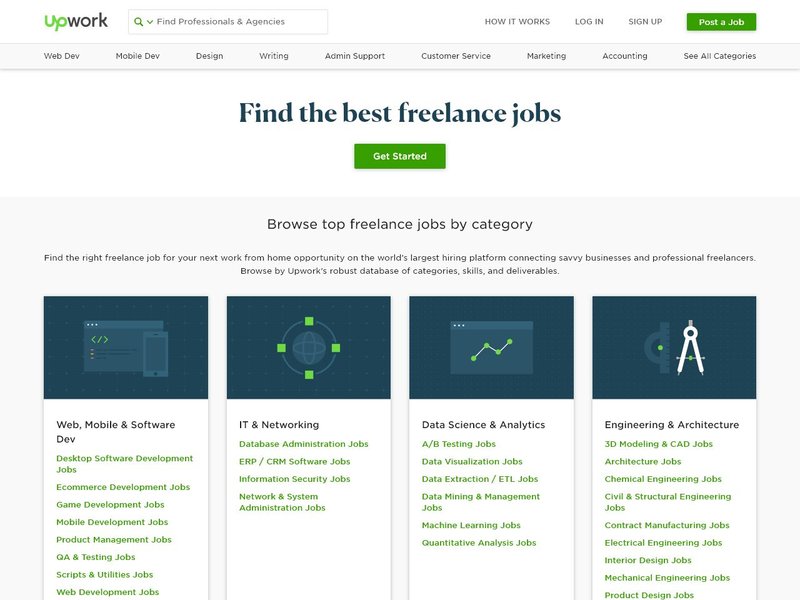 Upwork is best known for freelance jobs where businesses from all around the world hire freelancers and remote teams to do their custom job. If you are looking for contractual work or part-time gig, this can be a great location to start.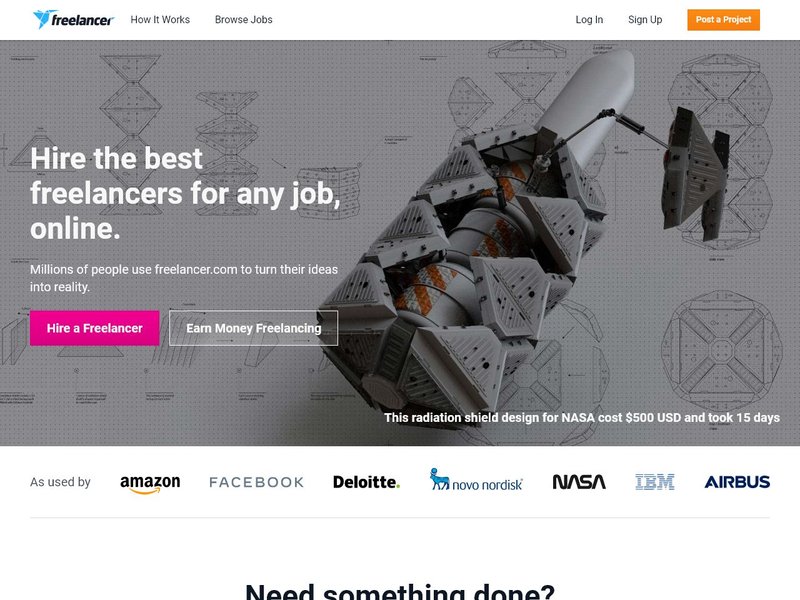 Freelancer is another top website for finding freelance web developers & designers. You can register on a website as a freelancer and browse jobs available on the website. There are many work-from-home and online jobs available on the website that allow you to make money while freelancing. The site has a bid system which allows freelancers to place their bids for the custom work listed on the site.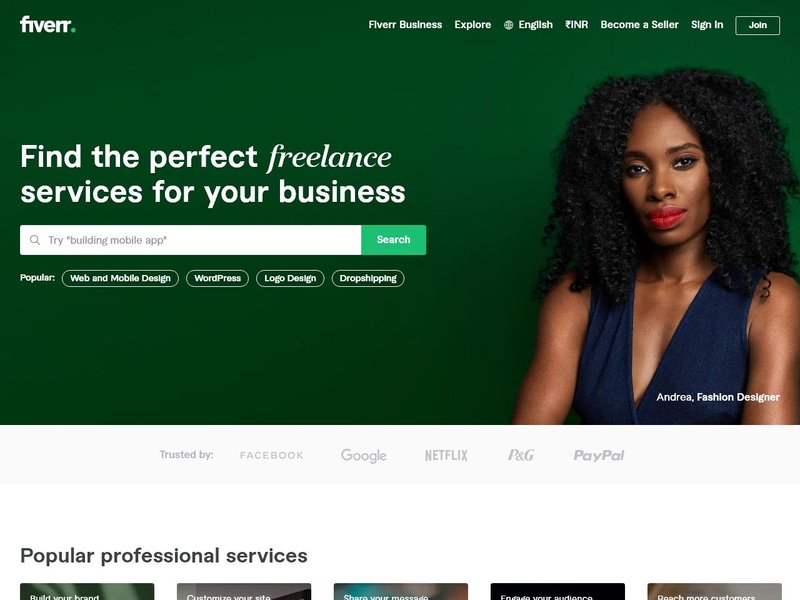 Fiverr is another online marketplace of professional services where you can browse and list jobs for freelancers. It is a great place for gig-workers looking for small part-time work to a big contractual work. There are many options available for freelancers in graphics design, video and animation, digital marketing, writing and translation and more.
Resources for Remote Job Boards
If you are a freelancer looking for online gigs, we recommend that you calculate your freelance hourly rate based on your expectation to make a better judgement when choosing remote job. We also recommend building a website using the creative CV template so that recruiters can also find you online and learn more about you.
If you are a recruiter then posting a job on these remote sites can bring a lot of potential candidates. For recruiters, businesses and HR services looking to build their own job site, do take a look at these job board WordPress themes and job portal templates that can help.
We hope that you were able to find many options for job board sites that list remote jobs. We recommend creating a profile in the remote job boards that you like and subscribe to alerts via e-mail to keep a tab on the remote jobs as per your search terms. Leave a comment below if you find anything missing in our list above.