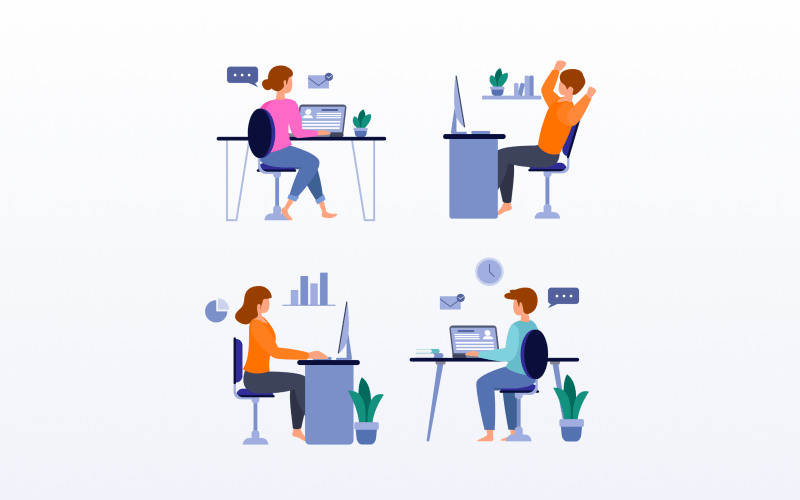 When you're a graphic designer or website designer, it's helpful to have your entire team in the same room. You can point, demonstrate, and make changes in real-time. When you make the transition to remote work, everything changes. And how you manage this remote team will play a key role in your success.
5 Tips for Managing Your Remote Team
In many regards, a remote team has higher potential and more opportunities to be productive. But it takes a little more work to establish the right processes and expectations to be successful. Here are a few of our favorite tips for managing your remote team and keeping everyone moving toward the right goals:
1. Give Team Members Flexibility 
Every remote worker faces unique circumstances. You have people in different time zones. Some employees live/work alone, while others live in houses with roommates, spouses, children, etc. Some team members have lots of personal responsibilities outside of work, while others are totally focused.
Setting work hours – like 9 a.m. to 5 p.m. – forces people to fit their lives into neat little boxes. You'll have people who aren't fully engaged and who struggle to perform at their best. A better idea is to give team members flexibility on when they work.
Stop worrying so much about inputs and emphasize outputs. If any employee can get his work done in five hours early in the morning, why make him stay by the computer until 5 p.m.? If an employee does better work in the evening after the kids have gone to bed, let her! You'll see a huge boost in efficiency and productivity when people are allowed to work with their strengths.
2. Establish Daily Check-Ins
Ideally, you're hiring natural self-starters and grooming your team members to become independent. But no matter how well your team members work on their own, it's wise to have structured daily check-ins.
"This could take the form of a series of one-on-one calls, if your employees work more independently from each other, or a team call, if their work is highly collaborative," consultant Barbara Z. Larson writes. "The important feature is that the calls are regular and predictable, and that they are a forum in which employees know that they can consult with you, and that their concerns and questions will be heard."
Keep these check-ins quick and straight to the point. You never want to bog your team down with unnecessary meetings (more on that later). Cut out the small talk and be brief. If you can complete a check-in in four minutes, keep it to four minutes. Efficiency is the order of the day.
3. Use a Centralized Communication Hub
You need a way to organize all of your information and centralized team communications. If you're fragmented across too many tools, your team will have a hard time staying on the same page (which puts a drain on productivity). Try using a social intranet solution like Happeo.
"Happeo is an integrated hub for collaboration that links all G Suite applications (Docs, Calendar, Hangouts) together in one single window. Every team can collaborate and communicate in their own Channel, with their most-used G Suite applications on hand," the company's website explains.
Give it a try and see what you think. If you're already using Google's G Suite, this is a perfect addition.
4. Establish Clear Feedback Loops
Feedback loops are important in any organization, but they're especially significant when you have a remote team. There should be a clear and consistent exchange of information from one employee to the next. People should know when to speak up, how to hand off information, what to do with feedback, where to report, etc.
5. Eliminate Superfluous Meetings
As mentioned, meetings put a huge drain on productivity. They mess ups schedules, interrupt work, and eat up time that your team could be using to get things done. Eliminate all meetings that are talking about doing something and only hold a meeting to implement an action step. Furthermore, keep meetings to five people or fewer. This forces you to invite only the people who truly need to be there.
Give Your Remote Team a Boost
If this is your first time managing a remote team, you have to give yourself some grace. There's a learning curve with this new setup and there's no replacement for experience. Take your time, implement the suggestions from this article, and evaluate. Keep what works, toss out the rest, and move on. Your team will eventually slide into a system that works for all its moving parts.