Brush fonts are designed to emulate the strokes and styles created with a paint brush or ink pen. The beautiful imperfections and irregularities of these hand painted fonts give them an organic, natural feel. They are perfect for adding an artistic touch to branding, packaging, apparel, and poster designs. In this article, we bring to you some of the best brush fonts that you can use in your next creative project.
Brush style typefaces range from brush scripts with a casual, relaxed look such as Salted Mocha and Debby to energetic and bold fonts like Macbeth and Rustico. These fonts add a lot of personality to typography and work best for headlines, titles or any attention grabbing text.
We have included both premium and free to download brush fonts in this collection and they're placed in separate sections for easy browsing. Read on to get a preview of these fonts as well as the links to their download pages.
Best Free Brush Fonts
Below you'll find our pick of the best free brush fonts with commercial and/or personal use license.
Leafy – Brush Handwriting Font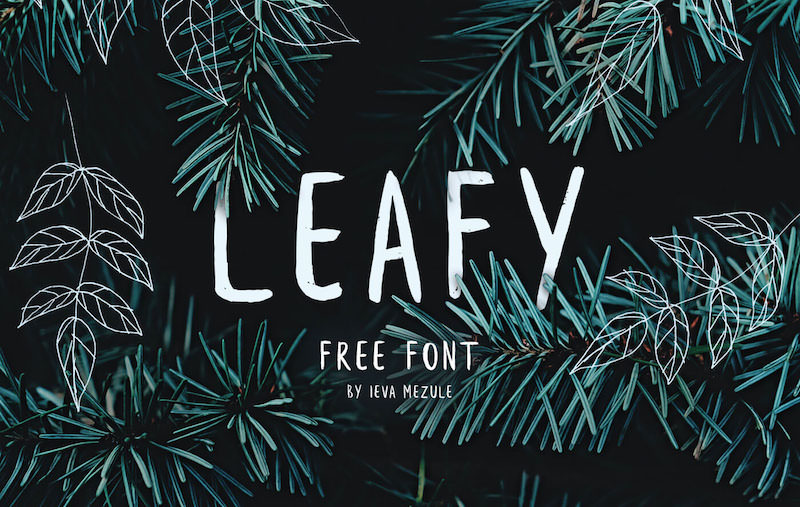 Leafy is an all-uppercase brush handwriting font designed by Ieva Mezule and Krisjanis Mezulis. The font includes 95 characters and has all the basic glyphs. Subtle texture and irregular strokes make Leafy ideal for when you need a personal handmade look for your text. The font is available for free download in .otf format.
Salted Mocha – Brush Stroke Font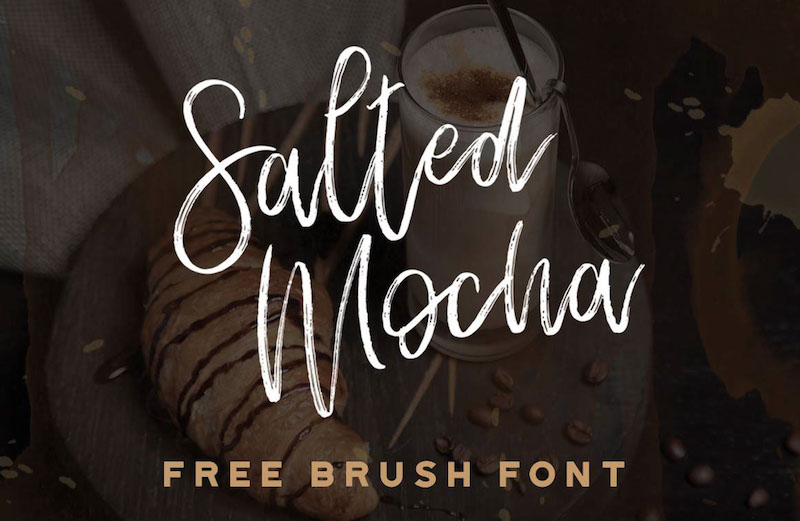 Salted Mocha, a hand drawn brush stroke font by Stephanie Arsenault, features rough edges and authentic brush strokes in its characters. A bouncy baseline and loopy strokes give the font a playful look. The font is free for personal and commercial use and is available in OTF format.
Summer Hearts – Free Brush Paint Font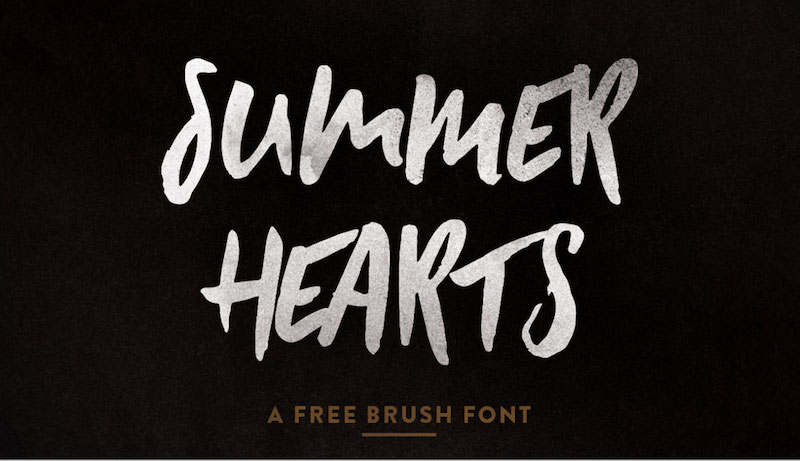 Summer Hearts is a free hand painted brush font from type designer Jeremy Vessey. An all-caps font, its lowercase characters are a variation of the uppercase characters. The font is designed for use as display font for headlines and titles, posters, branding etc. Font format: OTF.
Macbeth – OpenType SVG Font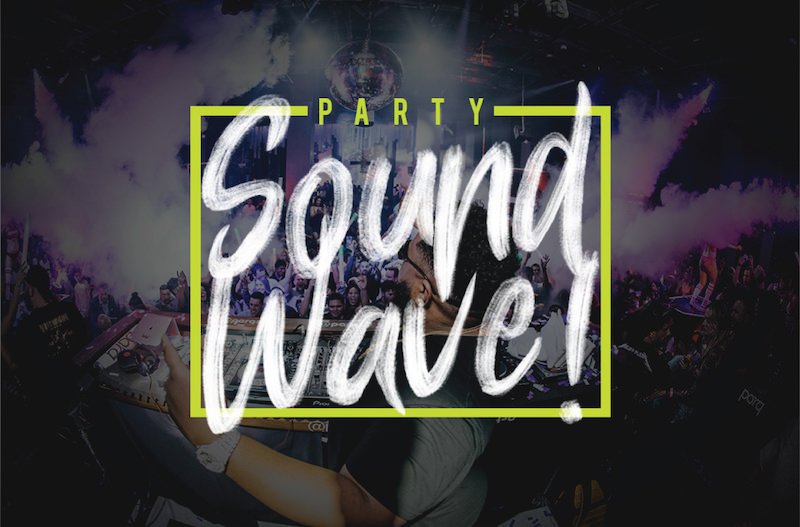 Macbeth is a free hand drawn OpenType SVG color font from Oghi Novianto. Using the latest OpenType-SVG technology, the font preserves the high resolution brush detail of the original handwritten letters. It comes with full set of uppercase and lowercase characters, numbers, punctuations and a few extra marks.
On downloading you'll get the font in OpenType SVG format that is compatible with Photoshop CC 2017, Illustrator CC 2018 and above as well as a PSD file with all the glyphs that can be used in any version of Photoshop and Illustrator. An energetic, aggressive font, Macbeth is ideal for use on displays, movie titles or album covers.
Brux – Stylish Brush Font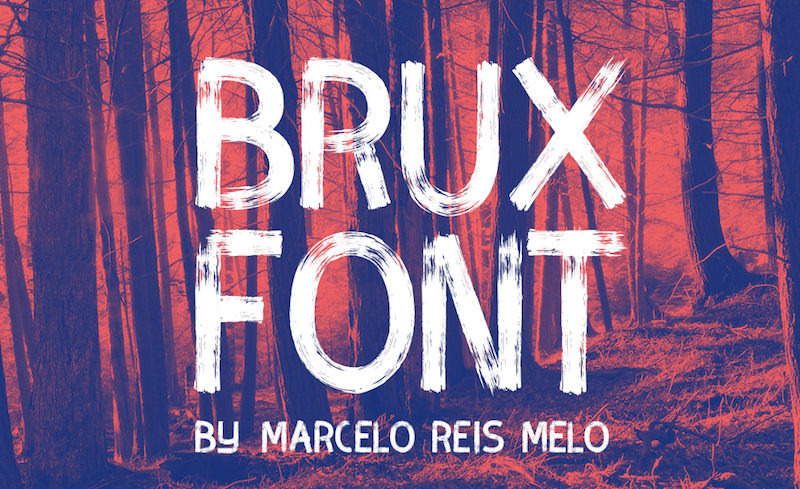 Brux is a stylish all-caps brush font with uniform weight and a stencil font like upright, rigid feel that sets it apart from other brush fonts. The font comes with support for Swedish, German and Spanish characters and is created by art director Marcelo Reis Melo. The free download includes font in TTF, OTF and Webfont formats.
Debby – Brush Script Font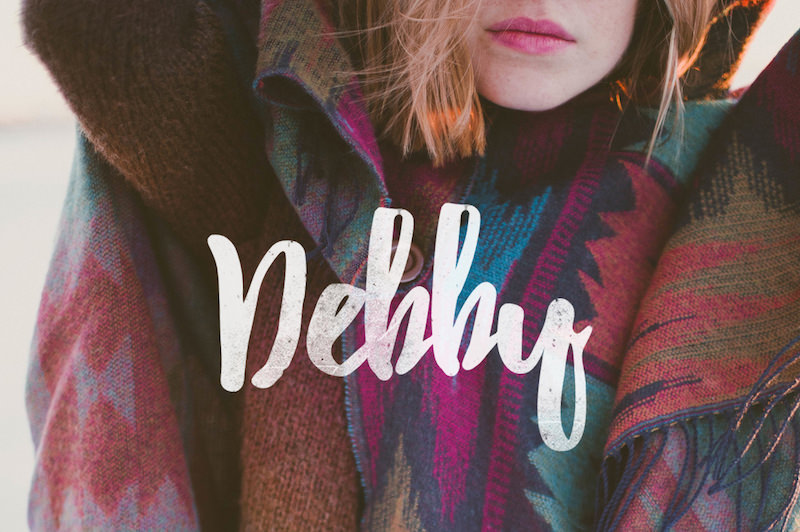 A beautiful hand-made brush script font, Debby features bouncy letterforms with rough shapes that'll give your text an authentic hand written feel. Ideal for use in greeting cards, invitations, quote posters and logo design. Released by Artimasa Studio, Debby can be downloaded for free in both OTF and TTF formats.
Also read: Free Fonts for Poster Design
Brusher – Brush Pen Font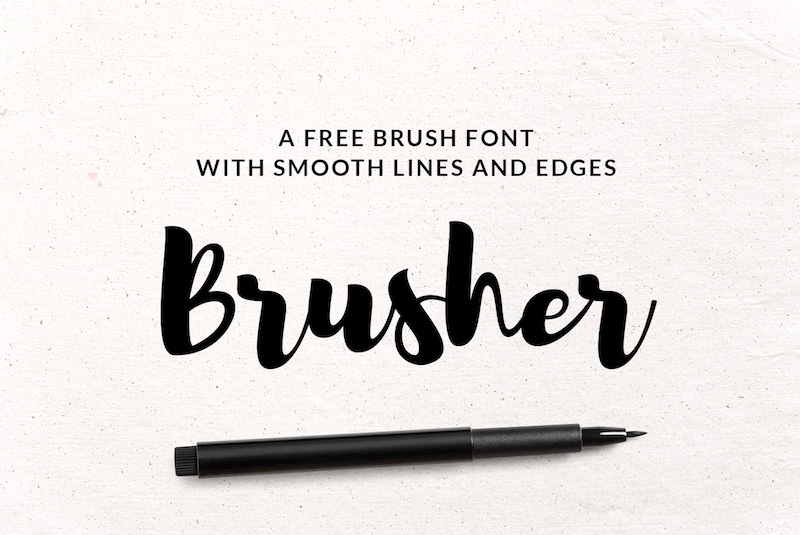 Brusher is a bold and modern brush pen font created by Vlad Cristea and Raul Taciu. It comes with 100 glyphs including uppercase & lowercase letters, numbers, symbols, and punctuations, all crafted with precise and smooth brush strokes.
High contrast line thickness along with uneven letter sizes give the font a unique character that will work perfectly in your lettering and branding projects. The font can be downloaded for free in OTF and TTF formats.
Westfalia – Brush Sans Font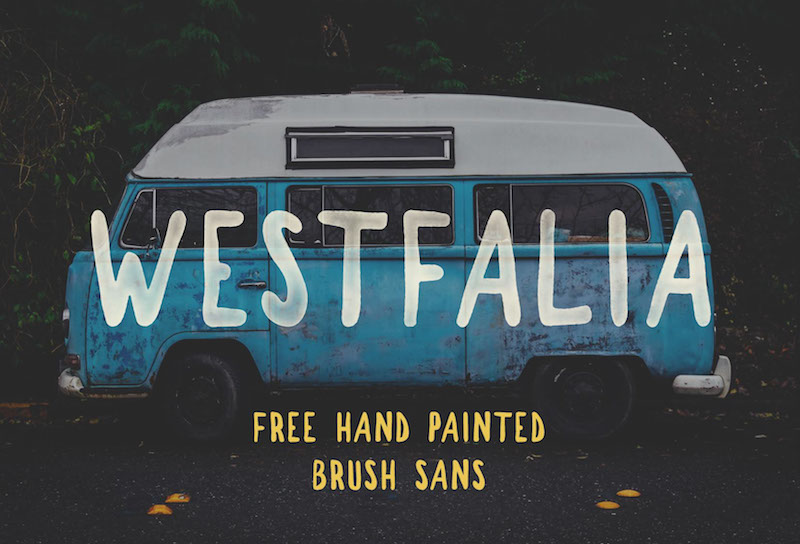 Westfalia is a free hand painted brush sans font with soft, rounded corners. Its messy edges and varied stroke weights provide the font a natural hand drawn feel. According to its creators, the font is ideal for any project with an outdoor and exploration theme. Westfalia is available for download in OpenType Font format.
Dreamers Brush Free Font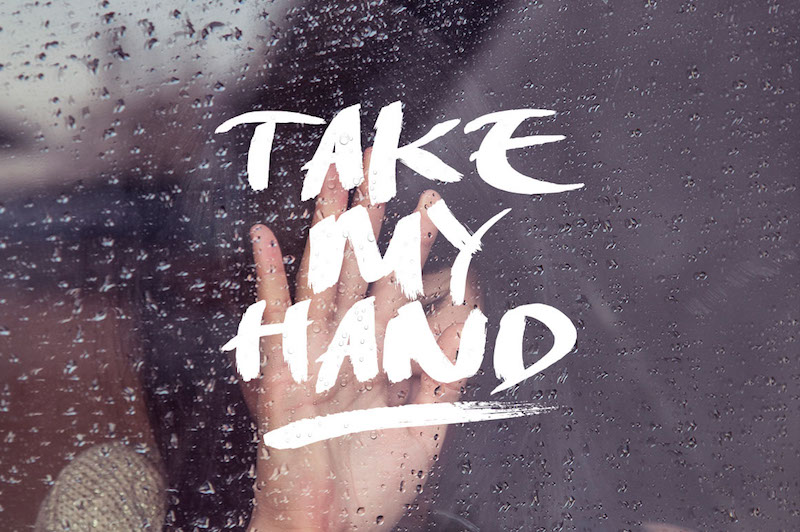 Dreamers Brush is a bold, expressive typeface by Get Studio. It sports grungy, rough edges that emulate the effect of using a real paint brush. The font comes with complete set of uppercase and lowercase characters, numbers, punctuations and multilingual support. It comes with free for commercial use license. Font Format: TTF and OTF.
Hensa – Brush Script Font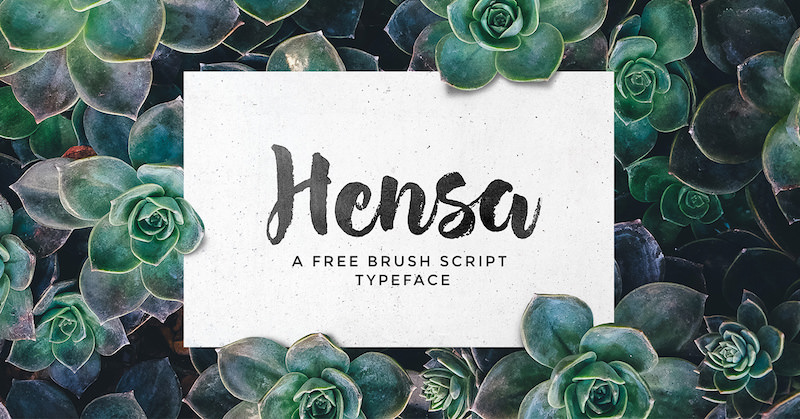 A free brush script typeface, Hensa comes with basic latin lowercase and uppercase characters, punctuations, numerals, ligatures and ornamental swashes. This semi-connected script font will look great in logos, greeting cards and packaging designs. Designed by Vlad Cristea, Hensa is available for download in both TTF and OTF formats.
The Woodlands – Brush Calligraphy Font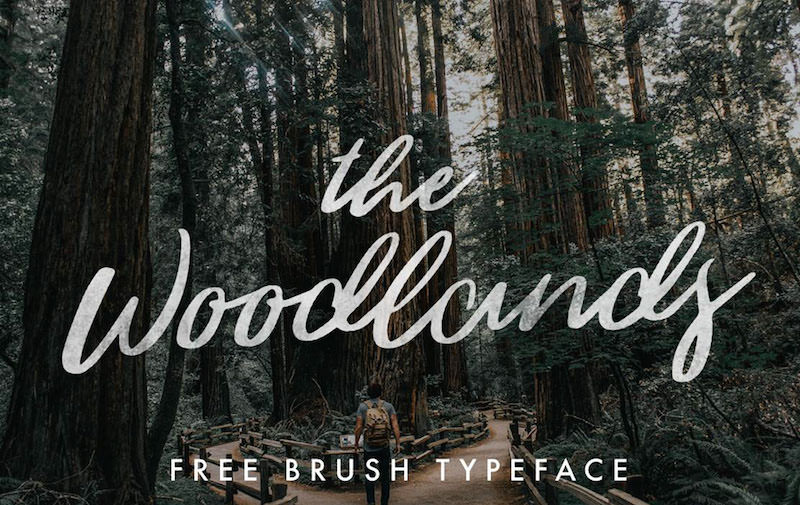 The Woodlands is a brush script font with modern calligraphic aesthetic. Created by Jeremy Vessey, the font features slanted characters made up of smooth strokes to help you achieve a hand lettered feel. Free for commercial use, Woodlands is available for download in OTF format.
Rustico – Free Bold Brush Font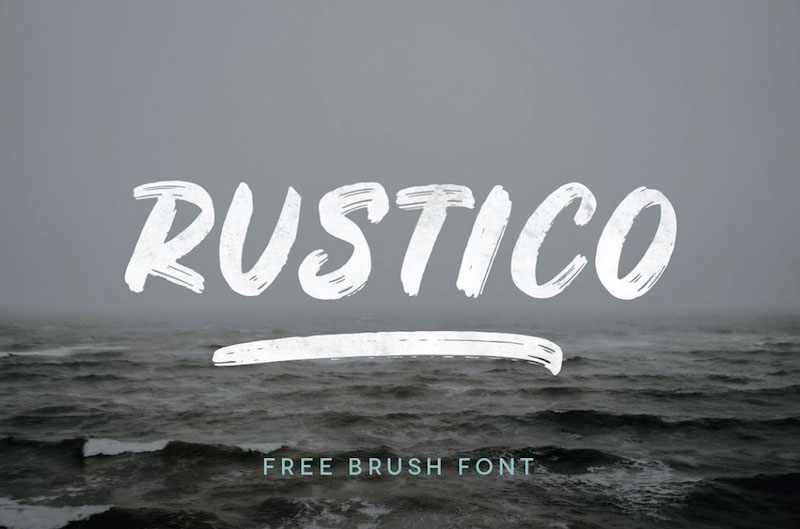 Rustico features bold all-caps letterforms designed with an italicized stance that you can use to create statement designs for branding, apparel and marketing. This free brush font from Hustle Supply Co is available for download in OTF format.
Selima – Paint Brush Font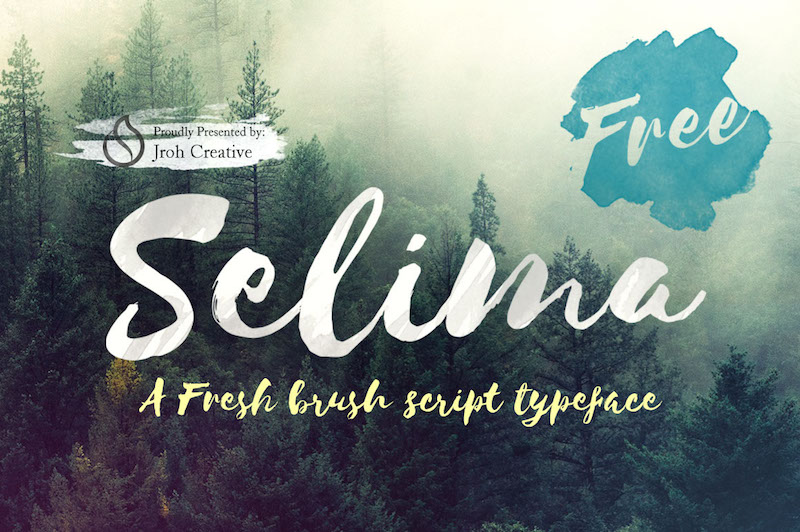 Selima by Jroh Creative is a free brush-lettered script typeface. The font features a bouncy baseline and irregular shapes, perfect for adding a personal touch to your designs. Font format: OTF.
Morracle – Handpainted Brush Font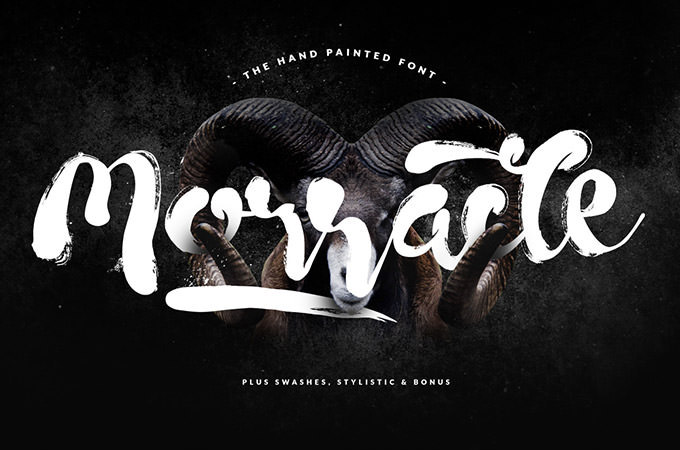 Morracle, a hand painted font, draws inspiration from the ink and tints hand drawing. It features curly swashes and the textures of brush strokes in its design.
Morracle comes with tons of alternate glyphs and bonus vectors. On downloading, you'll get the font in TTF and OTF formats with support for web fonts, the bonus shapes are provided in AI, EPS and PNG formats. Created by Maulana Creative, the font is ideal for creating hero images, album covers, logos, labels and much more.
Premium Brush Fonts
Below you will find the best selling brush fonts available on Creative Market. Most of these fonts come with tons of alternates and even include extra items such as embellishments, brushes, and vector graphics. On purchasing these fonts, you also get free access to all their future updates. Please note that the links below are affiliate.
Bonjour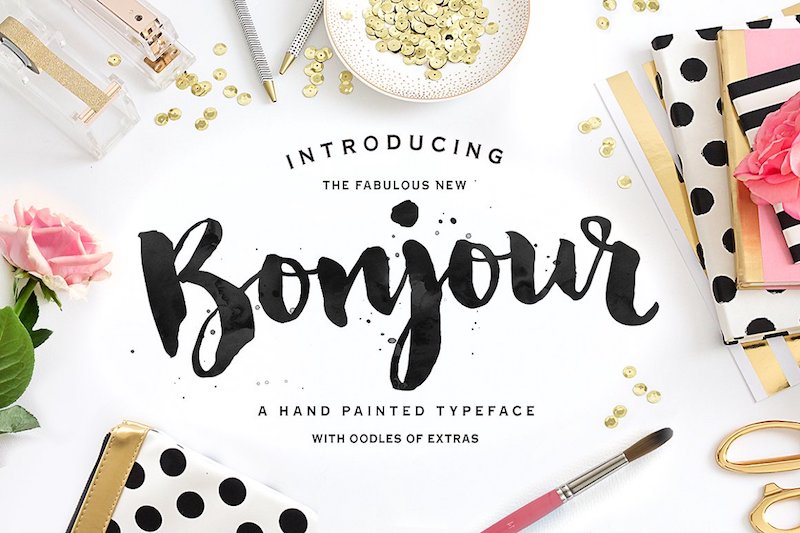 Bonjour is a beautiful brush lettered font by Nicky Laatz. A flowing, semi-connected script typeface, Bonjour features contrasting bold and thin strokes and is perfect for using in ink and watercolor based designs.
On purchasing this font, you'll get the font in TTF and OTF formats along with alternate uppercase and lowercase characters as .ttf fonts. It also comes with lots of bonus goodies including 64 Photoshop layer styles for watercolor, foils and inks, 20 watercolor splatter brushes and vectors.
Blackhawk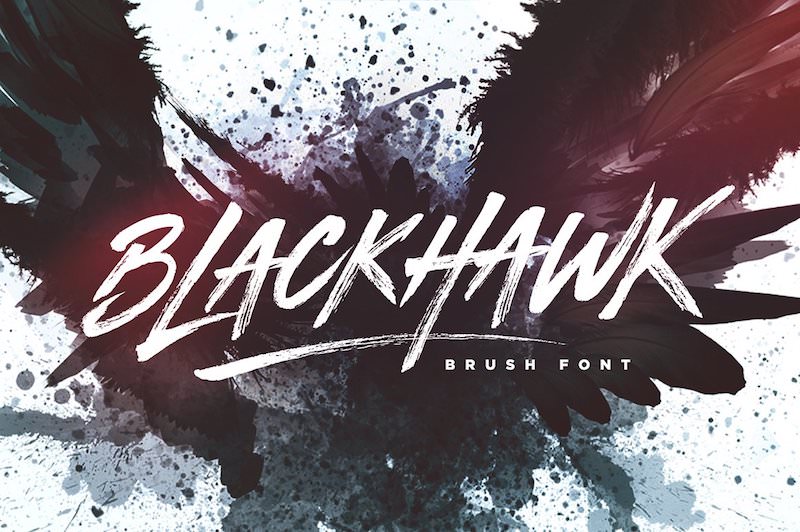 Blackhawk by Sam Parrett is a handmade, all-caps brush font with an urban edge. Made up of quick scratchy strokes and designed with a slight slant, this font is full of energy, ideal for delivering loud and fast paced messages though your typography.
The download package includes 3 font files – Blackhawk regular, Blackhawk italic and Blackhawk swashes in both TTF and OTF formats.
Thunderstorm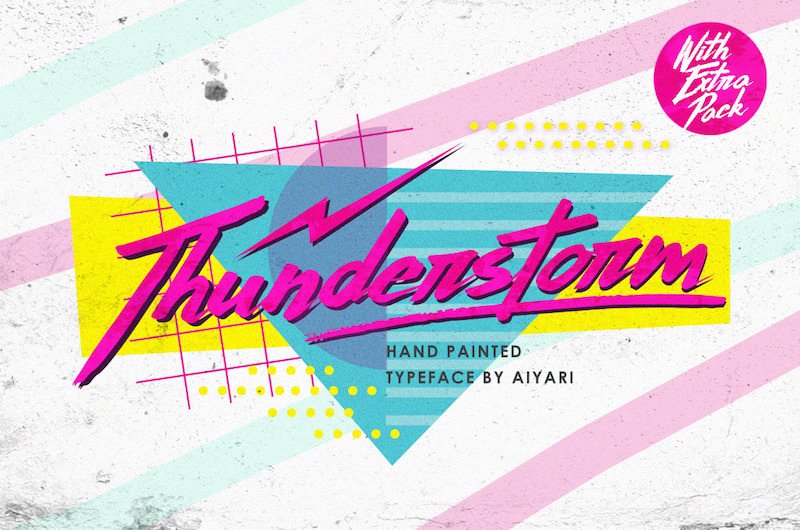 Thunderstorm is a 80's retro typeface inspired by the music, disco, and pop culture of the time. Sporting a grungy look, Thunderstorm is perfect for designing posters, banners, book covers, invitation and logo.
On purchasing this font, you will get TTF, OTF files and a bonus Illustrator AI file with extra retro vector art. Font designer: Aiyari Studio.
Hey Girl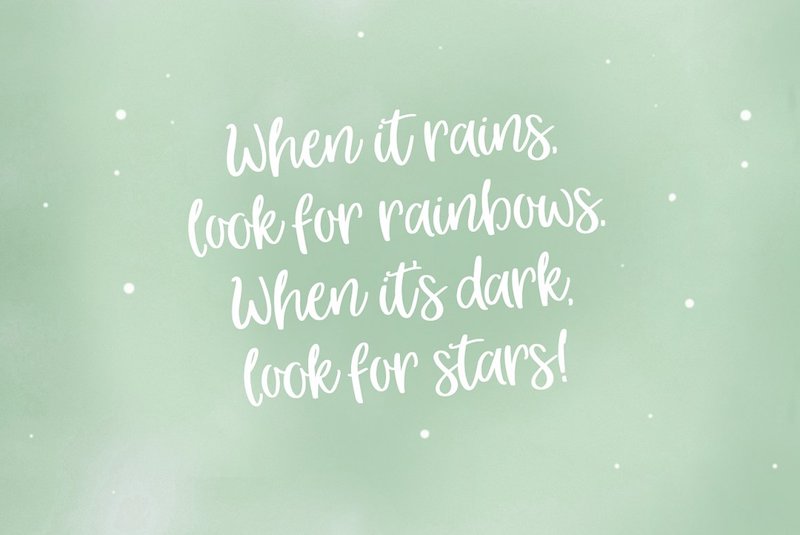 Hey Girl is a fun, casual brush script font by Skyla Design. Its bouncy baseline and even strokes give it a fresh, modern feel that will look lovely on quotes, cards and posters. The font contains uppercase and lowercase characters, numbers, punctuations, ligatures, and international characters. Font format: OTF and TTF.
Malina Brush Font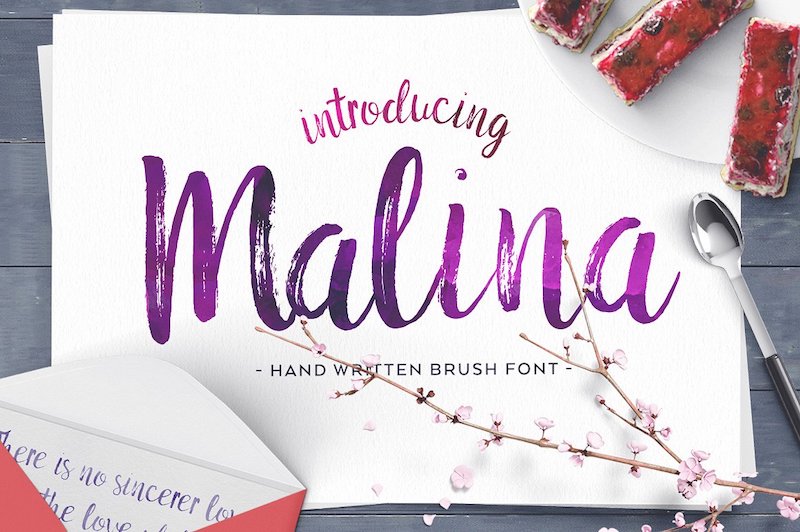 Created with a dry ink brush, Malina is ideal for restaurant menus, greeting cards, posters and invitations. We have used this font over a watercolor background in our Love you to the Moon and Back poster.
Made by Ivan Rosenberg, Malina script font contains 155 characters and is available in both .TTF and .OTF formats.
Saturday Script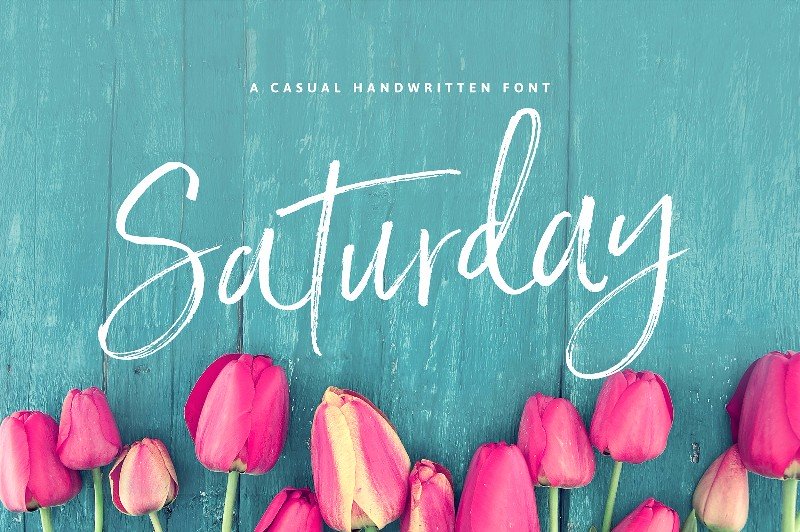 Saturday Script by Nicky Laatz is a casual brush script font with a care-free feel. A loose flowing script with dry brush texture, Saturday Script has an elegant handwritten look which will work great in branding, invitations, greetings and social media banners.
This textured font also includes an oblique version of the font along with extra sets of alternate lowercase letters in OTF and TTF formats allowing you to create every word with a unique design.
Tooth & Nail Paint Brush Font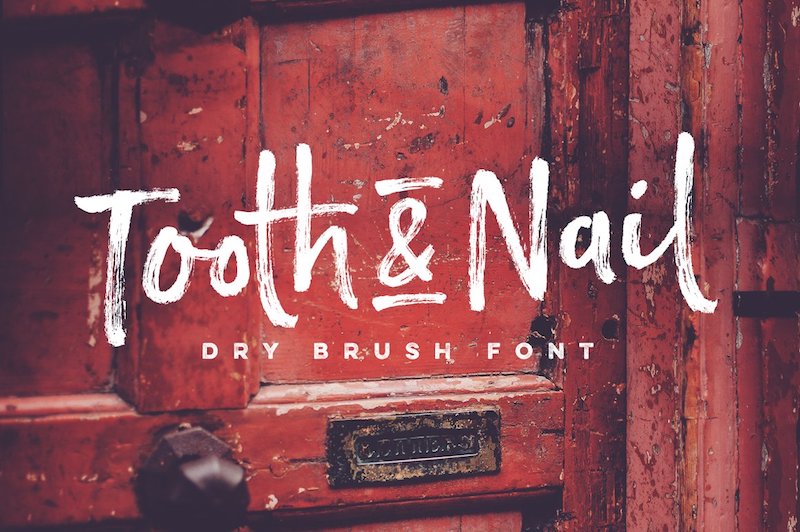 Tooth & Nail is a paint-brushed font with a rustic feel. The font is designed to work both in all-caps and lowercase. With rough strokes and high level of details, it is perfect for product packaging, promotional graphics, handwritten quotes and branding projects.
On purchasing the font, you'll get Tooth & Nail Regular and Tooth & Nail Alt Regular with a different version of lowercase letters in TTF and OTF formats. Also included in the download are 24 hand brushed vectors in AI and EPS formats. Font created by font designer Sam Parrett.
Manhattan Darling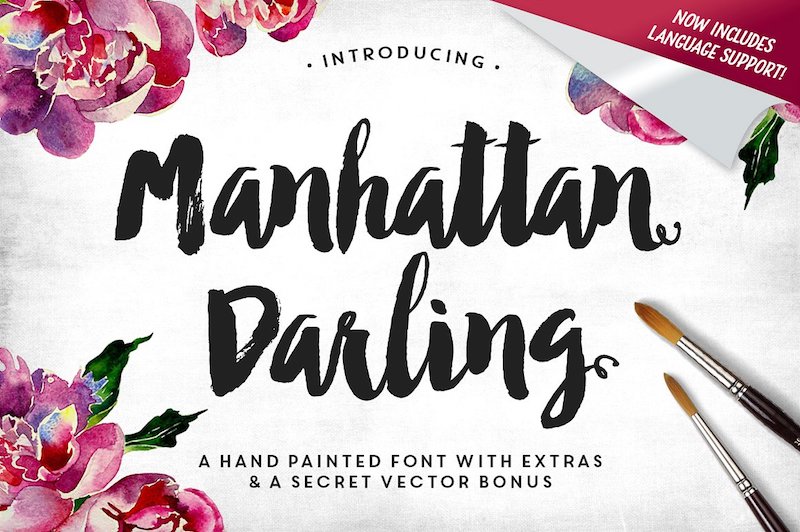 Manhattan Darling by Callie Hegstrom features gritty, imperfect hand painted characters with an irregular baseline.
It comes with two OTF font files – One with the upper and lowercase characters, international characters, numbers, punctuation & end characters, and another with decorative ornaments. The alternate end characters have cute curls that can be used at the end of a word for creating beautiful typography, as seen in the letters g and n in the image above.
With these fonts, you can transform any text into stunning brush style typography and bring the charm of brush lettering into your own designs!
More Font Collections
If you liked this collection of brush fonts, do not forget to share this post on your social channels. You may also want to check out these font collections for more such useful and artistic fonts: