Letterhead is an integral part of business communication and therefore a must have corporate branding stationery along with business cards. As a business owner, you'd certainly want your business letter to represent your brand image in all your official communications with your stakeholders and potential clients. In this post, we bring to you some of best business letterhead templates to give you a good starting point for creating a professional letterhead for your company.
Our collection includes both free and premium letterhead templates and we have put them in different sections for easy browsing. These templates are available to download for Microsoft Word (.docx), Illustrator (.ai & .eps), CorelDRAW (.cdr) and Photoshop (.psd). Each of these templates is completely customizable that you can edit to include your business logo, name, address and contact information. All the templates are print ready in standard business sizes.
Included in this post, you will find business letterhead templates in a variety of designs. Whether you're looking for a letterhead design for a marketing agency, a tech company or a startup, we are sure you would find a fitting template for your requirement.
Free Business Letterhead Templates
To start with, we list down some of the best free business letterhead templates. Most of these templates can be edited using Microsoft Word while some need Adobe Illustrator. All these letterhead templates allow free personal and/or commercial usage.
1. Free Marketing Business Letterhead Template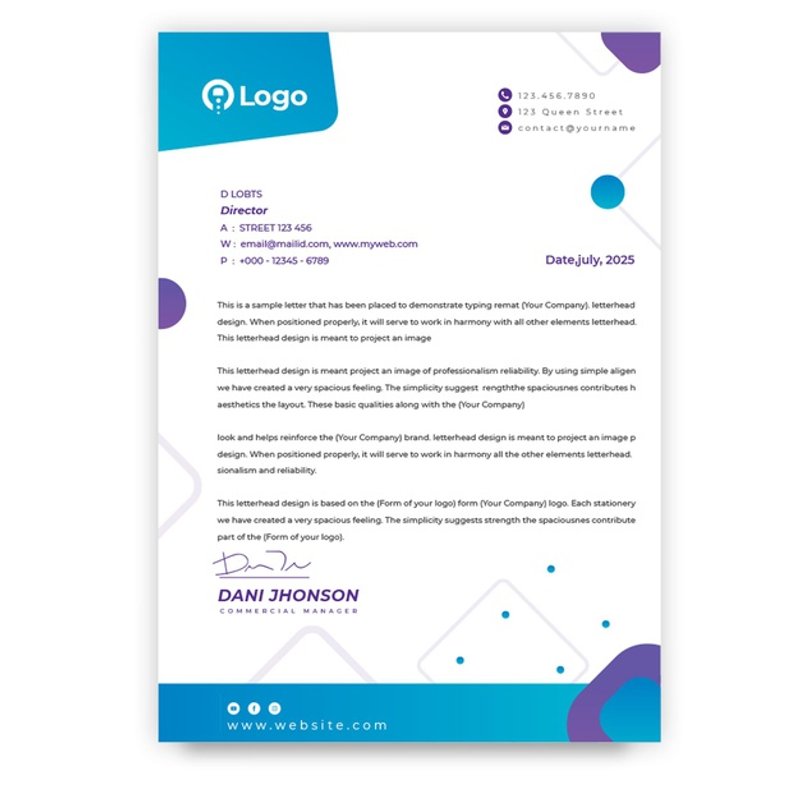 This is a free business letterhead template designed for marketing and digital agencies. Bright colors, icons, and geometric shapes give this letterhead a modern aesthetic that is sure to leave a lasting impression. It is available for download in vector EPS format.
2. Free Creative Small Business Letterhead Word Template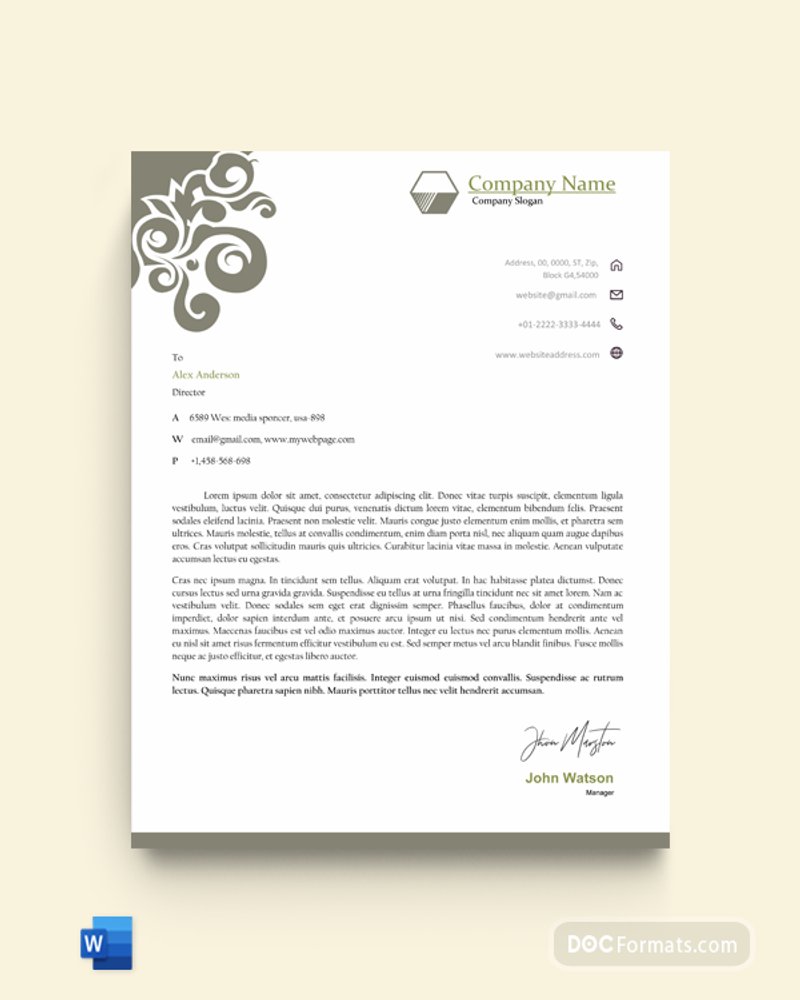 This is a free letterhead template designed for small businesses and creative agencies. The template comes in US Letter size and includes Word document. Background graphic is also included as .png image.
3. Free Microsoft Word Business Letterhead Template
Designed for Microsoft Word, this template features geometric shapes in the background with bluish green colors that instill a sense of trustworthiness and dependability in your customers. Free to download in Word (.docx) and Illustrator (.ai) formats.
4. Free Corporation Word Letterhead Template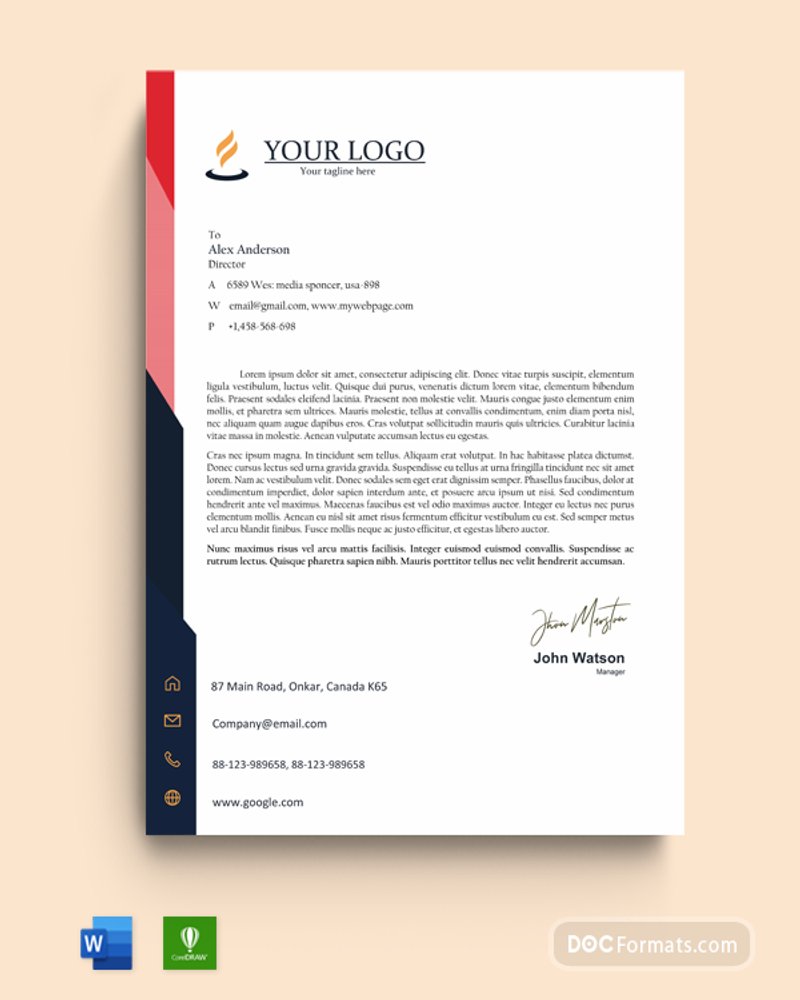 A free corporate letterhead template featuring an elegant and modern design. Available for download in DOCX and CDR formats.
5. Purple & White Simple Company Letterhead Word Template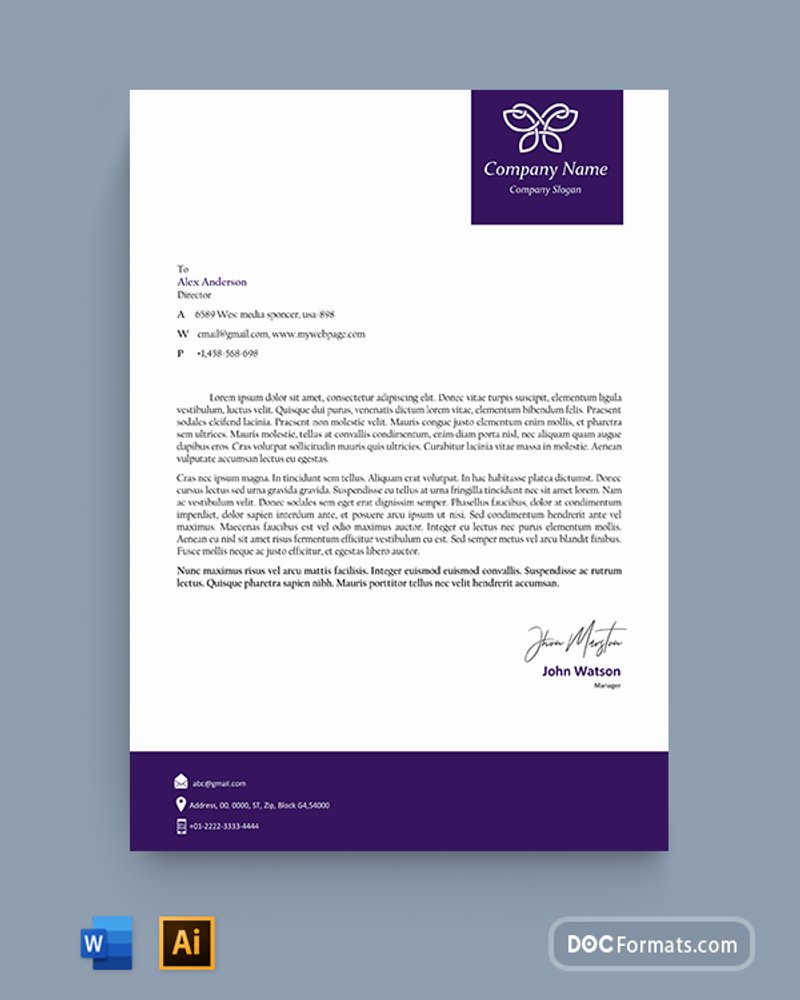 This free word letterhead template will reinforce your branding by highlighting the logo in header and using the brand color prominently in the design while still keeping it simple. Fully customizable and available for both Microsoft Word and Adobe illustrator.
6. Multipurpose Clean A4 Letterhead Template Word Free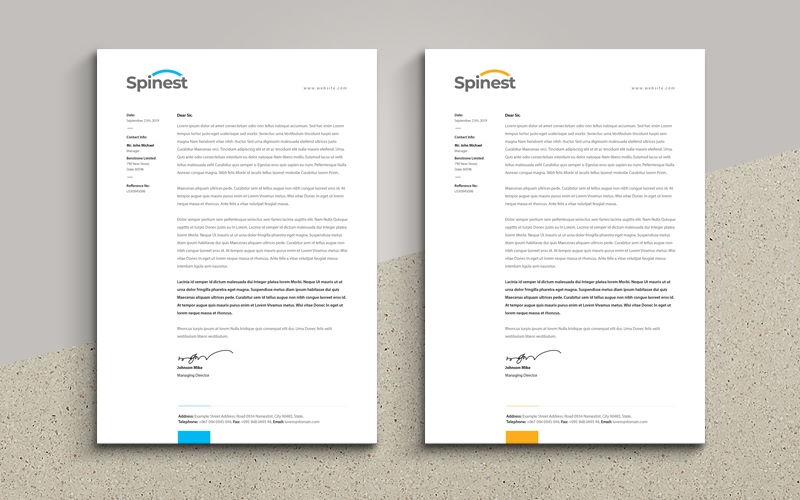 This is a professional and clean letterhead design in Word with minimal use of brand color. Suitable for formal communications for any business or brand. Comes in two color variations – Blue and Orange. Free download includes 2 printable .DOCX files in A4 size.
7. Free Colorful IT & Software Company Letterhead Template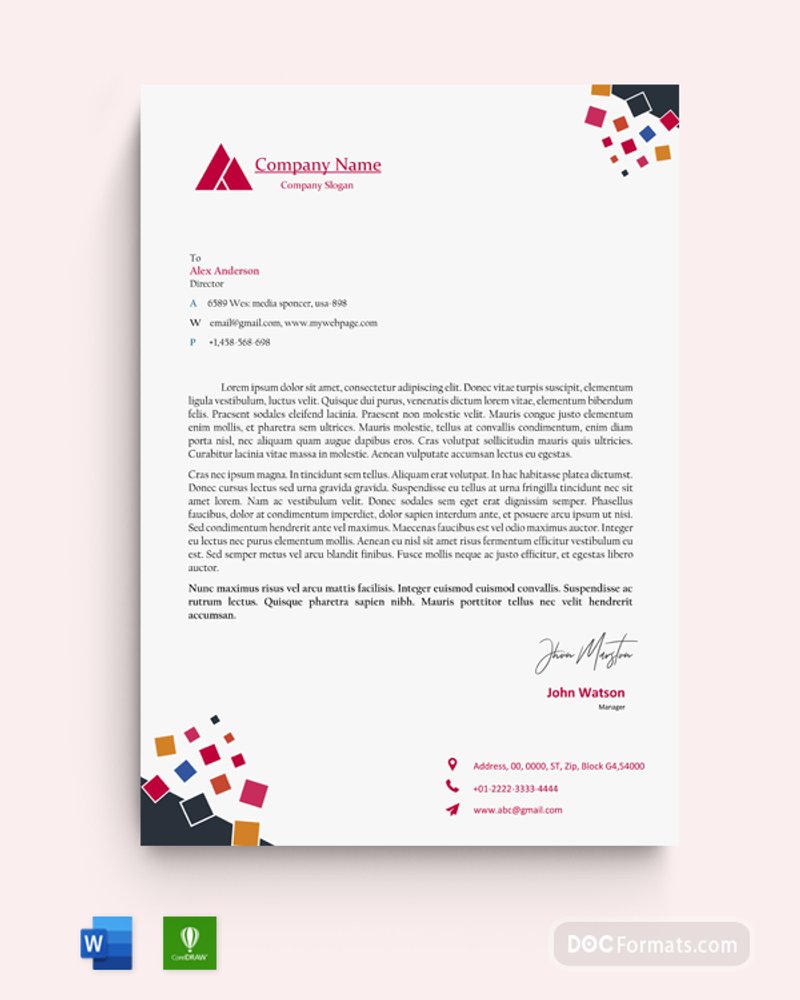 Colorful blocks graphic in both header and footer makes this template ideal for modern IT and software companies. Available for free download and editable in Microsoft Word and CorelDRAW.
8. Free Businesswoman Letterhead Template Vector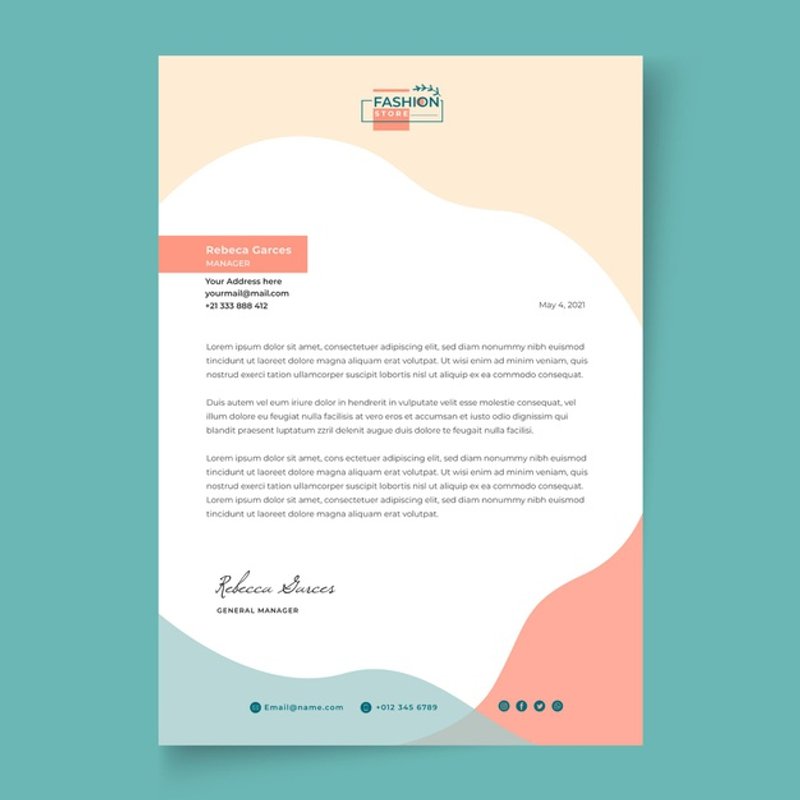 Soft color palette and organic shapes make this letterhead template perfect for female entrepreneurs and businesses built for women such as fashion stores and cosmetic brands. The template can be downloaded for free in .eps format.
Related: Feminine WordPress Themes
9. Free Startup Letterhead Template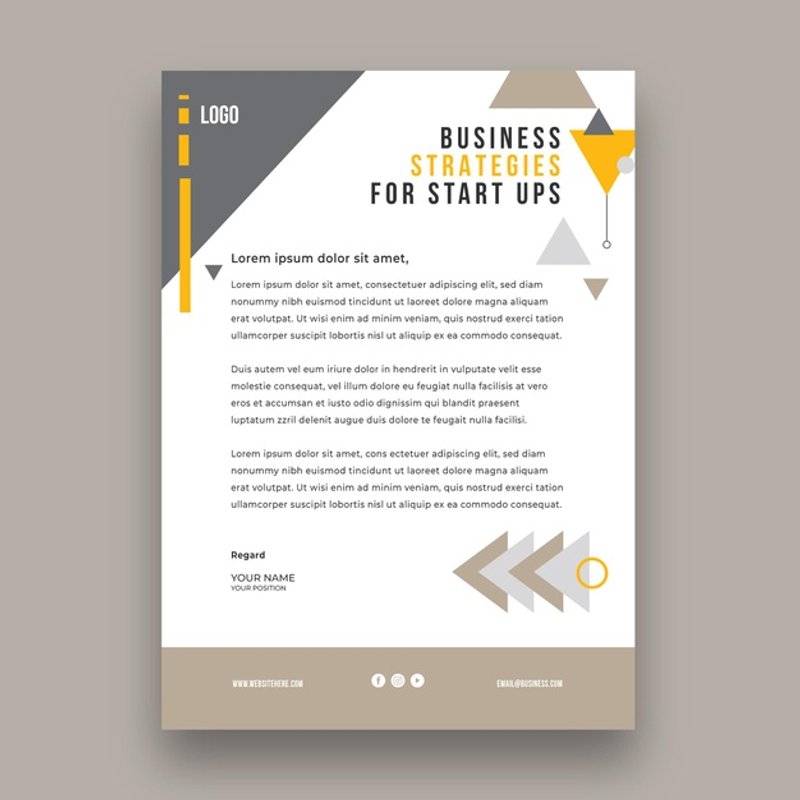 A free printable business letterhead with eye-catching design. The template can be customized for making letterheads for modern agencies and brands. Available in vector EPS format.
10. Free A4 Business Letterhead Template – Word & AI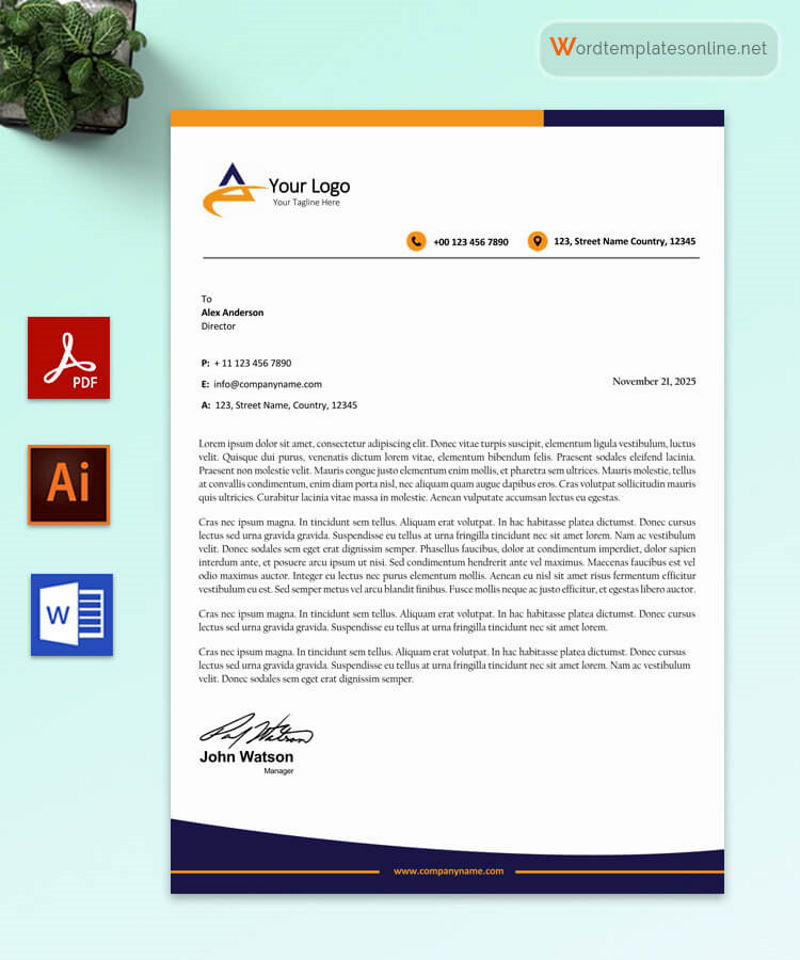 Another free A4 letterhead template with a modern and sleek design and a contrasting orange purple color scheme. Available for download in Word and AI formats.
11. Black & Purple Simple Business Letterhead Template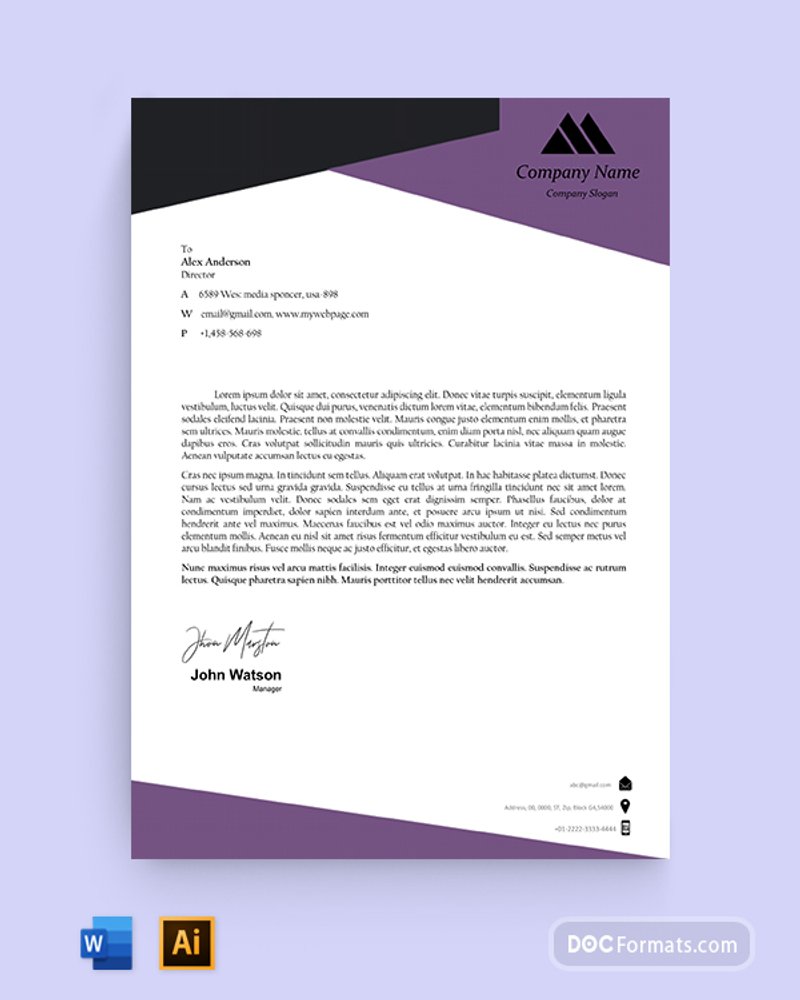 A simple yet professional letterhead template suitable for all kinds of businesses. This template comes in .docx and .ai formats, background graphic is also included separately as .png file.
12. Free Business Consultant Letterhead Template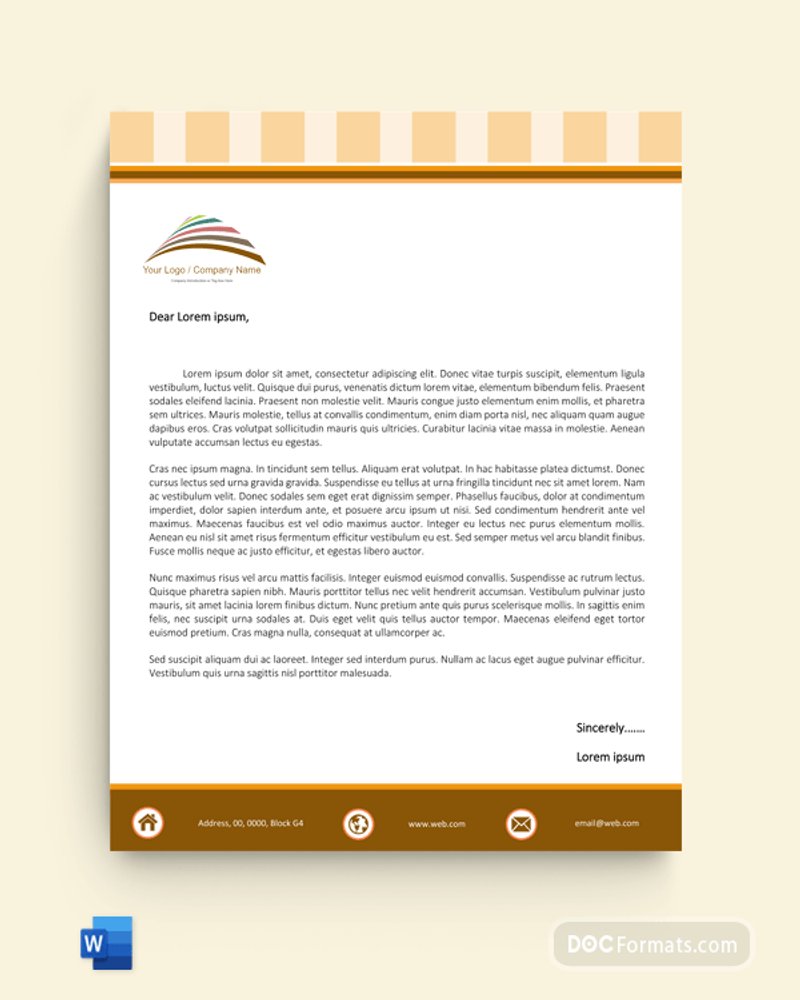 If you are a business consultant, this free letterhead template for Word will definitely add professionalism to your correspondence with your clients. Comes in .docx format and is fully customizable.
13. Free Clinic Letterhead Template Word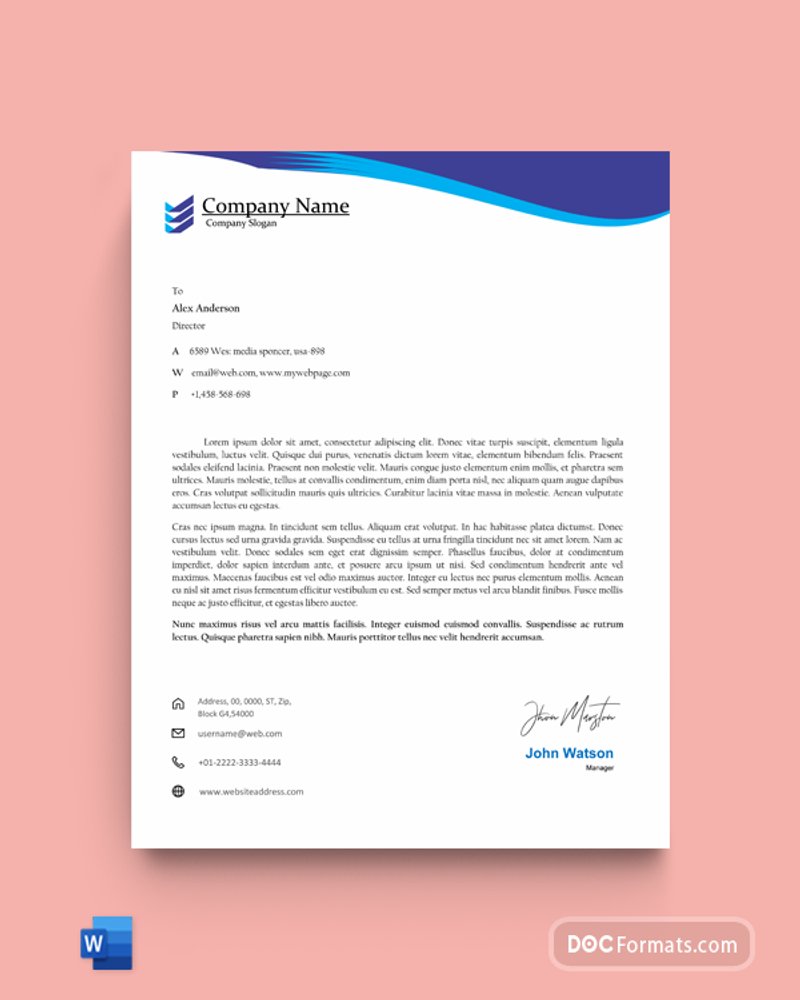 Although this letterhead template is designed specifically for clinics, its generic design can be customized to suit all kinds of brands and businesses. Available for free download and editable in MS Word.
14. Free Professional & Creative Letterhead Template Design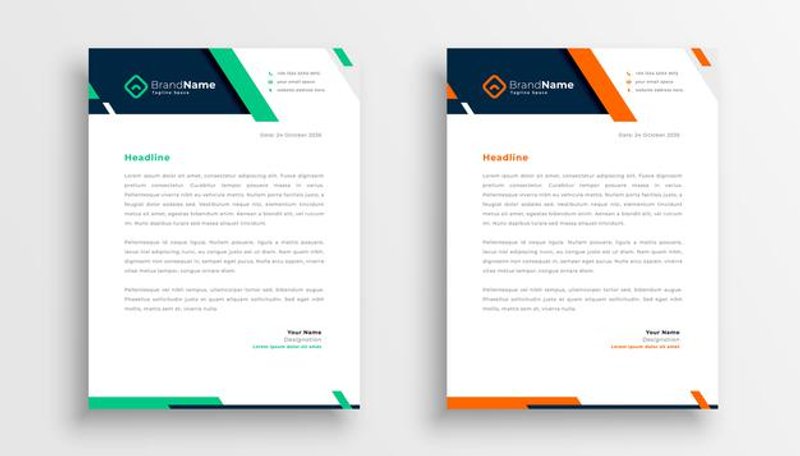 Featuring a sleek modern design in 2 colors, this template can be used to create letterhead for creative professionals and agencies. Free download in EPS format.
Premium Business Letterhead Templates
When it comes to branding, you'd surely want the best for your business. Below you will find some professional business letterhead design templates available at an affordable pricing. All these are letterhead templates for Word.
1. Classic Company Word Letterhead – Light & Dark Modes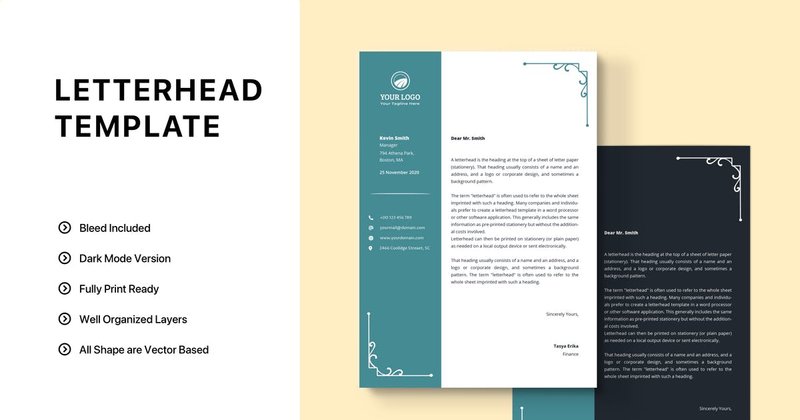 If you are looking for a letterhead with a classic, minimal design and a vintage touch, this business word letterhead template is for you. Available in both light and dark modes, this template is available in multiple formats including MS Word, Photoshop, Illustrator, PDF and EPS.
2. Modern Business Letterhead Template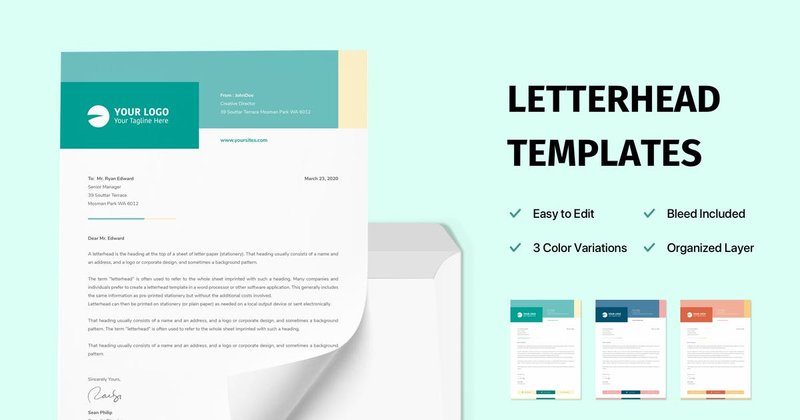 This template is designed to give a modern and professional look to all your business correspondence. Suitable for company or corporate use, it comes in 3 color variations and can be easily customized. Included files: Word, AI, PSD, EPS and PDF.
3. Minimalist Letterhead Design – Word, PSD, AI, PPT, Sketch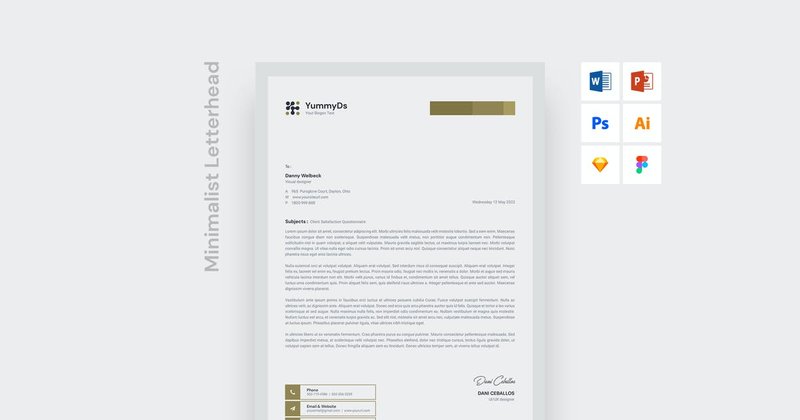 This letterhead has a minimal yet impressive design with use of shades of the accent color that you can change to reflect your own brand colors (see color shades generator for getting different shades of your brand color). Comes in both A4 and US Letter sizes and can be edited in multiple applications including Word, Illustrator and Figma.
4. A4 Business Letterhead Template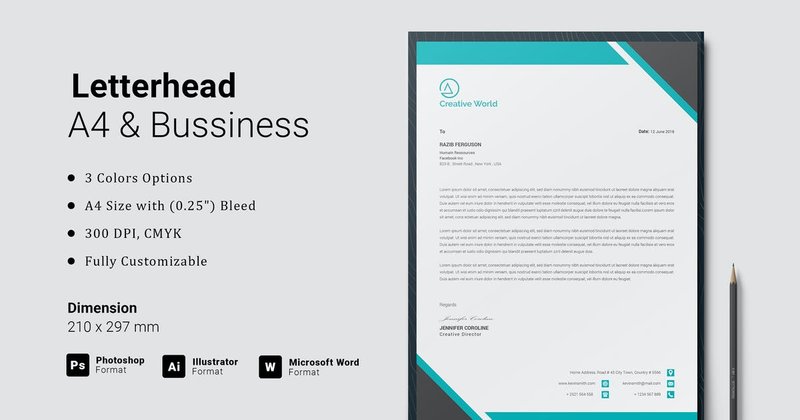 An A4 (210×297 mm) size business letterhead template that comes in 3 color variations. Ready to print and easily customizable.
5. Business Letterhead Word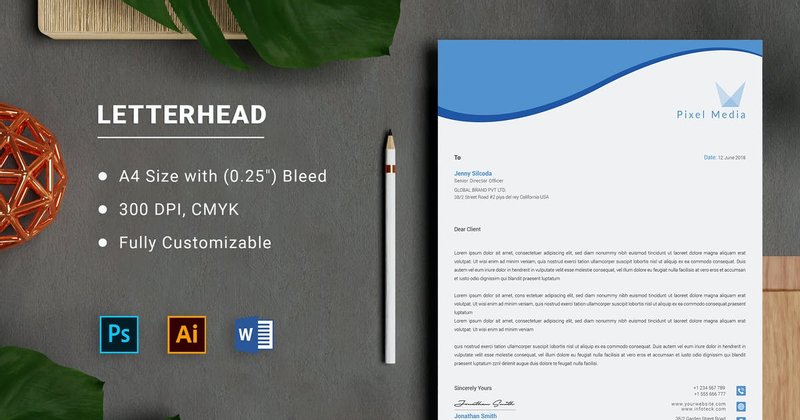 A clean business letterhead with wavy graphic in the design. This 300 DPI, CMYK print ready template comes in Word, AI, EPS and PSD formats.
6. Minimal Professional Letterheads PSD, AI, InDesign & Word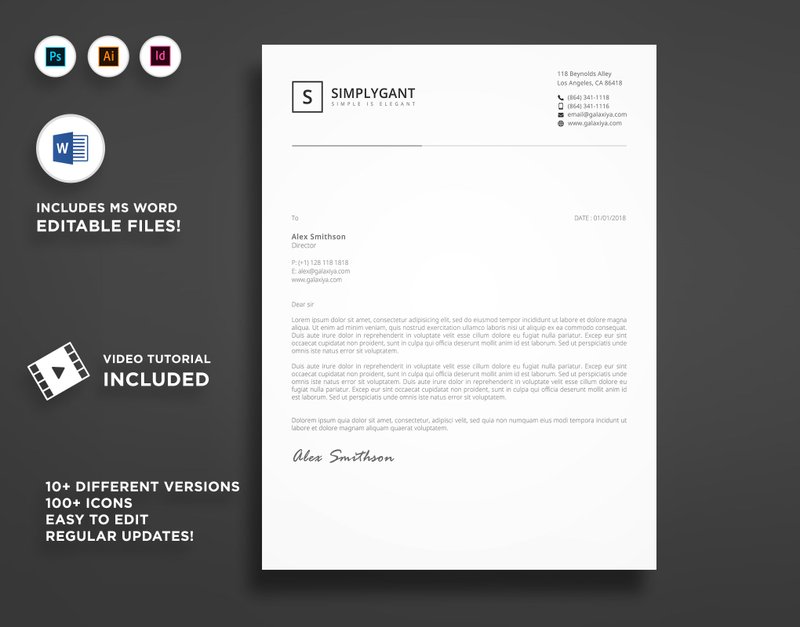 You can never go wrong with a simple and minimal letterhead as this. Suitable for all kinds of businesses and professional purpose usages. Includes US Letter Size and A4 Size documents, 100+ icons, 10 different styles. The templates are provided in multiple formats – PSD, AI, EPS, INDD, IDML, DOC and DOCX..
7. A4 Modern Corporate Letterhead Template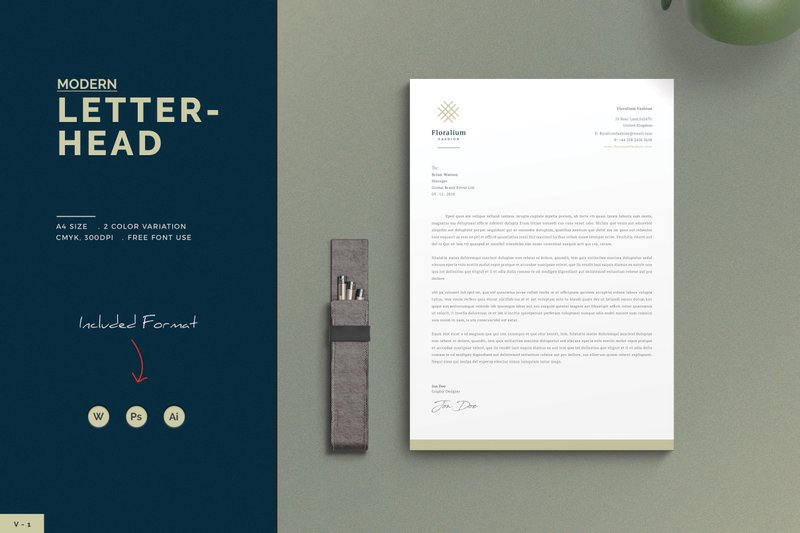 A modern letterhead template designed for company or corporate use. This print ready template comes in 2 color schemes. Customizable PSD, AI & MS Word files are provided that you can edit to match your branding.
8. Professional Letterhead Template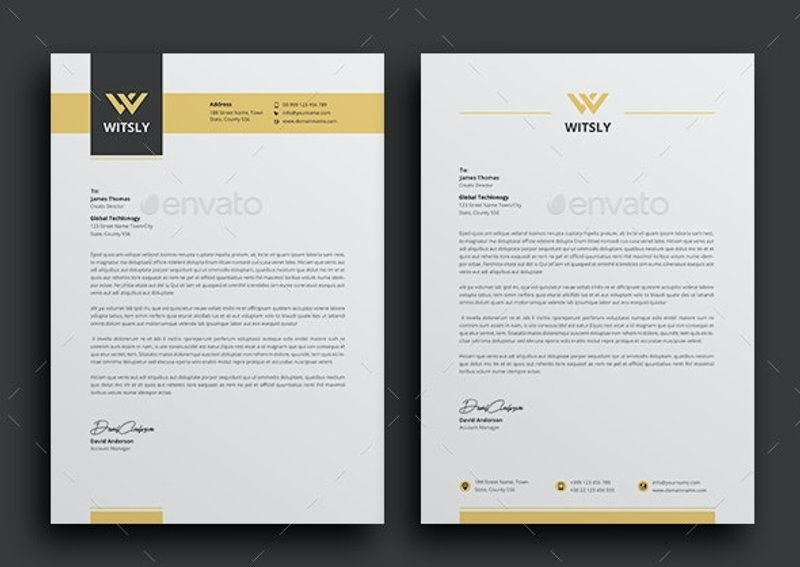 A simple yet impactful letterhead design for business and personal purpose usages. Available in 4 color variations with 2 design styles in A4 size. Download includes PSD, AI, DOCX & DOC files.
9. Clean Letterhead Template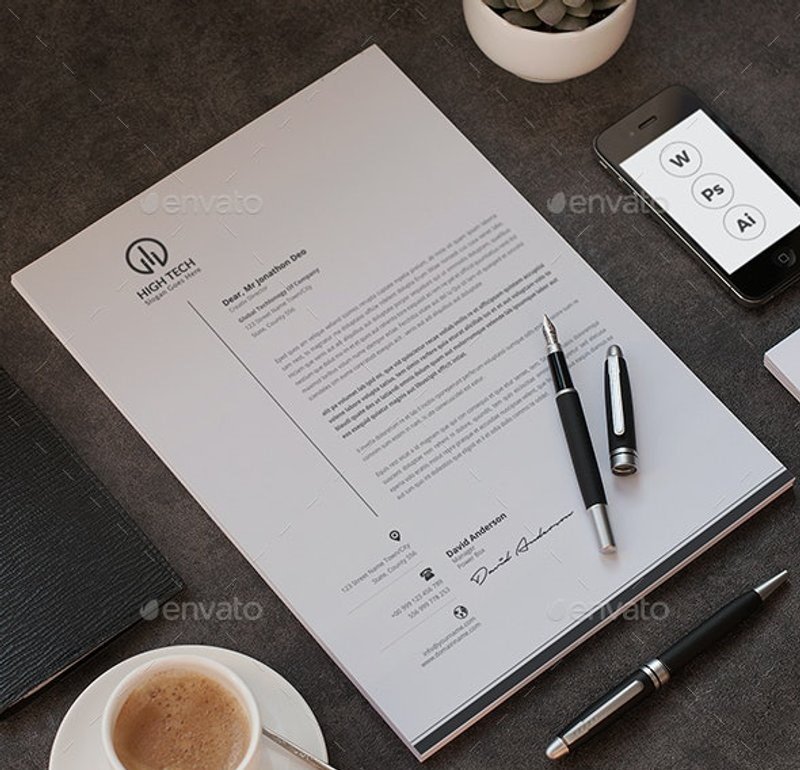 Featuring a clean and elegant layout, this printable business letterhead document in A4 size comes in 3 color variations and includes editable templates for Microsoft Word, Photoshop and Illustrator.
10. Modern Letterhead Word Template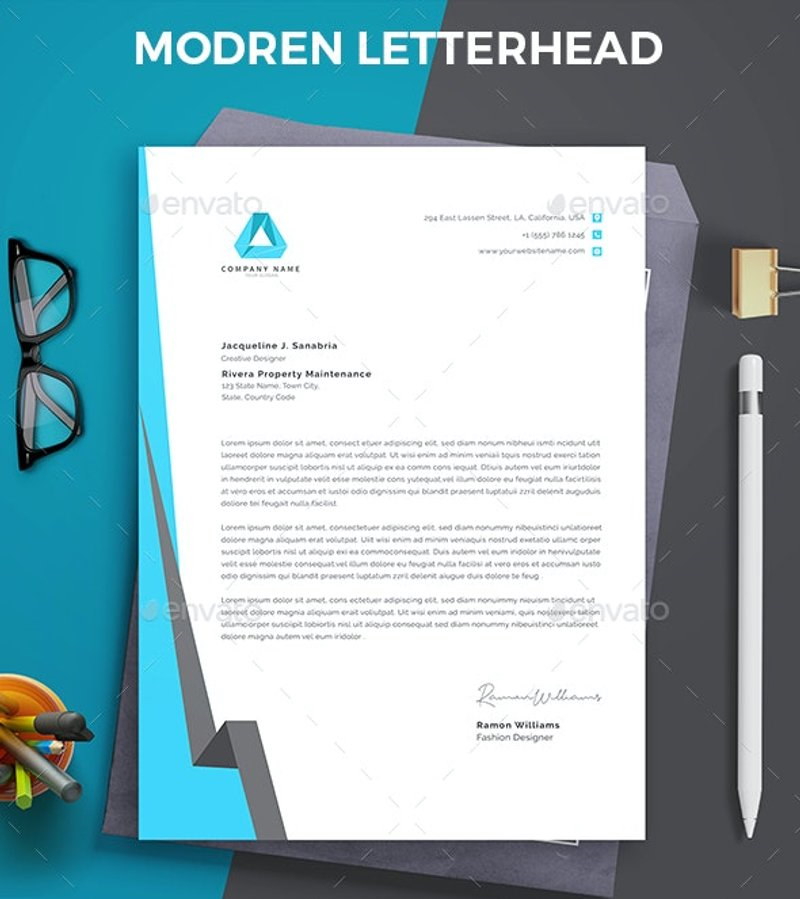 This is letterhead Word template with super modern and corporate look. And it features a unique design that makes your letter look like a folder. It comes in 3 color variations, PSD and AI files are also supplied with the download. You can change the colors, text and logo quite easily to match your brand identity.
11. Stylish Corporate Letterhead Template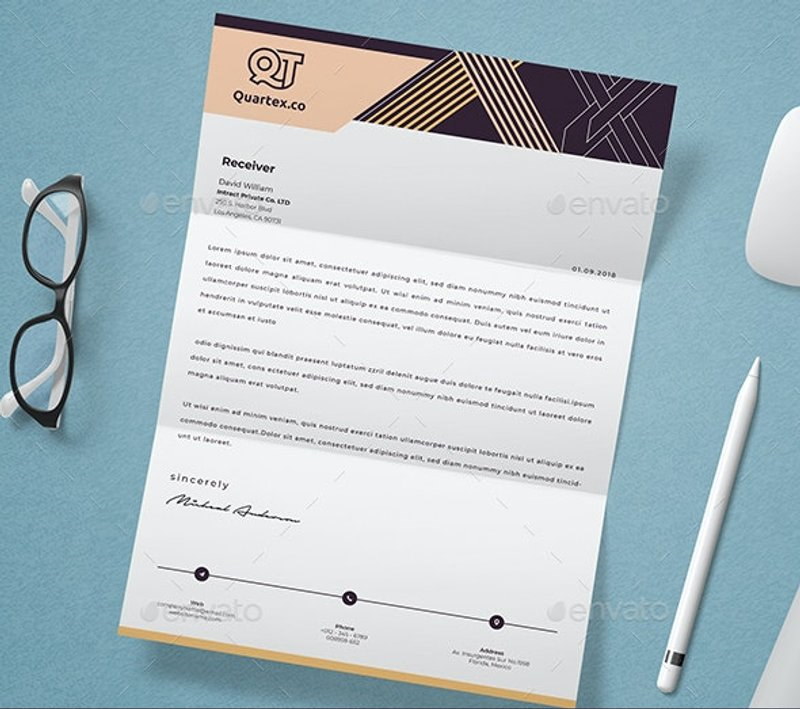 This template features a creative, stylish design especially in presenting the contact and address details in the footer that will certainly attract attention to whoever it is sent. On downloading, you will get the letterhead for Word, Apple Pages, AI & EPS files. Comes in both A4 and US Letter Size and also includes matching envelope template.
12. Creative Business Letterhead Template
A creative dark letterhead design that is generic for any kind business use. Easy to use and customize text, color and size with the included AI, EPS, PSD and MS Word files. Comes with 4 color variations.
13. Professional Letterhead Template
This is a professional letterhead template with customizable elements and text. Includes print ready A4 and US Letter Size Layout Templates for Word and PSD.
Conclusion
Business Letterhead templates make creating a professional-looking letterhead easier. You can use these design templates as a starting point to design your own business letterhead or for your client or, you can draw inspiration from them and come up with your own unique designs.
If you're working on business branding stationery design, you might as well be interested in these collections: