Creating tables and charts on a website can be a difficult and long-lasting task. To make things even worse, creating responsive tables can be nearly impossible if you don't know exactly how to do it.
Luckily, there are some tools that can help you with that. The first step towards creating both nice-looking and functional tables is choosing the right one.
Today, we are going to talk more about the #1 WordPress plugin for tables and charts – wpDataTables.
With this useful plugin, creating responsive tables is now a matter of minutes. Whether you need just a few rows and columns, or you need to organize a huge amount of data, data management has never been easier.
So let's take a look.
#1 Tables & Charts Creator WordPress Plugin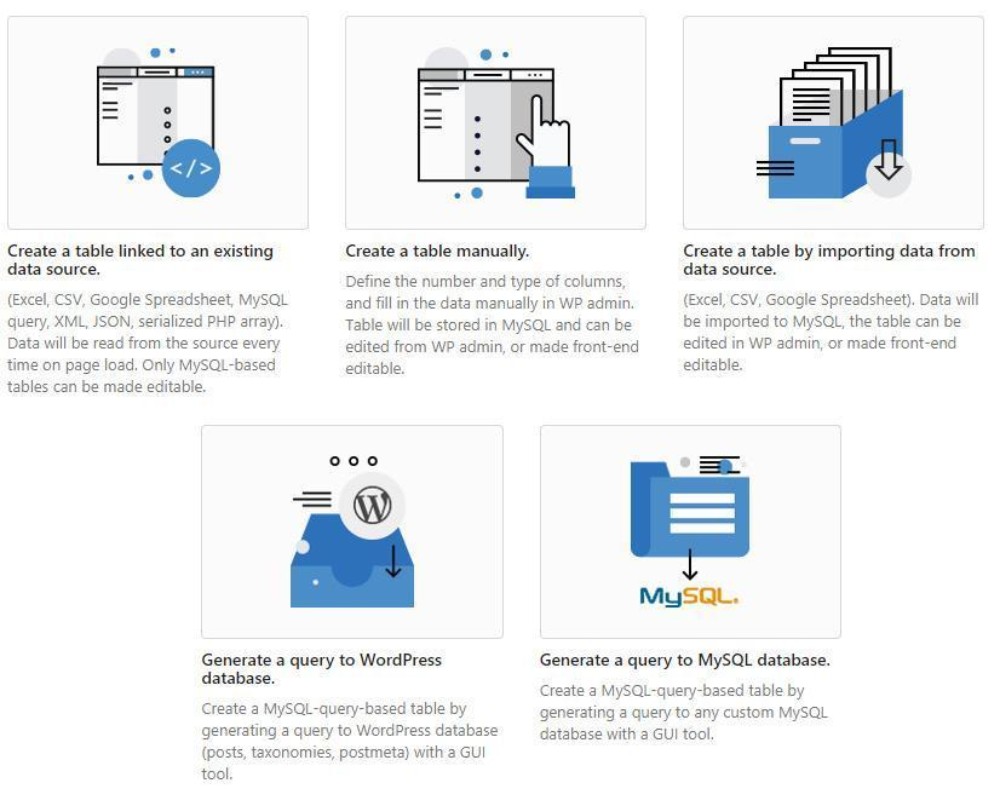 When choosing your plugins, it is only logical that you want the best ones. wpDataTables is definitely one of them and for all the right reasons, too.
It comes in two versions:
wpDataTables Lite – ideal for those who don't deal with a large amount of data. With this plugin, you can easily create tables up to 150 rows.
wpDataTables 2.3 – the unlimited version of the plugin. It comes with over 20 cool and useful features and it is perfect for those who need to organize huge amounts of data.
Both versions are extremely easy to use so creating tables will be only a matter of minutes.
Why do I Need wpDataTables?
Currently, more than 18,000 WordPress sites use wpDataTables because of all the cool features this plugin offers while being simple and easy to use.
With wpDataTables, you can:
Build WordPress tables without a complicated configuration

– the tables are created mostly by simple clicking so you don't need to have any knowledge about coding.
Customize WordPress tables and charts as your task requires

– you can customize the tables to best fit the style and tone of your business; from inserting your own logo to choosing your company's colors, everything is possible and easily customizable.
Get the power of a spreadsheet app in a WP plugin

– the amount of features and options that come with wpDataTables truly sets this plugin apart from all other table-making plugins and tools.

Receive lifetime updates and 6 months of support

– once you purchase wpDataTables plugin, you will get lifetime updates for free; no added fees at any point. On top of that, this plugin comes with 6 months of included support.
Create Tables in Three Simple Steps
Creating tables and charts has never been easier. It takes only 3 basic steps:
Step 1 – Provide table data
You can provide table data manually or basically any other way you want. You can upload files, provide a URL, paste a MySQL query, transfer the data from Google Spreadsheet etc.
Step 2 – Configure if you want

You can customize and configure each table in any way that you see fit. You can change the colors, insert logos or images, make the table responsive, keep it editable, add conditional formatting etc.
Step 3 – Publish in a post or page

Once you are happy with the design of your table, you can easily insert it on any post or page via the standard WP Editor or Visual Composer.
wpDataTables Lite vs wpDataTables 2.3
If you aren't sure which version of this plugin is right for you, we are here to explain the basic difference.
wpDataTables Lite is ideal for people who don't need all the advanced features because they don't deal with large and complex tables. If tables up to 150 rows are what you plan on creating, the lite version of this plugin is enough.
wpDataTables 2.3 comes with many cool features not included in the lite version. However, the most important thing that sets this plugin apart from the lite version is the fact that it is perfect for managing any amount of data.
Here are some other useful features this plugin comes with:
Multiple databases support

– wpDataTables is the only plugin that allows quickly displaying the data from MySQL, MS SQL or PostgreSQL databases.

Responsive Tables

– tables which are configured as responsive will adjust their look to different devices (tablets and mobiles)

Very Large Tables

– you can quickly and easily create tables up to thousands of rows

Editable Tables

– you can make your tables editable so that all WP users could be able to edit the table's content at any time.

Advanced Filters and Search

– you can create individual filters and quickly narrow the results in a table. You can also configure a cascade filter with the

Powerful Filters

addon.

Highlighting

– you can highlight cells, rows, and columns; this feature is also known as conditional formatting.

Charts

– You can turn each table into a chart just with a few simple clicks.

Calculating Tools

– you can easily calculate a sum, average, minimum and maximum of all the values for a given column.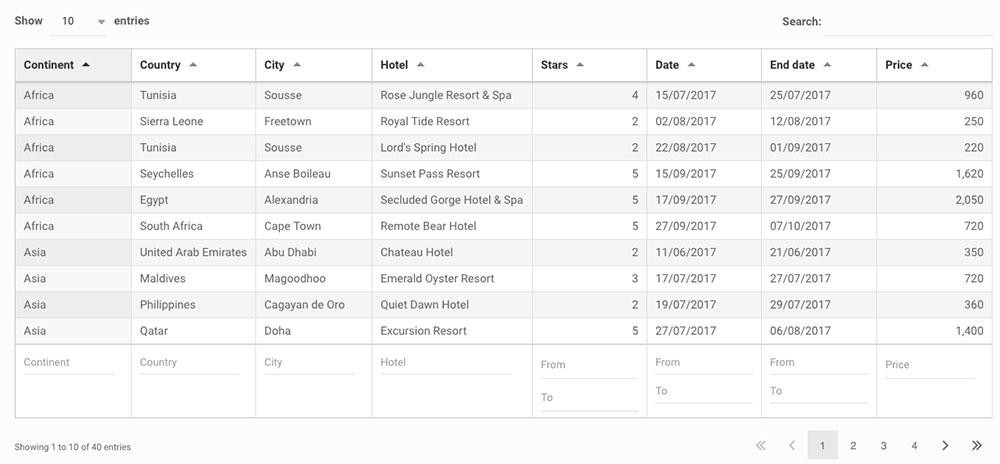 So if you are tired of filling the same document over and over again, consider trying wpDataTables plugin and create tables and charts quickly and easily.
Conclusion
Data management can often be a real uphill battle. Creating tables that are both nice-looking and functional isn't nearly as easy as it may sound.
However, with the right tool, organizing data into tables and charts can be done in a matter of minutes.
If you are still not sure which table-making tool is the right for you, consider using one of the most popular if not THE most popular one – wpDataTables.
With wpDataTables, you can create beautiful, responsive tables and nice-looking charts that are fully editable and customizable in any way you see fit.