Calligraphy fonts bring the charm of traditional calligraphy writing to digital typography. In this post, we showcase some of the most beautiful calligraphy fonts that are available for free download. These fonts come in a range of styles, from fonts with dreamy flourishes to fonts that mimic the penmanship of another era to modern calligraphy typefaces.
Calligraphy scripts are perfect for when you need to add a touch of elegance and a handcrafted feel to your work especially in wedding stationery, event invitations, branding and packaging. Some of the fonts on this list such as Noelan and Lauren include additional ligatures and alternate glyphs that you can use to create a unique design. You can pair them with contrasting serifs and sans serifs for a balanced typography layout.
All the fonts showcased below are free for personal and/or commercial use. Available for download in TTF or OTF format, these fonts are compatible with both macOS and Windows. Fonts like Tangerine and Calligraffitti are also available on Google Fonts from where you can serve them on your websites. We have included the links to Google Web Fonts directory wherever applicable.
Olivia Script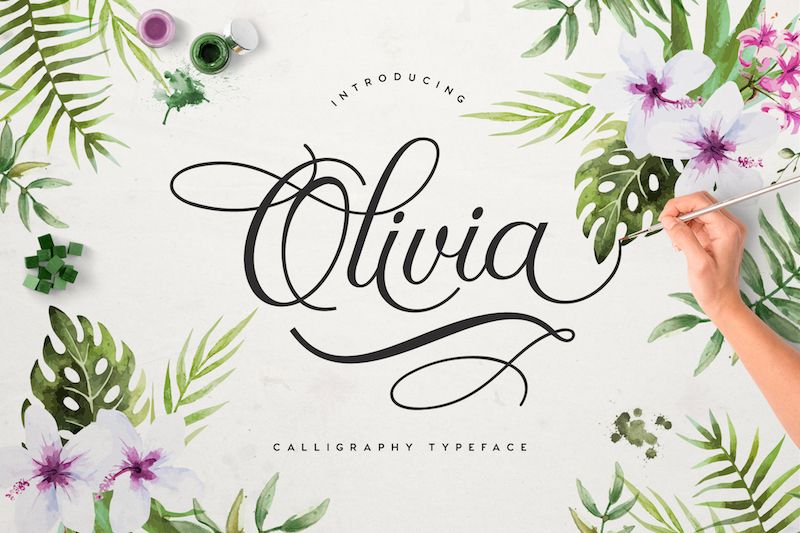 Olivia Script is a stylish and elegant calligraphic typeface suited for multiple purposes such as wedding invitations, greeting cards, posters and more. Featuring 351 glyphs, it is available for free download from Font Bundles in OTF format. The font comes with free personal and commercial use license.
Noelan Script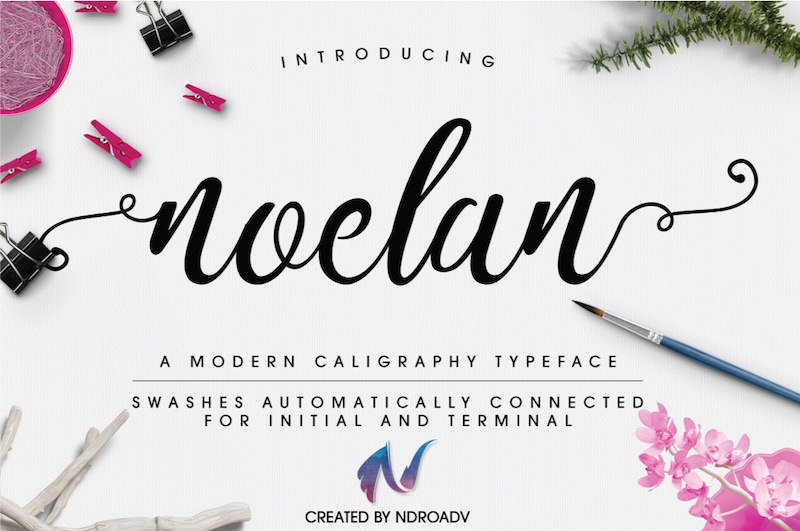 Noelan Script is a lovely modern calligraphy font with a clean design from Ndroadv. It includes many contextual and stylistic alternates, initial and terminal contextual swashes, ligatures and also supports international characters. Nolean Script can be downloaded in OTF format and is free for both personal and commercial use.
Tangerine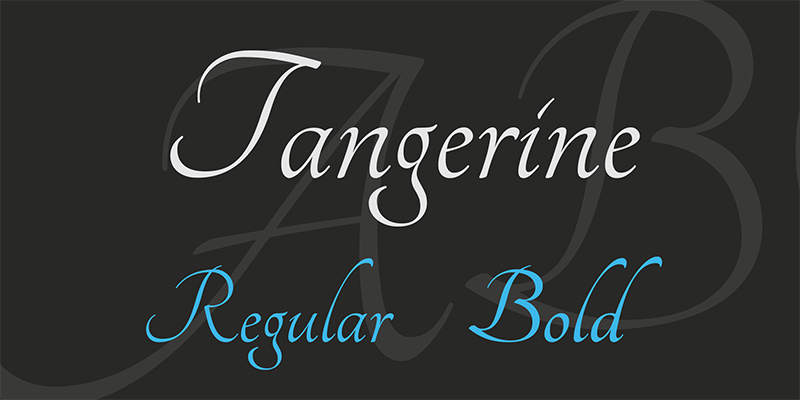 Tangerine is a free calligraphic typeface inspired by Italic chancery calligraphy styles from the 16th and 17th centuries. Tall ascenders and short heights of lower case letters are the most distinct characteristics of this typeface created by Japanese type designer Toshi Omagari. Tangerine is also available on Google Web Fonts. It comes in two weights – Regular and Bold and can be downloaded in TTF format.
Lauren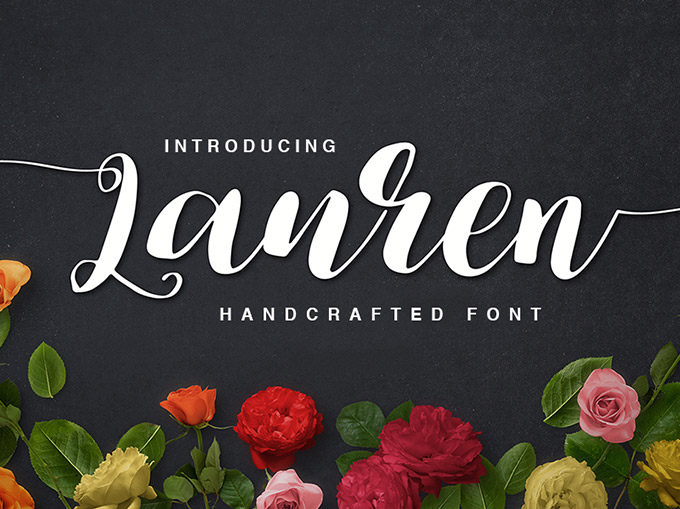 Lauren is a beautiful handmade calligraphy font designed by Dimitriy Chirkov. It includes rich stylistic alternates and ligatures that you can use to create impressive designs for greeting cards, branding materials, quotes, posters, and much more. Lauren is available for free download in OTF, TTF and Web Fonts (WOFF & WOFF2) formats.
Alex Brush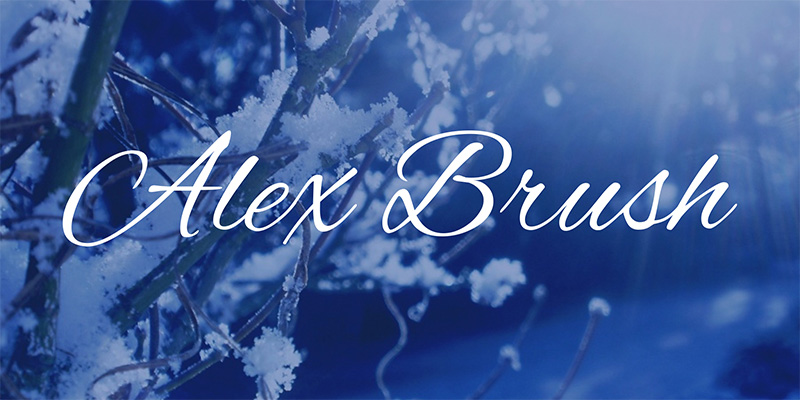 Alex Brush is an elegant brush font with swash caps and a contemporary hand-lettered feel. Its short ascenders and descenders allow Alex Brush to have a great legibility. Designed by TypeSETit, the font is available for free download in TTF format. View Alex Brush font specimen on Google Fonts.
Salmela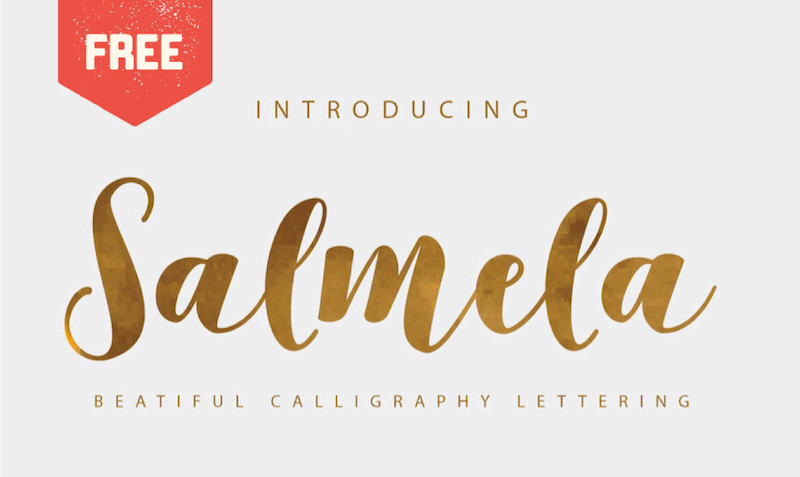 Salmela is a hand lettering calligraphy typeface from Genesislab. It comes with full set of lowercase and uppercase letters, numerals and punctuations. The font is free for commercial use and is available in OTF and TTF formats. This flowing script is perfect for designing wedding invitations, letterheads, logos, and T-shirt quotes.
Christopher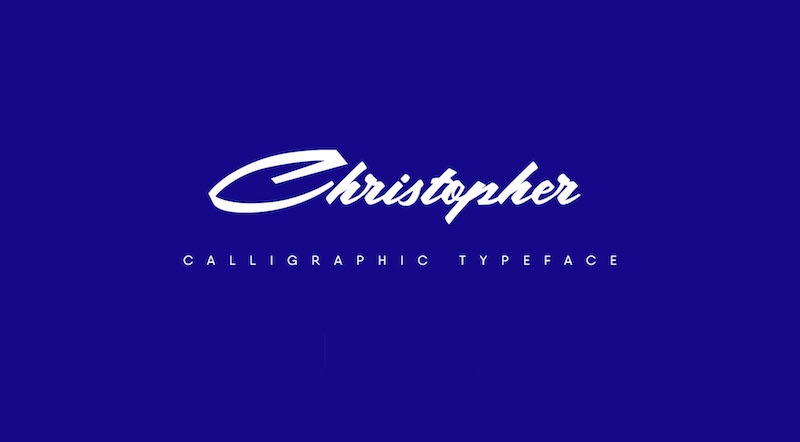 Christopher is an oblique calligraphic style font designed for branding, calligraphic projects, apparel designs, posters and packaging. Designed by G. Senzana, it includes uppercase and lowercase characters, numbers and glyphs. Font Format: TTF.
Calligraffitti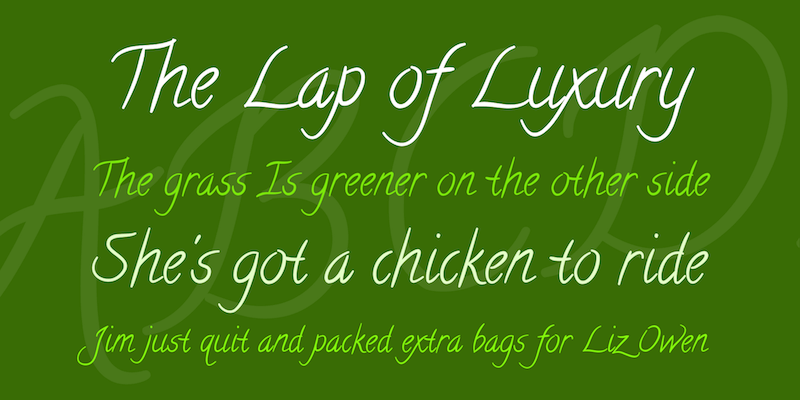 Calligraffitti by Open Window is based on the calligraphic lettering of the designer's mother. It features unconnected characters and has high legibility that makes it suitable for use in text as well as headlines. You can download it in TTF format and use in commercial work for free. Calligraffitti is also available on Google Fonts.
Freebooter Script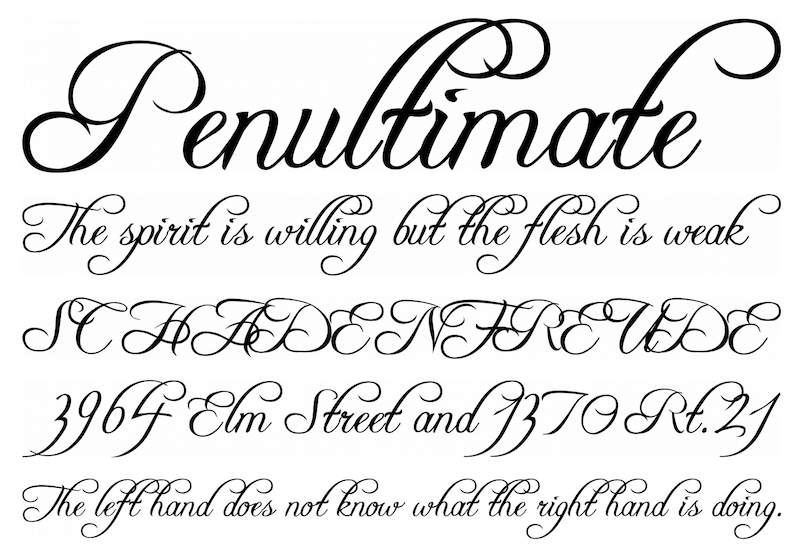 Designed by Apostrophic Labs, Freebooter Script is a cursive font ideal for adding a formal feel to your design. It features graceful flowing letterforms with curly swashes. The font comes in two styles, Regular and Alts Regular, the latter contains a bunch of alternate characters. On downloading, you'll get the two font styles in TTF format.
Pinyon Script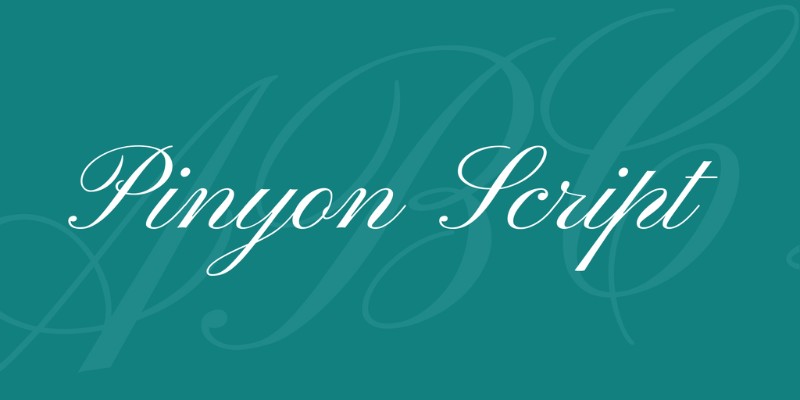 Made by font designer Nicole Fally, Pinyon Script is a romantic, round hand calligraphy font with dramatic, flourishy capitals. Its high stroke contrast and slanted form make it most suitable for use at larger sizes in headlines. The font is also available on Google Fonts. Font Format: TTF.
Related: Romantic Valentine's Day Themed Fonts
Mattilda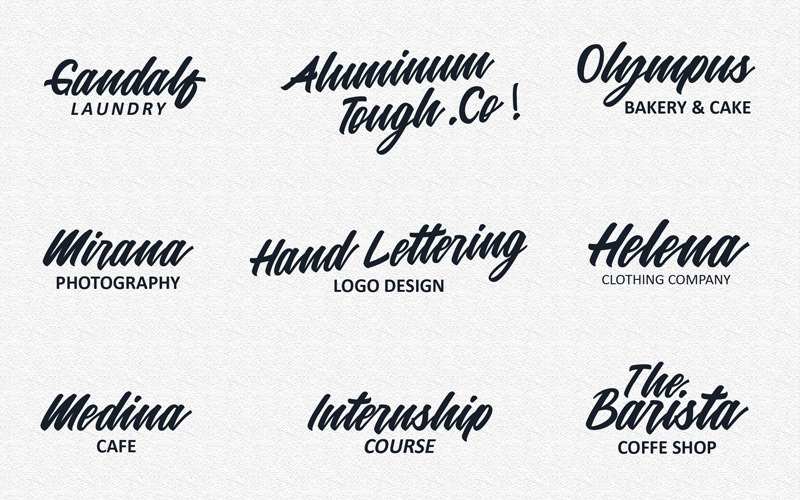 Designed and released by Barri Lubis, Mattilda font sports angled and precise brush pen strokes. This font is a great choice when you are looking for a handwritten look, especially in brand design, logos and inspirational quote posters. Mattilda is available for personal and commercial use. Font Format: OTF.
Champignon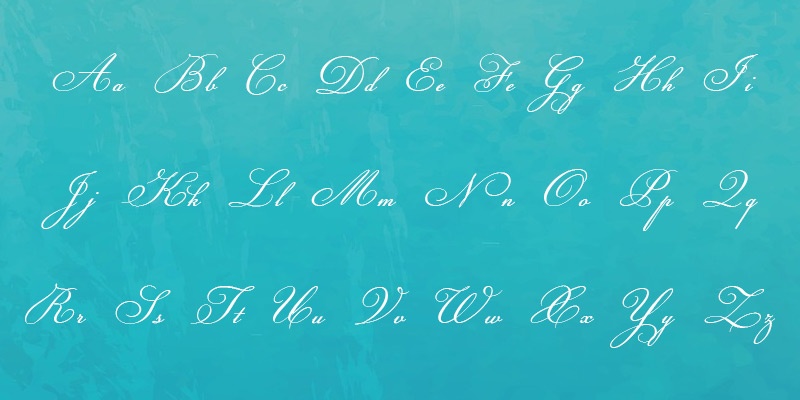 Champignon by Diogene is an elegant feminine font with delicate, thin strokes. The font is free for commercial use and would lend itself pretty well for designing wedding stationery and invitations. Free download includes Champignon and ChampignonAltSwash fonts in TTF format.
Allura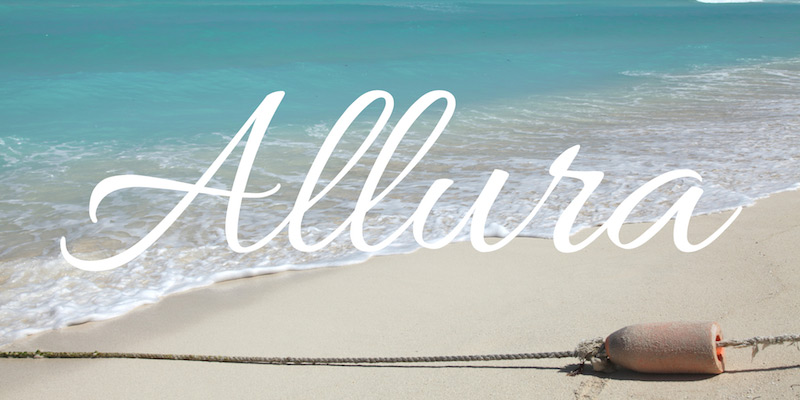 The simple and elegant flowing characters of Allura offer a soft yet formal look. A very legible font, Allura is great for advertising, package design and as a display typeface. This free font from TypeSETit can be downloaded in OTF format and is also available on Google Fonts.
Balqis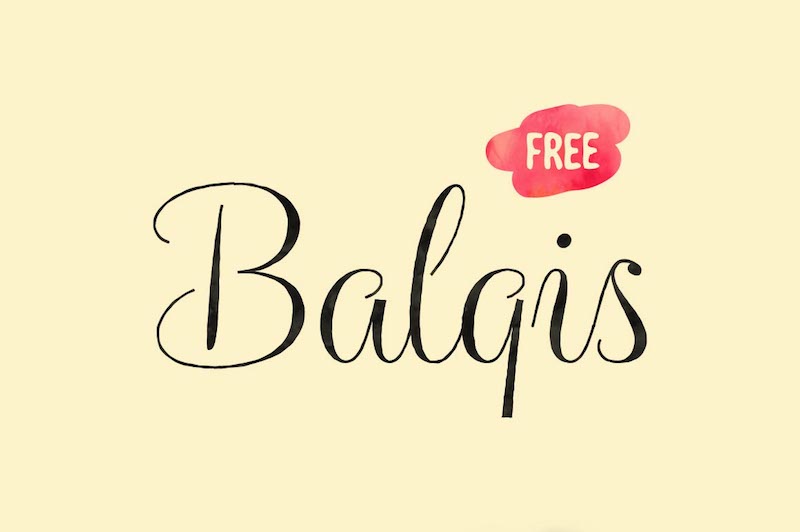 A feminine calligraphy style font with a casual feel that is perfect for adding a personal touch to your typography. This handwritten font sports high contrast strokes, rough edges and has great legibility. Designed by Artimasa Studio and available for free download in TTF format.
Priscilla Script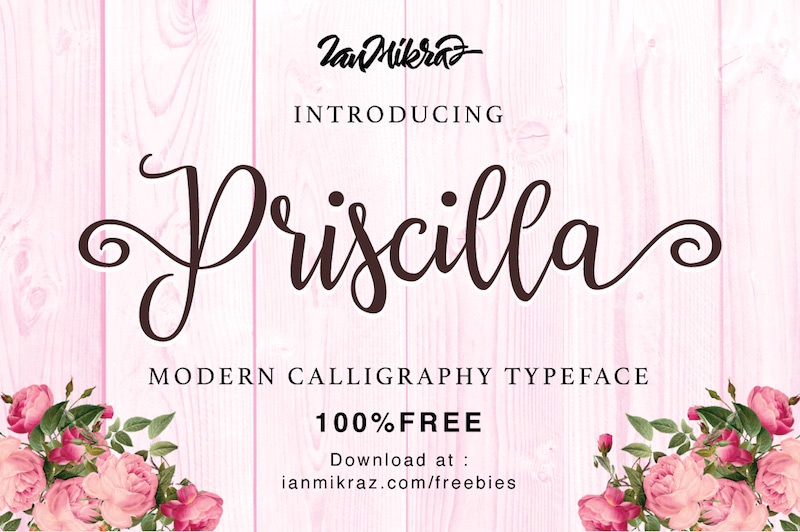 Priscilla Script by type designer Ian Mikraz combines copperplate style calligraphy with contemporary typography in its design. It features 282 glyphs and 109 alternate characters including swash alternates, stylistic alternates and standard ligatures. This free for commercial use font is available in both TTF and OTF formats.
Frutilla Script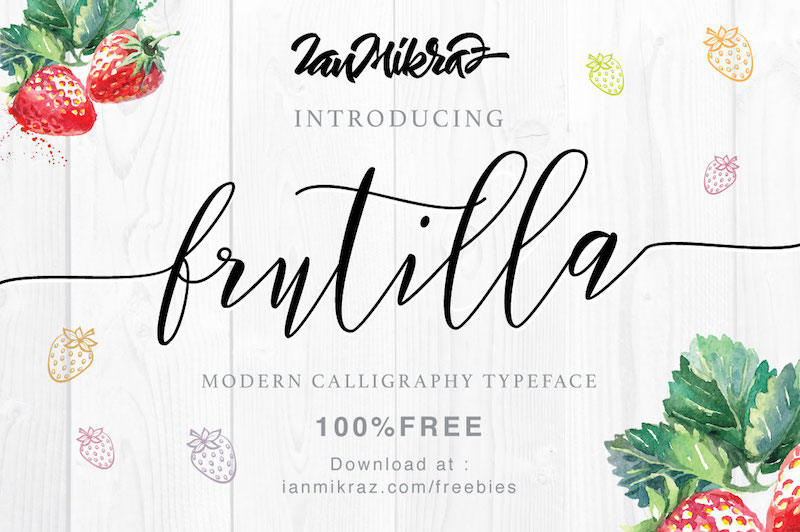 Frutilla Script is another free modern calligraphy typeface from Ian Mikraz Studio. It comes with 277 glyphs and 86 alternate characters that you can mix and match to create a pretty design. Frutilla Script is suitable for apparel brand, greeting cards, or any design that needs a natural and personal touch. Font Format: TTF and OTF.
Lovers Quarrel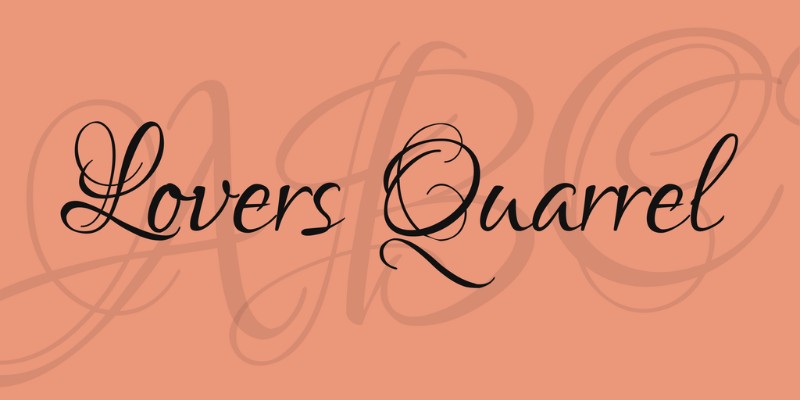 Lovers Quarrel is an ornate calligraphic script with gorgeous embellished uppercase characters and clean, legible lowercase forms. This decorative font will work great for scrapbooking, greeting cards and wedding invitations. Designed by Rob Leuschke from TypeSETit, it can be downloaded for free in TTF format and is also available on Google Web Fonts.
Qwigley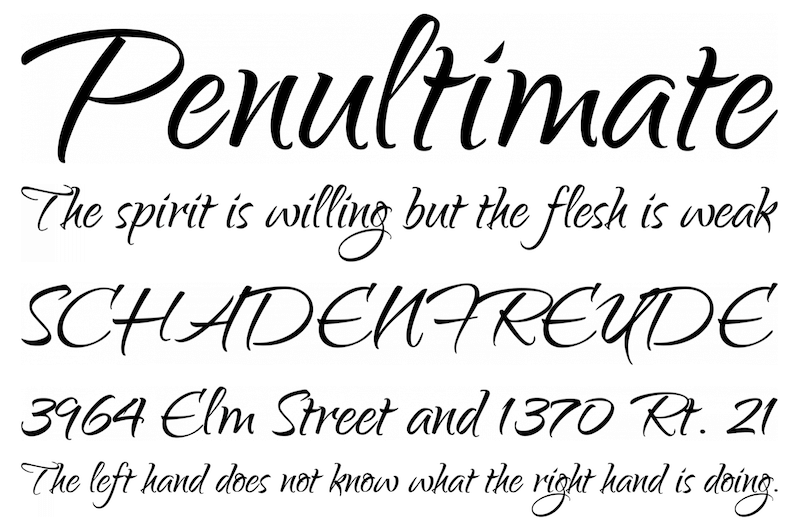 A contemporary calligraphy font with a stylized character set and a formal feel, Qwigley is suited for when you need a touch of elegance in your designs. Another great free font from TypeSETit, Qwigley is available in TTF format. View Qwigley font specimen on Google Fonts.
Delirium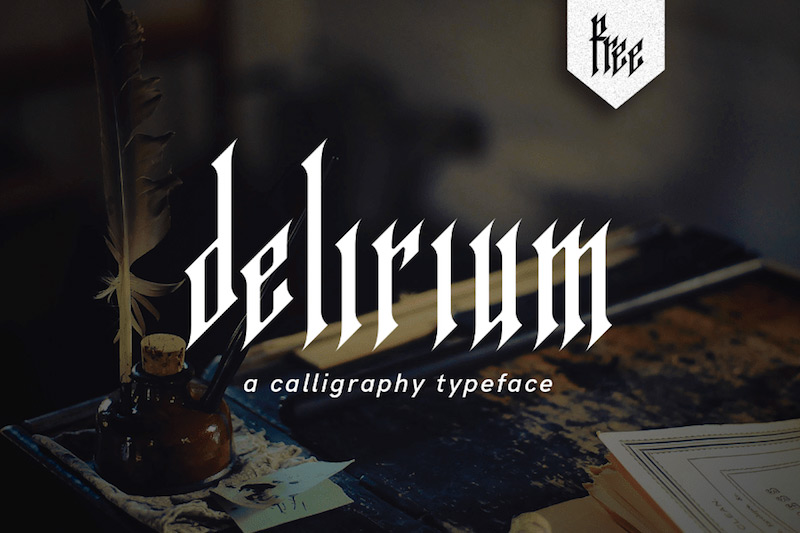 Delirium by Bruno Fontenelle is a free handmade calligraphy typeface designed using flat pen with a 45° angle. Each of its glyphs features a sharp serif which gives the font a fierce look. Ideal for band logo, t-shirt design, branding, and other kinds of display purposes. Font Format: OTF.
Aprillia Script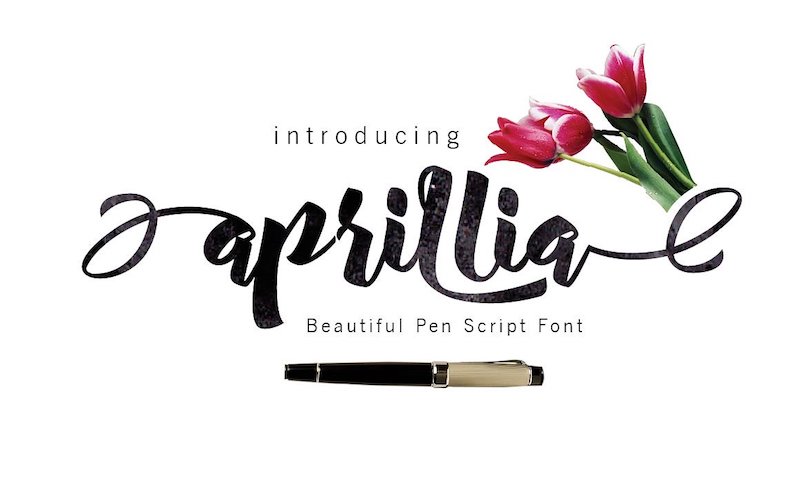 Aprillia Script is a modern calligraphy font characterized by a bouncy baseline. There is also a premium version of the font that comes with alternate characters and international glyphs. This free version comes with a personal use license. On downloading the free version, you'll get the font in OTF and TTF formats. Font designed by Olexstudio.
With these free fonts, you can transform any text into beautiful calligraphy! If you liked this collection of calligraphy fonts, do not forget to share this post on your social channels. You may also want to check out these font collections for more free fonts: