In this post, we bring to you some of the best techno and sci-fi fonts that you can use in your own futuristic designs. Whether you are designing a game interface, or need a font to complement the science fictional theme of your YouTube video thumbnails, blogs, social media posts or posters, these fonts will help you create a space age atmosphere and style.
You will find below a mix of different styles of fonts including minimal, modern fonts (Anurati), monospaced fonts (Space Mono), geometric sans serif fonts (Orbitron) and fonts with squarish letterforms (Neuropol). Most of these fonts are designed as display typefaces for titles and headlines, while a few such as Exo come in many weights and are versatile enough to be used in body copy as well. With a scientific and technological feel to them, these fonts are ideal for when you want your designs to give out a hi-tech futuristic impression.
Our collection has both free and premium fonts that we've put together in separate sections. All the fonts listed below are available for download in True Type (.ttf) or Open Type (.otf) formats and will work with both Windows and Mac. Read on to get a preview of these fonts as well as the links to their download pages.
Free Techno & Futuristic Sci-Fi Fonts
In this section, you will find completely free to download sci-fi and techno fonts. All these fonts come with free personal and/or commercial use license. Some of these fonts are also available on Google Fonts directory from where you can embed them on your websites. Links to Google Fonts are provided wherever applicable.
Anurati – Free Futuristic Font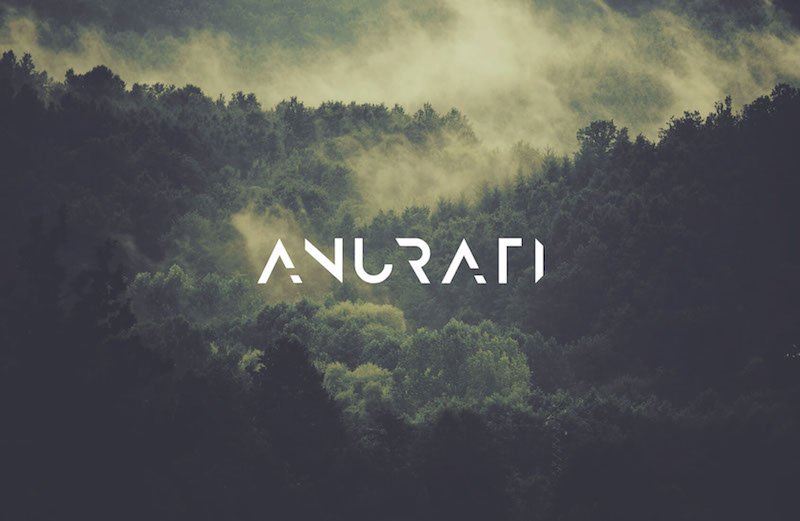 Anurati is a free futuristic font by type designer Emmeran Richard. An uppercase only font, it features minimal letterforms designed with negative space. A modern font that you can use in poster designs, headers and book covers. Available for free download in OTF format on Behance, Anurati is free for personal and commercial projects.
Ailerons – Retro Futuristic Font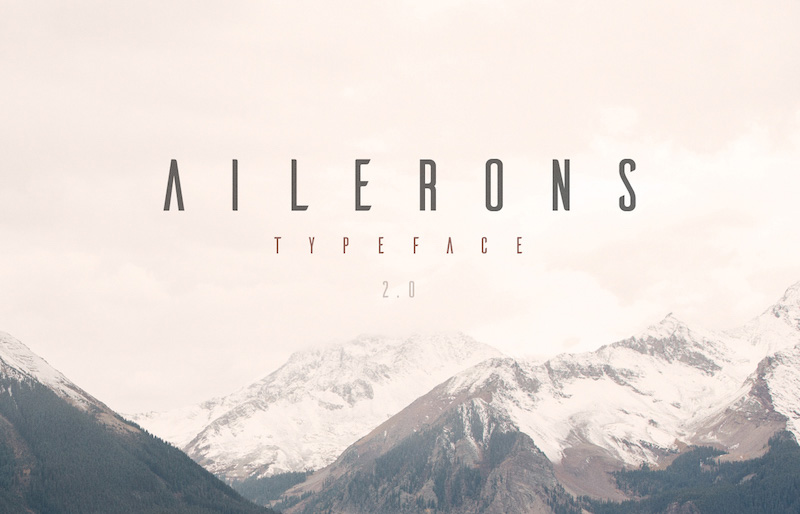 Designed as a part of an experimental project by Adilson Gonzales, Ailerons draws inspiration from the aircraft models from the 1940's. Ailerons features a unique mix of sharp and soft rounded corners. Its clean, tall letterforms will add a stylish retro-futuristic look to your headlines and titles. The font comes with personal use license. Download it for free in OTF format.
V.GER Grotesque – Free Sci Fi Font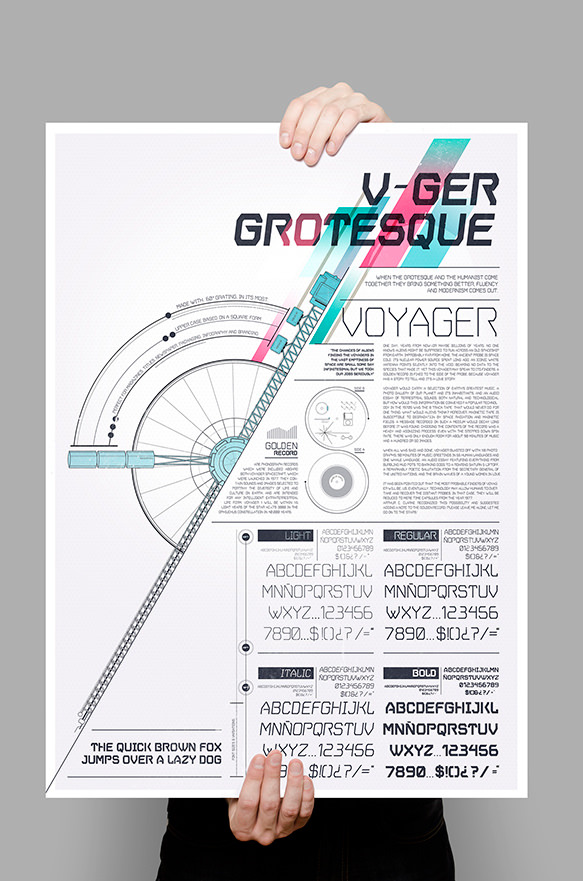 V.ger Grotesque is a display typeface inspired by the typography of sci-fi movies of the 1980's. It belongs to the family of grotesque fonts with a touch of humanist sans serifs in its character set. The font comes with uppercase alphabets, numerals and basic symbols.
Ideal for titles and short text, Vger Grotesque comes in four weights – Light, Regular, Italic and Bold. Font format: TTF. Designed as a part of student project by Mateo Rios and Tomas Saldarriaga.
Astro – Free Space Font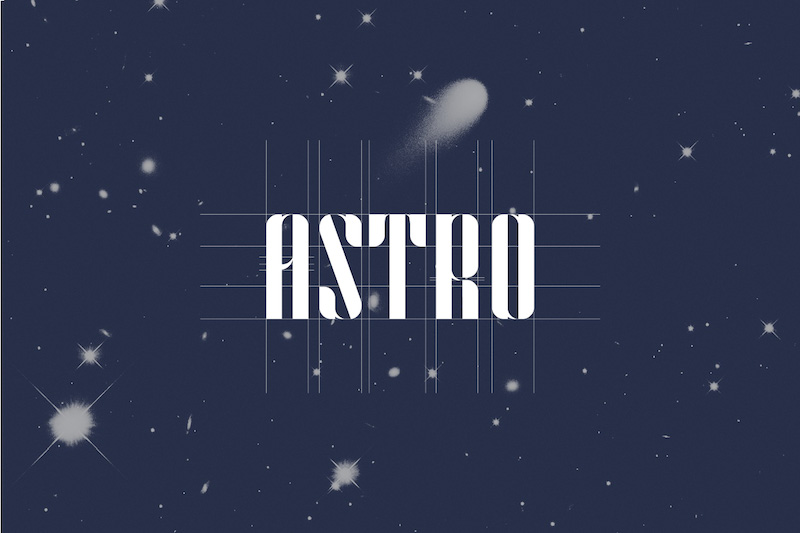 Astro is a modular typeface with the aesthetics of stencil fonts. An upright, condensed font, Astro is inspired by the astronomical world and is ideal for space themed designs. Designed by Spanish designer Glòria Flores Lleonart, it can be downloaded for free in TTF format.
Alexana Neue Minimal Font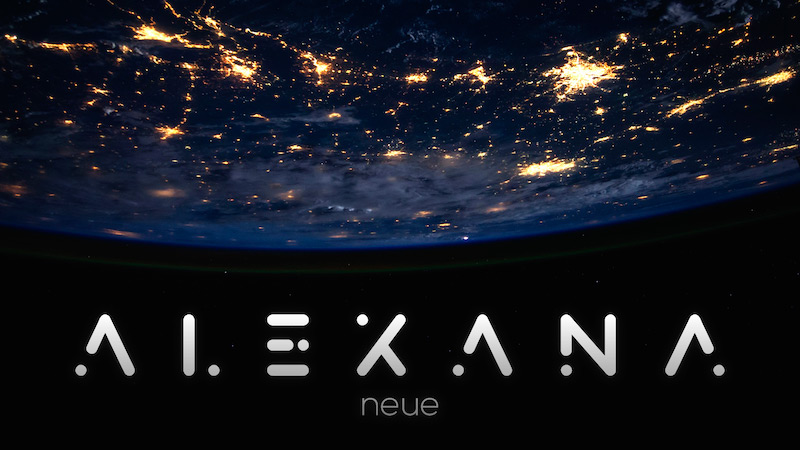 Alexana Neue is a minimalistic, abstract typeface inspired by the outer space. An all uppercase font, it will work perfectly for creating futuristic space age designs, posters and branding projects. Released by Mark Mora, the font is free for non-commercial use and is available for download in TTF format.
Space Mono – Futuristic Google Font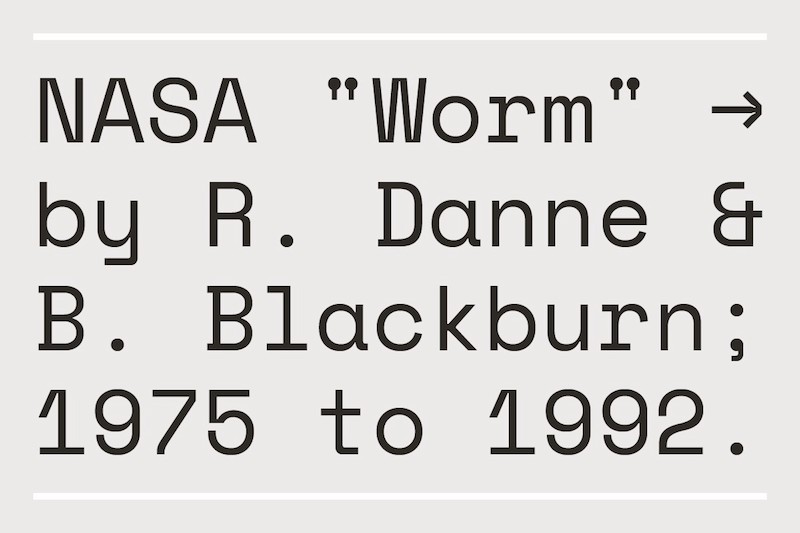 Space Mono, by Colophon Foundry, is a monospace (fixed-width) display type family with a retro-futuristic vibe. Its letterforms infuse both geometric and grotesque influences with qualities similar to the headline typefaces of the 1960s like Microgramma and Eurostile, that have been widely adopted in popular science fiction movies (2001: A Space Odyssey, Star Trek) and television.
Space Mono is an open source font available on Google Fonts and comes in two weights – Regular and Bold with matching italics. It also supports an extended Latin glyph set. Font format: TTF.
Orbitron – Sci-Fi Google Font

Orbitron is a free geometric sans serif font designed as a display type for use in futuristic sci-fi designs. It comes in four weights – Light, Medium, Bold and Black and includes stylistic alternates, small caps and alternate glyphs.
Orbitron is an open source font by The League of Moveable Type. It is also available on Google Web Fonts. The download includes font in TTF, OTF, EOT, WOFF and SVG formats.
Neuropol – Free Techno Font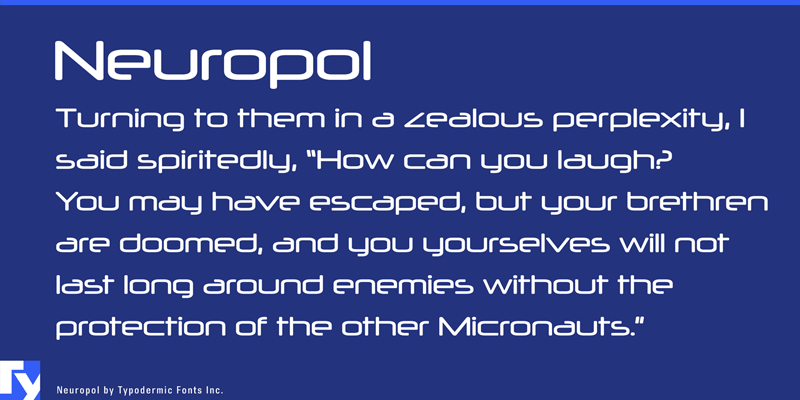 Neuropol is a sci fi font created by Typodermic Fonts. Its squarish with rounded corners design is based on the popular techno fonts Microgramma and Chimes. The truncated horizontal strokes in some of its characters such as lowercase e, a, uppercase s and numbers 2 & 5 emulate laser or vector beam traces. Download it for free from dafont.com as .ttf font file.
Exan-3 – Free Space Font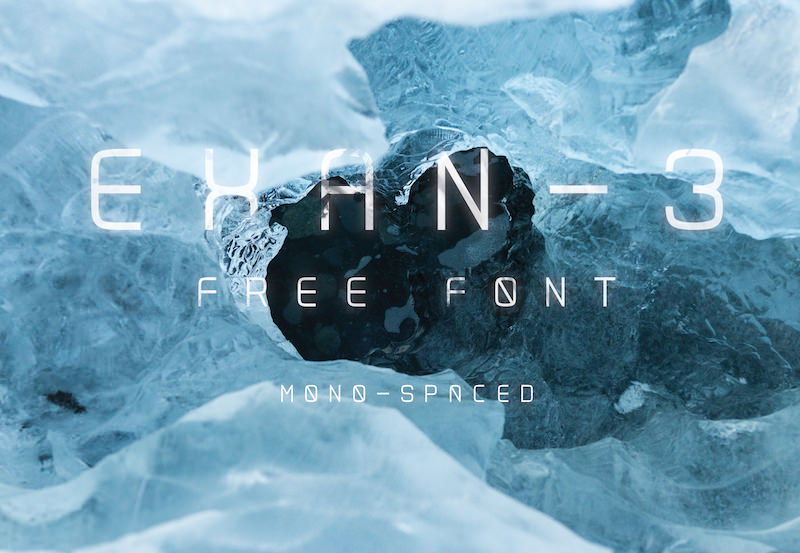 Exan-3 is a monospace futuristic font from graphic designer Jon Carlos. It includes uppercase characters and numbers. Ideal for use in posters, business cards and headers. The font comes with free commercial use license. Available for download in TTF format.
Ultra Free Font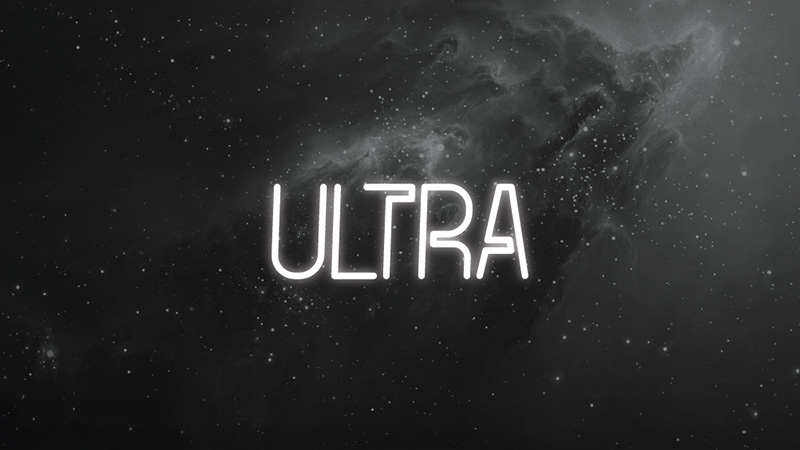 Ultra is a neon-inspired font that will look great when set in colors especially hot pinks and bright greens to emulate the neon light aesthetics. You can use this futuresque font in headlines and posters. Designed by Fabien Korn, Ultra comes with free commercial use license. Font Format: OTF.
Exo Geometric Font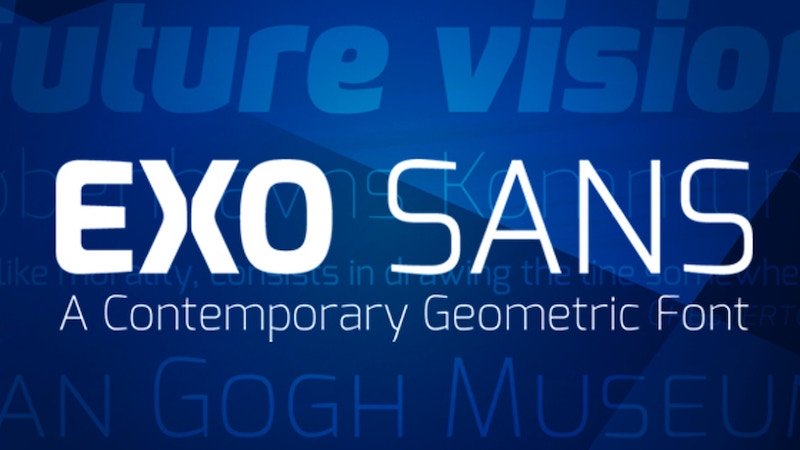 Exo is a free contemporary geometric sans serif type family designed to convey a technological, futuristic feeling. It is a highly versatile font thanks to its 9 weights, from hairline extra thin to extra bold with accompanying italics.
It works well as both display face and for body text. Exo was successfully funded through Kickstarter and is available for free download in OTF format. It is also available as a web font on Google Fonts. Font Designer: Natanael Gama.
UFO Nest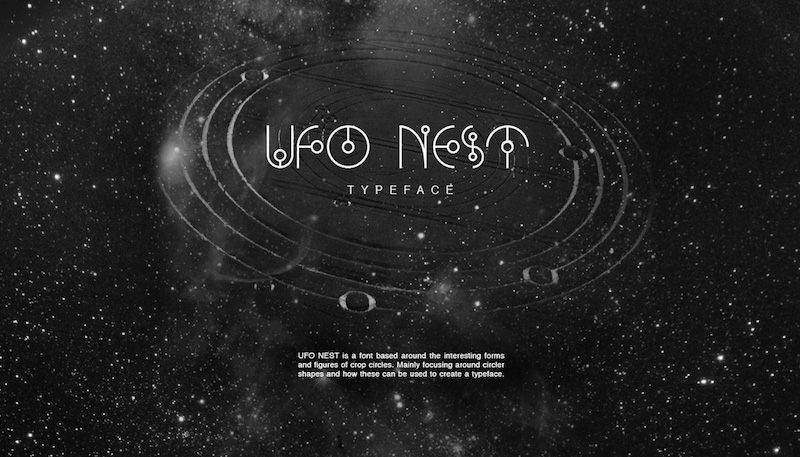 According to its designer Adam Robinson, UFO Nest is based around the forms and figures of crop circles. It has decorative letterforms that are made up of simple geometric shapes of circles and straight lines. The font is free for personal use and available for download in TTF format.
Good Times Regular – 80's Headline Font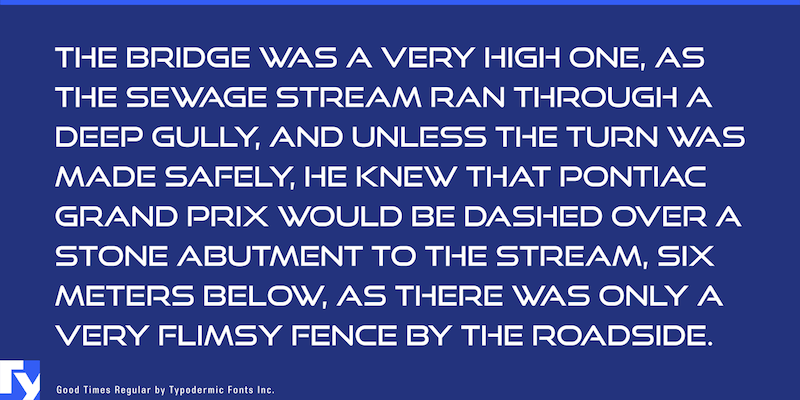 Good Times is a techno headline font inspired by the Pontiac cars from the 1980's. Uniform weight lines and disconnected strokes give its letterforms a scientific feeling. It comes in 15 styles and its regular weight is available for free download in TTF format. Designed by Typodermic Fonts.
Rezland Free Techno Font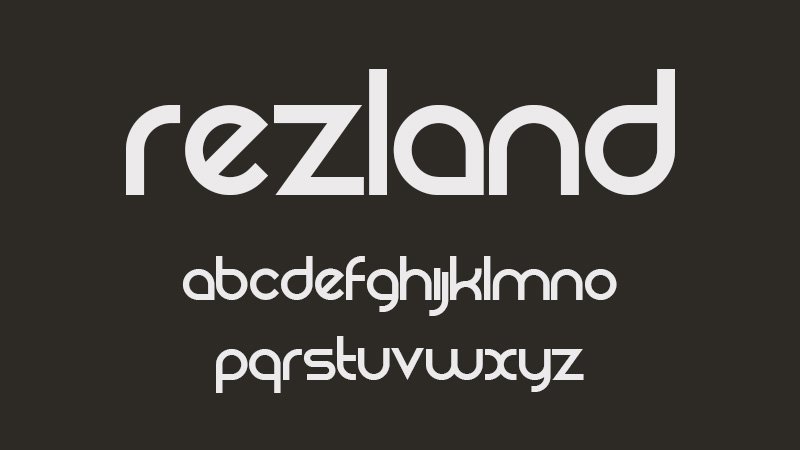 Rezland by Fraser Davidson is a free for commercial use techno font. It is an all lowercase font, some of the glyphs such as a, b, d, p feature sharp corners with contrasting smooth curves. It contains a limited characterset of lowercase alphabets, numerals and symbols are not included. Available for download in TTF format.
Beyno Display Typeface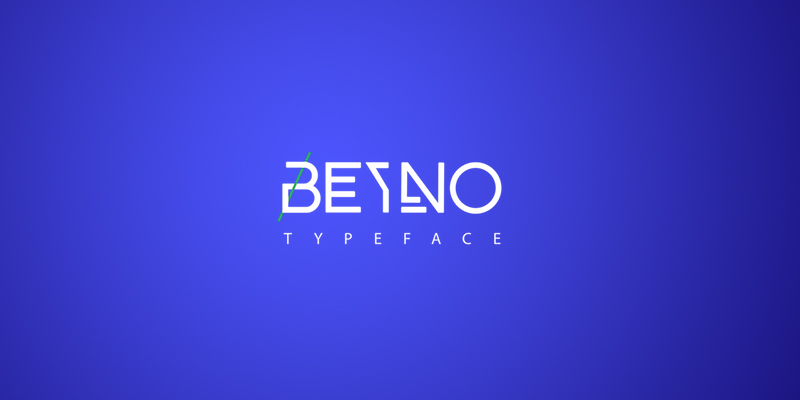 Beyno is an uppercase only display font great for creating eye-catching headlines, posters and much more. Its stylishly different letterforms can make any text stand out. Designed and released by Fabian Korn, it can be downloaded for free in OTF and TTF formats. This sans serif futuristic font was the English font used in Black Panther movie.
Distant Galaxy – Free Star Wars Font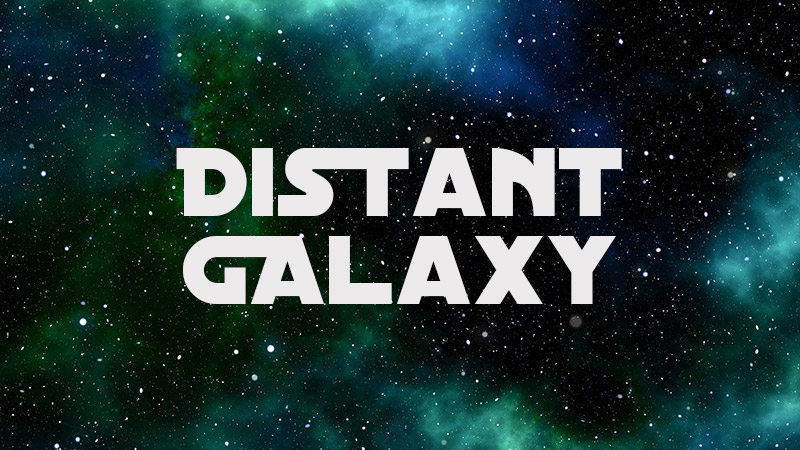 Distant Galaxy is a free novelty high-tech font from ShyFonts. Its letterforms remind us of the Star Wars movie title. It is an uppercase font, the lowercase characters are variations of the uppercase characters. Available for free download in TTF format from Font Squirrel.
Nasalization – Modern Sans Serif Font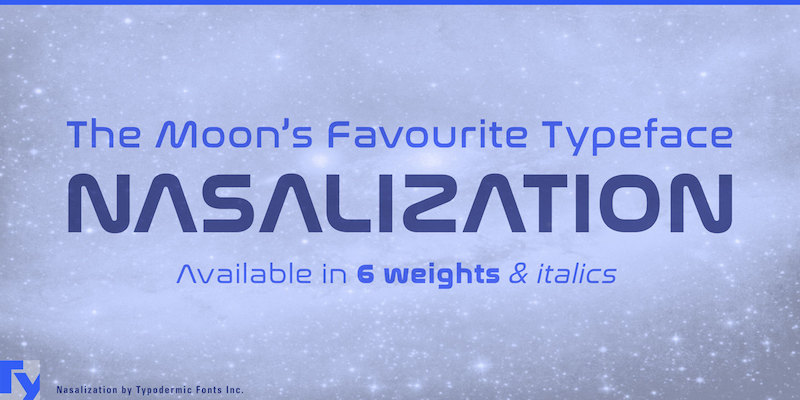 An ultra-modern Sans Serif font, Nasalization finds inspiration in the type style of NASA 'worm' logo from 1975. The character set includes Greek, extended Cyrillic and covers almost every Latin based language. It comes in 6 weights and the regular weight is available for free download in TTF format from 1001 Fonts. Font designed and released by Raymond Larabie of Typodermic Fonts.
Premium Futuristic Sci Fi Fonts
In this section, we round up the best selling sci-fi and futuristic typefaces from Creative Market and Envato. On purchasing, you also get free support and updates for these fonts. Please note that links to these fonts contain our affiliate id.
Eternals – Futuristic Space Display Typeface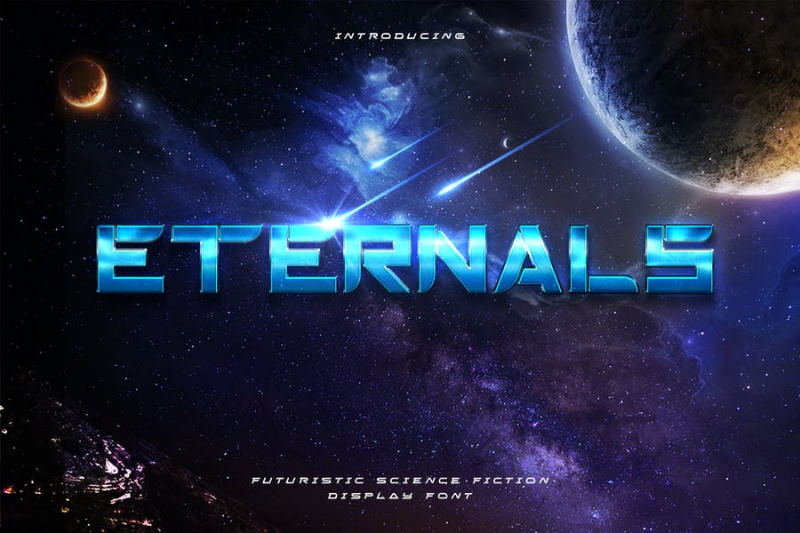 Eternals is a bold display font with a futuristic and space technology feel. Designed by Nauli Creative, this font features heavy, sturdy stenciled letterforms. Suitable for use at large size for posters and headlines, the font is perfect for music posters, game and movie titles as well as branding projects. The font comes in in OTF, TTF and WOFF formats.
Equinox – Minimal Display Font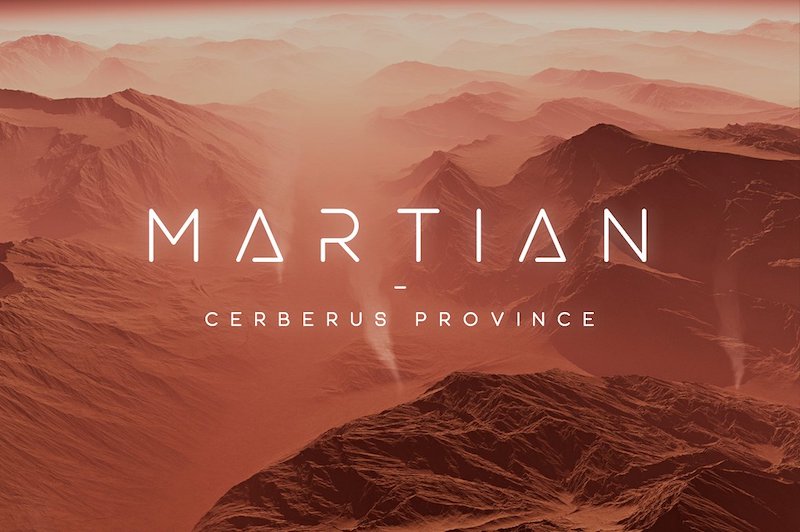 Equinox, by Tugcu Design Co., is a sleek, minimal display font that comes in two weights – Regular and Bold. Its clean letterforms will look great on posters, music album covers, and futuristic sci-fi interface. It includes uppercase multilingual letters, numbers, punctuations and alternate glyphs. On purchasing you will get the font in OTF and WOFF formats.
Primal – Futuristic Font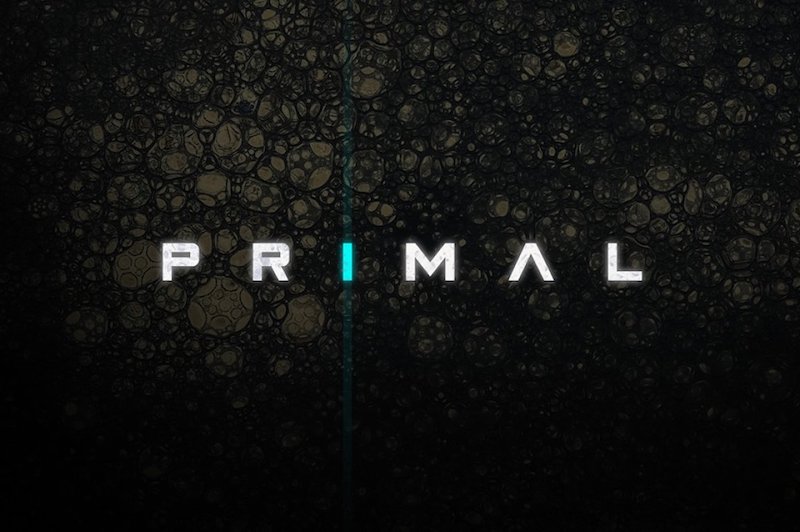 Primal is inspired by the old horror science fiction movies. It's an uppercase font, the lowercase letters provide alternate versions of some letters. Numbers and punctuations are also included.
According to the font designer Mehmet Reha Tugcu, Primal typeface will look good in titles with wide spacing as seen in the above image. Font can be purchased from Envato Elements in OTF format.
Lightyear – Retro Space Font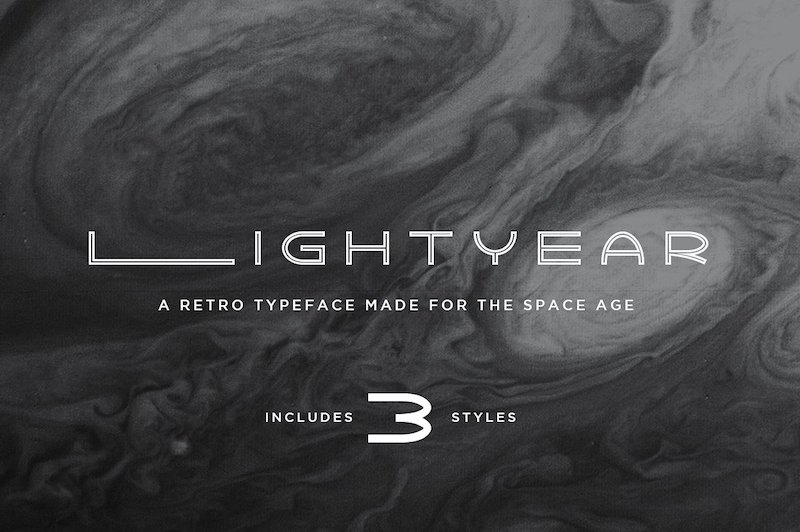 Lightyear is a 1950's space science fiction era inspired typeface. The font comes in 3 styles – Light, Regular and Inline. You can combine the super wide capitals with the all-capped lowercase for unique and interesting effects.
It comes with few alternate glyphs, numerals, basic symbols and also includes 2 bonus sets of arrows to use in your designs. Created by Ramey Type Foundry, this retro space age font is provided in OTF and WOFF font formats.
Centauri – Futuristic Sci-Fi Font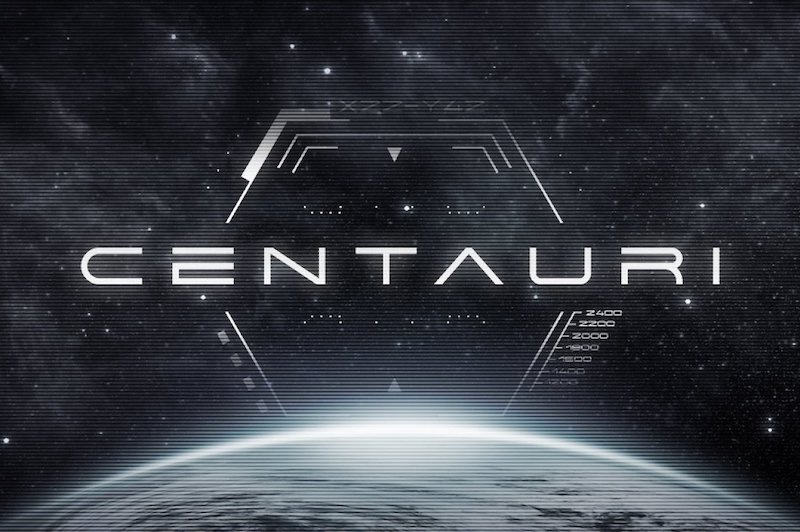 Centauri is a futuristic sci-fi font with minimalist, wide characters. It includes English uppercase letters, alternate letters, basic punctuation and numbers. Designed by Tugcu Design Co. the font can be purchased in OTF format.
System Glitch Font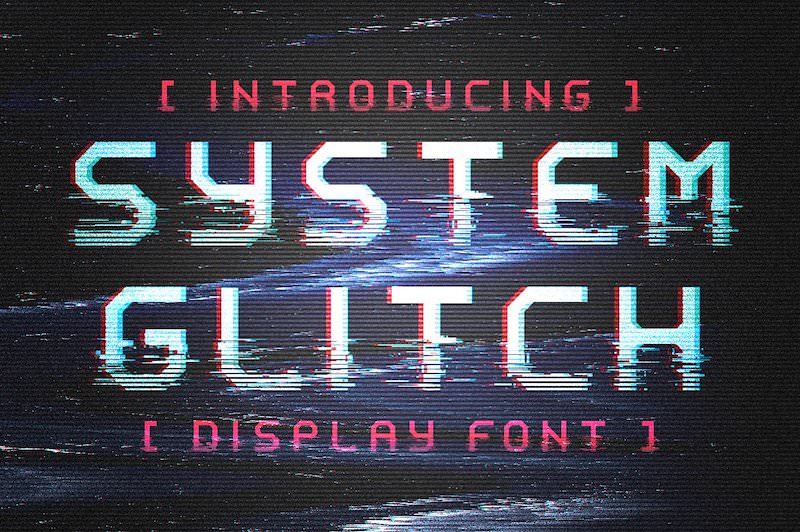 System Glitch is a detailed glitch style font designed to work at large type sizes in titles and headlines. This font can be used to create glitchy sci-fi art, distorted VHS effect and simulate digital interference text effect.
Designed by MiksKS, System Glitch is available for purchase in OTF format. Download also includes bonus Photoshop Anaglyph Actions (.atn).
Hyperion Hi-Tech Font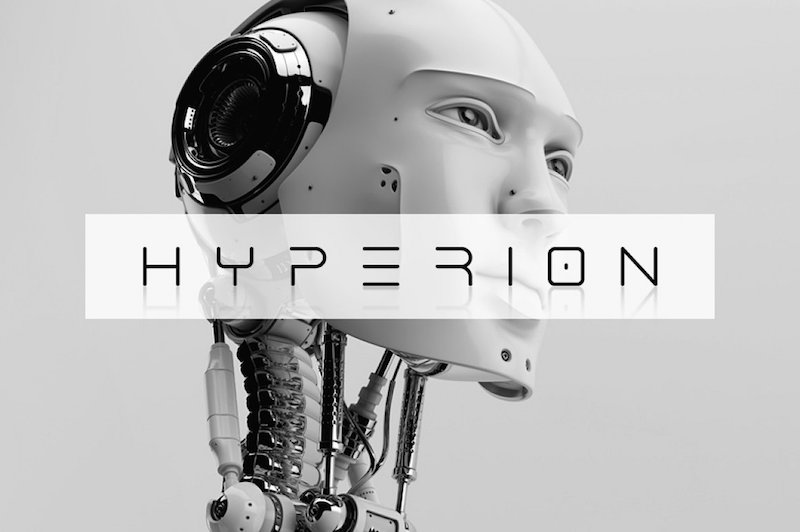 Hyperion has an air of high end tech and robotic vibe in its squarish letterforms. Ideal for use in games and futuristic GUI designs. It comes in 3 weights – Thin, Regular and Bold. This sci-fi font is supplied with alternate characters and custom ligatures. Font designer: Tugcu Design. Font format: OTF, WOFF.
Eva – Stylish Sans Serif Font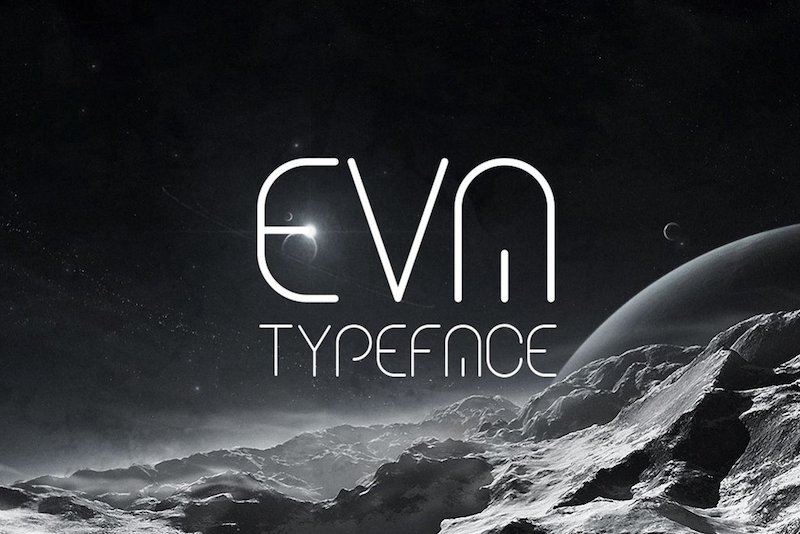 Eva is a stylish sans serif font ideal for titling – Titles, Captions and Subtitles. The uppercase characters A, D feature disconnected vertical strokes in the middle, while some of the glyphs such as small case b, p have gap between their curved and vertical strokes that give the letterforms a modern futuristic look.
The font comes in 3 weights, light, regular, bold and has multilingual support. Released by DesignSomething, Eva is available for download in TTF format.
Derelict – Futuristic Industrial Font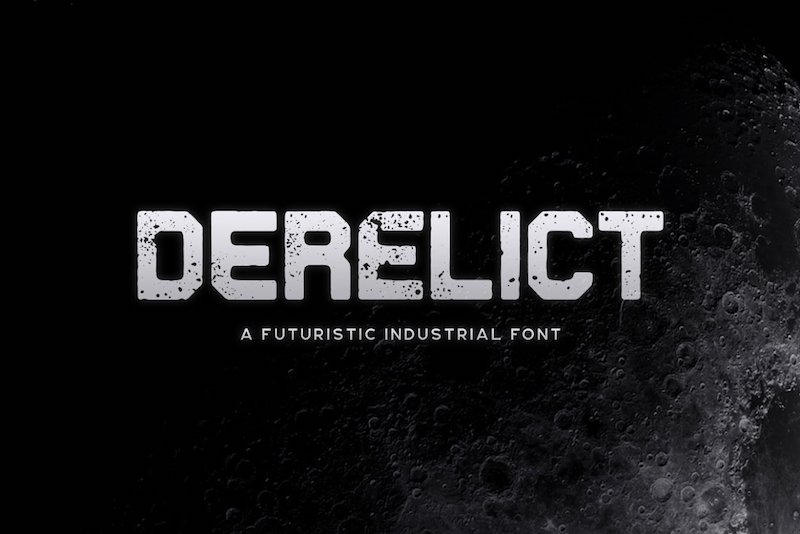 Derelict is a futuristic industrial font family available in two styles – Clean and Rough. The rough style has grunge textured letterforms while the clean version is a bold display typeface. It includes multilingual uppercase letters, alternate letters for some characters, numbers and punctuation. Font format: OTF, WOFF.
Many of these fonts find their inspiration from the typography of popular science fiction movies. And if you are a fan of such movies like we are, then this blog by Dave Addey wherein he exhaustively analyzes the type aesthetics of iconic sci-fi movies like 2001: A Space Odyssey and the Alien franchise will be an interesting read.
More Font Collections
If you liked this collection of sci-fi fonts, do share this post with your friends. You may also want to check out these font collections: