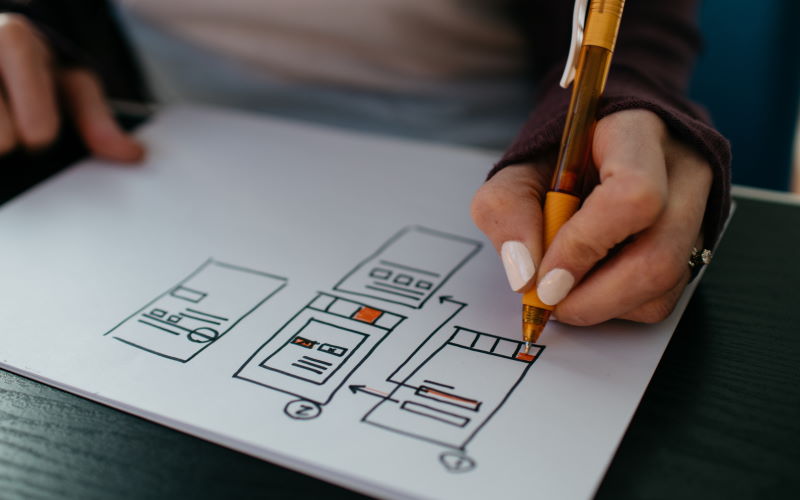 Did you know that as of today there are over 1.9 billion websites online and the number will soon touch 2 billion? The number is intimidating and should give you an idea of how fierce the competition in the online space is. However, with a good website design, content, and SERP presence, you can appear on top of search engines.
Moreover, a great website need not necessarily cost a fortune. Anyone with a limited budget can also get a professional-looking website with a few pages on a small budget. All you need to do is create and design a website yourself or work with affordable development services while maximizing your budget. You can get a well-designed and conversion-driven website for your small business very well within your budget.
Depending on your goals and how you plan to create the website, you'll need a web domain, web hosting service, and other tools. The best way to go about is to start with a little due diligence before setting yourself a budget. This way, you'll know what are the required costs and what you can afford.
Once you have found out the absolute minimum costs involved in designing a website and set a budget, you can then head on ahead to plan the website design. Here are some tips to design a good website on a budget.
Set Goals for Your Website
As with everything else in life, it's ideal to set a goal for your website that you want to achieve. Whether you starting a personal portfolio blog or a startup company website, knowing your goals will help you plan and manage the website more efficiently. Setting goals also help plan potential ROI and manage a budget for the long-term operations of the website.
Think of it in this way, an informational website like a blog can get away with a shoestring budget. However, if you are planning an eCommerce website stretching your budget a bit to incorporate better navigation, mailers, and more such elements will result in greater returns thus giving more room for the budget. Therefore, before starting the process to build a website it's a must to know what the end goal is.
Choose a Good Website Builder
Every single successful website is a great foundation. One of the best ways to stick to a budget for the long term is to manage a part of the work by yourself. Therefore, pick a foundation that you are comfortable with while managing content, adding products to the online store, and so on.
Powering almost 43% of all websites on the internet, WordPress is one of the best CMS platforms and quite easy to use. However, if you are more familiar with some other builder or CMS platform, that would be more advantageous. In case you have not used any in the past, it's advisable to research a bit about various CMS and website builder platforms.
If you go with the website builder option or hire a website designing service, it is possible to stick to a pretty tight budget.
Use a Website Theme or Template
One of the best ways to design a website is to pick a great theme, template, or plugin as they save time. You get a readymade framework and design that just needs to be customized per your requirements.
No matter what foundation you go with, you will find plenty of themes, templates, plugins to choose from. Don't let the sheer number overwhelm you and install too many things in one go.
Picking the right theme from the get-go will provide all the basic design elements you need for a functional website. Look for a theme that resonates with your brand and has all the features that you need. Ensure to pick a dynamic and responsive theme or template, which will make sure that the website design works on all device types.
Leave Out Unnecessary Features
As mentioned above, you don't need too many features to have a functional website. Leave out features that you don't need as they won't only clutter your website but also add to the cost. Additional unnecessary features and extra pages often add up to the cost of website design. Think of it this way, you don't need eCommerce features on a blog. Even if you plan to sell something on the website in near future, adding features when the time comes is more sensible.
It's best to leave out any unnecessary feature that may be redundant on your website. In case you feel a certain feature might come in handy later, discuss with a designer about adding elements later on. Discuss whether the website has the potential to grow to the stage to need the additional feature. In case the answer is yes, you'll get the idea of the budget needed to grow the website gradually.
Have Your Content Ready to Go
The crux of the matter for every website is the actual content posted on it. If you already know what content and information you need to display on the website, have it ready to go before the website design process starts.
Having the website content ready in one go saves time and speeds up the entire website building process. Gather all content you want to include and have it ready. Hiring someone for content management can be expensive.
Therefore take some time to learn about website content management. Undertake smaller tasks like publishing blog content, adding new items to an online store, and more. This way you can have a website developer for complex tasks but manage more routine tasks by yourself thus saving time as well as money.
These are the top tips to design a website when on a budget. However, the budget doesn't mean dirt cheap here. Think of it as an extension of your business and an investment in future growth. Plan a website design depending on the scale of your company or business.
Cover Photo by Kelly Sikkema on Unsplash