Have you ever wondered what is the best way to have your very own blog on the internet? Do you want to setup a blog but don't know where to start?
When it comes to professional blogging, you would want a reliable hosting platform and a CMS that has easy editing functionality along with power to extend your site. WordPress ticks on all these boxes and is thus the top choice of bloggers when it comes to setting up a blogging site. In this article we will take a detailed look at how you can easily setup a WordPress blog for yourself on an affordable and reliable hosting.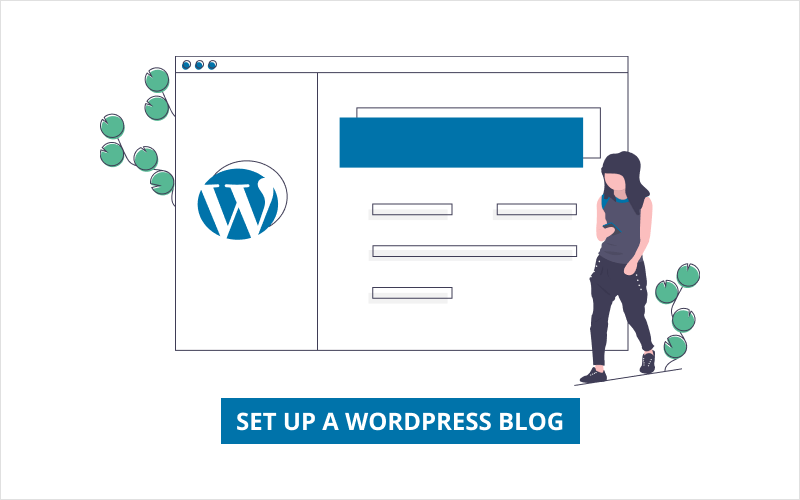 Why Start a Blog?
The internet is filled with social media platforms where you can simply sign up and start posting for free. You may think why start a blog when you can simply post on these platforms. Well, the catch is, you don't actually own the content that you create on such platforms. If you need total control over your content, starting your very own blog on a domain that you own is a better idea.
Not only a blog can serve as a searchable medium where anyone on the internet can find you through your articles, but can also prove to be a useful medium to provide long term passive income. With a little effort, you can build your blog to provide you with great branding and online presence that can rival other successful bloggers.
In short, a blog can help you with:
Building your brand
Creating an audience
Making passive income
Owning your content
Given these benefits, you would want to start your blog. You can still use social platforms such as Twitter and Facebook for sharing your content, driving traffic to your blog and engaging with your followers.
What you need to Start a Blog?
The very basic thing that anyone needs to start a blog is finding a topic about what to blog, little motivation and some time. On technological front you will need:
A blogging platform
A domain name that you own (free with our recommended hosting)
A web hosting service
In this article, we will go through addressing these needs which will help you setup a blog with WordPress.
WordPress as a Blogging Platform
When choosing to build your own blog, one must select a blogging platform that is user friendly and provides lots of customization options. WordPress is one of the top choices for successful bloggers when it comes to building a revenue generating blogging site.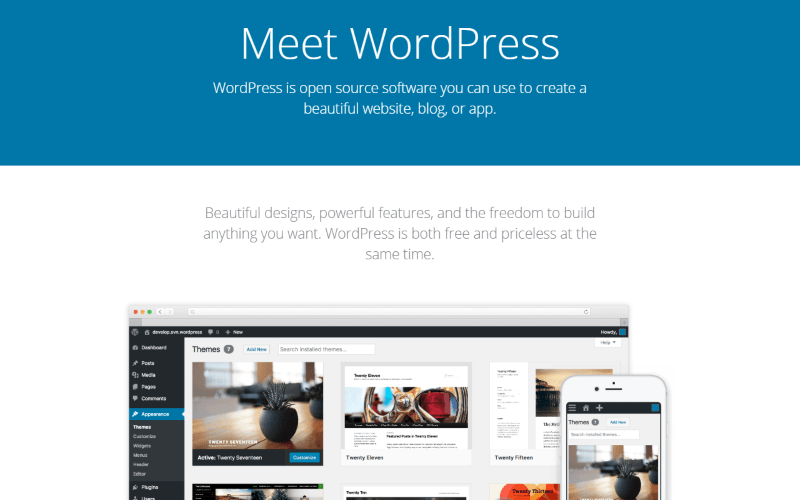 A WordPress site is not only great for setting up a site with blogging, but it can also be extended to offer you an option to sell e-commerce items. There are plethora of plugins and themes available for WordPress which allow you to modify the look of your site and extend the functionality of your blog without hiring a developer.
On WordPress, you can easily add a contact form, e-mail opt-in form, subscription for your articles, auto share on social networks and what not using the numerous plugins available.
Start your blog with WordPress
All in all, we highly recommend using WordPress as your blogging platform. WordPress is also free and open source and allows you complete control when you host it yourself. Let's take a look at how you can host a WordPress site yourself.
Choosing a WordPress-hosting Provider
A website needs to be hosted with a web hosting service in order for users all over the world to access it. In our case we would need a hosting provider that supports WordPress. This generally costs money and we strictly recommend not to go looking for free or cheap options as they are generally not reliable. You would not want your site to be down or be with a degraded performance when it is a source of your income. Hence always go with a reliable hosting provider with affordable plans that meet your needs.
When it comes to choosing a WordPress hosting provider, our advice is to go with an affordable yet professional hosting service that allows easy WordPress hosting. The number one hosting platform in this regard is Bluehost. Bluehost has more than 15 years of experience, hosts millions of websites with WordPress and is recommend by WordPress itself as their hosting option.
With Bluehost, you can install and use WordPress effortlessly and get their 24/7 support in case you need help. Free Domain name registration as well as free SSL certificate are included with every plan which generally cost extra if you go with other hosting providers.
Choosing a WordPress Hosting Plan
Next, you should decide on the hosting plan to choose from. This generally depends on how many sites you are making and how much traffic you expect to have on your blog.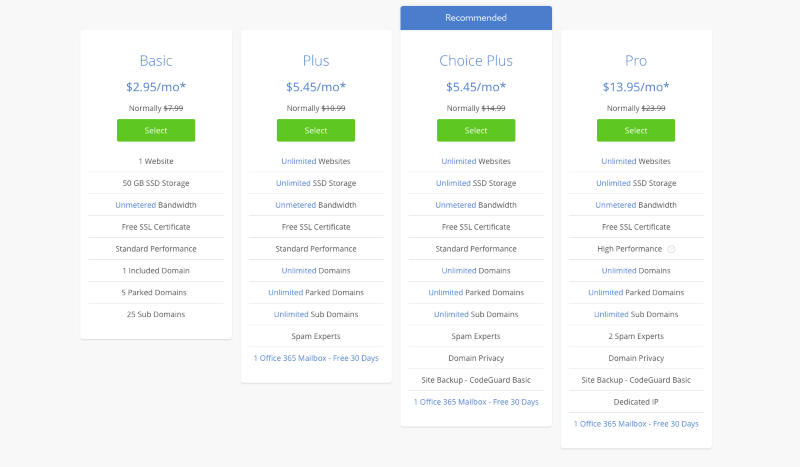 Click here to start with Hosting Plans
Bluehost offers a range of hosting plans, all of which offer unmetered bandwidth. We recommend the following when you are choosing your hosting plan.
Basic – When you are just starting and plan to create 1 site with minimal storage needs and moderate traffic.
Plus – When you want to create multiple WordPress blogs with unlimited storage option.
Choice Plus – This plan offers almost everything including backups which are necessary to have a peace of mind.
Pro – If you expect large amount of traffic on your sites and want a dedicated IP for your hosting then go with this.
Our recommendation is to go with a Plus plan or a Choice Plus plan to have unlimited websites options, however you can always start with Basic and later upgrade depending on your needs.
Creating a Domain
Now that we have chosen the plan for our hosting, we want a domain to go with it. Bluehost offers free domain registration with your plan which you can do easily from their site. We recommend going with a name that is related to the niche which you will be blogging about. You can also go with a personal branded domain name or your company name.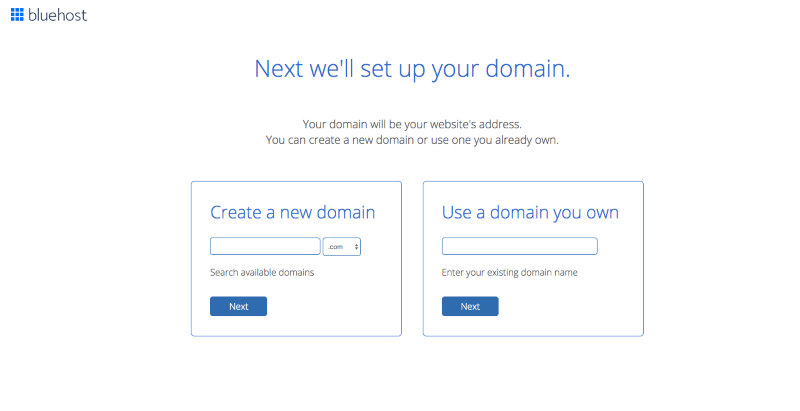 Things to keep in mind when creating a new domain:
Short and memorable domain names are better.
If possible, always go with a .com domain first.
Avoid numbers and letters in your domain name.
Avoid ambiguous words.
If possible, include the main niche keyword of your blog in the domain name.
Longer domain names are fine as long as they are easy to pronounce and remember.
Avoid trademarked words.
If you already own a domain, you can map it to your hosting easily by changing the DNS records to point to the hosting server.
Setting up WordPress
Bluehost makes it really easy to setup WordPress for your blog. Once you have selected your hosting plan and created your domain, you will need to fill up your details and complete the payment. Bluehost will then guide you in setting up your WordPress site.
You can choose the name you want to give to your site and a tagline that describes your blog.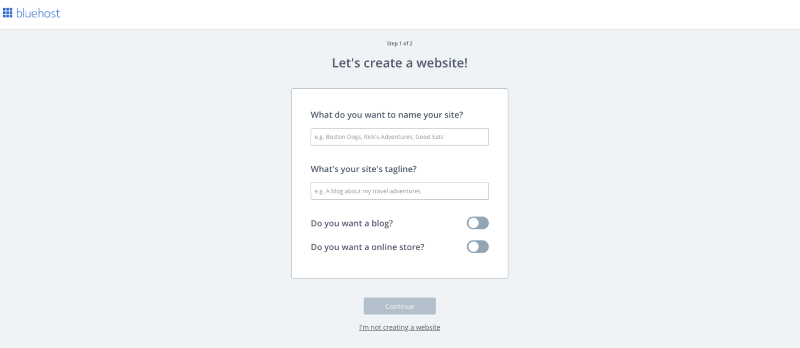 We recommend keeping the tagline as a good short description for your blog as it will also be used by users as well as search engines to know more about your site. You can modify these later too from WordPress dashboard.
Bluehost also provides an option to choose whether you want a blog or an online store or both. We recommend turning on the blog option. You can also choose to go with an online store at this stage or add it later via WordPress.
You can also tell your blog goals and Bluehost will use it to recommend plugins for your site. You can also go through our list of essential WordPress plugins for blogs.
Your Blog Design
Apart from your domain, your blog design is the next thing that matters when building your brand. You must choose a design via a theme for your WordPress site. Bluehost offers you a variety of recommendations which are present in groups such as portfolio, blog, entertainments, food and drink, news etc.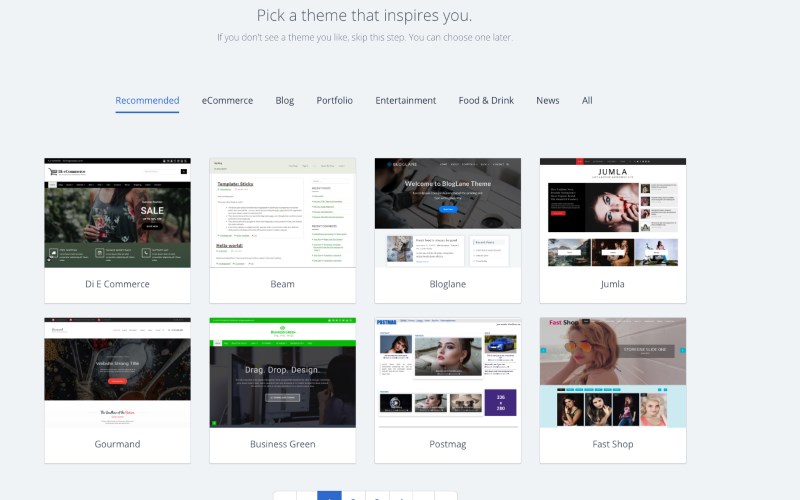 We recommend going with a theme that suits your niche and your needs. You may also want to make sure that your theme is responsive, i.e. it works on mobile devices too.
You can also go with premium themes from trusted marketplaces such as Themeforest or TemplateMonster. Take a look at some of our theme selection which can help you select a theme for your WordPress blog.
Creating Pages and Posts
After we have selected the theme with a design that suits our blog, the need is to create some content. On WordPress you can create posts and pages through the WordPress dashboard.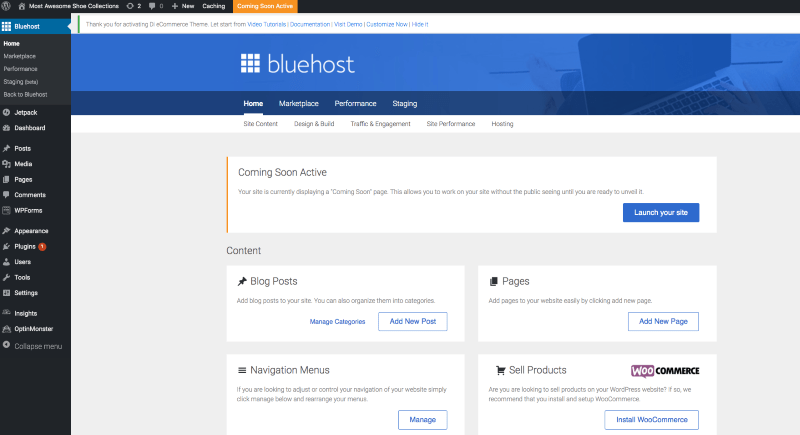 Pages – Create pages for content that are not blog posts and offer static information that are required for your site. We recommend creating at least the following pages:

About Page – Tell about yourself and your blog.
Contact Page – Provide a way for readers to reach you. This can be done by either providing your social media handles or using a plugin to provide a contact form.
Privacy and Terms Page – You would generally want to include this as well for your website.

Posts – Create a post when you want to post an update such as a new article in your niche or a news about your site. We recommend starting with at least 3 or 4 useful posts on your blog before sharing your blog with your audience.
Menus – Add links to your pages and blog post categories via menus that gets displayed on your website.
Updating Content on Your WordPress Blog
WordPress makes it easy to edit the content that you posted earlier. You would want to keep the information posted on your blog up to date. This will ensure that your readers are getting the latest information and search engines will love your site.
If you have the WordPress admin bar enabled, you easily edit a post by going to its URL. Otherwise, you can search for the post in your WordPress dashboard and then edit it.
Keep your blog regularly updated and add new content regularly to engage your audience and attract more traffic through search engine.
Making Money with your Blog
Once you blog becomes popular, you can think about ways to start monetizing the traffic to build a passive income for yourself. There are many ways to do so such as:
Advertisement banners
Selling e-books
Selling products
Affiliate Partnership
We hope that you will be able to use our guide to setup a blog for yourself with WordPress. If you face any trouble or want an advice, feel free to leave a comment below. Best of luck for your blogging success!