Google announced a new global content rating system based on industry standards for its Android apps. Along with this, Google has also outlined its manual app review process for identifying violations of android developer policies.
Play Store's New Content Rating System
The new content rating system will be enforced from May and Android developers will be required to answer a rating questionnaire for new apps and updates to existing apps and games.
Google Play's new age-based rating system includes official ratings from the International Age Rating Coalition (IARC) and its participating bodies. These ratings include ESRB, PEGI, Australian Classification Board, USK and Classificação Indicativa (ClassInd. Territories not covered by a specific ratings authority will display an age-based, generic rating.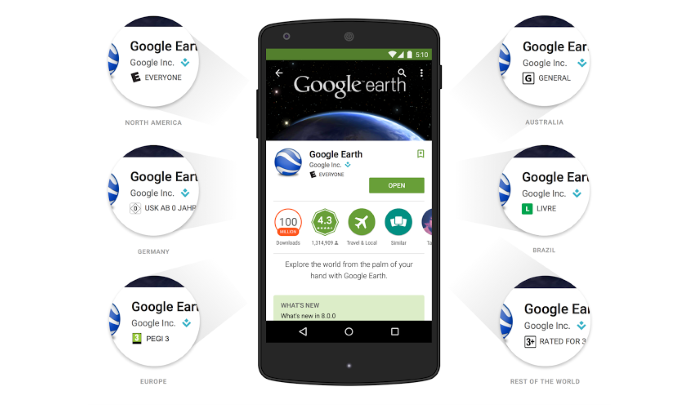 "Apps without a completed rating questionnaire will be marked as Unrated and may be blocked in certain territories or for specific users. Starting in May, all new apps and updates to existing apps will require a completed questionnaire before they can be published on Google Play."
Google has further advised developers to use the assigned rating when advertising their app in each respective region.
Learn more about the Google Play Stores' Content Rating System for apps & games.
Manual Review of Apps Submitted to Play Store
In order to help developers get their apps published within a matter of hours after submission, Google relied solely on an automatic review processes. However, this failed to prevent incoming of malware or inappropriate apps in Play Store.
Google has now begun manually reviewing apps before they are published on Google Play Store to maintain the quality of its app catalog.
"This new process involves a team of experts who are responsible for identifying violations of our developer policies earlier in the app lifecycle."
Google has assured that it will continue to help developers get their products to market within a matter of hours after submission, rather than days or weeks.
It must be noted that both Apple & Microsoft have a manual App Review Process in place for apps submitted by developers. Apple in particular is known for taking weeks for getting the review done and follows stringent guidelines in order to maintain good quality of it's app store.
Source: Android Developers Blog