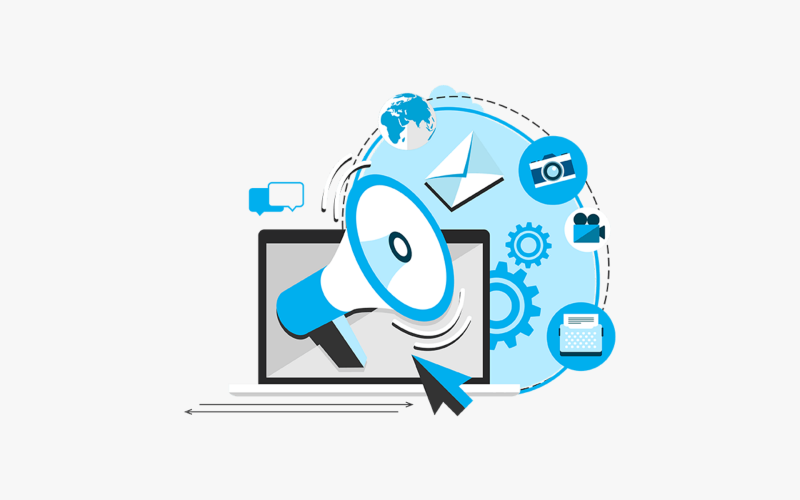 Content marketing is currently one of the best ways to present your product in a non-intrusive and useful way. It relies on providing customers with valuable and captivating content related to a company's services.
Many startups and small businesses tend to think the instruments used in content marketing are over their budgets (read here to learn how to manage your company's expenses), but it's not always the case. In this article, we'll take a brief look at 15 free tools you can use to improve your marketing and outreach.
1. Canva
Canva is a tool that enables people to create stunning visual content without significant graphic design skills. The software offers an extensive library of templates and assets. It's also possible to add your imagery. Canva is perfect for those who need to create visual marketing content for social media and blogs but don't want to learn design.
2. HubSpot
HubSpot offers a whole bunch of marketing tools, a good portion of which come for free. These include various popup tools, chatbots, a WordPress marketing plugin, and a form builder. The platform also offers a free CRM and one of the most powerful automation toolkits in the industry.
3. Grammarly
Grammarly is a virtually irreplaceable tool that helps you polish your writing. It differs from standard embedded spell checkers by its analyzing abilities. Grammarly catches punctuation mistakes and provides word suggestions depending on the writing style you want to use. The premium version also enables writers to check for plagiarism.
4. BuzzSumo
BuzzSumo helps content creators simplify the research process. It lets you find popular content in your industry by keywords and search queries. Various filters allow you to search exclusively for how-to content and posts published from specific countries. The platform also offers a large set of tools for analytics.
5. Google Analytics
Google Analytics is one of the most widely used free analytical toolkits. In addition to performing the measurements, the platform records all your previous metrics. It can track product purchases, form submissions, scroll-depth, and numerous other elements. Google Analytics becomes even more powerful if you take the time to learn it more thoroughly.
6. Atlas
Atlas is a data center that can create graphs, charts, and data visualizations of anything a user requests. You can perform a search by topic or keyword. Atlas is a great tool to get an immediate understanding of the topic you want to depict or write about. Atlas is also useful to keep track of data on the same subject when the project takes a long time to finish.
7. Giphy
Giphy is a service that allows users to find the best GIFs by keyword or topic. It has a Chrome extension, which makes it even more accessible. You can simply search for a GIF there and drop it into any field in the browser. In the world of social media marketing, Giphy can help facilitate the process of creating and posting content and make your content more enjoyable to read.
8. Nimbus Screenshot
It's easy to capture a whole page or a part of your screen with built-in tools, but sometimes one screenshot must contain content that you can only access by scrolling. Nimbus multi-browser extension is perfect for this task. This software helps you capture any part of the page you need, including a selected scroll, and edit it before saving or printing.
9. ThingLink
ThingLink helps make infographics, images, and other visual content clickable. After you upload an image, the software creates icons that appear to visitors on mouse-over. When clicked, they can display a message or redirect the person to another page. The resulting ThingLink interactive images are easy to embed anywhere you need them.
10. Google Docs
When it comes to software for writers, debates can stretch on forever. Google Docs might not be the best fit for everyone, but it's a powerful tool that can help you write and organize your content quickly and easily. Also, since all your documents remain on the cloud, you can access your work anytime from different devices. You can also edit offline, and everything you have written will sync automatically once the connection is restored.
11. PlaceIt
PlaceIt allows you to put your products or web pages onto the screens of real-world devices. It removes the necessity to use stock photos of people holding smartphones that show a generic advertisement. PlaceIt also accounts for the tilt and size of each screen on the photos it uses, so your images will blend in without trouble.
12. HootSuite
HootSuite helps manage content that is spread across various social media. The platform offers a hub where you can organize the working process and schedule posts. HootSuite is compatible with more than 35 different platforms, including Twitter and Facebook. The software can help content marketing managers and bring clarity into the process that often feels chaotic.
13. AWeber
AWeber helps organize and optimize the process of writing emails. This software enables users to create and send emails, gain subscribers, and send broadcast messages. It gives you access to a collection of templates depending on the type of each email, and you can also create custom ones. The platform also provides a set of tools for analytics.
14. WordPress
WordPress is an extremely popular, reliable, and handy CMS. It is equally suitable for beginners and pros. WordPress gives you a platform to share your content and provides all the necessary tools, such as themes and plugins, to make it thrive.
15. Yoast
Yoast is a WordPress plugin that helps improve SEO for your content. This software lets you preview and edit meta-descriptions, optimize your content for a keyword, check readability, preview your page on Google (Twitter and Facebook are included in the paid version), and do a ton of other things that are hard to nail manually.