Keeping up the Halloween spirit, today we have brought for you an extensive list of Halloween icon sets. Whether you are looking for spooky icons for your Halloween themed apps and games or want to give a seasonal creepy touch to your websites, these icon sets have icons for almost everything and anything related to Halloween.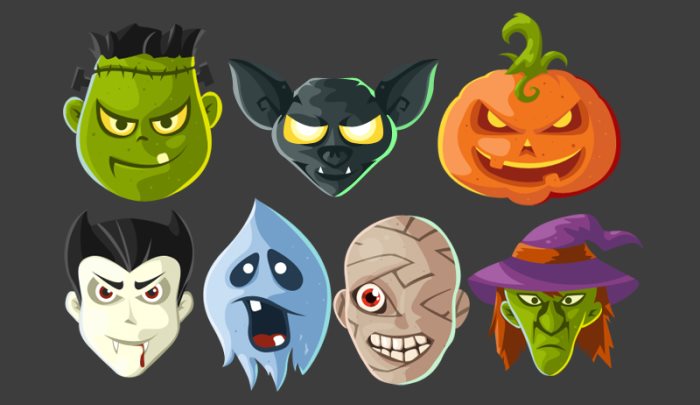 Halloween is all about pumpkins and some of the below icon sets like Wicked Wall and Pumpkin Emoticons are hugely inspired by jack o' lanterns and pumpkins. The post features both free and paid icons, so we have divided it into two sections – one covering free Halloween icon sets and the other focused on premium Halloween icons. Please note that some of the premium Halloween icon sets contain our affiliate links.
If you haven't already, then do check our series of posts on Halloween resources that we are doing lately for all you creative developers and designers.
Free Halloween Icon sets
Below you will find free to download Halloween icon packs that you can use in your personal and/or commercial projects.
50 Halloween Vector Icons
This freebie exclusive to our site contains 50 cute icons designed around Halloween.  Icons come in 3 styles – Outline, Lineal Color, Flat and are available for free download as SVG files as well as 512x512px PNG images.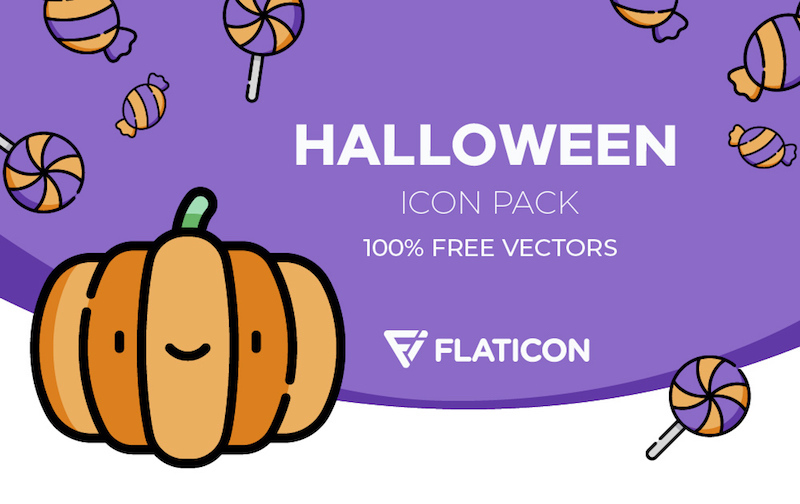 Halloween Vector Icon Set
A set of 20 thematic icons for your Halloween design projects. Free for use in both personal and commercial projects, these icons are available as AI, EPS and PNG files. Icons are provided in 2 styles – outline and colored and include spider icon, icons for skull, candies and cauldron.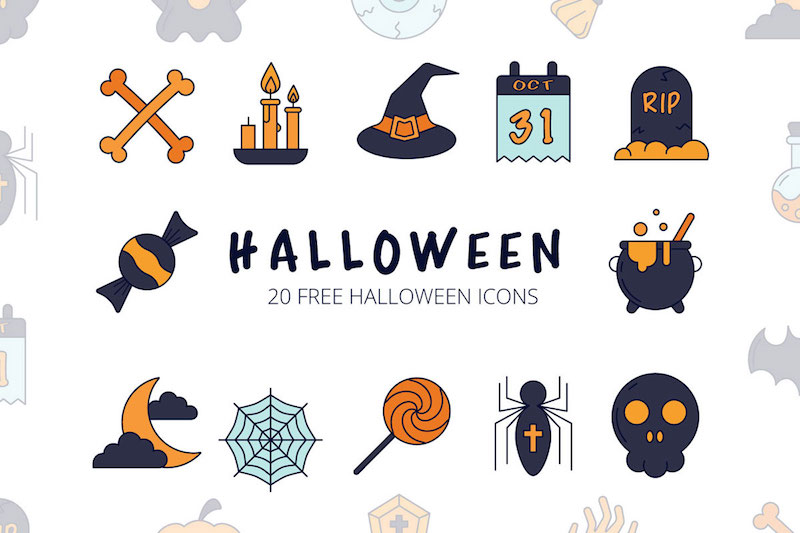 AI & Sketch Halloween Icons
This icon pack includes 12 free for personal use flat Halloween-y icons in AI and Sketch formats.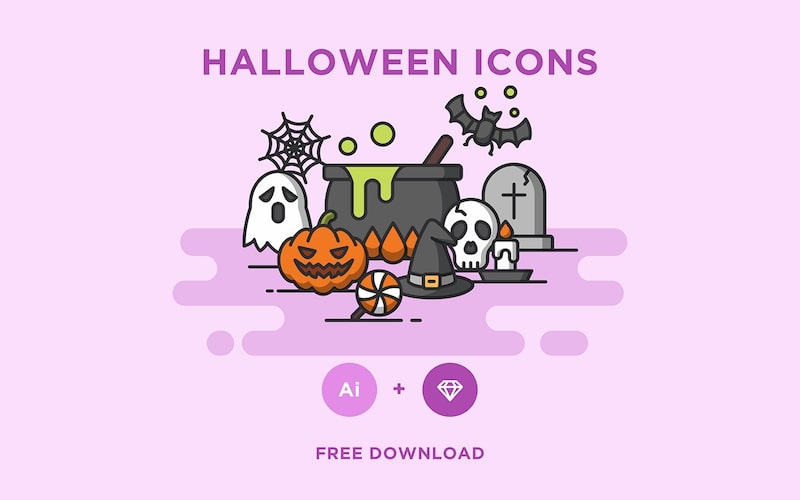 22 Halloween Icons
A spooky Halloween icon set inspired by classic cartoons. This icon set from Smashing Magazine contains 22 unique Halloween icons, including icons for mummy, pumpkin, bats, and many more in PNG format in 5 sizes – 32×32, 48×48, 64×64, 128×128 and 512×512 px.
Halloween Character Pack
A Halloween character pack in EPS and AI vector formats from Freepik. This cartoonish character pack includes icons for mummy, vampire, grim reaper and more.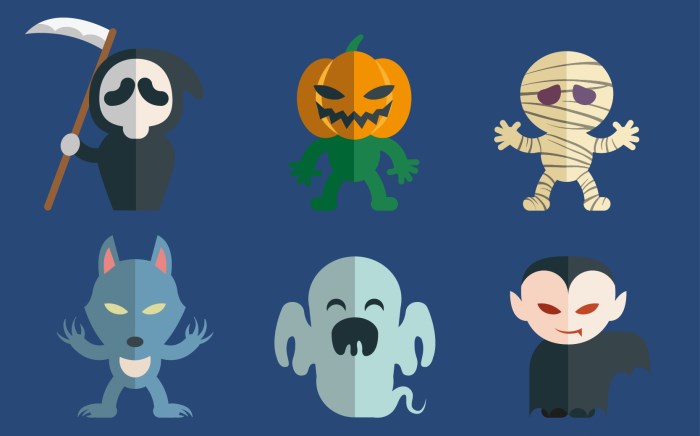 Wicked Wall
This is a unique set of pumpkin-carved Halloween icons inspired by famous characters from books, movies and cartoons, like Harry Potter, Darth Vader and Mickey Mouse. This set of 13 icons from Iconka comes in PNG format in 3 sizes – 64×64, 128×128 and 256x256px.

Colorful Halloween Icons
This free icon set comes in PNG and SVG formats in three different versions: solid color, outline and full color with shading. You will find icons for spooky pumpkins, witch's cauldron and haunting ghosts amongst others.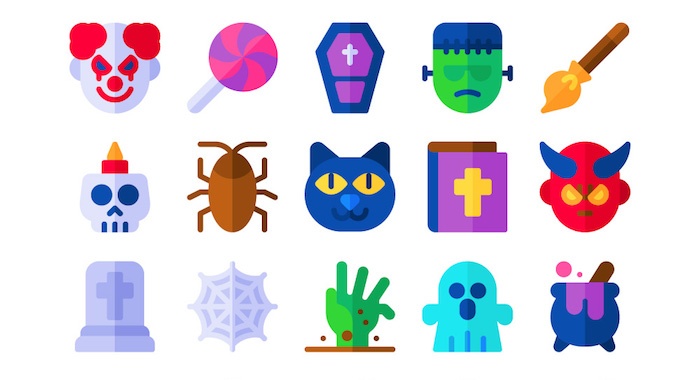 40+ Halloween Icons
This is a set of 42 spooky Halloween icons available in both SVG and 128×128 px PNG formats. The icons come with personal as well as commercial use license.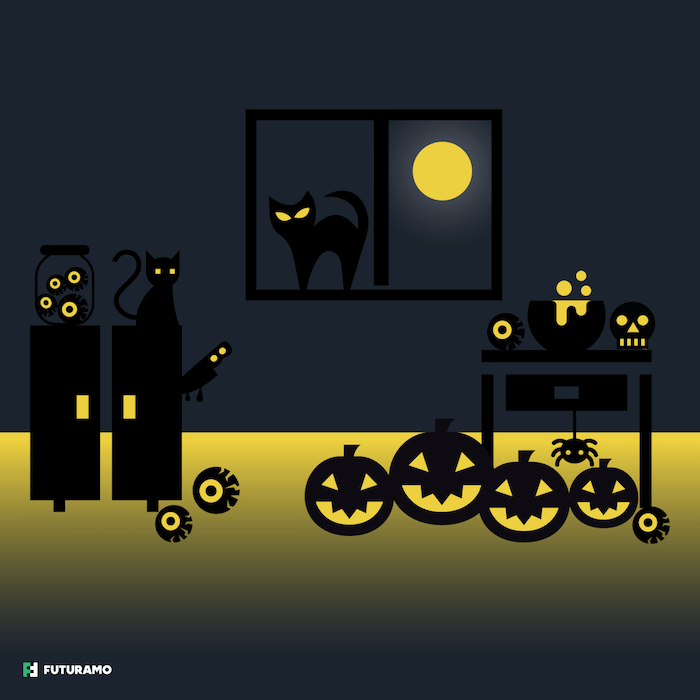 Spooky Icons Free
Spooky Icons Free is a set of 12 hand-drawn free Halloween icons. These icons from HandDrawnGoods are available in AI, EPS, PSD and PNG formats and include icons of ghost, grave, bats, pumpkins, and more.
There is a also a premium Halloween icon set available that has an exhaustive set of 100 icons, you can find its details in our following section on paid Halloween icons.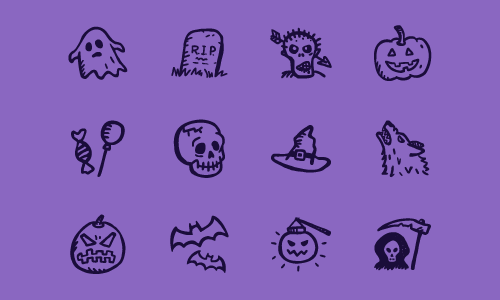 Halloween Icons – Free
A set of free Halloween icons in AI format by Jory Raphael.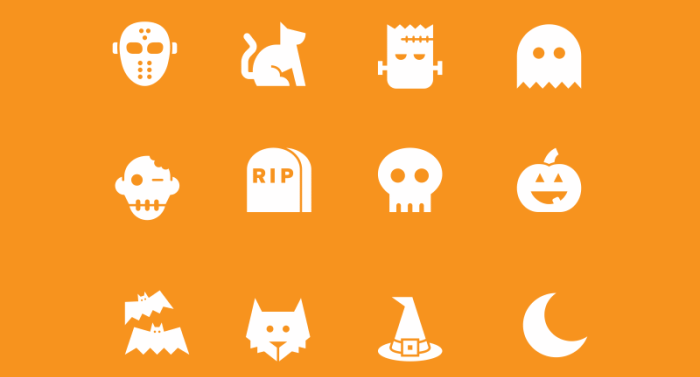 Pumpkin emoticons for Halloween
A set of Halloween pumpkin emoticons in AI and EPS formats by Freepik. This set includes some amusing icons like pirate pumpkin and vampire pumpkin.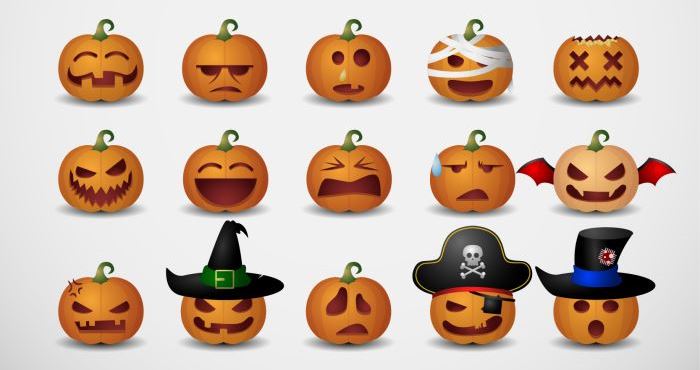 Smashing Pumpkins
Smashing Pumpkins from Smashing Magazine includes 14 exclusive Halloween icons (PNG up to 512×512px) as well as vector sources (AI CS3 and EPS files).
Halloween Head Icons
This is a set of 7 Halloween icons in PSD and PNG (256x256px) formats from Pixaroma. In this free set you can find some great cartoon characters such as: bat, Frankenstein, ghost, mummy,  pumpkin, vampire and witch.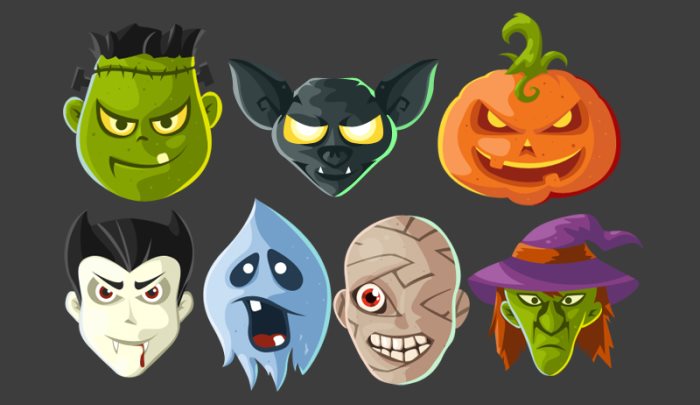 Halloweeny Icons
A set of flat Halloween icons in EPS format by Greg Christman.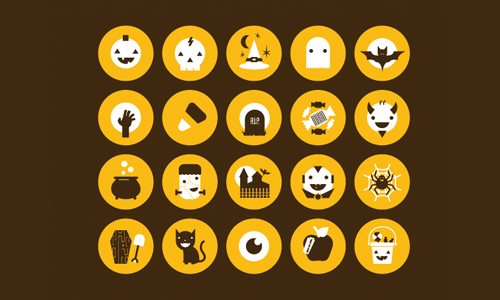 100+ Free Halloween Icons (PNG + SVG)
This is a comprehensive set of 100 royalty free halloween icons vector in SVG and high resolution PNG formats from Designrazzi.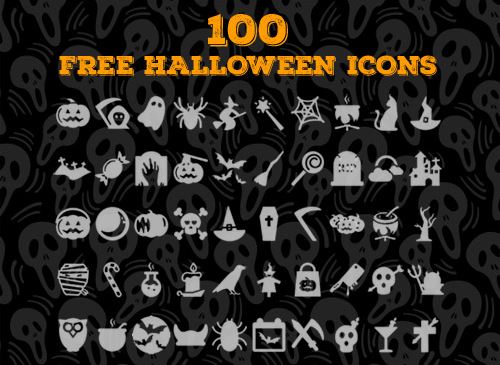 Free Halloween Vectors
This is a pack of hand-drawn Halloween icon vectors by Leshante Tennant. Icons come in two styles – outline vectors and colored vectors.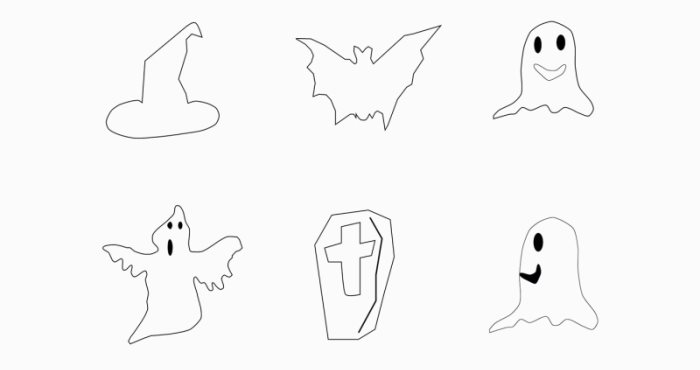 Premium Halloween Icon sets
Here you will find premium set of Halloween icons from design marketplaces such as GraphicRiver and Creative Market as well as independent design studios.
Designed by iconsoul, this hipster Halloween avatar flat icon set is available on GraphicRiver in layered AI, EPS and PNG (512 px) formats. These icons come in two variations: square and circle.
Pricing: 6$ for regular license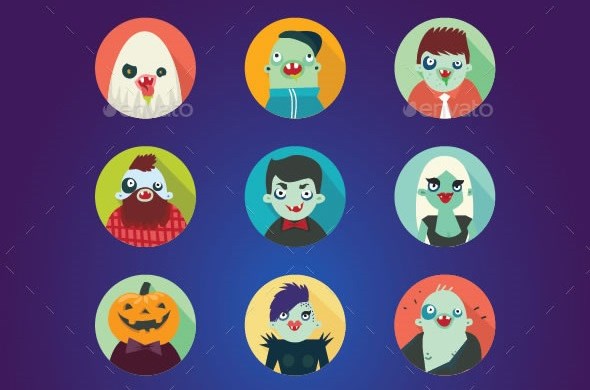 A set of 48 Halloween icons in AI, EPS10, PSD and PNG (512, 256, 128 and 64px) formats by painterr on GraphicRiver. The icons are available in three styles – lineart drawing, solid fill silhouette and vintage colors.
Pricing: 11$ for regular license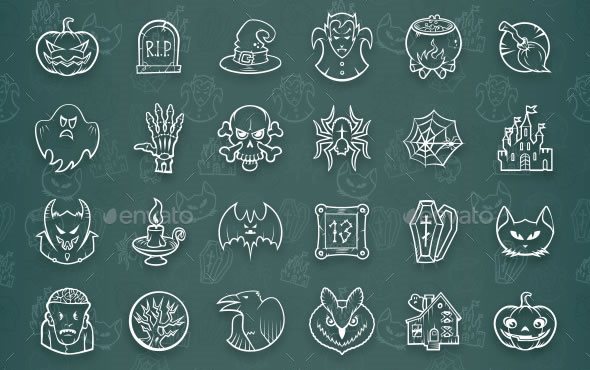 This Halloween vecor icon pack by Idette Designs contains 2 EPS files – Halloween vector and Free Halloween vector pack. This icon pack includes icons for satan, holiday, evil, and many more and can be purchased on Creative Market.
Pricing: 9$ for simple license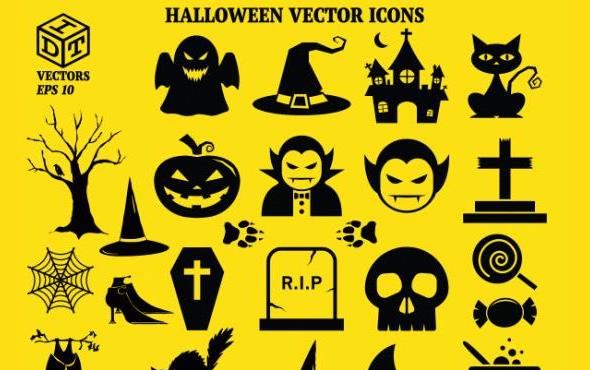 This Halloween flat icons set by Creative Toons on GraphicRiver contains 39 different icons. The downloadable file includes JPG, EPS10 and AI files.
Pricing: 6$ for regular license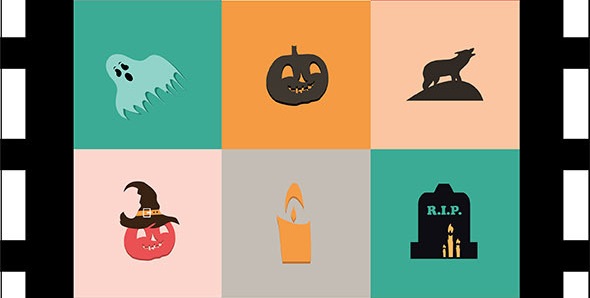 A set of Halloween flat long-shadow icons to be used for web, app icon, presentation or print. Designed by junoteamdz, this iconset is available in AI, EPS and PNG (256x256px, 512x512px) formats on GraphicRiver.
Pricing: 9$ for regular license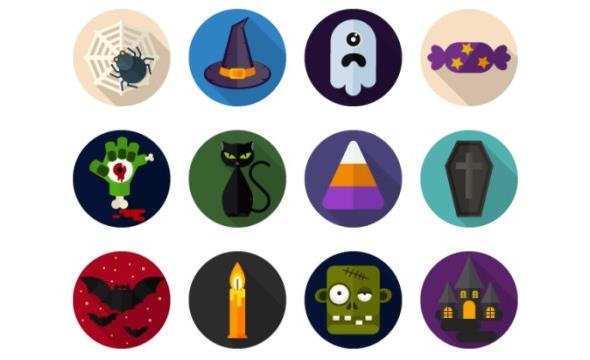 This icon set from GraphicRiver includes Halloween vectors, images and social icons. Designed by designblitz, the icons are available in AI, EPS and PNG (64, 128 and 256px) formats.
Pricing: 4$ for regular license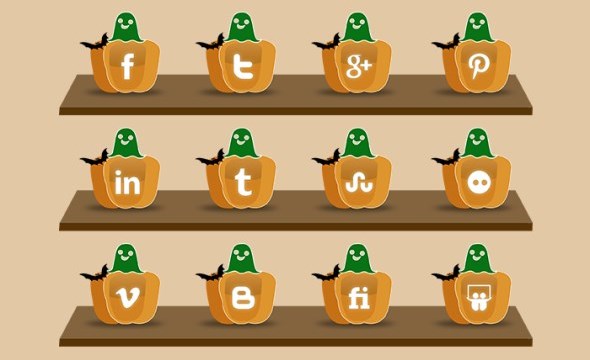 A set of flat icons for Halloween objects in EPS vector format by Katsiaryna Gatsak. You can purchase this icon set after choosing a Shutterstock subscription plan.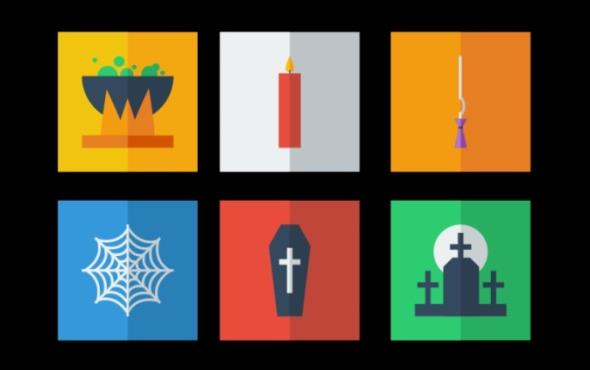 Spooky Icons is a set of 100 hand-drawn spooky icons for Halloween season. Icons are available in AI, EPS and PNG (32, 48, 64, 128px) formats. There is also a free version of this icon set that includes 12 icons and we have covered it in the previous section for free Halloween icons.
Pricing: 16$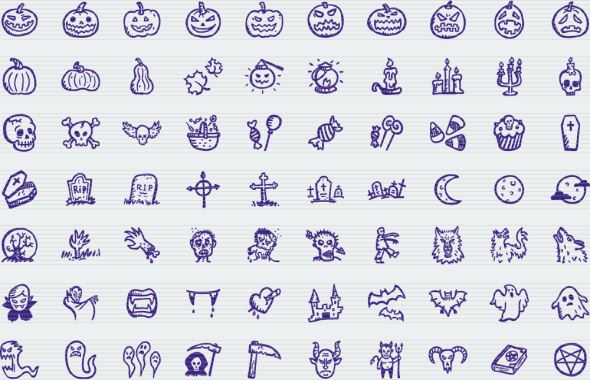 Hipster Halloween set of icons and elements in EPS10 formats by Marish. This hipster icon pack can be purchased on Creative Market.
Pricing: 7$ for simple license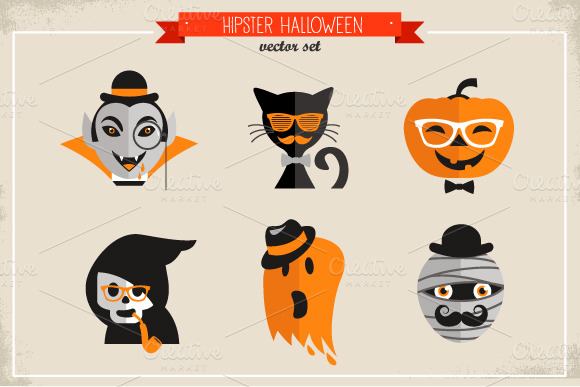 Flat Halloween line icons in vector EPS format by karawan on GraphicRiver.
Pricing: 6$ for regular license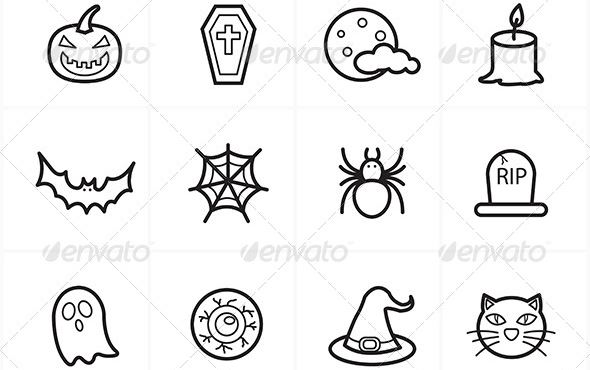 How did you find our series on Halloween themed resources? If there is any resource whether related to Halloween or in general that you want us to cover in our future posts, feel free to let us know in the comments below.
We look forward to some awesome Halloween themed apps and games from your end. You can share your work with our readers in the comments below. And please make sure to share this post with your friends too, we would really appreciate it!