3D illustrations continue to flourish in the web and digital design world. Use of illustrations in UI design is not a new design trend (see sites to find free illustrations), it has been popular for some time now, however, with hyper realistic 3D graphics that blur the gap between digital and physical, we are seeing a rise in the popularity of 3D illustrations alongside 2D illustrations in web and graphic design.
To help you incorporate this modern trend in your own designs, we have scoured the web and put together the best free 3D illustrations and icons that you can download and use in your own web and app UI. To start with, you will find free to download 3D illustration and icon packs. Towards the end, you will also find a couple of sites where you can search and download 3D design assets for free.
These vibrant and colorful 3D illustrations are perfect to add eye-catching elements that engage your viewers. You can also combine these 3D illustrations with gradients, photos, typography, flat illustrations, or even add animations to make your design stand out. Read on!
Saly – Free 3D Illustrations Figma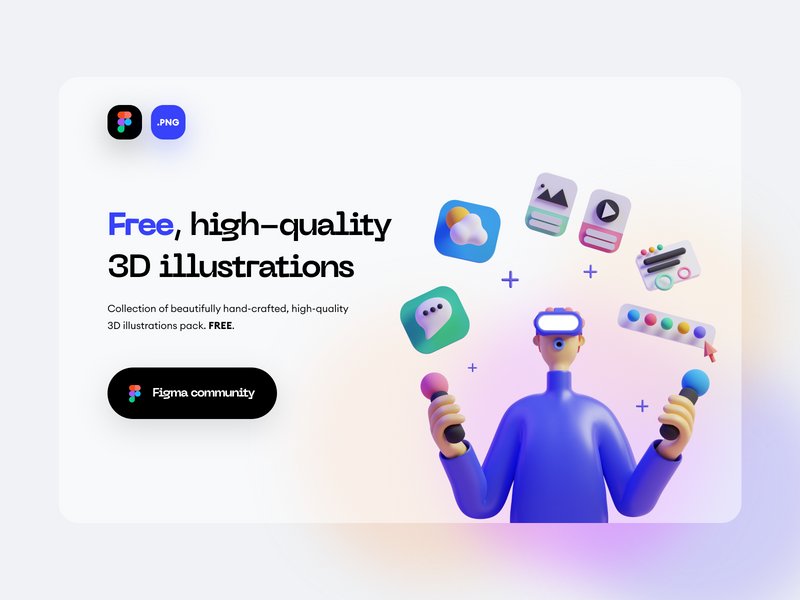 Saly designed by Alzea Arafat is a collection of free high-quality and vibrant 3D illustrations that will add personality to any design they are used in. Currently, it offers 45 illustrations and is constantly updated with more. You can grab these for free from Figma community.
Nikuu – Free 3D Character Illustration Pack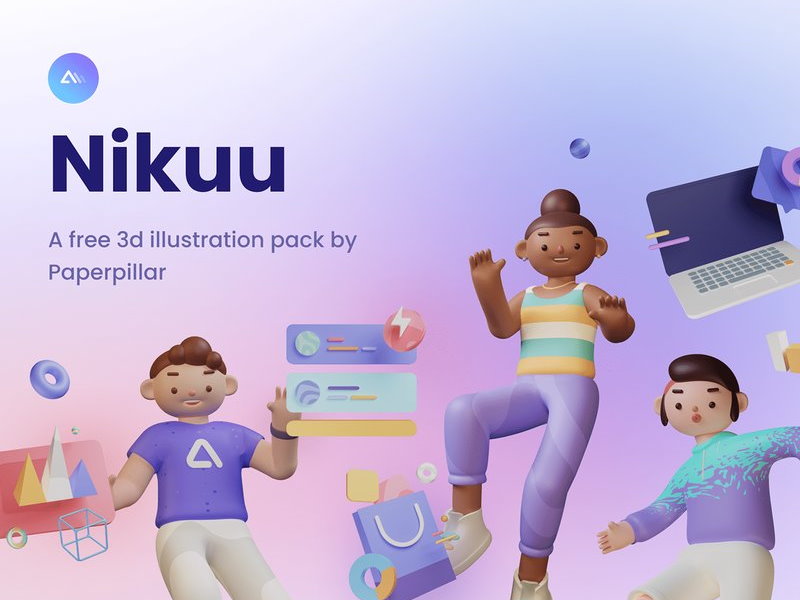 This is a free illustration pack by Paperpillar containing 3D characters and objects that you can combine together to construct 3D illustration scenes for your web projects, apps and more. It comes with 3 characters in 5 poses and 20 objects for you to mix and match.
These bright and stylish illustrations are available as Figma file that you can duplicate to add to your Figma files directory.
BAM – Free 3D Illustration Kit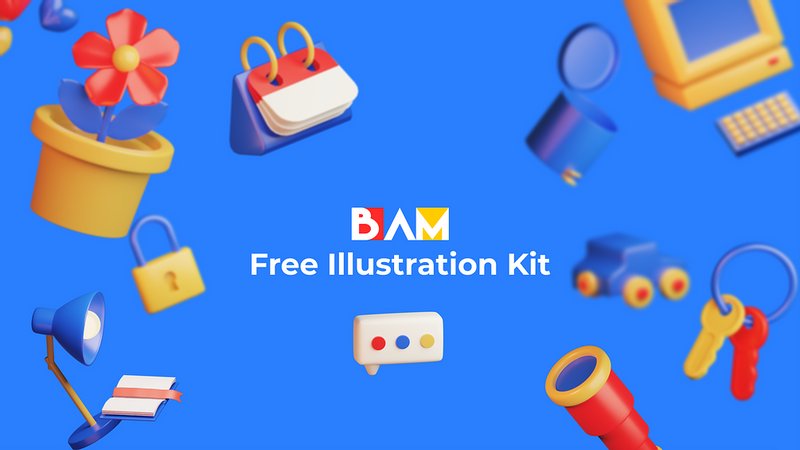 Bring a modern and colorful touch to your UI and presentations with this free 3D illustration kit from BAM Design agency. Download includes 36 of the most-used 3D icons for calendar, computer, cloud, mailbox, message and many more in PNG format.
Shopingin – 3D eCommerce Illustrations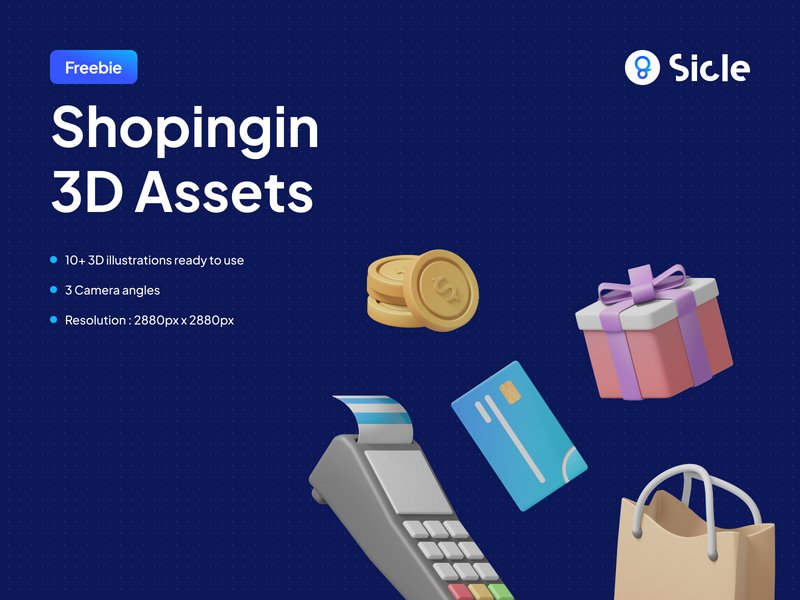 Shopingin is a free 3D shopping and e-commerce illustration pack designed by Raihan Athaya Fawwaz for Sicle Team. Includes 10+ high resolution shopping related illustrations such as card, shopping bag and shopping cart in 3 camera angles. Available for free download in Figma format.
You may also like: Free eCommerce Icons and Free Payment Method Icons
Bzzzt – Beautiful 3D Abstract Illustrations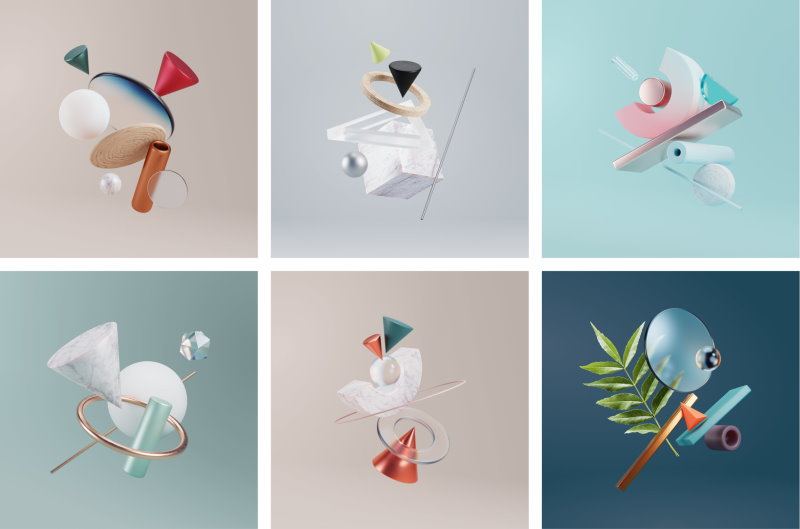 Bzzzt is a free collection of 6 beautiful and hyper realistic 3D abstract illustrations by Lstore Graphics. These 4K high quality 3D geometric compositions can be used in UI project to make them more attractive and inspiring. Do check out the product page for sample mockup designs for inspiration on using these 3D illustrations in your own designs.
Free for your personal and commercial projects, these 3D illustrations are available in PNG, vector SVG and AI, PSD, Figma, Sketch, Adobe XD and Affinity Designer formats.
Handz – 3D Hands Gestures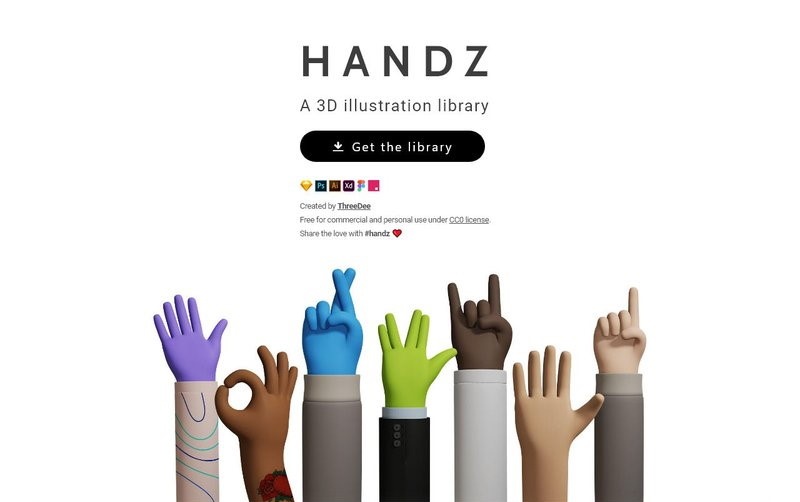 Handz free version is a CC0 licensed library of 3D illustrations of diverse hand gestures. You get more than 320 combinations of hands in 9 skin colors, 3 different sleeves, and 12 different gestures. Included are PNG renders you can use in any designer software, such as: Photoshop, Sketch, Figma, Studio or Illustrator along with Sketch files and original Blender files (.blend). Free to use in your commercial projects such as apps, websites, posts on social networks, newsletters, and more.
30 Free 3D Design Elements PNG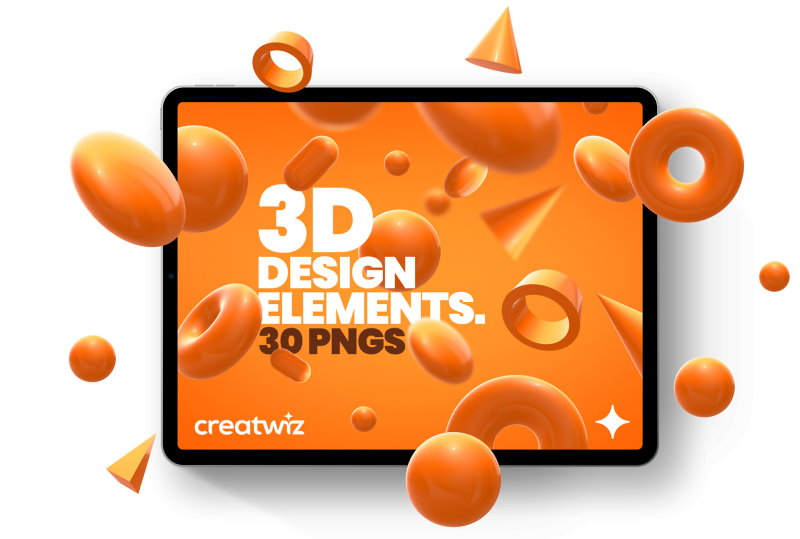 A free set of 3D elements in transparent PNG files by creatwiz you can use to add 3D depth to your interface design. Free for both personal & commercial design.
50+ Free Earthy Abstract 3D Shapes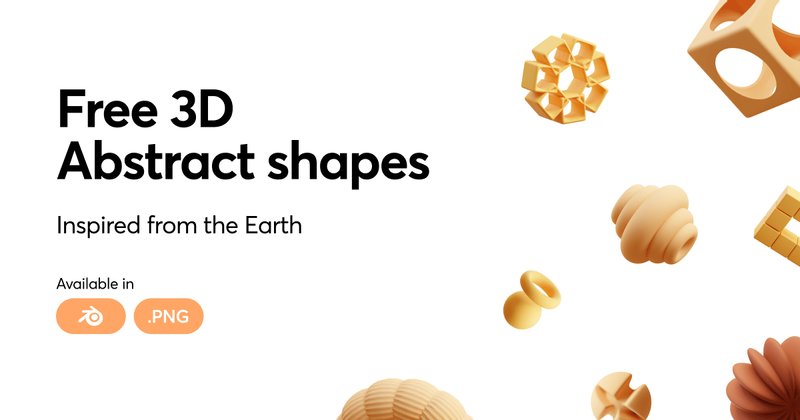 Created by Iconscout team, this is a set of 50+ free and ready-to-use abstract 3D shapes inspired from the earth. All these 3D shapes feature detailed soft textures, you can customize their colors and camera angles using the source Blend files. 3000×3000 px high quality PNG renders are also provided with the download.
These abstract 3D shapes of stars, spheres, wireframes and cuboids can be used to enhance your apps, websites, posters, social media graphics and much more.
45 Free 3D Illustration Pack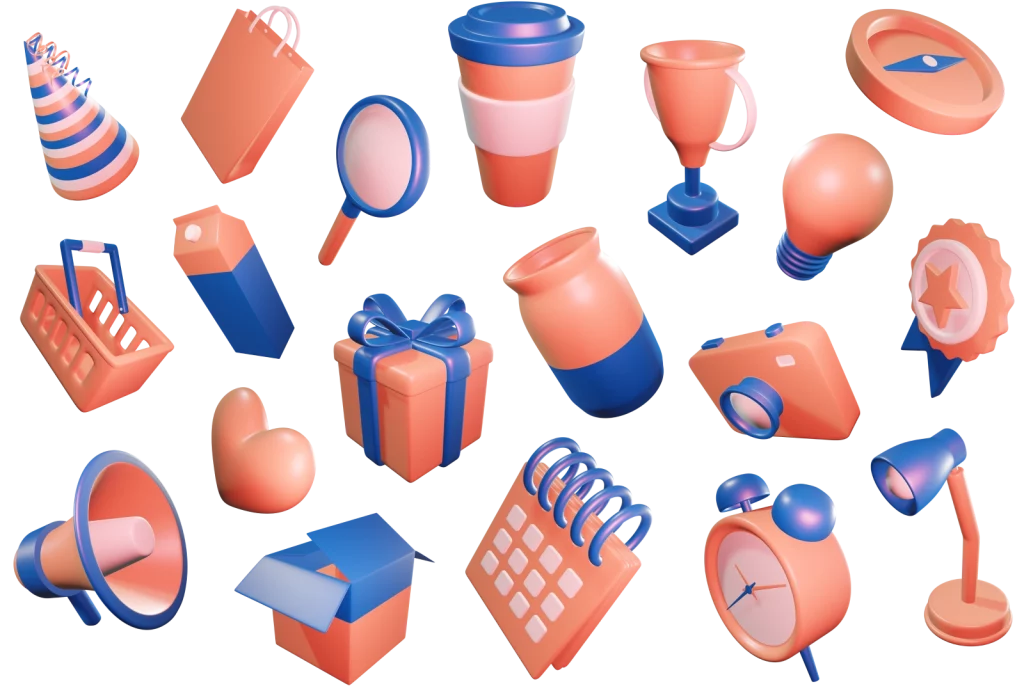 Free open source 3D illustration pack library for web and mobile app designers by Nitish Khagwal. It has 45 illustrations available in 5 color themes and 5 different angles. You can download all of these at once as Figma file or individually as separate PNG file from the explorer.
Slam – Free 3D Tech Illustrations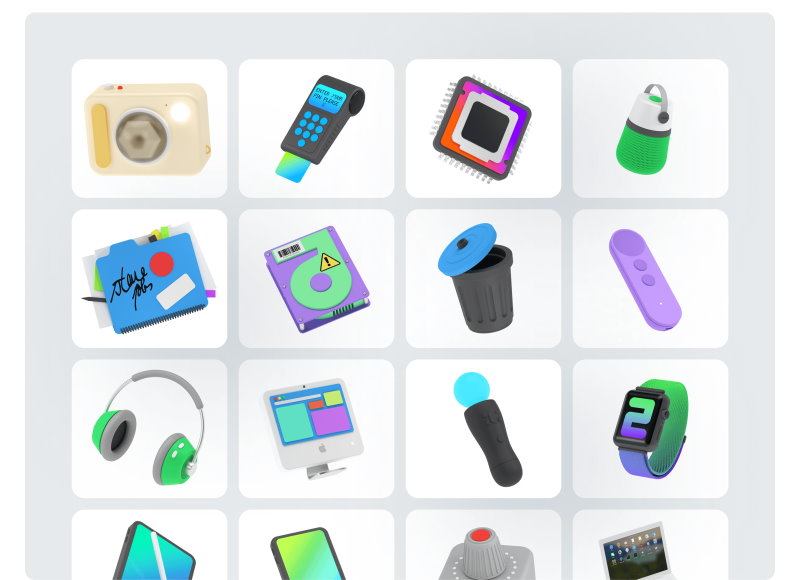 Slam is a set of free 3D technology related illustrations designed and released by Craftwork. Discover nice objects created with Cinema 4D. Included are 16 3D colorful illustrations of virtual reality tools and every day gadgets you can use on websites, in apps or presentations. These illustrations are provided in PNG formats along with source Cinema 4D files that you can use to customize any object. Available for free personal and commercial use.
12 Free Valentine's Day 3D Illustrations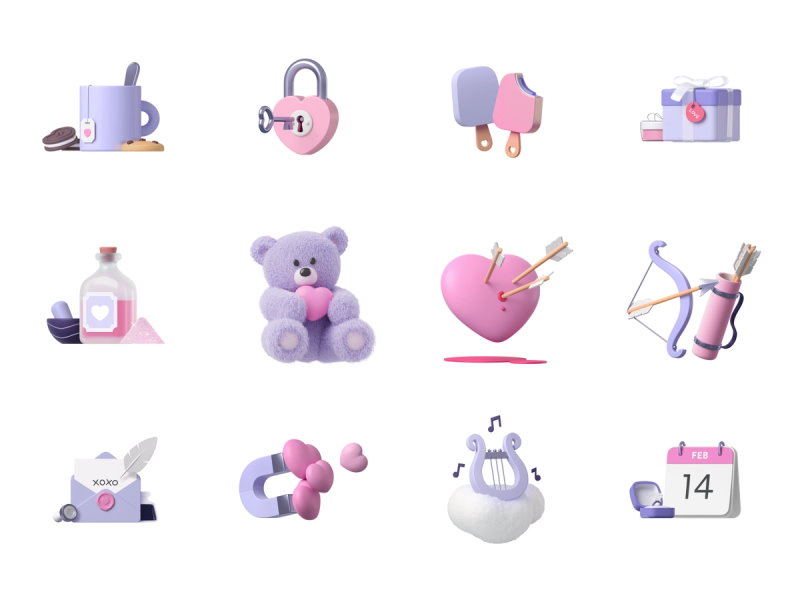 A highly-detailed 3D illustration set for Valentine's Day designed by Igor Kozak for 10Clouds. Free for personal and commercial projects. On downloading, you get 12 beautiful illustrations in soft pink-lavender color scheme in multiple formats – PNG, Figma and Sketch. Included are 3D illustrations for teddy bear, heart, elixir, cloud, bow and more.
Related: 350+ Free Valentine's Day Icons
3dicons – Open Source 3D Icon Library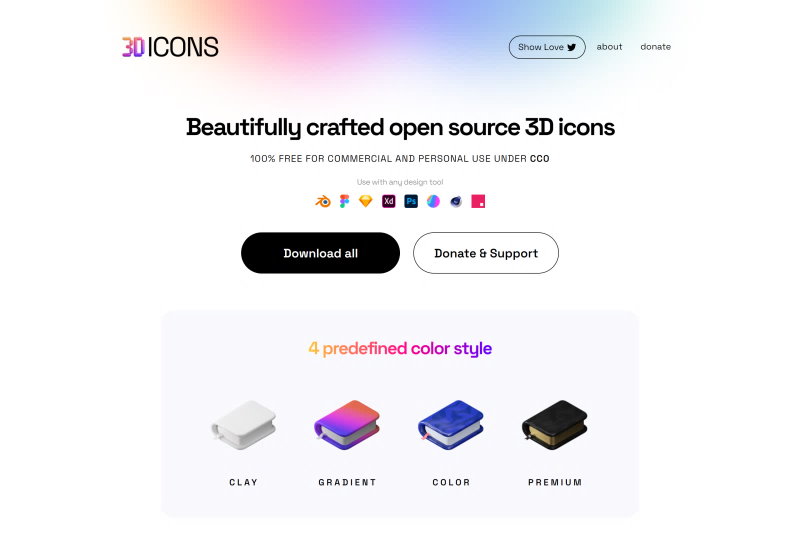 3dicons by Vijay Verma offers beautifully crafted open-source 3D icons. There are a total of 1440+ icons with 120 unique icons in 3 camera angles and 4 color styles – Clay, Gradient, Color and Premium. Available under CC0 license, these icons can be used completely free and without attribution for personal or commercial projects.
There is also a free Figma community file that contains mockups, presentations, and screens for 3dicons project examples, you can use these as inspiration for including these icons in your own work. Download includes 2400 x 2400 px image, .blend file (setup to customise as per need in Blender) and .fbx file (if want to import to 3D software like – C4D).
37 Business 3D Icons Free PSD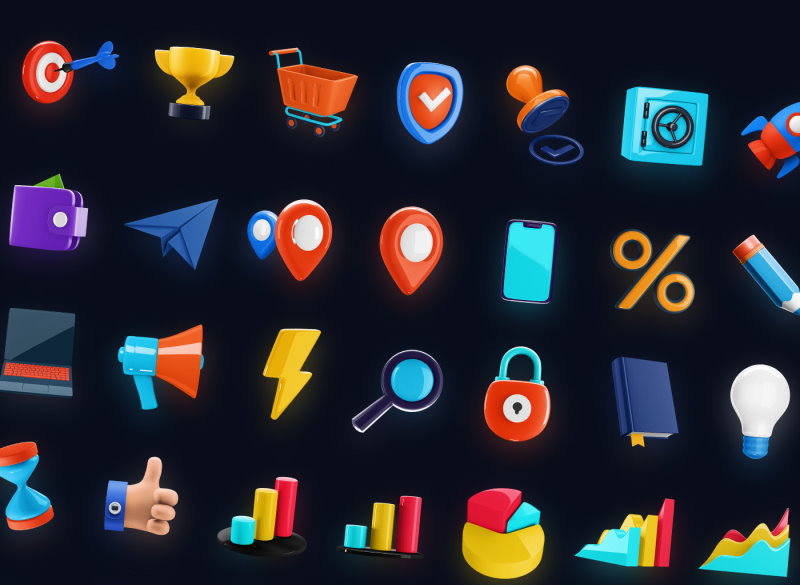 This is a pack of 3D business icons available for free download in PNG and PSD formats. Designed by Egor Mironov, this free set has 37 icons for target, purse, plane, location pins, charts, wallet, megaphone, coins, search and more.
Related: Free SEO Icons
12 Free Social Media 3D Icons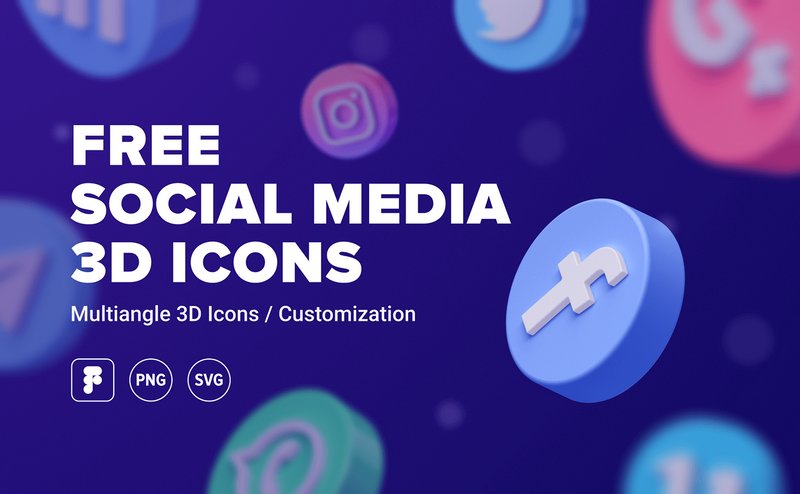 This is a set of 12 free 3D icons for social media you can use on your sites, apps, presentations, landings, and other projects. Designed by Denis Krasavchikov, the icons are available in SVG, PNG and Figma formats. Icons are provided in 2 camera angles (3/4, Parallel), their reflections can also be customized.
You may also like: Free Social Media Icons
3D Bay – Free 3D Stock Images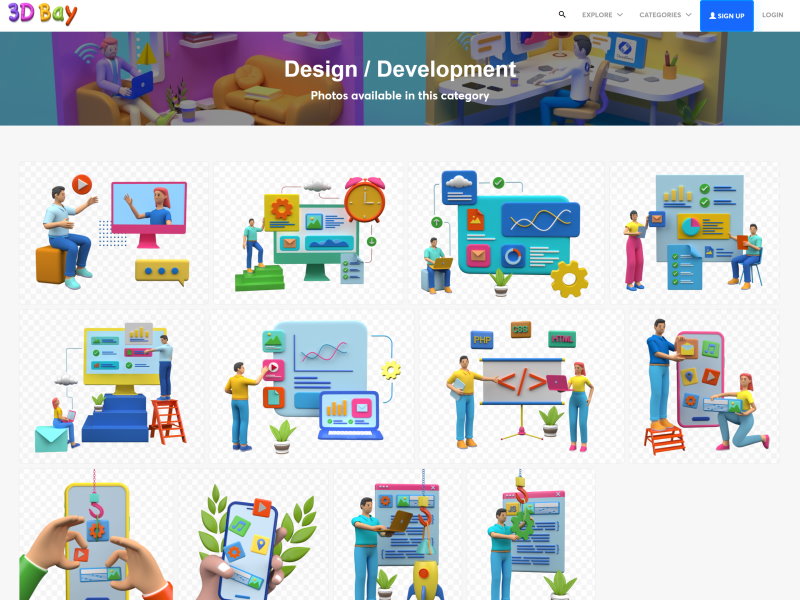 At 3D Bay, you can find high-quality royalty-free 3D illustrations that are free to download in PNG format. These 3D stock images are sorted into a range of collections and categories such as online education, cryptocurrency, design/development (seen in the above image), business, finance and many more. You can download and use these 3D images in your projects for free and without attribution.
Icons8 3D Clipart Illustrations – Free PNG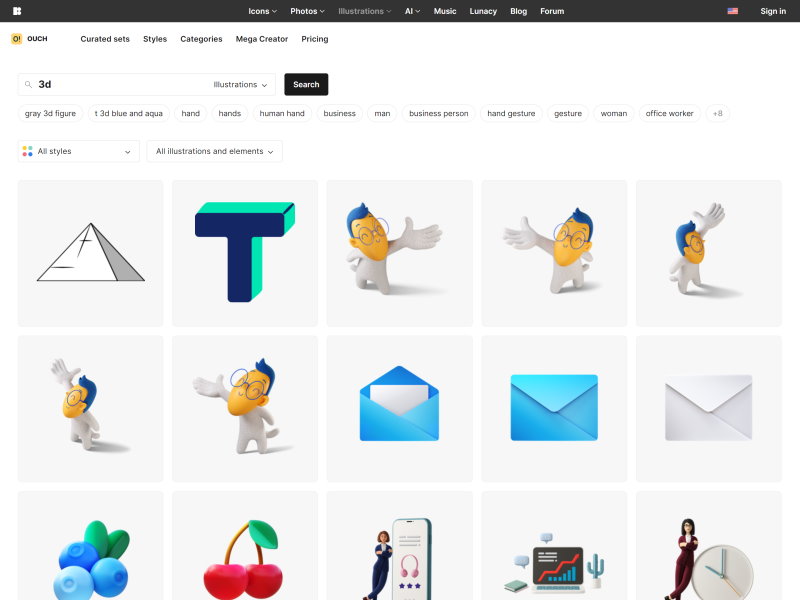 Icons8 has collection of free 3d clipart images and illustrations in 45 different styles for graphic design, UI, social media, web and mobile. You can use these icons for free for personal or commercial use by providing credit to Icons8.
Free download includes PNG images for use in your designs with attribution. Purchasing their subscription gives you access to vector SVG files, and you won't need to link back.
Bonus: Premium 3D Illustrations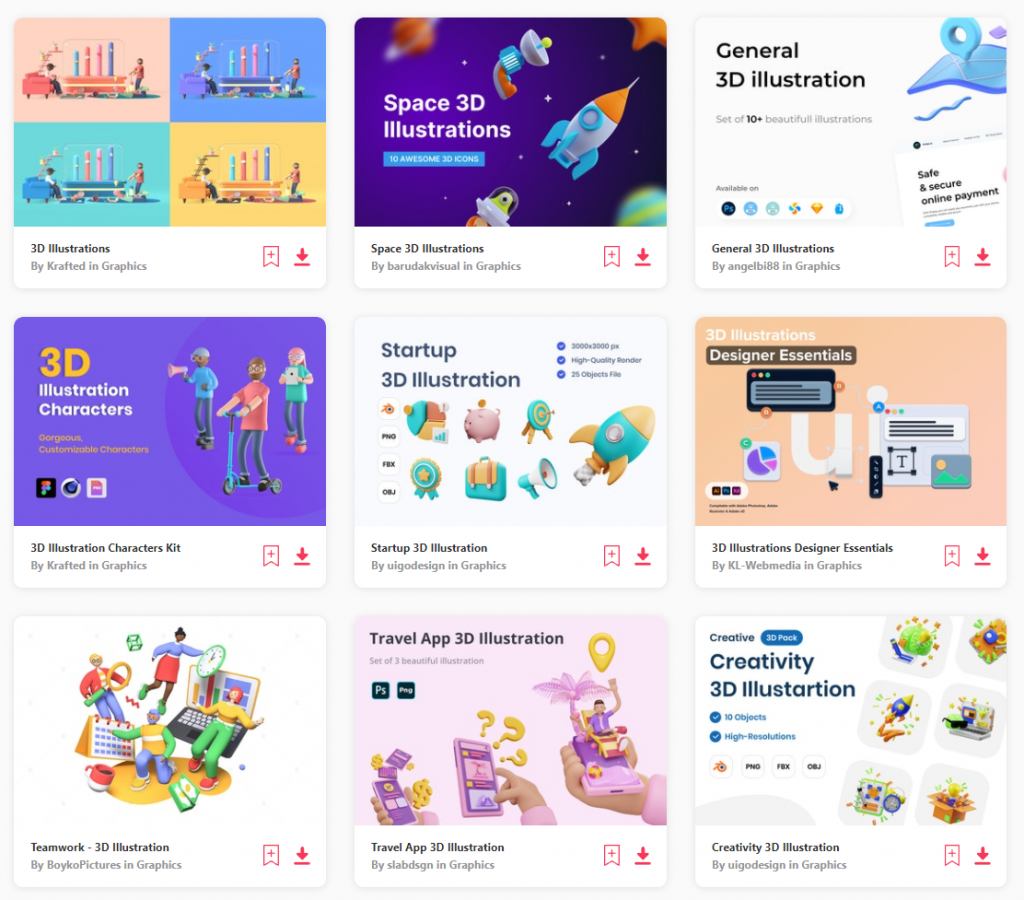 If the collection of free 3D illustrations above is not able to fulfill your needs, then you may want to check out premium 3D illustrations available on Envato Elements as well. They allow commercial use and offer a variety of illustrations ranging from startup, creativity, travel, 3D characters and much more that can be used in your websites, apps and presentations.
Conclusion
3D illustrations bring vibrancy to any design, whether it is web or app interface or a promotional graphic. Have you used 3D illustrations in your design work? Do let us know in the comments below. If you know of more such free for commercial use 3D illustrations, kindly share it with us and our readers by leaving a link to the resource page in the comments section. And lastly, if you liked this collection of free 3D illustrations and icons, do share this article on social media, thank you!
You might as well want to check out these articles that offer free resources such as icons and fonts that can come in handy in your web design projects: