Stencil typefaces are designed with breaks in their strokes that gives them an appearance that the characters have been cut or spliced. You would usually find this font style used in industrial themed designs, packaging, video games and media related to military. In this article, we round-up some of the best stencil fonts you can download and use in your own designs.
The stencil fonts you'll find below range from bold and sturdy (Black Ops One) to having thin (Stela UT), minimal (College) and decorative letterforms (Belladona Stencil). These fonts illustrate how type designers have beautifully made stencils work on traditional type categories, serifs, sans serifs, scripts and in different styles such as sci-fi and vintage to help you create authentic stencil effects in your designs.
We have included both free and premium fonts in this collection to help you find the best fit for your design. All the fonts listed below are available for download as True Type (.ttf) or Open Type (.otf) font formats and will work with both Windows and Mac. Read on to get a preview of these fonts as well as the links to their download pages.
Free Stencil Fonts
In this section, you will find completely free to download stencil typefaces. All these fonts come with free personal and/or commercial use license. A couple of these fonts such as Allerta Stencil are also available on Google Fonts from where you can embed them on your websites. Links to Google Fonts are provided below wherever applicable.
College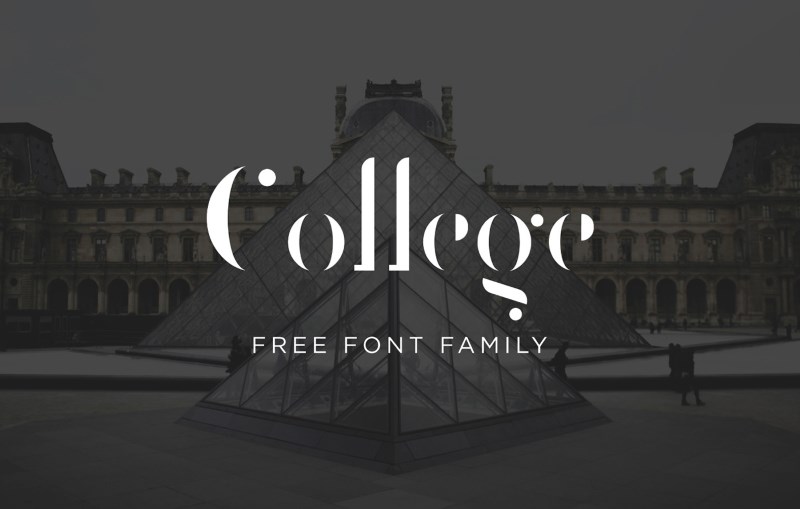 College is an elegant stencil font designed by Corentin Riviere. Its letterforms are based on the architecture of College de France, finding inspiration in the arches & columns of the building, and feature a mix of sharp and soft rounded corners.
The font comes with full set of lowercase and uppercase alphabets, numerals and basic symbols. Font Format: TTF and includes commercial use license.
Marsh Stencil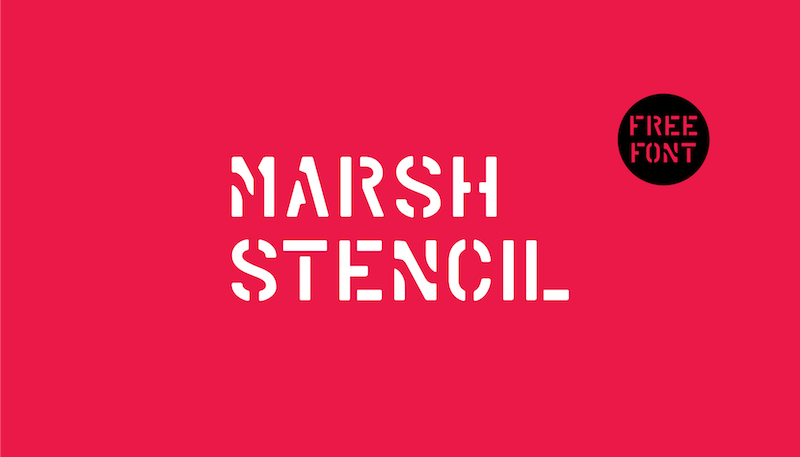 Marsh Stencil is inspired by the old stencil typeface produced by the American company MARSH Stencil Machines during WWII. Its characters have soft, rounded corners.
Some of the letters such as M, N, A and V feature unique cuts in their strokes that give them a stylish look that can be utilized in designing single-letter logos. Created by Guilherme Schneider, Marsh is a multilingual font available for free download in OTF format.
Roska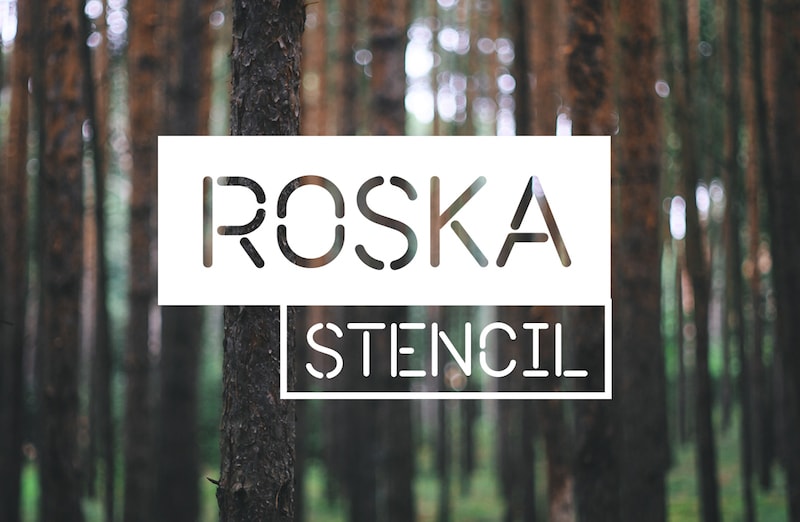 Roska is an all caps stencil font with round edges. According to the designer Uppertype Foundry, the font was designed bearing in mind influences of Portuguese winery labeling and a growing trend of stencil fonts used in branding of restaurant and food related companies. Roska is free to use in personal and commercial design work and comes in TTF format.
Belladona Stencil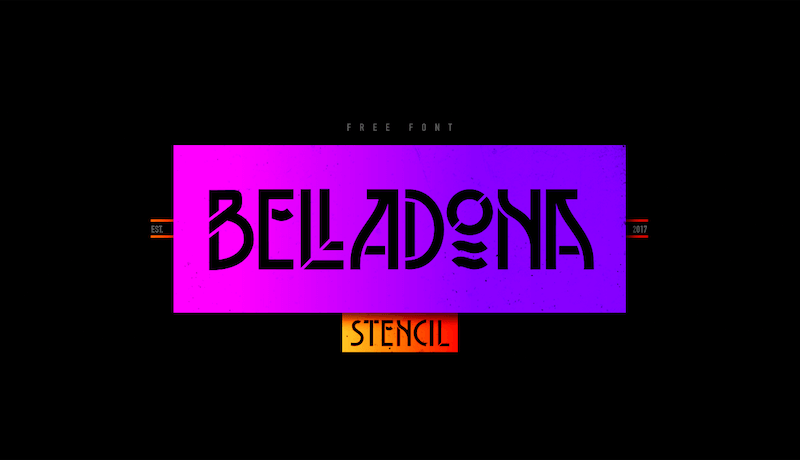 Created by Tano Veron, Belladona Stencil has an urban feel, its letterforms exhibiting a mix of modern and vintage Art Noveau styles. This decorative stencil font is perfect for giving your branding, packaging and album artworks originality and uniqueness. Free to use in personal projects, it is available for download in TTF format.
Black Ops One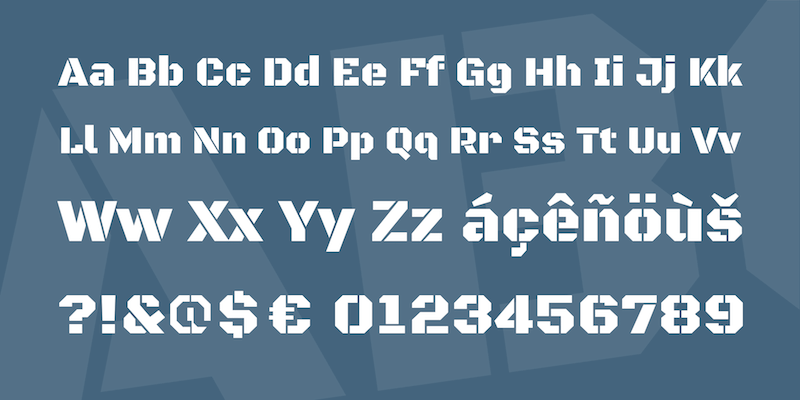 Inspired by military stencil lettering, Black Ops One is a low contrast, semi geometric typeface. Designed by James Grieshaber, this heavy and sturdy font will work best when used at medium to large sizes.
It is also available as a web font on Google Fonts and as of now, Black Ops One is featured in more than 70,000 websites. Font Format: TTF.
Saint George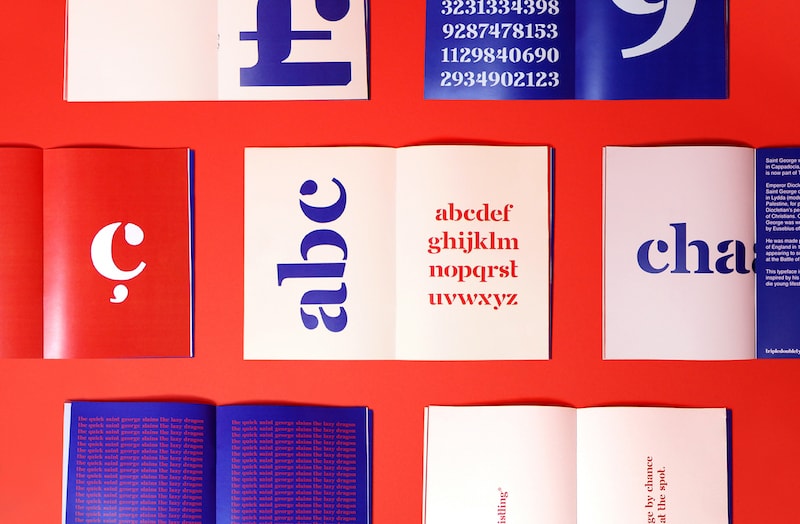 Saint George, by Vedran Vaskovic, is an experimental font based on the widely available Georgia serif font. Wild and playful, this bold stenciled serif typeface is available for free commercial and personal use. Saint George is an all lowercase font, you can see its alphabets in the image above. Font format: OTF.
Allerta Stencil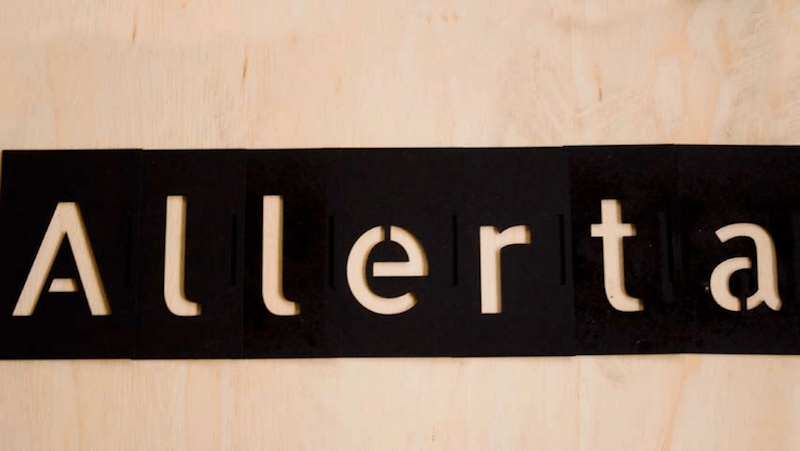 Allerta is an open source font family of Allerta, a legible sans serif font and Allerta Stencil, the stenciled version. The font was developed for use in signage, to be easily and quickly read from a distance. The name Allerta itself is derived from the origins of the word alert.
Allerta Stencil is also available on Google Fonts and is currently featured in more than 42000 websites. Font created by Matt McInerney and available in TTF and OTF formats.
Marske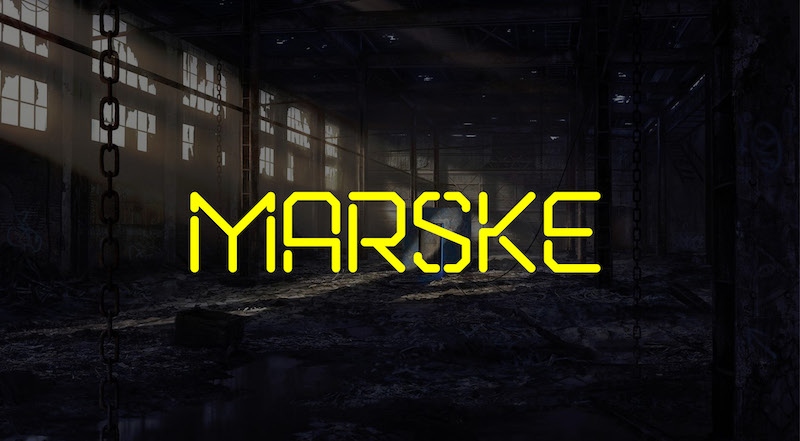 Marske, by Kash Singh and Sergiy Tkachenko, is an all caps stencil display font designed for use in headings, posters and logos. It supports Russian, Ukrainian and Belarusian Cyrillic character sets as well. Marske can be downloaded for free in both TTF and OTF formats.
Crafto Stencil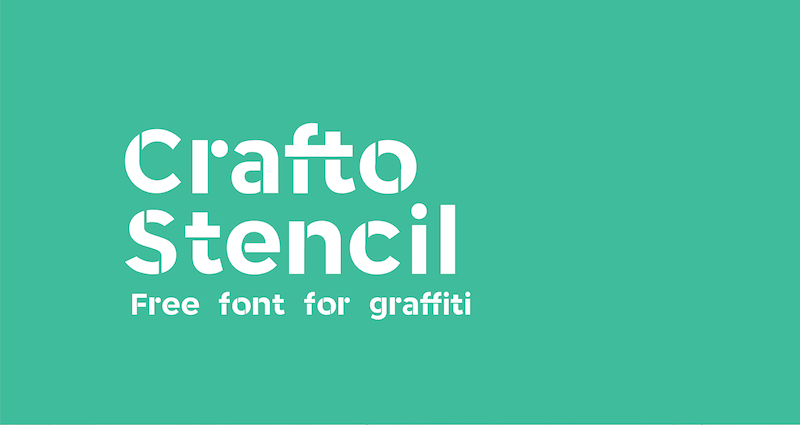 Crafto Stencil is a free typeface designed primarily for graffiti artworks but will work great in headlines and branding projects as well. The font is designed by Athang Samant and available for free downloaded in OTF format.
Mechsuit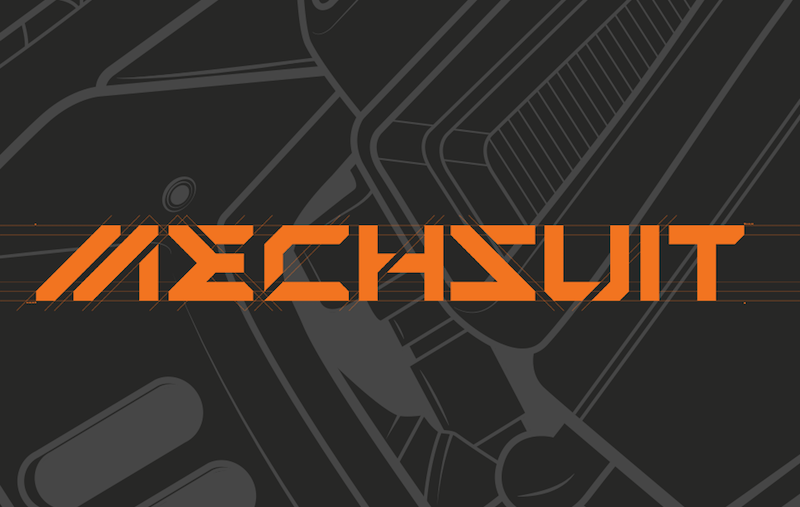 Designer Fredric Harbin has combined the aesthetics of sci-fi font and stencil style typography in the letterforms of Mechsuit. An uppercase font, with some of the lowercase characters such as A, M, V and W designed as the reverse of uppercase letters for better text kerning
Perfect for adding dynamism to your headlines. Available for free download from dafont.com in OTF format and allowed for commercial use.
Gunplay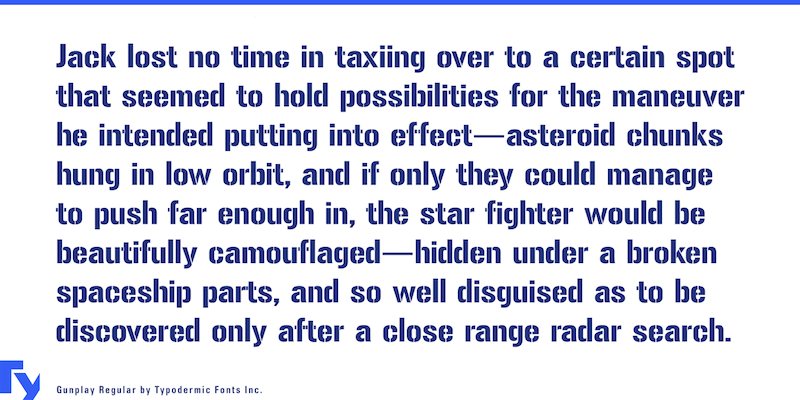 Gunplay font draws inspiration from the poster for the 1972 Steve McQueen/Ali MacGraw movie, The Getaway. It is a family of stenciled fonts in 4 styles – Regular, Sprayed, Damaged and 3D, the regular (seen in above image) and 3D shadowed styles are available for free download in TTF format. Designed by Raymond Larabie of Typodermic Fonts.
Stela UT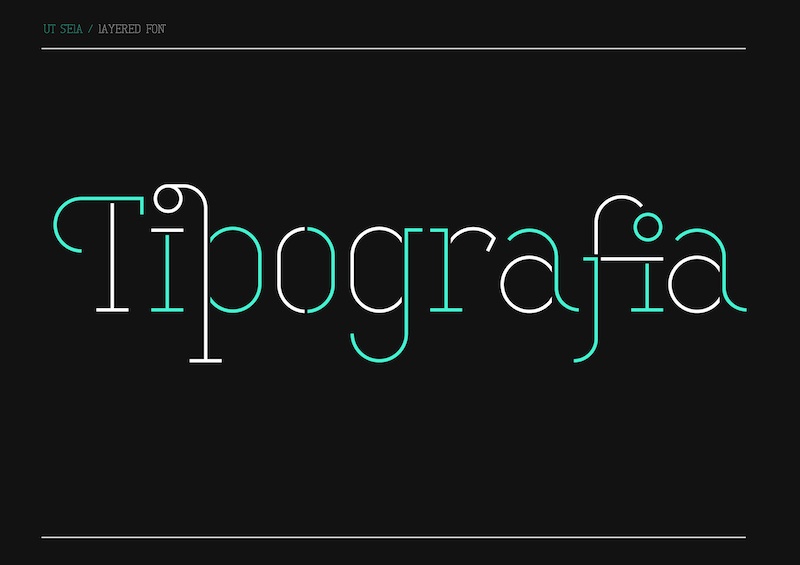 Based on geometric forms, Stela UT is a stencil display font with ultra thin strokes. Made by graphic design studio Wete, the font comes with lots of stylistic alternates and ligatures, its full version includes regular and layered versions with more than 600 glyphs. The regular weight is available for free download in OTF format and is free for personal usage.
Zefani Stencil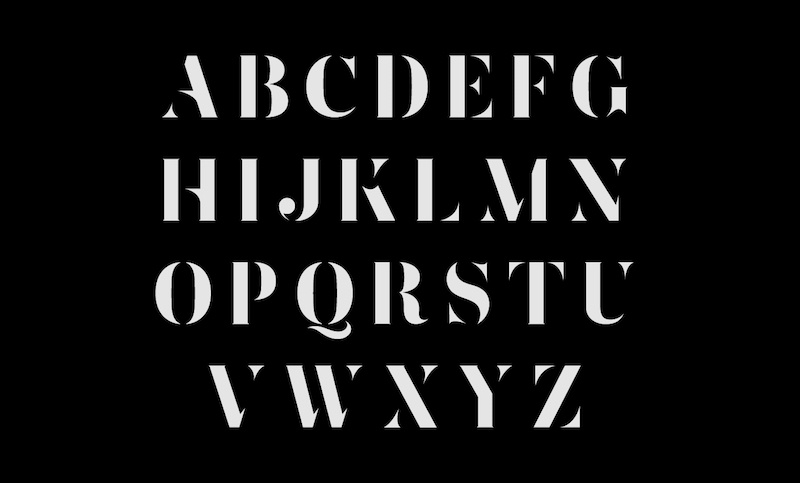 Zefani, by Andrew Herndon, is a family of Zefani Stencil and Zefani Sans fonts designed to work harmoniously in elegant and luxury applications. The free version with personal use license includes Zefani Stencil, a minimalist and modern didone typeface with strong characters and bold lines. Available for download in OTF format.
Flare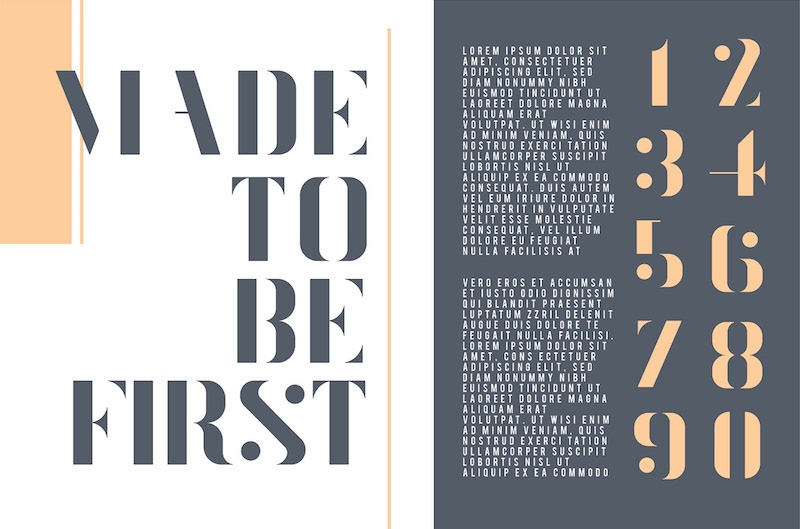 Flare is an elegant sans serif typeface designed to work great for logos & titles, on poster display, book cover, packaging, and more. Missing strokes, ball on its terminals are features that make Flare unique. This free stencil font from Mike Hill is available for download in OTF format.
Capture It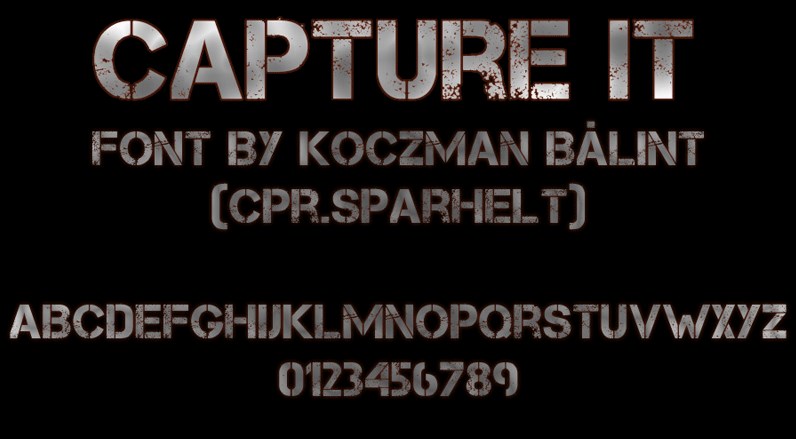 Capture It is a stencil style font ideal for when you need to add eroded grungy look to your display text. An uppercase only font, some of its lowercase letters provide a variation to the uppercase letters with their different levels of grunge or varying strokes. Created by Magique Fonts, you can download this free font in TTF format.
L-7 Stencil Typeface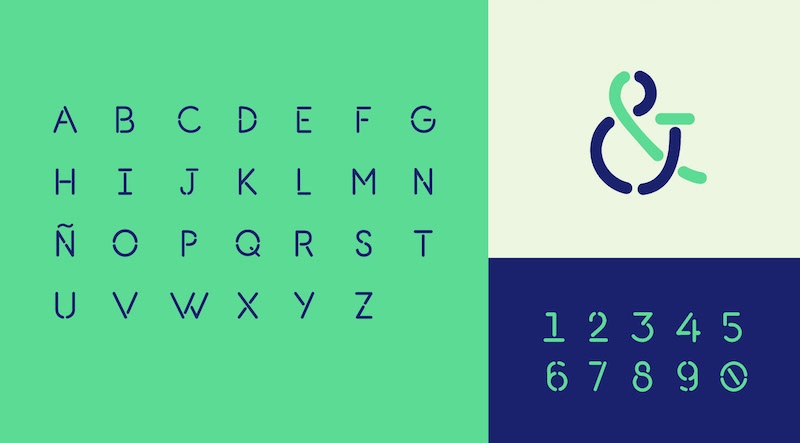 L-7 Stencil is a free for commercial use font from graphic designer Luis Calzadilla. It comes only in uppercase and includes numbers and a few special characters. Sporting thin uniform weight strokes, L-7 stencil is a beautiful font you can turn to when designing posters, logos, and promotional banners. Font format: TTF.
Premium Stencil Style Fonts
In this section, we round up the best selling and versatile stencil fonts on Creative Market. On purchasing, you also get free support and updates for these fonts. Please note that links to these fonts contain our affiliate id.
Ravensara Stencil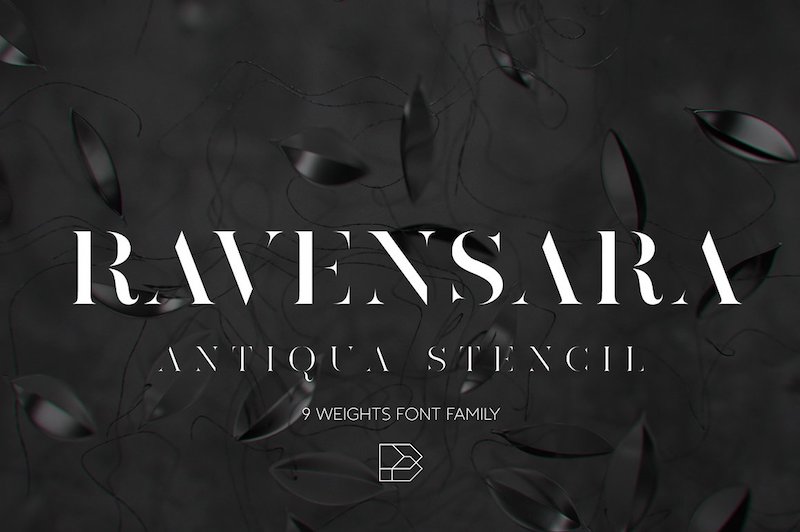 Ravensara is an elegant high contrast font family available in 9 weights from Thin to Extra Black, the latter offering highest contrast. According to designer Peter Bushuev, the font is inspired by old style classic typefaces such as Didone and Baskerville but has a modern feel.
Perfect to use in branding, packaging, presentations, and short texts. On purchasing you will get the font in OTF and WOFF formats.
Midfield Stencil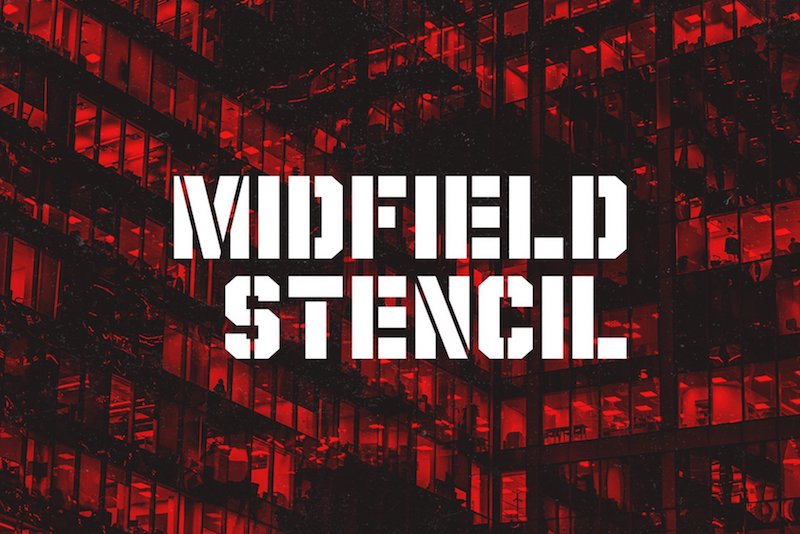 Midfield Stencil is an all-caps bold display typeface from Kreuk Studio. Ideal for when you need a font with masculine, urban and sporty feel. The font comes in six styles – Regular, Rounded and Pressed all with their corresponding Oblique versions. Font Format: OTF.
Quas Stencil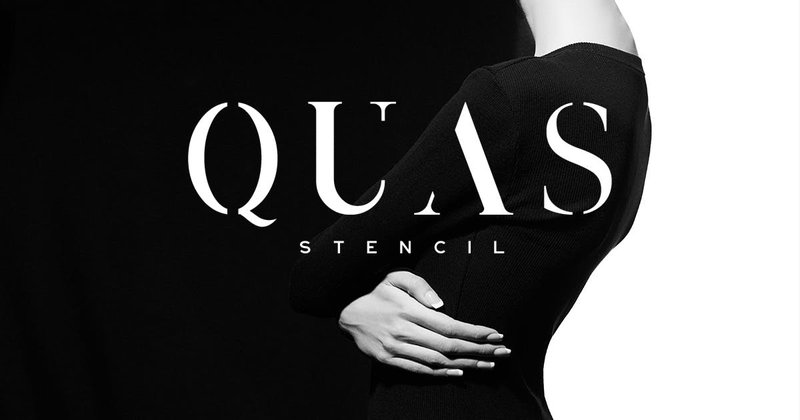 Quas is a chic typeface perfect to create sleek and elegant headlines, magazine covers, luxury and fashion branding and logo designs. It pairs well with both script and sans-serif fonts. Available with Envato Elements subscription.
Brownie Stencil – Slab Serif Stencil Font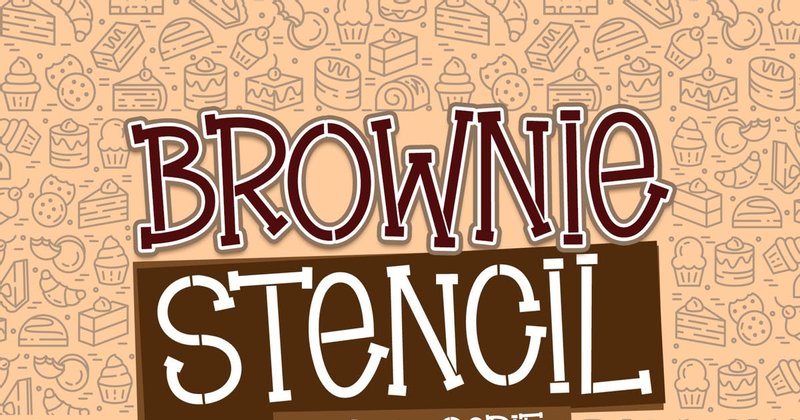 Brownie Stencil is a fun slab serif font with stencil style. It comes with all in caps with two versions between uppercase and lowercase and would look great on t-shirt designs, branding projects that need a causal look, DIY crafts, invitation, and social media posts. Font files included: OTF, TTF, WOFF. This font is also available with Envato Elements subscription.
Maritime Champion Stencil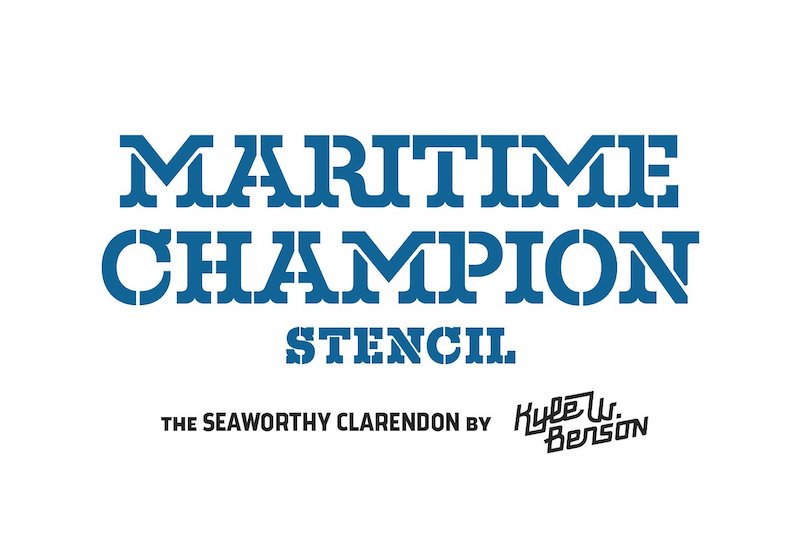 Created by Kyle Wayne Benson, Maritime Champion features letterforms with wave-like curves and is perfect for designs related to sea and water bodies. It comes in 4 weights – Light, Regular, Medium and Bold and includes lots of language options and opentype fractions. Font Format: OTF.
Gora Stencil
Gora Stencil from Russian Fonts is an extended slab serif stencil typeface available in two weights – Regular and Bold. Suitable for small amounts of text, logos, illustrations, labels and packaging. It includes Cyrillic characters as well and comes with ligatures, fractions, numbers, subscript and superscript numbers, arrows, and currency symbols. Font Format: TTF.
Lostamp Script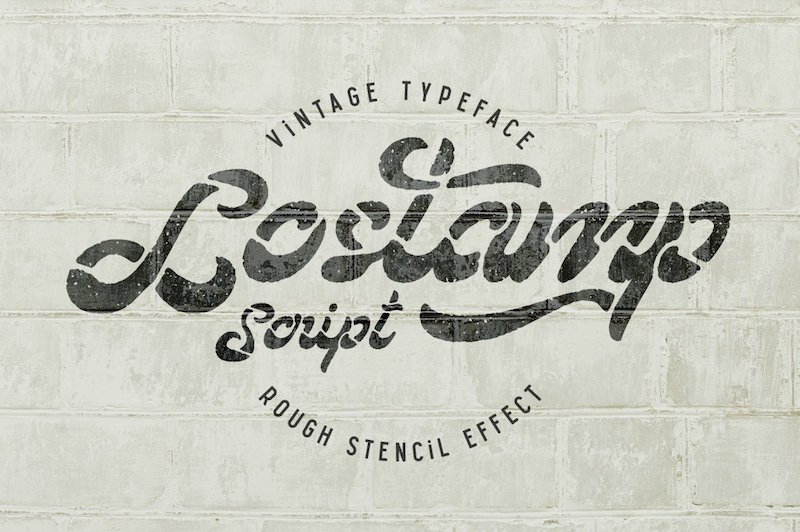 Lostamp is a vintage style font that merges the elegance of script font with stencil cuts in its design. Created by Gleb Guralnyk, the font has two styles – rough and clean contours. It comes with OpenType features like alternates, ligatures, swashes and is available in OTF and TTF formats. Vector EPS files for all characters are also included.
Maroque Stencil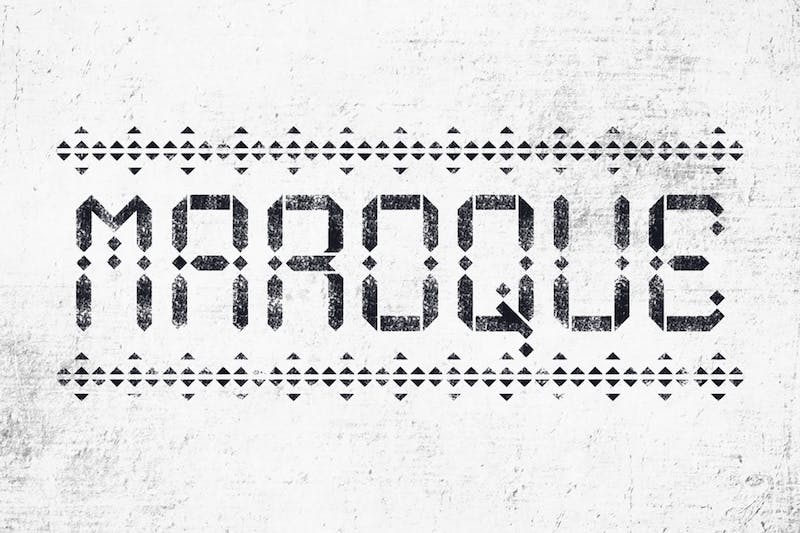 Maroque Stencil is a geometric font inspired by the forms and pattern motifs found in Moroccan carpets, artwork and architecture. A decorative display font you can use in artworks and designs with a geo-style appeal.
Designed by Hello Mart, it comes with full character set including numbers and international characters. Font Format: OTF.
Autobahn SVG Stencil Font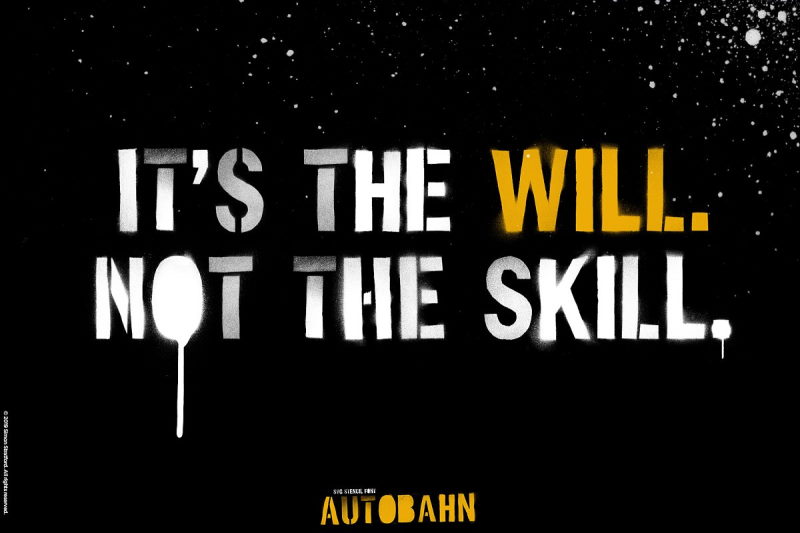 Autobahn is a bold display stencil typeface with realistic spray paint detail owing to the OpenType-SVG font format. Ideal for creating the urban street style or the military look. Font designed by Simon Stratford and available as OTF font files.
Callisto Modern Stencil Font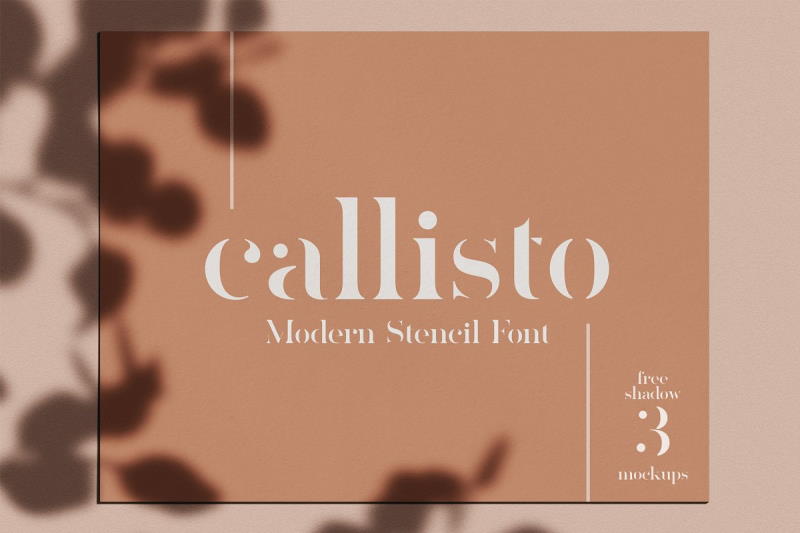 Callisto, by Photographers Lounge, is a feminine and legible serif stencil font that is perfect for blogging, fashion, art and much more. It comes with two versions – Regular and Half (in which gaps are slightly smaller) and is designed to make your text stand out. On purchasing, you'll get the font in OTF format.
Picking the right typeface is the key when designing a graphic. With our hand-picked collection of versatile high quality stencil fonts, we are sure you'd find a font that will best suit your design needs. If you liked this collection of stencil fonts, do not forget to share this post.
More Font Collections
You may also want to check out these font collections for more useful fonts for your work: