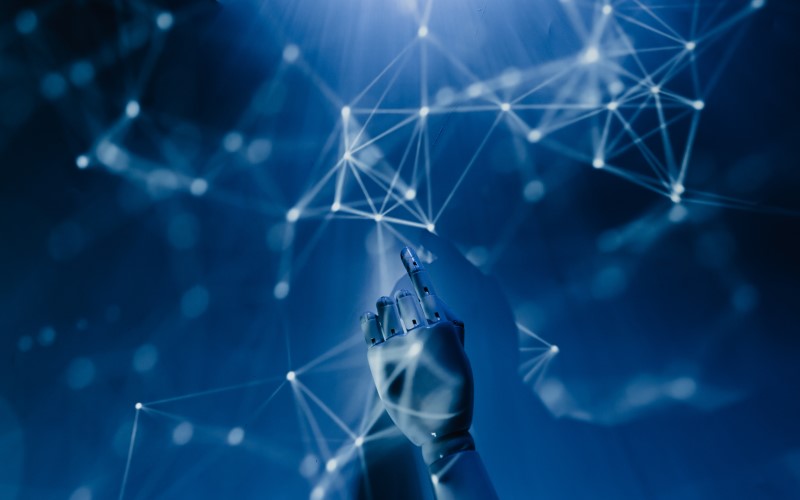 Artificial Intelligence (AI) was a blue-eyed boy or new girl in the town a few years ago. People were highly analytical and skeptical about the future of AI in the modern world. However, today after a decade-long journey, you can indeed say that AI is here to stay for a long time. Whether it's eCommerce, retail, finance, banking, or any other vertical, AI has an integral role to play in it.
On the other hand, mobile apps have revolutionized the business landscape like never before. Today, there can't be any startup or enterprise that doesn't have a mobile app. The digital revolution started a few years ago, and mobile apps have become a central part. So, how about a collaboration between mobile apps and AI? That would genuinely be the new tomorrow.
Now, most of you would be thinking about how this can be true? OR can this pairing happen in reality? So, let me put some facts and figures in front of you.
According to a survey by IDC, the global AI market size will become $554.3 billion by 2024.
As per research, the AI software segment brought 88% of the total revenue in 2020.
According to Global News Wire, the global artificial intelligence market is expected to grow at a CAGR of 35.6% by 2026.
After looking at these figures, you would have realized that the new tomorrow belongs to AI and mobile apps conglomeration. So, let's dive deeper into the subject and analyze how AI can play a significant role in mobile application development.
The Role of AI in the App Industry
1. Search Engine Empowerment
One of the most common and finest uses of advanced artificial intelligence and machine learning is in the field of voice search. It has become one of the USP of today's search engine. Voice search has transformed the customer experience and probably taken it to the next level. Before voice search, customers need to type everything in the search engine. Today they can speak in their linguistic tone, and search engines would fetch them the required results.
2. Conglomeration of AI and IoT
In the last few years, artificial intelligence is gone to a level where it can communicate with any other smart device. In addition to that, it can collect real-time data to understand the behavior and, based on those inputs, provide a solution that creates a long-term relationship. So today, if you're an owner of a top-class mobile app development company, then you should think about the conglomeration of AI and IoT, which would be the new tomorrow of mobile applications.
3. Improvement in Smartphone Camera
One of the significant impacts of AI and machine learning is in improving the smartphone camera. The camera has gone to an advanced level to detect the object within the frame and adjust its vision accordingly. All these transformations are possible thanks to the advancement in artificial intelligence. You can also identify facial expressions and get a pretty portrait shot on your smartphone. Besides that, one can scan products and avail of the related description.
4. Real-Time Translation
In today's day and age of globalization, people are conducting businesses all around the world. In this type of scenario, translation applications are making a strong statement. However, most of these applications require an internet connection. But, if you can integrate AI and machine learning into your application, the smartphone can translate from one language to another in real-time without any internet connection. In this manner, you can use the apps in offline mode.
5. Advanced Level Security
With the increase in smartphone usage and their apps, security concerns have gone to a new level. In the last decade or so, cyber-attacks have risen so much that uplifting the smartphone's security has become a necessity. In this area, artificial intelligence can become your best friend. It helps you to analyze user behavior and send alerts regarding possible threats or vulnerabilities. In this manner, AI will help you protect your smartphone from outside attacks.
6. A Touch of Personalization
Nowadays, when there's so much competition in the business world, you need to provide a touch of personalization while communicating with your customers. A personalized content or image or video will enhance your chances of engagement and conversion. With the help of AI and machine learning, businesses can analyze customer data and obtain insights about them. Then, based on those insights, you can provide services that touch your customers' pain points.
7. Enhanced User Satisfaction
User satisfaction is the key to success as far as any business is concerned. Keeping your users happy and satisfied is the ultimate goal of any business. Now, with the help of artificial intelligence, you can introduce chatbots into your customer service. It will understand the user intent and, based on their requirements, present a service/solution that has higher chances of conversion. Businesses can also know customer behavior and build their products accordingly.
AI-based Applications in Various Industries
1. Healthcare
Healthcare is one of the most critical industries associated with humans, and that's why it needs continuous improvement. That's where AI has a role to play. Tech giants like Microsoft, Google, Apple, and IBM have invested in the healthcare industry by developing AI-based solutions. Today, you can use AI for identifying patterns, accurate diagnoses, medication management, drug discovery, robotic surgery, etc. IBM Watson is one of the finest examples of these apps.
2. Retail and E-Commerce
Retail and E-Commerce is a sector where AI has made a significant impact. The industry requires you to understand the customer behavior, their likes, and dislikes. For this analysis, AI and machine learning can be your best bet. In addition to that, the product recommendation section that you see in most eCommerce applications is based on AI. Lastly, you have AI-based chatbots available 24*7 to guide customers and enhance their shopping experience.
3. Food Technology
AI has also found its feet in the food and beverage industry. Nowadays, food companies and restaurant owners integrate AI into their business apps to improve their customer's experience. With the help of AI, customers can place orders without any human interaction. They can also provide feedback based on their experience. In addition to that, people are using AI in industrial food processing as well. For example, they can analyze the size, shape, color, etc., of food.
4. Banking and Finance
Banking and Finance have seen a significant transformation after AI-based applications got introduced in the last few years. Human interaction gets replaced by the software agents who interact with banking customers and provide them with world-class services. Also, AI-based chatbots are being utilized in the insurance industry. With the help of chatbots, insurance companies have uplifted their customer satisfaction ratio and increased their revenue.
Conclusion
Artificial intelligence has not been a newborn baby anymore. It has taken giant strides in the last decade, or so and therefore, it becomes essential for businesses to recognize its role. In this era of digitalization, mobile applications are playing a central role. If you can AI to that, the new tomorrow would be brighter, smarter, and more incredible than ever before. Here, we have provided you with various ways to use AI in the app industry to your advantage. Experts hope that it will spark a new revolution in the mobile app development industry slowly but surely.