Admin dashboards need not be boring with just data cluttered on the screen. You can make admin dashboards look gorgeous too and with our latest freebie, you will be able to do just that. Now UI Dashboard is a beautiful Bootstrap 4 admin dashboard developed by Creative Tim. They have provided us with the latest version of Now UI Dahboard to be downloaded for free on SDR.
Now UI Dashboard comes with a large number of components, designed to look beautiful, clean and organized on any screen. If you are looking for a template to visualize and manage data about your business, then this dashboard is the perfect fit for you. It combines colors that are easy on the eye and features beautiful typography, graphics and spacious card elements. It also comes packed with plugins that you might need inside a dashboard project. You will also find documentation on how to get started with this easy to use yet powerful admin template.
Now UI Dashboard has the same design characteristics as Now UI Kit, hence it is convenient to use them together.
Preview of Now UI Dashbaord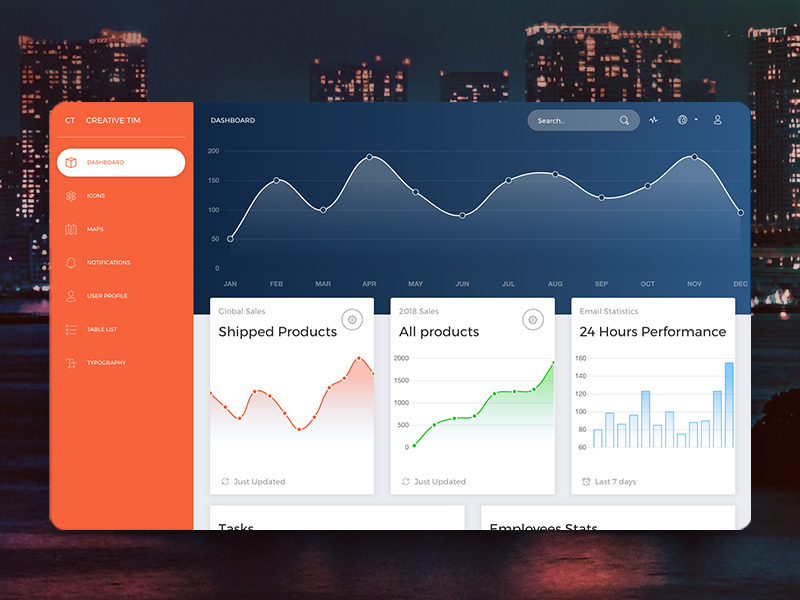 Download Now UI Dashbaord
License
This free Bootstrap Dashboard template is available under MIT license.
Now UI Dashbaord Pro
While the free version of NOW UI Dashboard is great, you can also upgrade to the Pro version of this dashboard template which has over 160 pre-designed admin components, 27 example pages and 13 in-built plugins. Learn more about Now UI Dashboard Pro.