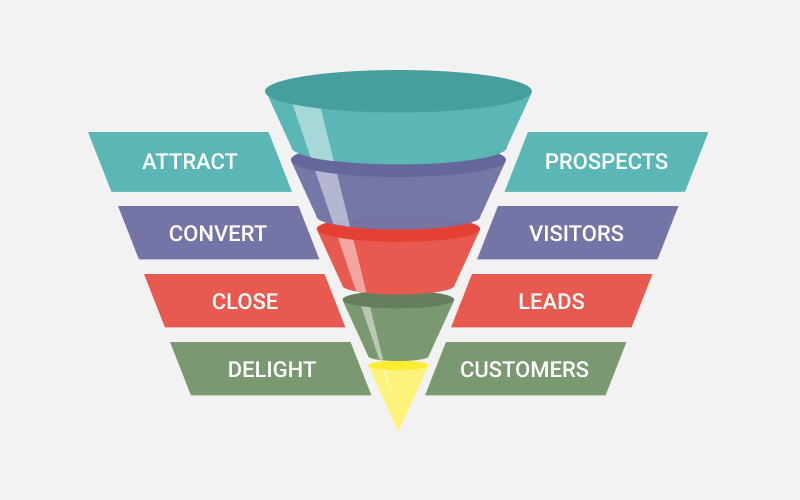 Here's the hard truth: small businesses can get lost online. The internet is so saturated with content and with products that it's hard for any business to make a name for themselves. Small businesses often lack the resources to offer services, like overnight shipping or 24/7 customer service, that larger corporations have standardized. As such, they start the game at a disadvantage. Unless their marketing is en pointe and their product is excellent, small businesses don't stand a chance.
Designing an excellent product is what most business good owners take pride in. Marketing tends to be where these business owners fall flat. This guide is going to take a look at one proven marketing strategy: Clickfunnels. Let's discuss what Clickfunnels are and how they increase sales.
What are sales funnels?
To understand Clickfunnels, you first need to understand what a sales funnel is.
A sales funnel is a fancy term that refers to how customers learn about your product and decide whether or not to purchase it. This process is one that companies have control over, and involves many steps. In order for a customer to purchase your product, they have to:
Initially hear about your product
Learn more about what your product is
Compare your product to other similar products on the market
Decide that they like your product and sales process more than your competitors
Actually purchase your product
This is called a sales funnel because you start with a broader set of people and at each stage, you lose a percentage of potential customers, leaving you with a smaller group of purchasers than you started off with. This can be frustrating, especially when small business owners work hard at every single stage of that sales funnel.

What is Clickfunnels?

Clickfunnels is a tool that helps business owners design their sales funnel. Clickfunnels has pre-built sales funnels in place, so business owners just have to match the type of product they're trying to sell with the appropriate pre-built sales funnel. This saves business owners the time and hassle of designing their own sales funnels and also prevents clunky sales funnels from dissuading your customers.

How does Clickfunnels increase sales?

Customers like websites that run seamlessly, bringing them from the advertisement stage through to the purchase stage without them having to think very much about how that works. Meanwhile, business owners are not all trained in coding and even the ones who are don't have time to be fiddling with websites when they're supposed to be improving their product.
The result? There are tons of websites out there right now that are so poorly made and hard to navigate that customers don't give them a second look, even if the product is great.
Clickfunnels fixes this problem. This singular software is not just a sales funnel builder. It also automates email marketing, builds your shopping cart, and is an affiliate management system. Basically, it offers everything a small business owner needs to run their online business in one comprehensive suite.
On the other side of things, customers come to websites that feel familiar in how they run and intelligently designed. These customers aren't turned off by poor sales funnel design but are instead seamlessly carried through the buying process.

The result? You lose fewer customers at each stage of the sales flow process, which means that more customers are buying your product throughout the day. You can learn more about how Clickfunnels drives revenue over at Hustle Life.

What's the return on investment?
As with anything in the business world, the return on investment is hard to measure and is determined not only by the software you use but by how well you use it.
To get the most out of Clickfunnels, be sure to do your research on effective sales funnels so that you can select the sales funnel that makes the most sense for your business.

Also, be sure to take advantage of their backpack feature. The Clickfunnels backpack feature allows you to increase your sales through affiliate marketing. There's a reason companies like Amazon and Target use affiliate marketing: It's effective and can increase your sales exponentially.
But at the end of the day, the biggest return on investment will come when you have a great product that people will be happy to spend their money on. Clickfunnels is an effective tool to get eyes on your product and keep them there, but only you can make that product worth buying.

Wrapping Up

Time is money in the business world. Designing an effective sales funnel can take insane amounts of time. Or, if you choose not to do it yourself, it can cost hundreds and hundreds of dollars in consulting fees. Clickfunnels allows you to bypass this time-suck and streamline your sales funnel. This not only generates more income but also generates more time for you to work on the other services your customers care about.