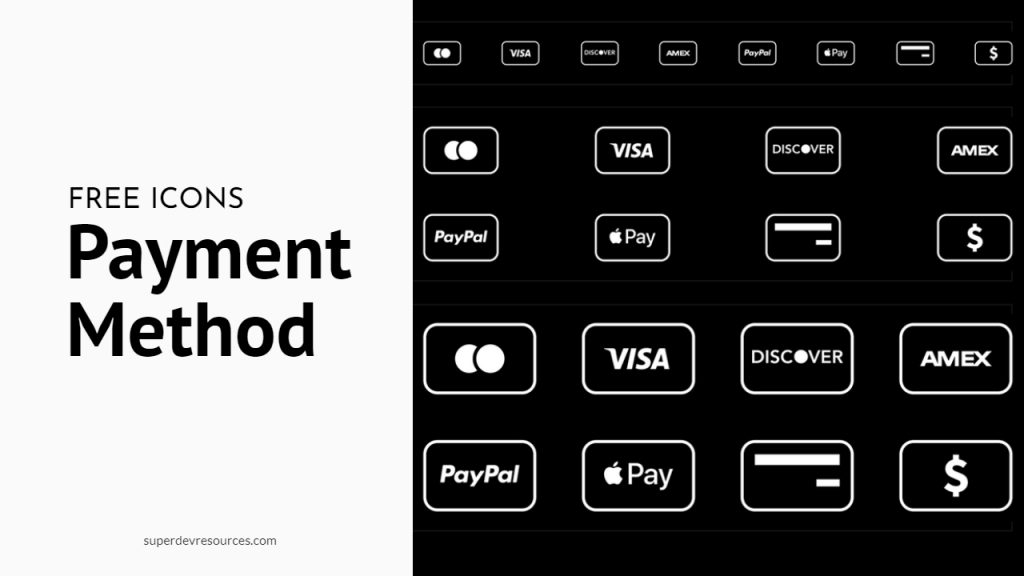 Payment method icons are essential for any website that processes online payments. Easily identifiable, these icons let users know which online payment gateways and credit/debit cards are accepted on your ecommerce store. This leads to an improved checkout experience for the buyers and builds trust and confidence in your site.
In this post, we have picked up some great professional sets of free payment method icons that you can use in your own ecommerce web design. Included in this collection are icons in many different design styles such as outline, filled and colored. Available for free download in PNG, SVG, PSD, Sketch or Figma formats, some of these are also provided as icon fonts.
These icon sets offer icons of all the major payment services, wallets and cards, including VISA, MasterCard, American Express, PayPal, Stripe, and Apple Pay. On a related note, you might also want to checkout these free ecommerce icons that you will find useful for your ecommerce design work.
Payment and Credit Card Icons & Iconfont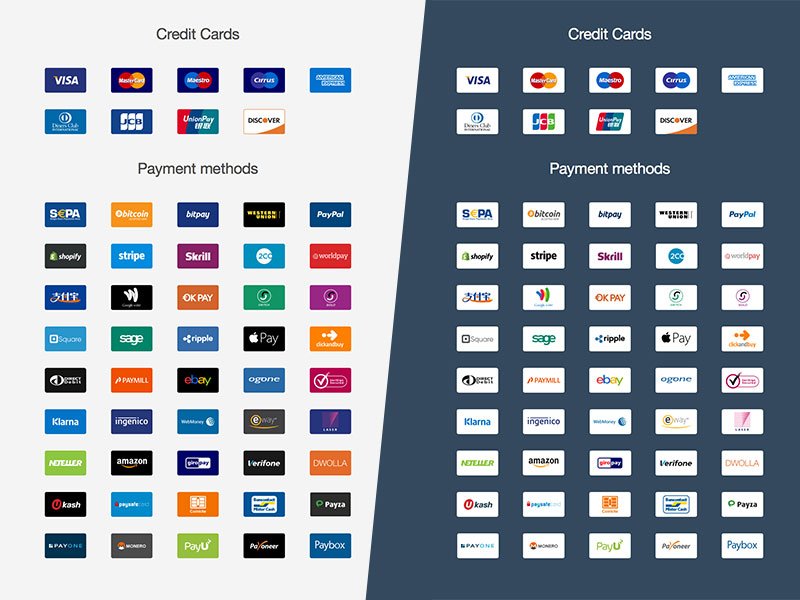 Free Sketch template with icons for credit cards and popular payment methods such as icons for Bitpay, Shopify, Stripe, PayPal, AliPay, Google Wallet and many more. Along with source Sketch file, you also get these icons as installable font (.eot, .ttf, .woff), SVG files, SVG sprite file and PNG files. These icons are completely free to download from GitHub under MIT license.
Payment Method Icons – Sketch, Figma, AI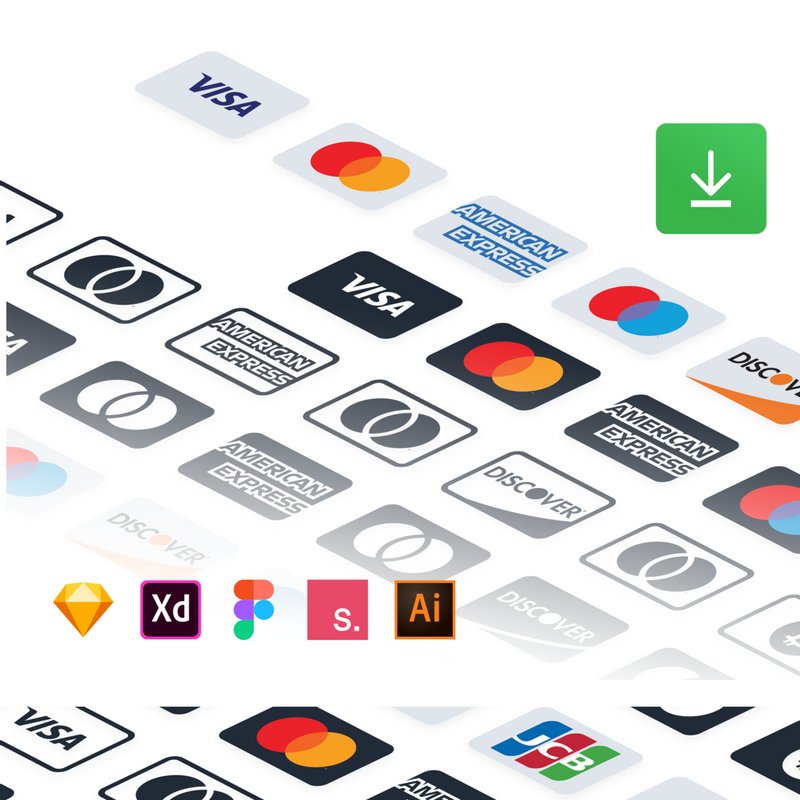 This pack of payment method icons are free to use in commercial and noncommercial projects. Icons are supplied in .sketch (Sketch), .xd (Adobe XD), .fig (Figma) and .ai (Adobe Illustrator) file formats. Includes icons in color, light, outline, dark and solid styles.
Payment Methods Icon Set Figma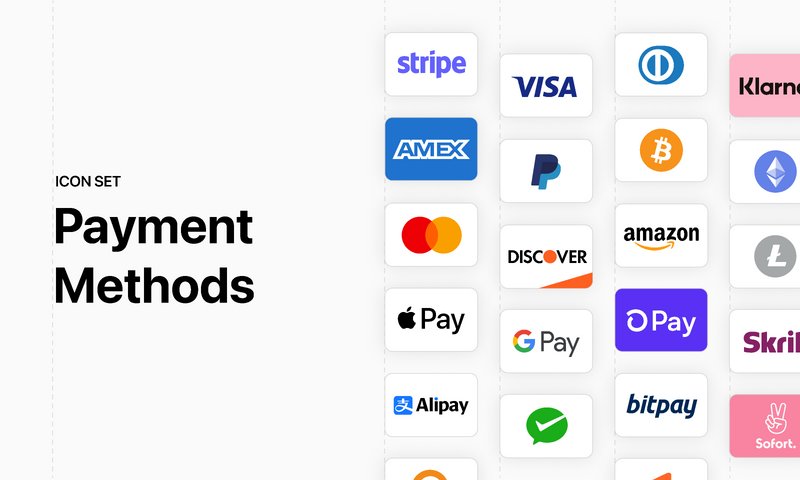 Made exclusively for Figma community, this is a set of the 39 most used online payment icons for your next e-commerce checkout form. The icons have been designed following the brands guidelines to ensure proper recognition of the payment services at any size.
Credit Card Payment Icons SVG & PNG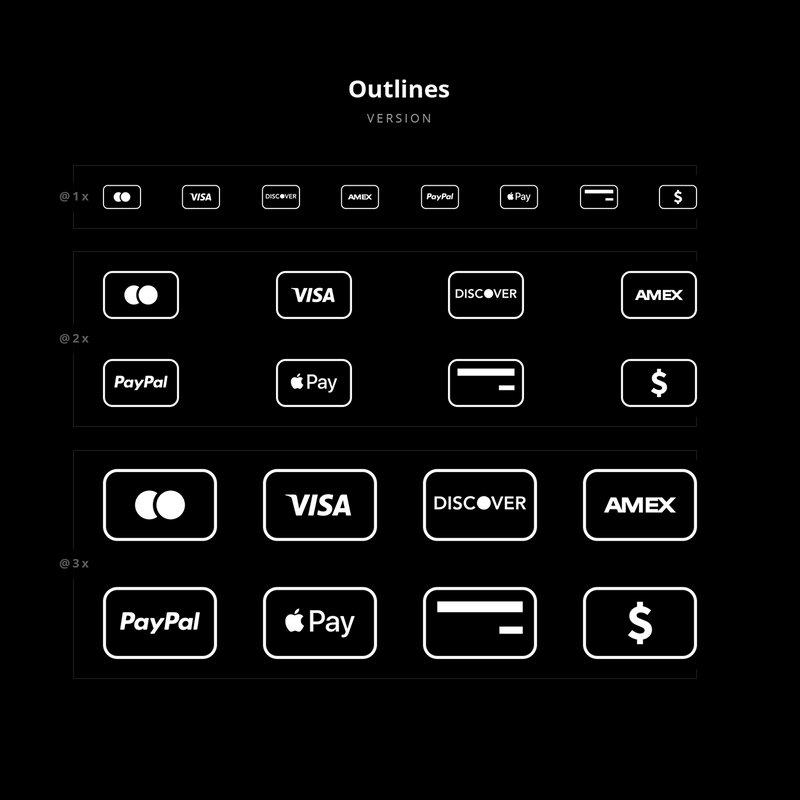 This is a free set of payment methods icons of top credit cards, debit cards including Master Card, VISA, Discover, AMEX, PayPal, and Apple Pay, cash, and default card for mobile and web applications. All the icons are provided in three different styles – outline, filled and colored and are available for free download in SVG and PNG formats.
SVG Credit Card & Payment Icons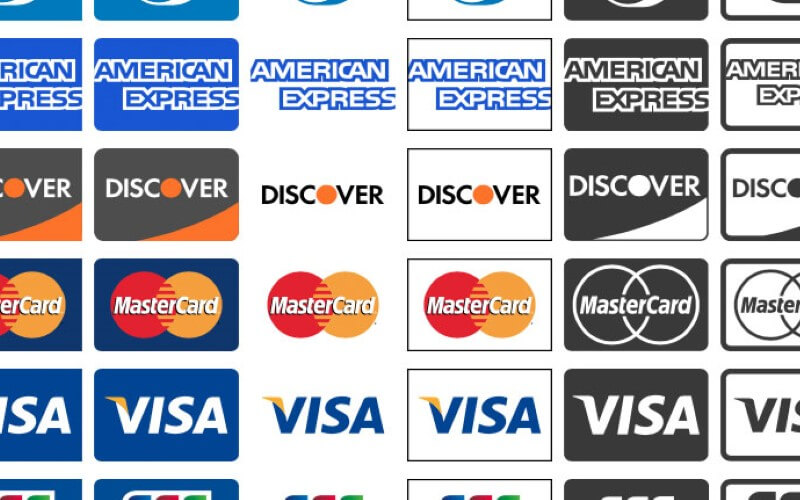 A collection of free SVG based credit card logos and payment icons. Includes a icons in 6 different styles – flat, flat rounded, logo, logo border, mono and mono outline. These icons are available for free on GitHub with Apache-2.0 License, find download link below.
Payment SVG Webfont Icons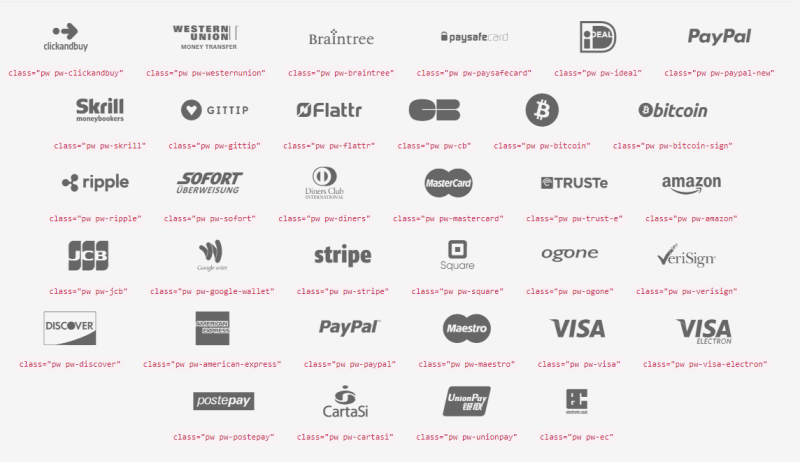 An SVG webfont for icons of main payment systems including those of Maestro, Visa, Visa Electron, American Express, Discover, Amazon, Google Wallet, Stripe and PayPal.
Free Payment & Credit Card Logos – Sketch, PNG, SVG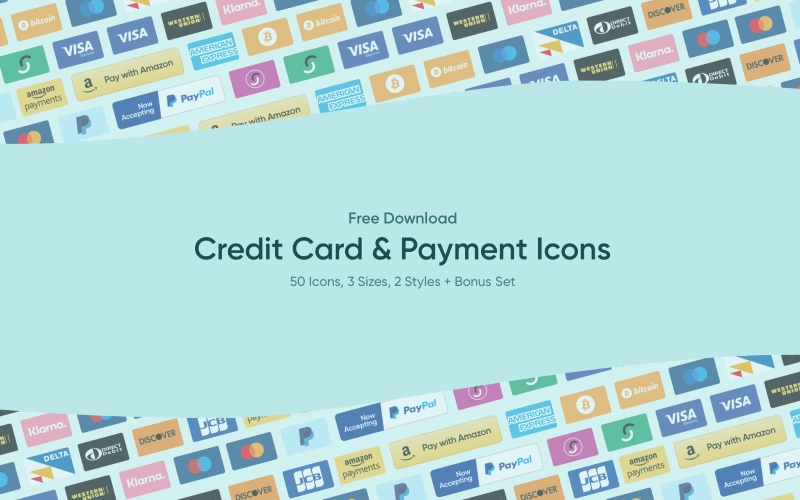 A collection of uniform and minimal payment and credit card logos covering all major payment methods. Free for personal and commercial use. Icons are provided as Sketch file along with PNG (in 3 sizes) and SVG versions of the card logos. All icons come in two variations, with rounded corners and square corners. Download these free MIT License icon set from GitHub using the link below.
Payment System Logos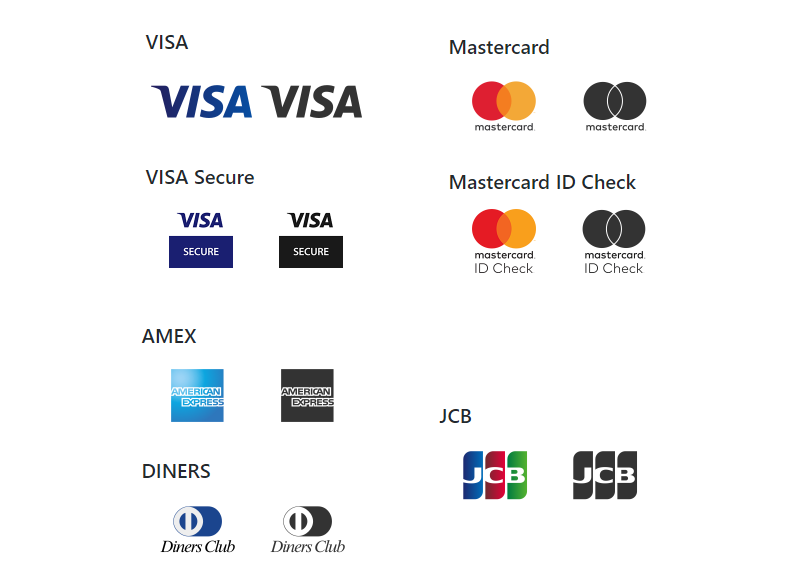 A collection of icons for credit cards, wallets, online banking and direct transfer available in PNG, SVG and Sketch formats in both colored and dark versions.
Free Credit Card Payment Icons PSD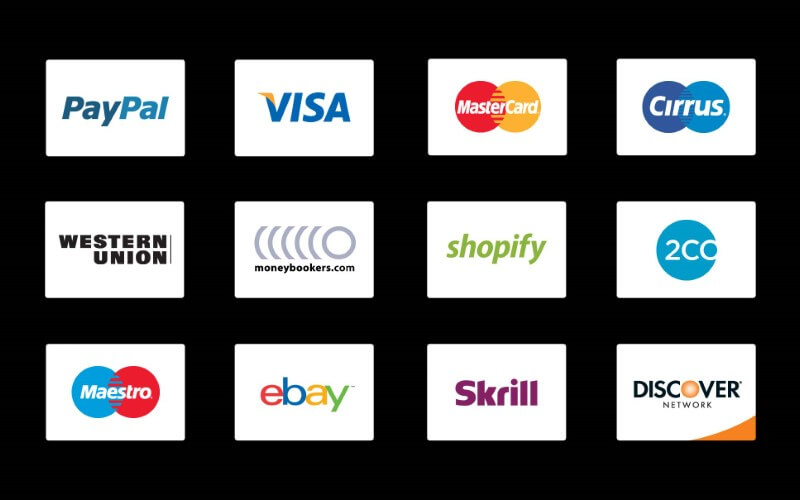 Free set of neat and professional credit card payment icons for ecommerce websites available in PSD format. Each icon is vector and smart object based which makes it easy to edit and customize them.
Credit Card Web Icons – Free PNG & PSD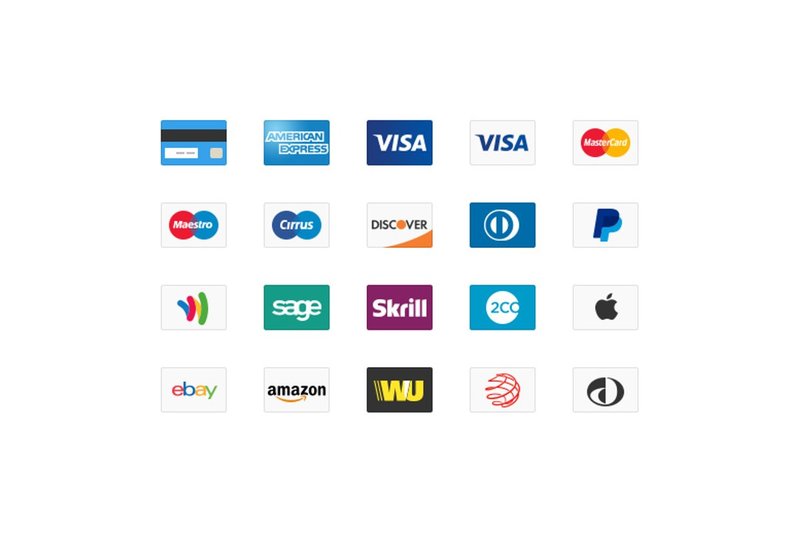 This pack contains 20 credit, debit and store card icons, perfect for placing on e-commerce websites and order form pages. There are 20 icons each with 32px and 64px (Retina size) versions. Included in the package are 40 PNG files, and one Photoshop .psd source file.
Payment Icons Sketch Freebie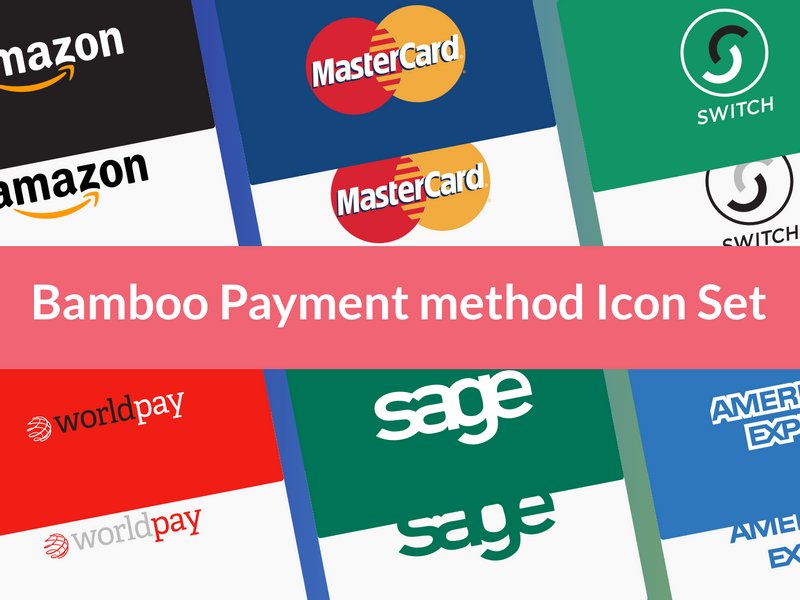 This is a free Sketch file with 27 premium credit card and payment method icons that are commonly used on e-commerce websites.
Free Payment System Icon Set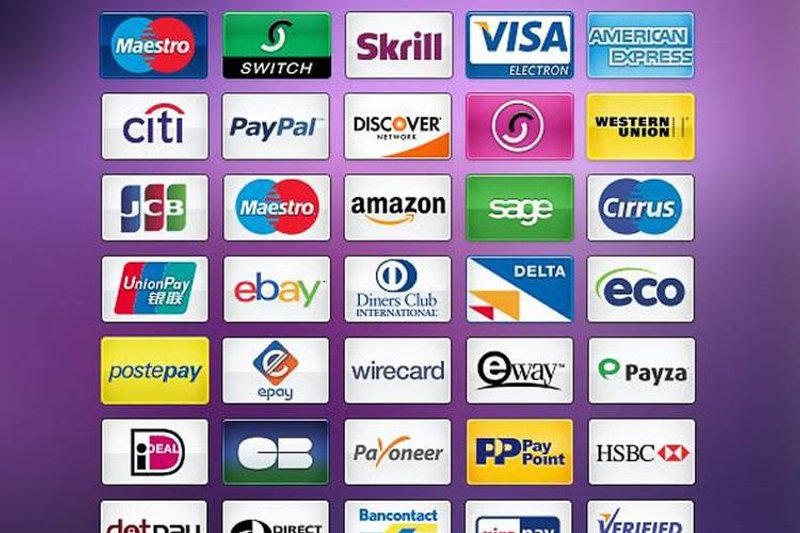 This freebie offers 50 most popular payment services icons. The icons come in transparent PNG, JPG amd editable PSD (with vector shapes) formats. You can freely use this icon set in both personal and commercial projects.
Payment Method & Credit Card Icon Set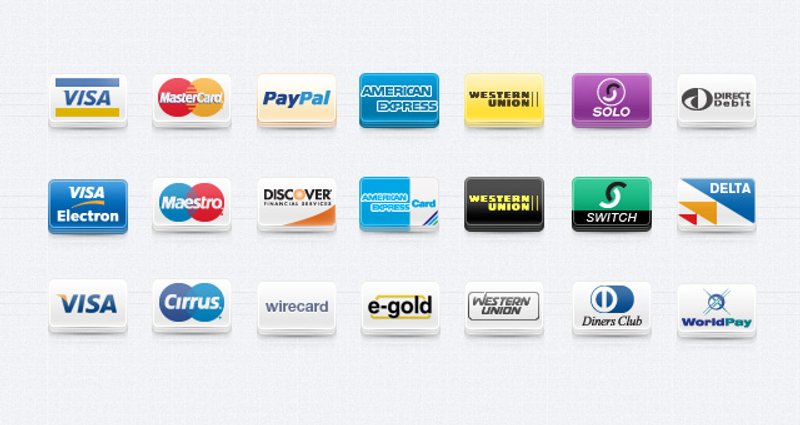 This carefully prepared pixel perfect payment method icon set contains 17 popular payment methods and credit card icons such as MasterCard, PayPal, Visa, American Express, and Western Union. Available for free download as 64x64px PNG files.
Mini Cards: 15 Credit/Debit Card PSD Icons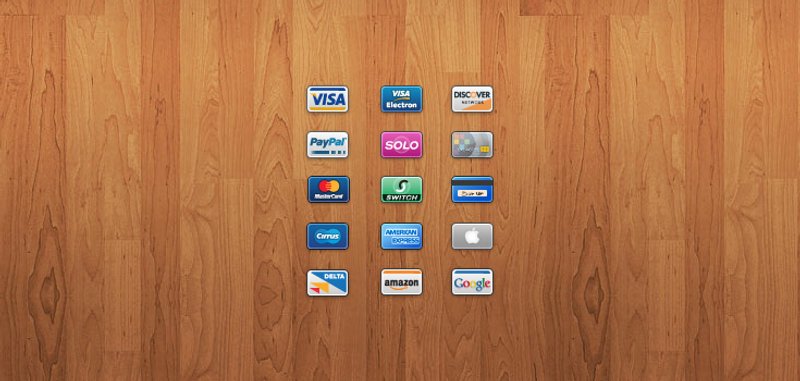 A set of free 15 pixel perfect credit and debit card icons available in PSD format.
Payment Method Icon Vectors on SVG Repo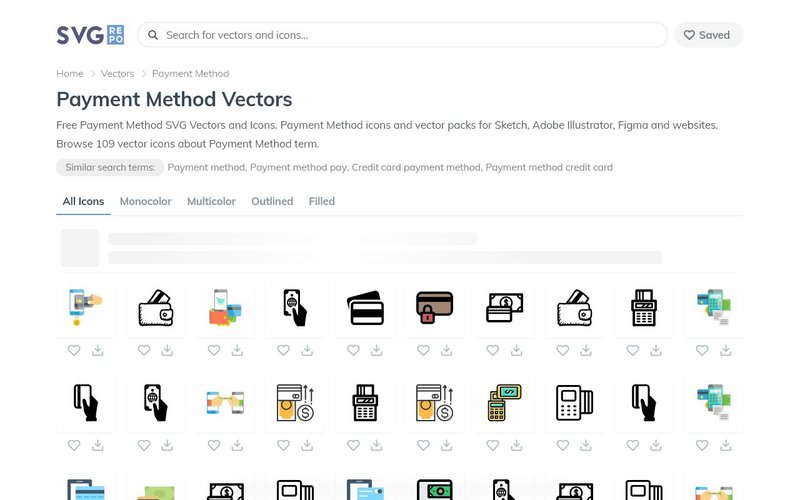 SVGRepo has a collection of generic payment method vectors and icons in SVG format you can use in websites and mobile apps. Icons are available for free download in multiple design styles such as outline, filled and monocolor.
Payment Method Free Icons on Flaticon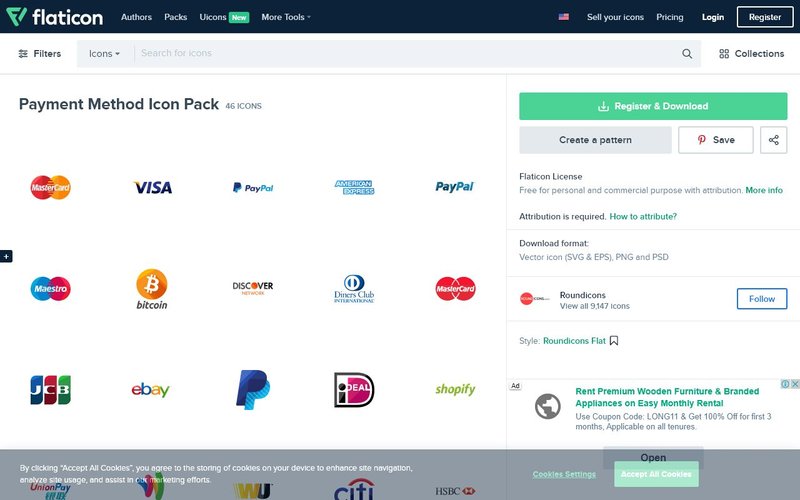 Free for commercial use colored icons for different payment methods available in SVG, PSD, PNG and, EPS formats available on Flaticon.
Payment Icons on Icons8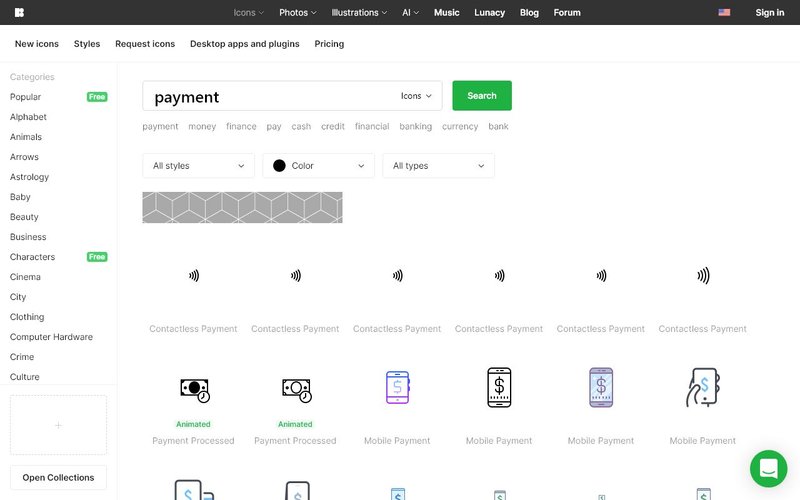 Icons8 has a library of payment icons in a range of different design styles for iOS, Windows 10, Material, outline gradient, doodles, fluent design and many more for your web, mobile, and graphic design projects. Free download in PNG formats.
Free Payment Icons on DryIcons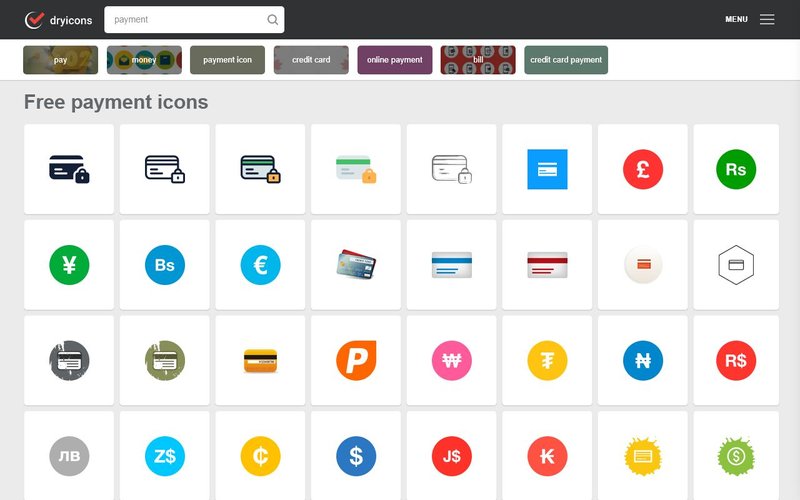 Free for commercial use payment icons in PNG format available on DryIcons.
All these payment method icon sets come with free personal and/or commercial use license, some might require attribution in return. You can choose the icons that complement the design of your web or mobile app UI and use them to represent the payment services on checkout and cart pages of your online store.
More Free Icon Resources
You may also find the following free icon resources on our site useful:
Cover Image made with Pixelied