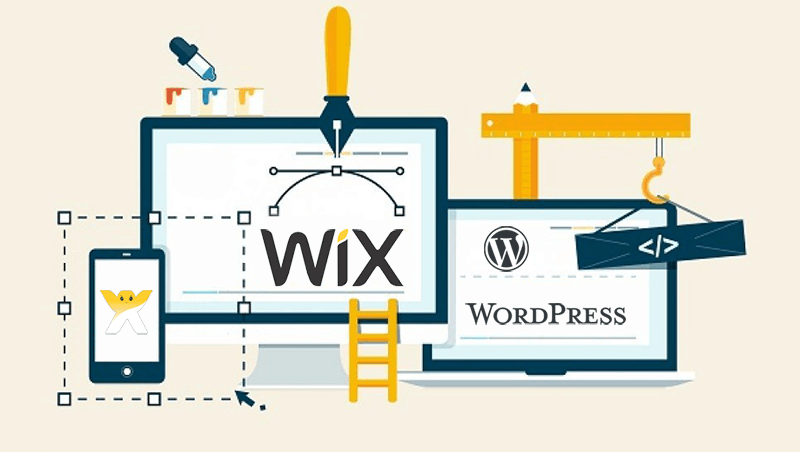 Is it really necessary to explain the benefits of having a website? Probably not. Going online brings tons of benefits from worldwide audience outreach to the extended promotion and marketing opportunities for your business. The main question is how to create a website without spending thousands of dollars or hiring a professional development team.
This is where WordPress or Wix might be the best solution. Both platforms are recognized globally and power millions of websites all over the globe. What is more important they are super easy to use letting non-technicians and newbies establish a solid web presence. Although they serve the same goals, WordPress and Wix differ in many ways.
Choosing the right one will depend on your purposes, goals, website objectives, web development experience, and other crucial issues.
Today, we will define, which platform is a better option depending on the needs and tasks. What feature might work out for your particular project and how they may help.
WordPress – The World's Best CMS
WordPress is the #1 choice for missions of web developers and business owners worldwide. Over 400 million users opt for this iconic CMS that powers about 34% of all websites available in the Global Web.
Such recognition is not surprising, as WordPress lets you create literally any website type ranging from simple blogs and small business websites to online shops and professional portfolios.
The CMS comes as an open-source platform, which means it is free to access by developers who want to customize their websites or create an exclusive web design from scratch.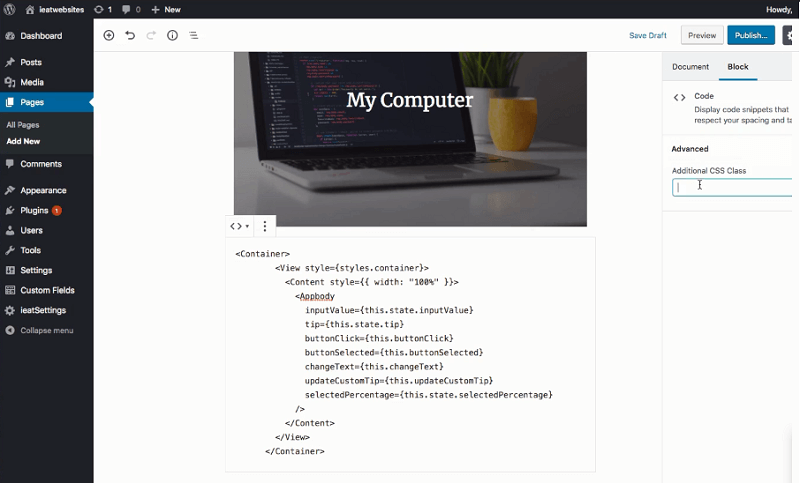 At the same time, beginners will hardly find it difficult to use the CMS without special coding or programming skills. In other words, here you have a website building software that suits both experienced web developers and newbies.
Here is what you get when setting up your site with WordPress:
Easy Content Management
WP content management system has evolved over the years. It was initially designed as the blogging platform, which means intuitive interface in addition to its updated WYSIWYG editing system.

WordPress started as a simple blogging platform back in 2003. Since then it has evolved to become a content management system and an application development framework.
While beginners will find it easy to create and customize new pages, dedicated pros may make the most of its CSS/HTML and implement any function they want.
Thousands of Plugins
WordPress delivers thousands of plugins to customize your website and make it as user-friendly as possible. Any other website building platform can boast such a wide selection of add-ons.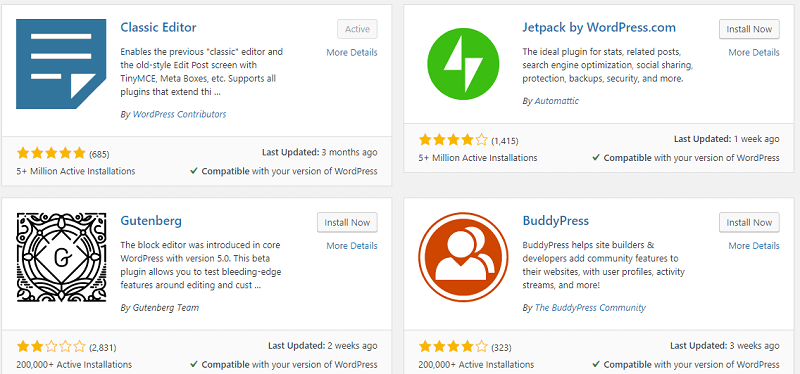 You may choose from contact forms and anti-spam systems to analytic and SEO plugins, eCommerce apps, galleries, website monetization solutions, and more. This fact makes WordPress probably the most flexible software you may find.
See essential plugins that we use on our blog.
Wide Array of Templates
With WordPress, you may access the widest selection of templates you have ever seen. Thousands of free website themes refer to different business niches and categories. Whether you need to create a website for your dining venue or Bed & Breakfast properties, introduce a construction company to the online audience, create an event landing page or start the digital shop, WordPress offers templates for any occasion.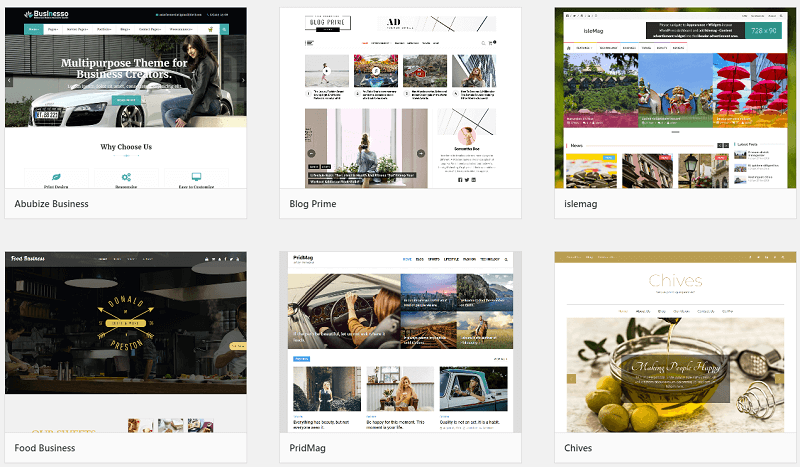 You may opt for free versions as well as try premium templates that come with advanced design features and functionality. No matter what you choose, you will get a fully-functional and mobile-friendly website that runs on all types of devices.
As you may see, WordPress is able to deliver everything you might need to create a professional website with ease as well as customize and manage content. However, WP is not the only solution that may come in handy.
Wix – The Most Recognizable Website Builder
Wix boasts a huge international army of followers as it is one of the most advanced and easy-to-use intuitive website building platforms. It uses different technologies if compared to WordPress, which might be a greater option depending on your goals.
What is actually Wix?
Wix is an all-in-one website building software. Which means:
"Wix is an online website builder, which works under SaaS (System As A Service) model. It means that the user can create and manage his or her websites on any desktop or mobile device by logging into Wix account."

SuperbWebsiteBuilders.com
In other words, you get an intuitive drag-and-drop editor, free custom templates, domain, hosting, and a full pack of software features within a single plan with no need to manage them separately. All you need is to pick a plan that suits you most and get a fully functional software with everything you need in one place.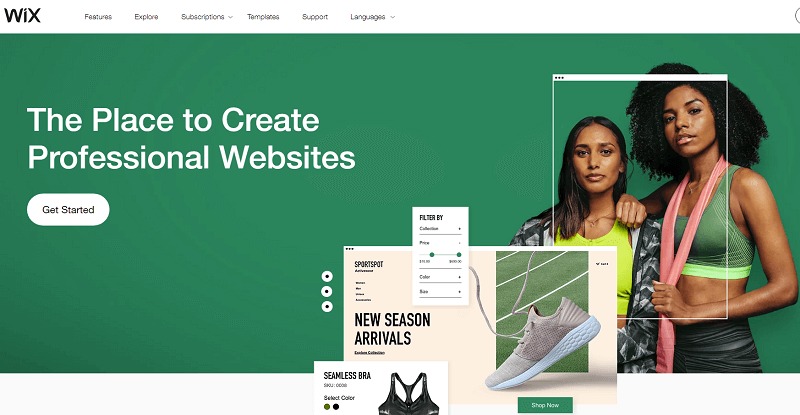 The platform is perfect for newbies and non-technicians thanks to its AI-based technology. The system actually does the entire job for you. The process of creating and deploying websites has never been easier before. You get a ready-to-launch project in minutes.
Here are some major Wix hits:
Best for Beginners
Wix ADi is the AI-based tool we have mentioned before. Once you have logged in, it asks several key questions to define the website type, niche, and features you might need. Then you get a ready-to-use website with relevant apps and add-ons as well as content generated from existing social accounts. All you need is to choose the layout style, edit text or images and go online.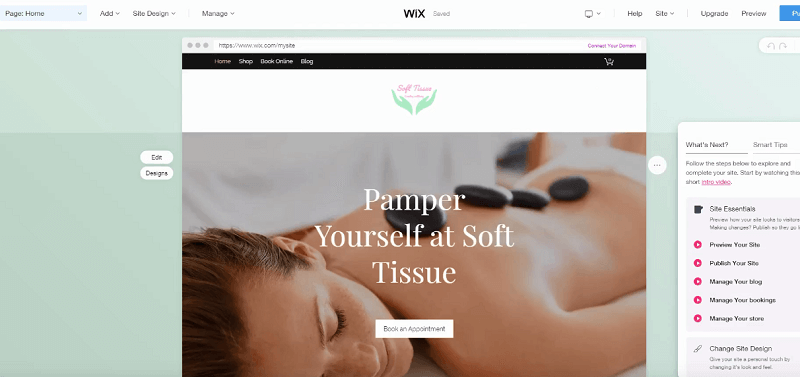 At the same time, Wix reserves enough freedom for users who want to create a site form blank or customize any of the existing templates that are 100% responsive. You may use Wix content editor to create a brand-new page structure, add new elements, remove or resize blocks, add necessary apps, etc. You get full editing freedom.
All-In-One Platform
Wix will take care of your site security, hosting, domain and other technical issues. You do not have to manage them on your own as well as update plugins, software version or anything like that. Moreover, it is easier to plan your budget ahead with Wix, as all features are delivered within a chosen package. This fact will certainly make the website building and managing process much easier.
Wix App Market
Although it is not as huge as WordPress plugins marketplace. It provides custom Wix apps and add-ons that are 100% safe to use. The selection of apps is pretty wide with analytic, eCommerce, user acquisition, marketing, and promotion widgets. Customize your website to drive traffic or ensure most effective in-page user interaction.
eCommerce Functionality
Wix is a good pick to get started with the online shop of any size. It offers several plans that might suit small and medium digital stores as well as growing international marketplaces. The system comes with an intuitive product management tool to add new items, edit page SEO, implement promotion and ad campaigns, manage tax and shipping fees, etc.
The software boasts a set of extra features including its exceptional blogging functionality, over 550 stylish and professionally-designed responsive templates, and more great website building instruments to benefit from.
Which One To Choose?
As you may see, both platforms are great. But, which one is better to choose and why? When will WordPress be a better option than Wix and vice versa? Let's compare and contrast some of the key features to define who will benefit from today's rival and on what occasions.
WordPress is more familiar for technicians while Wix reserves more space and web design freedom thanks to its AI-based Wix ADI platform. It will take you minutes to create a new site from scratch while WordPress still requires some time to figure out its key capabilities. On the other hand, the content management system itself is very simple. Setting the website from the start is the most complicated. Moreover, experienced developers will appreciate HTML/CSS availability to add features or styles of their own.
Platform's flexibility is vital, as you might want to customize your website or make it more interactive at some point. Current Wix vs WordPress functionality researches show that the latter is is better for those who crave for maximum flexibility. WordPress is compatible with thousands of services officially provided by Google and other well-established digital names as well as independent developers. Although Wix has its own App Market with numerous apps and widgets, WP boasts a wider selection of third-party plugins.
Both platforms will serve you just fine. However, you need to clearly understand your goals, target audience, and prior objectives. Otherwise, you will get stuck and forced to look for another solution or even website transfer to a new CMS. Luckily, such a process is not as challenging in terms of time and money as you may think.
Wix and WordPress Migrating
Website migration between Wix and WordPress might be necessary if you are not satisfied with the platform. We all make mistakes. But are we able to find a fast solution and reduced the consequences? Site transfer is a good way out in case you have picked the wrong website builder.
Reasons to Migrate from Wix to WordPress
You may want to switch the system for different reasons. Some users prefer more flexibility delivered by the open-source CMS. Others are eager to find a better hosting solution and manage its costs separately.
Experienced developers realize that WordPress delivers more customization freedom if compared to Wix. They do not need to stick to typical templates with the same structure or use themes with millions of downloads. They have a chance to implement their own web design and create the unique online appearance. You should note, that this will work out for people with coding and development experience only.
Why Convert WordPress Site to Wix?
You may want to change website CMS for different reasons.. For example, rookies are not satisfied with the ease of use delivered by the open-source CMS. They need a faster and more intuitive website building solution. Wix is obviously a simpler choice when it comes to technical dummies.
At the same time, some users consider all-in-one websites builders a better option rather than manage hosting and domain manually. Moreover, they do not like to constantly update plugins and software versions on their own. Wix lets them focus on prior business objectives instead of technical aspects.
The process itself is not as hard as it may seem. To convert your website, you only need to follow the correct WordPress to Wix migration guide with all steps described in details.
Conclusion
Both Wix and WordPress are great to create a website from scratch and go live with it. However, you still need to identify your goals and ways to achieve them first before choosing software.
While Wix will work out for newbies with absolutely no technical skills, WordPress is for a bit more experienced developers who look for maximum web designing, assets management, and customization freedom. Both website builders let you create literally any website type for any niche although with a slightly different approach.