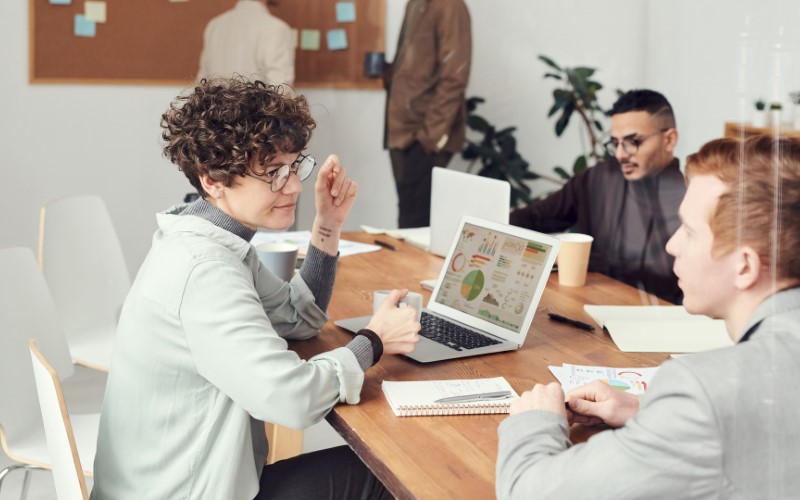 If you're looking to supercharge your workflows, then you're in the right place.
Every business process includes workflows, from human resources and sales to marketing.
However, a lot of these workflows often have manual, repetitive tasks that are often costly, time-consuming, and error-prone.
The solution? Look for ways to automate workflows in your business.
Workflow automation reduces the complexities and the laborious, time-sucking aspects of your business processes, allowing you to work more quickly, accurately, and efficiently. 
If you're still on the fence about whether you should automate critical tasks, read on to know more about the four benefits of workflow automation and how it can optimize your business processes.
A brief overview of workflow automation
Workflow automation is the process of using designated software to identify, standardize, and automate repetitive tasks to boost efficiency.
It typically includes switching operational systems from manual to digital processes to execute them regularly with minimal human intervention for optimum productivity.
Workflow automation lets you design, execute, and automate processes based on specific workflow rules. This allows data (or files) and human tasks to get routed between systems or people according to your pre-defined rules.
Workflow automation is often necessary when:
The tasks are repetitive and take up too much time and effort to accomplish
The jobs require accuracy (with little to no chances of human error)
You have a series of simple tasks that become more efficient with automation
When appropriately implemented, workflow automation should streamline your critical tasks to optimize your business process ultimately.
4 Advantages of automated workflows
Essentially, workflow automation makes accomplishing business tasks faster, easier and often allows more accuracy without compromising your output's quality.
Other benefits of workflow automation include the following.
1. Increased productivity
Regardless of how big your team is, your employees can only work for a limited number of hours in a day.

If you rely on manual tasks within your workflows, you'd be hard-pressed to increase your productive hours without overworking your employees.
This is where workflow automation through cloud-based tools comes in handy.
For instance, Record360 allows rental equipment companies to conduct inspections through a mobile app with a digital equipment inspection form.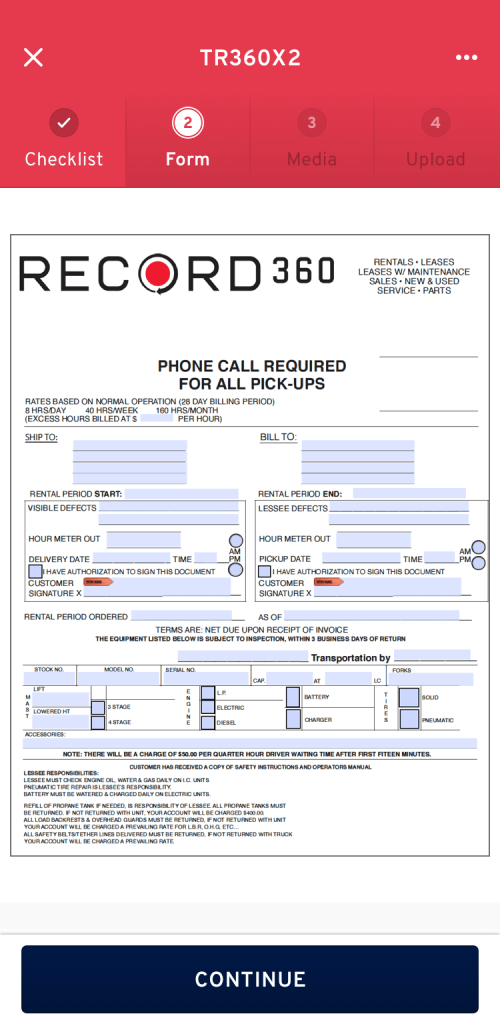 This streamlines your asset inspections since your staff can access and use the form from any location as long as they have a reliable internet connection on their compatible mobile devices.

Users can then send off the inspection records electronically, saving your team members and managers from dealing with mountains of paperwork.
Record360 lets you schedule and automate sending emails to designated recipients when inspections fail, assigned staff needs to conduct inspections on a specific date, and other equipment inspection-related actions.
With this feature, your team can respond promptly when necessary, implement the best corrective actions, and complete equipment inspections faster.
Leverage cloud-based tools with reliable automation features to streamline time-consuming tasks and increase business process efficiency.
2. Reduce human error
One of the biggest downsides to manual workflows is that it's open to a lot of human errors.
For instance, manually entering customer data into your system is not only time-consuming, but it's also easy to include inaccurate information. This can seriously impact your business process' effectiveness and productivity.
Workflow automation provides a solution through tools and features automating tedious tasks that require accuracy and efficiency.
For example, you can leverage customer service automation software to speed up your client support workflows and improve service delivery. 
One such software is HelpScout.

The solution lets you create help desk workflows to automate your critical tasks that act based on your set conditions. This allows you to streamline everything, such as simple routing and filtering customer tickets and other more complex processes.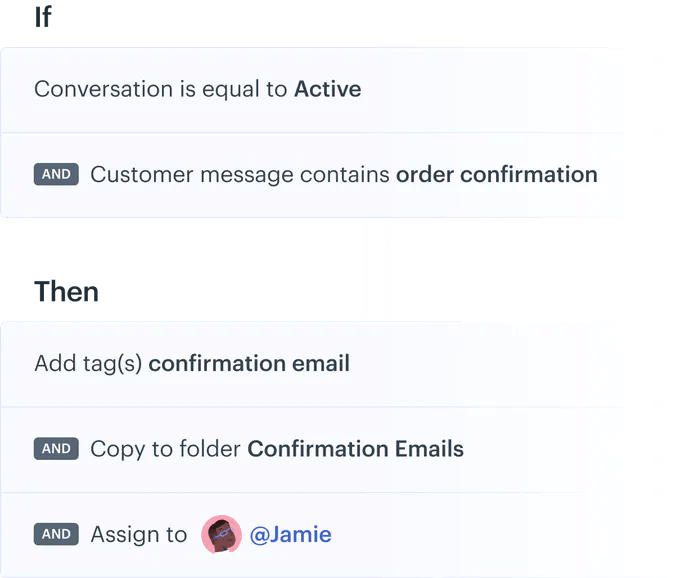 With these automated customer workflows, you can meet your Service-Level Agreement (SLA), organize tasks, and serve your customers more efficiently. 
Plus, since the process is automated, there is little to no chance of sending the wrong information or solutions to customer queries and concerns. This helps ensure you deliver accurate and prompt customer service.
3. Higher employee work satisfaction
Work satisfaction is crucial to employee retention. After all, workers who feel underutilized, overworked, or even bored are most likely to look for other jobs.
Increase work satisfaction by automating mundane tasks in your workflows while equipping your staff with the right tools to streamline performing their roles efficiently.
For instance, instead of having your employees sort through and respond to everyone who signs up to your email newsletter, leverage automated emails. This, in turn, helps streamline engaging your subscribers and crucial aspects of your email marketing workflows.
Some of the easiest ecommerce platforms to use, such as Wix, lets you send automated emails to your website visitors, remind customers about invoices, and set other automated tasks. 
You can set triggers that set off the corresponding actions automatically, such as triggering a welcome email as soon as your site visitors sign up to your newsletter through your web form.

Automating simple, repetitive tasks allows your employees to focus on more complex and essential tasks. This helps them channel their energies into work that provides greater impact and increases their satisfaction with their roles (or jobs). 
Automated workflows can also improve workplace safety and team communication and increase asset availability, all of which can contribute to higher employee satisfaction.
4. Efficient onboarding
Onboarding and training new hires can be a long, time-sucking procedure, but implementing workflow automation can streamline vital parts of this process.
For instance, gathering and processing new employee details and "paperwork" becomes more efficient.
You can establish workflows that automate linking all employee data such as personal information, addresses, and tax numbers to your existing systems. This makes your payroll processing more efficient with better accuracy — preventing potentially costly errors.
Automation also streamlines training new hires since you have standard workflow trainers and trainees can easily implement.
For example, a solid workflow on using your EPOS system saves training teams a huge amount of time and effort, allowing you to get new employees on board quicker. 
Workflow automation can put your business-critical tasks on autopilot and do the heavy lifting for you and your team. This can lighten your workload while increasing your process' productivity.
Are you ready to adopt workflow automation?
Workflow automation offers a long list of benefits.
It can speed up your processes, optimize your workflows by eliminating bottlenecks, and even help you cut expenses while improving the efficiency and quality of your results.
Automate workflows when it makes sense, and you're bound to see more business growth and success opportunities.