Chatbots are seeing massive growth in popularity and interest due to the rise of messaging apps such as Facebook Messenger, WhatsApp, WeChat, and Kik. Having backed by tech giants such as Microsoft, Facebook, and Google, chatbots have found a place in mainstream consumer usage. In this article, we have collected various bot directories which list popular and latest chatbots available on messaging platforms.
A chatbot is similar to an app, except that it interacts with the user in conversation form. A user can interact with a chatbot via messenger apps such as Facebook Messenger and Skype or via SMS or via chat-boxes in websites. Many chatbots are built with artificial intelligence (AI) to help them better understand the context of communication and to make them appear like a real human while responding.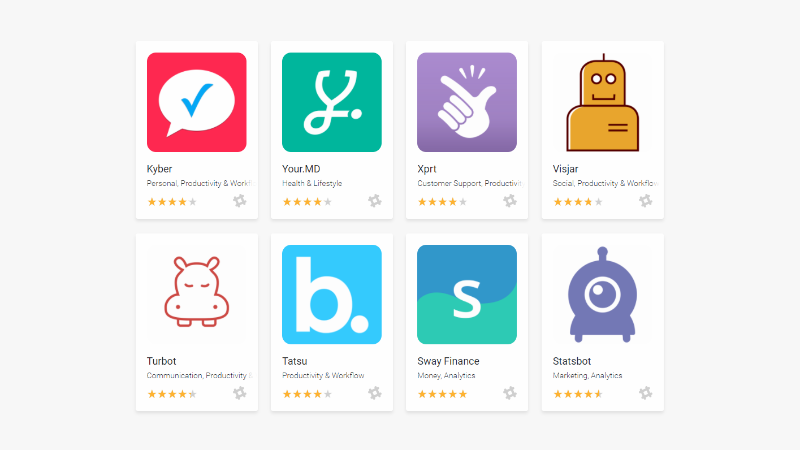 If all this sounds exciting to you, and you are looking to explore various chatbots available on different messaging platforms then we present to you the following list of Bot Directories which keep track of chatbots. If you have built your own chatbot and are looking for ways to acquire more users then the following list will surely come in handy as submitting to these directories will help users and potential investors discover your chatbot. Also, don't forget that you can submit your chatbot to startup directories such as Product Hunt and Beta List as well.
BotList is a bot directory for Facebook Messenger, Discord, Kik, Slack, Skype and a lot of other messaging services. You can find bots under many different categories such as communication, entertainment, travel, sports, etc. They also feature curated bot collections and a portal for finding bot related jobs. You can submit your own bot in the directory after registering an account on the site.
Bots.directory is an aptly named domain name which has bots listed for platforms such as Facebook Messenger, Telegram, Slack and Kik. You will find bots in different categories such as analytics bots, communications bots, News bots, etc. Bots can be submitted using the contact form available on the website.
This platform aims to be a search engine for bots and help you in discovering bots based on your requirements. Using the handy search feature you can find bots for Messanger, Kik, Telegram, Discord and other platforms. You can submit your own bots after registering for an account.
ChatBottle lists bots for Facebook Messenger, Telegram, Slack, Skype, Kik and Amazon Alexa skills. They also give out awards to the best chat bots in the respective niche based on voting from users. You can find the result of their first ChatBottle Awards here. Their submit URL seems to be currently broken, however, you can get in touch with them via Social Media channels provided on the site.
Chatbots.org lists and collects chat bots and virtual assistants for a large number of platforms. They offer filtering of chatbots based on countries, language, messaging platform, and categories. This is an old site which has been collecting chat bots for a long time including virtual avatar chatbots. You can add your own chatbot upon registering for an account with the site.
BotFinder lets you search and discover bots on multiple messaging platforms. You can submit your own bots to the site using the submit button provided.
50bots lists bots for Facebook Messanger, Kik, Slack, and Telegram under multiple categories such as news, utilities, and games. You can add your own chatbot by submitting its details. The site does not require registering for an account before adding a chatbot.
reddit has a subreddit dedicated to discussion about chatbots where you can submit as well as discover bots on different messaging platforms. This is also a good place for discussing development, marketing as well as other aspects such as future of a chatbot.
ProductHunt is a well-known platform for discovering new products and they have a topic dedicated to submitting and discovering chatbots. Similar to other products, you can upvote and discuss these bots. Most of the time, the maker/representative of the chatbot would also be available to take part in the discussion.
Microsoft's bot framework allows developers to easily build conversational chatbots for Skype, Slack, Facebook Messenger, Office 365 mail and other platforms. They list the bots made with the bot framework in their bot directory. New bot submission is currently not allowed on this directory though.
This is the official directory for Slack apps where you can find Slack bots too.
This is the official store for Telegram bots. You can submit your own Telegram bot after logging in with a Telegram account.
This is official bot directory for the Teamchat platform.
Official bot shop for Kik messaging platform. You can build a Kik bot by following the instruction on their dev site.
Have you built a chatbot of your own? Which messaging platforms do you find best fit for a chat bot? Have any other chatbot directory to add to our list here? Leave your comments below and don't forget to share the post.