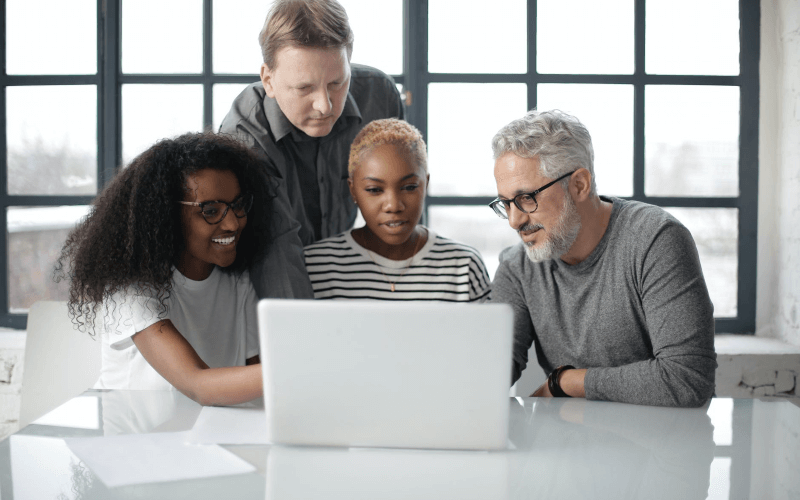 Conversica is a known pioneer for automated lead generation. Despite its comprehensive features, however, the platform isn't a good fit for everyone.
Two new industry leaders have emerged: Exceed and Saleswhale.
Read this comparative post to learn how Exceed and Saleswhale compare with Conversica and which of them is the best platform to work with for your lead engagement and nurturing campaigns.
But before we dive into both platforms, here's a primer of Conversica.
Conversica: The Pioneering Intelligent Virtual Sales Assistant
Conversica began in 2007 as an automotive sales and lead generation platform providing AI-driven assistants. Being the pioneer, it has obtained many industry awards for its superb performance. It also now offers services to the higher education sector.
Overview of Features and Sales Assistance Workflow
Conversica's AI assistants operate based on three capacities:
Engaging prospects showing interest but garnering low qualification scores;
Interacting with high-scoring leads unresponsive to your sales reps' outreach;
Driving attendance to events and in-person meet-ups.
Conversica's assistants do this through personable, two-way dialogues and follow-ups. The tool can also support multiple channels and languages and provide rich analytics reports.
Conversica's dashboard displays relevant categorical information and lets your sales team sort them, like this: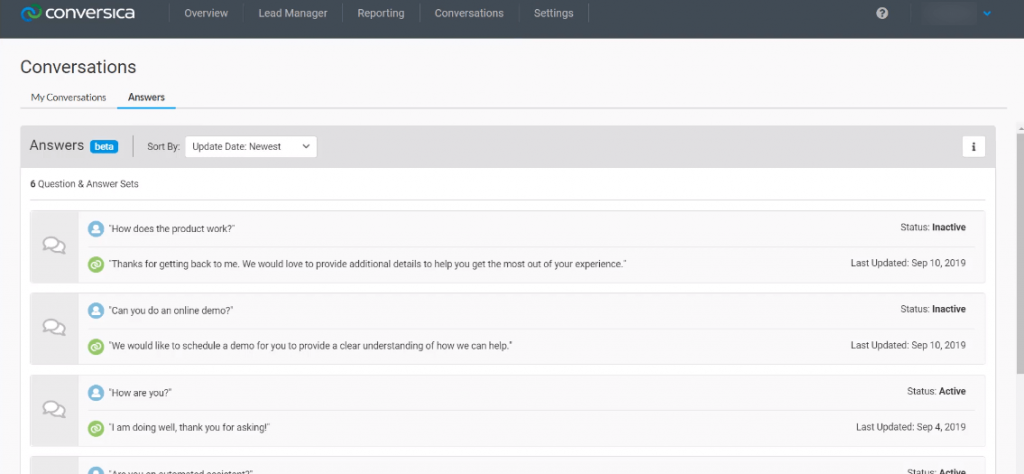 Image Source: Youtube.
Conversica's service package pricing depends on your desired AI assistant skills but can go from USD 2,999 to USD 6,999 every month.
Advantages of Conversica
High-quality client assistance
Better-suited for large enterprises with huge quantities of homogenized leads and standardized replies
Features HubSpot, Salesforce, and Marketo integrations and other connectors
Disadvantages of Conversica
High-priced, particularly for startups and small businesses.
On top of that, they charge businesses for setup (discretionary), customization, and USD 1,000 per month for every new use case.
Consequently (with these hefty fees), Conversica caters more to large organizations
Limited customization, client reach, and use cases catered to
Interface is inconvenient and confusing, repelling marketers used to modern more intuitive dashboard layout and design
Now that you have a better understanding of how Conversica works, let's check out the other two alternatives.
Exceed: #1 Conversica Alternative for Smart, High-impact, and Automated, Lead Engagement Campaigns
Exceed is a US company headquartered in Israel and founded in 2016. It has worked with clients such as Monday.com, HCL, Hearst, Guardicore, Comeet, Sugar CRM, DemandBase, etc.
Exceed has also garnered these G2 Spring 2021 awards: Best Estimated ROI, Most Implementable, and Best Meets Requirements.
Overview: Features and Lead Nurturing Process
Exceed sources sales opportunities smartly throughout your funnel using built-in functionalities.
It personably interacts with your prospect through various channels 24/7 — even on scale. It intelligently understands your leads' messages when inquiring, raising complaints, showing interest, etc., and replies accordingly — all while capturing relevant data for your CRM.
Built on automated lead follow-up systems, the assistant nurtures prospects based on their customer journey status and follows them up at optimum times and chances.
As a virtual sales development rep, Exceed's assistant qualifies prospects based on your playbook. It works to guarantee you never waste time on unqualified, unprofitable leads.
Once it has identified the best prospects, the assistant instantly calendars meetings on your agents' vacant schedules and hands them over to your human agents — ready for closing deals.
Exceed's dashboard is user-intuitive, so your sales reps can smoothly navigate the platform for relevant information, e.g., engagement status, most recent activity, etc.
The tool also has rich analytics data and insights.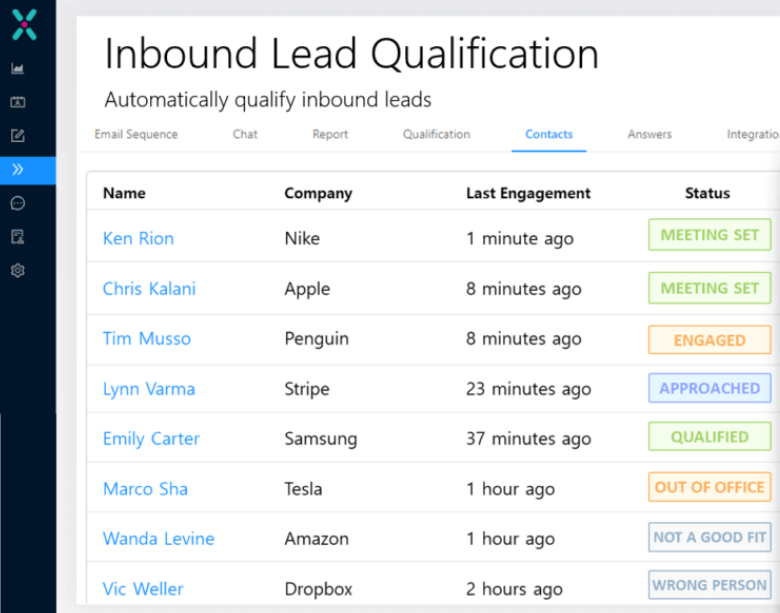 This SaaS tool is affordable, with a free trial and prices beginning at only $2,000 a month for 20,000 leads and unlimited chat and email playbooks or campaigns.
Pros of Exceed.ai
Can communicate with leads in human-like ways on multiple channels: email, AI chatbot, SMS, live web chat, and others
Highly dynamic, flexible customization, e.g., in assistant responses, plus instant scheduling, CRM data entry, etc.
Investment-worthy, providing excellent value for money due to its broad, competent service suite and client support
Cost-effective and optimizes resources and spending, skyrocketing the volume of qualified leads, sales, and revenue at much lower costs than hiring human sales agents
Scalable and can cater TO small businesses and startups, which are often underserved by Conversica and Saleswhale
Visually appealing, user-friendly, and efficient, interface and functions
Accommodates several app integrations, e.g., Salesforce, Zapier, Google, Microsoft Outlook, etc.
Cons of Exceed.ai
Occasionally experiences bugs and other gaps (though its flexible software development team can quickly fix them)
Can be enhanced with more solid, advanced reporting capacities
Saleswhale: A New and Emerging, Exceptional Conversica Alternative
A US, Singapore-based company, Saleswhale was recently a startup that leveled up from the Y Combinator program in 2016. Its clients include Cisco, Monster, WeWork, Zendesk, etc. It has also received the G2 Winter 2020 award for being the easiest to do business with.
Overview of Features and Conversation Flow
Saleswhale performs automated follow-ups for as many touchpoints as you would define, relays the right information to prospects, and can detect and reply accordingly to out-of-office messages and company referrals wrongly given to its AI assistant.
When your leads express interest, Saleswhale's assistant includes and introduces your agent in the email thread for proper handoff. Otherwise, when the prospect expresses disinterest and end of contact, it politely abides and updates your CRM.
Saleswhale assistant also automatically input new lead information that pops up in a dialogue into your CRM.
Here's how Saleswhale's conversations dashboard looks like: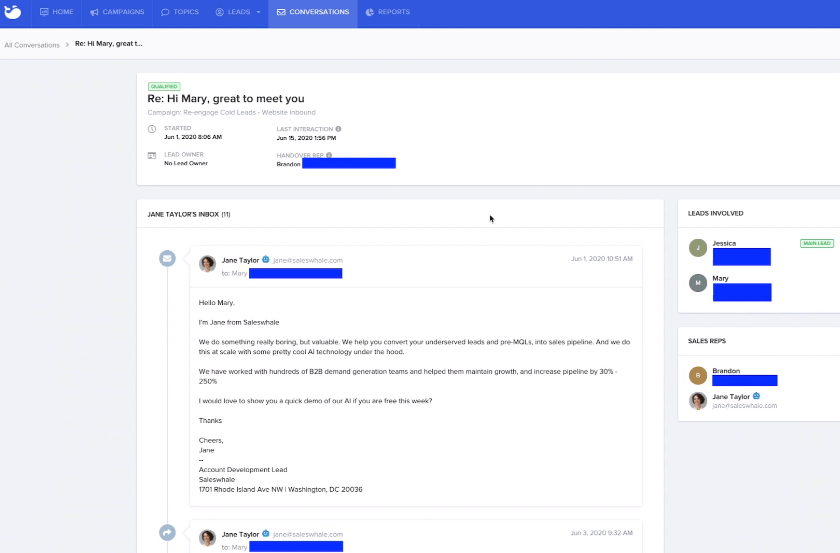 Image Source: Youtube.
Saleswhale reasonably prices its services beginning at USD 595 per month and then scales accordingly with your business needs.
Saleswhale Advantages
High-quality onboarding and client support
Flexible customization
Smooth handoff and instant CRM updating
Can help maximize profits, enhance data collection, and others beyond engaging and converting leads
Saleswhale Disadvantages
Can only communicate with leads via email. Lacks SMS, chatbots, and other nifty messaging channels offered by rivals such as Exceed
Limited Salesforce API integrations supported, unlike native connectors by competitors
Entails some learning adjustment in developing campaigns (which often come with flexible customization arrangements)
Ratings on G2 by Company Users
Wondering about what other companies have to say about the Exceed, Conversica, and Saleswhale?
Following are the ratings they gave the three platforms on G2 according to specific aspects (Note: figures also depend on the number of people who rated them):
Lead facilitation features
Customer-facing chatbot. Exceed and Conversica: 8.6; Function unavailable for Saleswhale
Lead qualification. Exceed: 8.7; Conversica: 8.1; Saleswhale: 9.1
Follow-up of leads. Exceed: 9.2; Conversica: 8.8; Saleswhale: 8.9
Appointment scheduling. Exceed and Conversica: 8.7; Saleswhale: 9.6
Responses to prospects
Natural language understanding (NLU). Exceed: 9.6; Conversica: 8.3; Data insufficient for Saleswhale
Personalization. Exceed: 9.5; Conversica: 7.8; Data insufficient for Saleswhale
Route to a human operator. Exceed: 9.8; Conversica: 8.1; Data insufficient for Saleswhale
Platform features
Conversation editor. Exceed: 9.8; Conversica: 7.5; Saleswhale: Insufficient data
Human-in-the-loop. Exceed: 9.4; Conversica: 7.7; Saleswhale: Insufficient data
Integration. Exceed: 8.8; Data inadequate for Saleswhale and Conversica
Exceed: The Best Conversica Alternative
Exceed offers more practical, intuitive features and channels than Conversica and Saleswhale and has generally received more positive user ratings and preference.
Clearly, Exceed outshines the two other platforms, making it the best choice and Conversica alternative to turbo-boost your business' lead engagement and nurturing needs.