When you have a new business (startup) or a new product launching in the near future and want to setup a landing page for it with the information about its arrival then a Coming Soon HTML5 template would fit the job perfectly. In this article we have gathered some of the best and free to download Coming Soon HTML templates which will help you get started with your new venture easily.
Along with these free coming soon templates, you will also find some of the finest premium HTML5 templates for Coming Soon pages. These premium templates pack some extra punch with easy to customize pages, multiple design options and great support.
Our Picks of Coming Soon HTML Templates
Find below the coming soon HTML templates that we have handpicked for you based on our quality metrics. One of them is completely free template built by our own team and the other one is one of the top selling coming soon templates. Take your pick:
Simple and Beautiful Coming Soon template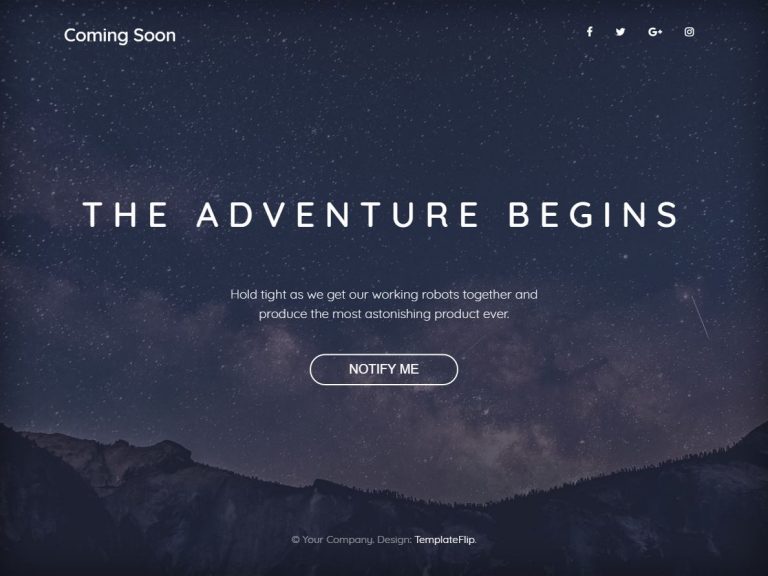 Built by TemplateFlip, this Bootstrap based coming soon template features a full page background image and modern typography along with social icons. Included in the template is an e-mail subscription modal dialog which gets displayed upon clicking the "Notify Me" button. The template is free to download with an option to upgrade to attribution free version.
Versatile Coming Soon Template – Premium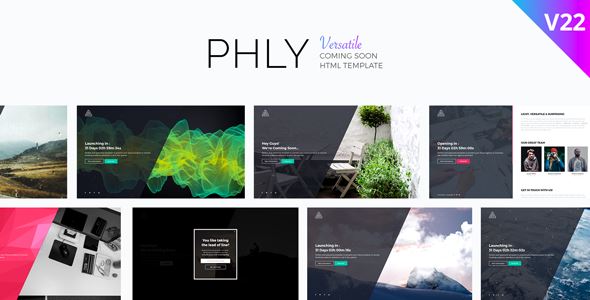 PHLY is a premium and versatile coming soon template built with Bootstrap. It has clean and elegant design suitable for everyone such as creative professional, corporate, agency, e-commerce etc. It offers multiple different versions of its design for you to choose from. These variations include slideshow with countdown, YouTube background, Map, animated gradient, realistic rain and a lot more.
Free Coming Soon HTML Templates
Let us look at some of the other best free coming soon HTML5 templates available. You will find the link to download them below the preview image and description.
Starting Soon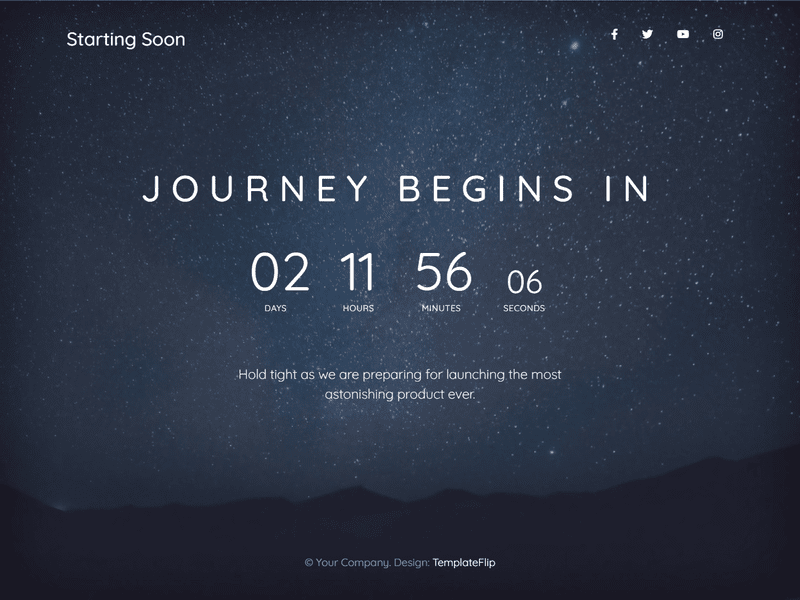 This is a perfect coming soon landing page template when you want to launch a product or website. It features a countdown timer along with a cool video background. It has included social media icons and has an easy to edit code that allows you to set it up as your own under construction landing page with cool animations in no-time.
Coming Soon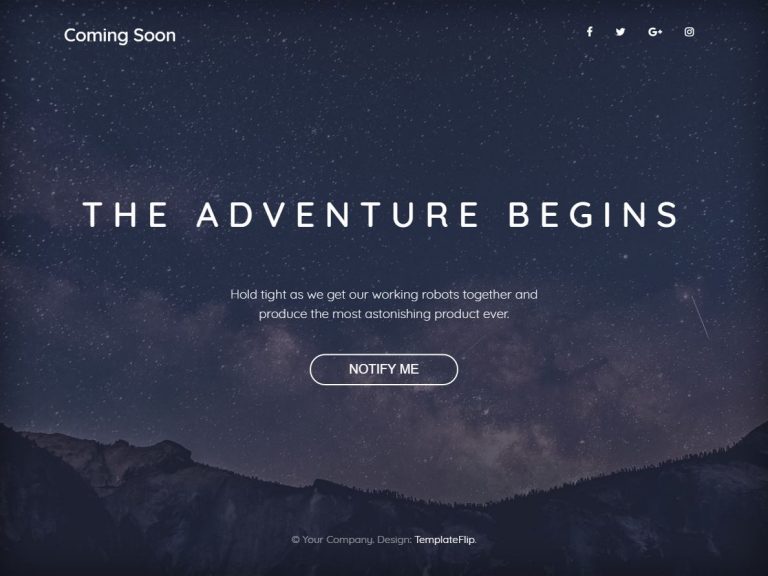 This Bootstrap based coming soon template has a completely free download available. It features a stunning design with full background image and modern typography. It includes social icons powered by font-awesome that you can easily update. The template includes e-mail subscription modal dialog which can be integrated with mail-service providers such as Mailchimp or Formspree.
Coming Sssoon Page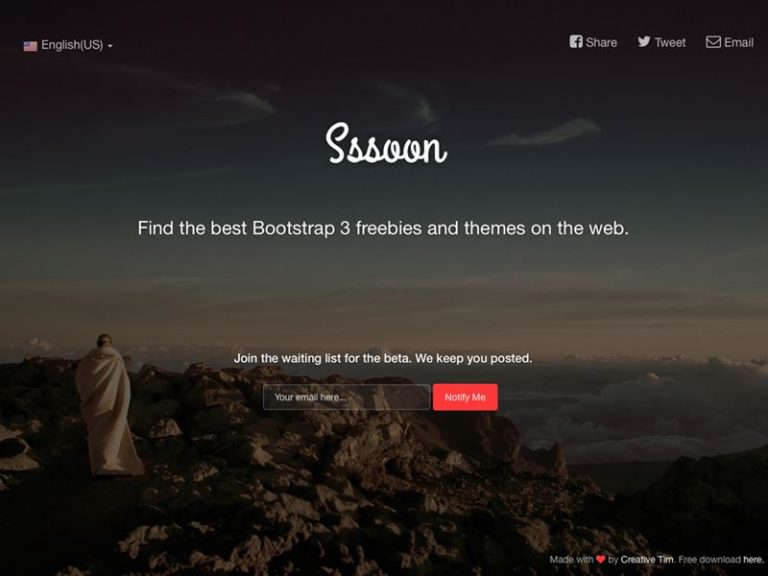 This is a Bootstrap based coming soon one page website template which offers 4 different designs suitable for standard website, application, video background website and a restaurant custom page. There is a WordPress version also available in case you want to integrate with your WordPress website. This coming soon template is licensed under MIT license and is completely free to download and use in personal as well as commercial websites.
Opening – Website Under Construction Template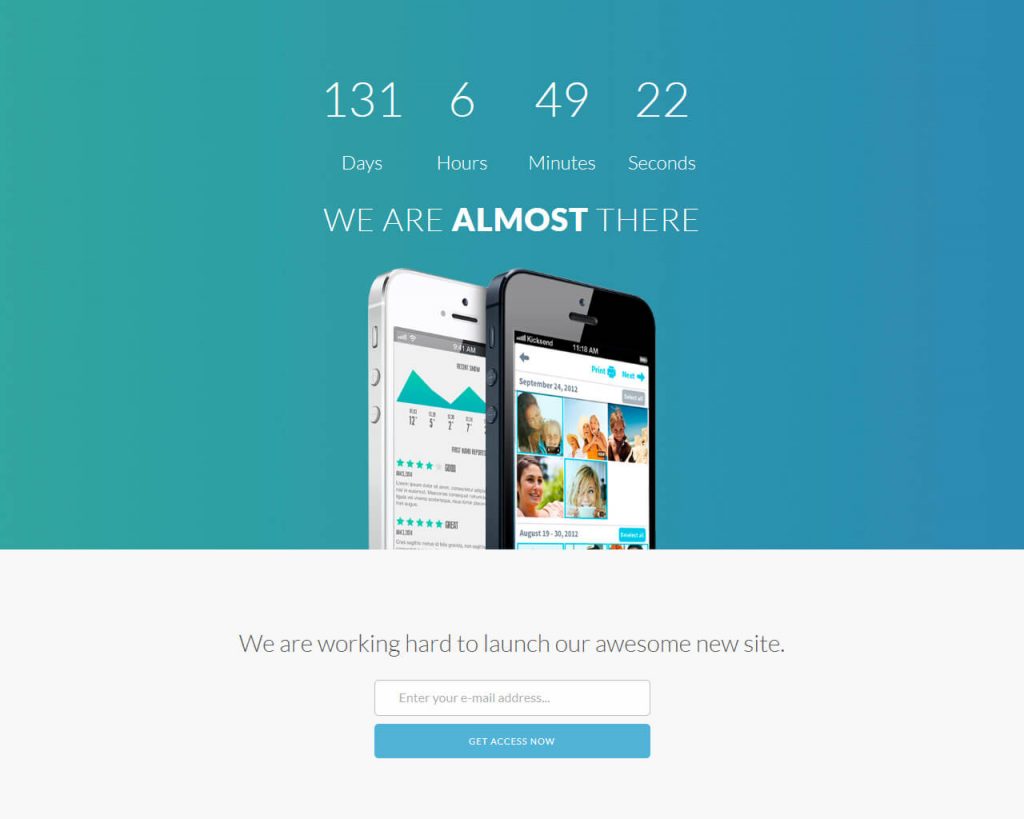 Opening is an elegantly design template suitable for product launches. It features a count-down timer along with a contact form to get notified about the website. The template is responsive and is cross-browser compatible. You can use the template to announce launch of your apps, products or services.
Soon – Under Construction Template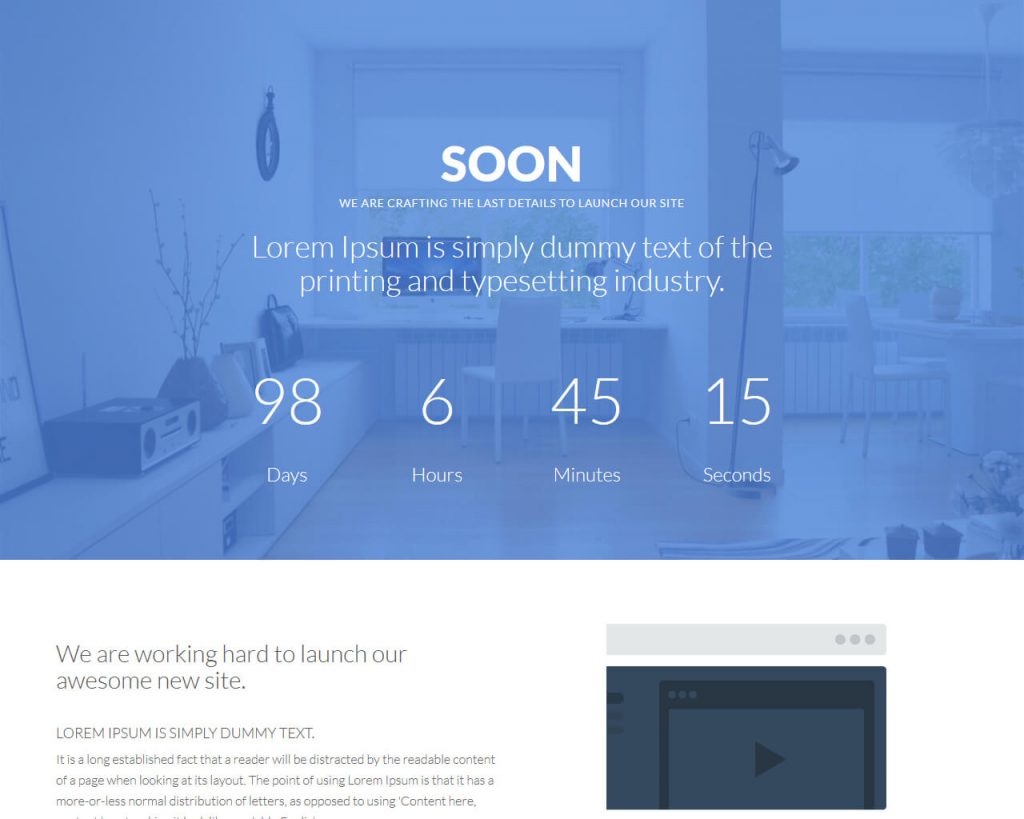 Soon features a simple landing page that can be used to display count down to your product or service launch. This coming soon page features sections to showcase additional details about your product and company. A subscription form as well as contact form is also included in the landing page to collect e-mail leads.
Imminent Coming Soon Responsive Website Template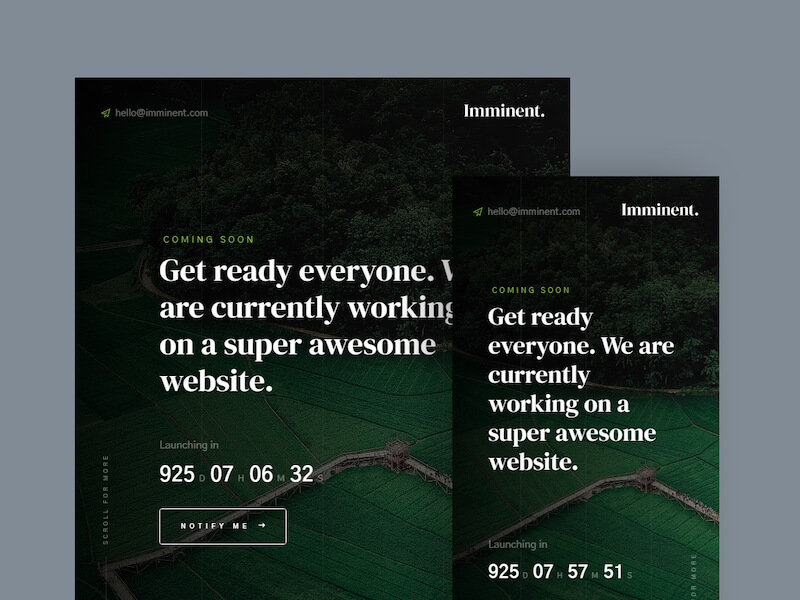 Imminent coming soon free responsive website template is a beautifully designed website template with a sleek minimalistic style that will draw visitors in while your perfectly detailed and highlighted information will keep them on your site. The template is 100% responsive so your website will look great on any device. It comes with three style variants to choose from: static, slideshow, and particle background. This template would work perfectly for any website that is undergoing a transformation and can work well for personal sites, small businesses, and agencies.
Creativo Free Responsive Website Template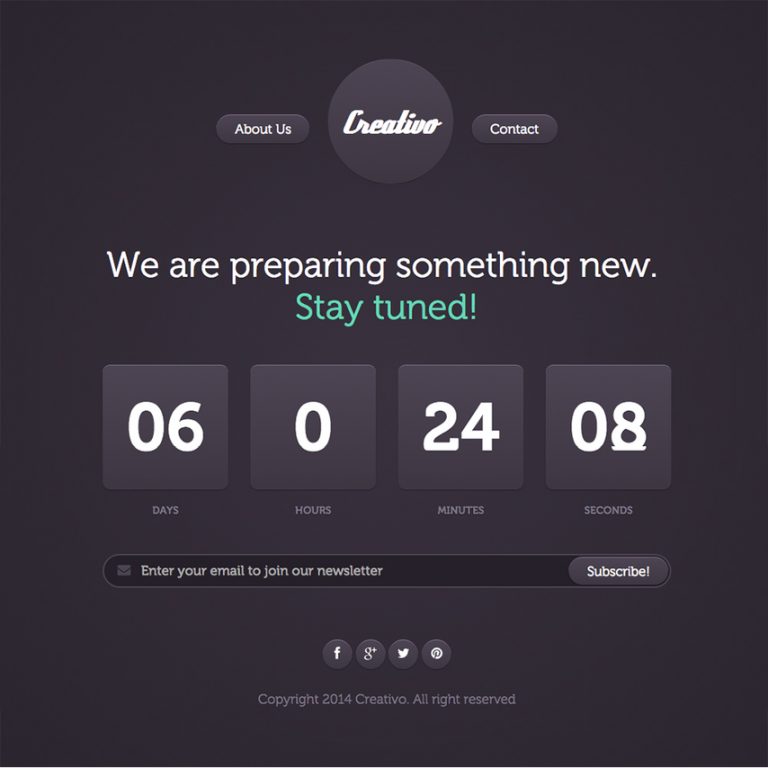 The Retro Creativo Free Responsive Website Template will let your customers know you are getting ready to launch something new and exciting. The style is creative with a retro-looking layout and simple design. This template can be used in multiple industries and is completely customizable.
Starter Bootstrap Coming-soon Web Template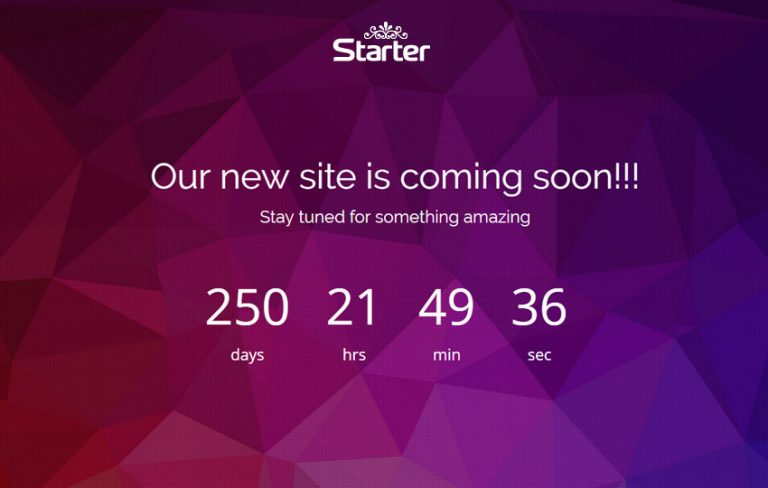 Startup bootstrap coming soon web template is a minimal, responsive, business coming soon / landing page / one page HTML5 template based on Bootstrap. This theme is clean and fast, easy to customize multipurpose, includes Services and Contact form, 400+ Font Awesome icons, custom backgrounds and much more!
With the free download, you don't get any support and must have the credit note in the footer.
Coming Soon Responsive Theme – Jack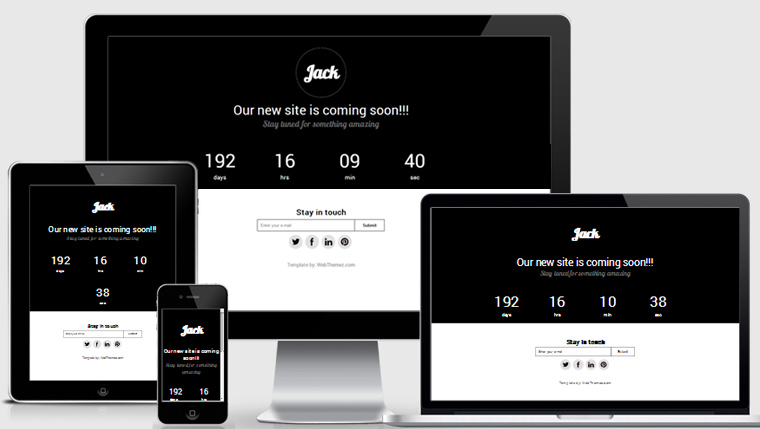 Jack is a simple coming soon theme is a responsive web compatible with multi devices, comes with unlimited background colors. The countdown is powered by a custom jQuery plugin where you can set your launching date.
Coming soon Under Construction Responsive Website Template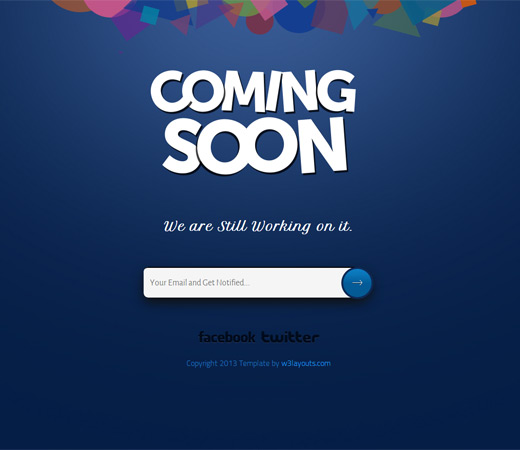 Coming soon Under Construction Responsive is a free website and mobile template. You can use it show your website visitors that you are still working on your website. It includes subscribe form and social buttons such as Facebook and Twitter.
Comix Under Construction Flat Responsive Website Template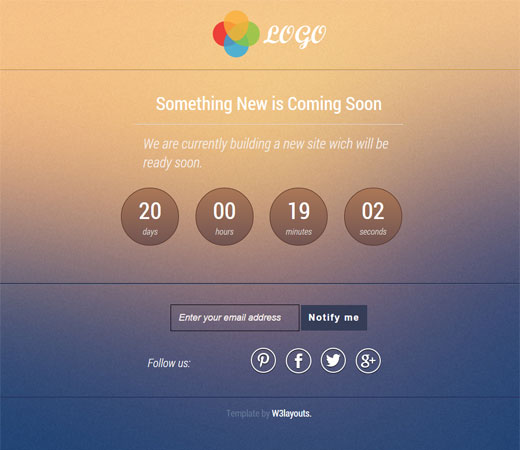 Comix Under Construction Flat Responsive is a free website and mobile template to announce the launch of your new website. You can display a countdown timer, notify me button with user e-maill address as well as your social media profile such as Pinterest, Google Plus, Facebook and Twitter.
Discover Bootstrap Coming Soon Template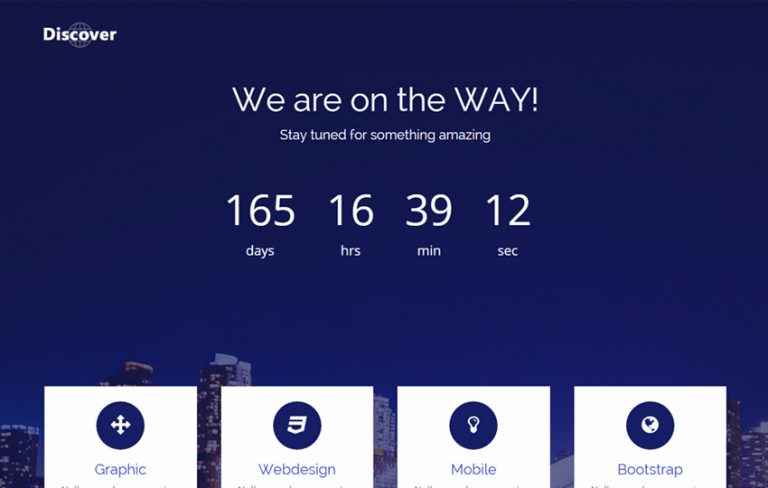 Discover Bootstrap coming soon template is a well crafted modern responsive template or landing page build on top of latest bootstrap html5 and css3. This theme has a jquery countdown plugin in built and background slider. It integrates with font awesome icons and google web fonts.
Free bootstrap coming soon template with countdown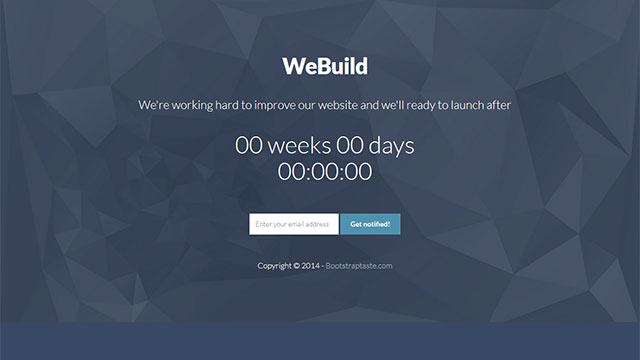 This is a Twitter Bootstrap 3 coming soon template called 'WeBuild'. It has simple, flat and minimal design with jQuery countdown timer and polygonal background. You can your own timer by modifying the code in index.html.
Premium Coming Soon HTML Templates
When the need is to make the perfect first impression with a visually striking coming soon template for your product/service/startup, then these carefully selected premium coming soon templates from ThemeForest and CreativeMarket are something you should consider. These templates offer multiple customization options and different layouts for you to choose from and have great efforts put in by their developers to make them stand out from the crowd with impactful and stunning designs. These don't even cost a lot and are surely worth their price, given their designers offer support for these templates too.
Marshall – Coming Soon Template with 50+ Design Variations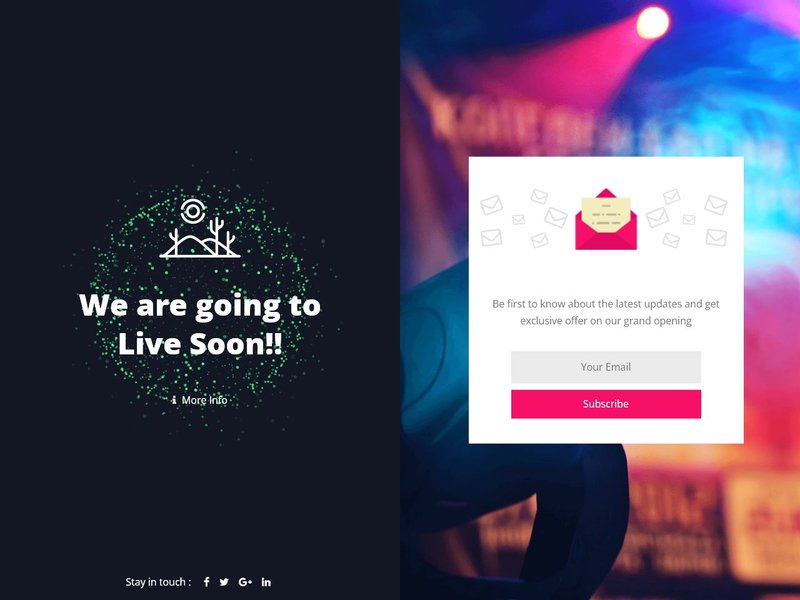 Marshall is a multi-purpose coming soon template built with versatile styles that can be used for a countdown, under construction, launch page or an announcement webpage design. It includes 50+ design variations that include out of the box designs for agencies, restaurants, app launch, e-store, fashion store, gym and many more to match your service/product. Features include fully functional Mailchimp subscription form, Ajax working contact form and documentation to help you set up the website template.
Zoon — HTML Coming Soon with Countdown & YouTube Video Background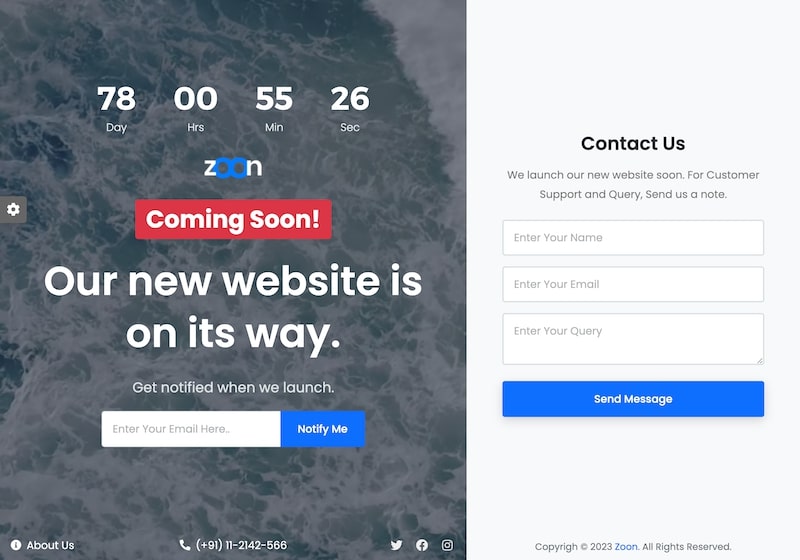 Zoon HTML coming soon template features a clean and modern design with with 24 layout variations including animated countdown timer to display countdown to the launch of your product/website. This under construction website template comes with support for YouTube video background, animated particle backgrounds and RTL support. Using the included newsletter form, you can collect prospective customers and visitors.
Mountain – Clean & Minimal HTML Coming Soon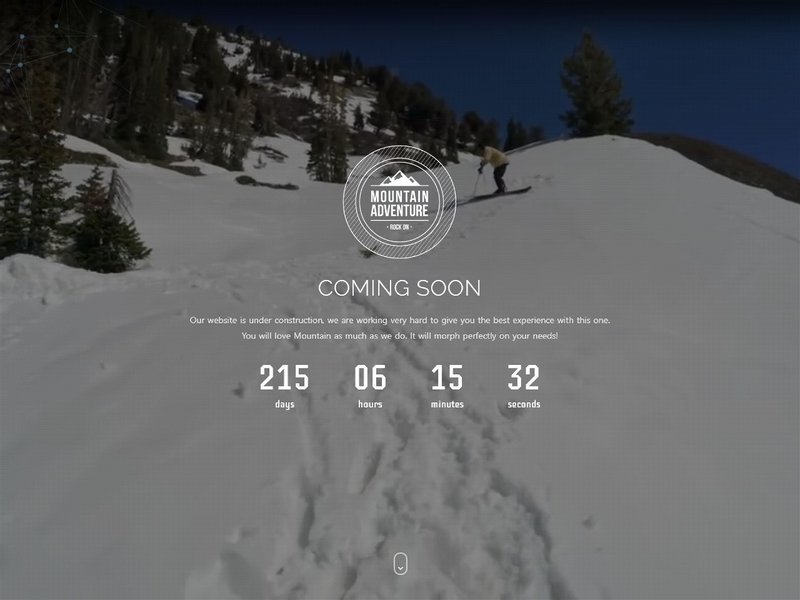 Mountain is a modern and clean coming soon HTML template with countdown timer. The template comes in 20 different versions: image background, image slideshow background and YouTube video background with variations such as low poly animation, winter animation, particles animation and rain animation. This customizable Bootstrap 5 template includes AJAX subscription form, working contact form, Mailchimp integration, and much more. It also has a WordPress theme available.
Oli – Responsive Coming Soon Template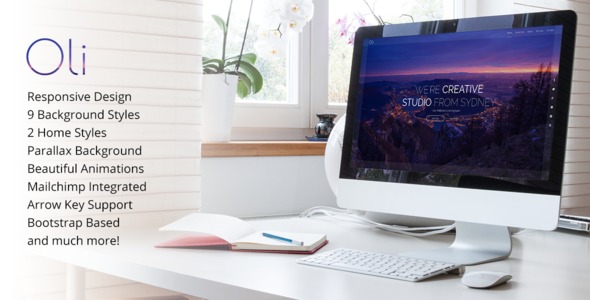 Oli is a creative, modern, minimal and fully responsive coming soon/under construction template suitable for any creative business agency. It has 2 home styles – CountDown and TextSlider. It also has 9 Background Styles – Section Image Background, Section Parallax Background, Single Image Background, Single Image with Gradient Background, Slideshow Background, HTML5 Video Background, Youtube Background, Youtube Video List Background and Gradient Background.
ANTHEM – Innovative Coming Soon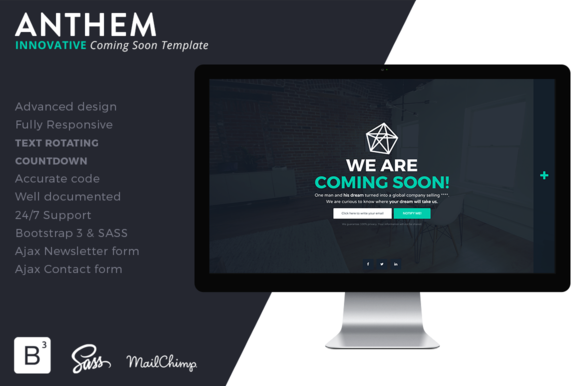 ANTHEM is an Innovative Coming Soon template with clean and elegant design. It can be used by creative people, corporate, agency, e-commerce, business, portfolio etc. Built with the Bootstrap 3 Framework, it is responsive on every screens, is easy to customize, has verified HTML5 and integrates with MailChimp. A documentation is provided in your download pack for your customization needs.
Gravity // Coming Soon – Under Construction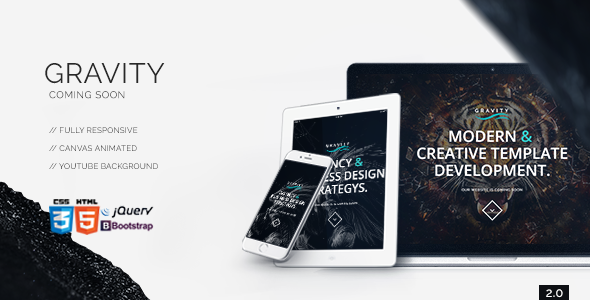 Gravity is a unique and modern coming soon / under construction html template for corporate, agency, photography or general business. It is based on Bootstrap 3 and focus on minimalist minded interface without sensory overload. Gravity coming soon template comes in six versions: image background, image slider background ,YouTube video background., ken burns slider, gradient background and color background.
Ivana Under Construction Template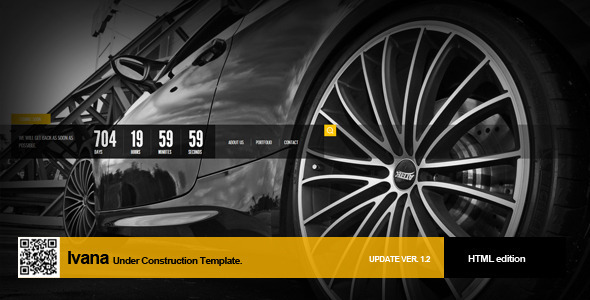 Ivana is a HTML5 / CSS3 under construction template, using a smooth full screen slider. The template comes with 2 skins (dark and light), 4 color schemes and many advanced options like Twitter Widget, Portofolio with prettyPhoto, Lightbox, Colorbox Window and AJAX contact form. Ivana Template is easy to configure and comes with a well documented help file.
Kounter – Minimal Coming Soon & Under Construction Template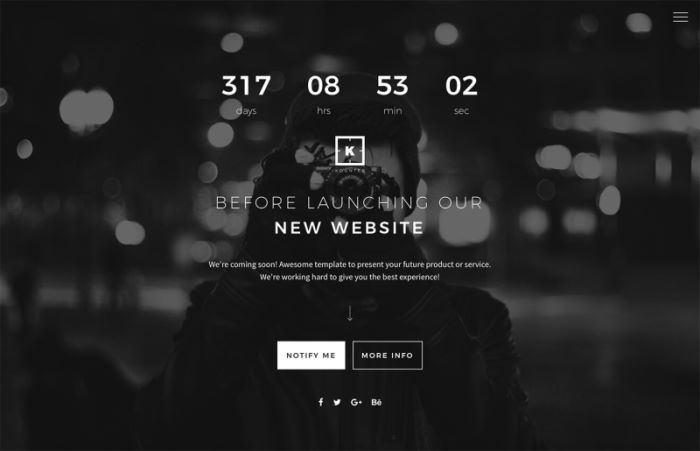 Kounter is a minimal HTML under construction/coming soon template with clean and elegant design. Suitable for creative people, corporates, agency, e-commerce, business, portfolio etc. The template is fully functional, featuring different backgrounds, 3 sections (main, about, contact), customizable countdown, working contact and newsletter forms, smooth animations and multi-browser support.
The template comes with 50 pre-made coming soon design variations including split view, slider, particle animations, YouTube video background, gradient background and many more to choose from. Kounter also has a WordPress plugin available, in case you want to integrate with your WordPress website.
MAGiC – Universal Coming Soon Template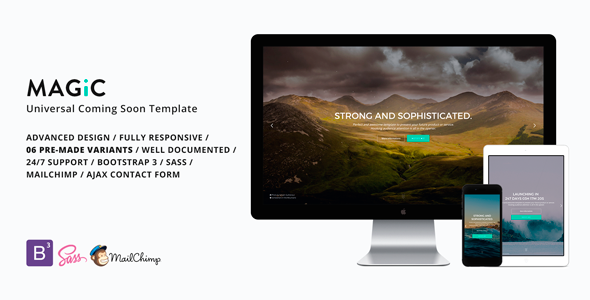 MAGiC is an universal coming soon template with clean and elegant design. It can be used by creative people, corporate, agency, e-commerce, business, portfolio etc. Built with the Bootstrap 3 Framework, it is responsive on every screens, is easy to customize, has verified HTML5 and integrates with MailChimp. A documentation is provided in your download pack for your customization needs.
Verde – Minimal Coming Soon Template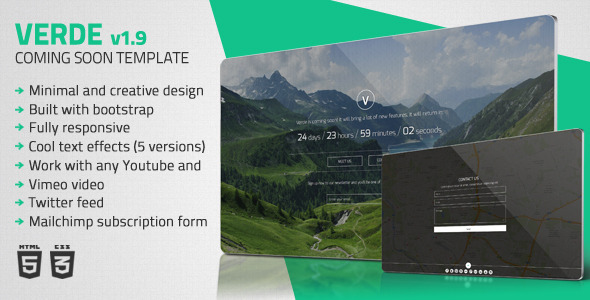 Verde is a retina-ready coming soon template with creative design. It is build with bootstrap and has 5 different cool text effects. It works with any Youtube or Viemo video and has support for Twitter feed and MailChimp subscription form integration.
MUMM | The Splitted Coming Soon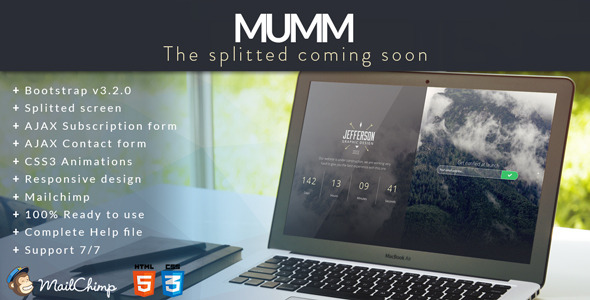 MUMM is a unique multi-scrolling coming soon template with split section design. It is based on Bootstrap 3 and an Ajax subscription form. Check out it's demo to see it's unique scrolling effect in action.
What makes a good Coming Soon Template?
Before you take you pick, let us have a look on some of the characteristics that we believe makes a good Coming Soon Template in this modern age of web design:
Responsive Template
With the use of Mobile devices on the rise, mobile friendly website templates are a no-brainier these days. Even when you are just launching a product or a service and are looking for a Coming Soon Template, there is no reason why you should not pick a responsive template which works well on mobile as well as on desktop. You will find that we have picked only responsive coming soon templates in our article.
Easy to Edit
Having an easy to edit template is necessary so that you can adapt it with your own details before publishing. We have included templates which are built with frameworks such as Bootstrap as they are easier to work with.
Customization Choices
Coming Soon templates which offer customization options such as multiple fonts, colors, background images, videos and different layouts are better to have in order to have multiple iteration of your ideas with different designs.
Impactful Design
When it comes to launching a product or service, you should look for a Coming Soon template with impactful design as this is going to be the first impression of your product/service and it needs to stand out in users'/potential clients' mind. Look for templates having video background, or large hero images. Fluid animations and large count-down timers are frequent characteristic of an impactful coming soon page.
Related: Sites to Download Free Videos Without Watermark
Contact Information
Don't miss out on having your users and potential clients from contacting you. We believe a Contact Form is a must to have and you should prominently display your contact information (add a map too if needed) to create the trust between you and your clients/users.
Social Sharing
Why miss the Buzz before the product launch? Add up social sharing and motivate your visitors to spread information about your product launch.
Subscribe
Have a subscribe form to let the users know when your product launches or website goes live. This is also a good way to start building your mailing list before your website goes live.
Licensing Information
This one is very important and you should always read the associated licensing information before using any template, as some of the free templates may not be available for commercial use. While we have tried to pick those free templates which do allow commercial use, but their licensing information can change so do read them before downloading. You should not have any such licensing problem with the premium coming soon templates listed below as they are meant for commercial use.
More HTML5 Templates
Find below some of our popular collection of HTML templates that our users have found useful.
We would be glad to know your feedback about our collection. Leave us a comment or connect with us using the contact form.