With the rise of Bitcoin and other cryptocurrencies such as Ethereum, Litecoin, Ripple, Dash and Monero, the internet has started to see a new era of websites built around these crpyto-coins. These sites offer services such as cryptocoin mining, cryptocoin trading, crypto watch (real-time prices) and information related to digital currencies. If you are looking forward to building such a website then we have picked the right set of Bitcoin and cryptocurrency website templates and themes for you in this post.
Building a website for Bitcoin and other digital coins requires you to have a solid template or theme built around the concept of these crytpo-currencies. This includes having visuals related to digital money as well as icons related to them. We have handpicked WordPress themes, website templates, PSD templates as well as website scripts (PHP) which can help you get started with your very own crypto-coin related website.
Cryptocurrency Website Templates & Themes
Our collection of website templates for cryptocurrency includes both premium as well as free templates, themes and web-scripts. If you find any of the download links not working below then do let us know. Let us begin:
Crypton – Multi-Purpose Cryptocurrency WP Theme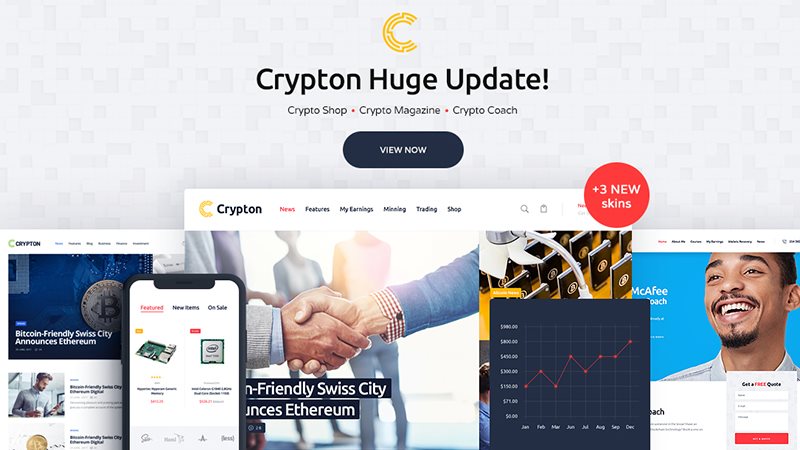 Cryton is the biggest Multi-Purpose Cryptocurrency and Mining WordPress Theme on the market. It was the first cryptocurrency theme released on Envato, and it has instantly become popular ever since. Created by the team of crypto maniacs, Crypton comes with a variety of pre-built layouts that can be easily customized for any specific topic. Along with Cryptocurrency Blog skin, the theme has recently been empowered by 3 new custom homepages: Crypton Coach, Crypton Magazine, Crypton Shop.
Moreover, Crypton is easily integrated with Cryptocurrency All-in-One, GoUrl WooCommerce, Cryptocurrency Price Ticker Widget and LearnPress plugins that allow you to display prices and exchange rates of digital currencies on your website, to accept payments in cryptocurrencies and even to sell courses and seminars online.
Bitunit – Cryptocurrency WordPress Theme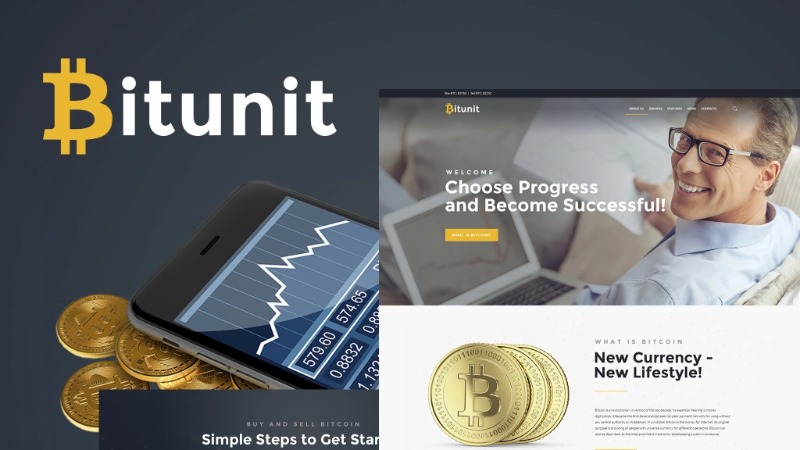 Bitunit is a perfect theme for WordPress when it comes to building a cryptocurrency WordPress website. Professionally developed by the Template Monster team, this premium theme is fully responsive and comes with a drag and drop page builder for designing your front-page without the need of coding. All the graphics and images shown in the demo are included with the download and you also get access to easy to follow documentation and 24×7 help in case you need any help.
Pursuit – Cryptocurrency Exchange, ICO & Digital Wallet WP Theme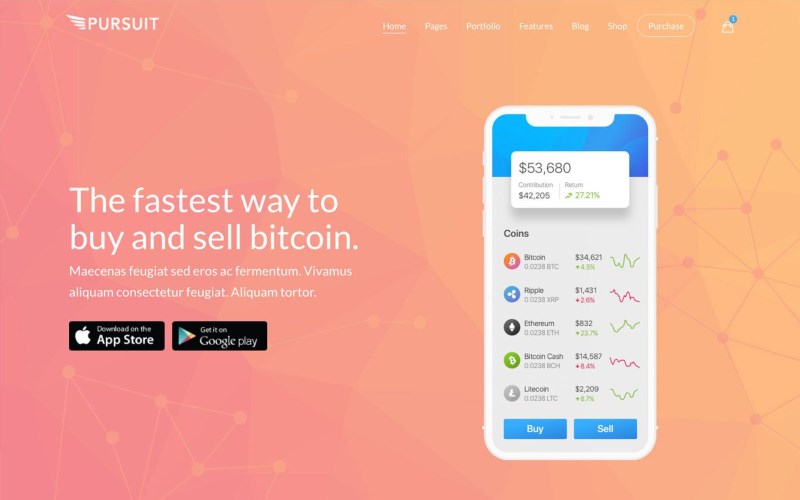 Pursuit is a premium WordPress theme beautifully designed for cryptocurrency and financial technology companies. It includes amazing features such as a live frontend drag and drop builder, a flexible form builder and online product purchases through WooCommerce.
The powerful form builder will help you create and use conversion, sign-up and contact forms with ease. Create a token sale, a countdown timer, subscription form, add an app store buy button in a snap. Easily and securely create a shop and accept secure payments through WooCommerce. Pursuit with WooCommerce supports PayPal, Stripe, credit cards, and over 100 payment gateway extensions. This theme also works with many WordPress compatible cryptocurrency plugins – integrations are a breeze.
Cryptic – Cryptocurrency WordPress Theme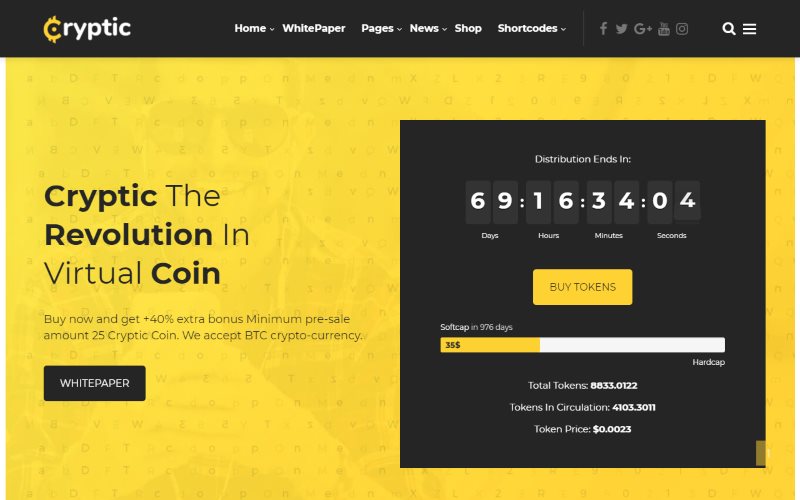 Cryptic is a WordPress theme suitable for both novices and experts of the cryptocurrency exchange market. It is suitable for creating websites for bitcoin trading, consulting, investments or ICO offerings. The theme features crypto converters, tickers, statistics, live price updates and even a white paper page which can be used for ICO.
Bayya – Bitcoin Crypto Currency Template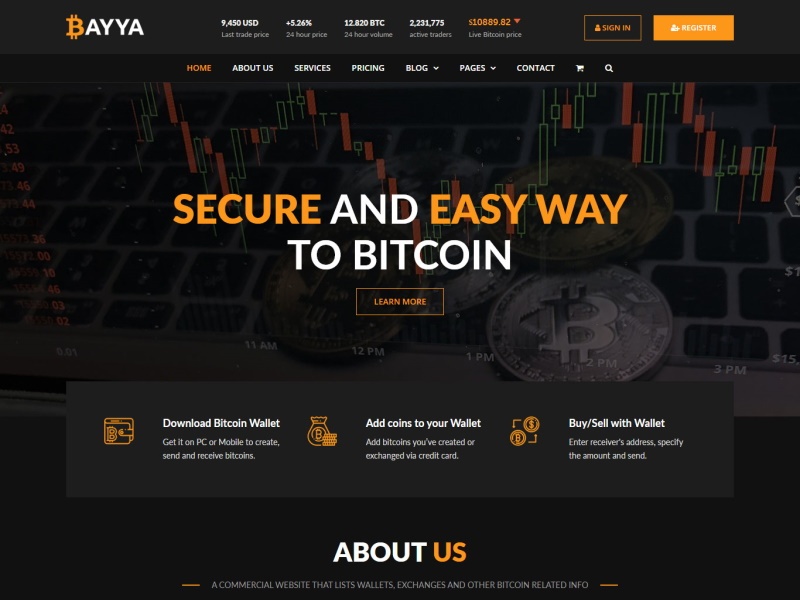 Bayya is a responsive layout crypto currency template available with 3 color themes.  Included in the template are ajax contact form, bitcoin converter, live price and chart. The template also include blog design with and without sidebar. Many additional pages such as 404 page, about page, login, register etc has also been provided for creating a complete crypto related website with this template.
Bitcoin Company – Moto CMS 3 Template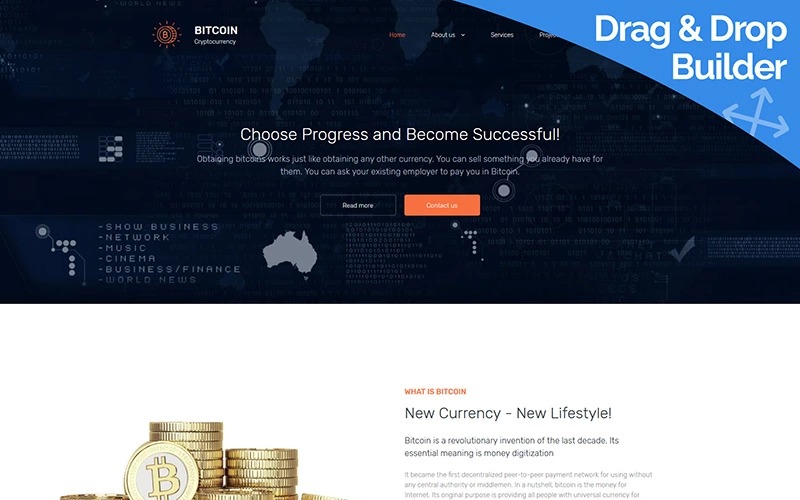 With this Moto CMS template called Bitcoin Company, you can use the power of Moto CMS drag and drop builder to build a cryptocurrency company website. Moto CMS offers a large variety of pre-built design blocks to help you build and customize your website without writing  a single line of code. Pre-built templates are also included with the template to help you setup your website quicker.
HashCoin Plus – Bitcoin Crypto Currency HTML template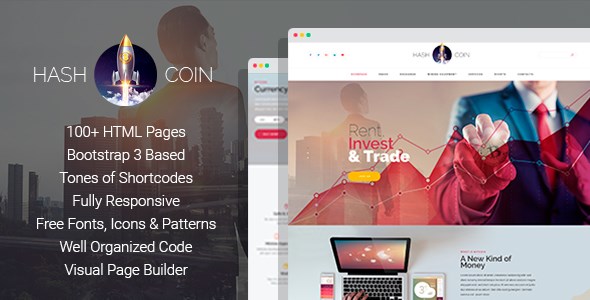 HashCoin Plus is a premium and responsive HTML website template built on Bootstrap. The template is suitable for cryptocurrency and digital currency websites, bitcoin calculator websites as well as bitcoin mining websites. It integrates with a visual page builder to help you easily customize the website as per your need. It has 100+ pre-built HTML pages in dark and light themes. The download also include PSD design for the website along with PHP code for contact form, MailChimp integration, social widgets and site search.
Crypto Press – Bitcoin HTML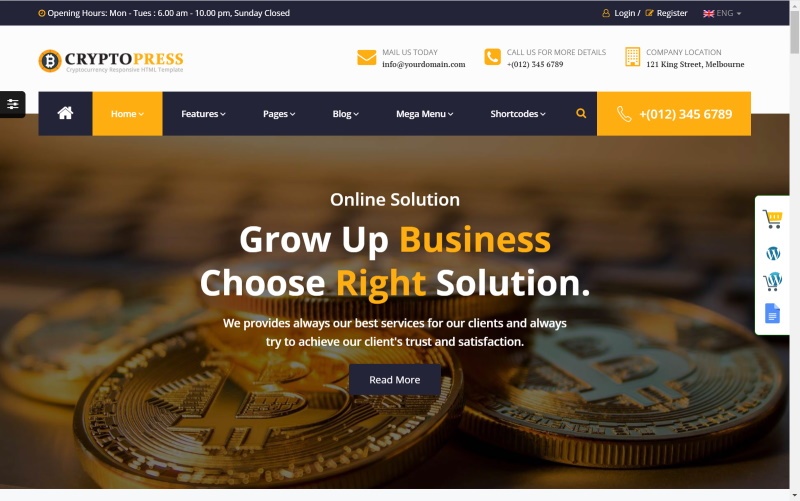 Crypto Press is a premium HTML template created for cryptocurrency Bitcoin & digital currency websites, crypto currency exchange news and trading, digital currencies, finances and business consulting. Built with Bootstrap, this bitcoin website template is fully responsive and cross-browser compatible.
Bitcoin Trade – Bootstrap Website Template (Free)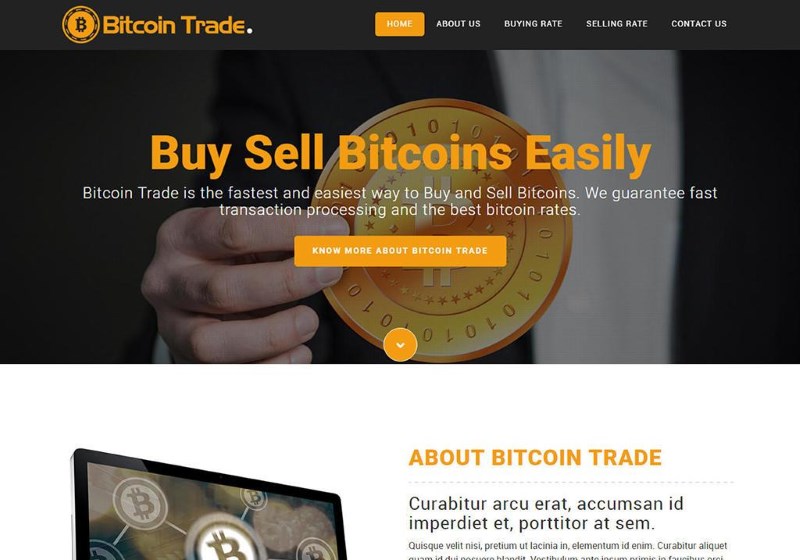 If you're looking for a free website template for Bitcoin website then this template named Bitcoin Trade is for you. It has been built with Bootstrap and features a one page website template suitable for Bitcoin related websites. The website template is suitable for building a bitcoin or cryptocurrency trading website and you can easily customize it using Bootstrap to add new features.
ChainBit – Bitcoin WordPress Theme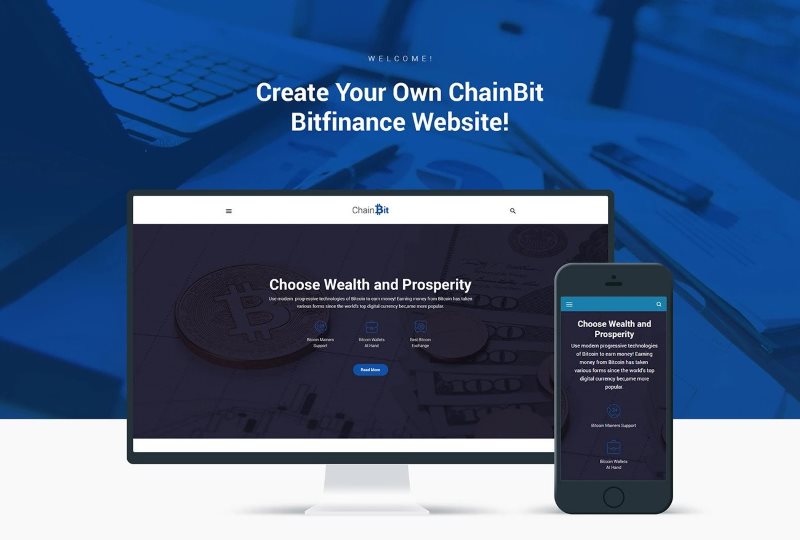 ChainBit is a WordPress theme optimized for crafting Bitcoin and Bit-finance related websites. It offers well designed elements for creating home page, about page, clients page, team and lot more. The theme has full SEO optimization, Google fonts support, and indexing-optimized code.
TopMiner – Cryptocurrency WordPress Theme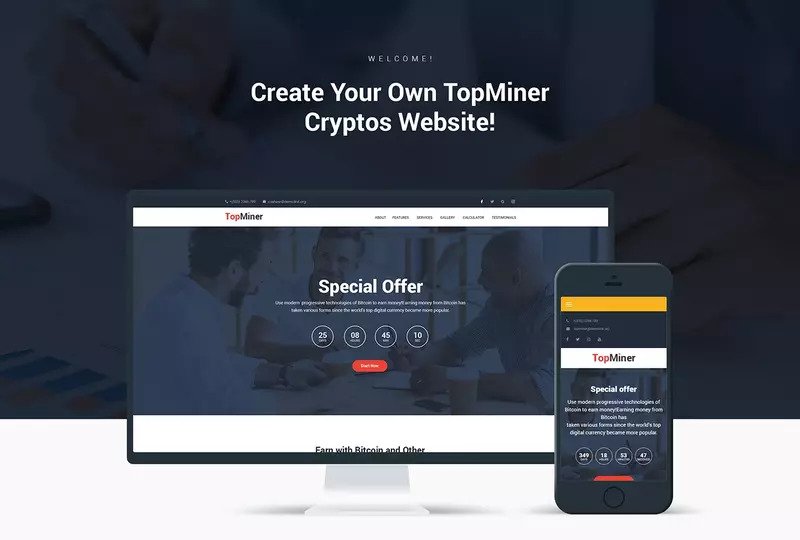 TopMiner is a another premium WordPress theme optimized for creating cryptocurrency websites. You get tons of free high quality images with the theme to use in your business. Additionally multiple plugins and drag and drop builder are also included.
MineBit – Bitcoin Cryptocurrency WordPress Theme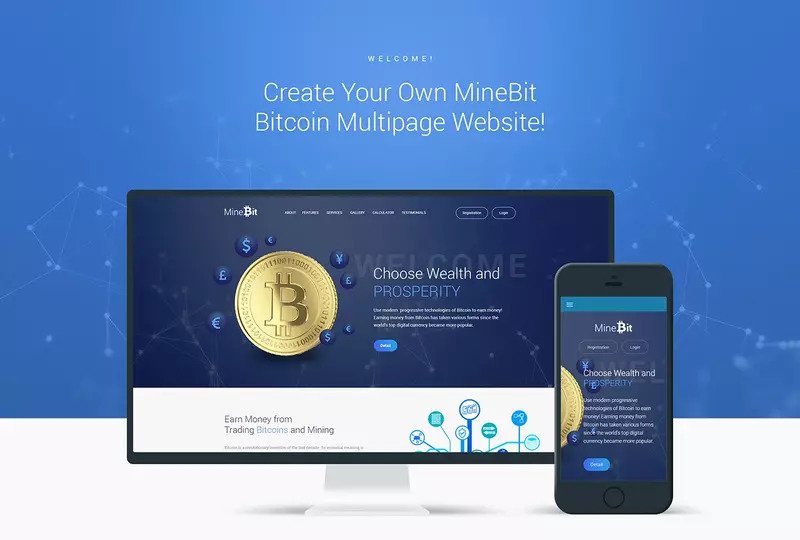 Similar to the above two themes, MineBit is also a cryptocurrency WordPress theme with modern design and responsive layout. The theme features multiple home page designs, ability to edit the colors of design components and a drag and drop builder.
CoinCompare – Cryptocurrency Market Capitalization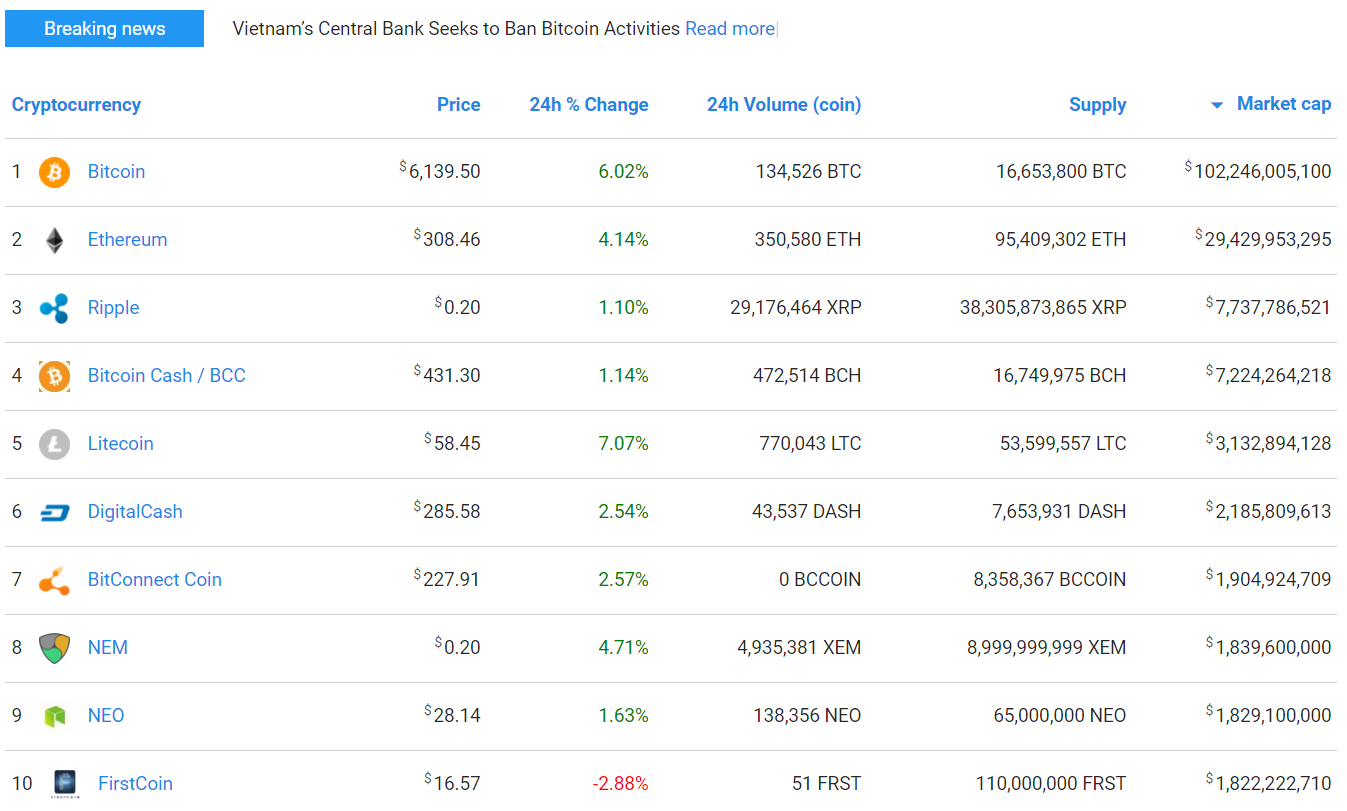 With the rise of multiple different cryptocurrencies, the need to keep a watch on prices of the different digital currencies has also risen, which is why building a cryptocurrency price watch website is also a beneficial business idea. With this PHP web application called CoinCompare, you can easily build a website which displays price information, quotes, market cap, and interactive historical charts for more than 1700 cryptocurrencies. It is designed to allow you to quickly get a website like coinmarketcap.com up and running. The web application is multi-lingual and you can select from one of the built-in interface languages such as English, German, French, Spanish, Portuguese, Dutch, Russian. Other languages can also be added easily.
Coin Table – Cryptocurrency Market CMS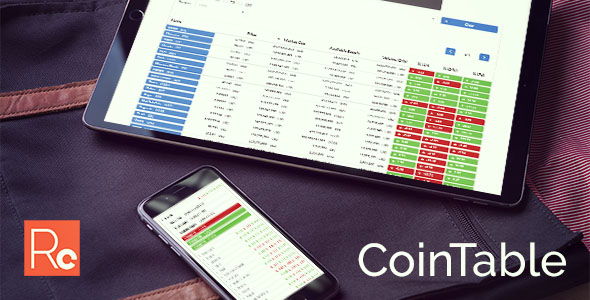 Coin Table is a Content Management System (PHP and MySQL) built for cryptocurrency real-time information and includes support for displaying exchange rates for 1000+ cryptocurrencies. The web interface is designed to be responsive and has strategic sections for adding ads or external widgets. Historical data is also available for 67 cryptocurrencies and can be show in the form of a chart.
Virtual Coin Widgets – Cryptocurrency Shortcodes WordPress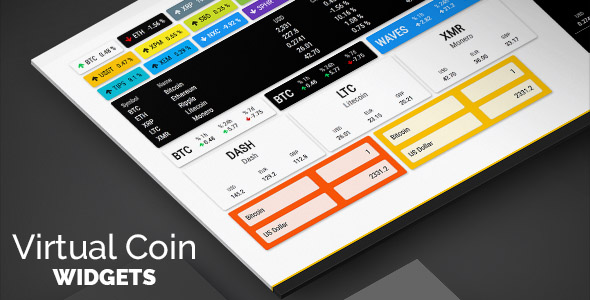 If you are looking to add cryptocurrency related features on an existing WordPress theme then this plugin called Virtual Coin Widgets is a must have. It provides 10 widgets for your WordPress site which allows you to easily share market information for 1000+ cryptocurrencies with your visitors. All data is automatically updated every 10 minutes and does not require any manual process. The widget comes in 21 different color schemes.
Cryptocurrency Website PSD Templates
To build a good looking website, it is also essential to have a good design in place. Find below a selection of premium PSD website templates for designing cryptocurrency websites. You can use these PSD templates as a design guide and built your website using the style provided.
HashCoin – Bitcoin PSD template
HashCoin is the underlying PSD template for the HashCoin Plus HTML template that we covered earlier. It has clean and modern design and is suitable for a website that deals with digital currency, trading, crypto currencies, finance and business consulting. It has 15 layered PSD files and is Bootstrap layout ready.
biT-Exchange Bitcoin PSD Template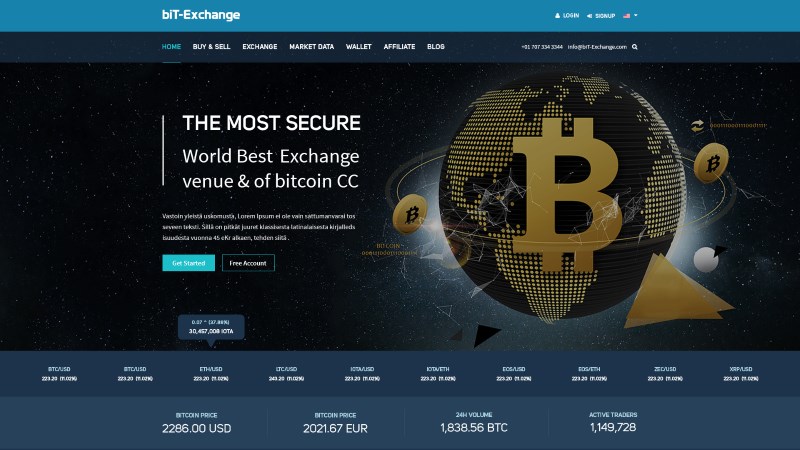 biT-Exchange Bitcoin PSD Template is a powerful website template with clean and modern design. It is designed specifically for websites related to digital currency, share market, finance, business, corporate and consulting. Based on 1170px Grid, it includes 9 layered PSD files for website design.
While building a cryptocurrency website, it is important to focus on perfecting the features being offered by the website to the users. In order to help you gain user's trust in your site, a well designed site can play a significant role in this. If you pick a professionally built website template, you are sure to wow your audience with the website design and ease of use.