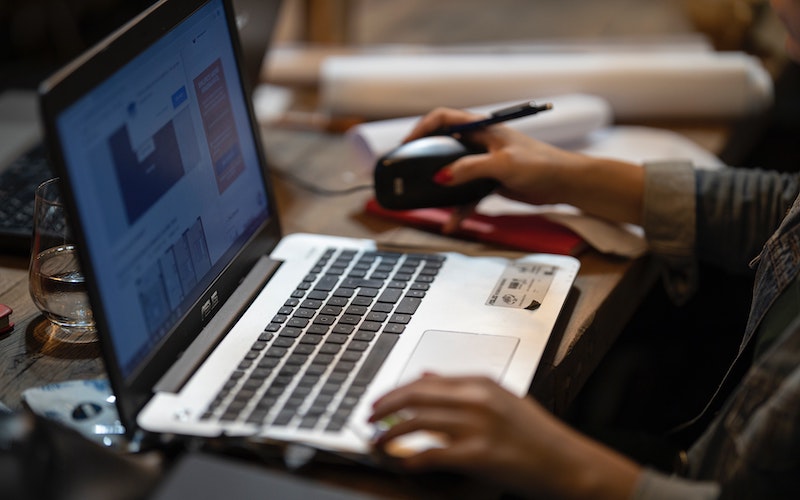 Do you want to know the email signature mistakes to avoid them at all costs?
You've found the right guide.
Sending out professional emails, receiving lackluster responses, and not getting the conversions you deserve can be frustrating.
One thing you might be sleeping on that can help you turn this around is your email signature, which is crucial to your email marketing strategy.
Data shows that 48% of marketers use email signatures to drive website traffic, highlighting the effectiveness of a killer email signature design and strategy.  
However, you could lose potential leads and conversions if you make common mistakes, such as not leveraging strategic ways to use your email signature to amplify your online marketing efforts.
Not if we can help it.
In this blog post, we'll cover the five email signature mistakes you must avoid to nail your designs and boost conversions.
1. Going overboard with your social media links and buttons
Including links to your social profiles are great for leading traffic to your pages and nurturing relationships with leads.
However, don't overdo it and include all the links to the social media platforms your business is active on.
Keep your social links to a minimum.
Don't overcrowd your email signature and make it look cluttered and unprofessional. It can even make your email signature look spammy, and you'll lose potential leads.
Ideally, include two to three social media buttons on major platforms such as Instagram, Facebook, or whatever social network your business is most active in. 
Create an email signature with just the right social media buttons and links. It can keep your signatures looking clean and professional.
2. Using too many colors
Email signatures are not the best places to experiment, mix and match colors. 
You can be creative with your email signature design to spice it up, but you must also ensure it doesn't look like the aftermath of a paint factory explosion.
Adding too many colors can make your email signatures look unprofessional, causing prospects to turn away. It can also distract your email recipients from seeing key information, such as your contact details.
Consider sticking to one or two colors, ideally, colors reflecting your brand, with a black or gray base text.
Choose a color palette for your email signatures and limit your colors. 
Doing so helps make your email signature look more visually appealing and refined, which draws viewers in instead of turning them away.
3. Adding unnecessary images
Images in email signatures can be tricky.
To use or not to use—that is the question.
Images are great for displaying your company logo and sender photo in your email signatures, which adds a personal touch to your emails.
Images also make your email signatures more human, encouraging engagement from recipients.
The catch is that images can impact your email's loading speed.
With really slow internet connections, the images might not even load when the recipient closes your email. That can mean potential leads going down the drain.
Plus, if you don't optimize your email signature images for mobile device displays, they can get scaled down or appear squashed.
Weigh the pros and cons and assess whether the images you want to include in your signature are necessary.
If you want to include images, stick to the essentials, such as your company logo, and optimize your images and emails for mobile device displays.
Also, avoid including images you don't own or have express permission to use, or you could violate copyright protection laws.
4. Not using the right font and type
The font, style, size, and color are crucial for ensuring text in your email signature is clear and readable to your recipients.
After all, unreadable fonts can frustrate readers and even ruin their experience with your brand.
For instance, curly fonts can become unreadable, especially on mobile device displays. Using overly large sizes can make your signature look sloppy and raise red flags.
Check out these font type suggestions to help make your email signature designs look more sleek and professional:
Arial is a simple, clean font that is easy to read on any device.
Calibri is popular for its modern look and legibility.
Times New Roman is a classic font with a professional and elegant look.
Verdana is similar to Arial but has a more rounded look, making it a good option if you want a softer look.
Georgia is a good option for a more traditional and classic look.
Also, consider your text's font colors since the wrong ones, such as bright fonts against a light background, can make important email signature details hard to see and read.
Use font colors that are visually pleasing, easy to see, and align with your brand colors.
You can keep it simple by sticking to solid or neutral font colors such as gray or black.
Related: Free Modern Sans Serif Fonts
5. Creating the entire email signature as an image
If you get frustrated with the limitations of email signature design and are ready to throw your hat in and create your signature as an entire image, DON'T.
Your email recipients can't copy and paste crucial details such as your company name, address, and phone number if your email signatures are images.
Recipients can't click on social media buttons or click links to your website either, and you'll lose huge opportunities to drive engagement, traffic, and conversions.
Also, as mentioned, recipients with slow internet connections might not see your email signatures since images can take longer to load (or not load at all).
Drive conversions with winning email signature designs
An email signature is more than just a simple sign-off. It is crucial to your email marketing strategy and can significantly impact your brand image, credibility, and conversion rates.
Avoid the common mistakes we explored in this post to create professional and effective email signatures that look great and drive more clicks and conversions.
Review your email signature and make the necessary changes to ensure it represents you and your business in the best possible light while helping you drive traffic and conversions.
Cover Photo by Engin Akyurt