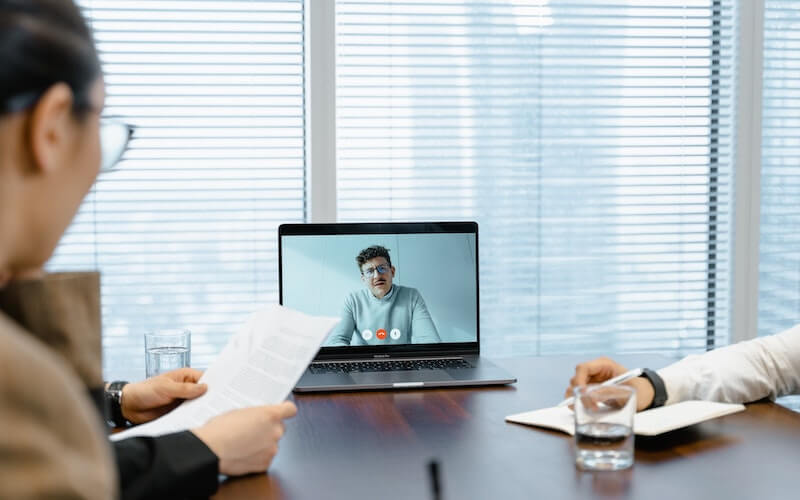 Do you want to use videos for marketing, training, online events, and communications but don't know which platform to choose?
We got you covered.
According to recent data, videos have a worldwide audience reach of 92%. 
It highlights how popular and effective video as a medium is across industries and aspects of business, from marketing to managing your team in the hybrid age.
However, not all video platforms are the same, and choosing the right one can be challenging with the many options available.
That is why we've put this guide on the top five features to look for in a video platform to help you choose the right solution for your needs.
Ready? Let's jump right in.
What is a video platform?
A video platform is a space or solution that lets users upload, store, view, and stream content on the web.
While various platforms offer specific features and functionalities, many modern solutions are designed to be a one-stop shop for creating, managing, publishing, and analyzing your videos.
A reliable video platform often includes video player technology and a content management system.
You can use video platforms to run online meetings, communicate with customers, promote your products and brand, train your employees, and host and set up a webinar (among others). 
Top 5 features your video platform should offer.
The best video platform depends on your company's specific objectives, budget, and unique needs.
While there is no one-size-fits-all solution, there are crucial features that you should look for in a video platform.
Start with the features and functionalities below.
1. Scalability and flexibility
Many video platforms come with standard technical specifications and limitations for resource capacity, such as storage, a Content Delivery Network (CDN), and transcoding features. 
For instance, some platforms don't have transcoding features for specific video file formats, or they have a maximum storage limit of a thousand gigabytes.
Getting more storage or transcoding to a particular file format would require additional charges.
That said, it's better to plan for resource flexibility and scalability, so you don't get bogged down by needless feature limitations and additional fees.
Consider choosing video platforms that offer flexible pricing for various feature sets, such as advanced custom solutions for enterprises.
You can always try the platform's free trial version (if available) and reach out to providers to learn more about their paid plans, including the flexibility each subscription offers.
2. Essential features
The video platform you choose should offer basic storage, hosting, transcoding, and delivery features.
After all, these are the core functions you need to facilitate your video content creation, management, publication, and delivery.
Consider the platform's more specific or advanced features, including video editing, content performance tracking and analytics, and video player customization.
Also, assess whether the video platform offers seamless content delivery by providing CDN capabilities to ensure your videos load fast and without interruption.
A CDN allows your content to reach global audiences.
It can also reduce buffering time and latency, ensuring that your video stream's origin or source server isn't overwhelmed with requests, which causes traffic and slow load times.
Your best bet is to choose a video platform or provider with a CDN to ensure seamless viewing experiences for your audiences.
3. Integration capabilities
Choose a video platform that can integrate with your current tools, such as your sales and marketing solutions.
Doing so gives you a robust system that allows seamless information flows across your core applications, giving you more insights into your sales and marketing campaigns.
For instance, some platforms let you include a lead capture form directly into your video.
Linking your video platform to your Customer Relationship Management (CRM) system allows your CRM to capture, send, and store the lead information automatically.
Also, consider video platforms with Application Programming Interface (API) integration capabilities since these let you integrate key video functionalities into your apps.
APIs allow developers to access a platform's internal workings to integrate it into apps without hard coding.
4. Copyright protection
Find a video solution to distribute your content to specific users.
For instance, the platform should offer access management and controls. This way, you limit access to your training materials and other videos for internal circulation.
Keeping videos meant for internal consumption from leaking is crucial to avoid potentially losing your business secrets, competitive advantage, and money.
Choose video platforms that provide Digital Rights Management (DRM) functionalities and security features, such as anti-hotlinking and anti-hijacking.
Video platforms with reliable security measures help protect your content from getting stolen or hot-linked, keeping your copyrighted videos and assets safe.
5. Support services
Video platforms and any Software-as-a-Service or SaaS should come with quality customer support services to give you the help you need—from setup to troubleshooting.
Before investing in a video solution, assess the level of support services the provider offers and check if it meets your needs.
Some essential support services to look for in a video platform include 24/7 help desks, live chat, knowledge bases and documentation, and community forums.
Other platforms provide specialized support services for features such as mobile advertising and streaming.
Consider reading reviews of the provider's customer support to gauge its service's quality.
Additional consideration: Pricing options
While a video platform's pricing plan isn't a feature, it's a crucial consideration when choosing a solution.
It helps you assess what features you're willing to invest in and how much you're ready to pay.
For example, some online video platforms can save you hardware purchases, maintenance, setup, and deployment costs since you'll be adopting a pay-as-you-go pricing plan.
Most platforms offer billing options, such as monthly and yearly, and even for standalone purchases or subscriptions.
Factor in your budget, storage needs, and usage frequency, including support, security, and streaming requirements, when choosing a platform and its pricing plans.
Choose a suitable video platform for your needs.
Finding the right video platform that best meets your requirements takes time and effort.
Start by assessing your needs and the features you want your video platform to have—from the essentials to more specialized features.
Research and test before you invest to ensure you get a video solution that has what you're looking for and is worth your money.
You may also like: Free Stock Footage Sites to Download Watermark Free Videos
Cover Photo by Pexels