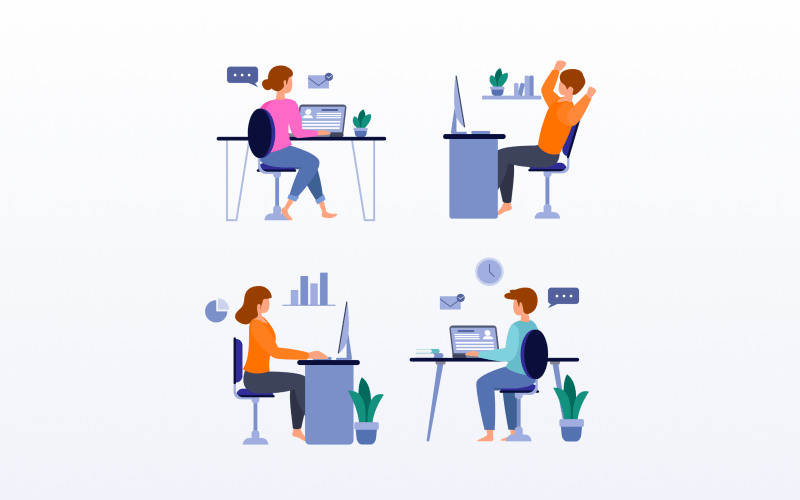 The pandemic ushered in the hybrid age of working, and it's almost certainly here to stay. A hybrid team is comprised of both in-office and remote workers; some employees will therefore commute to the physical workplace for their shift, while others will complete all of their work at home.
Managing these teams can have its challenges but, if done well, can result in greater productivity and employee job satisfaction, making for a win-win situation. Keep reading for more information on how to go about achieving this result.
Get Clear From the Start
For the best outcome, be really clear from the outset on the working patterns and hours of both the home and office-based staff, and be sure that all colleagues understand this. It's also vital to ensure that each member of the team is clear on their role and responsibilities, as well as those of their teammates – it's a great idea to have a meeting regarding this.
Make sure that each employee shares their calendar to make it even easier for team members to see who is working when and the tasks or meetings they have booked in on any given day. Use shared calendar facilities to arrange team catch-ups or for one-to-one meetings as necessary.
Make the Most of Video Meetings
With a hybrid team, the chances are that arranging meetings could be tricky: with some of your staff working on-site while others work remotely, finding a time that everyone can get together could be virtually impossible. However, a video meeting is a perfect solution. For the best experience possible, choose a platform that allows you to go from email to video meeting in-app and that also enables you to share and collaboratively edit documents and files during the meeting itself.
As well as enabling every member of your team to attend, video meetings are also both a cost and time-efficient way of getting together with your team. What's more, the tech underpinning video meetings often offer lots of other features, too, such as the ability to record the whole meeting, so there's no need to take and disseminate minutes.
Steer Clear of an Us and Them Culture
One of the biggest threats to your hybrid team could be the gradual development of an Us and Them culture, and it's important to be watchful for the first signs of this so steps can be taken to resolve the situation.
It's easy to see how this can happen: it's natural that those working in-office, who see and collaborate together every day, could come to see themselves as a separate team from the members of staff who work remotely.
Avoid this by promoting a culture of respect and support in your team from the beginning. To help with this, ensure that work is spread evenly and arrange regular team building or social events so that employees can relax, get to know each other, and build a good rapport. Often, this is all it takes to prevent an Us and Them mentality from getting a grip, which could otherwise undermine productivity and staff morale.
Keep Remote Employees in the Loop
When you're physically on-site, it's much easier to stay abreast of not just the team's progress on a task or project but of general office information: changes to things like holiday entitlement, the details of the company's holiday party, or information on a new staff wellness initiative could easily be missed by remote-working members of staff.
With a hybrid team, you can't rely on a printed memo that's shared among employees or posters around the workspace and cafeteria. Plan, early on, the best way to disseminate information to ensure that every single member of your team will be kept in the loop. Consider a weekly emailed newsletter that rounds up the team's work as well as any other general office and company information. Include here the details of planned staff social or teambuilding events, as mentioned above. You could also create a virtual noticeboard using whatever productivity or collaboration online software you deploy and post information here.
Maintain Awareness
During the pandemic, good managers stepped up and attempted to support staff through difficult, uncertain times and made efforts to be aware of the new challenges they were facing. Keeping this up on the other side of Covid is vital, especially for hybrid teams, where the experiences and day-to-day difficulties of the two sections of your team could be very different.
Help promote parity and boost goodwill by ensuring that office-based workers are given flexibility around their hours: offer these members of the team a chance to work remotely, on occasion, or to swap their shifts to help with a childcare crisis, for example.
Uphold a culture of empathy and transparency so employees feel comfortable coming to you if they have an issue or concern, whether they are one of your office-based or remote team members.
Use the guide above to help build a high-functioning and happy hybrid team; with clear communication and an eye to ensuring that every employee feels supported and valued, both you and the team you manage will reap the rewards.