Are you trying to adopt the Flat UI Design trend for your own designs and looking for some inspiration? We have you covered with our list of 10 best places where you can find Flat UI Design examples. That's not all, you can also submit your own designs to most of these sites and showcase your work across a wider set of audience.
Whether you are designing a website or creating a new app, these sites will help you find the right inspiration with their latest collection of Flat UI Designs.
This Flat UI Design Inspiration gallery includes designs for Apps, Branding, Icons, Packaging and Websites. You can submit your own favorite flat designs to get it added to the Gallery.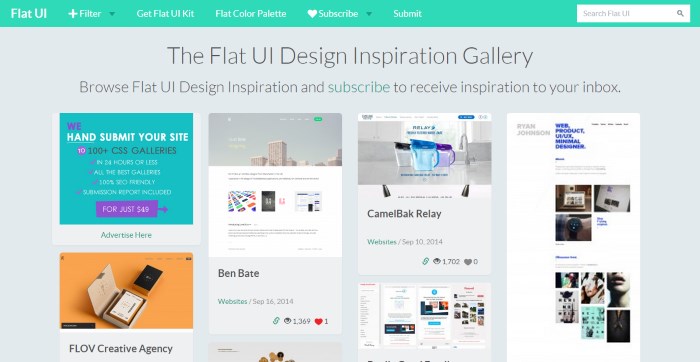 Fltdsgn.com is a showcase of some of the best examples of web design using the Flat UI style/aesthetic. You can find inspiration for all kinds of websites including portfolio, shop, travel, app landing pages, event, agenecy etc. Each showcase includes a link to the original site for you to explore them yourself. It is also possible to get your own Flat design website submitted to get it featured on Fltdsgn.com.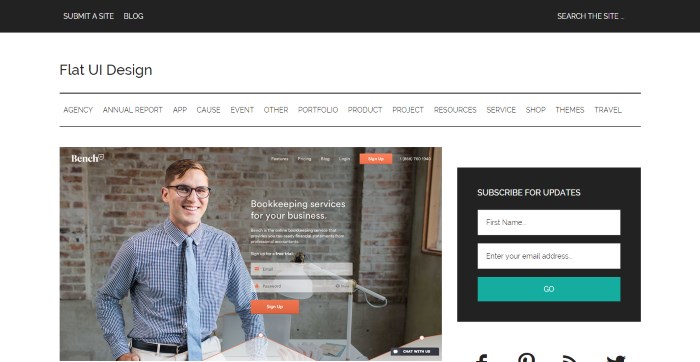 Flat Trendz is a blog & gallery of some of the finest collections of websites designed using the flat style. More elaborate sets of categories can be found on their site which include designs for blogs, e-commerce, fashion, films, photography and technology websites. Submitting your own site is allowed.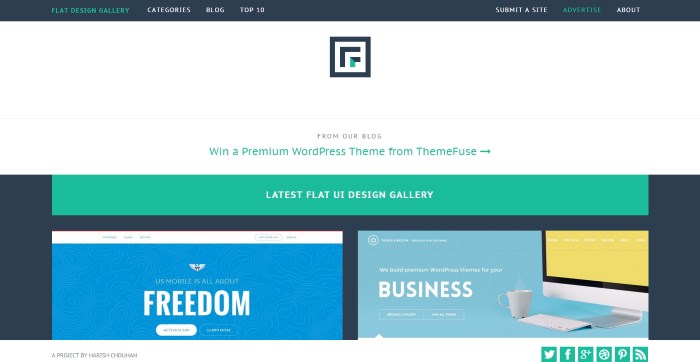 Ui Parade is an online catalog of inspiration for UI designers. It contains User Interface design inspirations for Buttons, Forms, Icons, Knobs, Players, Navbars, search boxes and many more UI elements as well as UI Kits. Not all the UI designs are flat on this site however, given the popularity of Flat design trend, most of them are. Submitting your own UI designs is also possible on UI Parade.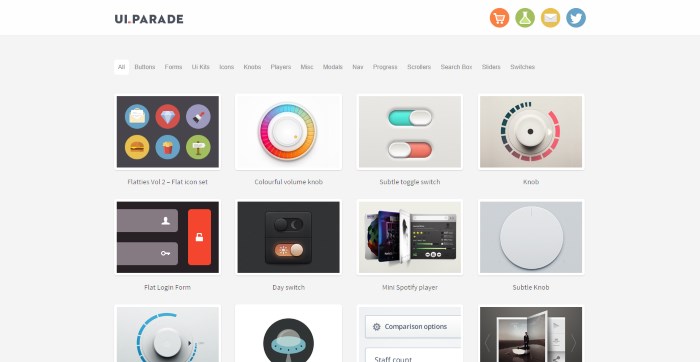 Awwwards.com is a popular site which has a panel of experts to assess some of the best web projects which are then scored by users for Site of the Day, Site of the Month and Site of the Year. They have a showcase of Flat Design websites which were winners or honorable mentions. You can submit your own site too at Awwwards.com for the Site of Day, however the submission is not free and requires a flat fee.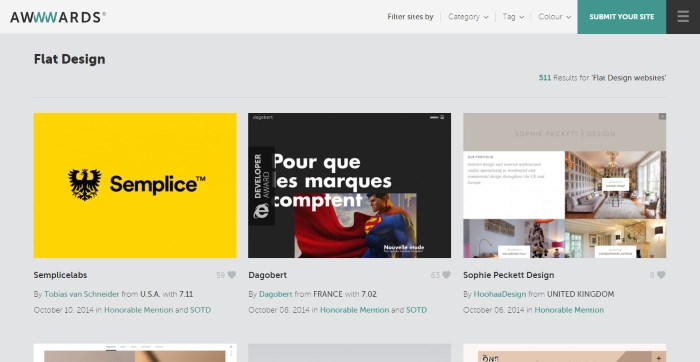 Flat UI Typography is for getting Typography inspiration for Flat UI design. It showcases some of the most used Fonts in Flat UI designs against a flat color UI block. Filtering options such as Serif, Sans-Serif, Script type etc. are also provided and you can find link to download the font used. No user submissions are allowed though.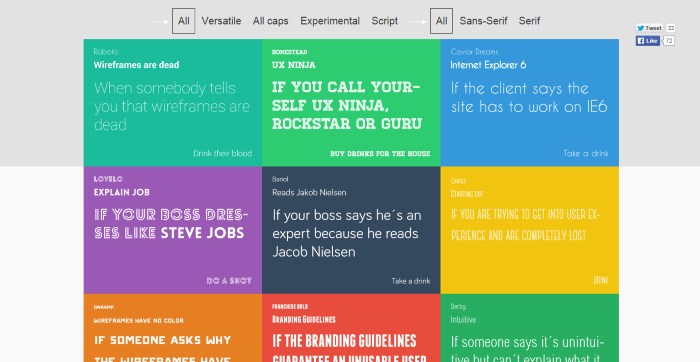 Flat Inspire is a curated gallery of Flat UI Design websites. The site is ad free and provides multiple filtering options based on category, style, typeface, color scheme and swatches. User submission of websites on Flat Inspire is accepted.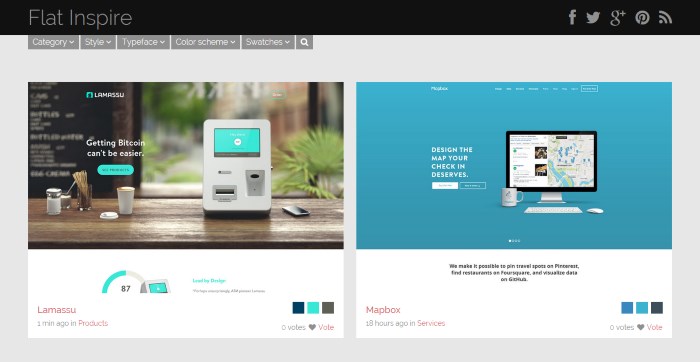 Pinterest is quite popular for sharing and finding photography and graphic design inspiration. You can find Flat UI design inspirations for apps, websites and other graphic design projects. Searching for Flat UI Design boards on Pinterest will give you a good list of Flat UI Design boards. You can follow the ones you like to get regular dose of Flat UI design inspiration. You can create and share your own Graphic designs too on Pinterest and get feedback from others.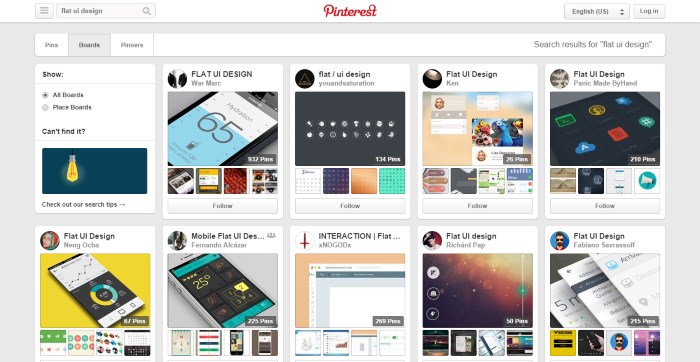 Dribble is a popular social network for designers to share their Graphic design projects. You can find many Flat UI design projects as well as freebies on Dribblle ranging from Flat UI Kits, app mockups, website redesigns, app and website concepts and much more. An invitation is needed in order to Submit your own Graphic design projects on Dribble.
Behance by Adobe is another popular social network for Graphic designers. Unlike Dribble, Behance doesn't require an invitation for you to submit your own work. Behance is a great place to discover latest Flat UI Design projects and mockups. You can follow your favorite designers who often share Flat UI design resources.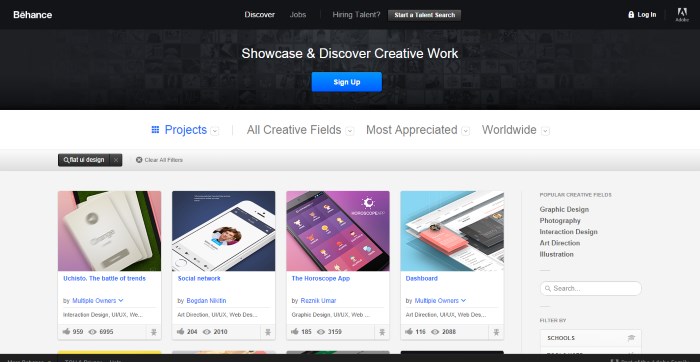 While drawing inspiration from these sites, do keep in mind that while Fat UI design can be used to create great looking yet simple and clean interfaces, they may not be suitable for every kind of project. Ultimately usability of your app or website trumps everything even if the design has to deviate and go a little bit out of the trend.
How did you find our list of sites for Flat UI design inspiration? Do you visit any other sites for getting inspiration for your own graphic design work? Let us know in the comments below. Also don't forget the sharing is caring part.