In this post, we have compiled a great collection of free food and cooking icon sets for you. These icon packs include a variety of icons for food items, beverages, desserts, fresh ingredients, cooking tools and kitchen appliances, and are perfect for designing apps, websites, and blogs themed around food, recipes, restaurant and dining.
We have picked up icon sets in many different styles including thin line icons, colorful flat icons, hand-drawn icons, and some unique styles like low poly icons. All these icons are free to download and are allowed for personal and/or commercial usage. To give you a quick idea of what is included in a particular icon set, we have also indicated below if an icon set contains both food and cooking icons and the formats they are available in – PNG, SVG, AI, EPS and PSD.
1. Free Vector Food & Drinks Icon Set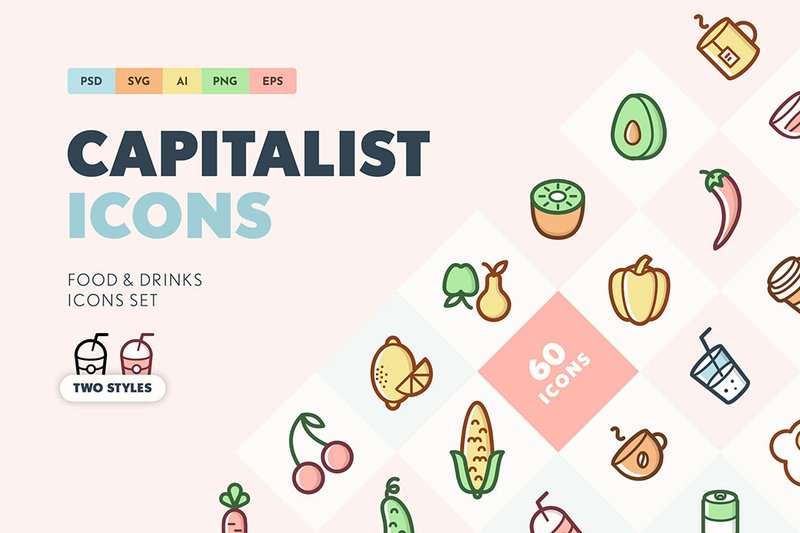 A set of 30 high quality, free food and beverages crafted in 2 versions: line and straight flat styles. You will fond icons for organic food, fast food as well as drinks in this set. Available in multiple formats – AI, EPS, PNG, PSD, SVG.
2. Free Gastronomy Icons – SVG & PNG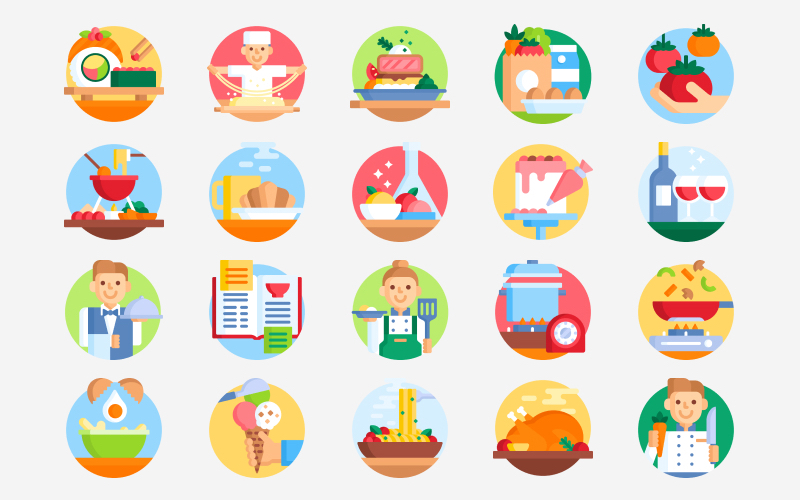 These free colorful food and gastronomy icons are perfect for cooking and recipe blogs, magazines, presentations and food related websites. You can download them for free from our site. Included in the freebie are 50 icons for fresh food ingredients, cooking appliances, different cooking techniques, recipe, chefs, molecular dessert and molecular gastronomy in both SVG and PNG formats.
3. Colorful Food Icons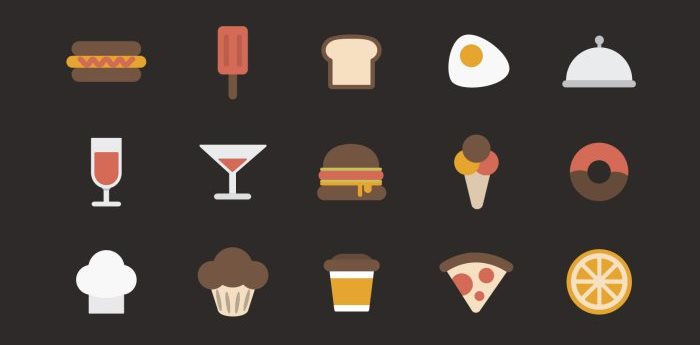 A set of colorful food icons in AI and EPS formats from Freepik that you can use in your personal as well as commercial work. This pack has 30 food icons including icons for egg, chicken, pie, beer, ice cream, cutlery and more.
4. In The Kitchen – Free Icon Set A set of 53 vector kitchen line icons by Wojciech Zasina. The icons can be downloaded in AI format and include icons for ladle, rolling pin, blender, scissors, tea pot and many more.
5. Free Bakery Icons – AI & Sketch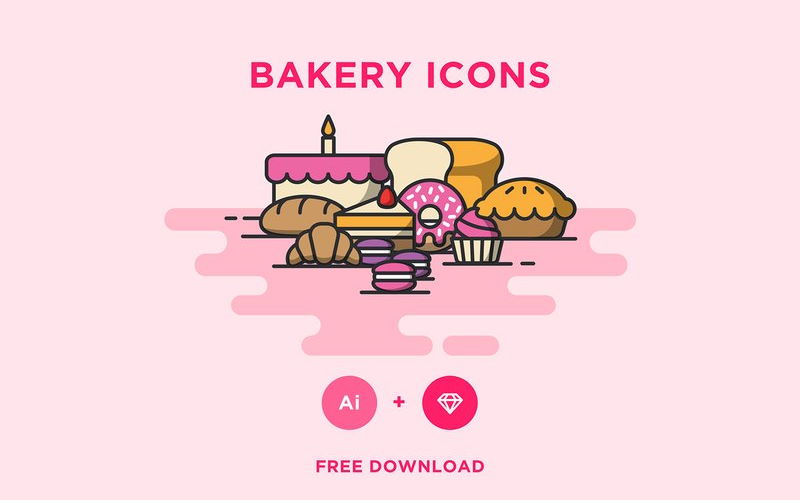 These free icons for cookies, cake, donut and pretzels will come in super handy if you are designing a website, app or promotional content for a bakery. Icons are available in AI and .Sketch formats and in 2 styles – Line and Color.
6. Food Icons PSD (Food and Cooking Icon Set)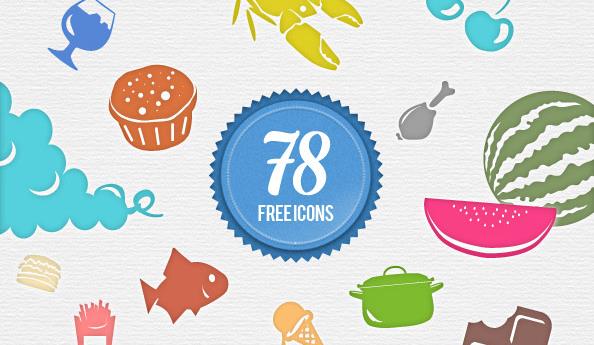 Food icons PSD set from Free PSD Files contains 78 pixel perfect icons, these food icons are perfect for all kinds of restaurants, pubs, coffee shops, fast foods and any other business related to the food industry. This set has icons for almost all your basic food and cooking icon needs, like hamburger icon, pizza icon, icons for kitchen utensils, glasses, pots, fruits and vegetables.
7. Cooking Icons (Food and Cooking Icon Set)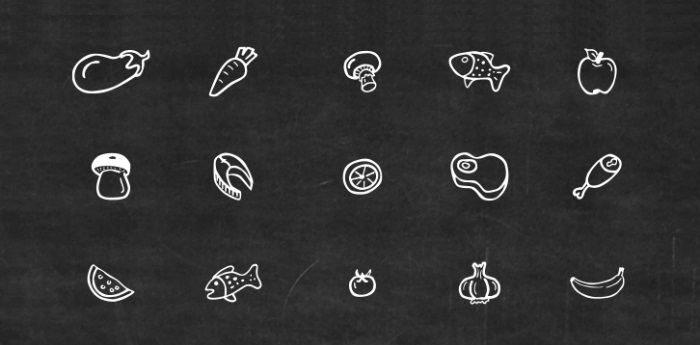 A 55 hand crafted and vectorized food and cooking icon pack by Agata Kuczmińska. These icons are free to use in both personal and commercial work and can be downloaded in EPS format. Example icons included in the set are cookbook icon, cutting board icon, refrigerator icon, icons for mushroom, fries and many more.
8. Free Cutlery Icon Set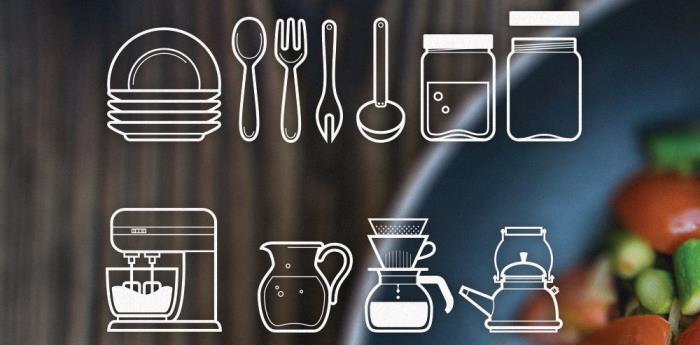 A free icon set of detailed outline cutlery icons by Oxygenna. The icons are available in AI, PSD and PNG (256×256 px) formats. This cutlery icon set includes icons for plates, wine glass, mixer, ladle, knife, coffee maker and many more.
9. Desserts Icons Vector Graphics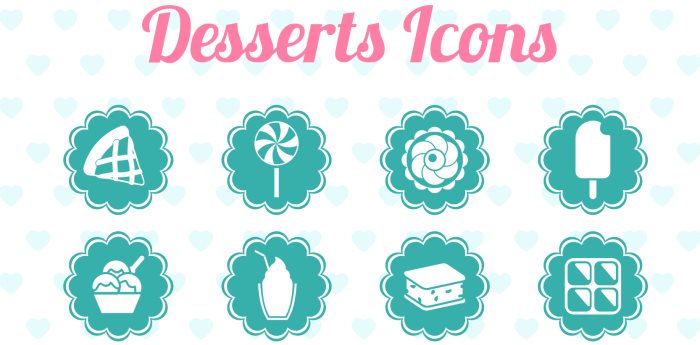 A set of dessert icons in AI and EPS vector formats by Freepik, free for personal and commercial use.
10. Free Icons Pack – Fruits & Vegetables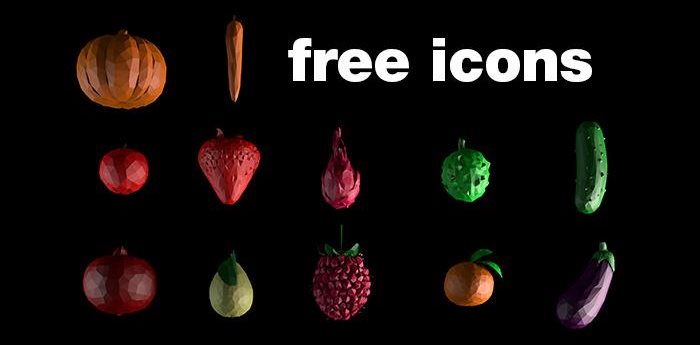 A set of 27 low-poly, rendered fruits and vegetables icons, perfect for apps and websites. The icons are available in PNG format in multiple sizes, from 24×24 px to 512×512 px.
11. Flat Food Icons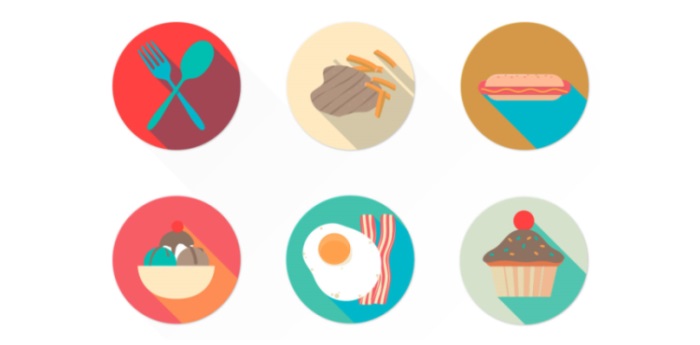 This freebie from Oxygenna includes 9 colorful, flat food icons in PSD and AI high resolution format.
12. 280 Vector Line Icons Pack This is a pack of 280 vector line icons from PixelBuddha and it includes food and beverage line icon sets too. These icons can be downloaded in EPS format and are royalty free for private and commercial usage.
You may want to take a look at our post on Free images of Food and Drinks that has a great selection of high quality images for cookbook apps, restaurant apps and websites. Use your imagination and put these free images and food and cooking icon sets into action. You might also want to check out these Food and Restaurant WordPress themes.
Don't forget to let us know your suggestions on the icon sets that you want us to cover in our upcoming posts. And remember to hit the share buttons below and share these free resources with your fellow developers.