In this post, we have picked up some great free social media icon sets and icon fonts that you can use to add social media links in your commercial projects like apps, games and websites.
Social media integration has become an indispensable part of modern web and app design. Letting your users socially connect with you or share on social networking sites from within your app or from your website not only helps in building user engagement, but also boosts marketing and attracts new users to your product.
These social media icons are available in many different styles including thin outline and minimalistic flat, long-shadow icons. Many of these icon sets provide source AI, EPS or PSD files and some even include SVG icons and icon fonts. These icon sets cover icons of all the major social networks, as well as many of the lesser known.
Free Social Media Icon Sets
These icon sets allow commercial usage and some may require attribution in return, please make sure to read their terms of use before using them in your commercial projects.
Stackicons
Stackicons are icon fonts, they include over 60 icons for social networking sites. Created by Parker Bennett, these icons come in multiple shapes – circle, square, rounded or icon-only and are designed to look great at multiple sizes. These icon fonts are fully customizable and you can change button shapes and color style.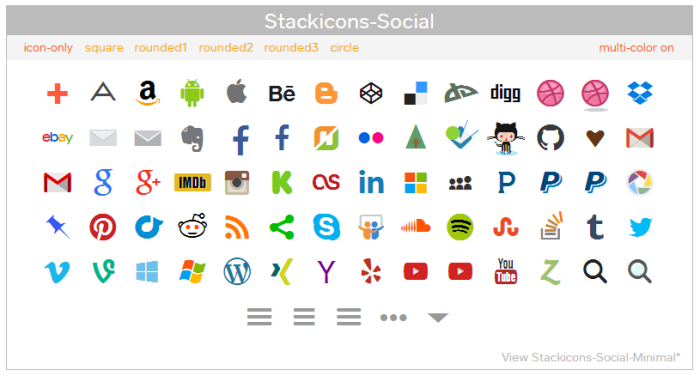 Download
Simple Icons
Simple Icons by Dan Leech has an exhaustive set of social media icons and popular brands. These icons are available as SVG icons. Icons come in black color with transparent background. HEX value of the corresponding brand color is also provided on the website.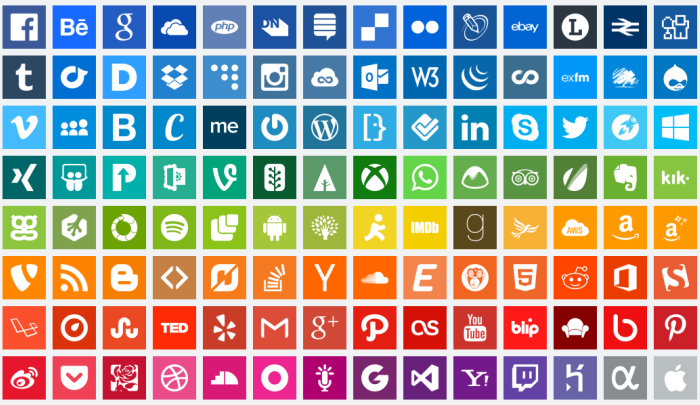 Download
Buddycons – 126 Vector based Social Media Icons
Buddycons is a set of 63 colorful icons for different social networks. Icons are available in two styles – with circular background and square background with rounded edges, totalling 126 icons. These icons can be downloaded for free from Premium Pixels in PNG formats along with their source vector AI file.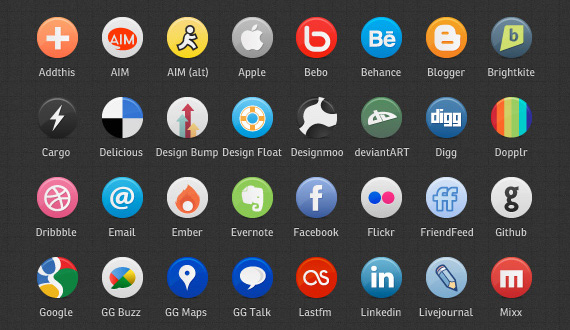 Social Icons – Free Set
This free set contains 89 hand drawn social media icons. On downloading, you'll get these icons in EPS, PDF, SVG vector formats and transparent PNGs in three different sizes – 64x64px, 128x128px and 256x256px. If you need a hand-drawn look for your website or app, you can also check these sketchy hand drawn arrow vectors.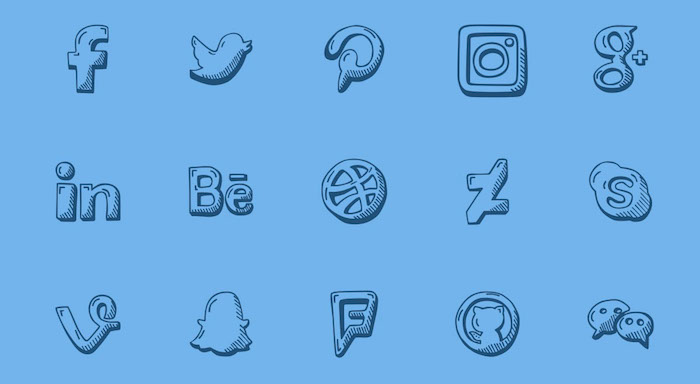 24 Vector Social Icons
A collection of free for commercial-use social media icons by Dreamstale. This social media icon set contains 24 dark and 24 white icons in PNG and AI, EPS vector formats. Included are icons for popular social networking sites like facebook, google plus, twitter, dribble and many other social networking sites.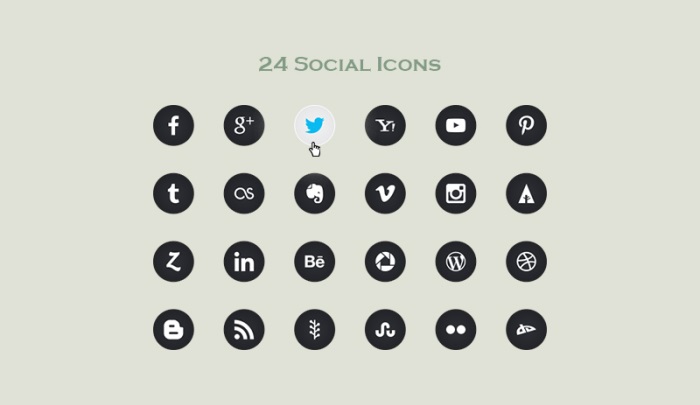 JustVector Social Icons
A set of 150 free for commercial-use monochrome social icons by Alex Peattie. The icons are available in AI, EPS, SVG vector formats and are fully editable. 32×32 px individual PNG files are included in the downloadable file. This social icon set is also available as web font.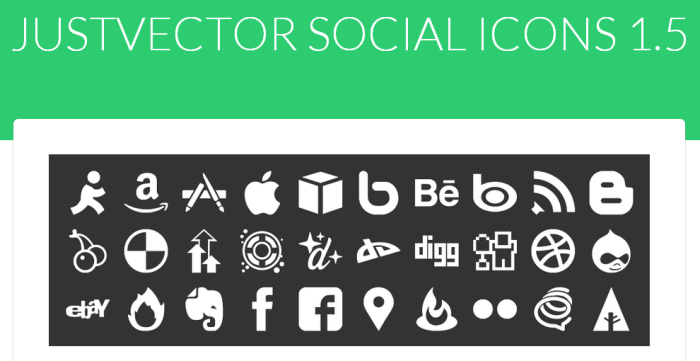 45 Subtle Social Media Icons
This free icon set by GraphicBurger offers 45 pixel perfect social media icons in PSD format. Icons are built using Photoshop vector shapes and therefore can be resized according to your needs.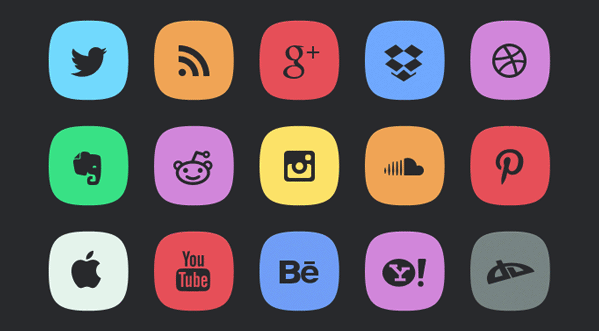 42 Long Shadow Social Icons (PSD)
42 long shadow social icons by Ui Pixels. These icons are available in PSD format in three different sizes.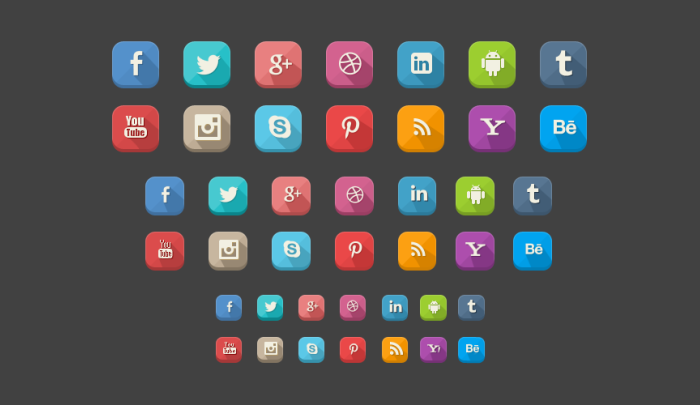 Social Media Thin Icon Set
A set of 32 free social media thin icons in vector format by designer Martaxrodriguez.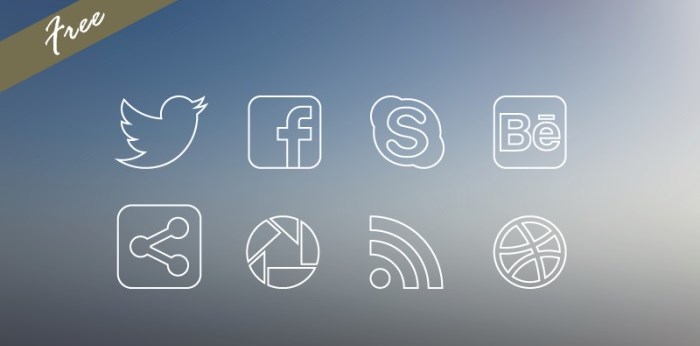 Free Flat Social Media Icon Set
Flat social media icon set in EPS format by Allan McAvoy. You can also check his other social media icon set that has icons for Stumble Upon, Reddit, MySpace and many other social networking sites.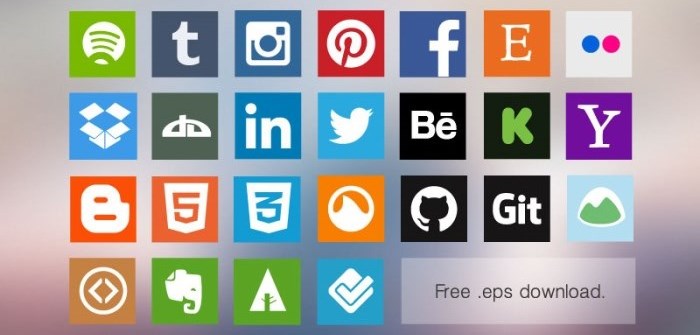 Free Social Media Icons
Free social media icon set, by Daniel Oppel, is downloadable in AI format. The icons are available in eight different styles to select from.

40 Rounded Flat Social Media Icons
Designed in Adobe Illustrator, these 40 free social media icons by GraphicLoads can be used for free in your projects. PNGs of different sizes and AI file are included in the downloadable file.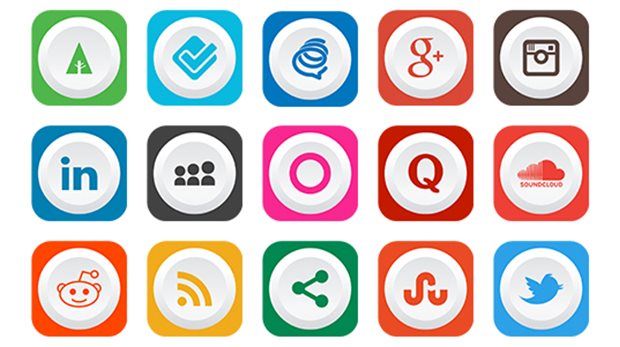 Bonus: Premium Social Media Icon Sets
As an added bonus, we are also including some of the top selling social media icon bundles from GraphicRiver and Creative Market. There are many great free icon sets available that you can use in your commercial work, but when you are looking for icons in certain trending styles such as retro and watercolor, you need to turn to premium icon sets.
Moreover, these icons are provided in many different sizes and styles and on purchasing them, you also get free updates. Please note that the links to these premium icon sets are affiliate links.
Retro Social Media Icons
A premium pack of 160 social icons in retro style for when you need to adopt vintage style design. You may also want to check out this retro and vintage font collection.
Provided in four different styles -large with text, medium with text, ringed and offset, these icons feature subtle noise effect. On purchasing this icon set from, you'll get PSD files and transparent PNG files. Icons are made up of vector shapes and can be easily resized.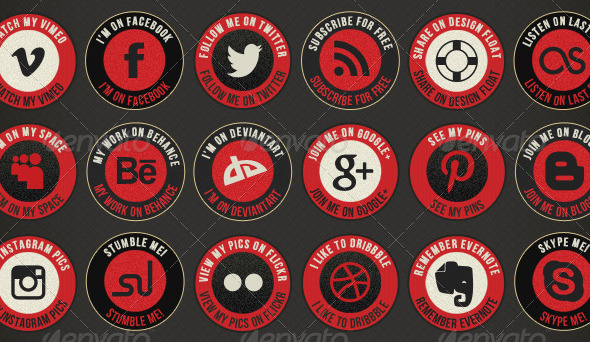 Social Media Icons Bundle
This is a huge bundle of over 600 icons for social media in flat style and thin line style. Flat icons are offered in 5 different variations – metro, poster, hexagonal, round and long shadow.  While thin line icons give you option to choose from colored, white and black versions.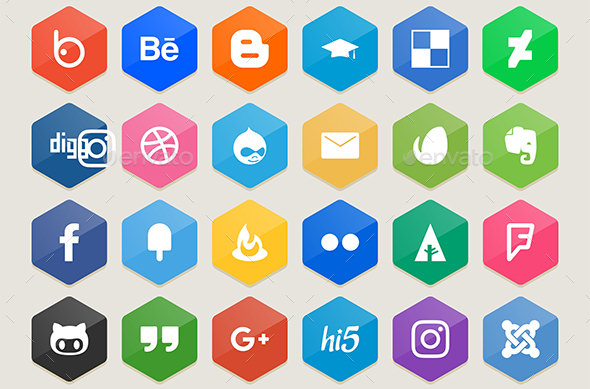 Vector Social Media Icons – Watercolor Style
These stylish watercolor style social media icon set contains 42 unique icons in PSD (24px, 32px, 48px, 60px), AI and EPS formats plus ready to use SVG and PNG assets totalling over 700 icons. These icons are optimized for use in Android apps, iOS apps, websites and web apps.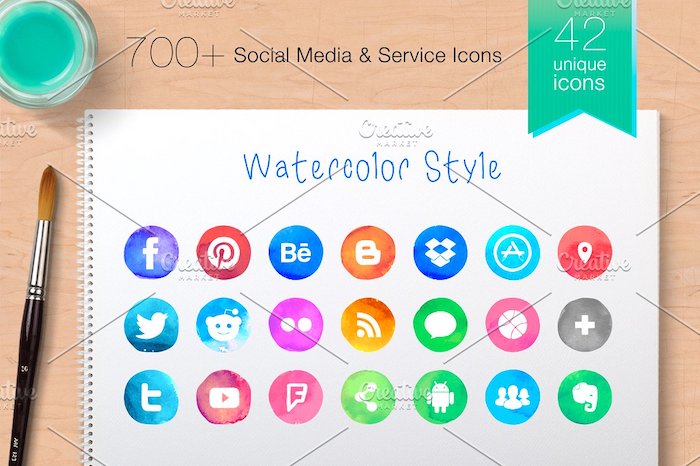 150 Clean Social Media Icons
A premium set of 150 social media icons in black and white colors available for purchase on Creative Market. These flat round icons are provided in SVG formats along with 512×512 px JPG and PNG files.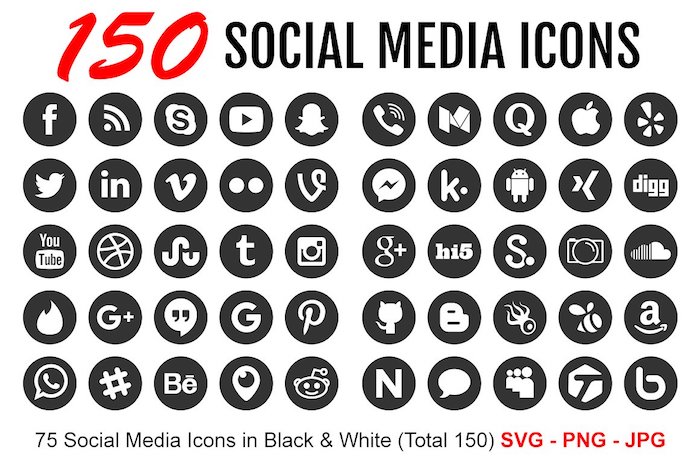 Social Media Icons
This icon set contains icons for 71 social networking sites. Icons are available in 9 PNG sizes from 24x24px to 1024x1024px. The purchased file includes layered PSD files as well. Each icon has 2 styles – normal and hover so they can be used as buttons in your websites and apps.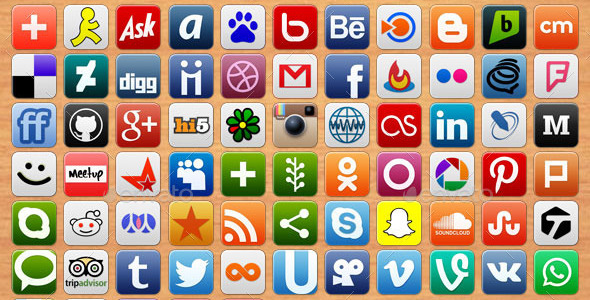 If you are looking for quality icons for using in your apps, games and websites, don't forget to check out our post where we covered great free sites which offer more than 100,000 free icons for apps and websites.
You may also find these icon collections useful:
And, since this post is on social media icons, I hope that you won't refrain from sharing this post on your social network. :-)