Having a complete set of weather forecast icons to visually represent climatic conditions in your weather app is important. In this post, we bring to you these great sets of free weather icons and fonts that you can choose from for using in your own weather app or weather forecasting website.
These icon sets include a variety of icons for different weather conditions like sunny, cloudy, fog, snow, lightning, rain and many more that are free to use in your iOS and Android mobile apps or in your weather based web services. We have picked up the icons sets in a range of different styles including thin line icons, minimalistic flat icons as well as icons inspired by Material Design.
If you haven't already, then do also read our other post where we wrote about some of the free and paid weather forecast APIs that you can use in your weather apps and services.
Free Weather Icons & Icon Fonts
To start with, you will find free weather icon sets offering weather forecast icons in different formats including PNG, PSD, AI, SVG icons as well as icon fonts. Towards the end, you will also find a couple of icon sites where you can keyword search weather icons in different styles and formats.
Weather Icon Vector Pack – PNG & SVG
A free set of 180+ weather icons created by Freepik. All the icons are available in two different styles and many of them are available as both outline and filled icons. The set contains icons in PNG and SVG image formats and they can be used for any purpose, commercial, for-profit or otherwise.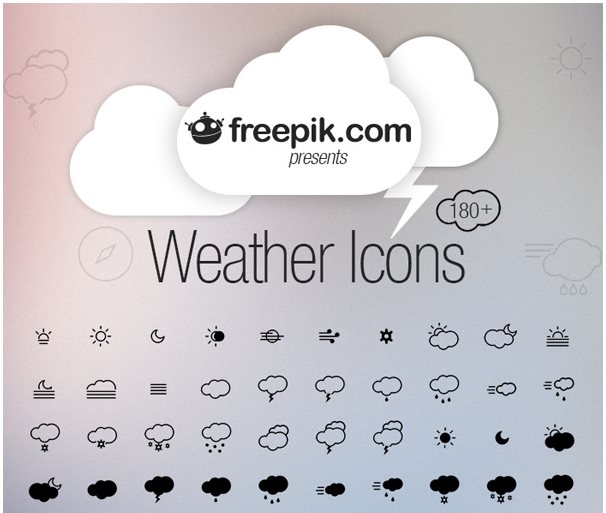 Dripicons – Weather Icon Set & Web Font
Completely free for personal an commercial use, Dripicons by Amit Jakhu is a set of over 90 minimal line icons for different weather conditions. These icons are available in AI, EPS, PDF, SVG vectors, PSD and as webfont.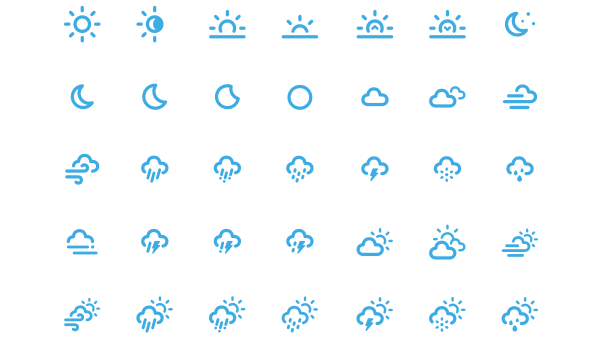 Weather Icons – Free Icon Font and CSS
Weather Icons by Erik Flowers is a set of icon font and CSS with 222 weather themed icons, ready to be used in any project that needs high quality weather, maritime, and meteorological based icons.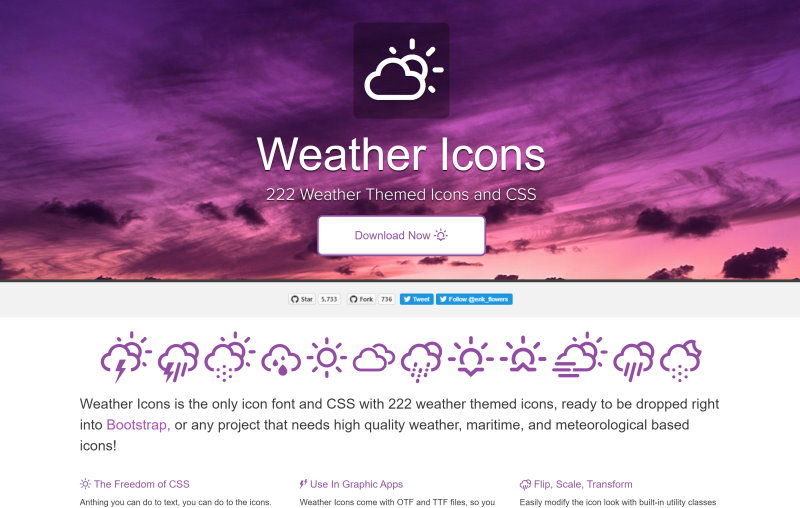 85 Free Weather Icons PSD
A comprehensive set of icons that you can use to depict different climatic conditions and meteorological warnings in your app or website. Icons are designed in thin line art style by Heeyeun Jeong and are available for free download in PSD format.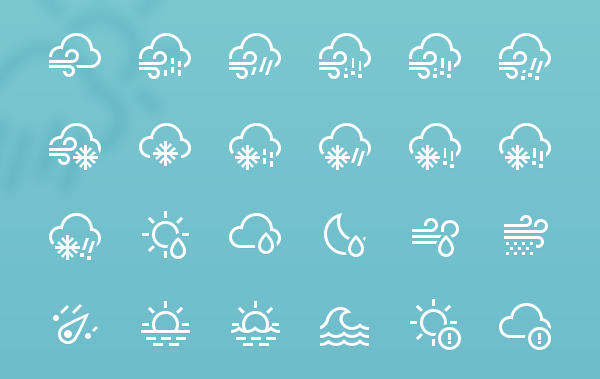 Meteocons – 40+ Free Weather Forecast Icons & Font
Meteocons by Alessio Atzeni is a set of free weather forecast icons for web and user interface designs. It contains over 40 icons available in PSD, CSH, EPS, SVG, Desktop font (TTF & OTF formats) and Web font. These icons can be customised according to your needs and are free for both commercial and personal projects.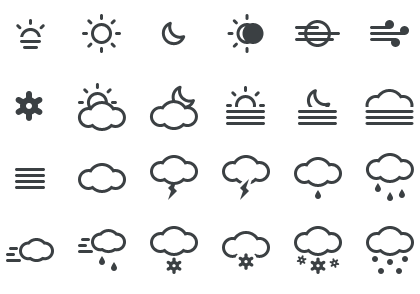 Free Animated SVG Weather Icons
Based on vector-based SVG standard and animated using CSS, these fully scalable icons have been designed by amCharts. Download includes static and animated SVG icons for weather forecast including icons for rain, snow, cloudy days and nights.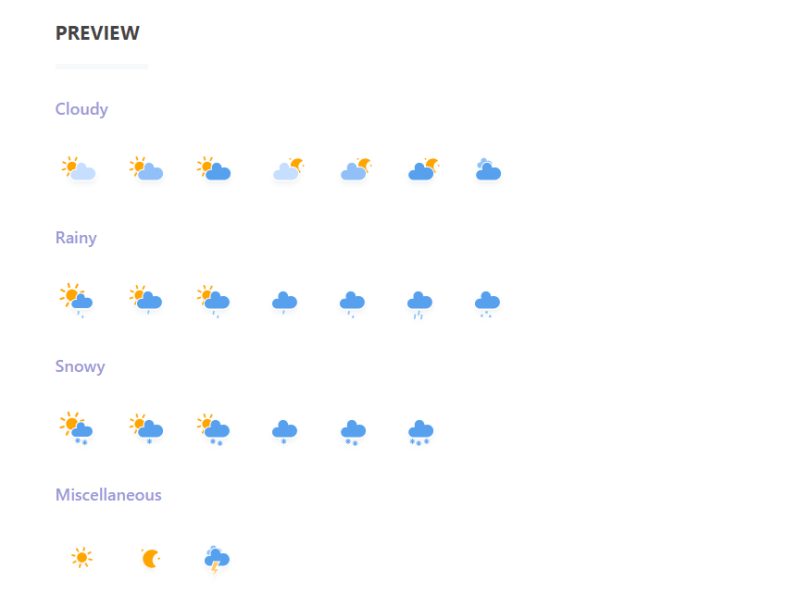 Free Weather Icon Collection – SVG & PNG
This is a set of 50 detailed free weather icons designed by Flaticon. Available in two styles – outline and linear color, these vector icons are infinitely scalable and color customizable to fit your projects. On downloading, you will get a total of 100 well labeled weather icons with names in vector SVG format as well as individual 512×512 PNG icons.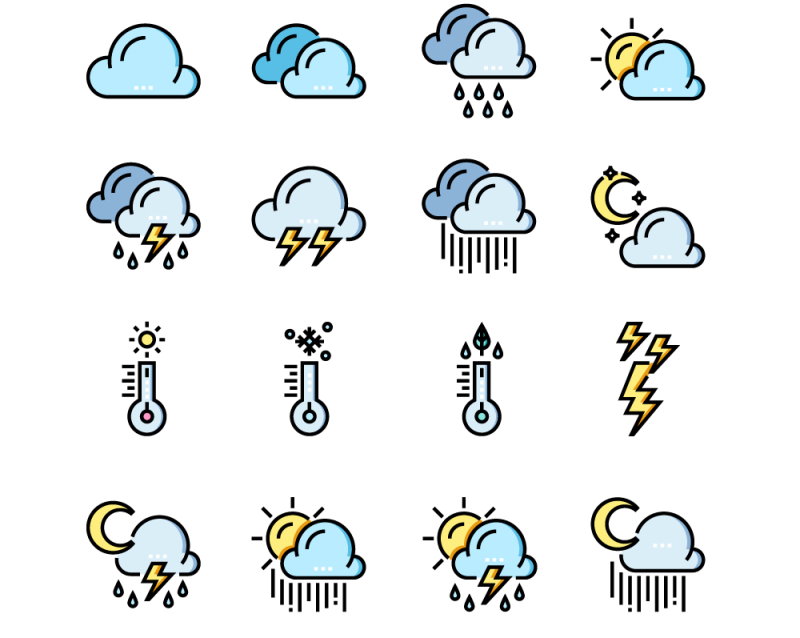 PSD & Sketch Weather Icons
These weather forecast icons designed for open source project – CoolCal, a weather calendar app and released for free by Netguru. Available to download for free from Dribbble, you will find 16 icons in .PSD and .Sketch formats.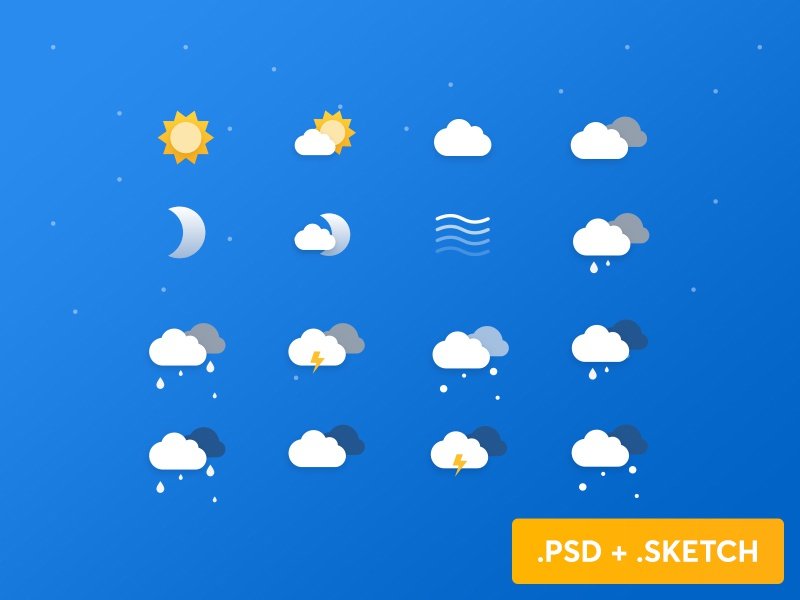 30 Weather Icons – PNG & Sketch
Designed by Bora DAN, this is a set of 30 free icons available as PNG and Sketch files. Included in the download, you will find well named icons representing common as well as severe weather conditions such as icons for blizzard, heavy snow, heavy rain and sleet, overcast, sunny and wind icons.
Free 3D Weather Icons
A unique set of free colorful and textured 3D weather icons designed by Afshin T2Y, editable in Adobe XD.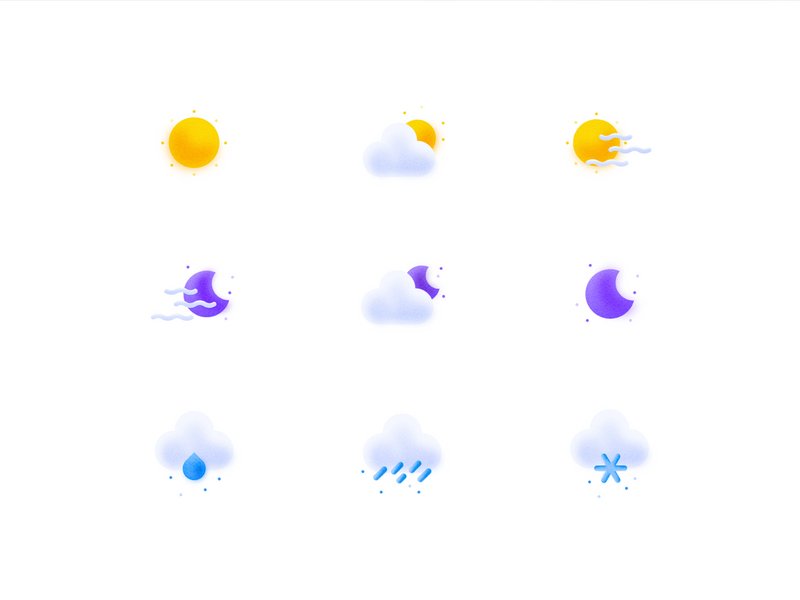 Free Weather Icons – AI & PSD
This is a set of 36 beautiful weather icons designed by Alexey Onufriev available for free download in both PSD and AI formats. These icons are absolutely free for personal and commercial use.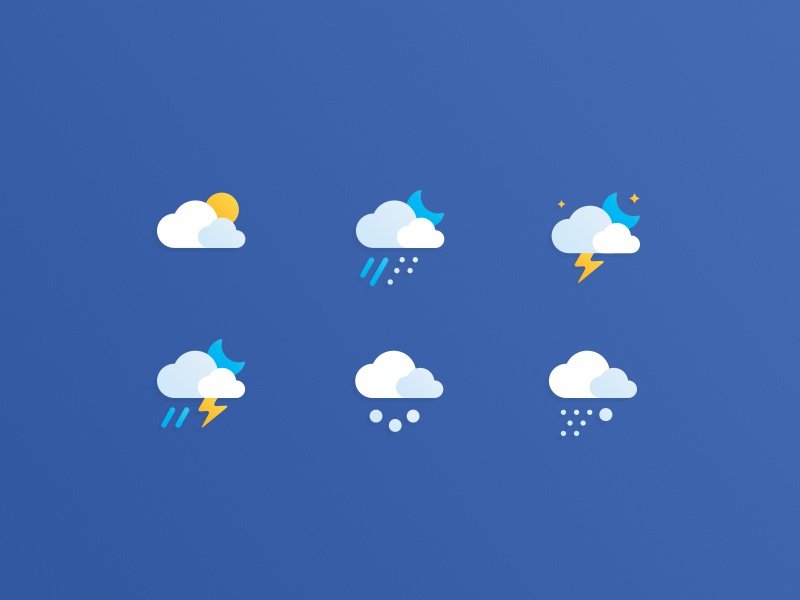 61 Free Outlined Weather Icons
These line icons shared by Gustavo Cramez will perfectly complement an ultra minimal user interface design for your weather app or service. The icons are supplied in AI vector format.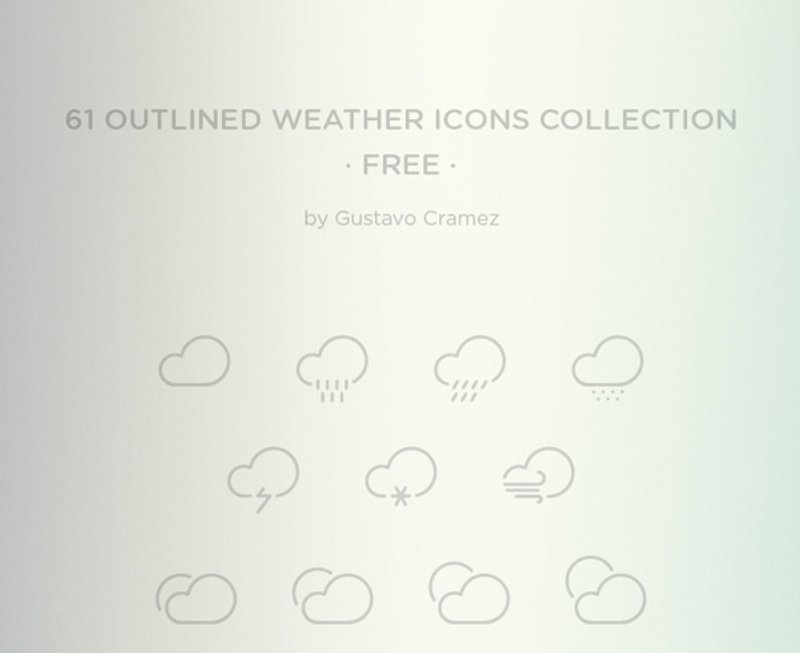 Material Design Weather PNG Icons
This free Material Design Icon set by WebHostFace has around 30 icons for common weather conditions like clear sky, rain, snow and temperature in Material Design colors. The icons are available for download in PNG format in 3 sizes – 64×64 px, 128×128 px and 256×256 px.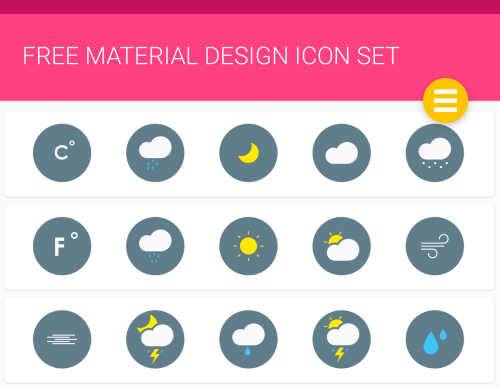 Flat Weather Icon Set
A set of 12 flat icons designed by Roy Soetantio. You can use these icons to represent weather conditions like sunny or cloudy weather, thunderstorm, rain, etc. The icons can be downloaded as PSD file.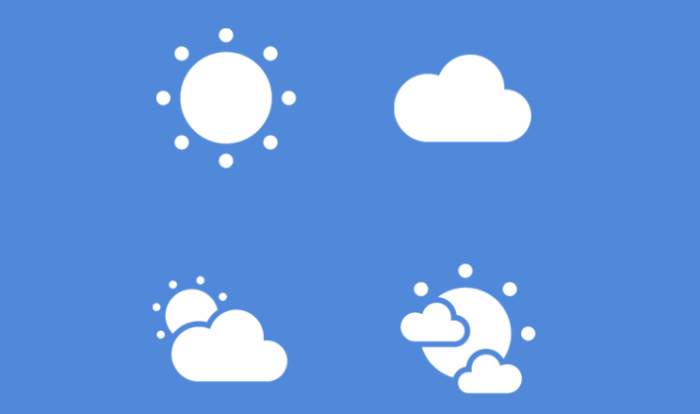 Free Weather Icons on Iconfinder
Iconfinder has a collection of free weather icons that can be used commercially without attribution. These weather icons are available in many different styles including outline, flat, 3D and pixel.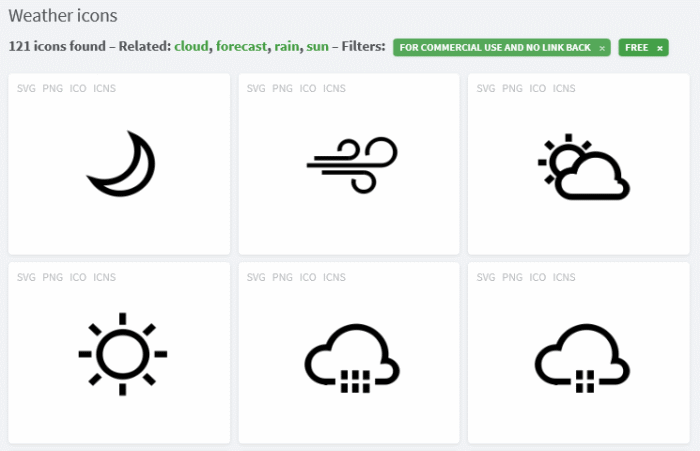 Vector Weather Icons on Flaticon
Flaticon has hundreds of well categorized weather icons available for download as web font, PNG and SVG files. You are free to use these icons in commercial work. In exchange, it's necessary to credit the author for the original creation.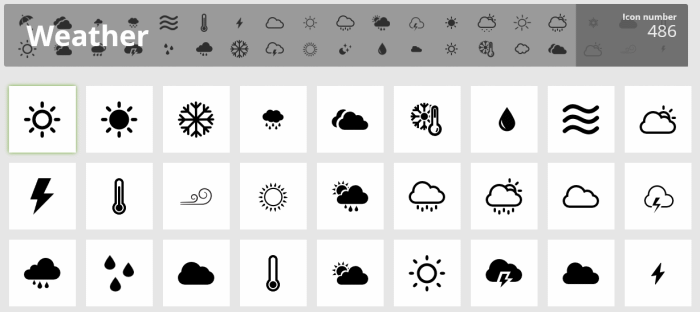 Download
Also Read: Over 100,000 free icons for your apps and websites
Conclusion
Thanks to these weather icons, you can accurately represent the current climatic conditions and weather forecast data in your weather based app or service. This pictorial representation helps users get a clear idea about the weather forecast at their location and to plan their activities accordingly.
Together with the list of weather forecast APIs, these sets of free weather icons will help you pick up resources for your weather app. Use your creativity and turn these resources into the next best weather app!
You may also want to check out our collection of free icons you might find useful for your next project.