Having a complete set of weather icons to visually represent climatic conditions in your weather app is important. In this post, we have picked up 7 great sets of free weather icons that you can choose from for using in your own weather app.
These icon sets include a variety of icons for different weather conditions like sunny, cloudy, fog, snow, lightning, rain and many more that are free for commercial use in your app. We have picked up the icons sets as per the latest design trend of line icons, minimalistic flat icons as well as icons in material design.
If you haven't already, then do also read our other post where we wrote about some of the free and paid weather forecast APIs that you can use in your apps.
Free Weather Icon Sets
Weather Icon Vector Pack
A free set of 180+ weather icons created by Freepik. All the icons are available in two different styles and many of them are available as both outline and filled icons. The set contains icons in PNG and SVG image formats and they can be used for any purpose, commercial, for-profit or otherwise.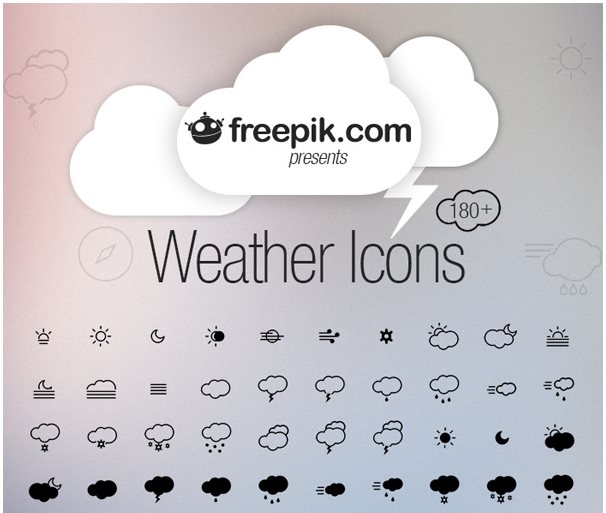 Climacons – Free Weather Forecast Icons
Climacons is a set of 75 climatically categorised pictographs designed by Adam Whitcroft for web, user interface designs and mobile apps. Many of the icons have a second design option like icons for cloud-drizzle and cloud-fog and any cloud-based icon has three states: plain, day and night to give you more options. These weather icons are available in PSD, EPS, SVG and Fireworks PNG formats.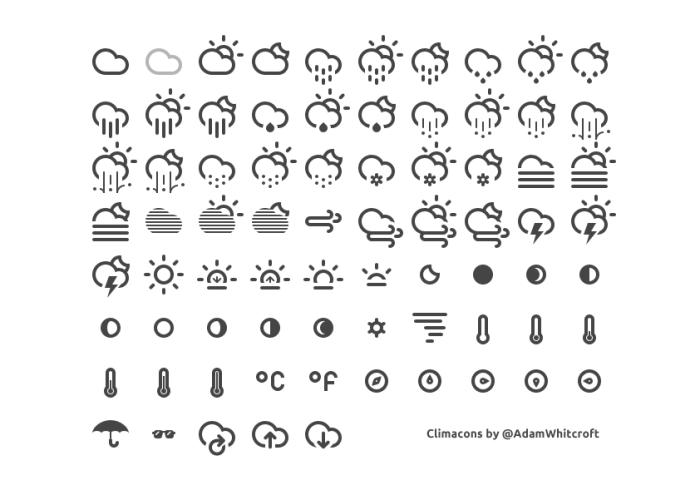 Download
Dripicons – Weather Icon Set & Web Font
Completely free for personal an commercial use, Dripicons by Amit Jakhu is a set of over 90 minimal line icons for different weather conditions. These icons are available in AI, EPS, PDF, SVG vectors, PSD and as webfont.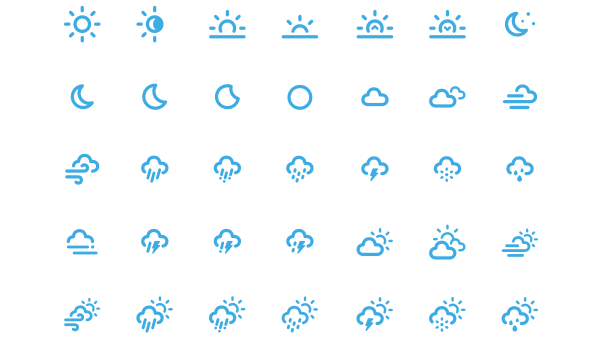 85 Weather Icons
A comprehensive set of icons that you can use to depict different climatic conditions and meteorological warnings in your app or website. Icons are designed in thin line art style by Heeyeun Jeong and are available for free download in PSD format.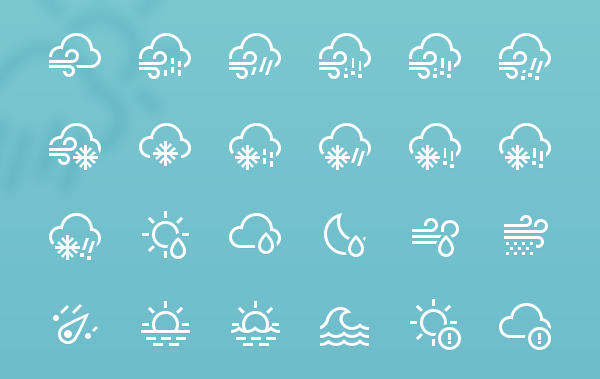 Meteocons – 40+ Icons & Font
Meteocons by Alessio Atzeni is a set of free weather forecast icons for web and user interface designs. It contains over 40 icons available in PSD, CSH, EPS, SVG, Desktop font (TTF & OTF formats) and Web font. These icons can be customised according to your needs and are free for both commercial and personal projects.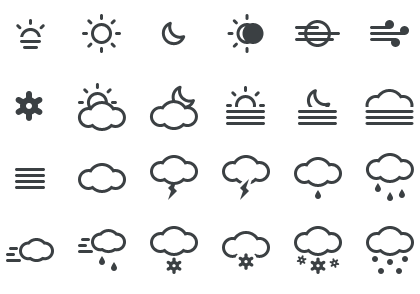 Vintage Weather Icons
This free icon set by Vecteezy offers 12 weather forecast icons in vintage style inspired muted color palette. Icons sport a subtle grainy texture and are available in EPS and AI vector formats.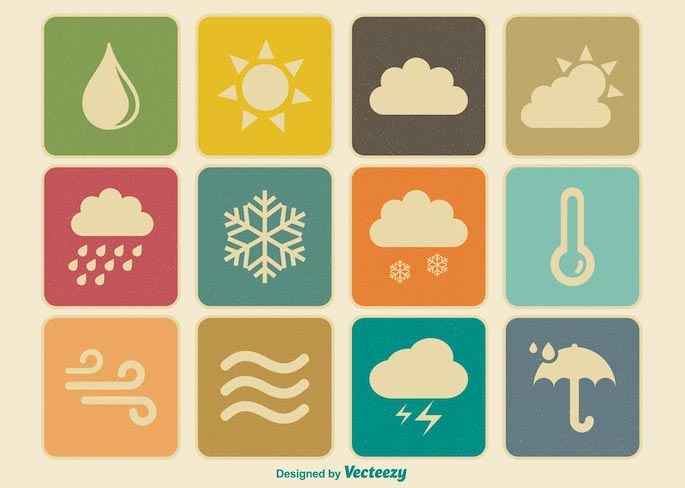 42 Line Weather Icons + Font
This thin icon set has variety of weather symbols from sunny day to cyclone and eclipses. These icons are also embedded in a TTF font named Weather&Time for easy access through keyboard shortcuts. The icon set comes with free commercial use license and on downloading, you get PSD file with 42 shape icons, AI icons on 32x32px grid and font file.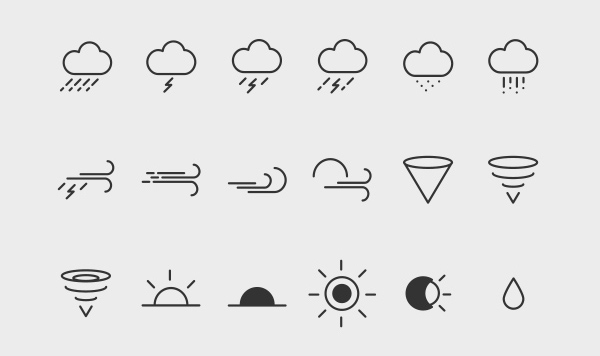 Material Design Weather Icons
This free Material Design Icon set by WebHostFace has around 30 icons for common weather conditions like clear sky, rain, snow and temperature in Material Design colors. The icons are available for download in PNG format in 3 sizes – 64×64 px, 128×128 px and 256×256 px.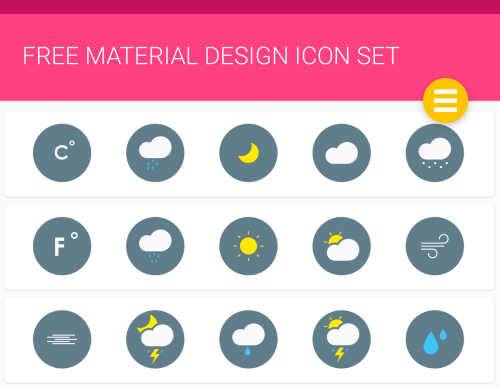 Flat Weather Icon Set
A set of 12 flat icons designed by Roy Soetantio. You can use these icons to represent weather conditions like sunny or cloudy weather, thunderstorm, rain, etc. The icons can be downloaded as PSD file.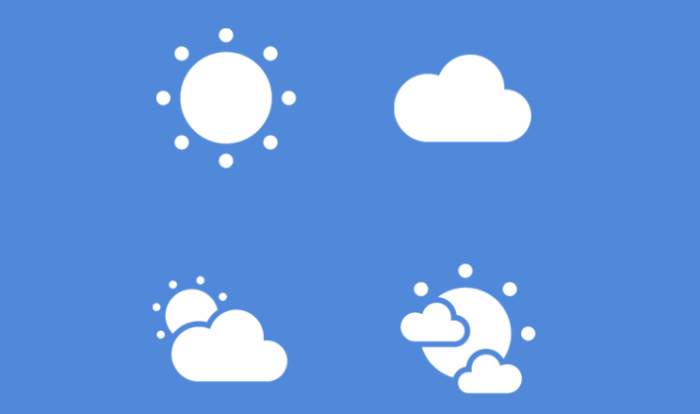 Weather Icons by GeekChamp
Icon Explorer by GeekChamp has a category for travel and weather symbols. You can download the weather icons in this set as PNG image or via XAML and HTML code .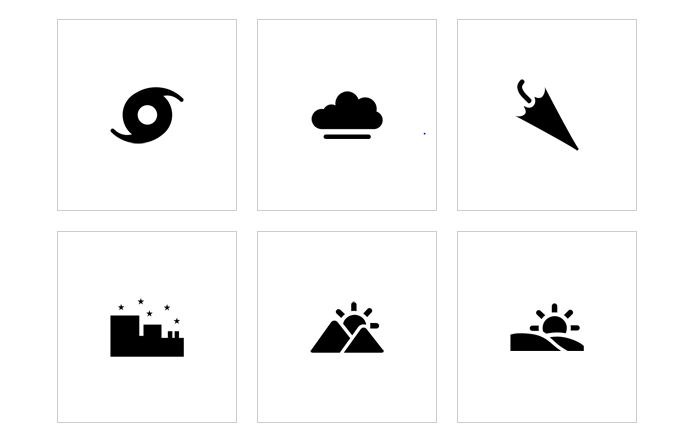 Download
Free Weather Icons on Iconfinder
Iconfinder has a collection of free weather icons that can be used commercially without attribution. These weather icons are available in many different styles including outline, flat, 3D and pixel.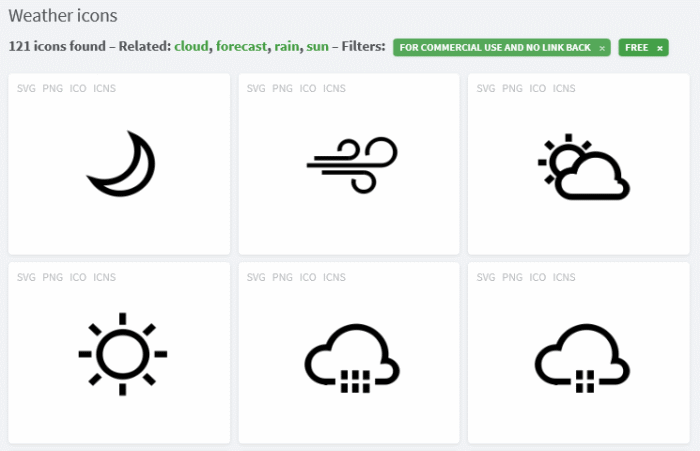 Vector Weather Icons on Flaticon
Flaticon has hundreds of well categorized weather icons available for download as web font, PNG and SVG files. You are free to use these icons in commercial work. In exchange, it's necessary to credit the author for the original creation.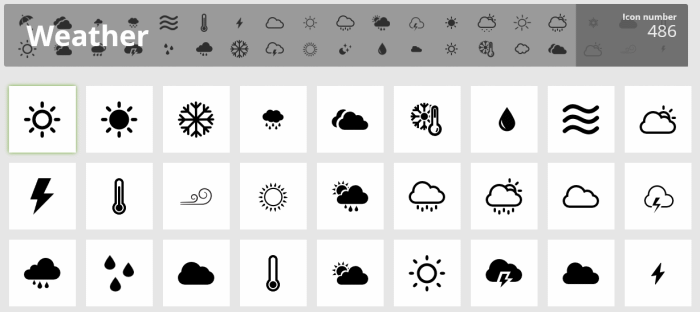 Download
1000+ Free Icons by Icojam
This package of 1000+ free icons by Icojam includes a set of variety of weather icons. The icons are available in 40×40 PNG format file and are free to use in any kind of commercial or non-commercial projects. These thin icons are suitable for use in web, iOS 7 thin style, metro style Windows, Android and other applications icons.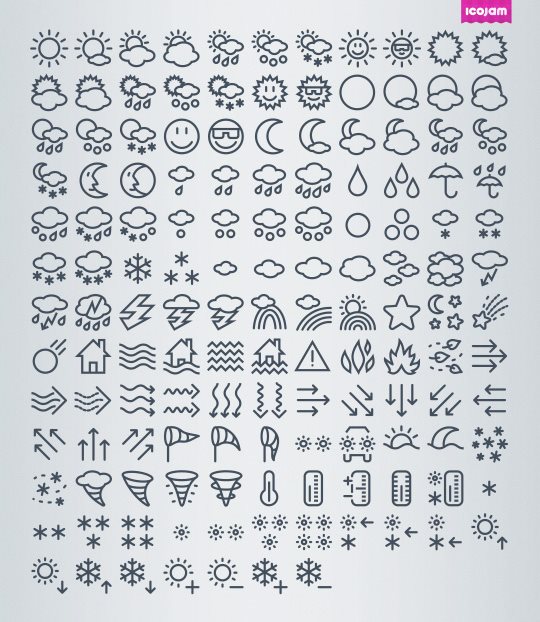 Together with the list of weather forecast APIs, these sets of weather icons will help you pick up resources for your weather app. Use your creativity and turn these resources into the next best weather app!