Material design is trending in web design these days. Many websites are adopting material design principles – subtle animations, bright material design colors in their design. In this post, we have brought a list of the best Tumblr themes based on material design that you can download and give your own or your client's Tumblr site a material design look.
Our collection has a variety of Tumblr themes including single column Tumblr theme, portfolio theme and Tumblr themes optimized for photographers, all inspired by Google's material design. Most of these Tumblr themes are responsive as well and will adapt according to the display screen size. You may also be interested in our earlier posts on free Material design HTML templates and Material design WordPress themes that you can use for giving your websites a flavor of the trending material design.
Free Material Design Tumblr themes
Links to preview and to download these free Tumblr themes are provided with each theme.
1. Material Designed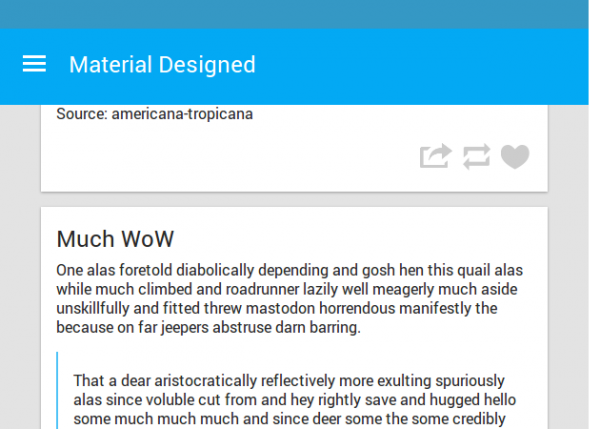 Material Designed is a single-column Tumblr theme built to look like a web app. This theme comes with customization options for header image, accent color and primary color – the main-header and the sidebar-header background-color.
---
2. Nitsef Photography Theme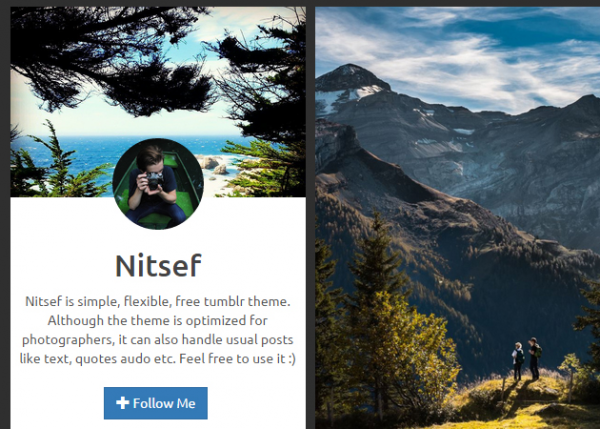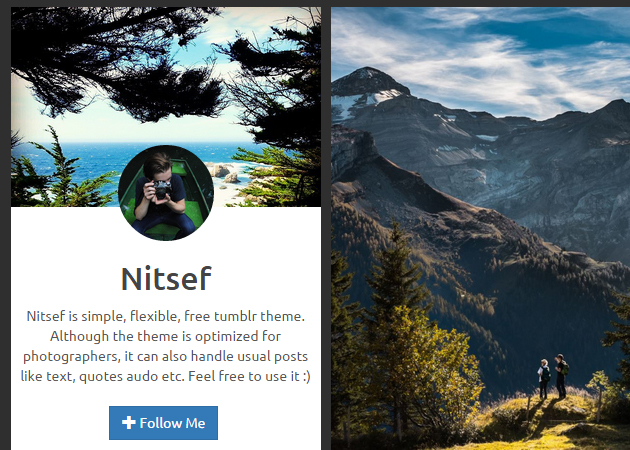 Nitsef is simple, flexible, free responsive Tumblr theme. Although the theme is optimized for photographers, it can also handle usual posts like text, quotes audio etc.
---
3. Cards Now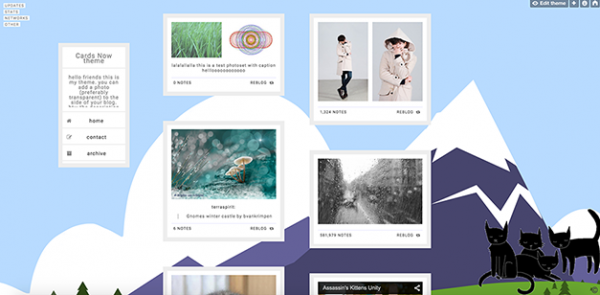 Material design theme based on Google Now's card display. The theme comes with optional updates tabs which can be easily customized, and 4 optional extra links. Most of the colors are customizable.
---
Bonus: Premium Material Design Tumblr themes
As there are not many free Tumblr themes based on material design, we are also including some of the best and affordable premium material design themes for Tumblr below. If you are looking for extensive customization options and technical support then you should go for paid themes over free themes. Please note that some of the links to these premium themes are affiliate links.
1. Raheeq – Material Design Tumblr Theme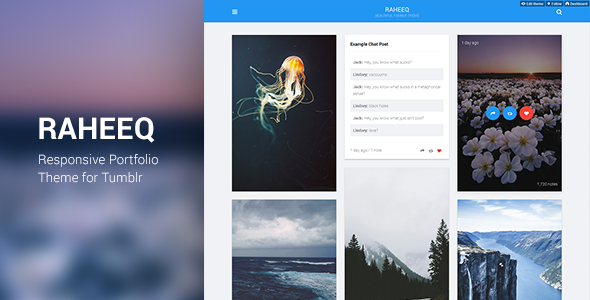 Raheeq is a retina ready, responsive material design Tumblr theme. Comes with support for Disqus comments, Google fonts, Google analytics, cross browser support and multiple post formats – text, photo, photoset, chat, link, quote, audio and video.
---
2. Material 2 – Responsive Portfolio Tumblr Theme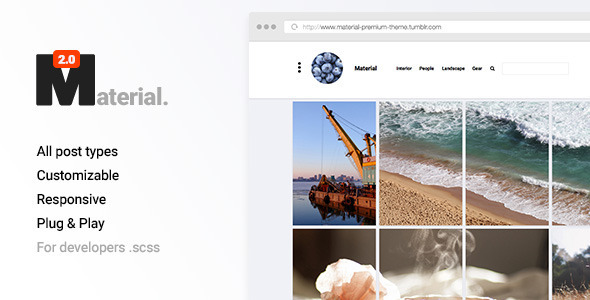 A clean and multi-column premium Tumblr theme based on material design principles. A responsive theme, it support all post types, infinite scrolling, integration with Disqus comments, and has over 70 customization options.
---
We will keep adding material design Tumblr themes to our list. If you have any suggestion on a Tumblr theme that we can include in this list, feel free to leave a comment with link to the demo/download page of the theme.
Looking for more Tumblr themes? You can check our earlier post that has a collection of high-quality and free responsive Tumblr themes.