When the need is to make an impactful stand-out business presentation to your clients, partners or potential investors, then using a default Microsoft PowerPoint template may not be enough. To design a winning PowerPoint presentation, you need the right tools or in this case, PowerPoint templates.
That's why in this article, we have rounded up some of the most impressive and best business PowerPoint templates that you can download and customize with your content, images, and colors to build stunning presentations. Whether you're working on a business plan presentation, presenting a business portfolio or a startup pitch deck, you will find below a selection of professional and high quality templates to suit your requirement.
These PowerPoint templates come with all the slides necessary to present your company data and business profile. They will help you save time and make creating a professional looking business presentation easier. Our collection includes both premium and free PowerPoint templates and they are put in different sections for easy browsing. Let's dive in!
Free Business PowerPoint Templates
To start with, we list down some of the best free business PowerPoint templates. Some of these templates are also available for download in Google Slides and Keynote versions as well. All these PowerPoint presentation templates allow free personal and/or commercial usage.
1. Cranford Free Business Presentation Template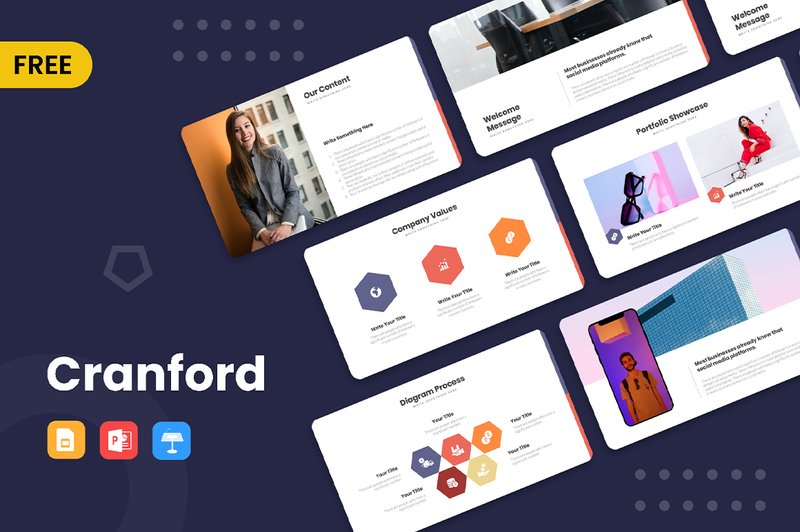 Cranford free presentation template has a very professional and formal set of layouts that will be great to use during your next business presentation. From presenting financial reports to introducing your company and business to your potential investors, this PowerPoint template will help you create a persuasive presentation. Free download includes 16:9 HD slides for PowerPoint, Keynote and Google Slides theme.
2. Free PowerPoint Presentation Template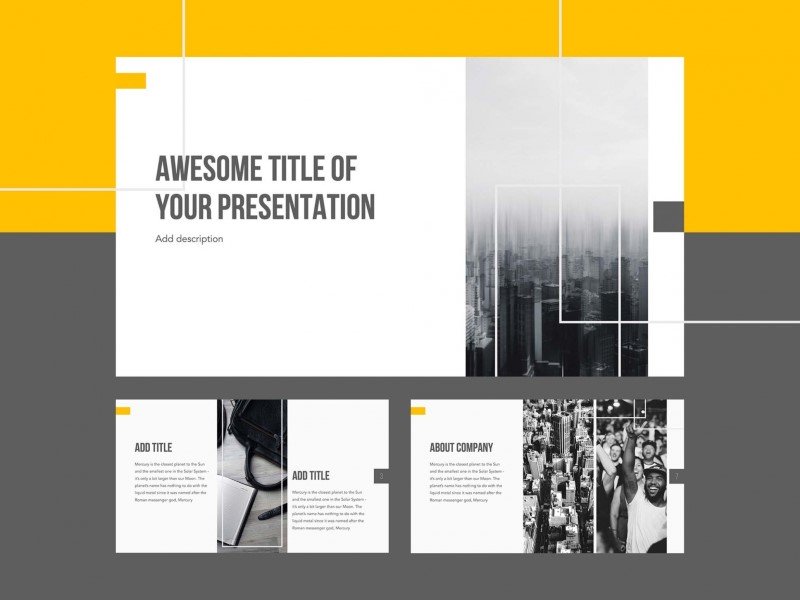 This free PPT template has a clean design and you can download it for free. The template comes with 30 unique slides and is designed in 16:9 format. Easy to customize to include your own background images and color to support your content and creating an engaging presentation for your business such as consulting, IT or any other topic. Perfect to present a team update or goal, or pitch internal projects.
3. Cool Startup Business Plan PowerPoint Template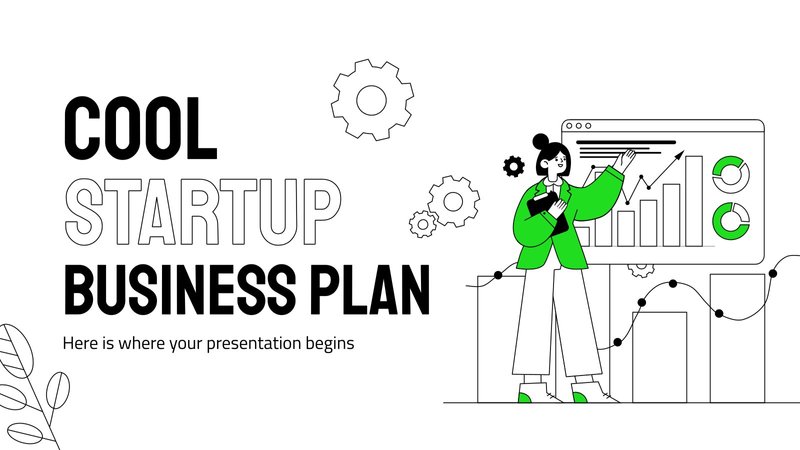 This free minimal PowerPoint template and Google Slides theme is a great choice for startups for translating their business plan into a visual presentation for their potential investors. Use of illustrations, minimal line icons and in-trend outline fonts is bound to capture attention and make your presentation stand out.
4. Selfone – App Showcase PowerPoint Template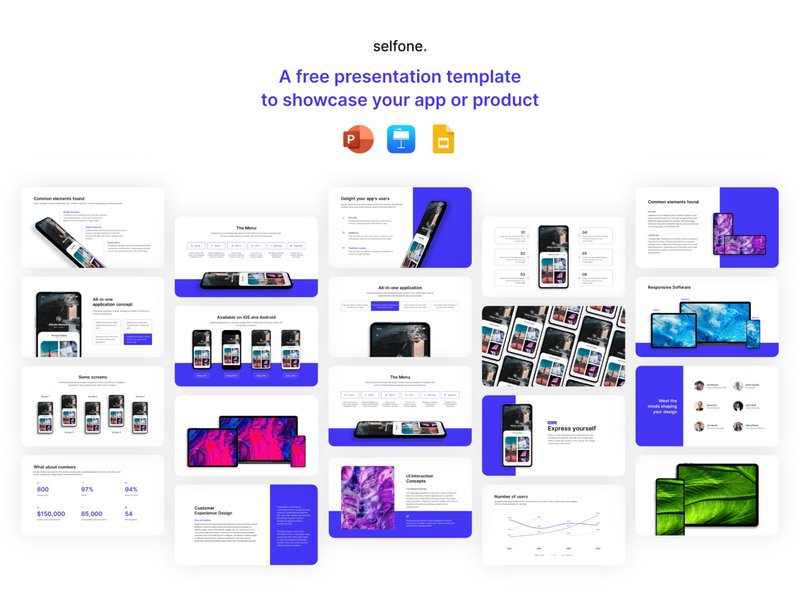 Selfone is a beautiful and free PowerPoint Template to showcase your app or product. Includes 32 slides, SVG icons, vector based maps as well as mockups to allow you to easily present your app on all smartphones and screens. On downloading, you also get Keynote and Google Slides files along with PowerPoint slides.
Related: App Landing Page Templates
5. Free PowerPoint Pitch Deck Template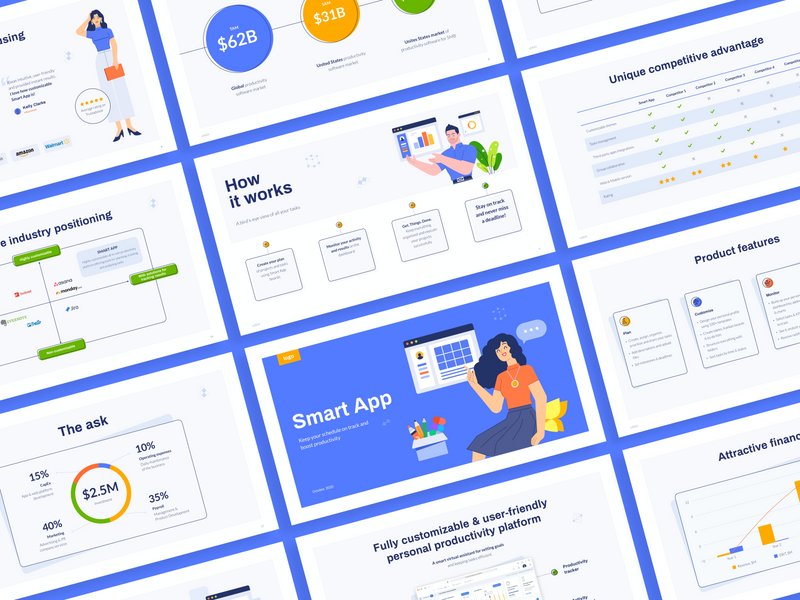 Designed specifically for startups and entrepreneurs, this free PowerPoint pitch deck template features slides tailored to cover all the main points of seed/Series A pitch and winning wording examples to help you streamline your copywriting for your own deck. It is also available for Keynote.
6. Musetto – Modern Business PowerPoint Template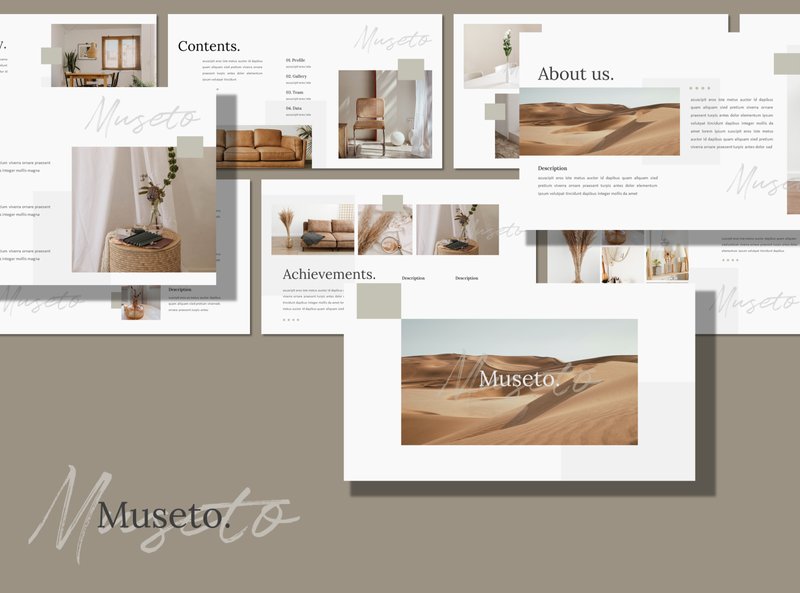 Musetto PowerPoint template has a clean and modern design with a warm, beige color theme. You can use it for any type of business presentation and easily customize it to fit your branding. Available for free download in PPT and PPTX formats. You can also get its full version with 50 slides from Creative Market.
7. Spark Business Free PowerPoint Template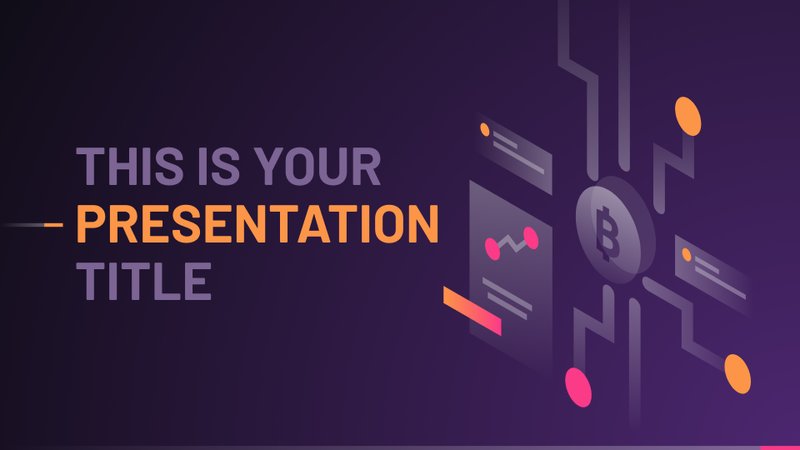 With Spark, a free template, you can give a professional touch to your PowerPoint or Google Slides presentations. It includes 20 semi-transparent illustrations of different concepts making it versatile for use on any topic. Comes with 25 dark theme slides, 80 customizable icons and world maps.
8. Minimalist Business Slides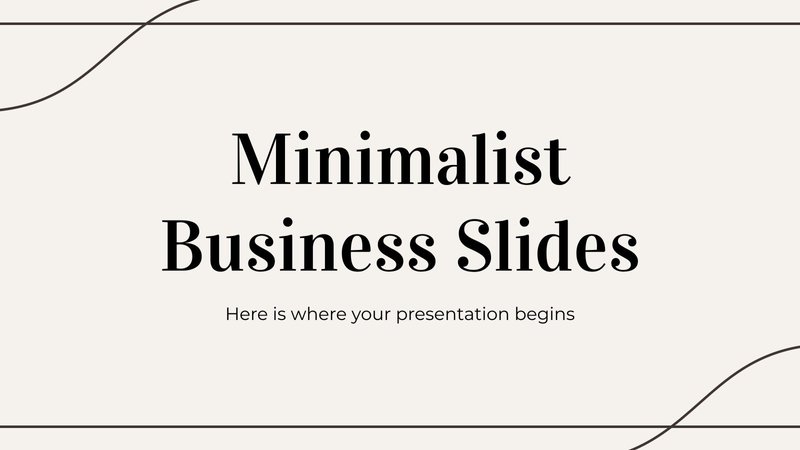 Featuring a simple, minimalist design, these presentation slides will make your content the highlight of your next business meeting. Designed for both Microsoft PowerPoint & Google Slides, it contains 35 different slides in 16:9 widescreen format, editable graphics such as graphs, tables, timelines and mockups to present your data in a clear and easy to understand way.
9. Free Annual Report PowerPoint Template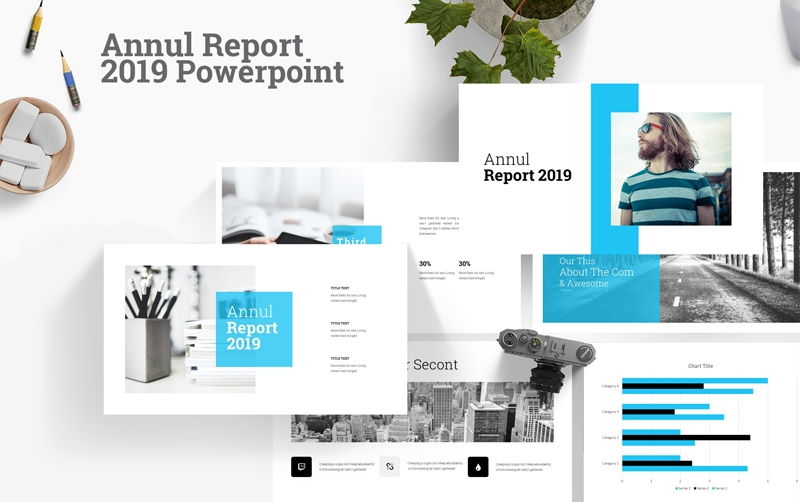 A free business PowerPoint template you can use to create annual report presentations for your project or company. This template includes 20+ unique slides with animated transition effects and easily customizable layouts.
10. Free Business Plan PowerPoint Template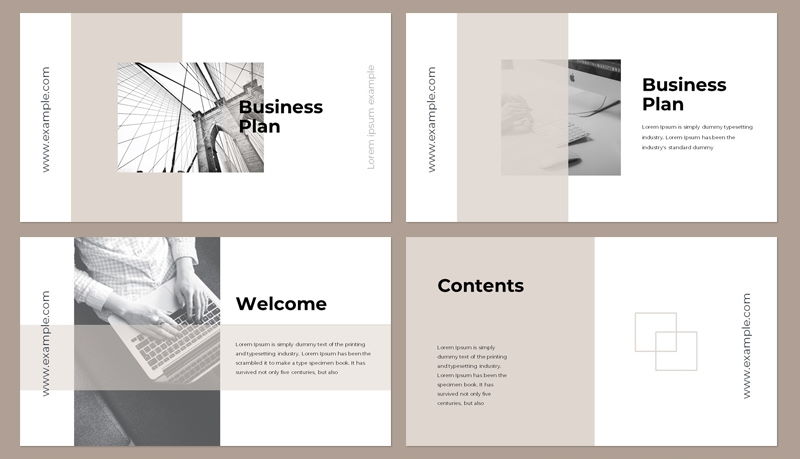 This free PowerPoint template is a great choice for designing slideshows for presenting your business plans and strategies in meetings. It includes 17 clean and modern slides that will fit any kind of business use.
11. Creative Company PowerPoint Template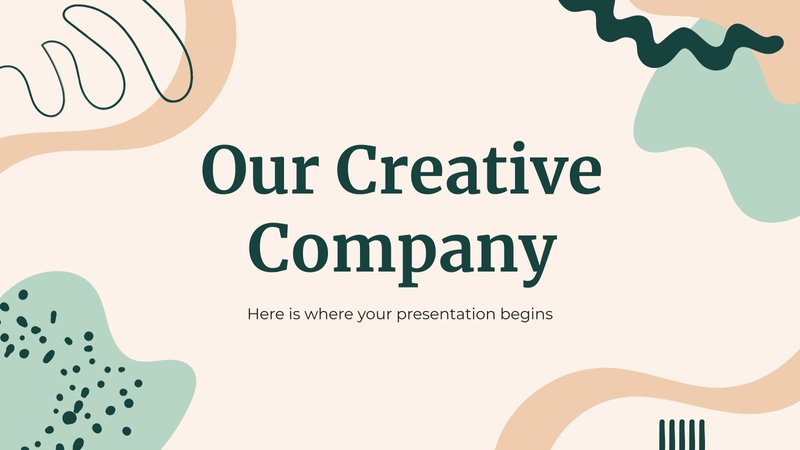 If you are in a creative business and want your business presentation to be as creative as the work you do, this free PowerPoint template is a perfect fit for you. It has 35 unique slides with illustrations, abstract and wavy shapes for creating eye-catching visuals to complement your content.
Also see: Creative Digital Agency Website Templates
12. Bara: Free Business PowerPoint Template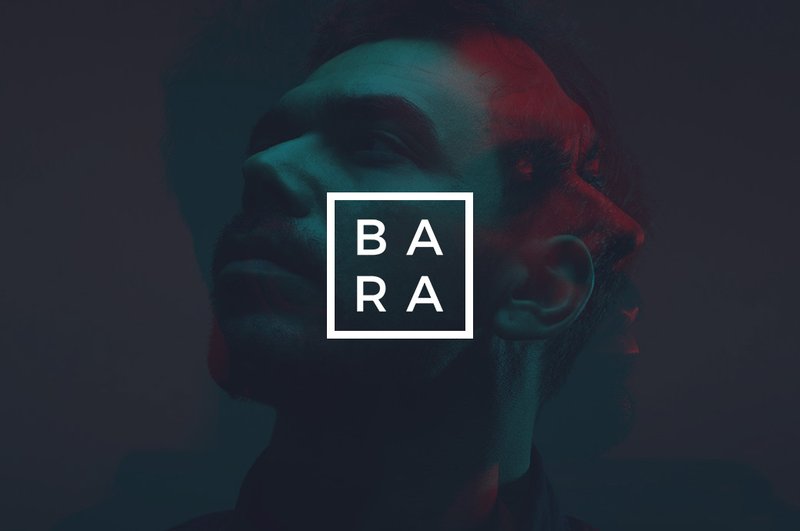 Bara has over 130 presentation slides with tons of elements, layouts, maps, infographics, charts and icons, everything you need for creating an impressive business presentation. It's available in both PowerPoint and Keynote versions.
13. Free Neumorphic PowerPoint Template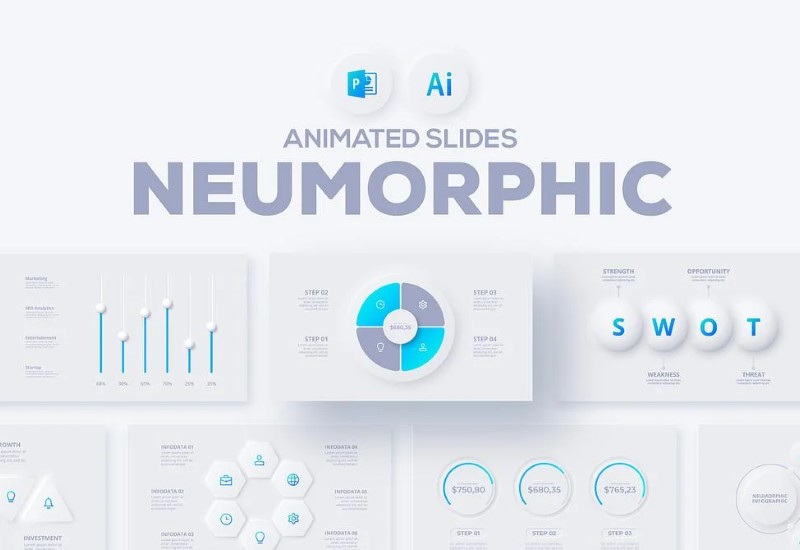 A free PowerPoint presentation template in trendy neumorphic design style. Includes light and dark themes. Free version has 8 animated slides, you can also get its full version that has 260 animated templates editable in PowerPoint and Illustrator.
Premium Business PowerPoint Templates
In this section, you will find a selection of premium business PowerPoint templates that are available at an affordable pricing. With your purchase, you also get free support and updates for these templates. Please note that links to these templates are affiliate.
1. Bontance – Corporate PowerPoint Template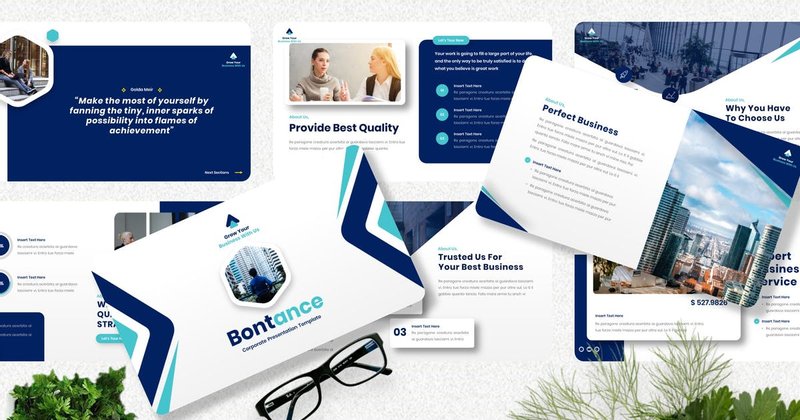 Bontance is a clean business PowerPoint (.PPTX) template designed for a variety of purposes including creative studios, photography and portfolio showcase. Available with Envato Elements subscription, this template offers a set of 40 master slide layouts with image placeholder, easy color change, image drag and drop, vector icons and much more.
2. Be. Clean & Modern Business PowerPoint Template
Be. is a minimalist and modern PowerPoint template that effectively uses images and impactful headings in its slide design. The template comes with over 125 unique slides, 550 font icons and editable vector graphics to give you full control of the customization. Ideal for product and portfolios presentation. File formats: .pptx & .ppt.
3. Professional Business Plan PowerPoint Template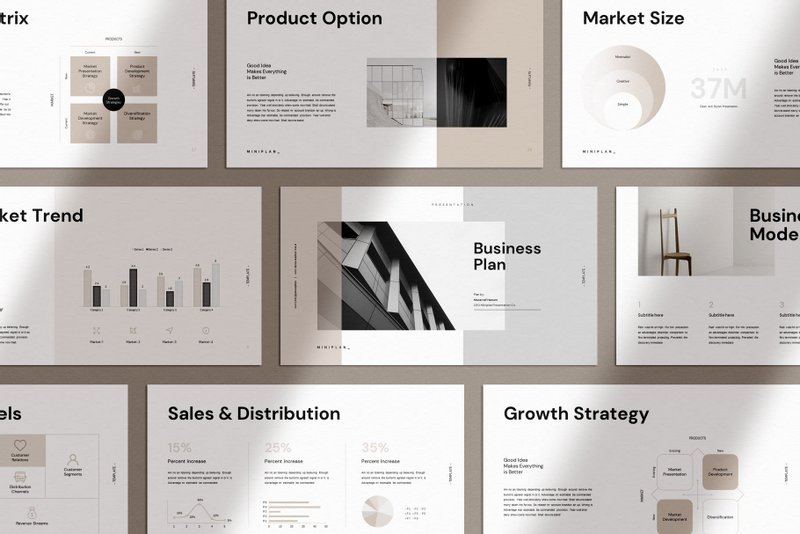 With a simple yet powerful design, this business PowerPoint template includes creative photo layouts, infographics, tables and diagrams to show your business plan, strategy and company profile in a professional way.
It has 94 creative slides for highlighting your vision, guiding principles, problem/solutions, product concept and much more. Also compatible with Canva, Keynote and Google Slides.
4. Project Proposal PowerPoint Template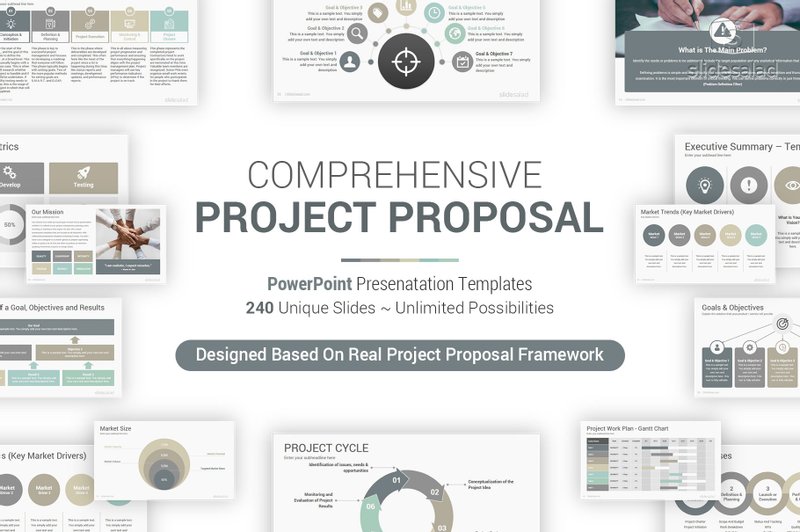 Presenting a project proposal or a business idea? This project proposal PowerPoint template can help you save time in making a successful project proposal presentation.
This professional PPT template comes in 2 aspect ratios: 4:3, 16:9, with plenty of easy to edit PowerPoint professional slides that are 100% customizable and tons of free vector icons and over 125 + theme colors.
5. Forade – Tech Business PowerPoint Template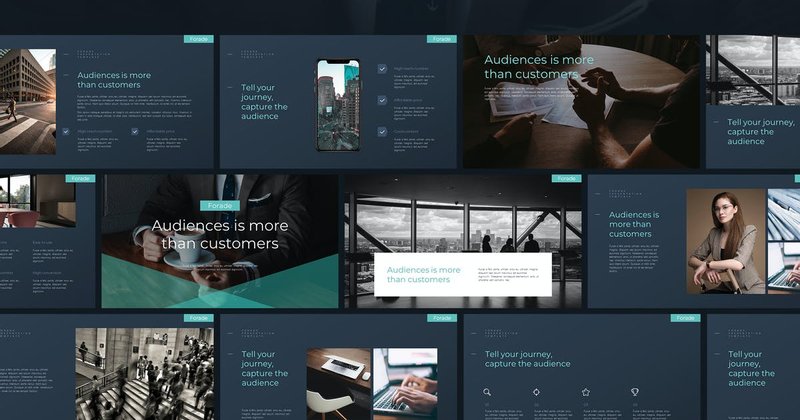 If you are working on a tech startup or business presentation, then this PowerPoint template is an ideal fit for you. Features 30 unique slides in a dark theme that you can easily customize thanks to image placeholders and master slides.
6. Strive – Business Creative Studio PowerPoint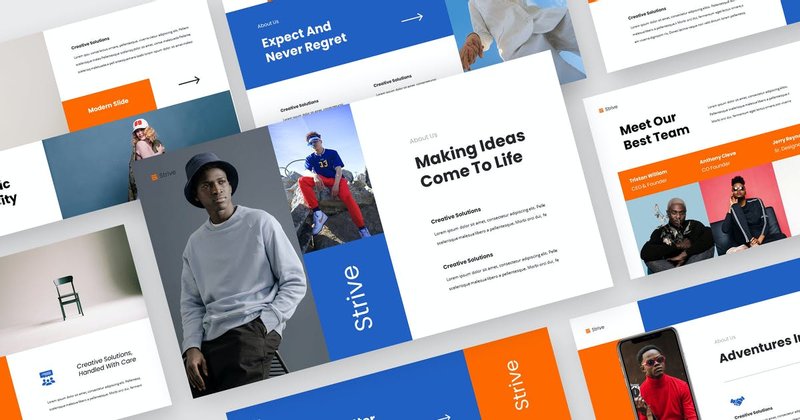 Strive is a stylish PowerPoint template you can use to design presentations for modern startups and creative studios. It includes 30+ high resolution 1920×1080 px slides that are easy to customize with your content. Its striking color scheme, clean layout and typography will make your presentation stand out.
7. Down – Business PowerPoint Template (.PPTX)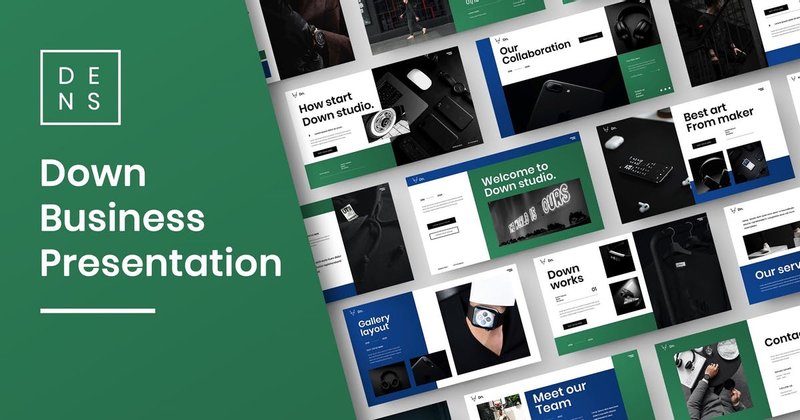 Down is a modern PowerPoint template designed for various corporate and business presentations such as creative agency, company profile, photography, pitch deck, and even for personal portfolio presentation. It comes with 39 slides, slides with infographic, clustered chart, dashboard and pie chart, vector icons are also provided to help you customize them.
Conclusion
Creating a visually attractive presentation is crucial to ensure a successful outcome. With these editable business PowerPoint templates at your disposal, you can ready your presentation in no time. These free illustrations and images may come in handy in customizing these templates.
You might as well find these resources useful: