Procreate is an incredible app for creating digital art on your iPad. While its easy to use, intuitive interface, built in brushes and tools make the learning curve easier even for those who are new to the app, tutorials can certainly help you explore all the possibilities that Procreate comes with.
Our collection of Procreate tutorials for iPad has a mix of tutorials for both beginners and experienced artists. Whether you are looking for step-by-step tutorials to get started or want to improve your skills, we hope that with these tutorials, you will learn something new and get inspired to create your own digital illustrations, paintings, lettering and animations in Procreate. All these are video tutorials that you can watch for free on YouTube, take a look!
You may also like: Best Free Procreate Brushes
Procreate Beginners Series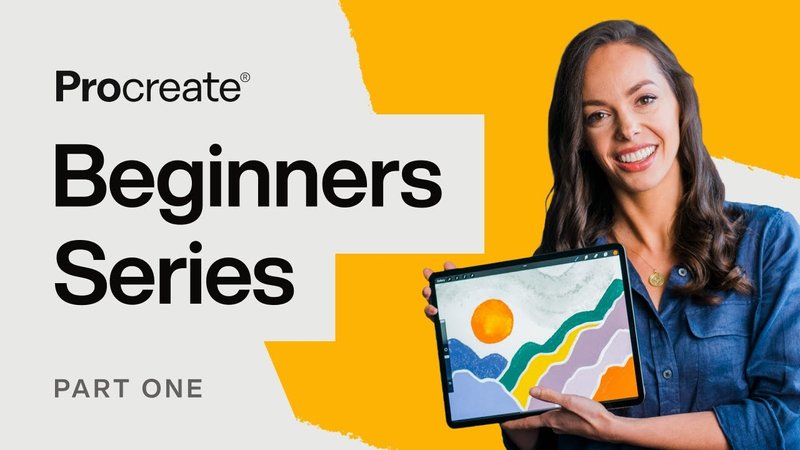 The Beginners Series from official Procreate YouTube channel is a four part series covering Procreate's essential tools and features. Starting from the fundamentals and basic tools like brushes, color palette, and gestures to an overview of painting tools, editing tools, actions and animation, you get to learn the fundamentals of the app while creating your own digital art.
Anyone Can Draw this Iris in Procreate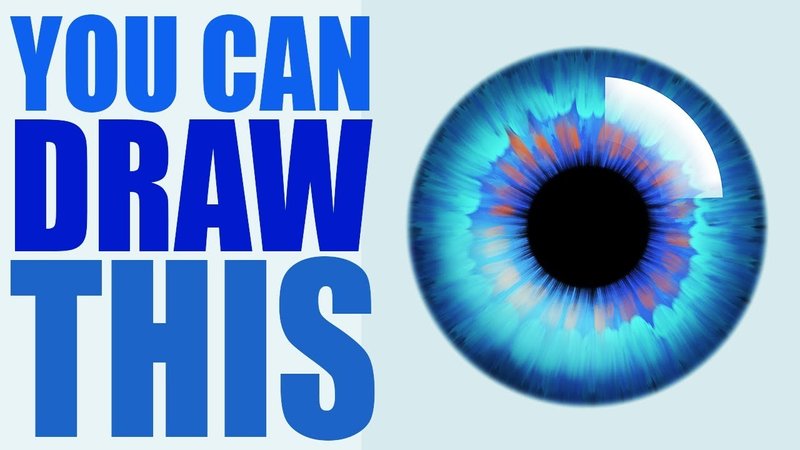 An easy step-by-step digital drawing tutorial by Art with Flo. In this beginner level video tutorial, she uses free brushes that come with Procreate and shows many different techniques like feathering a selection, using the smudge tool, layer masks, layer blend modes and clipping masks while creating this beautiful Iris.
How To Choose A Canvas Size for Digital Art & Print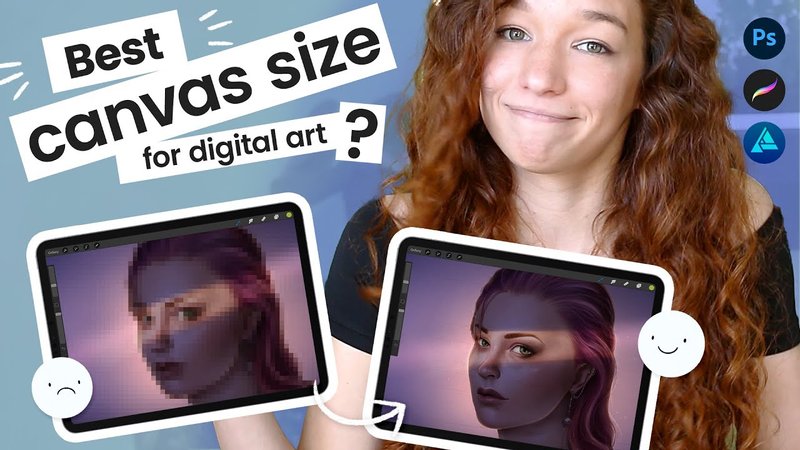 Whether you are working in Procreate, Photoshop or Affinity Designer, you need to choose the right canvas size and resolution when creating digital art so that your graphics do not look pixelated on screen and you get great results on printing. This nicely explained video tutorial by Genevieve's Design Studio will help you understand these key concepts.
You Can Draw this Ink Artwork Landscape – Beginner Tutorial for Procreate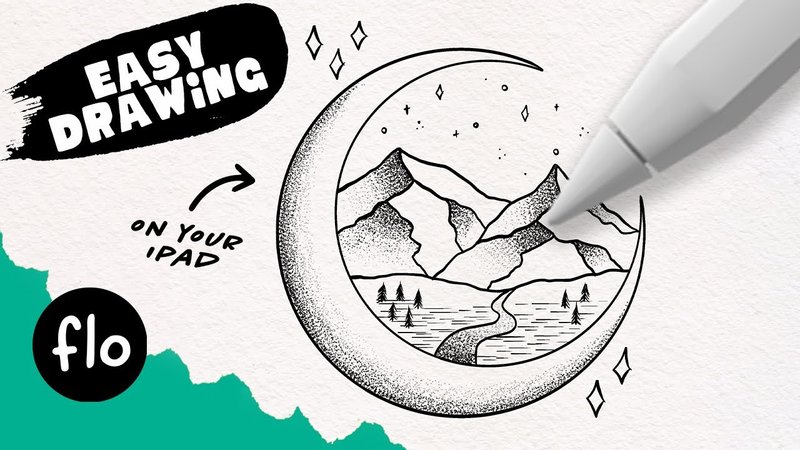 In this Procreate drawing tutorial for beginners, you will learn to create a stippled ink landscape in Procreate using default Monoline and Technical Pen brushes and 'Stipple' brush that does not come with the latest version of the app but can be downloaded from here.
iPad Painting Made Easy – Pacific Islands Landscape Tutorial in Procreate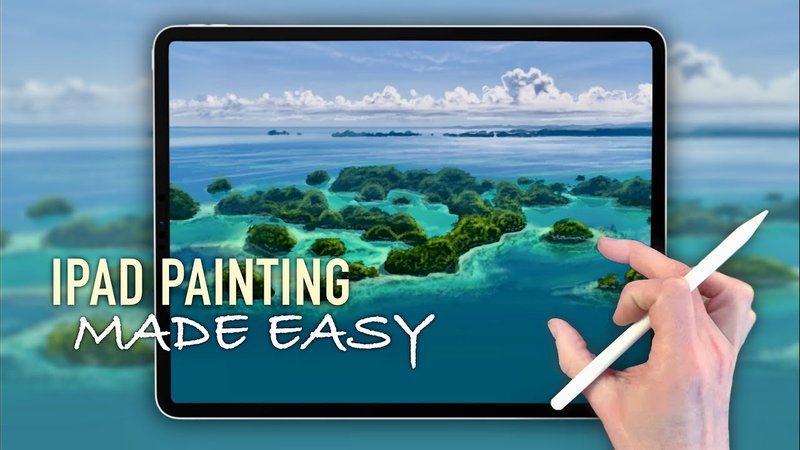 This Procreate tutorial by James Julier Art Tutorials shows the painting process and gives a step by step guide for creating a realistic landscape in iPad. The best thing about this tutorial is that James uses free stock Procreate brushes such as Rainforest and Air Brushes along with layer opacity and gaussian blur for painting the textures for clouds, water and islands.
You can check out his entire YouTube playlist on painting different landscapes in Procreate. These tutorials are suitable for beginners, intermediate and advanced levels.
How To Draw A Watercolor Flamingo – Procreate Tutorial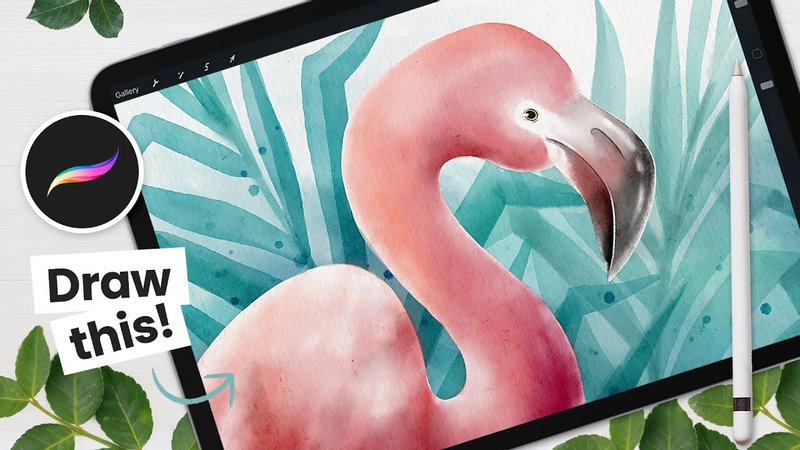 In this video tutorial by Genevieve's Design Studio, you get to learn how to draw a watercolor flamingo in Procreate. While she uses her own brushes for the painting, she also suggests free brushes that come with Procreate that anyone can use to create this watercolor painting. You will also learn useful techniques with selection tool and hue and saturation adjustments to achieve beautiful color variations and contrast.
I have also used the default Procreate brushes to create this watercolor flamingo, you can see my result on Instagram. You can also check all her video tutorials on digital watercolor painting here.
How to use Text in Procreate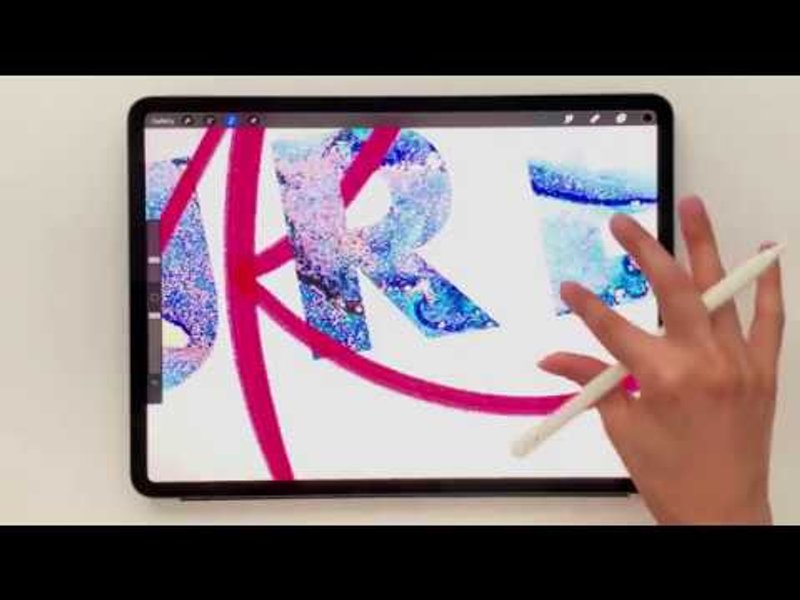 Procreate on iPad with Apple Pencil is perfect for creating lettering designs. This tutorial by Every Tuesday shows you the different ways you can use text in Procreate. You will learn how to add text and change its font and color, adjust the spacing between letters, add textures to your text and even combine custom lettering with the text for beautiful typography pieces. She has a series of tutorials on iPad lettering that you can watch.
How to Make a Procreate Calligraphy Brush in 2 Minutes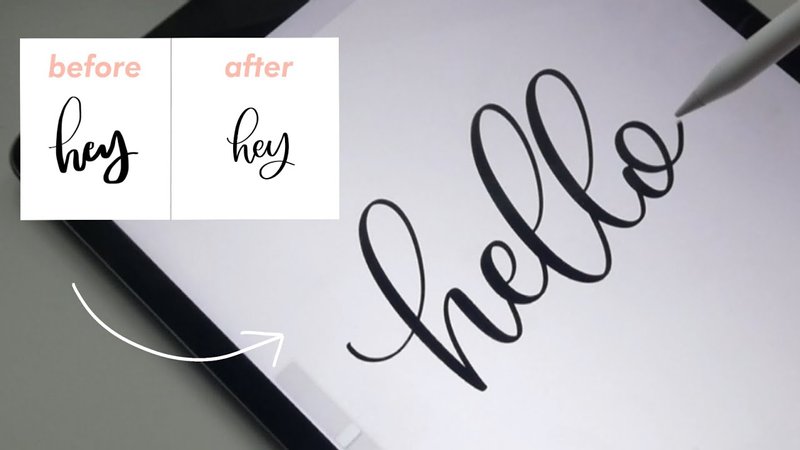 In this under 2 minute YouTube tutorial, Lia Hansen shows how you can create your own calligraphy brush in Procreate from scratch and use it to practice calligraphy and create lettering designs on your iPad.
Easy Floral Borders with Lettering in Procreate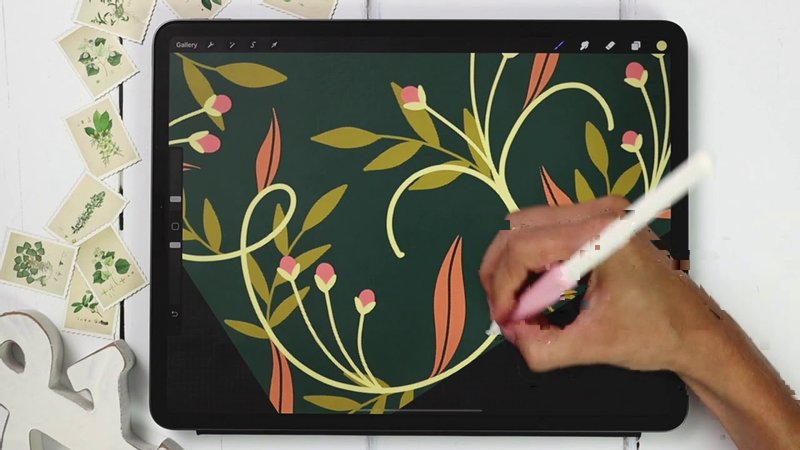 In this tutorial, you will learn how to use drawing guides and symmetry to create this beautiful floral border with lettering in Procreate. This beginner friendly tutorial uses two free brushes and a free color palette from the author Every Tuesday for creating the floral design. I also have followed this tutorial to create Choose To Be Grateful poster in Procreate.
Lettering Art Anyone Can Draw in Procreate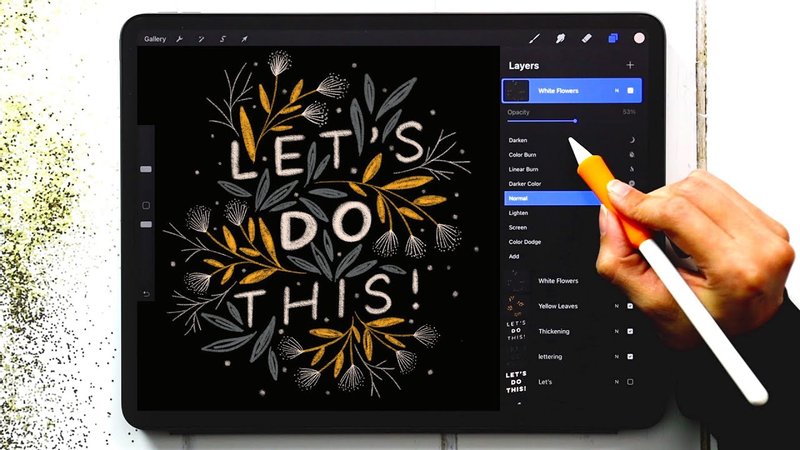 In another easy to follow tutorial by Every Tuesday, you learn to create this lettering art in Procreate. The tutorial covers several basic skills essential for working in Procreate: layers, colors, editable text and brush size adjustment. The author also shares a handy exercise, that she has used herself, to improve your iPad lettering. You can also see my result here if you want :).
3 Ways to Create 3D Lettering in Procreate!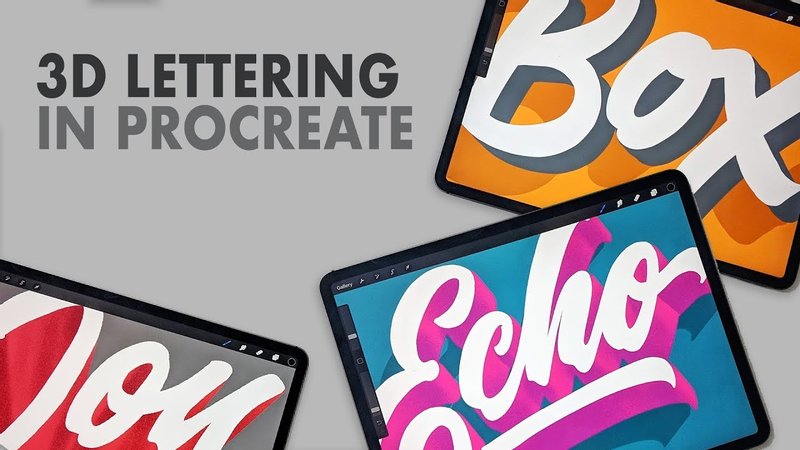 3D Lettering is a trendy typography effect that you can do in Procreate as well. This YouTube tutorial by Ian Barnard walks you through 3 different ways to create 3D lettering starting from any text in Procreate app on iPad.
You may also like: Photoshop Text Effect Tutorials
You Can Draw This Goldfish in Procreate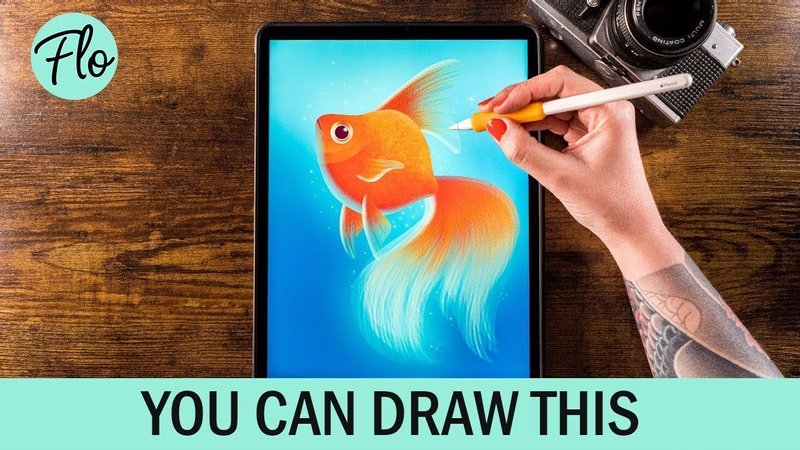 Art with Flo walks you through the steps of drawing a goldfish illustration in this fun beginner Procreate tutorial. She shows many different techniques you can use in Procreate, like using textured brushes, warp, layer blending modes, QuickShape editing, color drop for quickly filling an area, creating a gradient and much more.
Steaming Coffee Animation in Procreate 5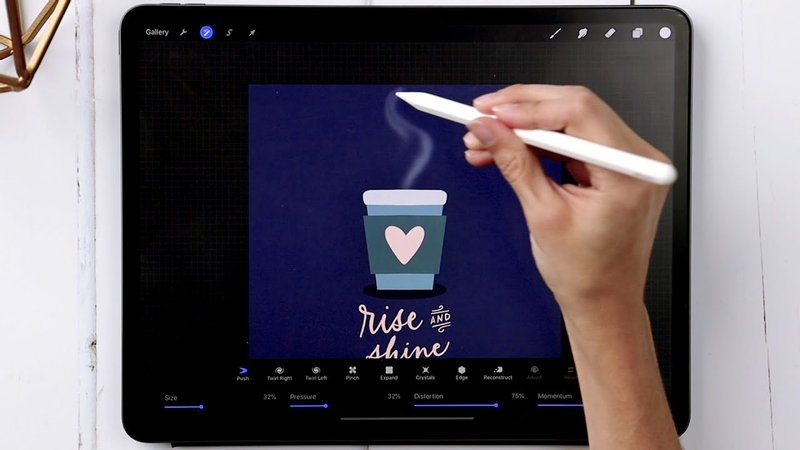 Procreate is not only a great choice for creating digital paintings and illustrations but for animations as well. This video tutorial explains everything from drawing the cup and lettering to using layers for the steaming coffee animation and exporting the video successfully for posting it on Instagram. You can also take a look at other tutorials on Procreate animation from the author.
How to Create Seamless Patterns in Procreate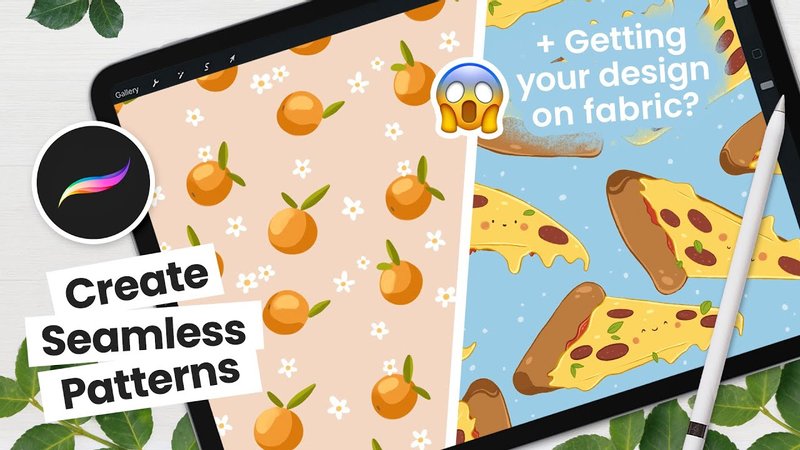 Seamless repeating patterns are an asset to have, you can use them in all kinds of projects, be it digital or print. This step-by-step tutorial outlines the technique for creating repeating patterns in Procreate that tile seamlessly both vertically and horizontally.
Related: Free Seamless Patterns
Beginner iPad Procreate Portrait Tutorial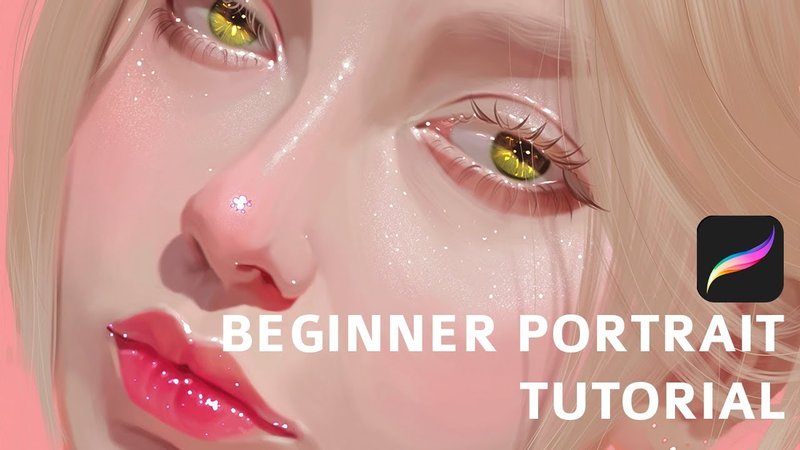 If you are interested in doing portrait painting in Procreate, this beginner level tutorial by Haze Long is a good place to start. Her method involves tracing an image and picking colors from it to get started with the painting process and to help you focus more on learning the app, brushwork and finishing. Do also check the part two of this tutorial.
How to Cartoon Yourself in Procreate Step-by-Step Tutorial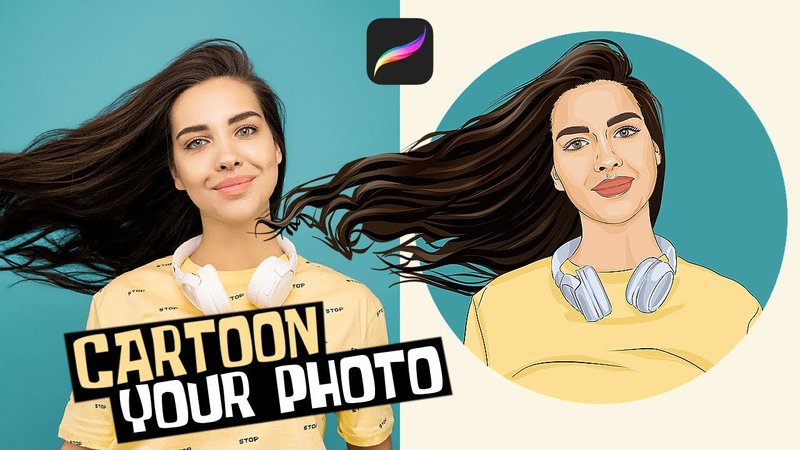 In this YouTube tutorial by Tatyworks, you'll learn how to cartoon yourself or any photo using Procreate. She covers all the steps from creating outlines, drawing eyes and hair to skin coloring and shading. She shows how to use the selection tool and hue, saturation and brightness adjustment to achieve the desired effect.
Draw With Me – Realistic Painting Procreate Process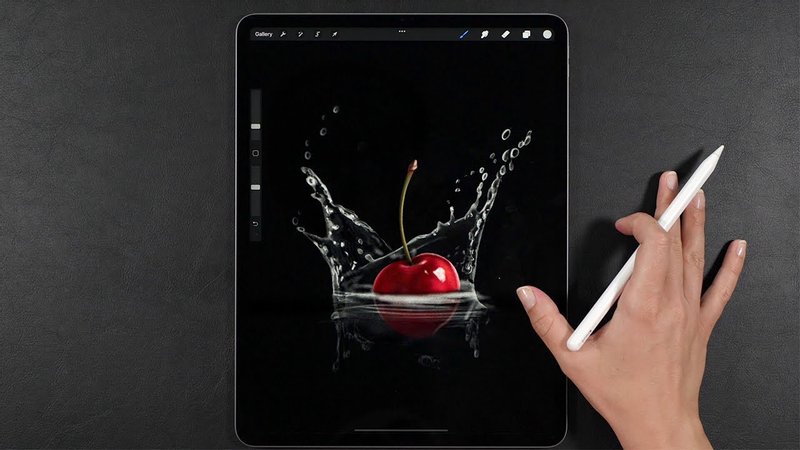 If you want to create a realistic drawing in Procreate, this tutorial is for you. This digital painting process by illustrateria shows how you can combine brushes with the selection tool to create this painting of cherry with water splashes on your iPad.
Anyone Can Draw This Isometric Room in Procreate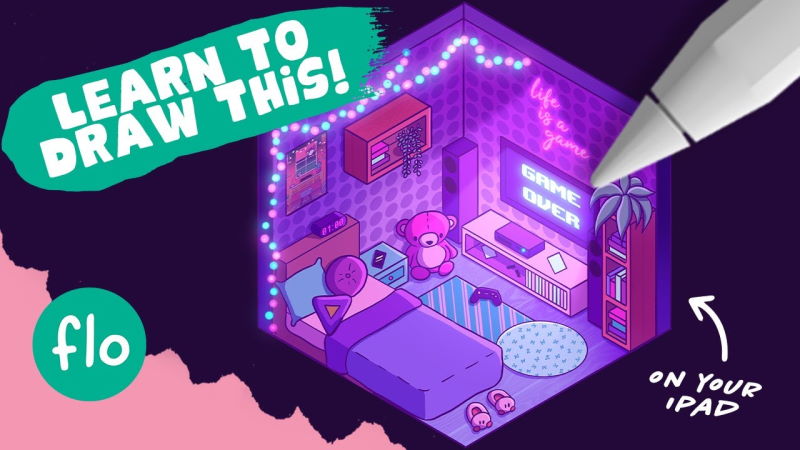 In this tutorial, Art with Flo will explain all the steps of painting an isometric gaming room for beginners in Procreate. You'll learn how to use the isometric grid, create a sketch, use layer blending modes, bloom and more to draw this neon lit isometric gaming room on your iPad.
Draw A Cute Fox Illustration In The Forest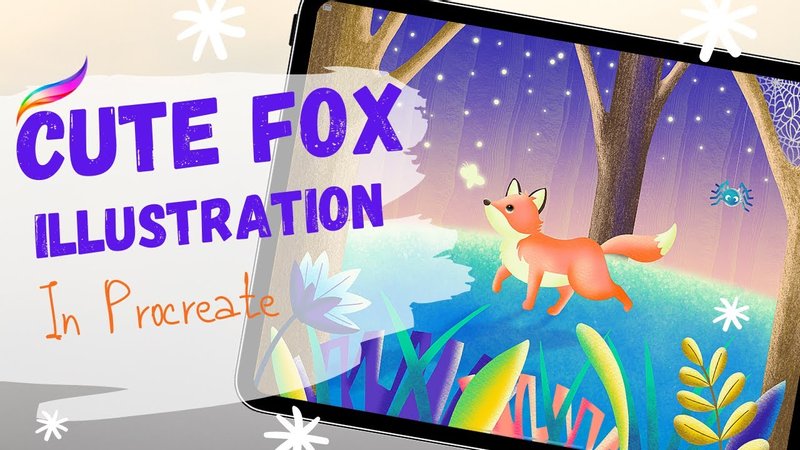 This hour long video tutorial details all the steps for painting an illustration of a cute fox in forest. Along the way, you will get familiar with many Procreate features and tools such as clipping mask, alpha lock, fill layer tool, Gaussian blur, gradient map and different layer blending modes as well as learn to paint highlights and shadows in your composition.
Realistic Cut Paper Effect in Procreate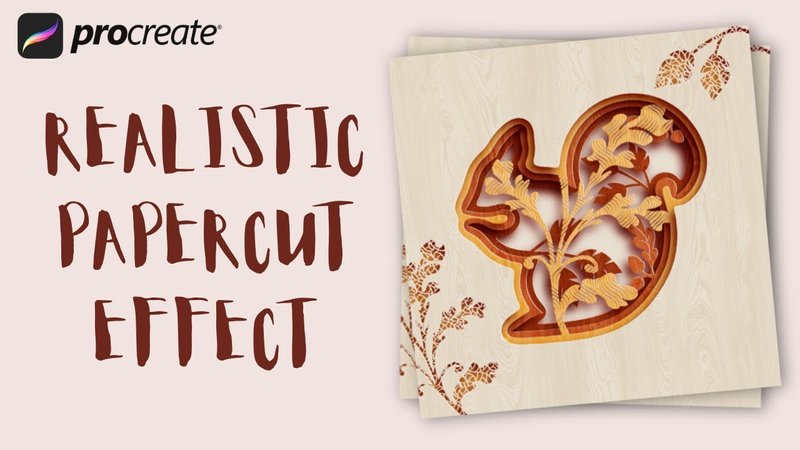 A step-by-step tutorial that shows how to draw a realistic paper cut effect in Procreate. You will get familiar with stamp brushes, texture brushes and learn to combine them with simple steps such as selection and clearing that selection from a layer in Procreate to create a digital papercut illustration.
You can create all sorts of paintings like watercolor, ink art, realistic drawings using Procreate on your iPad unlike traditional art mediums where you need different supplies to achieve a certain look. If you ask us, we would recommend Procreate to anyone who wants to learn to create digital art.
The best way to learn something new is by doing it. With these easy to follow, step-by-step Procreate tutorials, you will become familiar with its interface, tools and many different techniques that you can apply in your own iPad paintings and illustrations. You can also refer to Procreate Handbook to learn about any Procreate feature.
If you liked this post, please share it on social media and spread the word, thank you!