No matter which photography genre you are engaged in, you will probably need to approach a portrait retouching service. If you are a talented photographer, it doesn't mean you should be a great image retoucher. There are numerous free and online photo manipulation tutorials but you can get really fantastic results by addressing a professional.
To simplify your search, we've compiled the list of the most professional retouching services to help you cope with tiresome image post-processing. If you approach one of these services, you can order such photo manipulations as image culling, color correction, hair retouching, and eyes/skin/body retouching.
FixThePhoto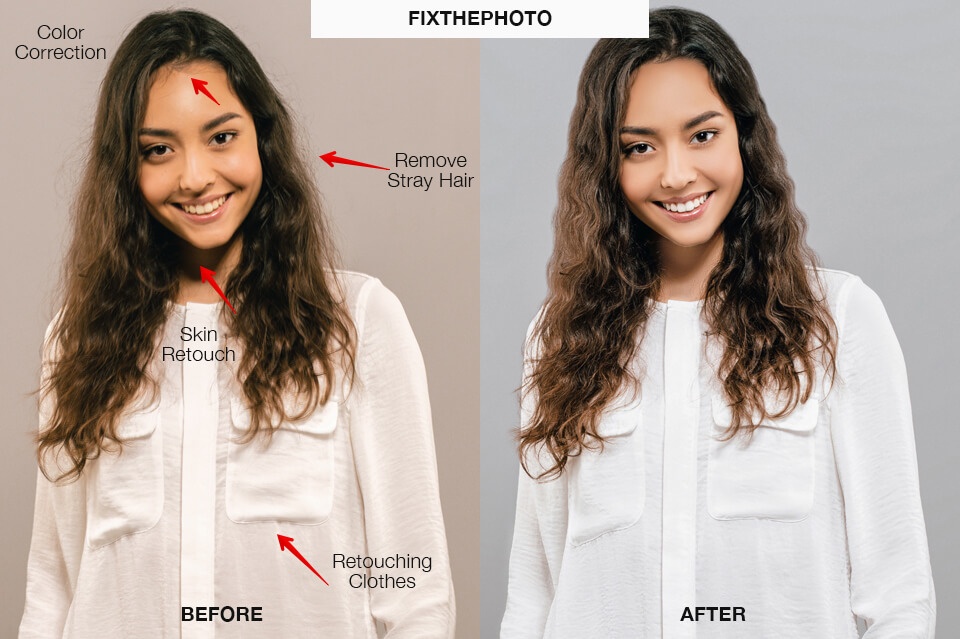 Pricing: From $0.20 to $50
Turnaround Time: 1 business day
Pros:
Cons:

Affordable prices per image
Follow your photographic style
High-quality results
Frequent discounts
FixThePhoto is a popular company that offers a rich array of professional services. You can select basic portrait retouching, high-end image retouching, batch editing of wedding photos, old photo restoration, etc.
This portrait retouching service has a massive database of clients across 86 countries, including the USA, the UK, European countries, and Canada. The company was founded in 2003, and since then, it has delivered over 3 million photos to happy clients. FixThePhoto has numerous returning customers due to high-quality services and reasonable photo retouching prices.
Their website includes not only jaw-dropping before/after image samples, but a wide range of informative articles which will be useful for photographers and photo retouchers. The overviews of photography gear deserve special attention as they comprise numerous useful recommendations.
No matter which photo format you need, FixThePhoto can work with all available types of images, including PNG, JPEG, PSD, RAW, TIFF, etc. You can send some photo examples from your portfolio for their specialists to better figure out what style of portrait retouching services you are looking for.
Concerning the final result of photo retouching, FixThePhoto has exceeded all our expectations. They professionally retouched skin with natural tones preserved. Also, their work deserves praise for the perfectly retouched model's clothing. Their experts really focus on details which results in polished and breathtaking pictures. By the way, they delivered the order on the next day.
WeEdit.Photos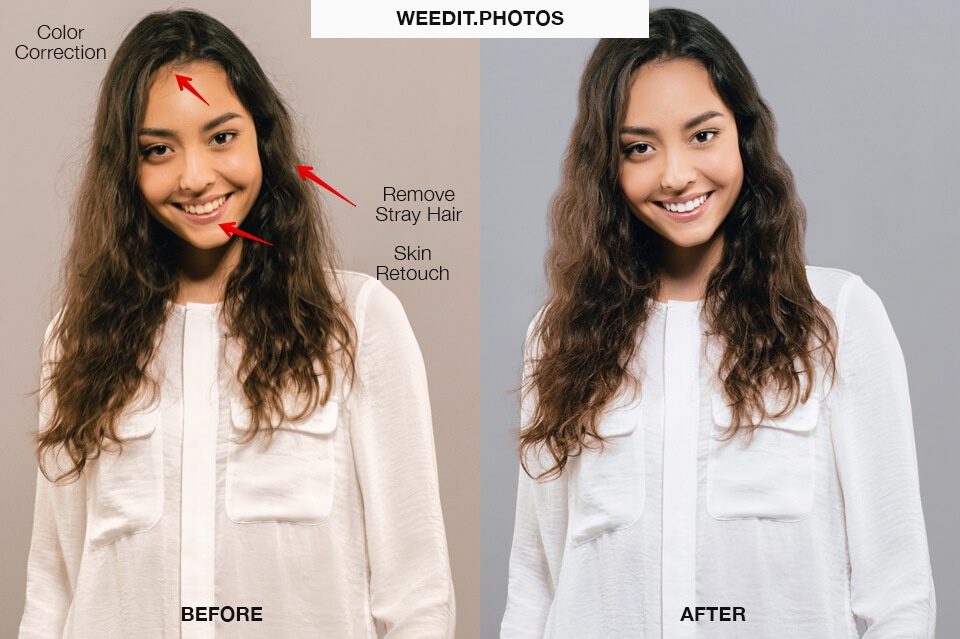 Pricing: From $0.20 to $10 per image
Turnaround Time: 2 business days
Pros:
Cons:

24/7 client support
Flexible ordering system
Professional image retouchers
Cool image examples on the website

Slower turnaround compared to FixThePhoto
WeEdit.Photos is one of the most popular photo retouching services for professional photographers that mostly works with portrait and wedding images. It provides multiple levels of photo editing.
You can order a standard package or additional services. Also, it is possible to pick only image culling or color correction. WeEdit.Photos has an easy to navigate platform with a pleasant-looking design.
The website uses encrypted channels to deliver the finished work right to the clients and keep the photos secure. The majority of clients are satisfied with their portrait retouching services, 24/7 customer support, and reasonable photo editing prices.
Our picture has been nicely enhanced. Thanks to professional photo color correction, our shot turned from ordinary into extraordinary. All the colors are vibrant and natural.
They beautifully enhanced skin tones, eliminated blemishes, and emphasized essential details. Also, they retouched hair and made it appear fuller. The WeEdit.Photos experts know their job well and produce fantastic results. They deliver the order in 2 business days. However, FixThePhoto did the same job faster and more effectively.
WeddingRetouching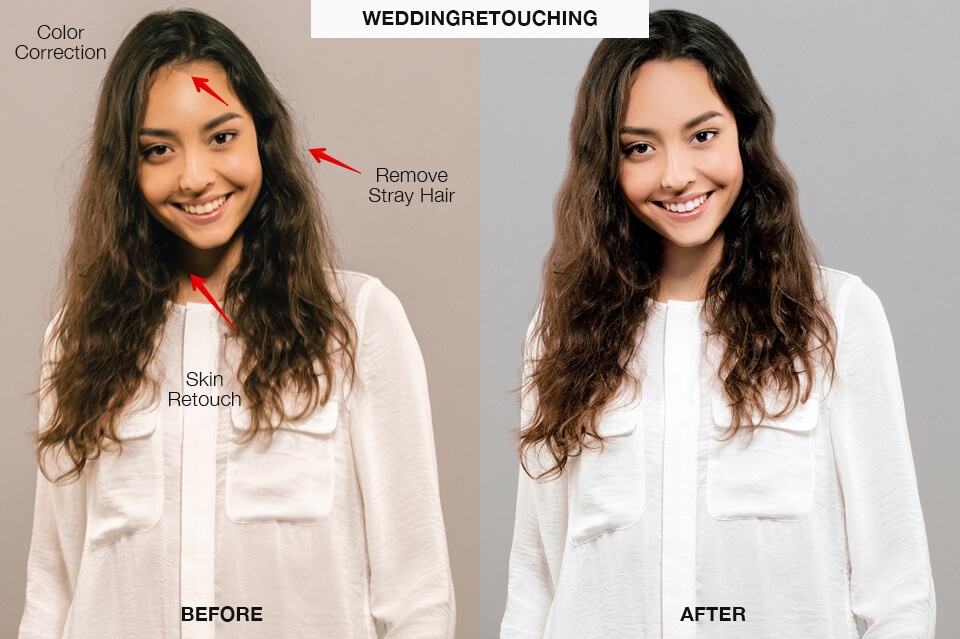 Pricing: From $0.20 to $10 per image
Turnaround Time: 2 business days
Pros:
Cons:

Excellent website
User-oriented ordering system
Responsive customer support

More suitable for wedding photographers
WeddingRetouching is a portrait retouching service that focuses on enhancing wedding photographs. If you want to examine their photo samples, you can check their website and go to the Gallery tab. Once you view all the image examples, you will definitely want to make an order.
WeddingRetouching offers 5 packages of image retouching, such as Simple Edit, Pro Edit, Advanced Edit, Color Correction, and Culling. This company is known not only for wedding images retouching but also for photomontage and editing of family pictures, B&W photo enhancement, body retouching, and background removal.
The final result of their work was rather satisfying – the experts eliminated unnecessary objects and made the colors shine with new vibes. The clothes were retouched professionally, and everything looks realistic. Even though the leaders of this rating do their job better, WeddingRetouching delivers decent services and is worth approaching.
HighEndBeautyRetouching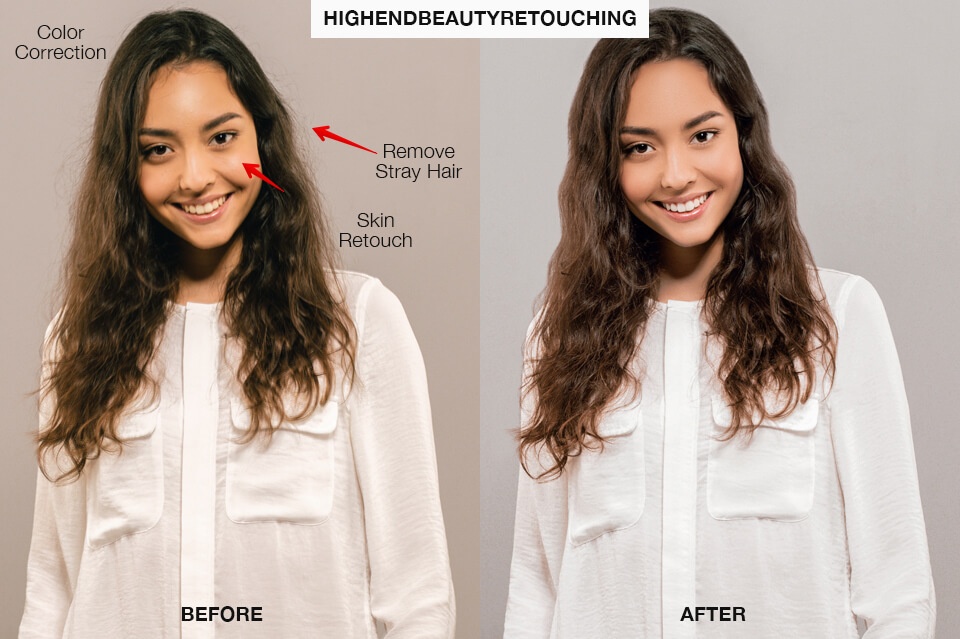 Pricing: From $10 to $150 per image
Turnaround Time: 2-3 business days
Pros:
Cons:

Focuses on details
First-class customer service
Excellent photo retouching

Offers only high-end image retouching
High prices
HighEndBeautyRetouching offers only high-end services. On their website you can see 10 main image retouching directions such as magazine and commercial retouching, dramatic retouching, and glamour/fashion. Also, there are more specific image retouching types like portrait, skin, hair, HDR, and model.
If you have any questions concerning the services, you can visit the FAQ section. Since the company performs only high-end image retouching, its work is more expensive compared to other image retouching services for professional photographers. The price for one image starts from $10.
HighEndBeautyRetouching is an outstanding company that delivers good results. Their specialists did wonders to our picture by removing stray hair, smoothing skin tones, and preserving important details. Although the finished work showed excellent results, we were waiting for 3 days until they completed our order. The turnaround is longer than its competitors offer.
Nude Retouching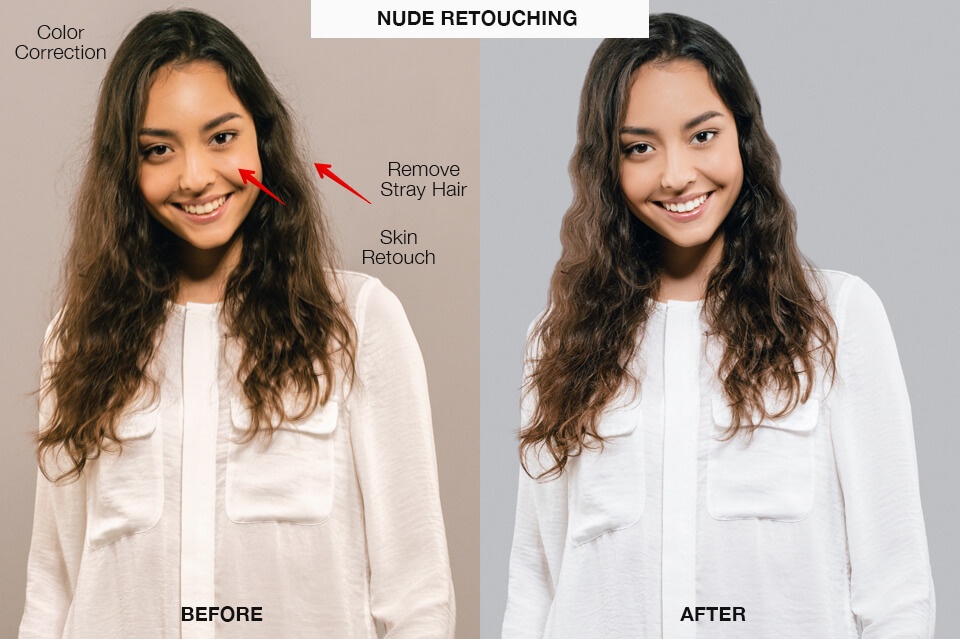 Pricing: From $5 to $15 per image
Turnaround Time: 2-3 business days
Pros:
Cons:

Assistance with placing the order
Fast ordering
Awesome results

Focus on boudoir photo retouching
Nude Retouching is a company that specializes in nude photo retouching. It has been collaborating with well-known boudoir photographers in New York and London for 10 years. Every website user can examine various before/after examples of their finished works. You can enlarge each photo and view even the tiniest detail of image retouching.
The company also has responsive customer support, which you can contact using the special chat window. Also, it is possible to get in touch with a manager via their official Facebook account. Aside from image color correction and culling, you can choose between multiple packages, including Standard and Complete+.
Our order was completed in almost 48 hours. If you want your pictures to be retouched faster, you can use the Rush Service and edit up to 50 pictures in one day. In this case, you should pay a regular price for the service and 50% of the additional fee.
The resulting image we received is amazing. The skin tones are soft and appealing, and we like how naturally they removed stray hair. Fantastic final results and relatively fast turnaround time make Nude Retouching one of the most professional retouching services.
Tucia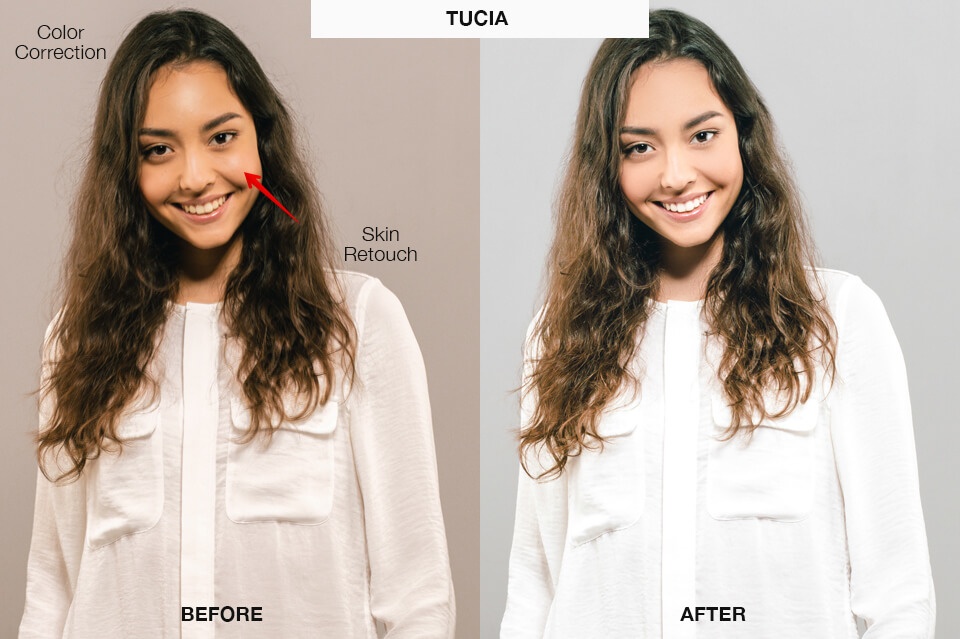 Pricing: $8 per 1 credit
Turnaround Time: 4-5 business days
Pros:
Cons:

Fast ordering
Great website
Ability to order basic and advanced image retouching

No before/after photo examples
Pricing policy may seem confusing
With Tucia you can order standard or advanced image retouching. The former package includes photo color correction, flaws removal, glare and wrinkles reducing, skin tones and makeup enhancement, and body shape correction. The advanced package comprises standard photo retouching, background replacement, merging images, face and body swap, and adding elements to the picture.
The edited photo looks pretty good. The team did professional image color correction and retouching. If you have some additional requirements, you can specify which areas in the photo a specialist should retouch according to your needs. For example, you can ask to eliminate face imperfections or fill in the hair. Besides, it is possible to pick the delivery format.
However, we are somewhat disappointed with the pricing policy of the company. The website has a special currency – credits. To purchase one credit, you should spend $8. To know the exact price of your order, you should convert credits into dollars, which may seem confusing.
Evolve Edits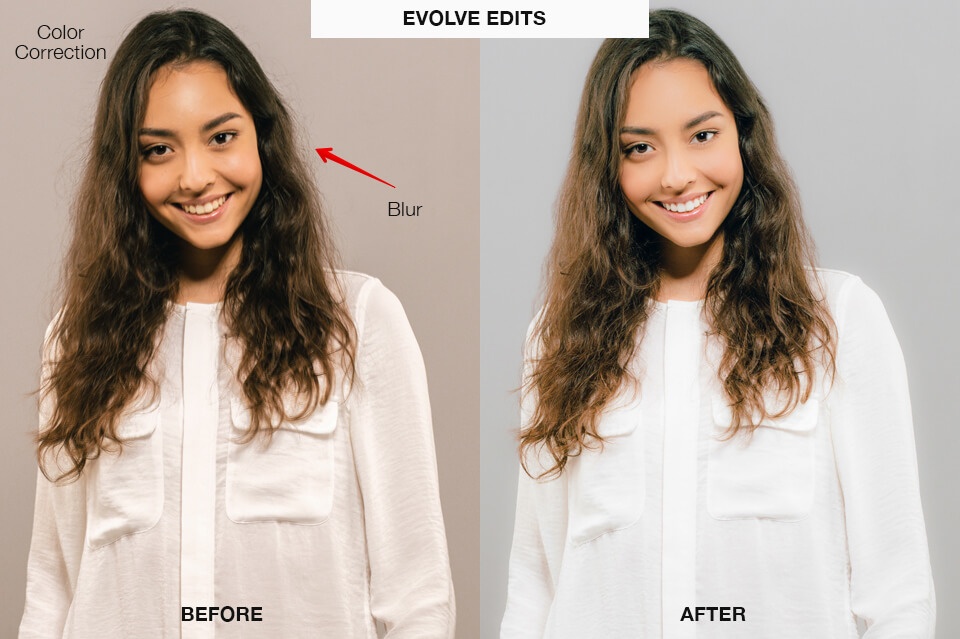 Pricing: $199 per month subscription
Turnaround Time: 5-7 business days
Pros:
Cons:

Services of different complexity levels
Discounts for premium clients
Follow customers' requirements
Clients can provide their own presets

High-priced
Confusing pricing policy
Evolve Edits is a portrait retouching service that offers basic and advanced image retouching, SMM services, and album design. Once you view the image samples on their website, you will be amazed by their high-quality.
However, the company doesn't have a separate price list. To view the price of a particular service, you should visit the page with its description. Evolve Edits offers a subscription option costing $199 per month. With the premium subscription, you can enjoy unlimited photo color correction services. If you aren't a premium user, the photo color correction will cost you $0.3 per image, advanced image editing starts from $3 per image or $150 per hour.
Evolve Edits offers a good level of image color correction and editing. Our image is significantly enhanced, with retouched hair and eliminated wrinkles and bags under eyes. However, the services are a bit overpriced, and the turnaround time is 5 business days, which is much longer compared to its rivals.