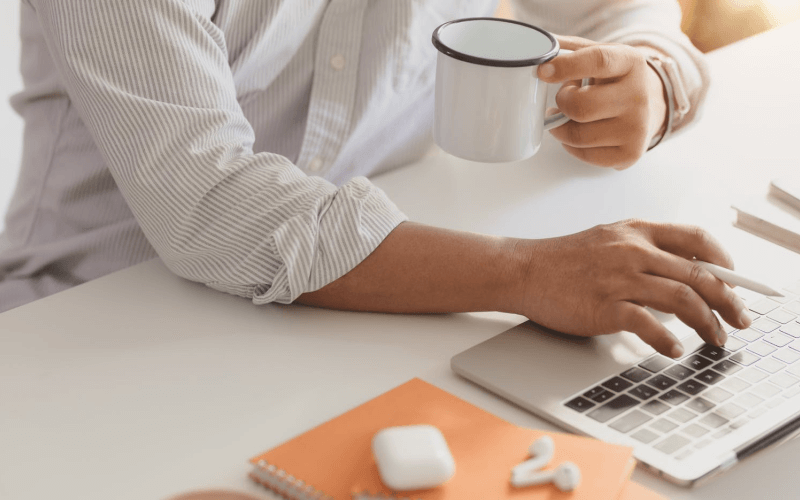 In some ways, launching your online store is similar to setting up your physical retail shop.
You construct the foundations, design your storefront, arrange its interior, bring in products, and more.
That is why, when you move your physical store to the internet, you need to give the entire endeavor the same amount of concern and mindfulness (if not more), as you would when you're opening a brick and mortar shop.
If you're in the process of transitioning your physical store to the internet, then you need to consider these crucial points.
1. Domain name
Selecting the right domain name helps establish your brand identity, making it easy for your customers to find you online.
If possible, use your brand name as your domain name.

If your brand name is taken, consider using a different top level domain (TLD).
Using your brand name is crucial since it gives your audience a consistent experience about who they're dealing with.
It solidifies and establishes your brand identity.
2. Legal requirements
Do a trademark search to ensure your business and domain names are legally available. Once verified, register your store's trademark in the US and other locations you'll serve in.
To determine your business structure, local and foreign tax obligations, consult tax specialists. Check with local attorneys as well for your business license requirements.
Take note of these other tips:
Create your store's terms and conditions and policies for returns, shipping, etc. Dedicate a page for these and inform your customers about it in your marketing emails, homepage, etc.
Comply with online advertising, data privacy, and accessibility laws, such as the General Data Protection Regulation (GDPR) and Americans with Disabilities Act (ADA).
Ensure the legal use of anything on your site, such as photos and videos. Apply for intellectual property rights for resources you created yourself.
Register for safe harbor to defend your shop from legal penalties for specific situations and when conditions are met.
Get your legal bases covered at the onset to avoid violations and spending more on penalties, re-branding, etc.
3. Website content
Content is important to the success of your business.
It provides value to your audience, urging them to visit your site. It helps solve their problems.
Include a blog section to engage your audience.
Write about your customers' pain points, common related questions, and other topics in your niche.
Uncover topics relevant to your audience with tools such as Answer the Public.
For instance, enter "organic cosmetics" in its search box and you get these results:

The tool reveals common search phrases related to organic cosmetics. Use these as topics for your blog posts.
Additionally, optimize your content for the search engines to bolster your SEO ranking.
Use keyword research tools to uncover target-worthy keywords. Sprinkle variations of it into your landing pages, product descriptions, meta descriptions, etc.
4. Ecommerce platform
Pick an ecommerce platform with features that meet your business needs.
Choose one with multiple app integrations, especially for payment systems, such as PayPal, so customers can pay directly on your site.
Select platforms that ease your product management and order fulfilment with features such as bulk product image upload, shipping service API, etc.
Your platform should also be flexible enough to support your scalability needs, with the capacity to increase your server bandwidth, integrate CRM APIs, and so on.
Additionally, get platforms that keep tabs on ecommerce metrics and provide analytics reports and insights, so you'll know how to improve your store's performance.
5. CMS as your main online presence
These days, launching your online business through ecommerce platforms is not enough. You still need a website that will serve as a one-stop-shop for your customers.
Just like any system, ecommerce platforms have limitations that may prevent you from maximizing the full potential of your business.
For instance, offering subscription-based services or monthly membership often require custom workflow behind the scenes.
Content management systems (CMS) such as WordPress are flexible systems that turn into powerful ecommerce portals that will perfectly suit your business model.
Plugins like WooCommerce and Shopify converts a simple website into an online business that you fully control and manage.
Modern versions of CMS require minimal to no coding skills at all. However, you should have a web design ready before even thinking about taking this route.
For truly unique workflows, you may need to hire a web developer to set-up everything for you. While it is a considerable investment, the resulting website is tailor-fit to your business.
Furthermore, having your own web portal provides more opportunities to capture leads and generate sales.
Write blogs regularly, launch promotional pages, and offer perks to your loyal members. Expanding your business is as easy as adding new web pages.
6. Ecommerce Analytics Tools
One of the benefits of taking your business online is the ability to collect data from various sources.
Tools like Google Analytics, Kissmetrics, and Matomo provide advanced functionalities that highlight insights from brand recognition to product sales.
These tools also explore opportunities for growth and weaknesses to improve. For instance, scraping competitors' product pricing will ensure that your business is always competitive.
The resulting data and insights are valuable in formulating your next marketing and sales campaign. Now, it is easy to make data-driven decisions that ensure success.
Furthermore, these tools are critical in developing your entire online sales funnel and marketing initiatives.
Platforms such as Woopra, Hotjar, and Klaviyo turn customer behavior into understandable information.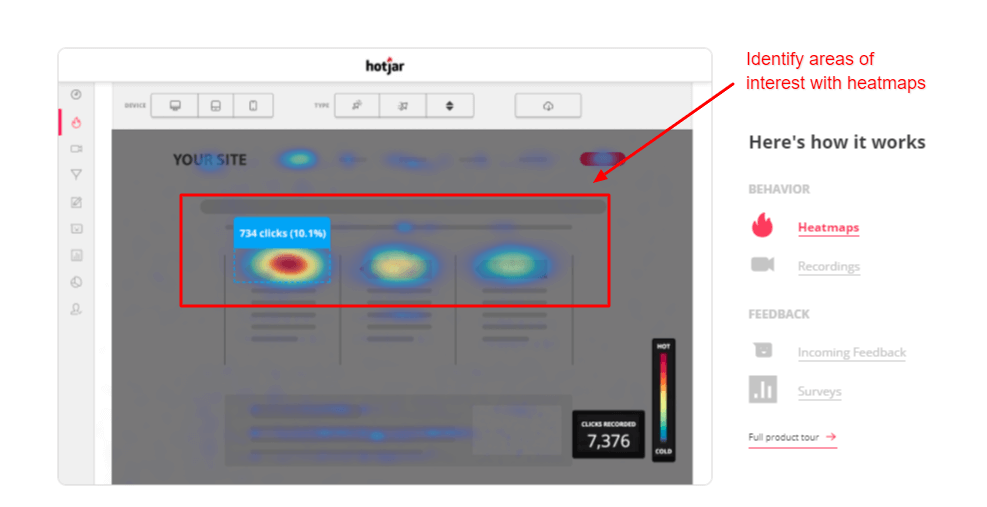 They automate email campaigns and other activities that get you closer to your leads and existing clients.
7. Product inventory
If you have a large inventory, choose your best sellers first to go with your ecommerce site. This lets you retain high sales and profit margins as you transition to your online shop.
Upload your product images, along with their descriptions, prices, and other details. Ecommerce platforms with bulk upload features make this task easier.
8. Product photos
Instead of using stock photos, take pictures of your products to project authenticity and improve your credibility.
To create stunning product photos, set your product against a white paper sweep. This lets the item stand out and your pictures look cleaner.
Take high-quality photos from different angles and up close, so shoppers can inspect the item thoroughly.
Check out this example by Amazon: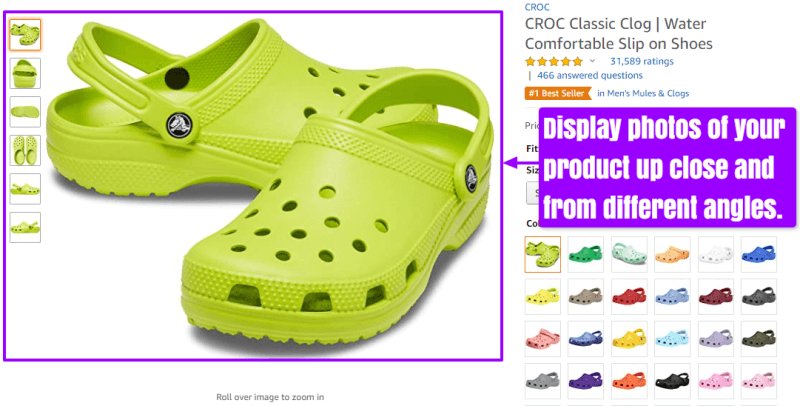 On its product details page, Amazon displayed large, high resolution, photos of Croc shoes.
Customers can even click on the pictures on the left to see the item from the back, side, and others.
9. Web design
Use a simple, attractive web design to impress your customers and exude credibility, which is crucial in converting visitors into buyers.
Choose a stellar, customizable theme from your ecommerce platform's templates, then keep the following tips in mind:
Put lots of white space and organize your sections to keep your layout clean
Emphasize your CTA buttons and remove unnecessary elements.
Use font styles, colors, and other facets reflecting your branding.
Be creative, but don't neglect functionality.
Here's an example by Love Hair: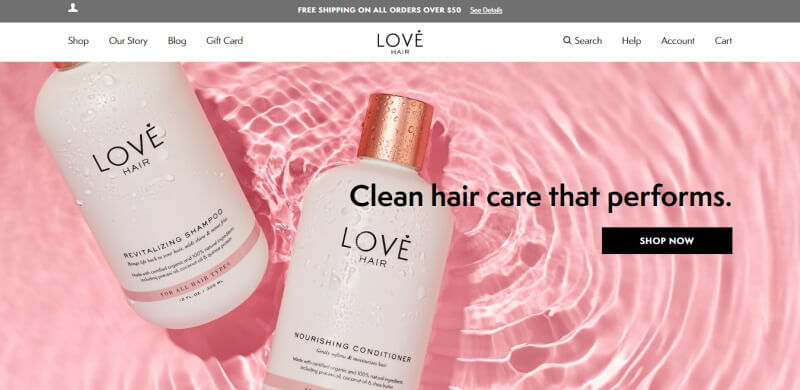 On its homepage, Love Hair shows stellar product photos and a catchy CTA button. It used its primary brand color, neatly arranged its menu tabs, and more.
Create a stunning web design so your ecommerce site sells and lures shoppers to come back.
If designing your site yourself sounds laborious, consider tapping comprehensive MSP marketing service providers.
They are experts at creating web designs that effectively reflect your brand and integrating them with your other marketing strategies. They also offer services managing your entire marketing toolkit for a unified promotional campaign.
10. Cybersecurity
Protect your online store from cyber attacks.
Apply for SSL certification to encrypt data transmission and keep transactions private. Once certified, your URL begins with "https://" rather than "http://."
Install and update firewalls, anti-virus, and anti-malware software programs to prevent unwanted traffic from entering your system.
Require mixing characters when creating passwords and execute two-factor authentication (2FA) system to protect your customers' accounts in your site.
Apply for cybersecurity accreditations. Once qualified, you get badges you can display on your site to boost your store's reliability.
11. Transfer notice
Email your existing customers to notify them about your online store.
Include announcing your new store name (if you changed it), domain name, launch date, a screenshot of your homepage, and more.
Announce your transfer on social media, too. Create your visual content, modify it depending on your social platform, and include your website link.
For instance, besides regular posts, you can publish an Instagram story or on Messenger's My Day.
Ready to move your store online?
With these essentials covered, begin laying the groundwork for moving your brick-and-mortar shop online.
Go over the points one at a time to ensure you don't overlook any aspect. Carefully plan your transition so you can launch and operate your ecommerce shop more smoothly.