If you are looking to learn a new programming language or just curious about the top programing languages of 2014, then you can find a detailed ranking in this interactive chart published by IEEE spectrum. It synthesizes 12 metrics from 10 sources to arrive at an overall ranking of language popularity. The sources cover contexts that include social buzz, open-source code popularity, and job requirements.
Ranking Method and Sources
Over 150 programming languages gathered from GitHub were tracked by IEEE Spectrum for this ranking. Based on Google search popularity a final list of 49 languages was prepared which was then ranked for popularity based on 12 metrics across 10 sources which include Google Search, Google Trends, Twitter, Github, Stack Overflow, Reddit, Hacker News, Carrier Builder, Dice and IEEE Explore digital library.
Learn more about methods and sources of IEEE top programming languages ranking.
Top Programming Languages – Web Development
According to IEEE scpectrum's ranking Java tops the pogramming languages for web, while Python and C# follow next. PHP and Javascript come at 4th and 5th, while even HTML makes an appearance at number 8.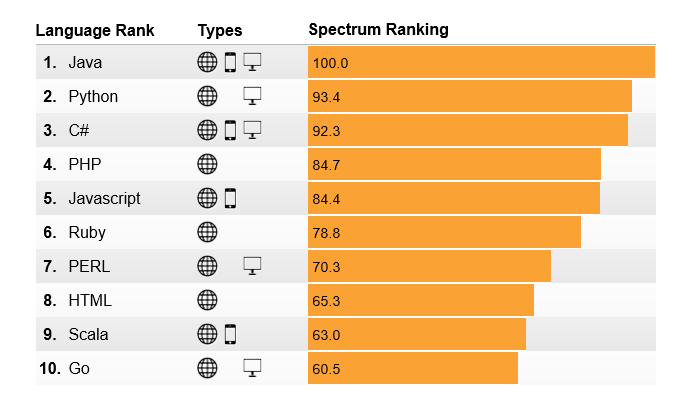 Source: IEEE Spectrum's rankings 2014
Top Programming Languages – Mobile Development
Java tops the pogramming languages for mobile development too (mostly because of android) while C and C++ come next. Surprisingly Objective-C (for iOS development) comes at 6th while C# (the language of choice for many Windows Phone developers) comes ahead of it at 4th.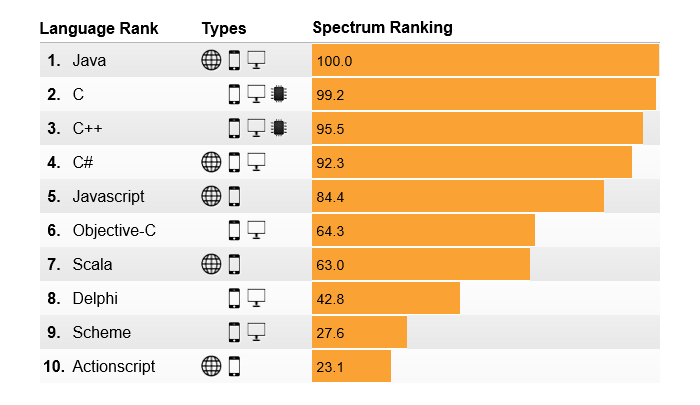 Source: IEEE Spectrum's rankings 2014
There are two other categories: Enterprise and Embedded, for which rankings are available and interestingly Java tops among them too. We encourage our readers to try out the interactive chart by IEEE spectrum themselves for further information.
What's your favorite programming language and which programming language you plan to learn in 2014? Let us know in comments below.