If you've finally embarked on your dream of starting up your own business and have a solid foundation laid, it may be time to seek new marketing avenues to accelerate your company's growth. Time, money, and energy are limited. In today's ultra-competitive marketplace, you have to get your brilliant idea to prospects first, before the competition.
One effective strategy to support your business growth is video marketing. According to Hubspot, more than 80 percent of businesses use video as a marketing tool, an increase from 63 percent one year ago. Customers opt for video content more quickly than printed material, and your startup must be there to provide it.
Fortunately, you can make professional and engaging videos with solutions such as Motion Array video effects. It's easier than ever to create high-quality videos to market your products and ideas — and fuel your new startup to success. We're here to help you leverage video marketing opportunities with these seven tips, regardless of the size of your business. Let's get started.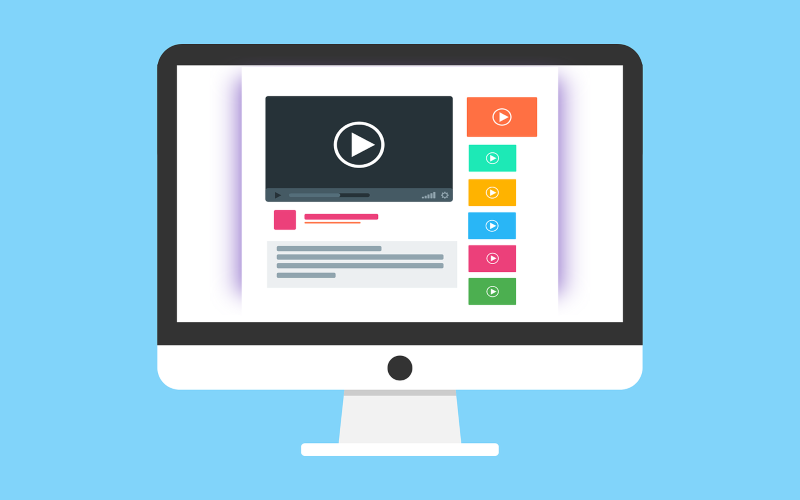 Tip One: Reach Out to Prospects on YouTube
With 1.3 trillion YouTube users, you can be almost certain that some, if not all, your potential customers are reachable through this site. And these users are active; five billion videos are watched on YouTube every day.
More than 80 percent of businesses use video as a marketing tool. – Hubspot
One of the most important factors in using YouTube to market your startup is to tell a story. According to Amy Cross, author of 4 Video Content Marketing Tips, "Video content is a powerful way to tell your story. Not only do consumers develop more emotional connections with video thanks to sound, motion, and visuals, but they also are more likely to engage with a video to the end."
Consider YouTube as an extension of your overall marketing efforts. Check your Google Analytics to see which blogs are performing well, and create YouTube videos to extend those topics to a video platform. You can consider creating a how-to or tutorial series about your products.
In a similar way, explore your support queries for topic ideas. If you have many prospects or customers asking about a specific product or issue, use YouTube to answer and address those topics on a broader scale. This is an easy way to boost your viewership.
Video marketing gives you effective tools to build relationships through storytelling, extend popular blog topics to another medium, and answer frequently asked questions to a broad audience.
Tip Two: Promote Content on Social Media
The popular social media channels have a particular focus to reach and keep audiences coming back for more. When you promote your startup through videos that connect into these social media venues, you build your own network of sharing, caring supporters who can help spread the word about your new product or service.
Be sure to customize your video marketing content for each social media channel. For example, Facebook users like informative, entertaining videos that can be easily shared, while LinkedIn has a more business, professional focus. Videos on Twitter should be trendy and witty while Instagram caters to visual users looking for stunning content.
Be sure to cross-promote your video content between social media accounts, allowing each to refer to the other. This will increase your overall traffic and raise awareness of your startup business.
Tip Three: Conduct Product Demos, Webinars on Facebook Live
Facebook Live provides an easy-to-use platform for startup businesses to promote, educate, and share in real-time. Consider hosting a live product demo or webinar, which can get your message out to your prospects. You can re-purpose your live programming into a marketing video down the road.
Facebook Live tends to generate more engagement from participants who are right there with you for your programming. This leads to establishing those all-important relationships, provides a venue to collect contact information, and gives you an easy way to disseminate information to prospects and customers.
Down the road, you may want to consider using Facebook Live for new announcements, behind-the-scenes peeks, exclusive interviews, or customer challenges. It's a great way to create content for video marketing efforts as well as foster a close relationship with stakeholders.
Tip Four: Collaborate with Influencers
Influencer marketing is a great complement to video marketing. Influencers have a proven, trusted relationship with their audience, and as a result, can provide an avenue for startup businesses to reach prospects and customers effectively.
By carefully selecting your influencer based on your business goals, you can expand your audience and drive traffic to your website or social channels. A prospective audience will be more receptive to your messaging since the influencer is vouching for your business. Video is a great way to succinctly tell your brand story and amplify the effectiveness of your influencer partnership.
"Video content is a powerful way to tell your story. Not only do consumers develop more emotional connections with video thanks to sound, motion, and visuals, but they also are more likely to engage with a video to the end." – Amy Cross
Although some influencer relationships simply exchange a fee for a promotion, as long as the influencer believes in the new product or service, others can involve a more subtle quid pro quo. Offering a mutual referral or backlink, working together on a charitable cause, or sponsoring customer contests and competitions can benefit everyone involved.
Tip Five: Add Video to Email Marketing
Email marketing typically does not include videos right now, which makes it an excellent way to grab attention. Most people still use email communications and simply having the word "video" in the subject line increases open rates.
Startups should use this combination carefully, ensuring that videos are short snippets that may fit together into a longer story. It's wise to test video email campaigns before conducting a broader one. Be sure to include a call-to-action and encourage recipients to share your content.
Tip Six: Video Testimonials
If someone wants to choose a new product or service, the first thing they usually do is search for reviews. When a startup collects video testimonials from its first customers and shares their stories, pain points, and successes using your products or services, it carries a lot of weight.
Five-star reviews boost business, but hearing the story of a real-life customer can help people make that first purchase as well as solidify future long-term customer relationships. Video testimonials can capture much more emotion, struggle, pain, victory, and appreciation than a written account.
Tip Seven: Explainer Videos
A final advantage of marketing videos is that they are the perfect way to explain a startup product or service to a new customer base. It's much easier to show and tell rather than to simply just explain through lengthy text. Putting together a demo video or one that breaks down complex components into digestible pieces can go a long way in helping your build understanding and appreciation of your startup company.
Conclusion
Producing quality videos can accelerate your business in so many ways. Once you're up and running, it's vital to build up high-quality video offerings and share them regularly through multiple marketing channels. Investing in high production value videos has never been easier with all the online tools available today, and in our visual world, they will help catapult your startup to success.
Related read: Sites to Find High Quality Free Stock Videos and Footages