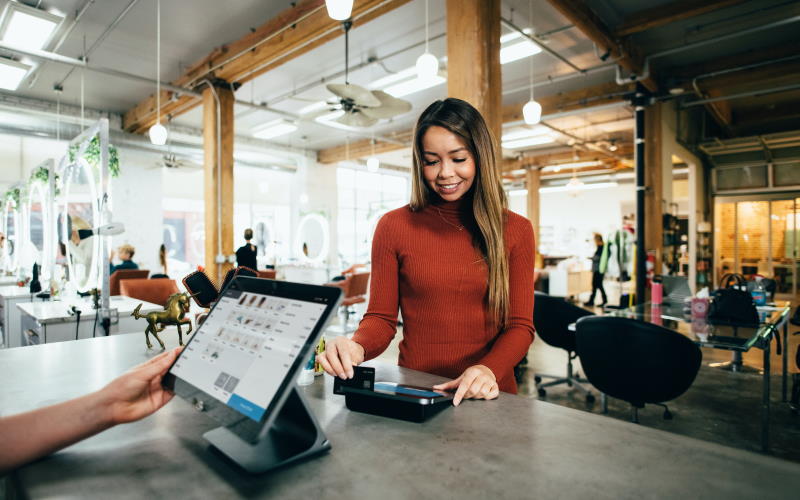 Retailers have been struggling to drive footfall to their physical storefronts for the past couple of years. As eCommerce stores continue to gain traction, brick-and-mortar businesses must reinvent their operations to attract customers. These challenges were further exacerbated by the COVID-19 pandemic.
So, how do new-age brick-and-mortar retail businesses compete with the fast-evolving eCommerce landscape?
An effective solution is to embrace cloud services. With cloud computing, retailers get the power to store and analyze tons of data about customers and inventory. That, in turn, helps them skyrocket efficiency and save costs.
In this blog, we'll discuss a few ways in which cloud services are impacting the retail sector. Let's get started.
Improved Data Security and Recovery
If you're running a chain of traditional retail outlets, chances are your business generates a plethora of data. From customer information and product details to sales and inventory reports – you need to store various types of data.
In the absence of cloud computing, you'd rely on on-premise hardware to store your data at each outlet. Considering the rise of cyberattacks on modern retail businesses, it could be a matter of time before hackers find their way to confidential information about your customers and business.
You'd need to deploy robust cybersecurity measures to prevent such scenarios. Also, you'd need to save multiple backups of the data.
A simpler solution is to use the services of a cloud company to safely store your data. Most cloud service providers implement suitable security protocols, including encryption and DDoS protection, to safeguard your data. Also, they automatically backup your data at regular intervals.
That means you no longer have to worry about cyber criminals misusing confidential data about your business. Nor do you need to spend hundreds of dollars to recover data from on-premise systems in the event of hardware failure.
Minimized IT Costs
Traditionally, retail businesses have to recruit a team of IT professionals to build and manage on-premise systems. The IT team is responsible for collecting and processing data from various sources, such as warehouses and POS. Also, they handle other tasks, such as data backups and server maintenance.
As retailers compete with eCommerce businesses, it's becoming essential for them to cut down operating costs.
Cloud computing eliminates the need to hire in-house IT professionals. Also, it minimizes the cost of procuring and maintaining on-premise servers and other hardware.
Instead, you can migrate your data to the cloud, and let individual departments access relevant information whenever required. It goes a long way to reduce IT costs for your retail business. In the long run, it has a positive impact on your company's bottom line.
Enhanced Customer Experience
The end goal of every retailer is to delight customers with a seamless purchase experience. It becomes all the more crucial when you're up against the speed, convenience, and flexibility of online stores.
The key is to tailor the customer experience based on an individual's purchase history and preferences. That, in turn, emphasizes the importance of collecting plenty of data from customers via feedback forms and surveys.
Cloud computing gives you a way to assimilate and make sense of the collected data. Apart from feedback and surveys, you can also collect data from other channels, including POS.
The good thing is that all your data is stored on a centralized cloud server that can be accessed from any location and device. Retail managers and analysts can use the data to identify evolving consumer preferences and product trends.
Even if you run a chain of stores, employees at any outlet will have ready access to a customer's previous purchases.
All that information can be used to attract customers with personalized greetings and product recommendations. Also, it'll come in handy when you're developing new products or introducing new product features.
Better Supply Chain Visibility
The traditional retail supply chain is flooded with silos. Most departments work in isolation without understanding and accommodating the needs of others. That, in turn, takes a toll on the customer experience.
Cloud services help you overcome those challenges by providing you with real-time access to every element of the supply chain. Whether you can check the latest inventory levels or find out whether a product has been shipped from the warehouse, you can monitor all information on the cloud.
It helps overcome silos and improves communication between different departments. Ultimately, it goes a long way to ensuring timely shipping, reduced returns, and increased revenue.
In Conclusion
The worldwide cloud computing market size is projected to cross $947 billion by 2026. It isn't surprising considering that cloud services offer a wide array of benefits to all industries, from healthcare and manufacturing to retail.
If brick-and-mortar retailers want to stay afloat amidst stiff competition from eCommerce businesses, they must leverage cloud computing. It'll help them streamline operations, eliminate communication gaps, and deliver a top-notch customer experience.
Cover Photo by Blake Wisz on Unsplash