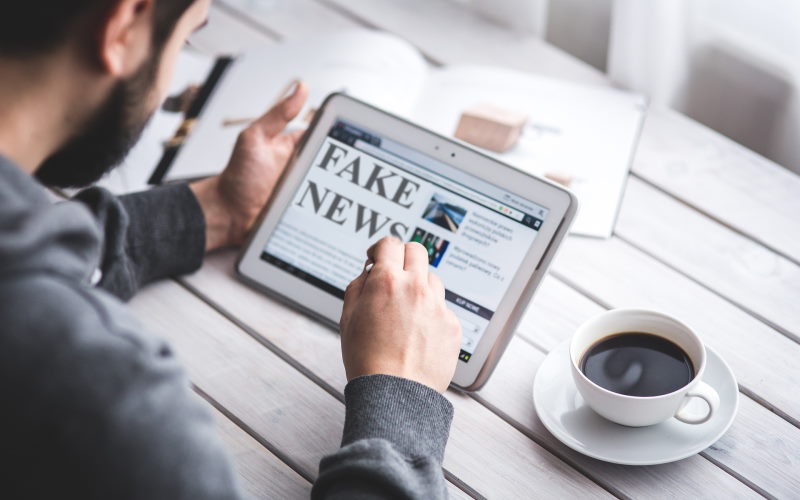 During the last two years, the world has been battling not one but two pandemics. One is the spread of COVID-19, while the second is the fake news pandemic. Studies revealed that fake news and infodemic knowledge was causing anxiety, fear, panic, depression, and psychological disorder in people.
In recent years it has been affecting not just the traditional media but digital sources as well. In an age where the Internet is the main source of information for many, individuals are at a higher risk to come across fake news and spreading it. That is the reason why a Statista report reveals social media to be the least trusted source of information.
Fake news has always been present in the media. It has been effectively used to defame individuals and brands for a long time. That is why brands need to safeguard themselves against the fake news spreading about them. Any fake news caused by communication, editorial, or other errors can be detrimental to the reputation of the brand.
It can not only tarnish the brand's image but also spoils consumer trust in the brand. To avoid this from happening, brands must constantly monitor, detect, and mitigate the damage caused by fake news. Here are some tips and tricks to protect your brand against the fake news pandemic.
Keep a Close Eye on Social Media
As mentioned before, social media platforms are the least trusted source of information, but they also happen to be the biggest source of public reviews. Usually, fake accounts pretending to be associated with the brand are used to spread fake news. To prevent this, brands must use identity verification solutions like Au10tix which uses a 10-layer security protocol based on deep learning, biometrics, and data science to spot and obliterate fake accounts.
Additionally, companies can track relevant hashtags, keywords, and trending topics related to themselves by actively monitoring the social media accounts through a good brand monitoring tool. The awareness of real-time happenings helps the communication team to avoid any potential crisis before it can cause any serious damage.
Have a Rapid Response Team
Speaking of the communication team, brands must have a rapid response team. In the fast-paced world of the internet and social media, timing is everything when it comes to an online PR crisis caused by fake news or any other source.
The rapid response team should be able to detect fake news involving your brand and respond to it immediately. An effective response team would be able to suppress the fake news even before it has the time to go viral. And in doing so, the rapid response team limits the spread of misinformation that could tarnish the brand image.
Have a Crisis Communication Protocol in Place
You may have the best PR and rapid response team in the world, some mishaps can slip through their fingers or go unnoticed. Therefore, every brand must have a clear crisis communication protocol in place should a PR disaster happen because of fake news.
This protocol and guidelines should outline what needs to be done when a crisis happens and who needs to do it. Additionally, the protocol must state how the brand must respond in case of crisis and on what platform. Ideally, brands must use communication platforms where they enjoy the strongest following.
Be Quick to Share Your Side of the Story
Be very quick in discrediting fake news by releasing a statement. Remember that your brand is under scrutiny from everyone and you must present cold hard facts to question the legitimacy of the fake news. Should you realize that the origin of the fake news is an incident that your brand is responsible for, the best way to mitigate the crisis is to own up. However, if your brand is not responsible, it's best not to remain silent.
Keep your stakeholders, clients, internal team, and most importantly the consumer community following your brand informed about steps being taken to manage the situation. Be transparent with them about what happened, the cause, and the action being taken to fix the situation.
Maintain a Positive Online Reputation
The best way to protect your brand against any sort of fake news and reputation crisis is to maintain a positive online reputation. If your brand has a big following online with a good trust factor, fake news and misinformation will have a hard time tarnishing your brand.
At times, just the trust and defense put up by the loyal base of customers is enough to mitigate any sort of damage that can be caused by fake news. Therefore, brands must put good efforts into maintaining a positive online reputation. This can be done by posting authentic content, fact-checking all content before posting, and identifying and citing the source.
As the online space and community continue growing, fake news will an integral part of the "online life". While it might be difficult to regulate the content shared online, what brands can do is to be prepared for anything untoward happening because of fake news. The above tips will help you build strong consumer trust and protect your brand.
Cover Image by memyselfaneye from Pixabay