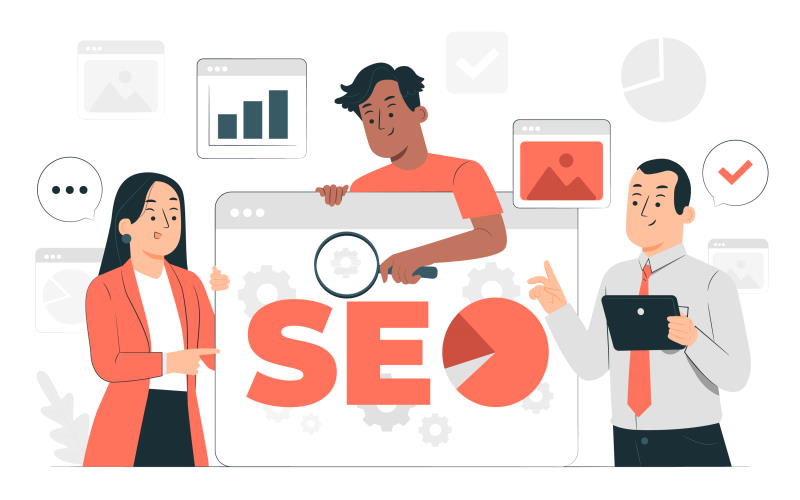 It goes without saying that a higher ranking in search results will increase the likelihood that a user will click through to your website. 
Put yourself in the position of someone using a search engine for information. Do you typically look at the second or third page of results while trying to find a product, service, organization, or brand? This is why you need a good ranking. Or, in other words why it's crucial to appear on the first page of search engine results.
And for businesses that operate in specific locations, it's also important to be ranked well locally.
How does local SEO work?
Search engine optimization or SEO is a set of marketing tactics that help enhance a website's visibility in search engine results by adjusting its structure, content, and links to better respond to specific user searches. In other words, it's a practice that improves a website's organic search engine ranking. Local SEO does the same but with the location where the business operates in mind. As the name indicates, it will help your business reach relevant consumers in a specific location.
When they are looking for a service or product in their area, aside from writing down whatever they are looking for, most people will likely include the name of their state, city, or region in their Google search.
For instance, if they are looking for a cheap hotel in certain location, they will probably search for a "cheap hotel in Location X." The websites they can see on the first pages of the search results are there thanks to a series of factors including a decent local SEO, which basically improves the website's local ranking and helps Google by providing more data about the location.
How to improve your local ranking?
Hire a local SEO company
When you are looking for SEO specialists to help you build a strong local marketing strategy, you should opt for a local one. Since they are local, they will be best suited to understand how the relevant people in your area may search for the products or services you are selling. 
A reputable local SEO company will know how to help you stay ahead of your local competitors because they have an in-depth understanding of the local market and your target audience's needs and online behavior.
Google your company and competitors
To understand your organic positioning first you must know your target keywords. Once you have them and Google them, you will not only be able to assess your particular situation, but you can also learn who your top competitors are and visit their websites and social media pages.
This will help you uncover their strategies, and learn what they are doing right and where you may be doing wrong. The research will help you understand your customers' search intent and build a keyword strategy based on that knowledge.
Related: Free Website Competitor Analysis Tools
Use keywords to your advantage
Domain name
Even though it's not vital, your domain name can play a role when it comes to search engine ranking. So, if you haven't already, you should try to find a keyword-rich domain name. In other words, if your business is local, including your location or factors like the type of business you operate, it could help you become more visible on Google.
This can also be helpful if you are trying to enter a new foreign market. Including the name of the state, city, or other geographical terms can be very helpful in increasing organic traffic.
Content
So, obviously, local SEO will benefit from everything you publish. Make sure that your videos and other types of content you publish include well-chosen keywords, such as the state, the name of the city, or the nature of your business. To help customers find your business online, you can geotag images or provide location information as metadata.
Meta tags
Including keywords in meta tags, titles, descriptions, etc. is a terrific approach to let Google know that you're trying to sell something in your area. However, keep in mind that websites that are over optimized may receive a penalty from Google, which is why organic keyword usage is encouraged. You can use Google Business Profile to obtain complete control over any data Google has accumulated about your company. 
Use Google Maps
Google Maps has become a popular tool for finding local businesses. Make sure that it contains all the pertinent information. Include pictures of the storefront, double-check the address, provide accurate information about your schedule, etc. Not only will this help your prospects find you easier but also thanks to Google Maps, nearby mobile users become a potential customer base.
Ask customers for feedback
Regardless of the nature of your business, to effectively promote a company it's essential to take advantage of the digital sphere. Every company must find a way to remind customers, whether they're shopping in-store or online, to rate them on Google and provide feedback. 
There are various methods to encourage customers to review your business. One way is to provide a quick and easy way for them to rate you or leave a review, such as by placing a QR code near the registers or near the exit of your store. To motivate them even more, you can offer discounts or other incentives for customers who review you on Google.
Synchronize your information across your online profiles
Google prioritizes complete, standardized databases of business contacts. Everything associated with your company—name, address, URL, and contact info—should be consistent across your digital presence. Make sure that all of the websites using this data use the same information so that Google can trust it, and update it if necessary. 
In short
To improve your local ranking, the first thing you must do is understand how local SEO works, and check if your strategy is working in your favor. Once you understand your current situation, you can find many ways to improve it.
But to build a powerful and fruitful local SEO strategy, your safest bet is to find a reputable local SEO company. Finding the right marketing professionals can make a huge difference because it's very likely that they are familiar with the demographics of your target audience and their online habits.
Cover Image by storyset on Freepik