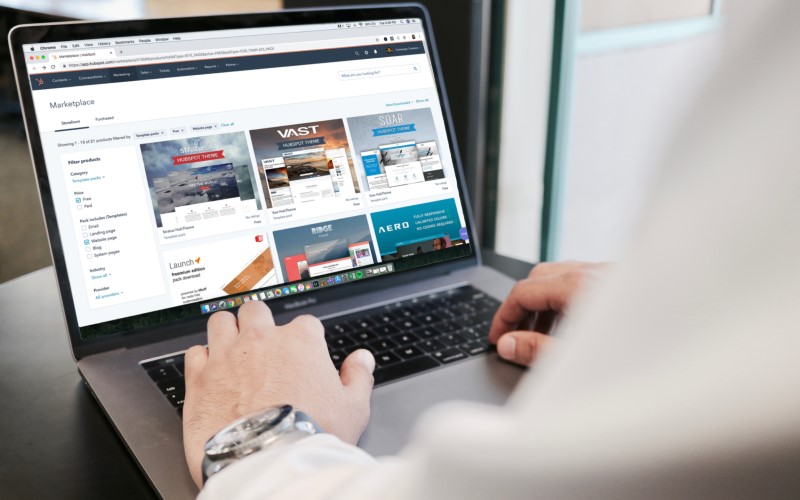 Are you planning to build a news website that'll attract a loyal audience? Well, then chances are you've already analyzed popular news publications websites on the internet. And you already know that there's no dearth of news websites dishing out new content faster than the speed of light.
Launching a news website is an excellent way of building an army of loyal readers and strengthening your brand identity. Also, it's a great tool for earning passive income through advertising revenue and sponsored articles.
But with more than 1.8 billion websites floating around on the internet, how do you make your online news portal stand out?
Publishing interesting and valuable news articles isn't enough. Your website also needs an optimized layout that appeals to your audience and delivers a top-notch user experience. That's why it is important to draw inspiration from the top news websites in the world, and understand what they're getting right. 
Learning from what your competitors do is surely important, but to take your news site to the next level, it's important to learn from the cream of the crop.
In this blog post, we'll discuss a few important design elements that are used by the best online news publications. Also, we'll discuss the benefits of leveraging these elements on your website. Let's get started.
Must-Have Design Elements for News Websites
If you're designing a news website, you already have a fair idea of what sets the best online publications apart. They use a minimalist layout that makes it easier for readers to find relevant and useful information. Also, they're fast, secure, and known for delivering genuine and reliable content.
But these aren't the only factors that make a great online news portal. Here are a few key design elements that the top news websites utilize:
1. User-Friendly Navigation
Every news website regularly publishes a plethora of content. But putting out great content would be of no use unless your audience manages to find it. It highlights the need for improving website navigation to make it easy for readers to locate interesting and relevant information.
That's the reason why established news websites, including The New York Times, utilize long-scrolling page layouts. Visitors can continue to scroll through a web page until they find the desired content. It eliminates the need for them to repeatedly click on the "next" button.
Implementing a long-scrolling layout on your website's home page will enhance the user experience and audience engagement.
Apart from long-scrolling, make sure your website features a sticky navigation bar and a "jump to" button. The navigation bar should have distinct categories and a clear hierarchy. Also, you should add a "top" button that lets users jump to the top of the home page irrespective of how far down they've scrolled.
2. Mobile-Responsiveness
This one's a no-brainer. Every established online news publication features a mobile-responsive layout. It's crucial considering that the number of smartphone users worldwide is projected to cross 7.5 billion by 2021.
If you want to cater to the growing demographic of mobile device users, you must delight them with a flawless mobile-friendly website.
That involves choosing a mobile-responsive website theme, using large font sizes, and including plenty of white space in the layout. Also, make sure the website speed remains reasonably consistent across all devices.
3. Judicious Use of Widgets
Widgets play a key role in improving the user experience of a website. They're all the more useful for attracting and retaining readers on a news publication site. All top news websites utilize a vast array of widgets to lure new and repeat visitors.
For instance, The Guardian features a weather widget on their home page that displays the current weather data for a visitor's location. It's a great way to prompt readers to return to the website to check weather-related information.
Similarly, you can use a "breaking news" slider and "top stories" sidebar on the home page to showcase the latest news. Similarly, you can create a sense of urgency by displaying the time that's elapsed since an article was published.
4. Visible Content Hierarchy
The best news websites use a well-established content hierarchy to direct visitors' attention to the most important stories. Use prominent headlines, images, bright colors, and other visual elements to highlight specific articles. 
It'll go a long way to prevent your audience from feeling lost while navigating the website.
5. Easy Shareability
Irrespective of the type of news website you're running, you want more people to read your content. That's why the top news publications utilize social share icons to let readers easily share interesting content on their social media profiles.
Additionally, you can display the total number of shares an article has garnered.
Jumpstart Your News Website With Effective Design
Design, layout, and navigation play a key role in influencing the success of your news website. Use long-scrolling web pages and mobile-responsive themes to create a first-class user experience. Also, establish a clear content hierarchy with the help of bold text, big font sizes, images, videos, and other elements. Don't forget to leverage widgets to improve usability, engagement, and retention.
Cover Photo by Campaign Creators on Unsplash