With Windows 10, Microsoft has made fresh style changes in its user interface and has introduced new icon guidelines for its default Segoe UI Symbol icons. If you are preparing your apps for Windows 10 and are in need of fresh set of icons, we have a good news for you. We are giving away 200 line icons, designed specifically for Windows 10 by Icons8 team.
Windows 10 was officially released on 29th July, 2015 and with Microsoft providing customers a free upgrade, Windows 10 has now the primary Windows operating system in terms of market share. With the introduction of Universal Windows Apps, Windows apps will now be available across a wide array of devices that will be powered by Windows 10. Whether you are working on a new Windows 10 app, or giving a fresh look to your existing one, these free icons would be perfect as they have been designed keeping Windows 10 icon style in mind.
The freebie contains 200 Windows style line icons in SVG format. You can use a Vector graphics editor to scale and export these icons to any size you desire. The icons are available for both personal as well as commercial work, without the need of any attribution.
Preview of Windows 10 Icon Set
Below you can preview all the icons included in this set, download link will follow the preview.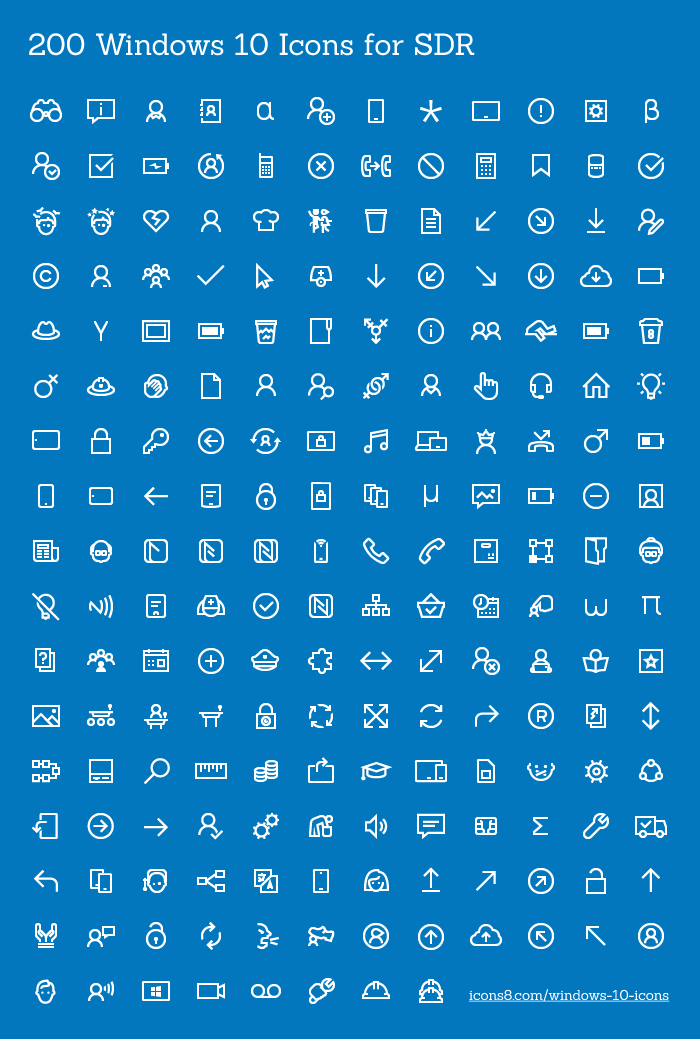 Download
Here is the link to download this free Windows 10 Icon set. If the link comes as locked, kindly unlock using one of the share buttons in the box.
People behind Icons8 design great icons for iOS, Windows, and Android which follow the design guidelines set by Apple, Microsoft, and Google. They have over 14,000 flat and line icons. All the icons designed by Icons8 are matched to the operating system's native icons.
Don't forget to check our other freebies which include many other icon sets you can use in app or web design.